I've finally set aside time to write the world's longest and most detailed post about building a pool. Hopefully this will provide some insight for you into the process. I use the term 'building a pool' lightly, because you'll quickly see that the scope of the project is much larger than just the actual pool decisions.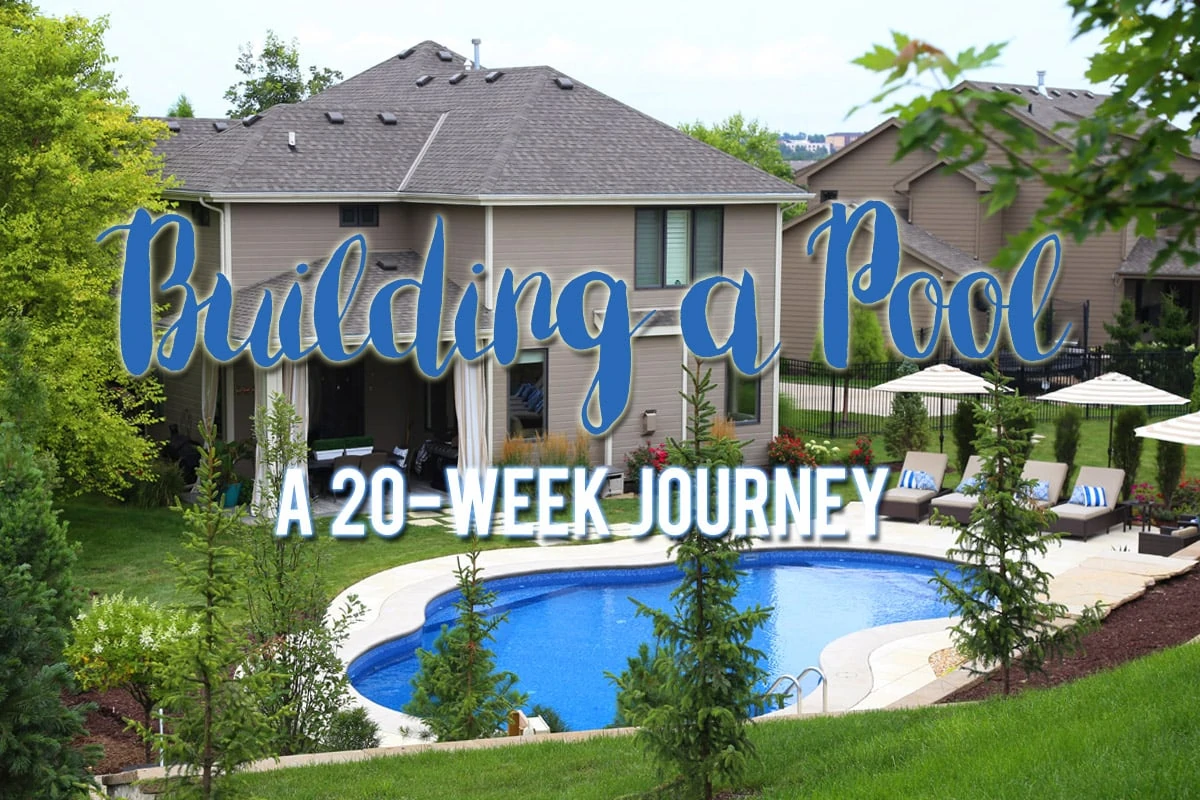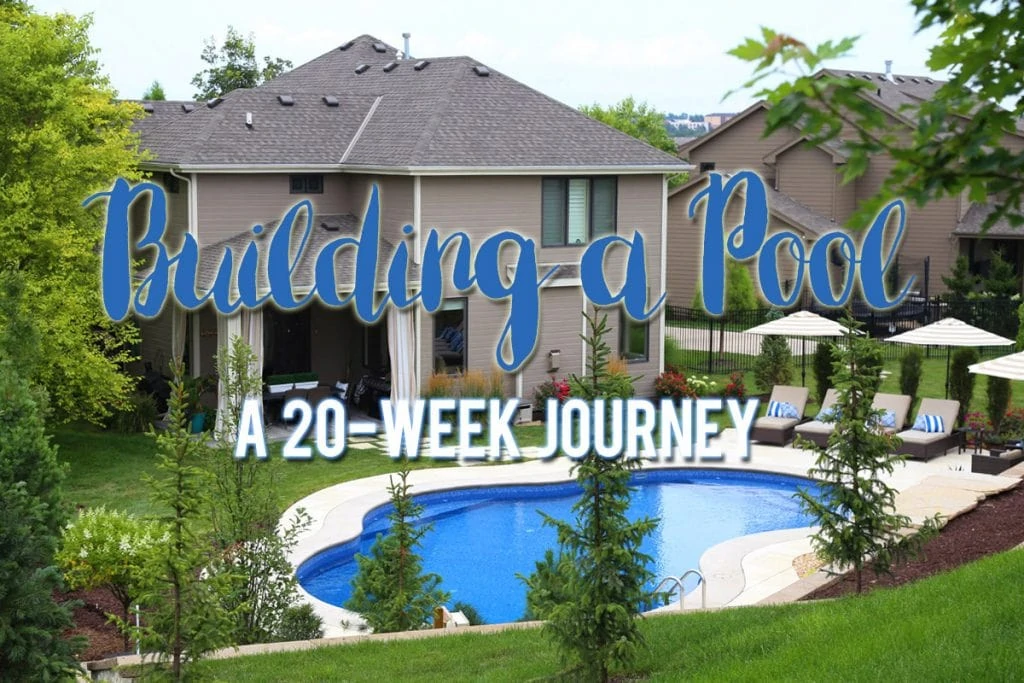 If you're new around here or have missed my other progress reports, you can get caught up here:
A Pool + Backyard Update | Progress: Week 1 | Week 2 | Week 3 | Week 4 | Week 5 | Week 6 | Week 7 | Week 8 |Week 9 | Week 10 | Week 11 | Week 12 | Week 13 | Week 14 | Week 15 | Week 16 | Week 17 | Week 18 | Week 19 | The Reveal
Before we get to everything you could ever want to know about building a pool, I thought it would be fun to share this time lapse video I made from still photos on my GoPro. It basically condenses 20 weeks of work into four minutes! Don't mind the part where dirt magically appears and disappears near the one minute mark (I swear it wasn't like that when I was editing). This video left me fit to be tied (I used over 8,000 images to make it so it was an insanely long and frustrating process). Because the video is so long (and I didn't want to crash all of your computers while you tried to watch it), the quality isn't stellar, but I think it's still really fun to watch!
Now, onto all the details.
BUILDING A POOL: BUDGET BREAKDOWN
I'm not going to talk exact dollar figures for our project, because I know costs can vary so much by region, company you use, and even more so, by your own backyard and the space you are working with. But, I thought it would be helpful for you to see the breakdown percentage by each project completed in our backyard. I think you'll quickly see that the pool was only about half of the expense. All figures below include labor to install each line item.
All pool expenses (pool, liner, concrete coping, pool equipment, inground cleaning system, pool cover, and excavation): 47%
Patio pavers/pool deck, water feature and grading/drain installation: 17%
235'x4′ poured concrete retaining walls: 13%
Veneers (product and installation) for concrete walls: 11%
11 trees, plants, mulch and 4,000 square feet of new sod: 5%
Iron fence and gates (installed on one full side of our yard and a portion of the other side): 4%
Replacement of sprinkler system in backyard: 3%
In terms of budgeting, we had talked to friends and neighbors and had a ballpark idea of what the project would cost. I can pretty much guarantee it's never going to be less than you anticipated. We were determined to pay cash for the entire project, so we started saving the year we moved into the house. Kurtis said he wouldn't be able to enjoy the pool if he was floating on water he had financed 😉 Once we felt like we were close to the money we needed, we started requesting bids to further fine-tune the number we would need to have on hand. But, we can now proudly say we don't owe a single dime on the project and it really is that much easier to enjoy now!
BUILDING A POOL: OUR VENDORS
We worked with multiple vendors to complete the entire project. But, we had Justin from Kloos Kutters run point on most of it, which helped limit the number of calls we would have to make on a daily basis.
We would absolutely recommend each and every one of these companies again. They were all so accommodating and we believe they all did exceptional work!
BUILDING A POOL: SPECS & THE PRODUCTS WE USED
To outline a little more about how the project started and played out, I'll go into more detail. For us, we knew the landscaping would play a major part in the design. We were dealing with a rather large sloped hill that we wanted pushed back so we could take advantage of more of our yard. With that being said, we started the process with a landscape designer. We had two different companies draw plans and give us bids. Most landscape companies, at least in our area, work with a preferred pool company so the process is pretty seamless.
Prior to meeting with each of the teams, I gathered inspiration photos from Pinterest to give a general idea of the style and look we were wanting to achieve. We wanted a resort-like vibe that made us feel like we were on vacation.
Once we met with both sets of teams and looked at the plans, it was pretty apparent to us the route we would go. It wasn't solely based off design plans either. Make sure the personalities of the key contact people are ones you think you can work with on a daily basis over an extended period of time! It's likely that you'll find you click with one team. Clearly design and price will steer your decision as well, but you want to make sure you can also work together. From there, things started rolling in terms of finalizing plans.
I don't think Kurtis or I had a truly excited moment about the direction of the design until Justin showed us the concrete travertine pavers. These were a game changer for us. They were the exact look we had envisioned and weren't your typical concrete paver you find at the hardware store. Also, keep in mind that Omaha deals with a lot of freeze/thaw in the winters, so we needed a product that could withstand it (that's why natural travertine wasn't an option). It was a win-win and we knew it would be perfect!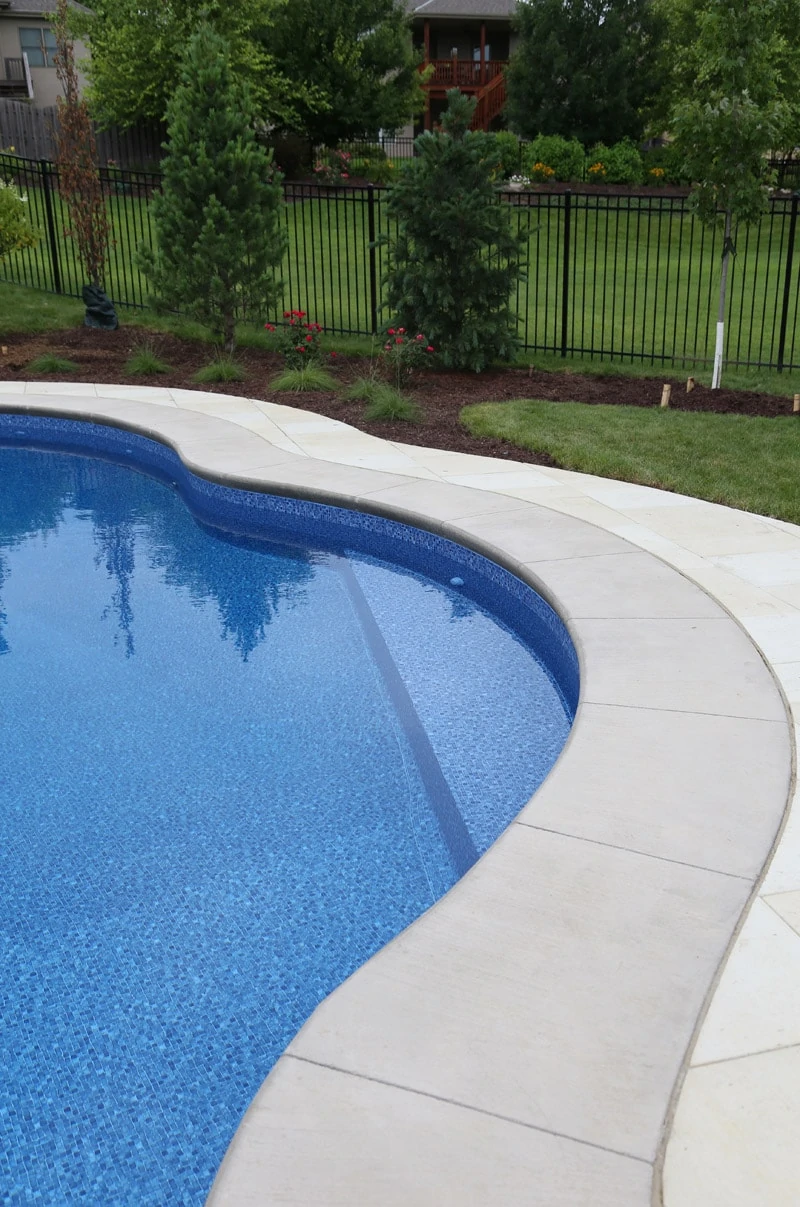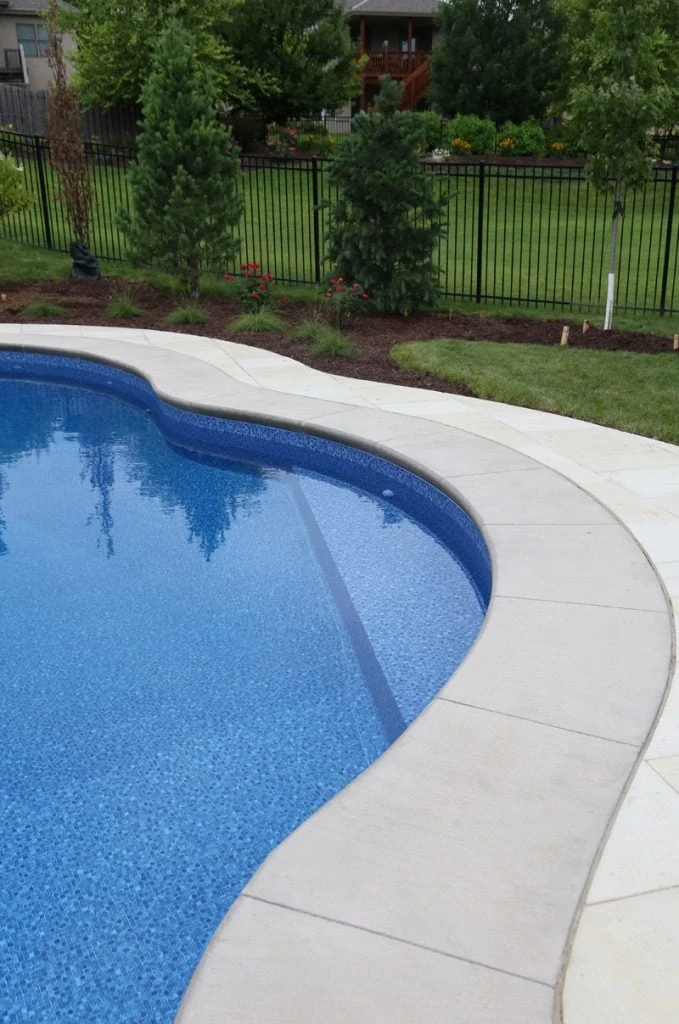 We had contemplated limestone slabs to build up the terrain on the hill, but it was going to be cost-prohibitive with the volume we would need. Justin suggested the poured concrete foundation walls (that are structurally crazy sound) and found the veneers we ultimately ended up using. The veneers were ultimately one of our favorite finishes on the project! The water feature is also a must and we love to hear the sounds of the falls!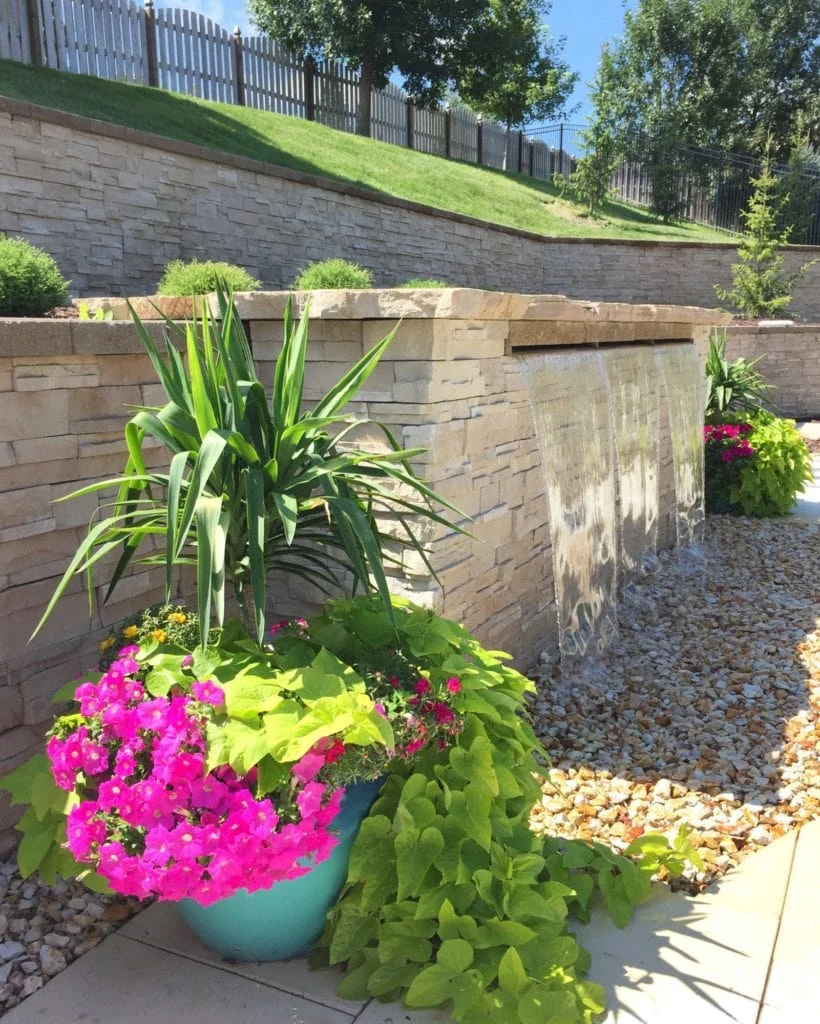 Kurtis was super nervous about the in-floor cleaning system when he first heard about it. I think by now though, we both agree it is a serious game changer and we highly recommend it! We basically have it set the recommended 8-10 hours per night and every day our pool is incredibly clean and free of debris. Kurtis is diligent about testing the chemicals on a weekly basis. Either he is a natural, or it really is easy to keep everything fairly regulated with a salt water pool. When it's bright and sunny this pool is sparkling!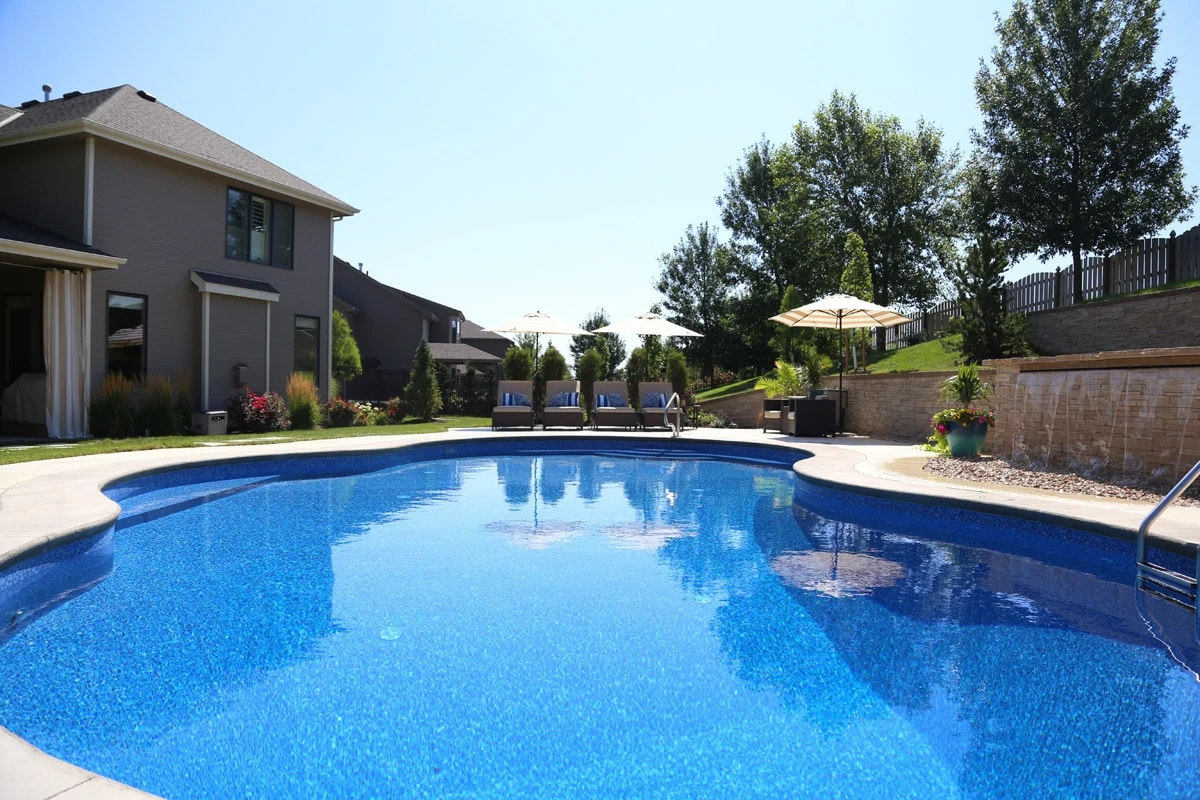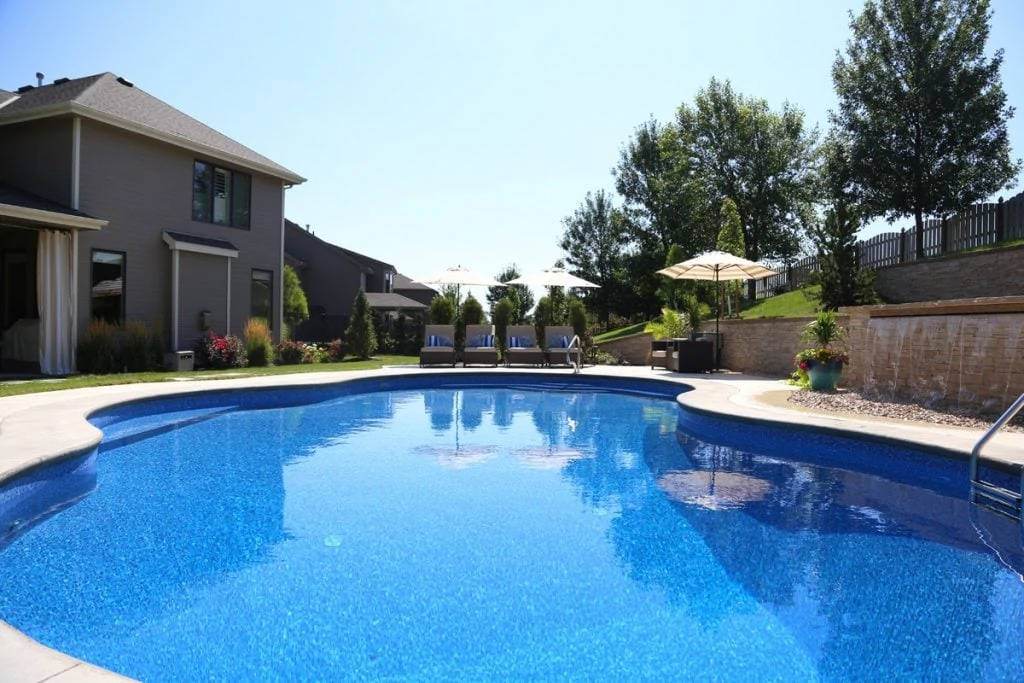 After much discussion, we opted to have the pool equipment out near the pool. Shane was worried we didn't have enough space on the side of our house (unless we completely covered our courtyard access). We were worried about the location initially, but Justin drew some cool plans to help camo everything with landscaping. In another year or so, we're pretty sure you won't even know it's back there! And we actually love the design element of the turned wall (and the fact it's easy to run to the control panel at any time).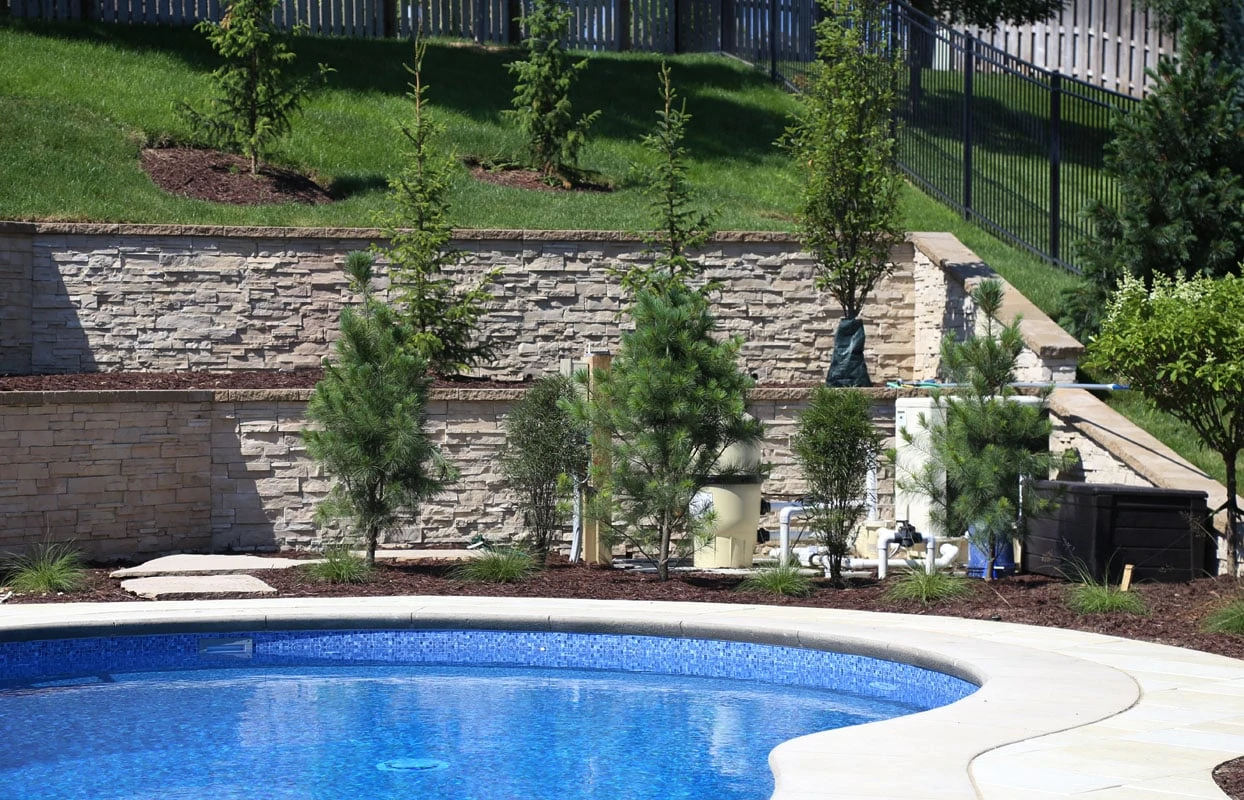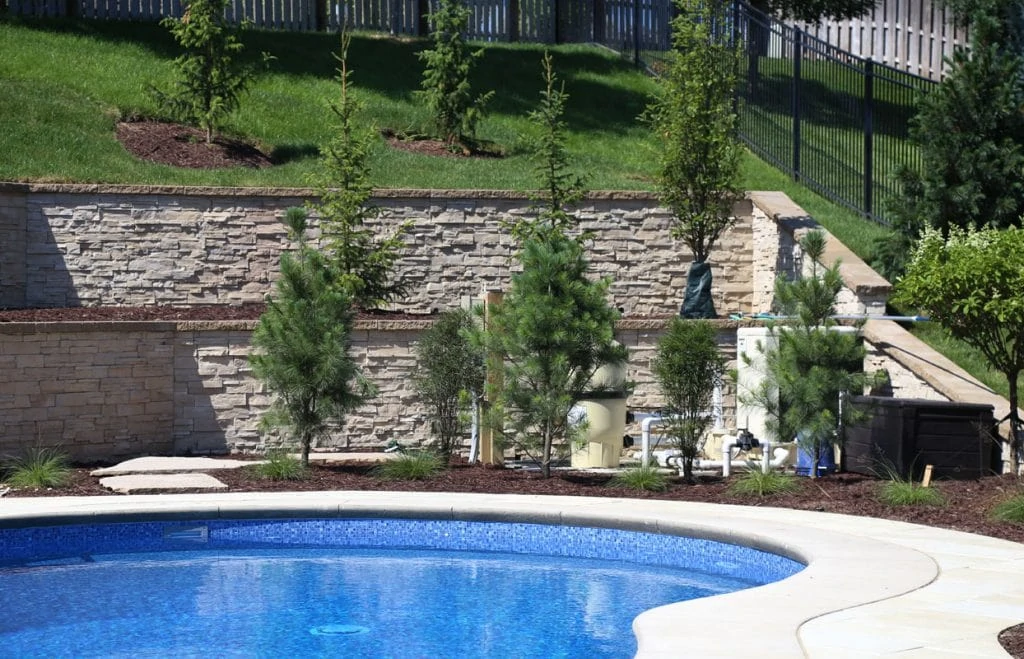 We still have a 2-3 year plan to add more trees and plans to further enhance the privacy  in our backyard, but we love how it's turned out so far!
BUILDING A POOL: CLOSING TIPS AND ADVICE
Overall, we felt the entire project went off without too many major issues. Weather delays can obviously be very frustrating, but if that's the worst that happens, it's really a blessing. Here are some tips we would recommend when working on a project of this scale:
Get all change orders in writing. Verbally is not enough and it can cause issues when payment is due. Thankfully a friend gave us this advice, so we were diligent about requesting updated costs/changes to all be in writing. Definitely recommended!
Don't be afraid to ask for references if they aren't provided. Every person that worked on our job site had worked for a neighbor, friend or family member so we could see first-hand the quality of workmanship and learn in advance any issues we may encounter.
Projects this large may need to be completed over several years, so don't be afraid to work with your designer and contractor to break off bits of the project into manageable pieces that will still look 'finished' when each phase is completed.
Don't settle for things you don't want. You're spending your own, hard-earned money so make sure you're getting what you want. Compromise is one thing (and you're going to have to learn to make several along the way), but if there is something that is counter to what you know needs to be included, stay firm. Basically, choose your battles so that when an important issue comes up, you'll have more sway.
Be present. We felt like it was really important to show up daily on site to check status. Plus, we were geeking out each day to see what had been completed so it wasn't much of a chore.
Don't be afraid to question decisions.
In terms of budget, be sure to also factor in the cost of outdoor furniture. If you recall, I worked with Hayneedle on most of our furniture, so we had minimal miscellaneous expenses where this was concerned. But, outdoor furniture is pricey so I don't want to leave you with any budget surprise!
Mostly importantly, have patience! It's no fun to have delays, dust on all your floors on a daily basis (even though it's an outside project), and stress like you've never felt before. But, we can both promise you it is worth it in the end!
If you're interested in any of the decor in our pool area, you can click any of the images below to find each item:

Did I forget anything? Any other questions you had that I didn't cover? Let me know in the comments!
Thank you all so much for following along on this journey with us! Have a wonderful holiday weekend!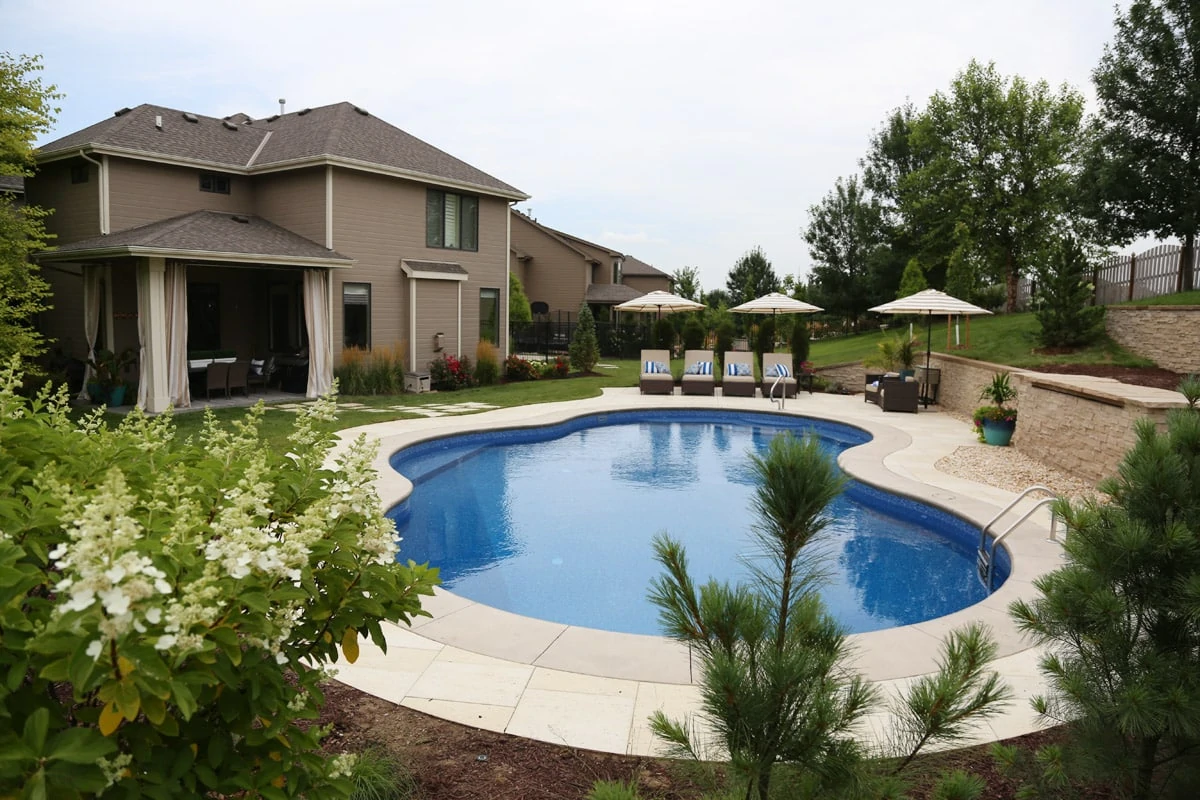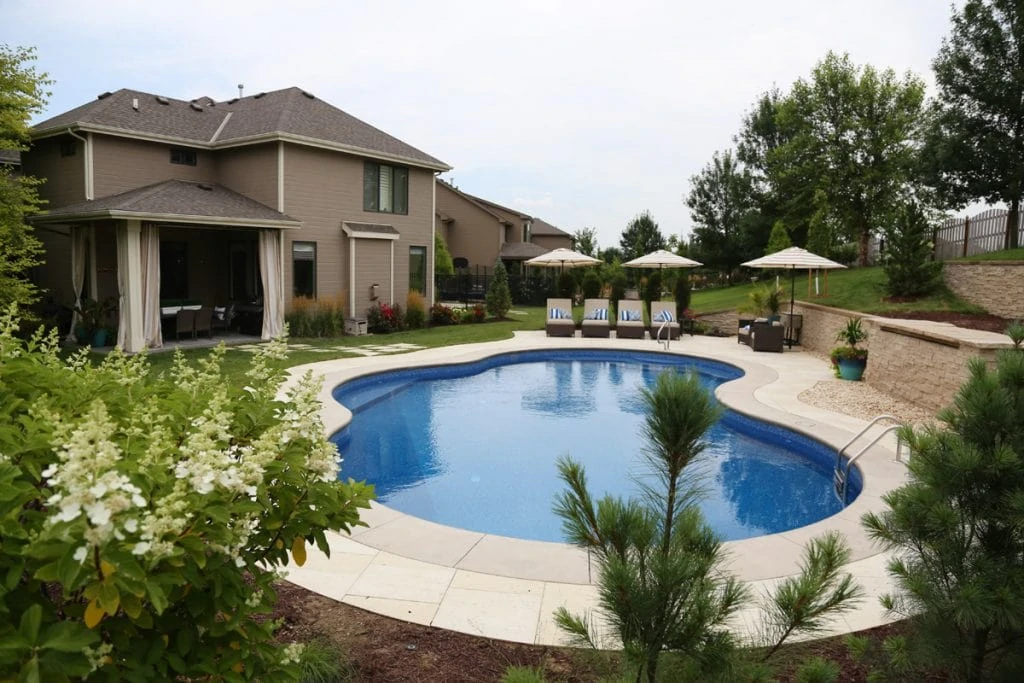 If you would like to follow along on more of my home decor, DIY, lifestyle, travel and other posts, I'd love to have you follow me on any of the following:
Pinterest / Instagram / Facebook / Twitter / Bloglovin' / Google
disclosure: some affiliate links used
Linking up to: Remodelaholic