This is my review of our backyard pool after the first year of use!  Lots of landscaping pictures and before and after pictures!
It's hard to believe, but tomorrow marks the first anniversary of the day I revealed the pool and backyard makeover to you! I've received questions and requests for updated photos over the past few months, and while I've teased you on Instagram and my Weekend Recaps, I thought I'd do a proper post today with everything all together.
You may recall that as we left it last year, I wrote a post with everything you need to know about building a pool (the post also includes sources, tips and a budget breakdown). Our goal this year was to add in some additional, smaller landscaping (we mostly only did trees last year) and get some bold color! We wanted the pool functional last year, with most of the large landscaping completed (trees). This year, we then planned to add more of the decorative shrubs and plants. The main reason for this was budget constraints and some of the additional costs that came up last year (like that second retaining wall) that weren't initially planned.
So first, I'll give you an updated tour of the outdoor space. Then I'll dig into some of our tips and what we wish we would have done differently!
It's hard to believe that this was our backyard last March before they started digging!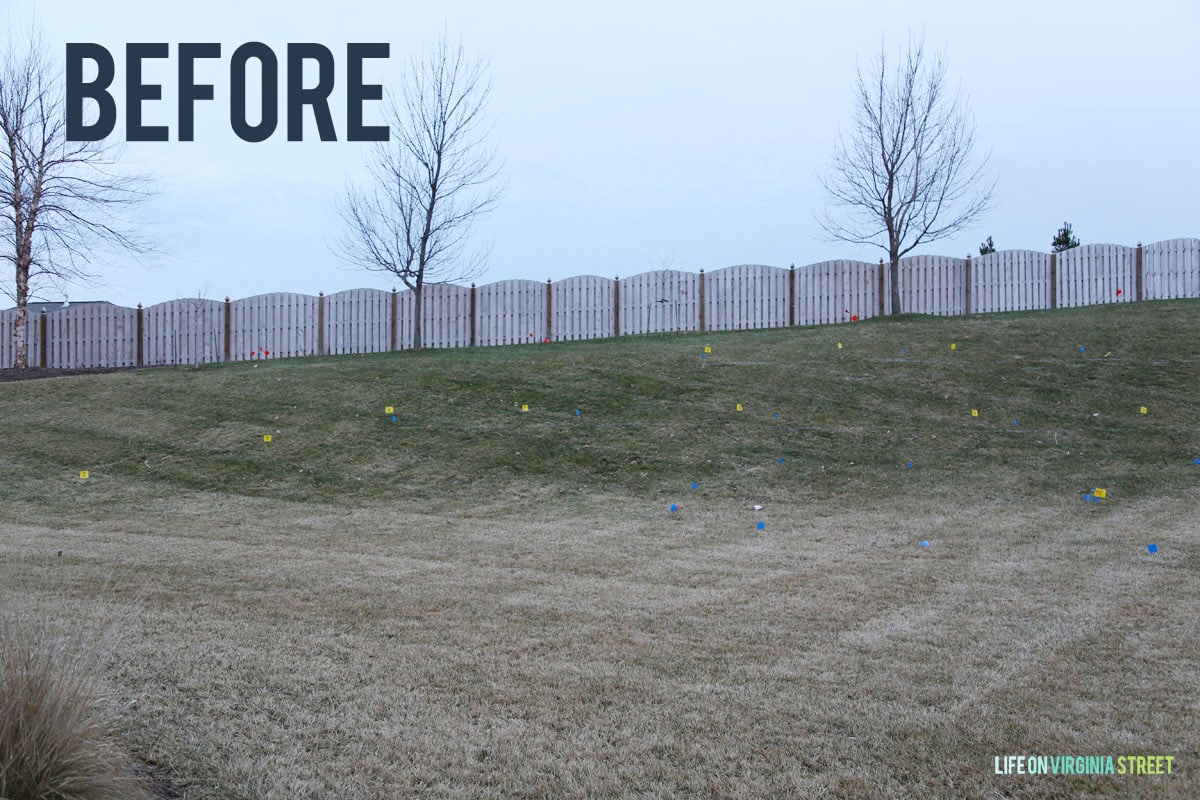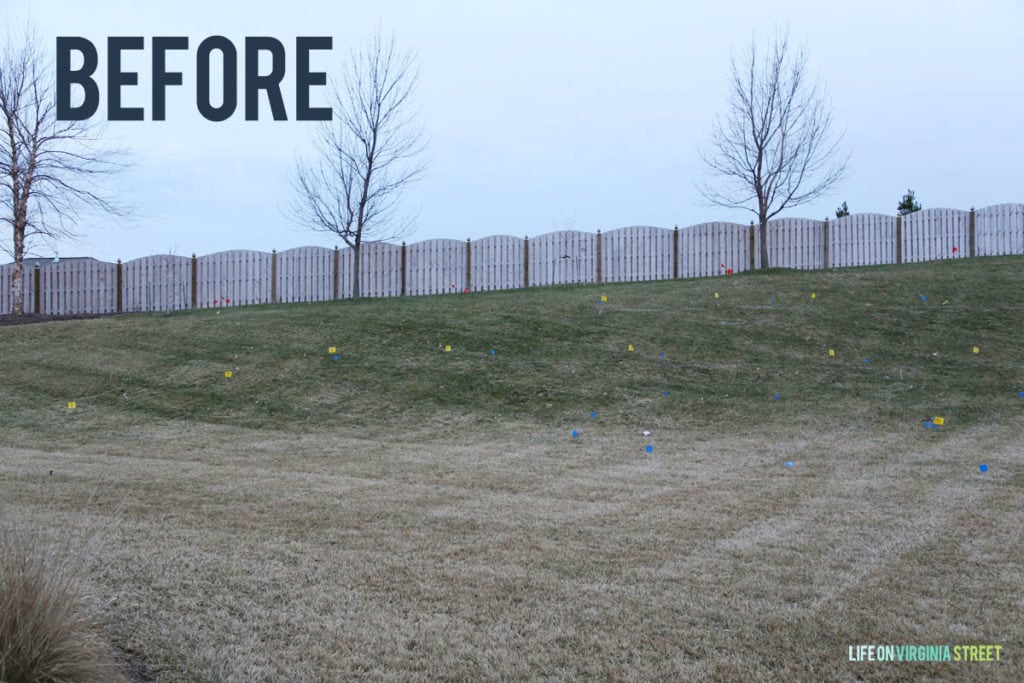 And here is that same gorgeous view as of last week.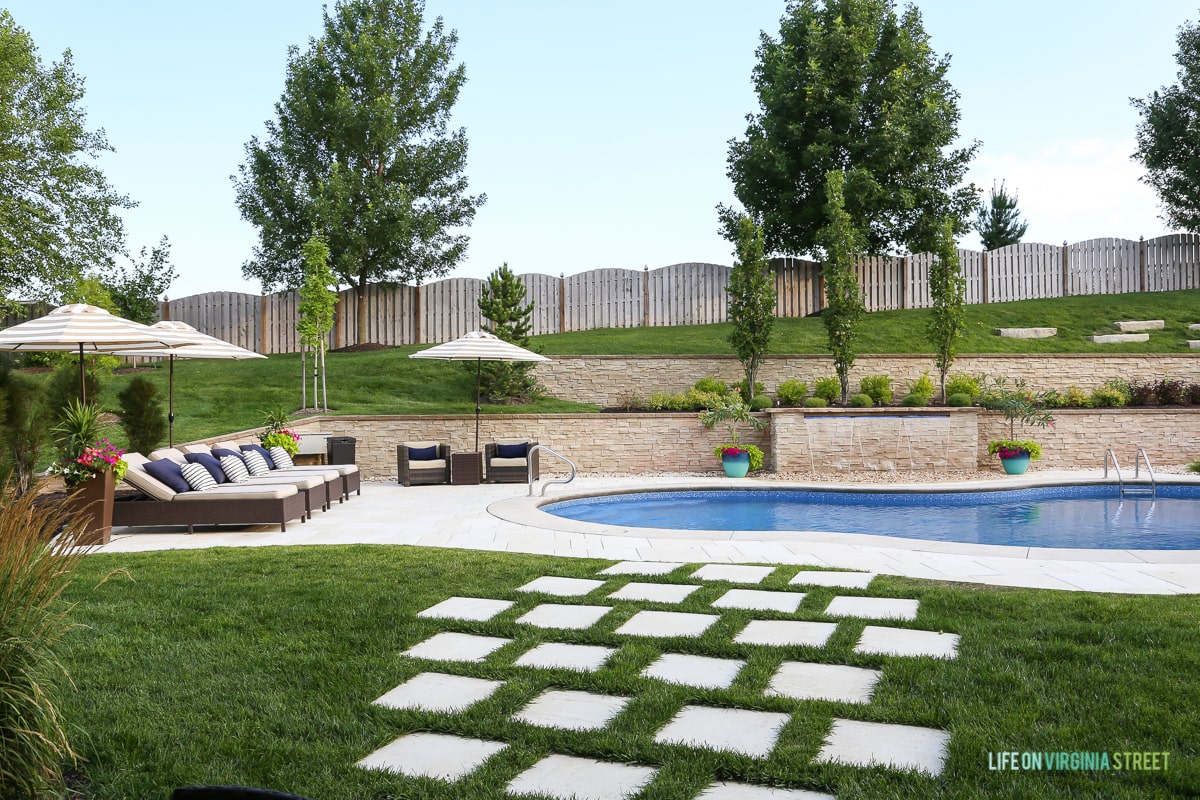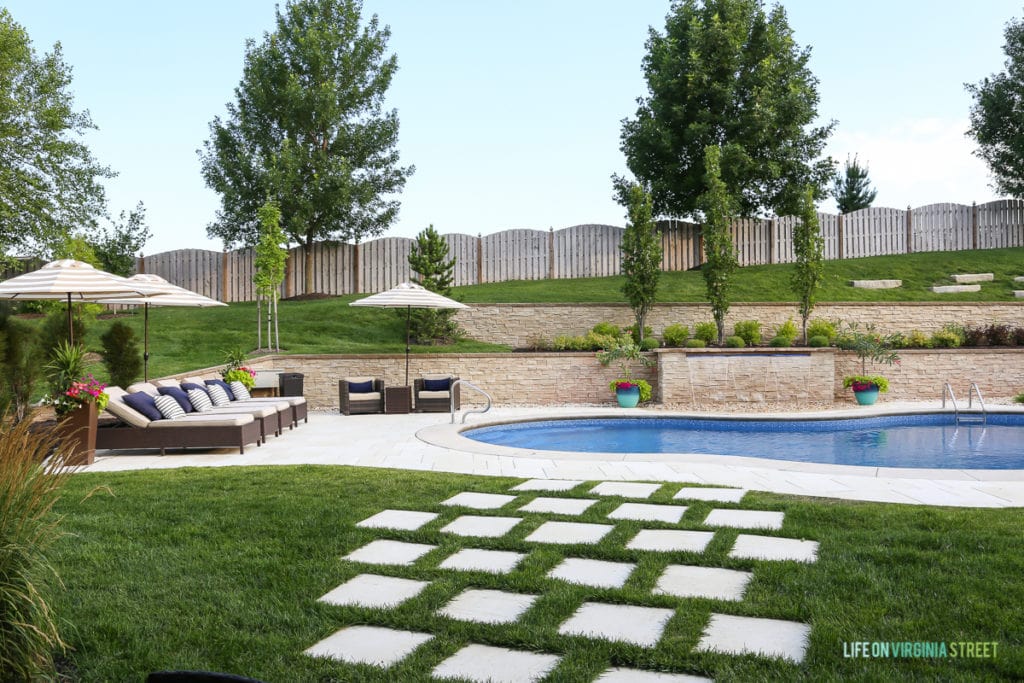 Pretty dramatic difference, huh?! Here's a bit wider view (standing under our covered patio) that shows the pool equipment as well.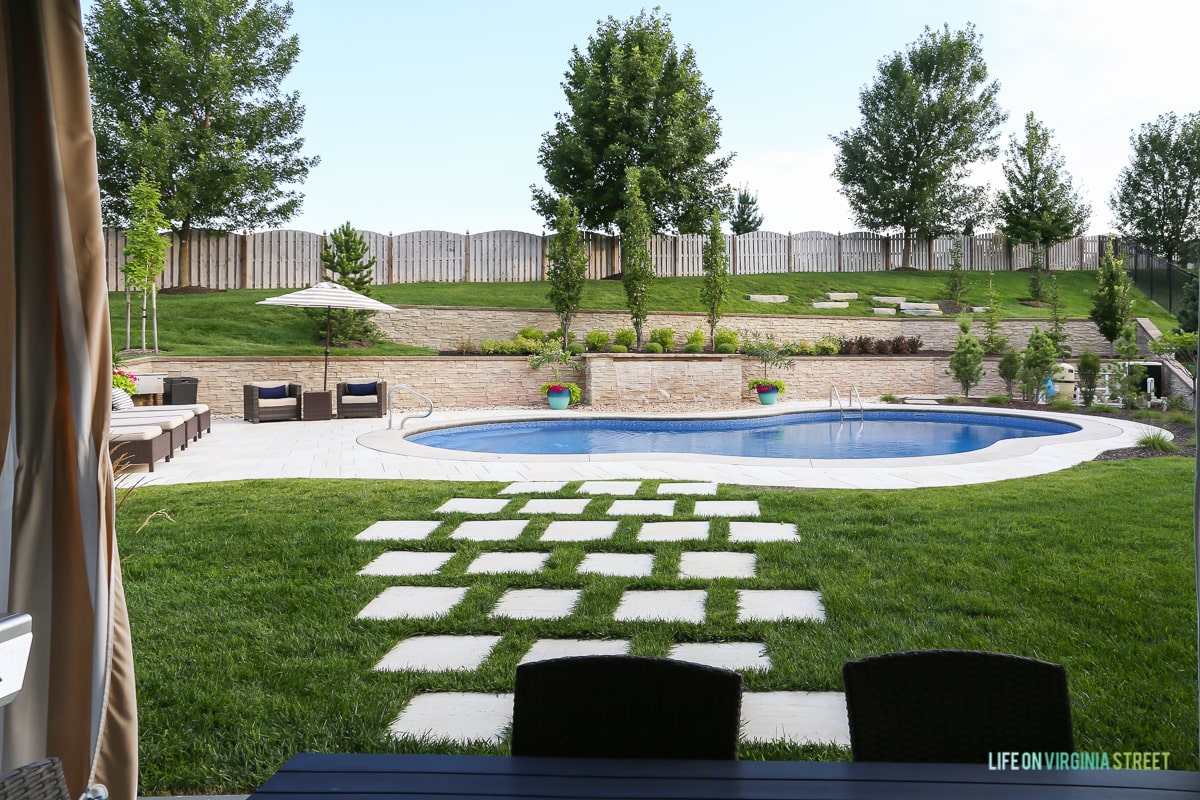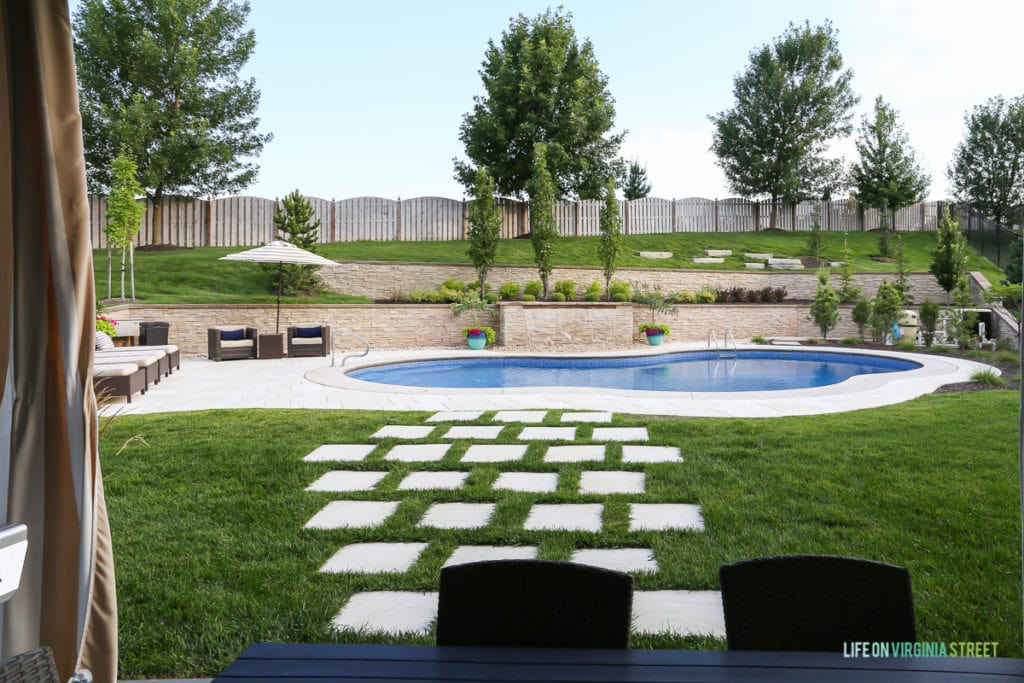 The following photo is what the same view looked like one year ago. You can see just how much backyard landscaping was added over the course of the past year! It's fun to see how much the trees have grown and how much healthier the sod looks now.  Even if our mower doesn't trim the checkerboard pavers correctly. 😉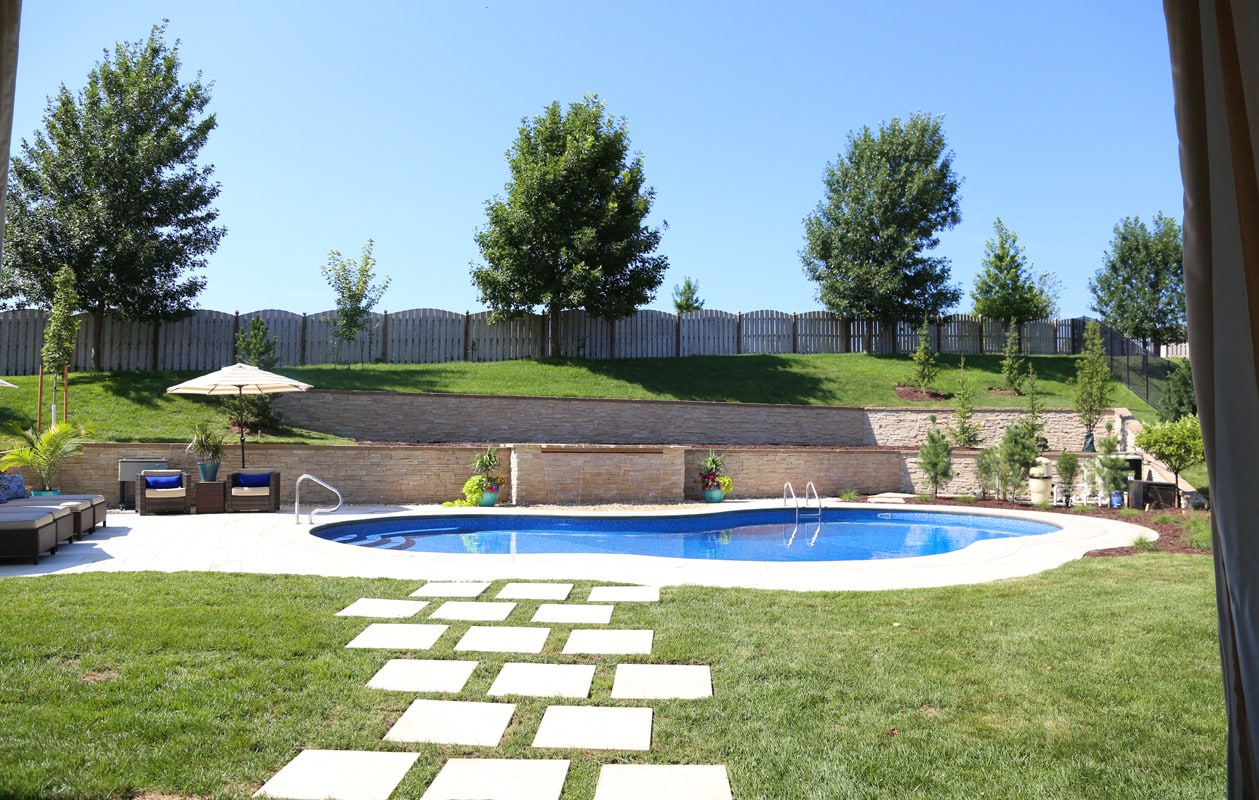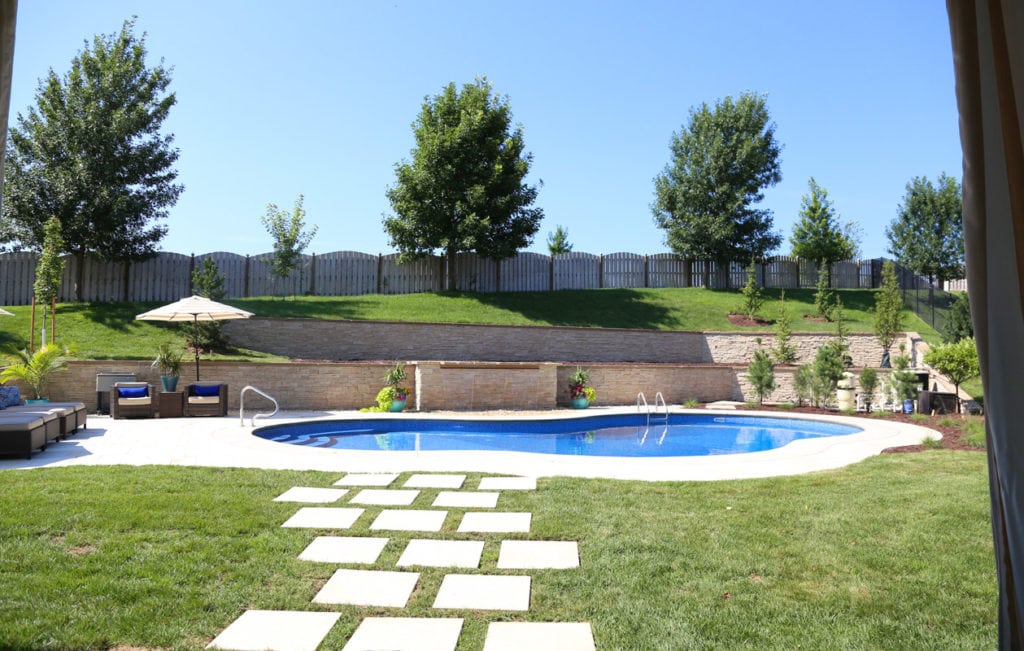 You can see that, since last year, we added a bunch of flowering shrubs and the three oak trees to the second tier of the wall. We also had those limestone ledges added earlier this spring when the hill was still unwalkable.
This next 'before' photos is from fall of 2015.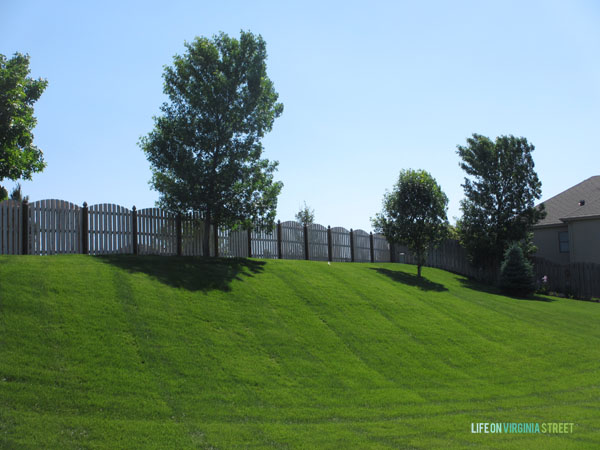 And here's that same view today. To put it in perspective, each wall is four feet tall. You can see some of our trees (especially the evergreens) have really started to take off already!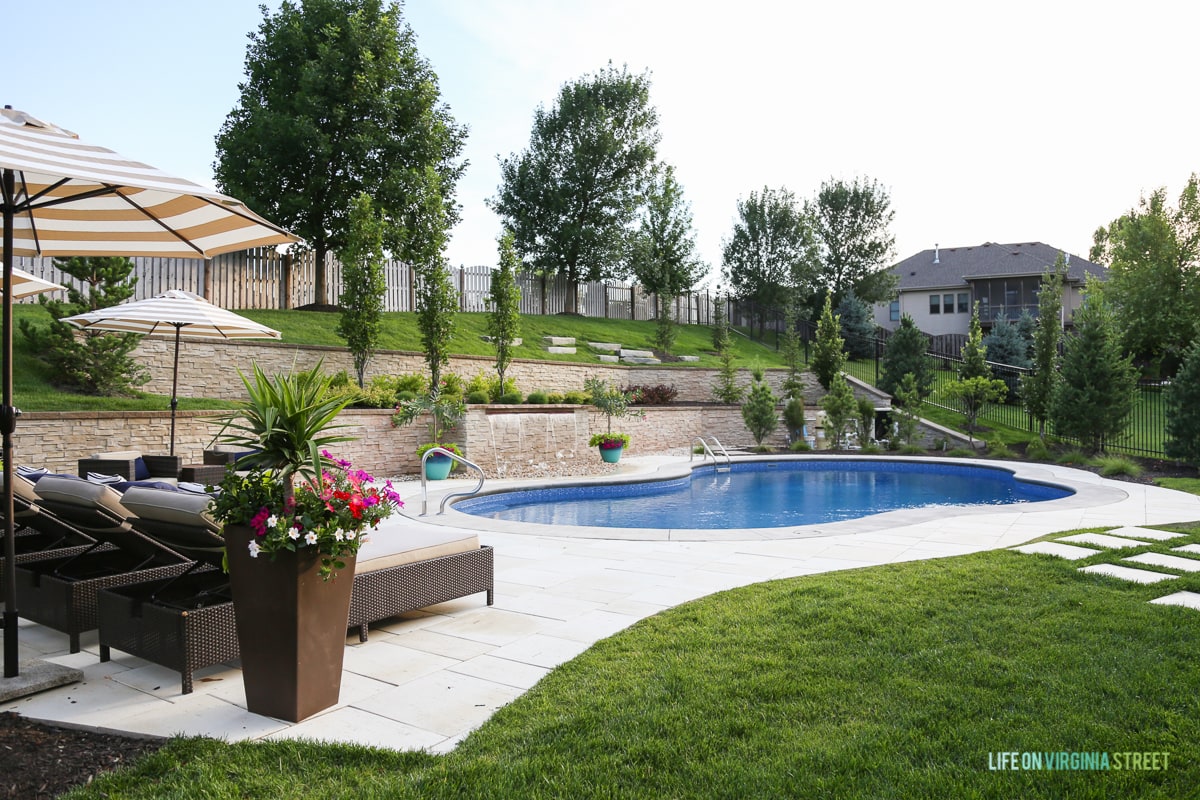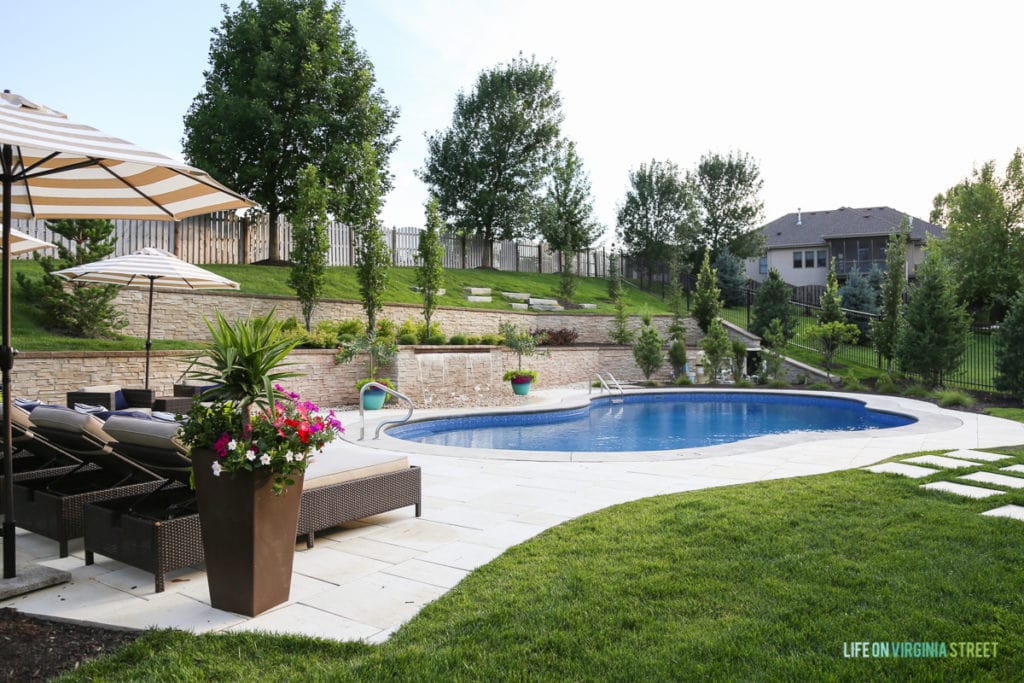 A view from the other side of the yard.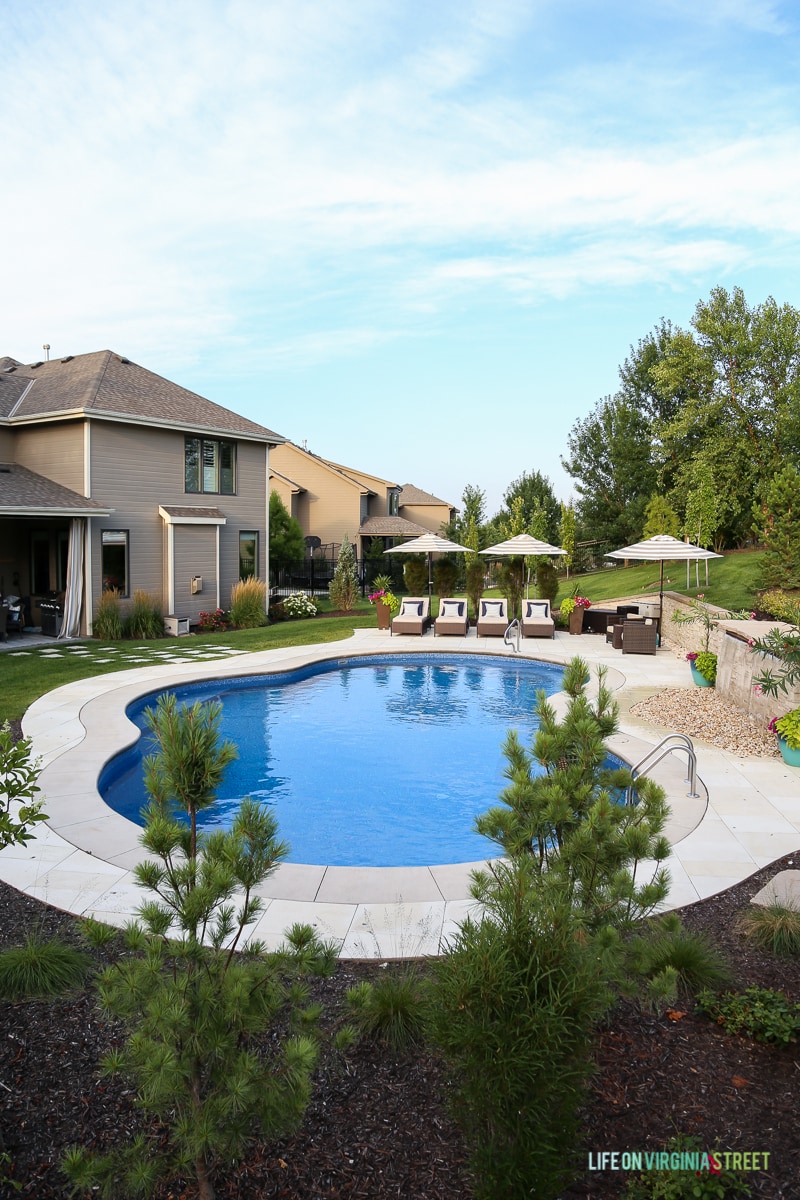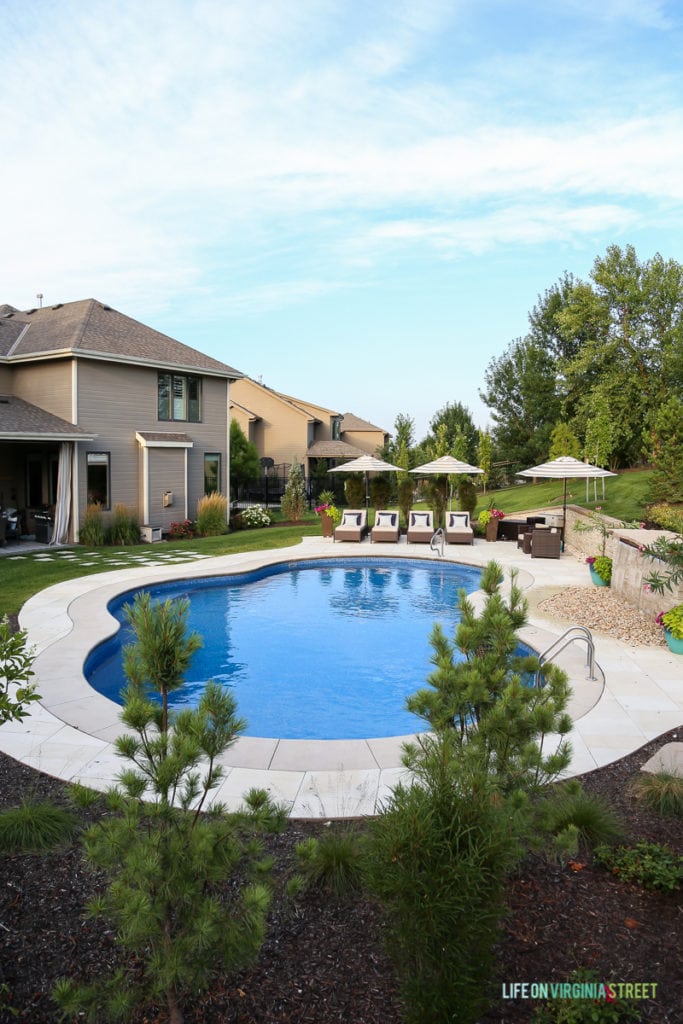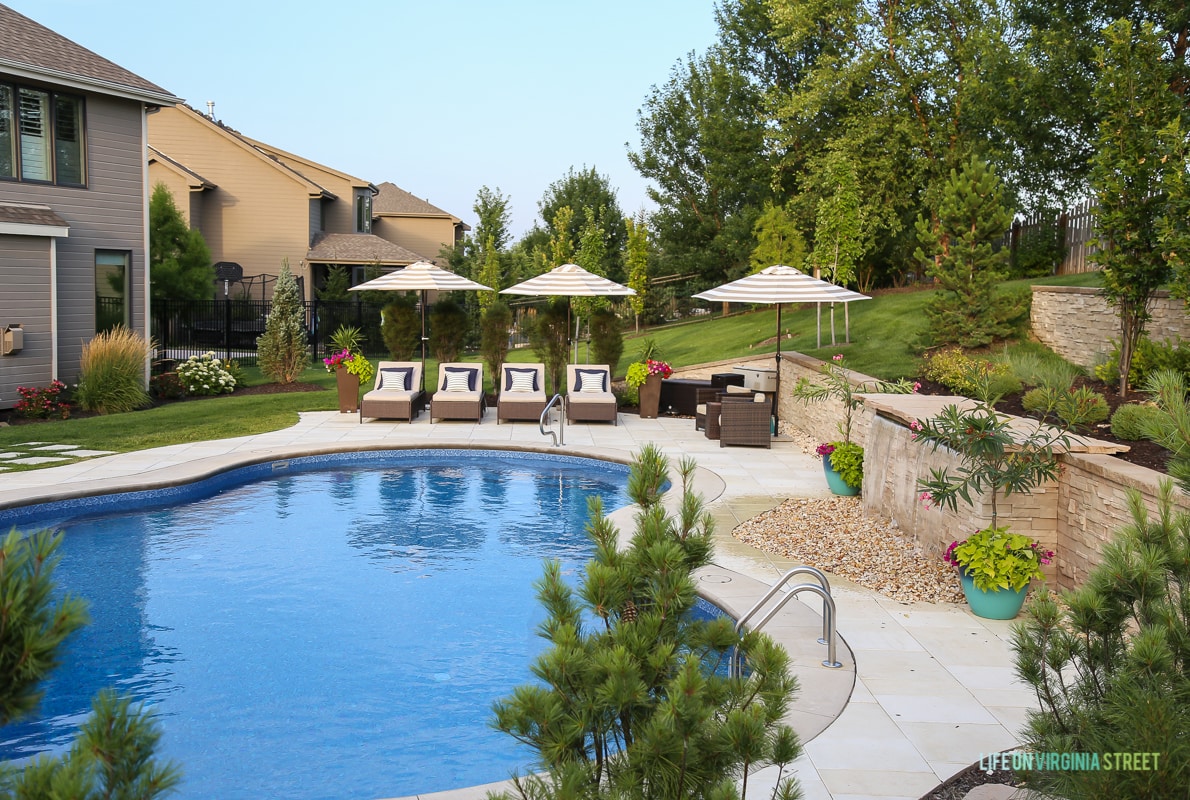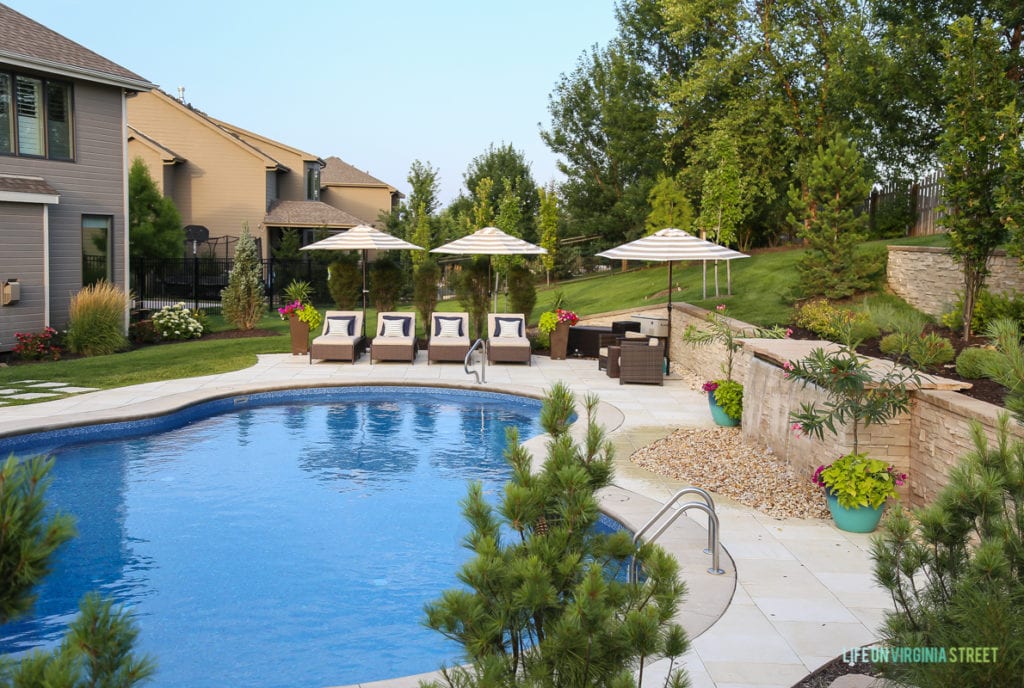 Here you can see a bit more of the landscaping we added to the second tier wall. If it looks like the sun was starting to set, it was. I have the hardest time getting good photos of the pool area during the day. The sun is just so harsh! The drawback to taking them so late is that you get that warm glow from the sunsetting. But, I think you get the point 😉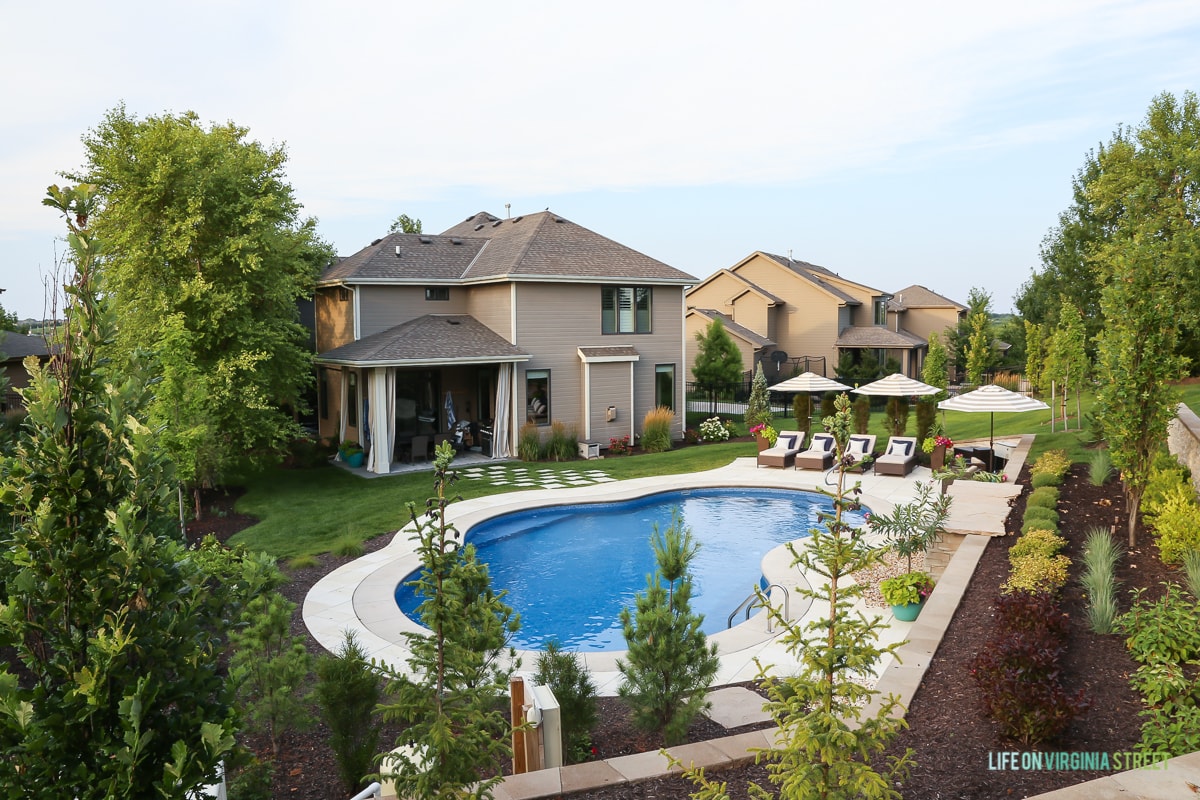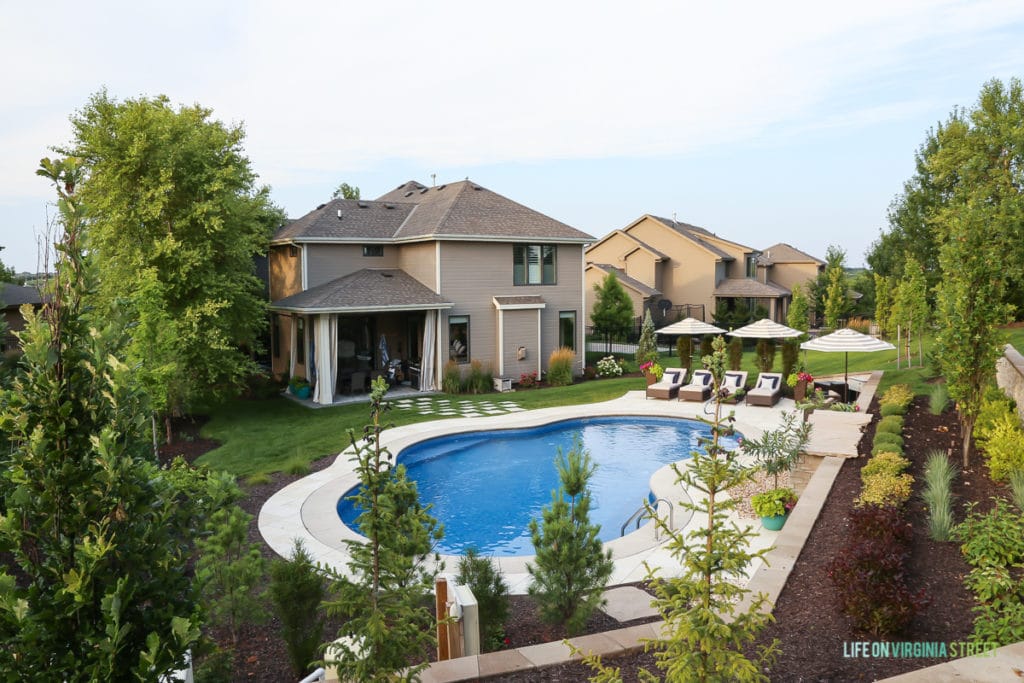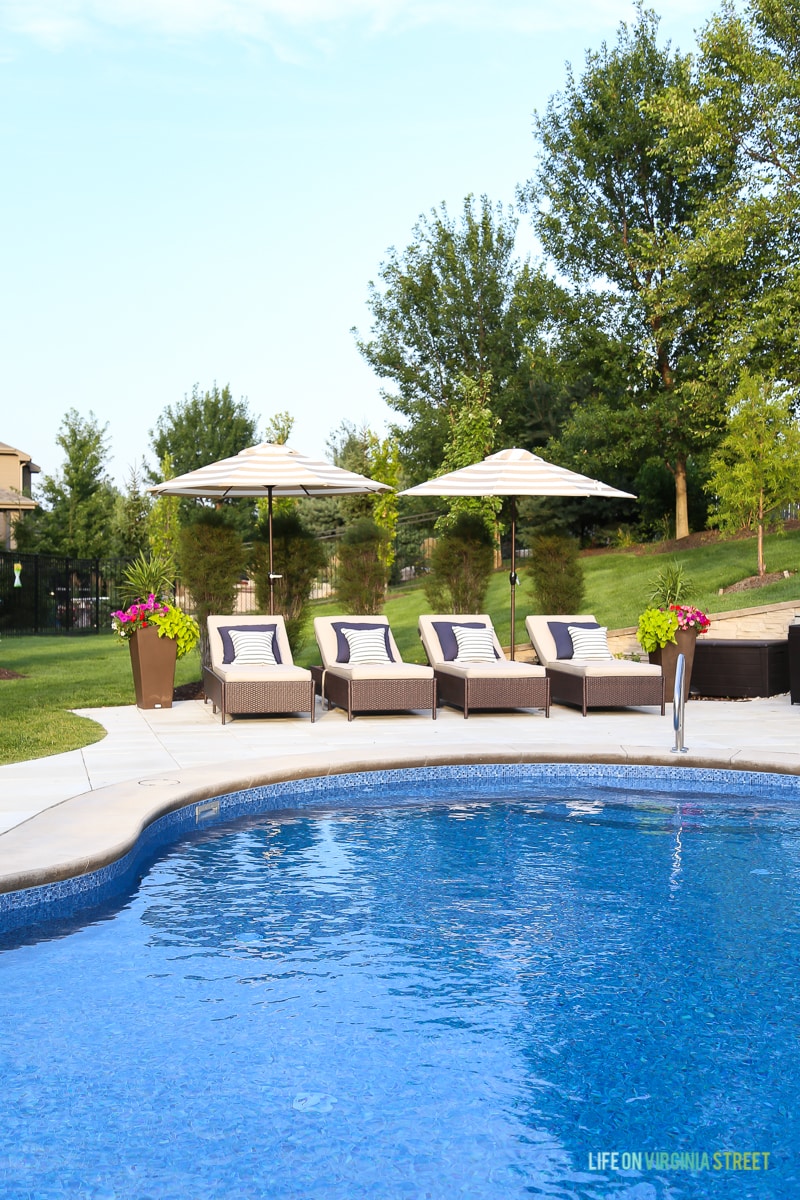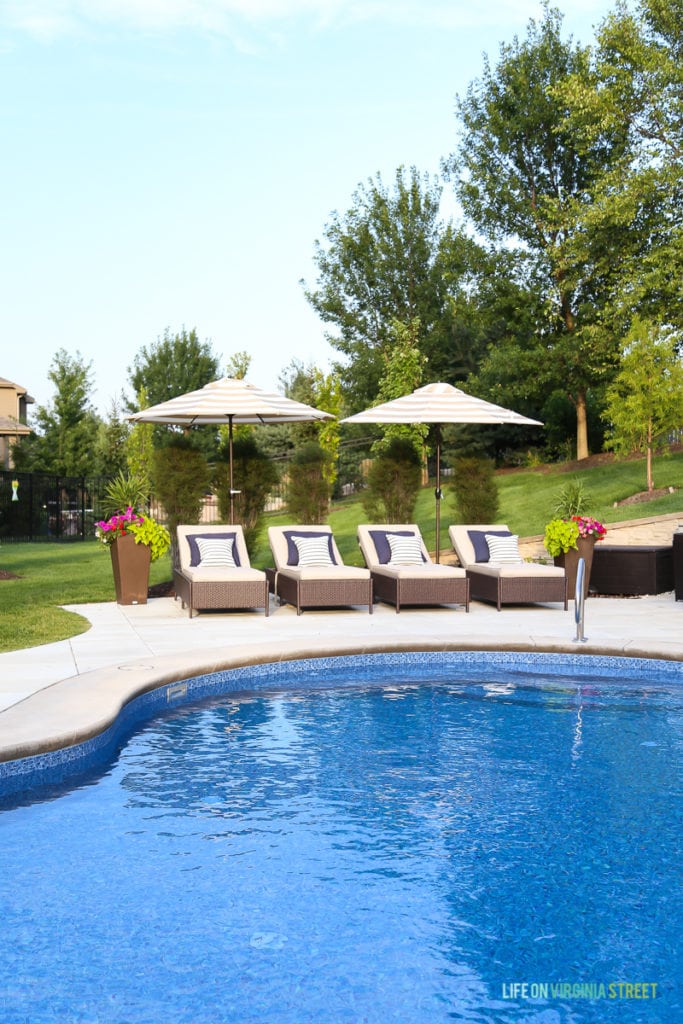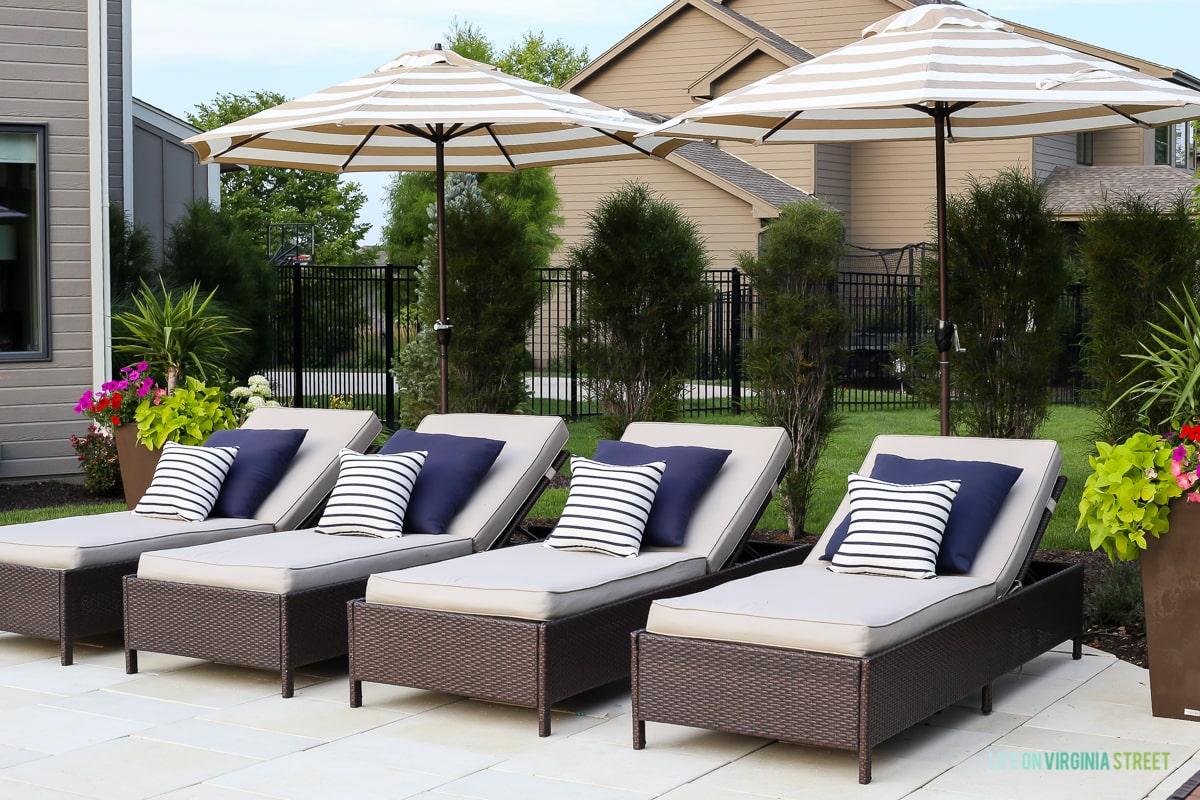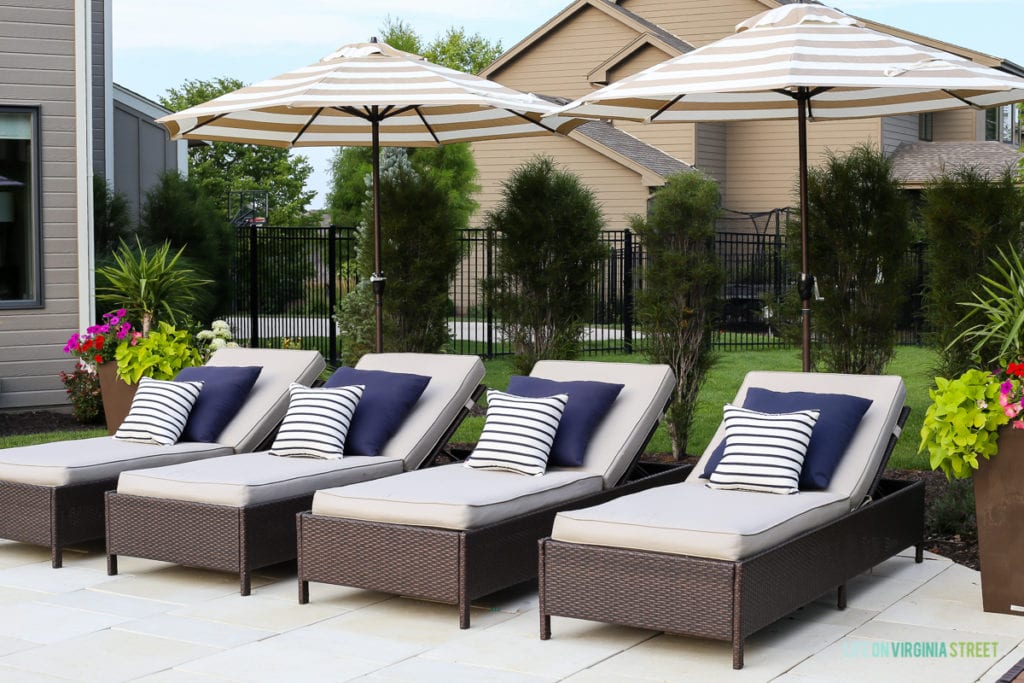 Lounge Chairs (also here) | Striped Pillows (also here) | Navy Blue Pillows | Umbrellas | Planters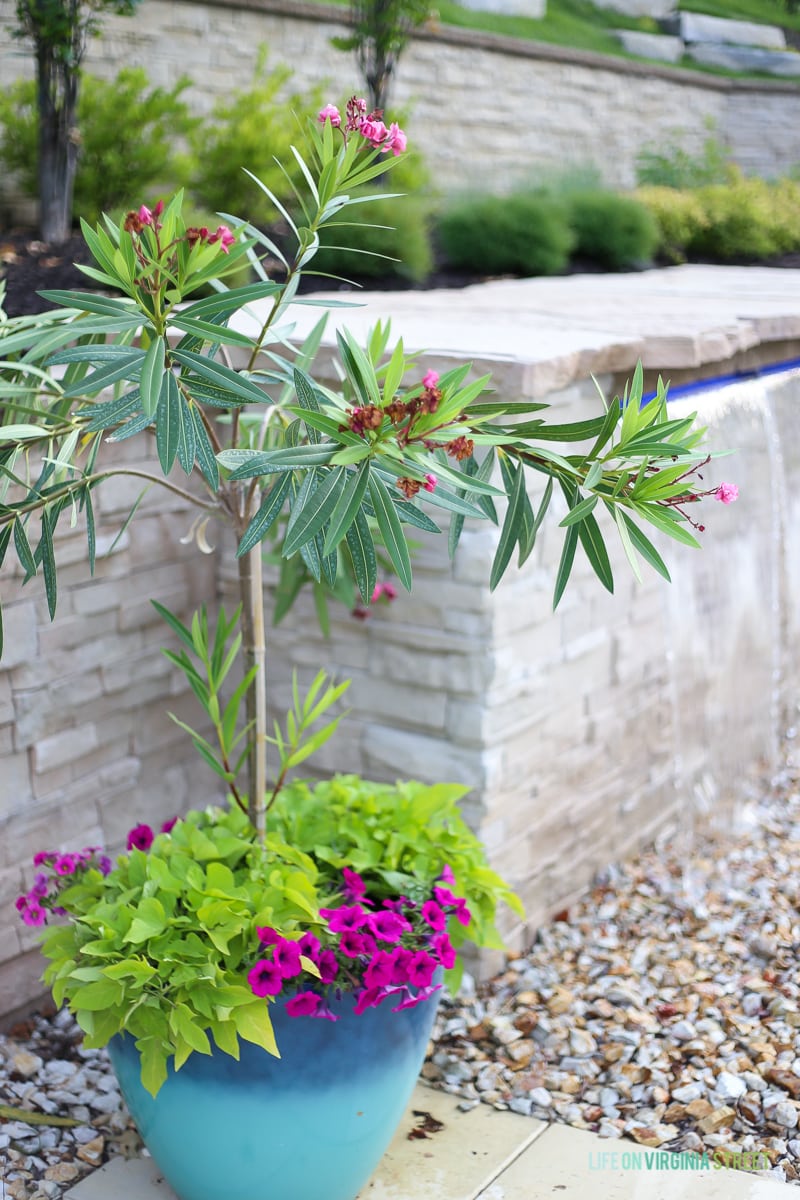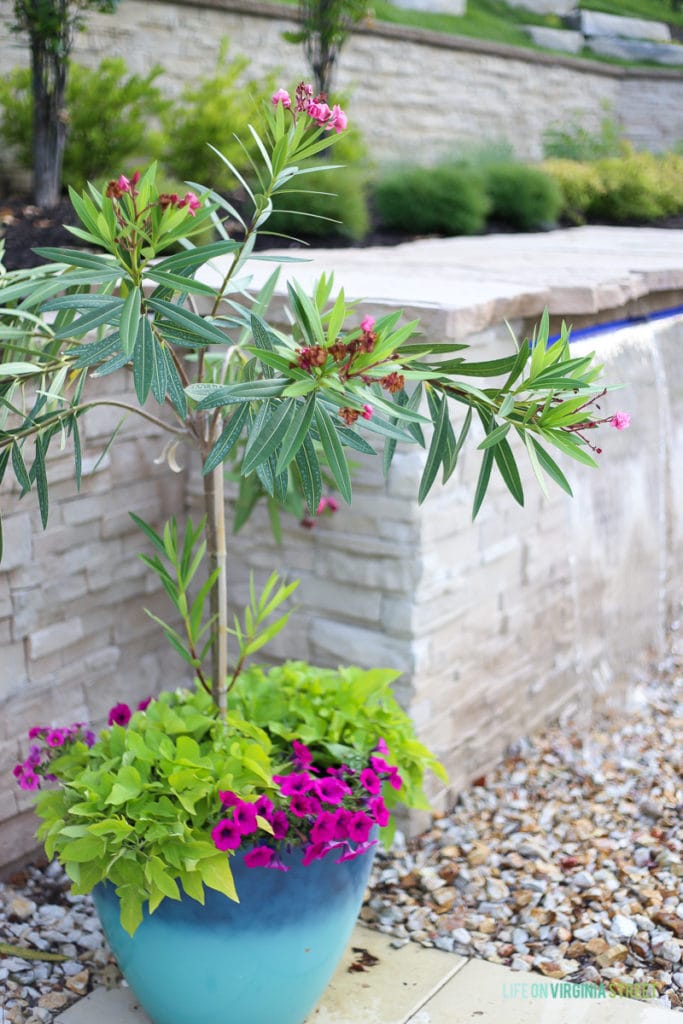 We are so happy we decided to add the waterfall. The sound is so peaceful and just ups the relaxation factor so much!  Feels almost like a spa pool!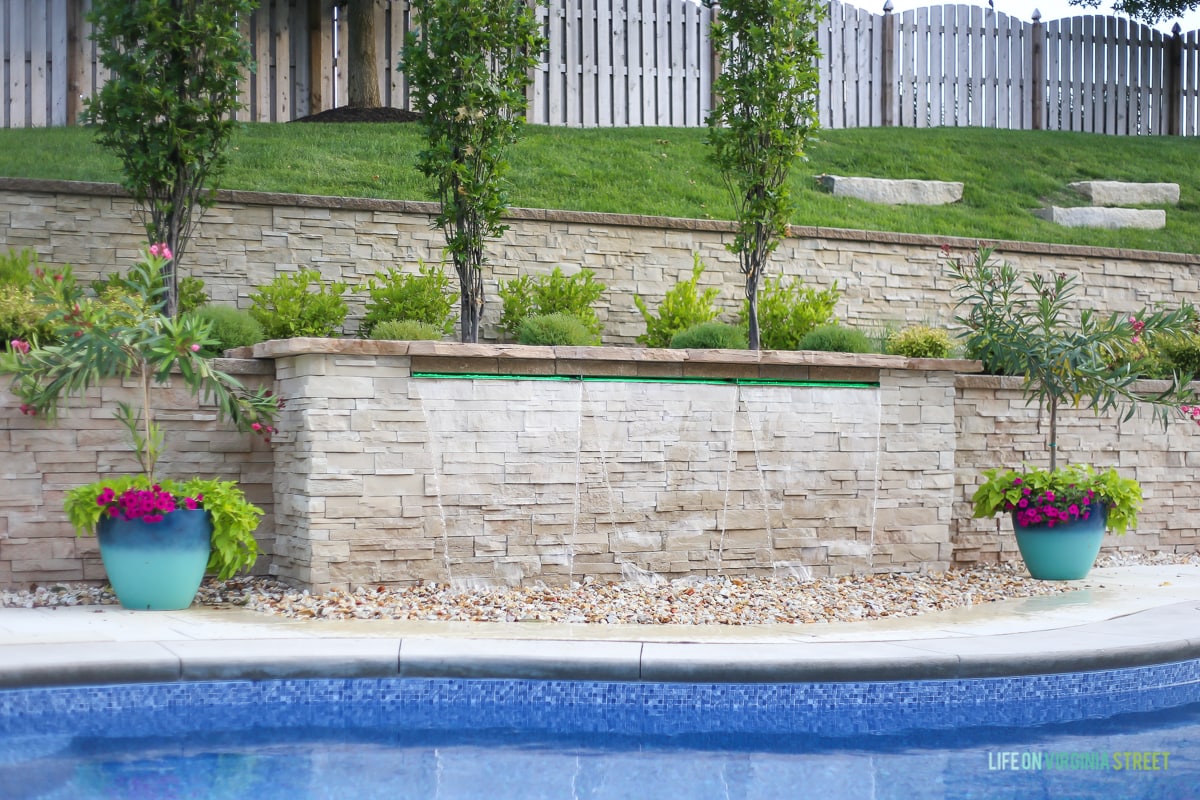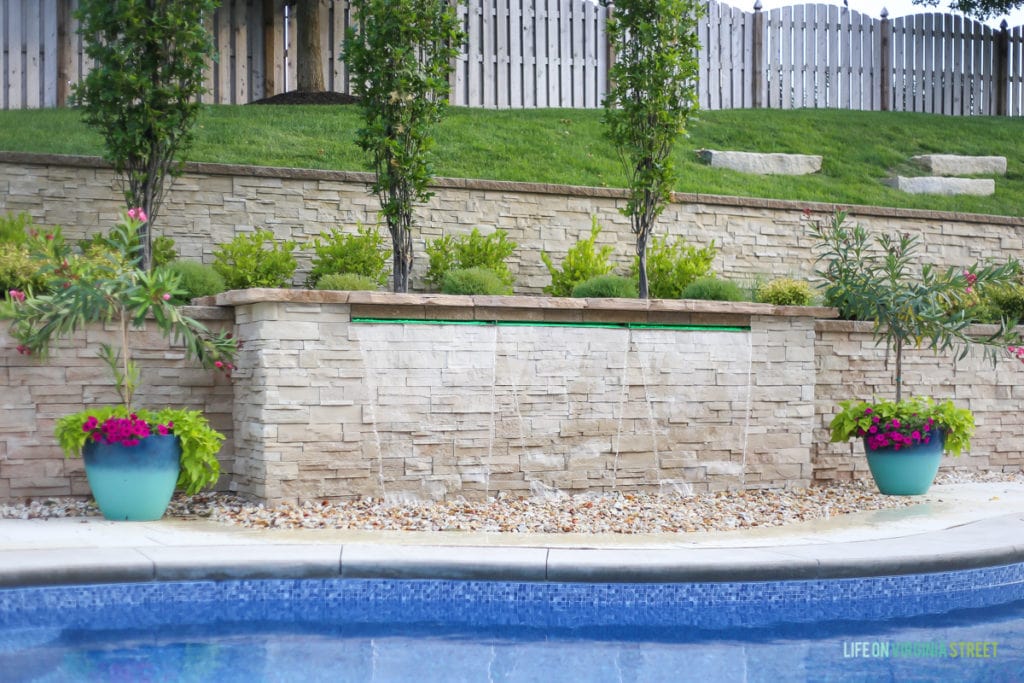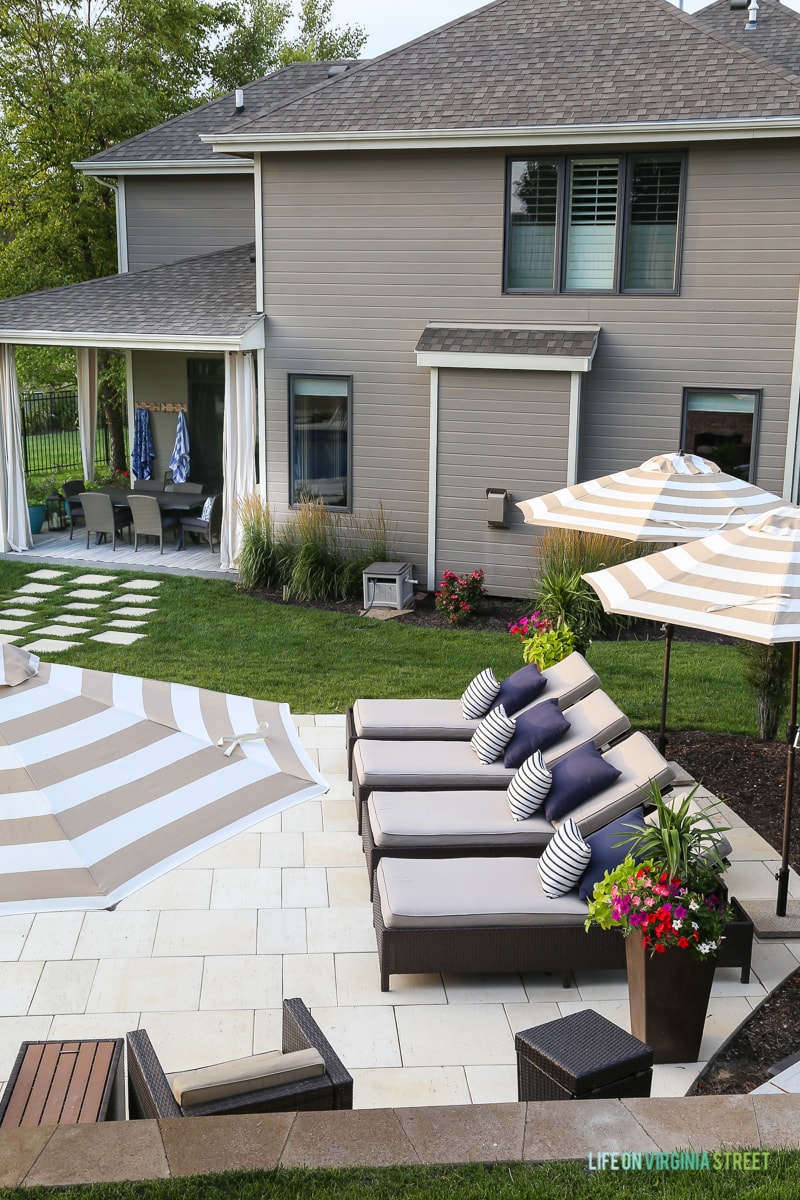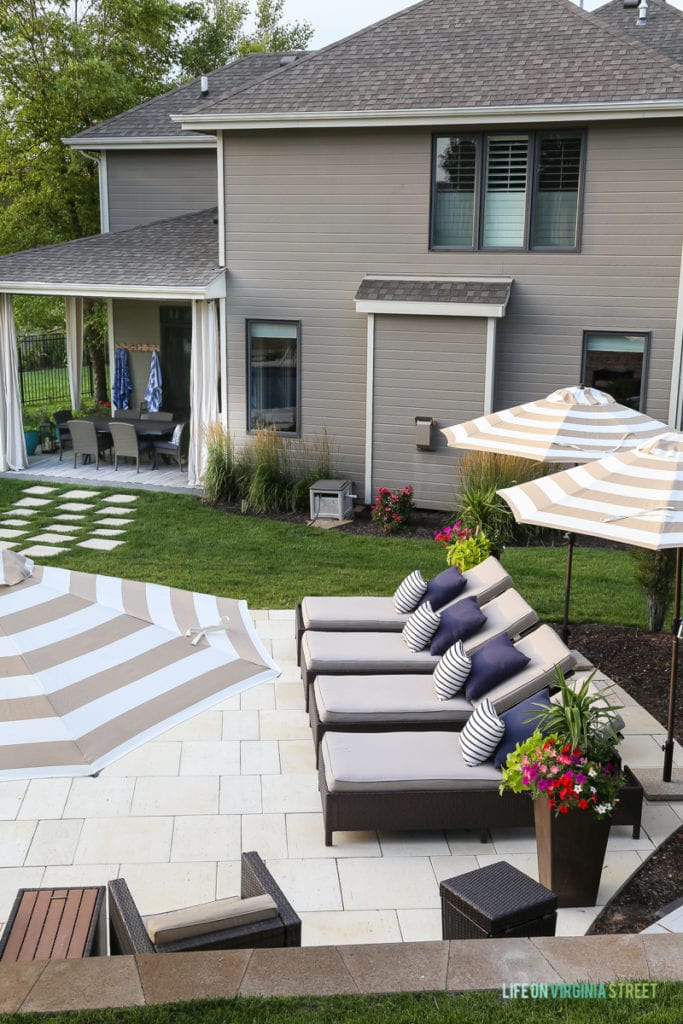 Conversation Set | Dining Set | Outdoor Curtains | Striped Towels | Lounge Chairs (also here) | Striped Pillows (also here) | Navy Blue Pillows (square) | Navy Blue Pillows (lumbar) Umbrellas | Planters | Wicker Garbage Can


Selections we couldn't be happier with
Our paver selection. After experience multiple days over the past year with temps in the low 100's, it's amazing just how cool our concrete "travertine" pavers stay. For those interested we used the Antique Travertine in Ivory from Rochester Concrete Products. The crazy part is that the concrete coping around our pool gets crazy hot (as concrete tends to do), but the pavers always stay fairly cool! We also couldn't be happier with the look of them.
Our In Ground Cleaning System. Paramount's Vanquish in-floor self-cleaning system (they have really helpful info on their site if you're curious how this system works) is a total game changer. We basically wake up to a clean pool every morning. Occasionally we'll have to brush or scoop leaves or get fine dirt off the floor but not having a vacuum is amazing! No system is perfect, but on the whole, we've been really happy with this choice (particularly since we don't cover the pool in the summer). On average we spend 15 minutes or less on it per day (emptying skimmer baskets, testing water when necessary, etc.).
The retaining walls. The original plan was to have one retaining wall. Justin, our landscaper recommended two once he checked out the grade. And if you ask Kurtis now, we needed three 😉 But, we're glad we reallocated funds to make that second wall or the hill behind it would have overtaken the entire look and been impossible to mow. We're also really happy with the stone veneer we chose to cover it!
The waterfall. As I mentioned above, the waterfall makes it a little spa-like sanctuary in our own backyard! Kurtis and our landscaper Justin mostly built this on their own, but we used these EasyPro Vianti Falls Spillway (x3) along with EasyPro LED multi-color light strips.
Additional water line and power by the pool equipment. Kurtis asked if we could have an additional water line and power outlets by the pool equipment. Total genius. This allows for us to have a hose out where we need it (he loves it for cleaning the filters) along with power for the waterfall and should we need it for landscaping lights or Christmas decor. So much easier to add it in the construction phase!
The drainage. You guys get all the credit for this one. Honestly. We had no idea drainage could be such an issue with pool deck and thanks to all of your feedback, we added extra drainage. We've had torrential downpours that have flooded our basement, side yard, etc. but we've never had an issue with the pool deck. Extra drainage can't be underestimated!
Pool furniture and umbrellas. We struck the jackpot on my selections from Hayneedle. Our furniture is super comfortable and we've gotten a lot of use out of everything. It looks as though several of the items we have from Hayneedle are sold out currently, so I've linked to the exact items on Wayfair. The loungers are money! So comfy and so well-built – but they are Serta so we didn't expect much less!
Our liner choice. I chose the Tara Liners Cheyenne (with no border) after crazy amounts of deliberation. But, in the end, we couldn't be happier with the choice! I feel like leaving the border off helps to make the "tiles" look life-like and much more high-end than a border would have looked.
Garage refrigerator. This is a win for Kurtis and a "meh" for me. We moved our basement refrigerator (which is actually the one that came free with the house) to the garage. It has served as our pool drink zone, in an effort to limit foot traffic inside during parties. Wet, salty feet and dark hardwoods don't mix well 😉 I think we need to figure out a solution for phase 3 (see below) to get this out of the garage, because it really isn't all that convenient walking around the house. First world problems here, but I feel like there could be an easier alternative.
Things we would have done differently
Sealed our pavers sooner. We have yet to seal the pavers due to some scheduling conflicts this spring. We hope to get it done this fall, but there have been a few times we had to scrub off bird poop (why do they eat so many berries?!) or other minor stains that wouldn't come off in the rain. The stains always came out, but it was work to get them off.
Figured out a better storage solution. Pool floats get out of control. And if you don't have a pre-planned place to store them, it can get ugly in a hurry. We have a storage box, but it doesn't hold the popular crazy huge pool floats that everyone currently has, and we wish we had thought through this one a little better and built a closet somewhere in the area.
Add more cleaning heads in the pool. Kurtis feels like there are a few areas the swing jets are missing, so he wishes he would have asked for a few extra jets to be included at construction. Much easier then than now! At this point, we'll leave it as it but it's good advice for those potentially looking at this system.
Would have looked into an automatic fill and drain. This sounds crazy but we have to either drain or fill our pool every few days. This is rather trivial, but when we're out of town, we do worry about the pool overfilling (and it is really bad if you get water behind the liner). So Kurtis said he'd love to have an auto-fill/drain sensor – if that's even a thing – for peace of mind when we're traveling!
Closing thoughts and observations on owning a pool
We both agree that building a backyard pool was one of the best decisions we ever made. But we also both agree that saving for years to be able pay for each phase was even better (guilt-free relaxation)! Not only do we get a ton of enjoyment out of the space, but so do our family, friends, and neighbors. We've become so much more social with our neighbors and there isn't as much stress having friends over. There's something about a pool day that is so much less pressure than, say, a formal party. We also can't believe just how relaxing going in the pool frequently can be!
In regards to our choice for saltwater. At this point, we're still undecided. The pool has been rather maintenance-free but we've had a few issues with our salt cell. We've also been told (even by our pool company) that it can be hard on your concrete. Since our coping and pavers are all concrete products, it could be an issue long-term. But, at this point, we're pretty indifferent to the choice. Cost-wise, it was less than $1,000 to make salt water so at this point we don't feel strongly one way or the other.
This fall, we plan to add a handful of small evergreen trees in some of the non-essential (for privacy) areas. This will include the limestone outcropping and a handful up along the wood fence line in between the big ash trees. Then we should be close to being done!
Now that phase one and two are complete, we plan to start talking about phase three. I mentioned this briefly last year, but the next phase will include expanding our covered patio to build in a grill and make the space much more functional and usable. Kurtis would love to have a TV outside and the grill and dining set have become a nuisance for traffic at this point, since the area really isn't that large. In our dreams, we'd actually have a terrace above the covered patio. This would be in lieu of that little roof you see right now and would be accessible off of our master bedroom. That idea may be nixed once we get a bid 😉 We'd also love to find a way to add a little storage closet when we expand the patio. Just enough space to store pool floats and cushions when needed.
Next week, I'll plan to share a few more updates on the pretty perennials I planted earlier in the spring. I'll also be hosting a fun giveaway for you!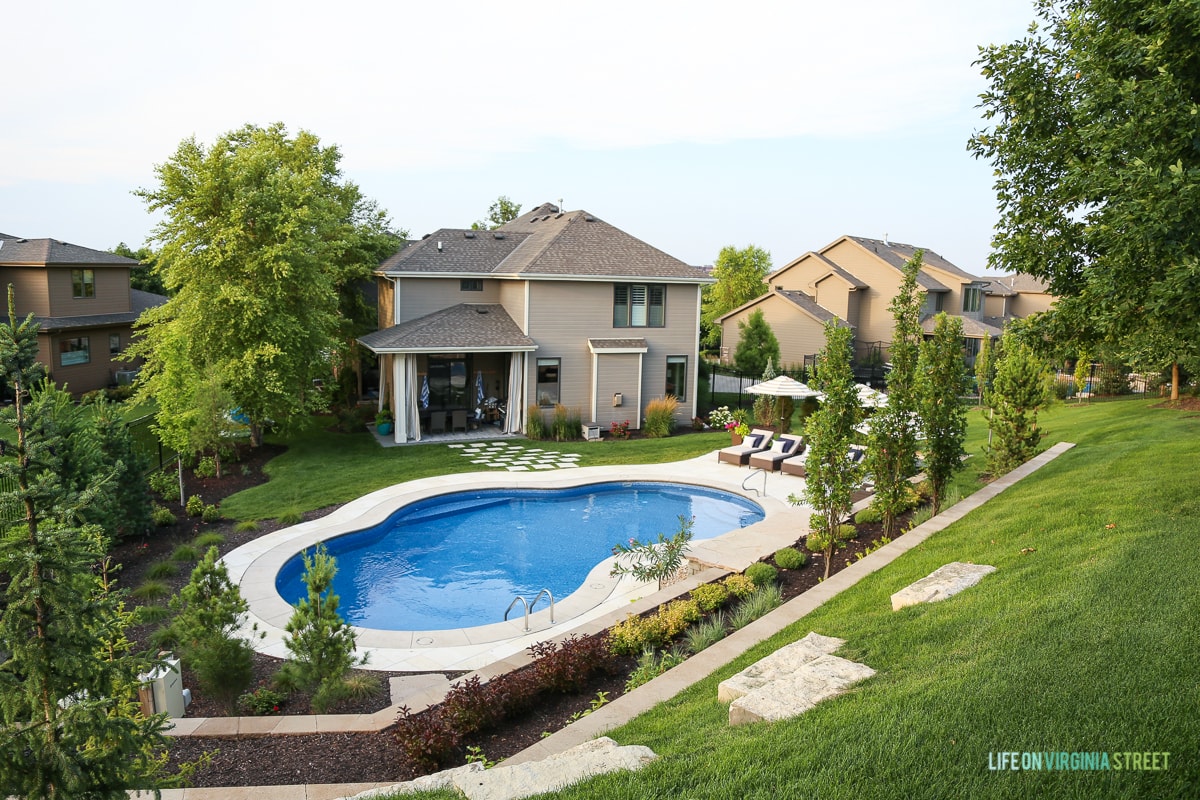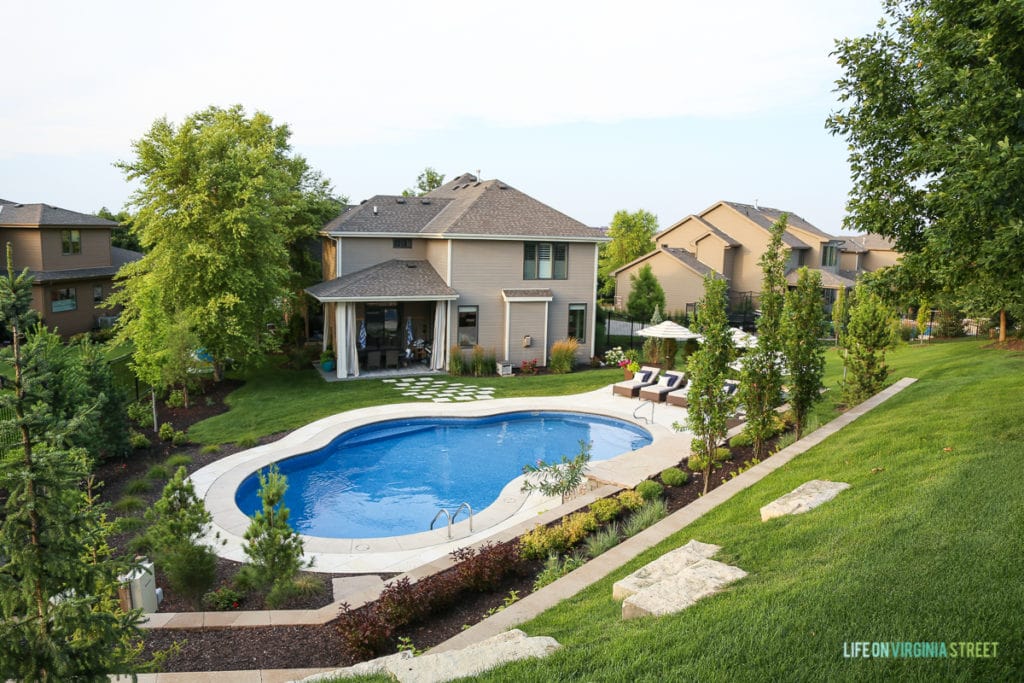 I hope you enjoyed this updated tour and information. Feel free to leave a comment with any additional information you'd like me to cover!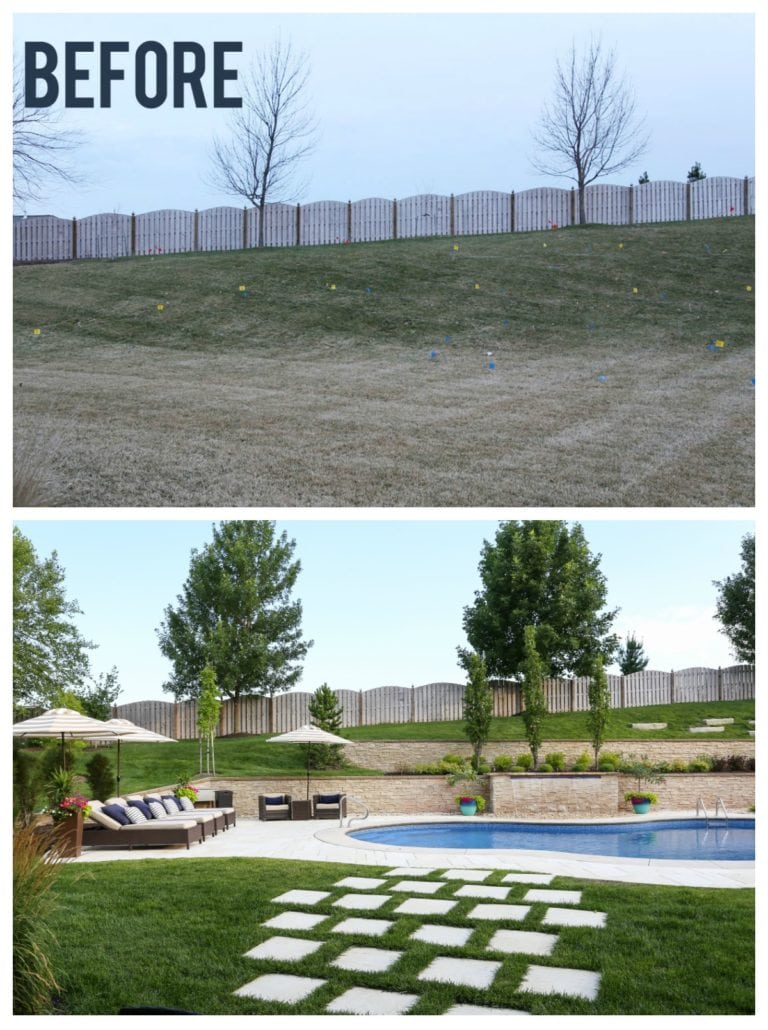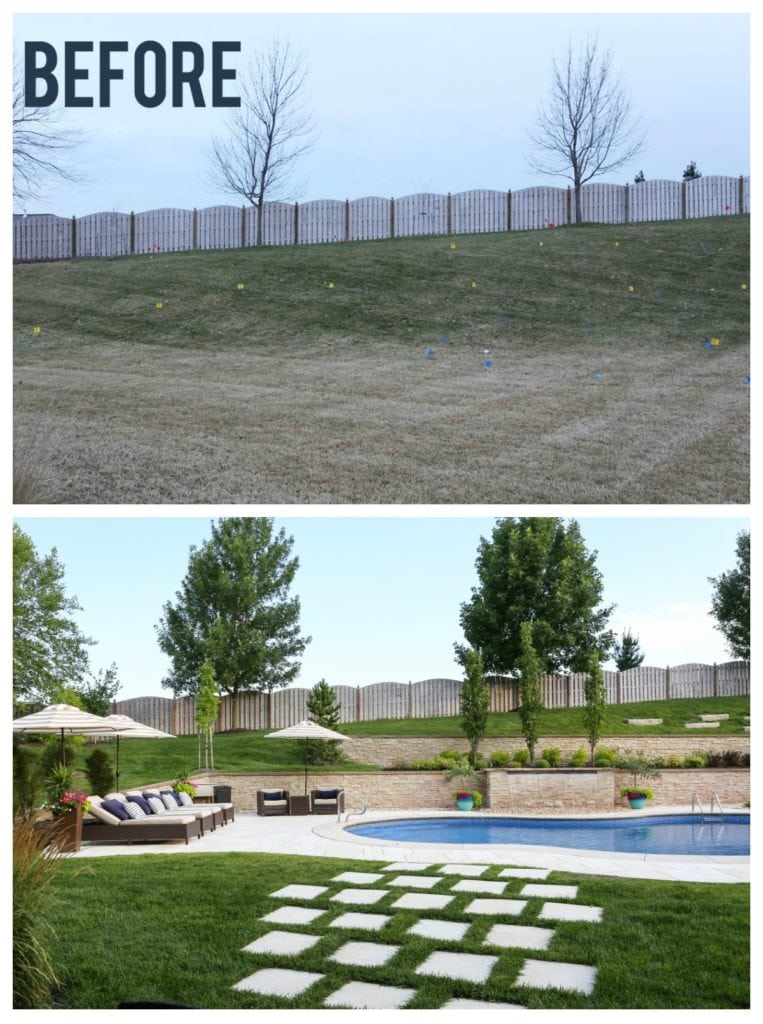 If you would like to follow along on more of my home decor, DIY, lifestyle, travel and other posts, I'd love to have you follow me on any of the following:
Pinterest / Instagram / Facebook / Twitter / Google+
disclosure: some affiliate links used