Sharing a collection of coastal chandeliers that could work in a variety of spaces in a modern coastal style home!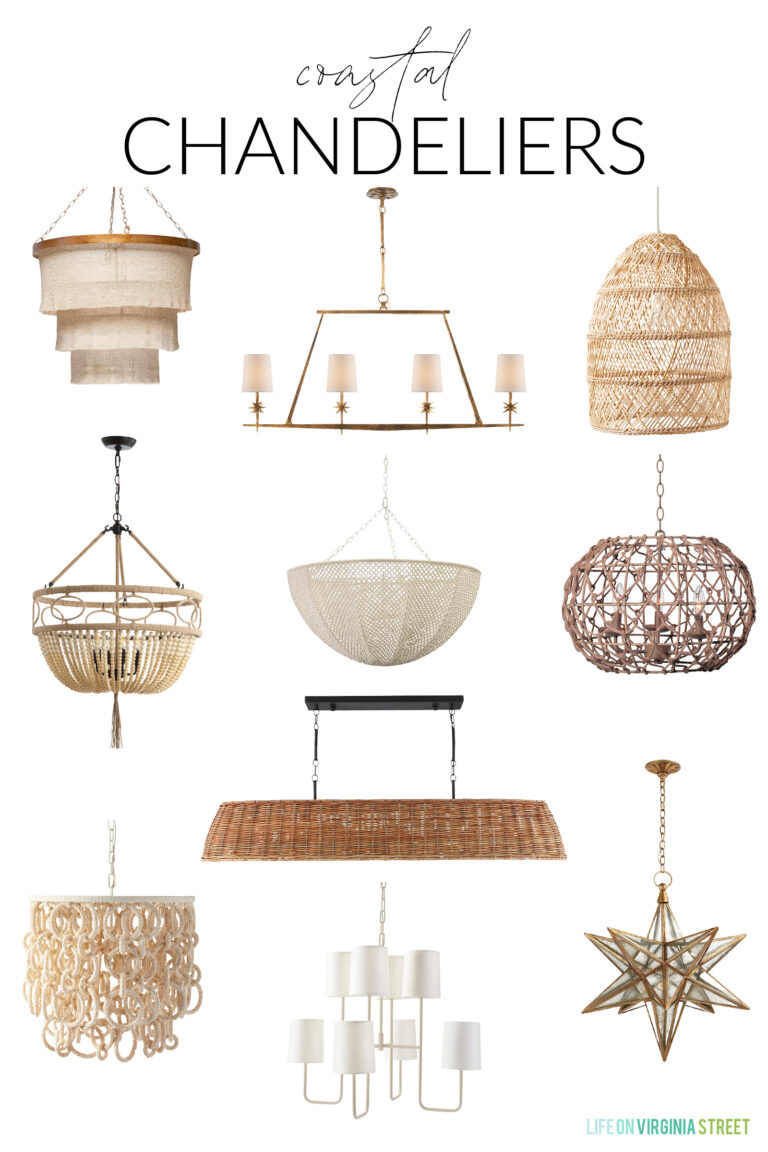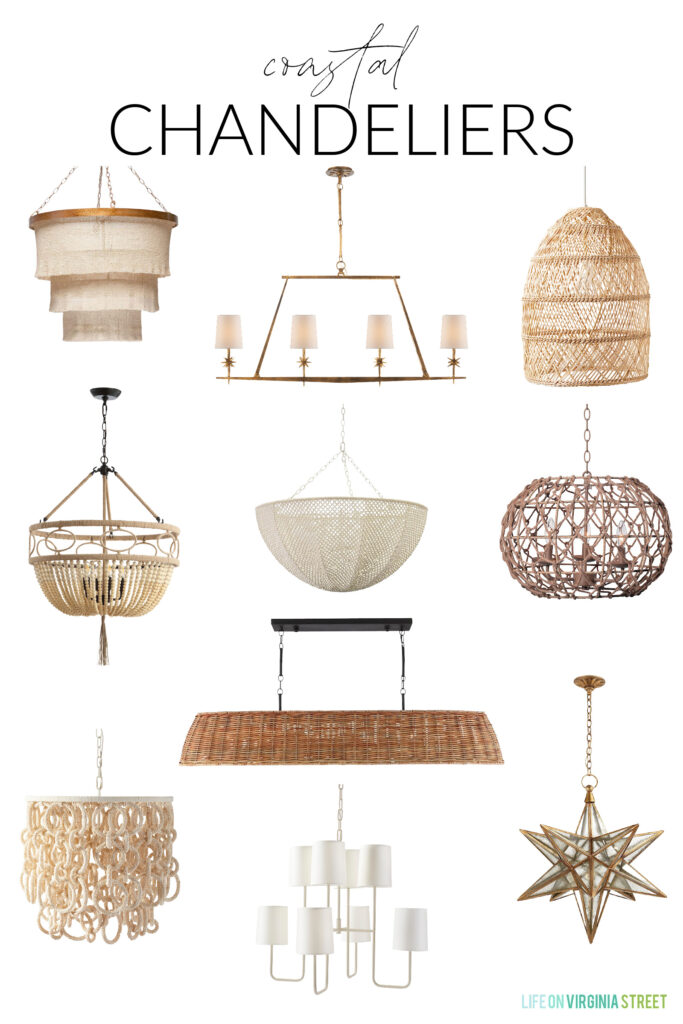 Good morning, and happy Friday! I'm popping in today with a quick pool house update along with some coastal chandeliers I've considered adding to the space! I've also included several more that won't work for us, but were too beautiful not to include!
This post contains affiliate links for your shopping convenience. You can read my full disclosure policy here.
I'll be getting to my top coastal chandelier picks shortly, but first I wanted to give a little background as to why I was searching for one recently.
Pool House Dining Area
About two weeks ago, we made the decision to add a coastal chandelier to the space we're carving out in the pool house for dining.
The photo below is with the wide-angle setting on my phone, so it definitely makes the space appear much roomier than it actually is (it also makes the mostly symmetrical space look a little wonky). The dining space will be the area to the far left along the bank of window panels and door. It's hard to tell from the photo, but that makes it stick out a little bit into the walking path. But essentially, after our electrical walk through, we realized we were going to have a pretty dark quadrant in that area without any light fixtures, so I decided to have wiring run for a chandelier over the dining table. I want something fair large and dramatic and fun, but I also don't want it to block the view looking out the large double doors to the pool.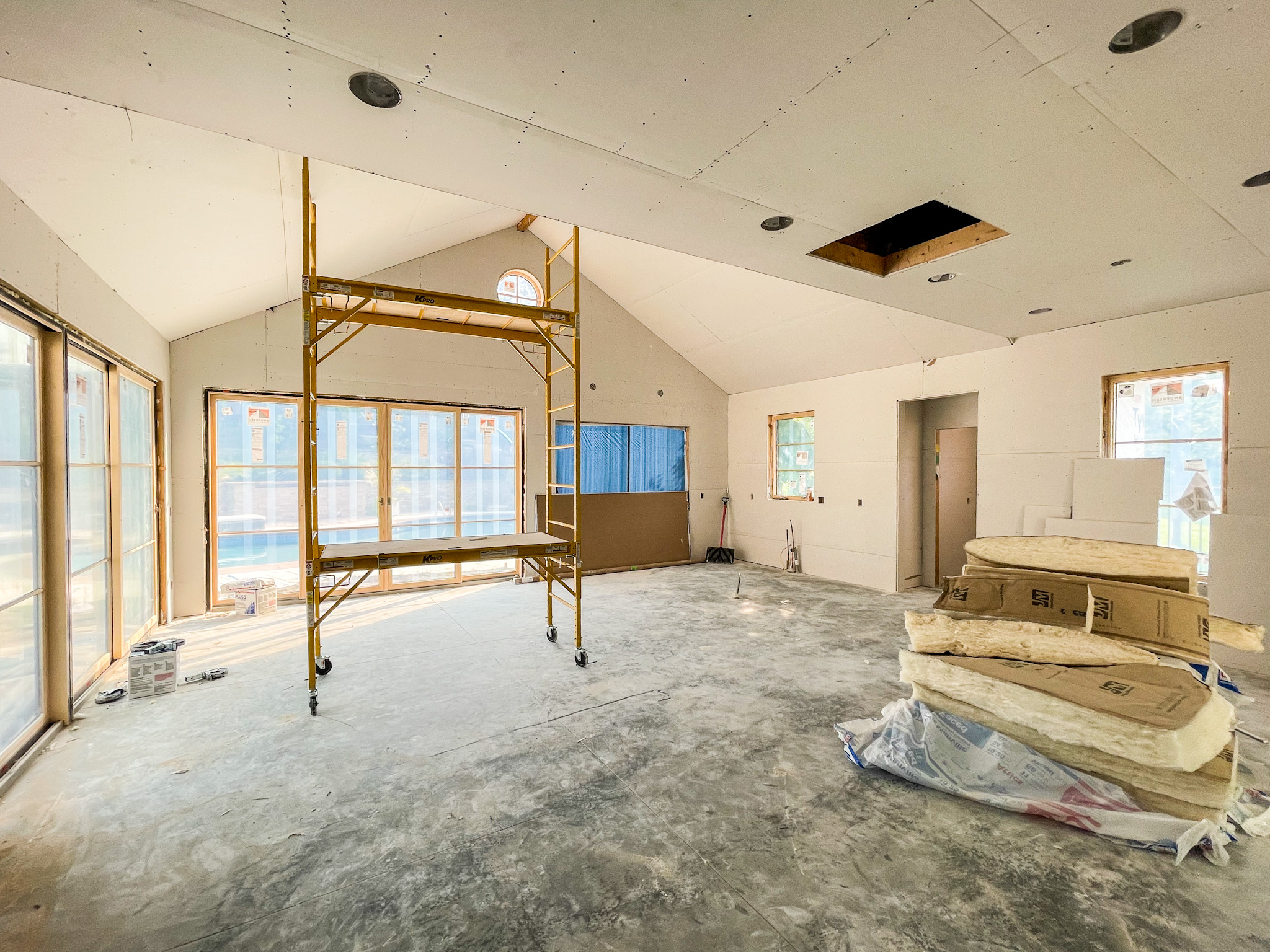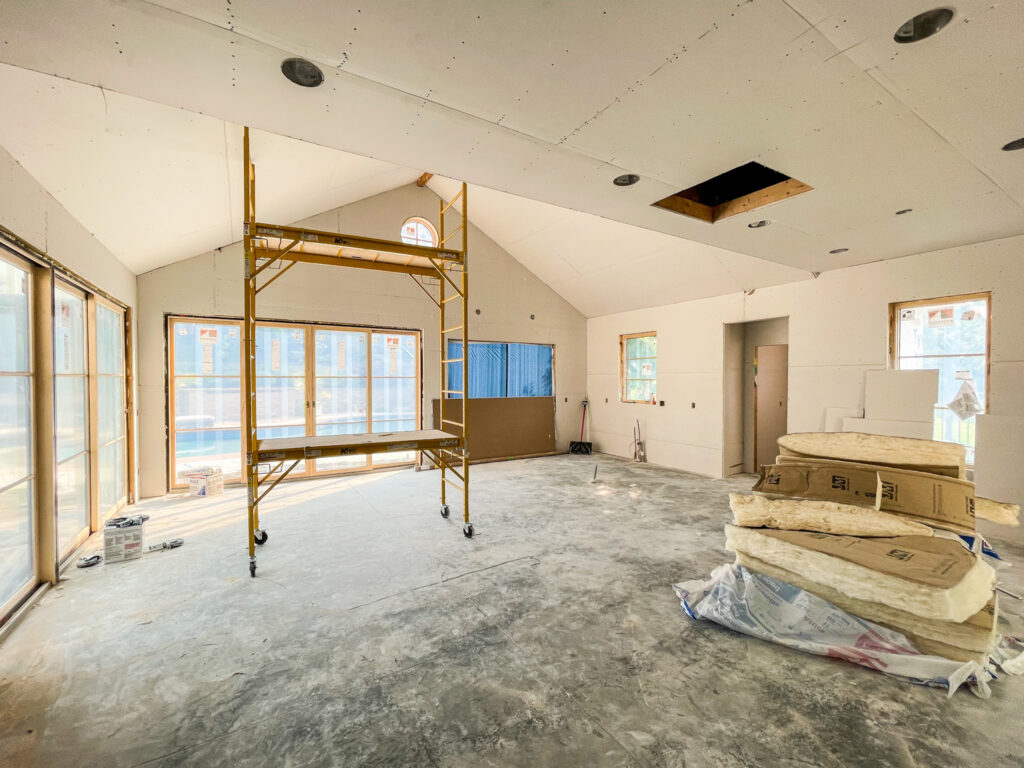 Below is a little mock-up I made of some of the top contenders I original considered in the space. I've also included the dining table and dining chairs from the space. On the right side, you'll also see some of the kitchen picks, with the living room picks below that. Since this room serves so many purposes, there is a lot going on, so I had to make sure all the fixtures would complement one another. I also needed something fairly large to counter balance the two Basket Pendant Lights that will be over the island.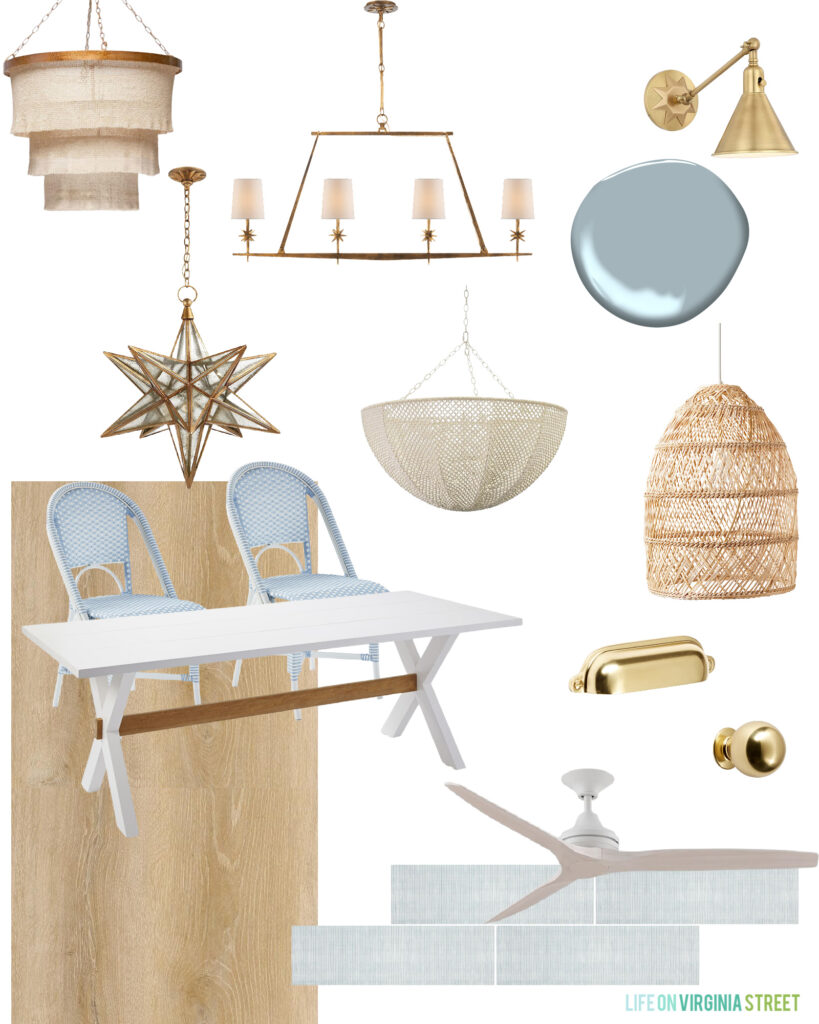 SOURCES: Tiered Chandelier | Linear Star Chandelier | Moravian Star Chandelier | White Coco Bead Chandelier(look for less here) | Star Sconce Light | Island Paint Color: Benjamin Moore Santorini Blue | Basket Pendant Light | LVP Floors | Dining Chair | Dining Table | Cabinet Bin Pull | Cabinet Knob | Fireplace Tile | Ceiling Fan
I was thrilled when I found this chandelier as an open-box item (meaning it had been returned) and it was more than half off. It was in the Aged Iron finish, but I figured I could use a little Rub 'n Buff if I really wanted the gold look.
I promptly placed the order and it arrived last week. And it was completely broken in transit. One of the pyramid shaped arms had completely snapped off and the glass was broken. I reached out to the company and they issued a quick refund, but my heart was broken a little. I felt like this was the one and I had finalized a few other items in the space with that in mind. They kindly offered a 20% off discount on a new one, which I'm still considering, but it's way more than I want to spend.
So, this weekend, I need to see if there's any way to salvage the one they sent me (they told me to keep it once they saw the photos). I was nervous to mess with it too much before I had a refund issued, but I think now I can see if there's any way at all to make it look decent. Perhaps I can move some of the broken panes of glass to the top and they won't be noticeable? Otherwise, I'm back to the drawing board.
If you're looking for a fun pool house update, be sure to check out this post I shared on Instagram last night. A lot has changed this week!
 Coastal Chandelier Ideas
I think with a little paint, this chandelier and this chandelier could look a lot like coral (painted matte white or gold), somewhat similar to this one.
This fixture was a top contender in our space (I love it so much!), but I felt like it might feel a bit too formal for this area.
Following are some the of the coastal chandeliers I considered for the dining space, along with a few others I found to be really pretty. I included options at a variety of price points. Click any of the images below to learn more about each of the lighting options.

If you would like to follow along on more of my home decor, DIY, lifestyle, travel and other posts, I'd love to have you follow me on any of the following:
Pinterest | Instagram | Facebook | Twitter
disclosure: some affiliate links used