Sharing a collection of small businesses to shop & support on Small Business Saturday!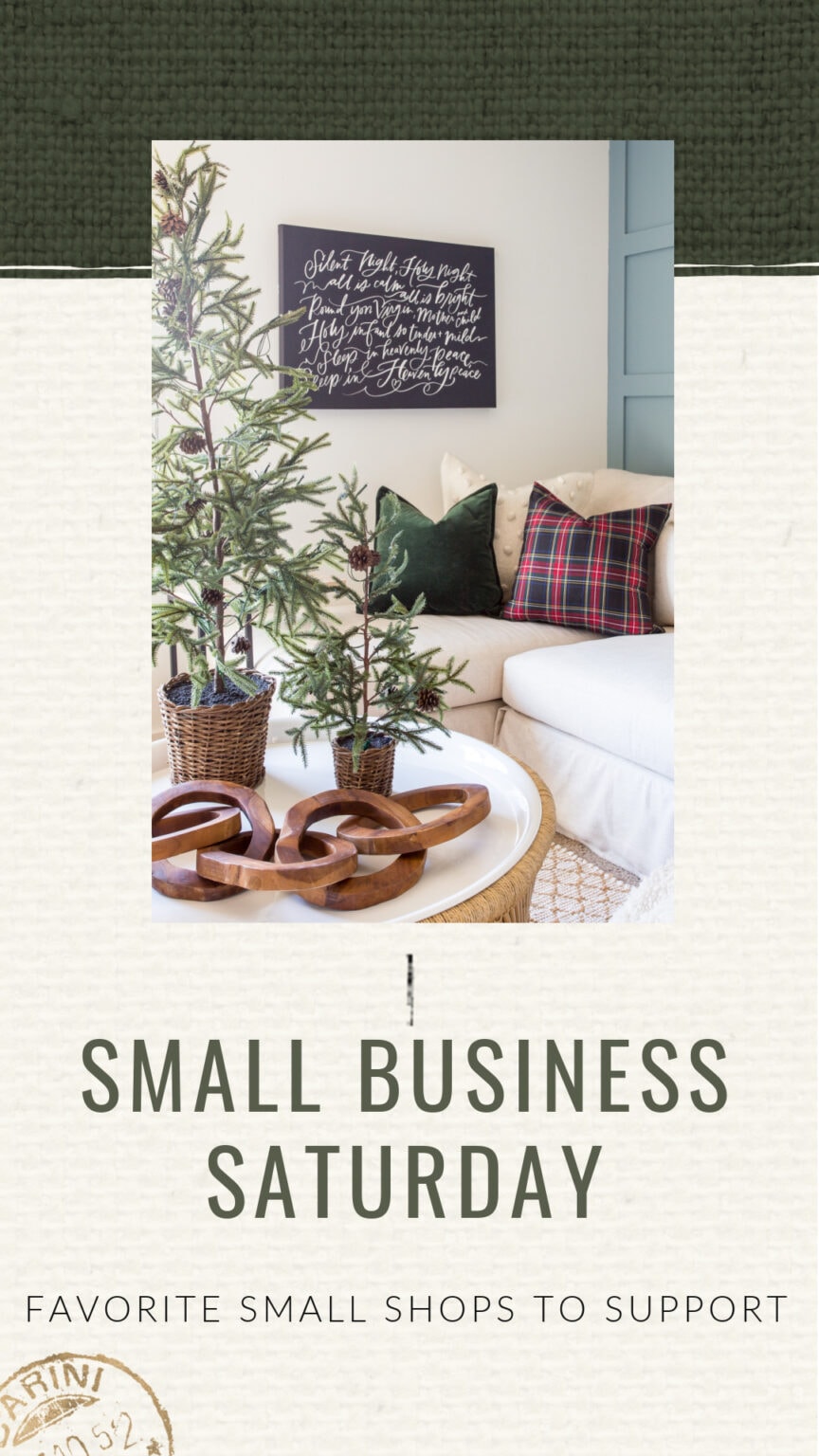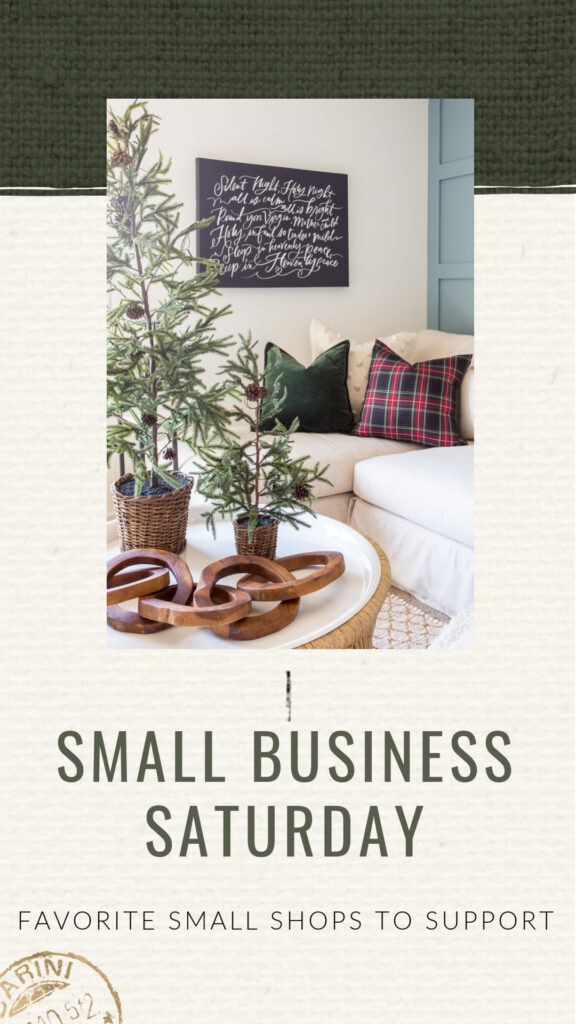 Happy Small Business Saturday! This year, more than ever, it's important to support the small businesses we all love! Today I'm sharing some small business favorites if you're looking for some smaller stores to support. I'd also encourage you to try to find some in your local community, including restaurants and others that may be seeing a significant drop in business! If you're unable to support them financially, even something as simple as sharing their social media posts or liking and commenting on their feeds can ultimately help!
This post contains affiliate links for your shopping convenience. Click here to read my full disclosure policy.
Following are some of my favorite small businesses! I've included a few favorite picks of theirs along the way too. However, since some of these are small shops, they aren't on some of my platforms that allow me to curate products. So, I would encourage you to click over to each of them a have a look around! Additionally, if you're a small business, feel free to leave a comment with a bit about your business and a link to your site so we can all take a look around!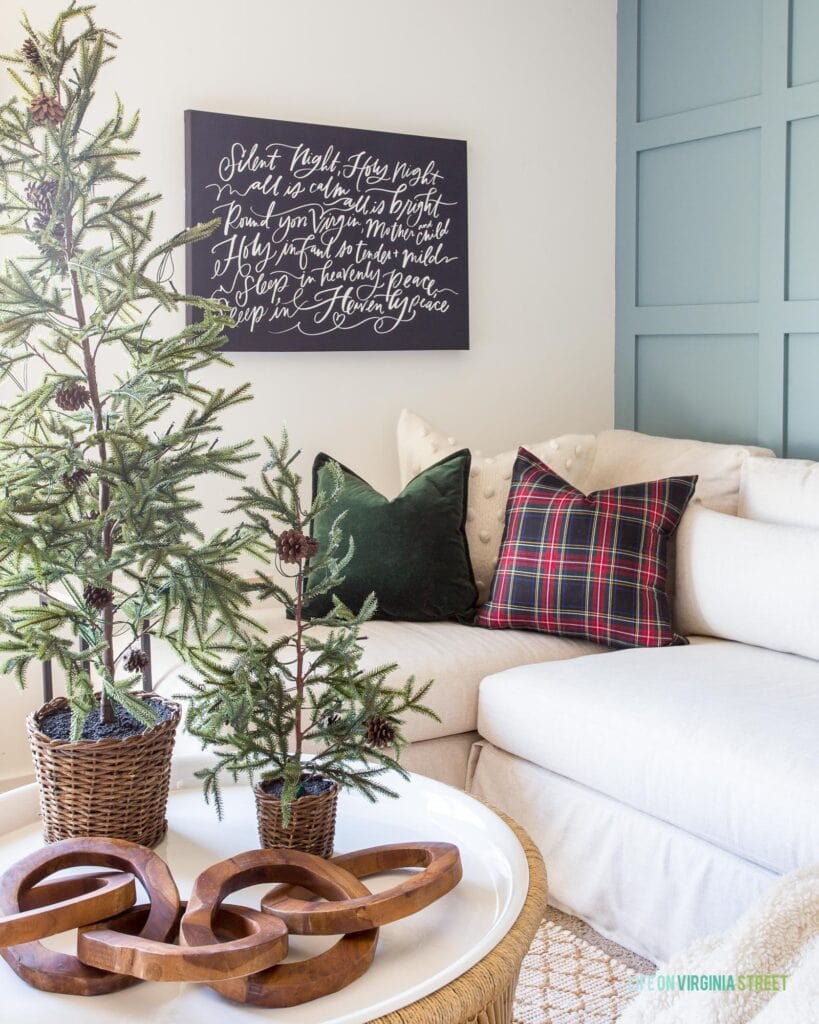 SOURCES: Image from our 2020 Christmas Home Tour | "Silent Night" Canvas | Linen Sectional | Coffee Table | Rug | Velvet Pillow | Pom Pillow (look for less here) | Plaid Pillow | Cozy Pom Throw | Mini Lit Christmas Trees | Wooden Links Object | Wall Color: Benjamin Moore Van Courtland Blue
Following are some of my small business favorites!
AMETHYST HOME is one of my favorite local decor companies and I love all the ladies that work there. They're offering 10-25% off sitewide right now and ship nationally! This gorgeous crock immediately caught my eye but they have so many good things – including the best smelling candles! And did you know Monica also opened a store in Kansas City recently? They're amazing and will even do virtual chats with you if you need rug advice/recommendations. You can shop their site here.
ANNIE THE BRAVE – This company was founded by one of my real-life blogging friends, Chelsea, of Making Home Base. Chelsea is one of my very first friends I made in the blogging industry and she is still one of my favorites. Being a math major, I was so excited when she started Annie the Brave. It's a STEM-inspired dress line for little girls, helping to teach them they can be anything they want to be! You'll find affordable dresses with everything from girl scientists to bugs to dinosaurs and more! Use code JINGLE20 to get 20% off every dress in her shop, including the new designs. You can shop the site here.
BLOGS – No link here, but keep in mind all blog owners are also small business owners. Even if you don't purchase items through their links, even visiting their sites typically pays them in the form of ad revenue. So give your favorite blogs and websites a visit today and look around a bit. I know they'll all appreciate it!
BLOOM WITH CLAIRE is a local Omahan, and she and I have a fun history. I used to work with her dad and we've gone on a few trips together. She recently launched her own creative company and has already been featured on Buzzfeed! I love Claire and am so excited to see her taking the entrepreneur route! She offers adorable door mats, stickers, and custom photo illustrations. You can shop her products here.


BROOKE & LOU is a woman-owned small business (Bria Hammel) with a beautifully curated home interiors site. They are offering 20% off sitewide through the weekend with code BLACKFRIDAY20. You can shop their site here.
CLARE offers a beautifully curated collection of paint colors that ship right to your door! I love that they also have large paint chips you can order that stick to your wall so you can actually get a feel for how a color will look in your space! You can shop their site here.




VICTORIA EMERSON is currently offering BOGO free! Their bracelets could not be cuter and I feel like there is a style out there for every woman! Such an easy way to get the layered bracelet look! Sharing a few favorite below. You can shop their sale here.

Additional Gift Ideas
If you're looking for even more gift ideas, be sure to check out the following posts.
Additional Christmas Inspiration
Looking for even more Christmas inspiration? Be sure to check out the following posts. Simply click the title of any post below to be taken directly to the article.
I hope you all have a great holiday weekend!
If you would like to follow along on more of my home decor, DIY, lifestyle, travel and other posts, I'd love to have you follow me on any of the following:
Pinterest | Instagram | Facebook | Twitter
disclosure: some affiliate links used