Sharing a collection of gift ideas for her at a variety of price points and interests! Most of these gifts also work for women of all ages and are great for best friends, mother-in-laws, nieces and more!
I'm back today with my second gift guide of the season – gift ideas for her! I tried to include items for a variety of budgets as well as gifts for a wide range of ages!  I'm not gonna lie – this may be one of my favorite gift guides to date!
This post contains affiliate links for your shopping convenience. I have also partnered with Borsheims, a favorite local store that ships nationally, to feature a few of my favorite items from their site. As always, all thoughts and opinions are my own. Click here to read my full disclosure policy.
Gift Ideas for Her
I'll be honest, I spent way too long finding products for this gift guide. Sometimes it's hard to differentiate between "research" and actual shopping. Haha! This gift guide for her is a collection of items for a variety of interests and ages. Although, I actually want every single item for myself 😉 Feel free to send it out to loved ones that may need a hint about your own personal wish list, as well!
Below are some of my top picks, followed by a description of each, and then further down I offer even more ideas! I've tried to included a wide variety of price points and interests. I also made a point to include several small business as well as more accessible big stores.
And if you're looking for even more gift ideas for her, be sure to check out my Cozy Gift Ideas. I'll also be back within the next week to feature a gift guide for him (Kurtis is helping out on that one), as well as a luxury gift guide for all the fun splurges out there. My goal is to have most of them published prior to Black Friday so you have time to review them before all the deals start! Now, let's jump into today's holiday gift guide!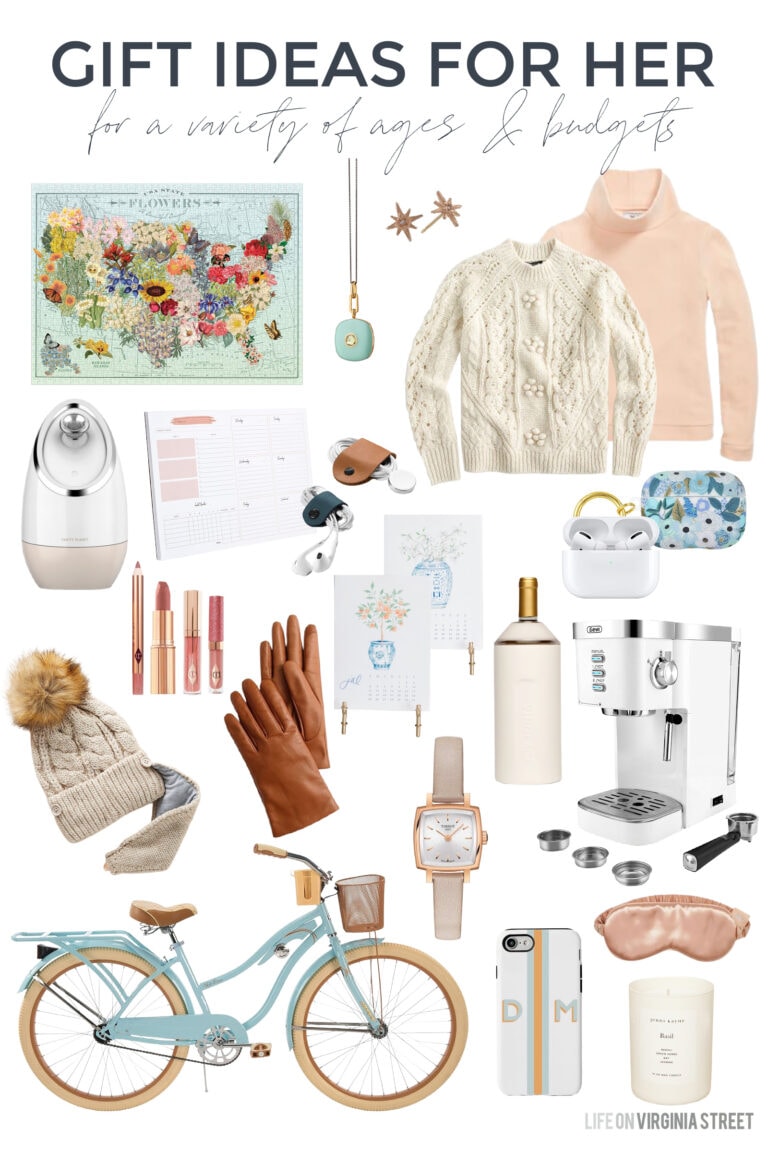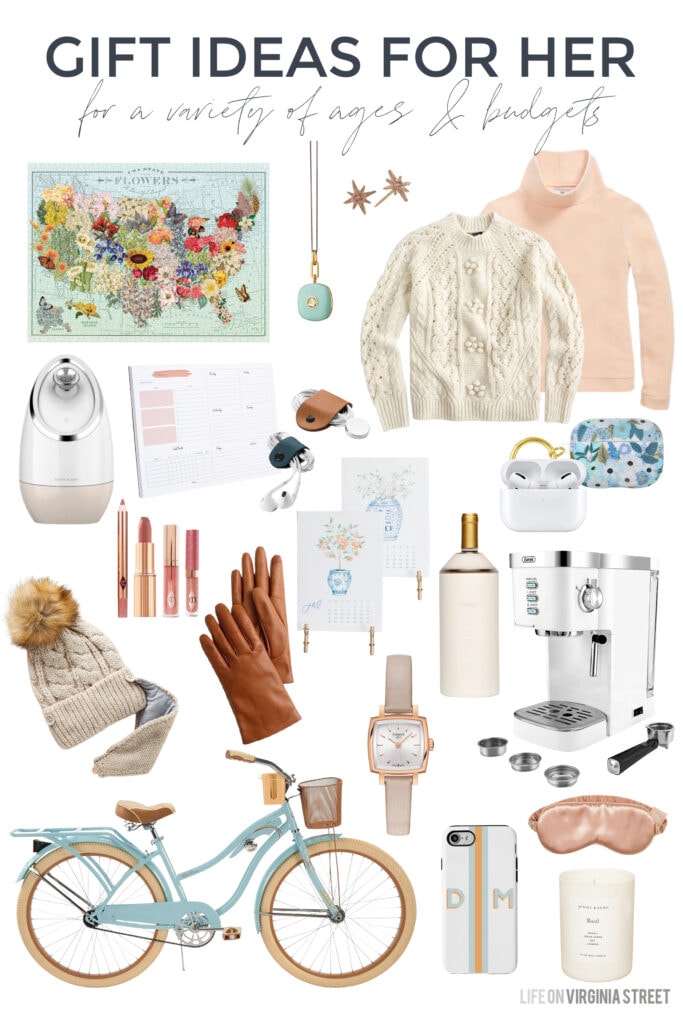 USA State Flowers Puzzle | Enamel & Green Sapphire Locket | Rose Gold Gratitude Star Earrings with Diamonds | Cableknit Pointelle Popcorn Sweater | Dudley Stephens Fleece Turtleneck | Ionic Facial Steamer | Pillowtalk Lip Set | Weekly Planner Pad & Habit Tracker | Cord Organizers | Leather & Cashmere Tech Gloves | Beanie Hat & Face Mask Set | AirPods Pro | AirPods Pro Case | Grandmillenial Desk Calendar | Cruiser Bike | Wine Chiller | Pink Tissot Watch | Personalized Striped Phone Case | Espresso Machine | Silk Sleep Mask | Basil Candle
Following are some additional details on each of the products above! I also offer a few alternatives along the way for some of the items!
USA State Flowers Puzzle – I'm a huge jigsaw puzzle fan, and I have a feeling I'll be completing my fair share this winter! Not only is the USA State Flowers Puzzle beautiful, it's a fun way to learn states by their flower! I actually ordered it while I was writing this post 😉 This puzzle looks like another fun option!
Enamel & Green Sapphire Locket – If you're on the hunt for a stunning and sentimental gift, I can't get over how gorgeous this Enamel & Green Sapphire Locket is! Perfect for a new mom, grandparents or a milestone anniversary or retirement! It instantly becomes more special if you add photos in it to make it even more meaningful! Crafted in sterling silver layered with 18K yellow gold, the locket includes a 17″ black steel chain with a complimentary 18″ grey cord to create a second look. These disc necklaces with diamond initials are also beautiful! Be sure to use code TWINKLE for an extra discount at checkout!
Rose Gold Gratitude Star Earrings with Diamonds – I'm always immediately drawn to star shapes, and these rose gold gratitude star earrings with diamonds are downright stunning and so unique. And each piece is crafted by hand in Nashville. Love this sentiment left with the set: "When we're grateful for everything we have, life continues to bring us more and more abundance. It's a beautiful law of the universe!" – Jerusalem-400 AD.
Cableknit Pointelle Popcorn Sweater – You can never go wrong with a classic sweater! This cableknit pointelle popcorn sweater available in six colors and is currently 57% off! This cashmere sweater is another favorite over the years. In years past, it usually gets marked down during Cyber Week, so fingers crossed it happens again this year! It's perfect for a mom or mother-in-law gift!
Dudley Stephens Fleece – I added the Dudley Stephens Fleece (more size options here) to my wish list last year after so many of you raved about them and convinced me to try them! I was obsessed. Basically every time I washed mine, it was the top I'd reach for the next day. They come in 14 colors (and also have other versions with more tunic style length) so there's something for everyone! Plus they're made in the USA! This exclusive style over at Tuckernuck is so cute too! I'd say they run a smidge small, but that's because it doesn't offer much stretch and designed to be fitted. If I get another one this year, I think I'll size up to an XL. Dang quarantine weight gain 😉
Pillowtalk Lip Set – Perhaps one of the most popular lip colors of the last few years, this Pillowtalk Lip Set is $71 worth of Charlotte Tilbury goodness for only $45. This the lip liner I swear by. It literally looks good with all my favorite lipsticks and lip glosses! It's one of those colors that is universally flattering!
Ionic Facial Steamer – These ionic facial steamers get rave reviews. Not only does it help increase circulation, hydrate your face and deep clean your pores, it gives you the relaxing spa experience at home! This one is on my personal wish list, for sure!
Weekly Planner Pad & Habit Tracker – I've shared this daily/weekly planner pad before, and this is my second full year using it. It allows you to track your week at a glace, as well as daily habits that you choose. Each Monday morning, shortly after I wake up, I feel out as much of my week as possible. It's pretty gratifying to check off those habit boxes each day too!
Cord Organizers – These cord organizers are the type of gift nobody realizes they need until they have them! We have so many Apple cords around our house that we've accumulated over the years and they drive me nuts. Especially when it comes time to travel. These cord organizers come in a 3-pack and are a great way to tame the cord chaos!
Leather & Cashmere Tech Gloves – I bought these leather & cashmere tech gloves a few weeks back when they were half off, and they're so good! After living in the Nebraska bitter cold for over 18 years now, I know I can't mess around with gloves. These are lined with cashmere and still work with your tech devices. The leather helps to cut out our crazy wind, too! I'm guessing these will be an item that goes on sale sometime between now and Cyber Monday, so I'd wait until then if possible! They do fit pretty snugly. I went with the large and love it!
Grandmillenial Desk Calendar – Regardless of whether or not you're a fan of the Grandmillenial decorating style, it's hard to argue that this Grandmillenial Desk Calendar Set is a work of art. Every single month is adorable! The best part? Once the month passes, you can flip the card over to have a full-sized version of the art to display in your home! Plus you can order it with or without the gold bamboo stand.
Wine & Champagne Chiller – I've raved about this wine & champagne chiller in the past, and that's because it really does work! The vacuum-insulated canister keeps your favorite drink cold for hours! This new copper version is really pretty too.
AirPods Pro & AirPods Pro Case – If you asked me what the one thing is that I use daily but never knew I needed, it would be my AirPods Pro. Kurtis bought them for me for Valentine's Day and I immediately loved them. My love only grew during quarantine when I utilized the sound-canceling feature once Kurtis started working from home and was on calls non-stop 😉 I use this AirPods Pro Case, and not only is it super cute (other colors and patters and non/Pro version available), but I love the ring clip and that it protects the charging case so well! If you've been on the fence about AirPods, I can't recommend them enough!
Tissot Watch – I'm still a person that very much still likes wearing watches. I treat them almost like jewelry, which is why I'm loving this gorgeous Tissot Watch. The pretty pink tone is subtle enough to wear it as a neutral with really any outfit. And I love the unique square face! Such a beautiful, classic time piece. Be sure to use code TWINKLE for an extra discount at checkout!
Cruiser Bike – I know a lot of people got into bike riding this past year as they sought out new hobbies. Although I never did, this cruiser bike is so cute, it definitely has me reconsidering that decision!
Espresso Machine – This espresso machine is the number one bestseller on Amazon and gets excellent reviews. And it's one of the most affordable options out there! This past year has by far been the least I've ever been to Starbucks. But that doesn't mean I don' miss my lattes! Knowing that Kurtis is working from home for at least another six+ months, we're strongly considering trying to be at-home baristas!
Personalized Striped Phone Case – These Personalized Striped Phone Cases come in a bunch of color & pattern options for nine phone types. Plus you can customize your font to get a truly unique look!
Silk Sleep Mask – I already shared this silk sleep mask in my Cozy Gift Ideas post. But, I noticed last night that it was 30% off as part of a limited-time sale offering. I've literally never seen them go on sale before so I thought it was worth mentioning again! I sleep with mine every night because I'm super sensitive to lighting conditions. It's so soft and cloudlike on your face!
Basil Candle – I love receiving fancy candles as gifts! This basil candle has perfect five star reviews and was name one of Oprah's Favorite Things 2019! The wax is a natural blend of coconut, soy, beeswax, apricot oil, and paraffin and is hand-poured in the USA! They also offer complimentary gift wrapping and free shipping.
Additional Gift Ideas For Her
Following are even more gift ideas for her. Click on any of the images below to learn more about each of the products shown.

Additional Gift Ideas
If you're looking for even more gift ideas, be sure to check out the following posts.
Additional Christmas Inspiration
Looking for even more Christmas inspiration? Be sure to check out the following posts. Simply click the title of any post below to be taken directly to the article.
If you would like to follow along on more of my home decor, DIY, lifestyle, travel and other posts, I'd love to have you follow me on any of the following:
Pinterest | Instagram | Facebook | Twitter 
disclosure: some affiliate links used