Sharing a collection of gift ideas for him, hand-selected based upon my husband's current favorite items and others he's adding to his wish list!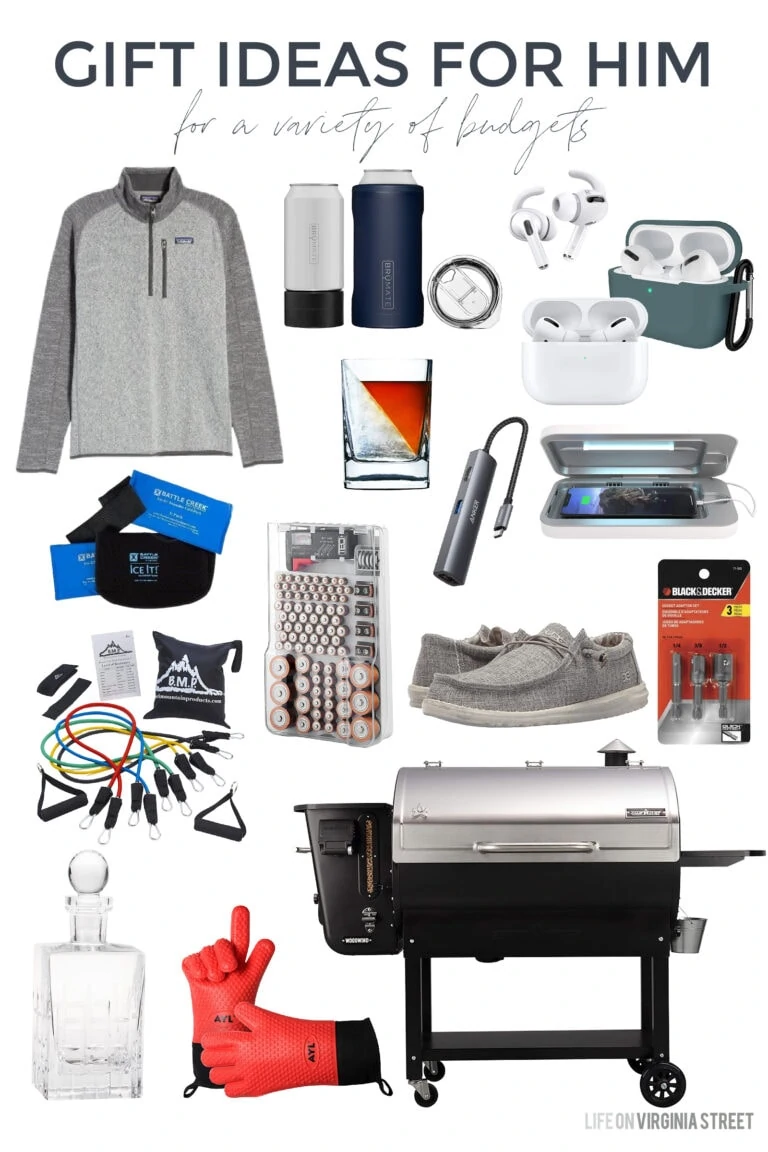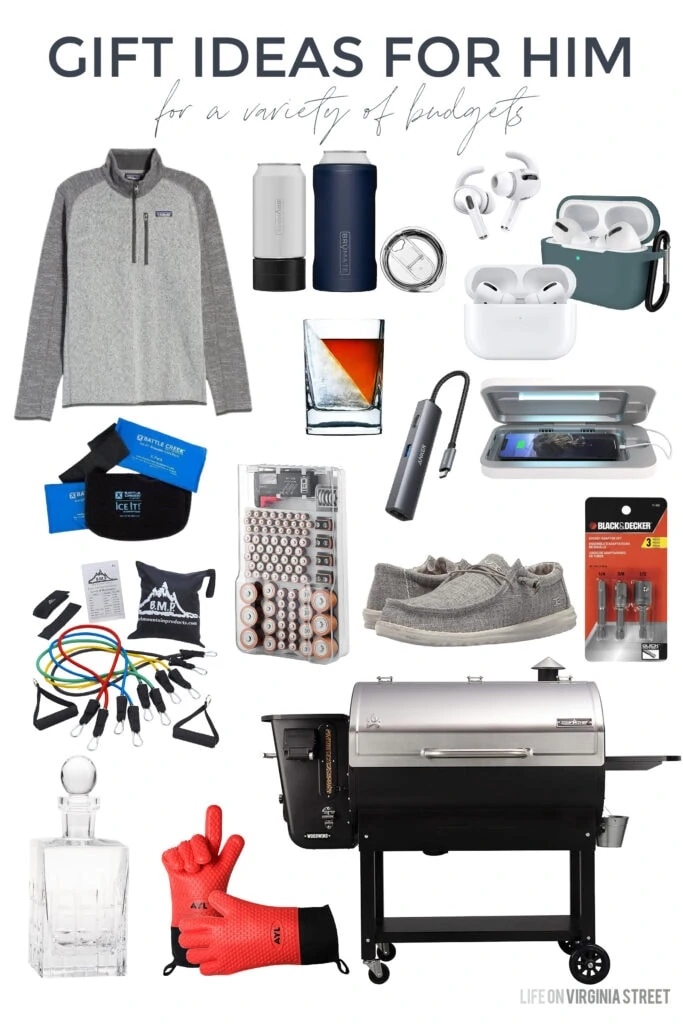 For today's gift guide, Kurtis is stepping in and sharing some of his favorite items over the years, and then a few new items for his own personal wish list. I've also published two other gift guides today that I don't want you to miss (since I rarely publish multiple posts in a day. Be sure to also check my splurge-worthy Luxury Gift Guide and Stocking Stuffer Ideas Under $25 if you're looking for more ideas in either of those areas!
This post contains affiliate links for your shopping convenience. Click here to read my full disclosure policy.
Gift Ideas for Him
Let's turn it over to Kurtis! He broke down a few of the images in the graphic (and several more) below. Then, further down there is a visual image of the items as well as a few others I've mixed in, as well!
AirPods Pro – Love the convenience and how they pair with my iPhone. Solid battery life. Great sound and the sound canceling is a great feature.
Protective Silicone AirPods Pro Case – Love the color and the carabiner is nice. I love that it protects the case well and still works with wireless charging.
AirPods Pro Ear Hooks Covers – These hooks are a game-changer.  No more AirPods falling out of my ears regardless if I'm working out or doing projects around the house or yard. They're also pretty discreet and slip on and off easily and stay in place in your ears and on the AirPods. The storage pouch is a nice feature to keep them together.
Anker USB C Hub Adapter, 5-in-1 USB C Adapter – Gives you a HDMI port on your laptop if you only have a USC-C port.  Adds 3 extra USB 3.0 ports as well. Used in addition to my HDMI port to create dual monitors from my laptop. Also use the Laptop screen so actually have 3 monitors.
Hey Dude Shoes – The comfiest shoes I own – also really lightweight. I bought two pairs after seeing a neighbor with some and he raved about them. I also have this pair and see myself getting more down the road.
Camp Chef 36 in. WiFi Woodwind Pellet Grill & Smoker with WiFi & Bluetooth Connectivity – This is the smoker I recently got and it has a huge cooking area, is very solid, sturdy and well-built.  I love the pellet cleanout port and the ash cleanout system is equally as great. Can control the smoke level from 1 to 10.  Slide and grill technology to get the grill up to over 500 F.  Putting it together takes longer than expected and can be a bit challenging.  Grab some beer and buddy and plan on a few hours.
Camp Chef Pellet Grill and Smoker Jerky Rack – Three different racks.  Well built.  Almost quadruples surface area in Camp Chef 36 in Woodwind.  Frame sits inside the grill and easy to put in and take out.  Only drawback is cleaning the racks, as lots of nooks and crannies. 
Long Silicone Cooking Gloves for BBQ – Good heat protection.  Food grade silicone. Perfect for turning or removing ribs or chicken from the smoker/grill or pans from the oven.  Non-slip surface and wash up extremely well.  Literally just spray them off in the sink.  
Resistance Band Set with Door Anchor, Ankle Strap, Exercise Chart, and Carrying Case – These offer endless possibilities with exercises. They're very portable and well built and the handles are comfortable. Great carrying bag, which also makes them great for travel.
Multifunction Kitchen and Food Scale – This food scale is a game-changer for anyone serious about dieting or knowing exactly how much they are eating.  It's super easy to use and the numbers are easy to read. I also like that you can quickly switch between units, as food labels all reference different units. Takes the guess work out of how much food you are eating.  
BLACK+DECKER Socket Adaptor Set, 3-Piece – Well built. Makes work so much easier and faster to accomplish. So convenient to use sockets in a drill or impact driver.  
UV Smartphone Sanitizer & Universal Charger – We love this phone sanitizer! Not only is it so easy to use, but it also fits and charges just about any phone.  Phones are some of the grossest things we own so this makes cleaning and sanitizing it super easy.
Flexible Shoulder Ice Pack System – If you have frequent pain in your shoulders, I love these ice packs. The straps and Velcro help to mold around your shoulder and get the ice where you need it.  It's also super easy to remove the ice packs and it stays cold a long time. It's also very comfortable to wear and stays in place so it's easy to move around while icing. 
BrüMate Can Insulator – Sarah keeps saying I need to try these can insulators for the pool and I think she has me convinced after further research. Especially since they keep selling out on every site. They also make slim can and bottle options. Just watch the prices on Amazon – some colors seem to have surge pricing. Should run about $20-25. We also found more here on sale, but colors are pretty limited.
Cuisinart Perfectemp 14 Cup Programmable Coffee Maker – Nothing beats waking up to the smell of old-school ground coffee in the morning.  Extra large glass carafe for your coffee lovers.  Temperature control and boldness settings are awesome. Can set the timer to turn on automatically and turnoff 0-4 hours after it finishes brewing.  Great looking coffee pot.  
Fiberglass Innovations Snow Pole Driveway Marker – Used to mark driveways, culverts, roadways, hazards, and other areas.  No more tearing up your lawn and guessing where the sidewalk/driveway begins or ends.  Durable to standup to the cold and abuse yet stays flexible. 
All of the items listed above, as well as a few more items, are all linked again below. Click any of the images for more information.

Additional Gift Ideas
If you're looking for even more gift ideas, be sure to check out the following posts.
Additional Christmas Inspiration
Looking for even more Christmas inspiration? Be sure to check out the following posts. Simply click the title of any post below to be taken directly to the article.
If you would like to follow along on more of my home decor, DIY, lifestyle, travel and other posts, I'd love to have you follow me on any of the following:
Pinterest | Instagram | Facebook | Twitter 
disclosure: some affiliate links used