Sharing my luxury gift guide, for some splurge-worthy gift ideas! Includes simple daily luxuries as well as some fun splurge or milestone gift ideas.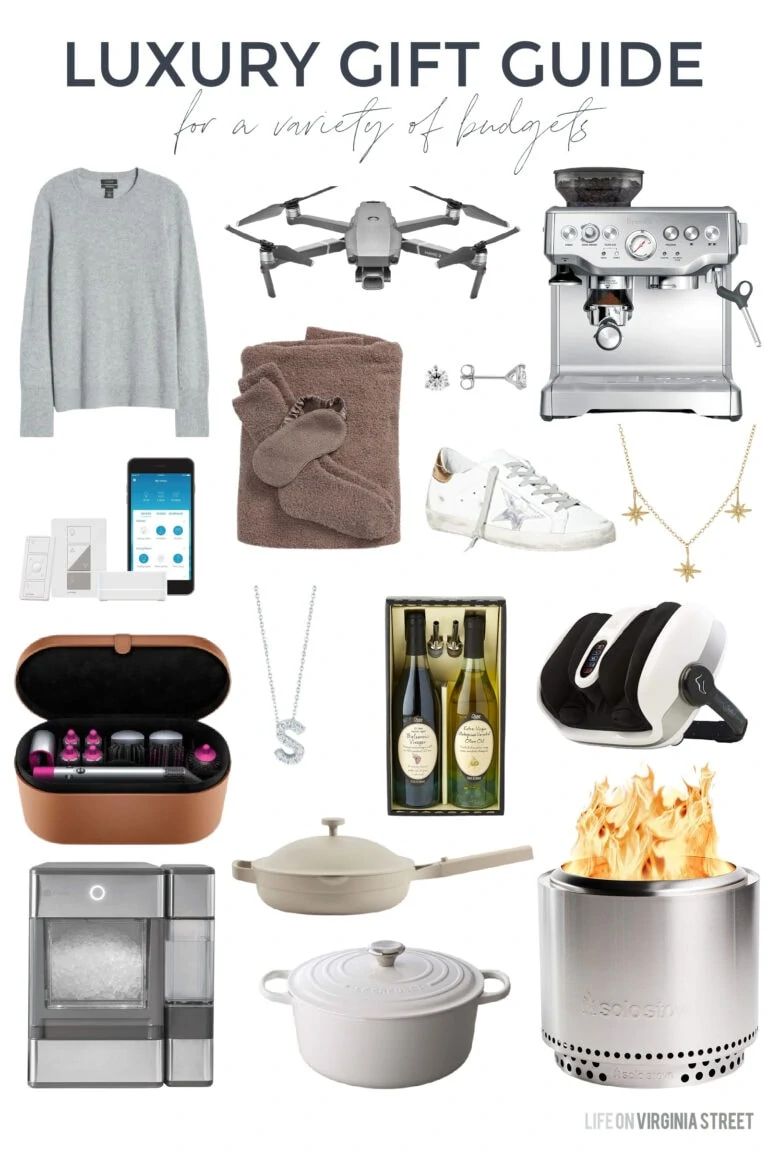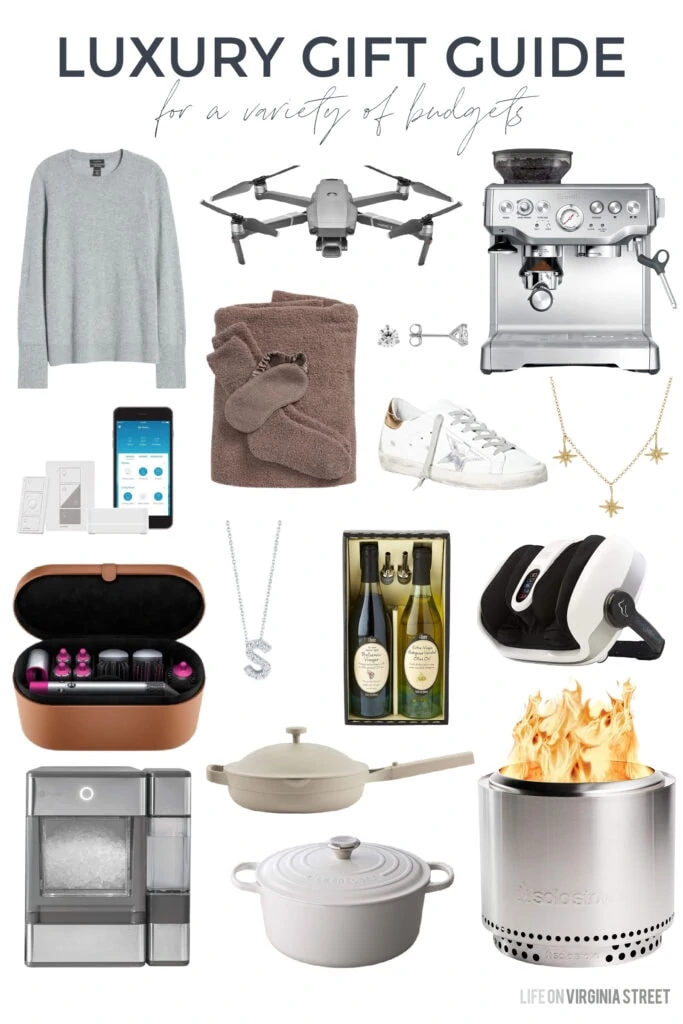 Today's gift guide is more of a fun, dreamy one! I'm sharing some splurge-worthy luxury gift ideas. These luxuries aren't all necessarily expensive, although some are more so than others, they're more like small indulgences. I've also published two other gift guides today that I don't want you to miss (since I rarely publish multiple posts in a day. Be sure to also check my Gift Ideas for Him and Stocking Stuffer Ideas Under $25 if you're looking for more ideas in either of those areas!
I know many people who had to cancel milestone celebrations or vacations (us included) because of the joy that has been 2020 and are looking for daily upgrades to spend those travel dollars on. Others may now be working from home, and miss their morning drive-thru coffee and want to recreate that experience at home. And many more have taken on new hobbies or skills and are looking to make upgrades to their existing equipment! So today I'm sharing some fun luxury items that may be worth the splurge! It's also kind of fun to see what's out there and available these days!
This post contains affiliate links for your shopping convenience. I have also partnered with Borsheims, a favorite local fine jewelry and gift store that ships nationally, to feature a few of my favorite items from their site. As always, all thoughts and opinions are my own. Click here to read my full disclosure policy.
Luxury Gift Guide
Alright! Let's jump right into my top luxury gift picks! After the graphic, I'll dig a little deeper into some of the products.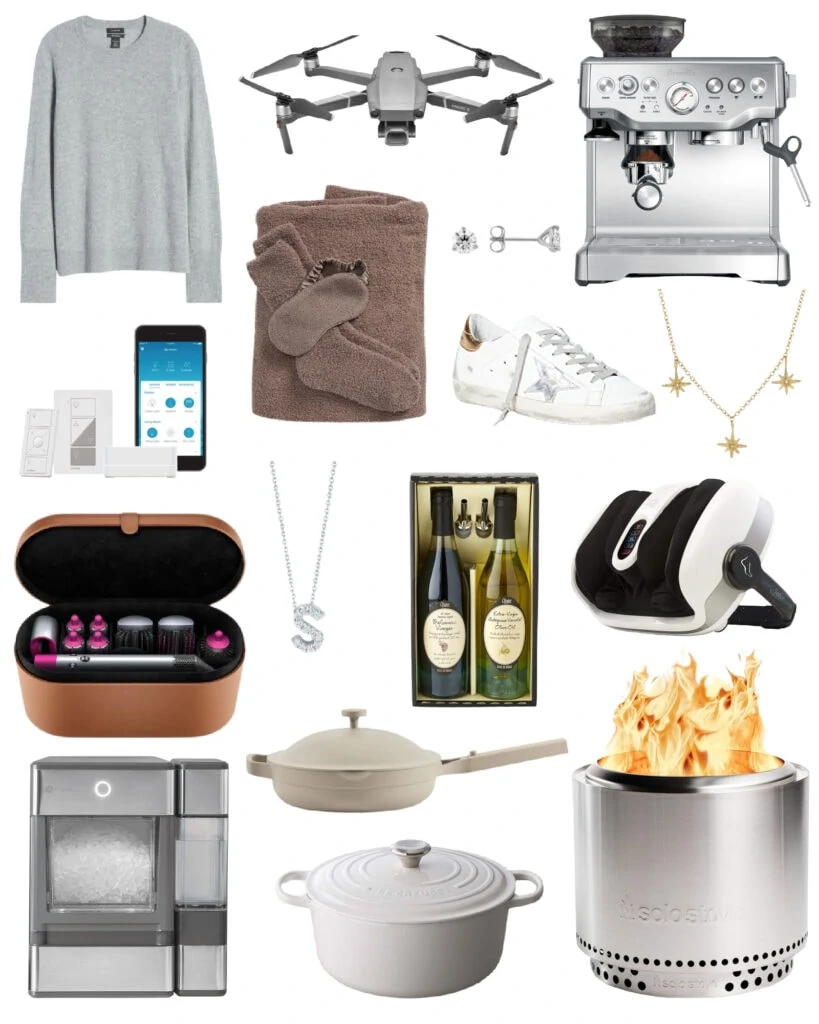 Cashmere Sweater | DJI Mavic 2 Pro Drone Quadcopter | Breville Barista Express Espresso Machine | White Gold Diamond Stud Earrings | Golden Goose Sneakers | Barefoot Dreams Set | Caséta by Lutron | Diamond Initial Necklace | Dyson Airwrap Complete Styler | Gratitude Star Diamond Necklace | Foot Massager | Nugget Ice Maker | Balsamic & Olive Oil Gift Set | Always Pan | Le Creuset Dutch Oven |  Smokeless Bonfire
Cashmere Sweater – Cashmere is always a luxurious gift to receive. And this cashmere sweater is always a favorite because it comes in twelve colors and patterns and is 40% off right now for Cyber Week! This one usually sells out in the popular colors/sizes fairly quickly because it always makes such a great gift!
DJI Mavic 2 Pro Drone Quadcopter – We bought this drone last year after a few months researching them. It's a major investment, but if you've been looking for one, we highly recommend it! We went with this model because of the camera and the fact it's virtually impossible to crash. You can buy just the drone, but after a lot of research we ended up going with this package that includes a lot of necessary supplies and extra batteries.
Breville Barista Express Espresso Machine – If you're looking to replace your morning coffee shop stop with a homemade version, this Breville Barista Express Espresso Machine may be the solution! It has over 9,000 reviews and is ranked #1 in Semi-Automatic Espresso Machines. This is obviously a fairly advanced model, and you can get a great cup of espresso – from bean to brew – in less than a minute. If you're looking for more of a mid-priced model (between this and the budget version I shared in my Gift Ideas for Her post), this one also gets rave reviews! You'll obviously want to read through each of the models to ensure they have the features you need for the specific drink you love, but there are so many great options on the market right now!
White Gold Diamond Stud Earrings – For our five year anniversary, Kurtis bought me nearly identical diamond stud earrings from Borsheims. Unless I'm wearing the occasional fun fashion earrings, I never take these out. I love them so much and they're always a classic! These Phillips House Diamond Infinity Micro Stud Earrings are another stunning option!
Golden Goose Sneakers – Admittedly, I haven't been able to get on the Golden Goose Sneakers train. I know they've been a hot item for several years, and I even see teenagers wearing them now. I never understood spending so much on "dirty" sneakers. But the more I see them and how others style them, the more I like them! I'm thinking this is one trend though where I'd rather try a look for less option if I wanted to try it. But, if you have a fashionista on your list and you're looking for a splurge, I'm guessing these classic Golden Goose sneakers wouldn't disappoint.
Barefoot Dreams Set – This set is pure coziness and includes a blanket, socks and an eye mask in a coordinating Barefoot Dreams bag. It's like a cloud for your entire body! You also can't go wrong with one of their cozy cardigans.
Caséta by Lutron – If you've read here awhile, you know we're longtime fans of Caséta by Lutron. We have had it for years and continue to add more devices because we love it so much and truly appreciate the convenience factor it offers! We the lamp dimmers to program our lamps, add our holiday lights to timers, control most of the lights in our home (from our phones or with Alexa) and so much more! They just plug right into an outlet. It also lets you dim lights to any percentage you want! We have the hardwired version on our pendant lights on our island, and then we use the wall outlet version everywhere else. Once you get a starter kit with the hub, it's easy to add additional units throughout your home! It's a bit ridiculous just how obsessed we've become with this and it makes us feel much fancier than we actually are!
Gratitude Star Diamond Necklace – This stunning necklace is from the same series as the star earrings I shared in my Gift Ideas for Her, but this is in yellow gold. Each piece is crafted by hand in Nashville and each of the three stars contains a diamond. So unique and beautiful and would be sure to impress!
Dyson Airwrap Complete Styler – This styling set has been on my radar for about a year. I've heard so many good things about it! It allows you to curl, wave, smooth and dry hair with no extreme heat – using only air. The Coanda effect attracts hair to the barrel, wraps it for you—no clamping mechanisms or gloves, just voluminous curls and waves. It styles and dries simultaneously. It combines powerful airflow with controlled heat to dry your hair as it styles. And if you're okay with certified refurbished from the Dyson store, you can get it here with a pretty substantial discount (with a 12 month warranty included)!
Diamond Initial Necklace – I love the classic simplicity of this beautiful diamond initial necklace. It's a great way to gift something more customized and it would surely be an item worn and treasured for life! It's beautiful on it's own but would also be really pretty layered with other favorites!
Balsamic & Olive Oil Gift Set – Looking for a simple luxury? We love this balsamic & olive oil gift set. We have yet to find an olive oil or balsamic we love more. The balsamic is think and rich and you can honestly just eat it right out of the bottle. I love that the gift set includes corked spouts as well! Once you try these, you'll have a hard time going back to anything else!
Foot Massager – Can you imagine working at your desk or watching TV and having your feet massaged every day? It sounds like a total dream to me and this foot massager comes highly recommended. I would like it purely for the bliss factor, but it is also supposed to help those with bad circulation or plantar fasciitis. I've also been hearing amazing things about this neck and back massager.
Nugget Ice Maker – For those picky about their ice, this countertop nugget ice maker is the latest fad! Get Sonic drive-thru style ice (sounds weird, but it's an obsession for many) on demand in your own home!
Always Pan – The Always Pan may not work for all of your gifting needs based on current shipping times. But it has quickly become one of the hottest items out there! It gets its name because it's the only pan you'll ever need: use it as a fry pan, sauté pan, steamer, skillet, saucier, saucepan, non-stick pan, spatula, and spoon rest. It comes in six beautiful colors and has nearly perfect reviews. Although I haven't tried it personally, it sounds like it may be worth the wait!
Le Creuset Dutch Oven – I held off for years without buying a Le Creuset Dutch Oven and now I don't know how I've lived without it! We've had ours a few years now (the 7 1/4 quart) and I use it multiple times a week in the fall and winter. I also love that they're so pretty, I can just leave it out on my stovetop when not in use! We've actually talked about getting a second, smaller one, since it's actually rather large for just the two of us for some meals. Highly recommended!
Smokeless Bonfire – Another hot item of the season! Where have wood burning but SMOKELESS firepits been our whole lives? These are selling out quickly as more people are looking to improve their indoor/outdoor spaces this year. But there are similar brands available with the same concept! I would love to utilize more of our outdoor space this winter, and outdoor heat sources are the perfect way to do that!
Following are even more ideas. Click any of the images below to learn more about each item.

Additional Gift Ideas
If you're looking for even more gift ideas, be sure to check out the following posts.
Additional Christmas Inspiration
Looking for even more Christmas inspiration? Be sure to check out the following posts. Simply click the title of any post below to be taken directly to the article.
If you would like to follow along on more of my home decor, DIY, lifestyle, travel and other posts, I'd love to have you follow me on any of the following:
Pinterest | Instagram | Facebook | Twitter
disclosure: some affiliate links used