A collection of 30+ modern coastal cottage dining chairs that work well for many decorating styles. Includes rattan, wood, upholstered chairs, and more!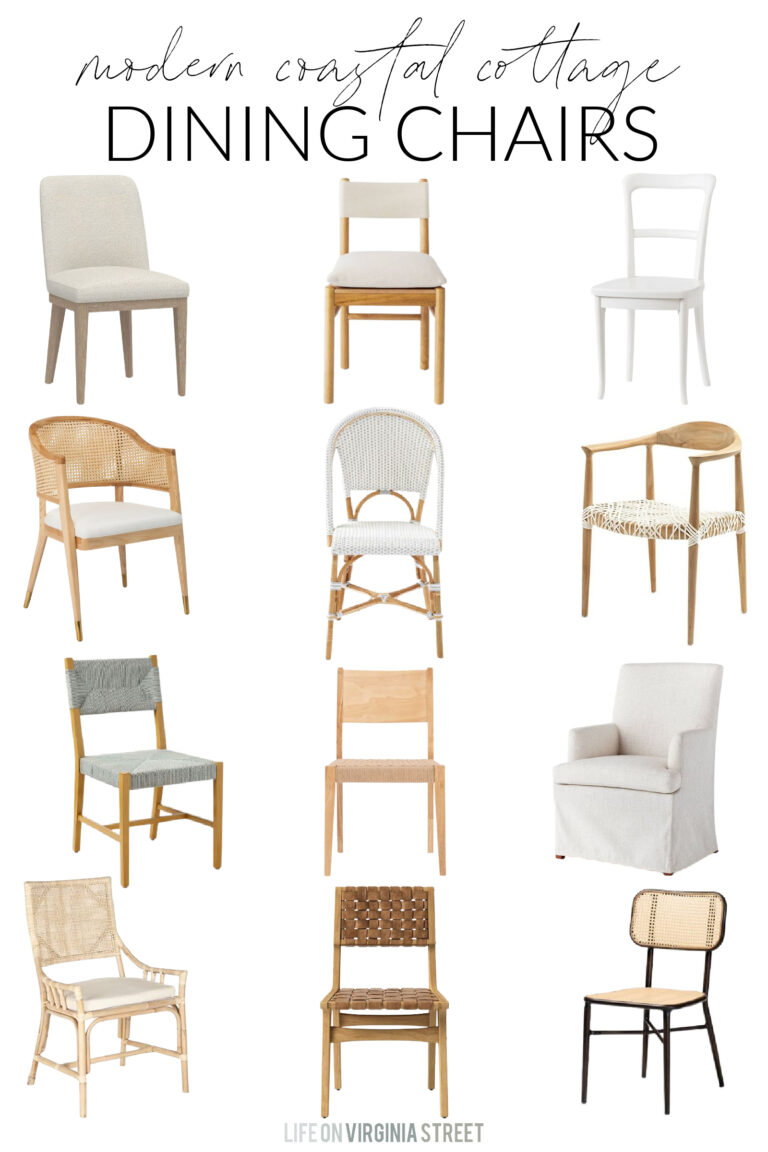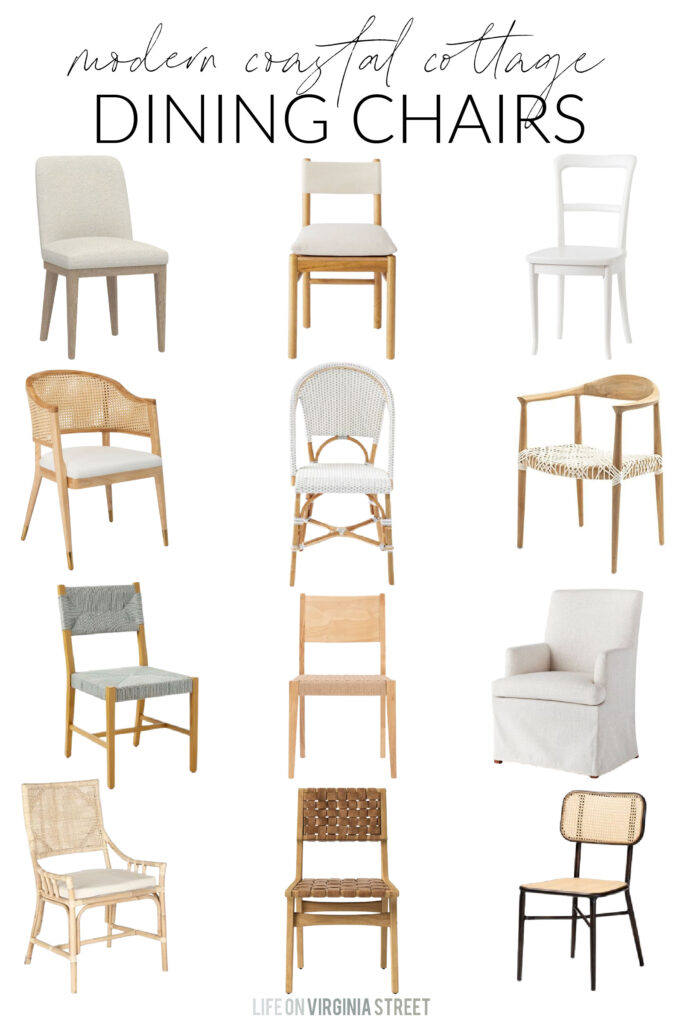 This post contains affiliate links for your shopping convenience. All prices quoted are accurate as of the time this post was published. You can read my full disclosure policy here.
Modern Coastal Cottage Dining Chairs
Several years back, I shared a post on modern coastal dining chairs. Since that time, most have sold out or are no longer available, including the chairs we ended up purchasing! While on the hunt for new dining chairs for our Florida coastal cottage, I was having a tough time finding dining chairs I thought would be a good fit at the right price point. I was able to narrow down my search quite a bit, and found a handful I truly loved! So, today, I thought I'd share the modern coastal cottage dining chairs I found and considered! If you're on the hunt for a modern coastal round dining table, I shared those recently, as well!
Following are the modern coastal cottage dining chairs I came across in my search and loved. Not all of them worked for our space and table, but thought they were worth sharing! Side note: when checking the prices, many of these are sold as a set of two, so be sure to check the details! Tap any of the images below to learn more about each of the dining chairs shown.

A few modern coastal cottage dining chairs worth noting further:
The Updated Florida Coastal Cottage Dining Room Design Plans
The day I shared our Florida coastal cottage design plans, I had every intention of ordering these chairs that night. I spent 30 minutes or so re-confirming my order, and when I went to place it, they changed the delivery date on me. By like FIVE months! So, rather than arriving in October, it was going to be March of next year. Not really an option. I ultimately ordered these rattan chairs which were tied for first place (and much cheaper). They've arrived in Florida so I can't wait to see them when we show up over the weekend! I ultimately ended up ordering only four of the side chairs, figuring if we had more people over, I could bring the armchairs in. It saves on both budget and space, since most days we don't need six chairs!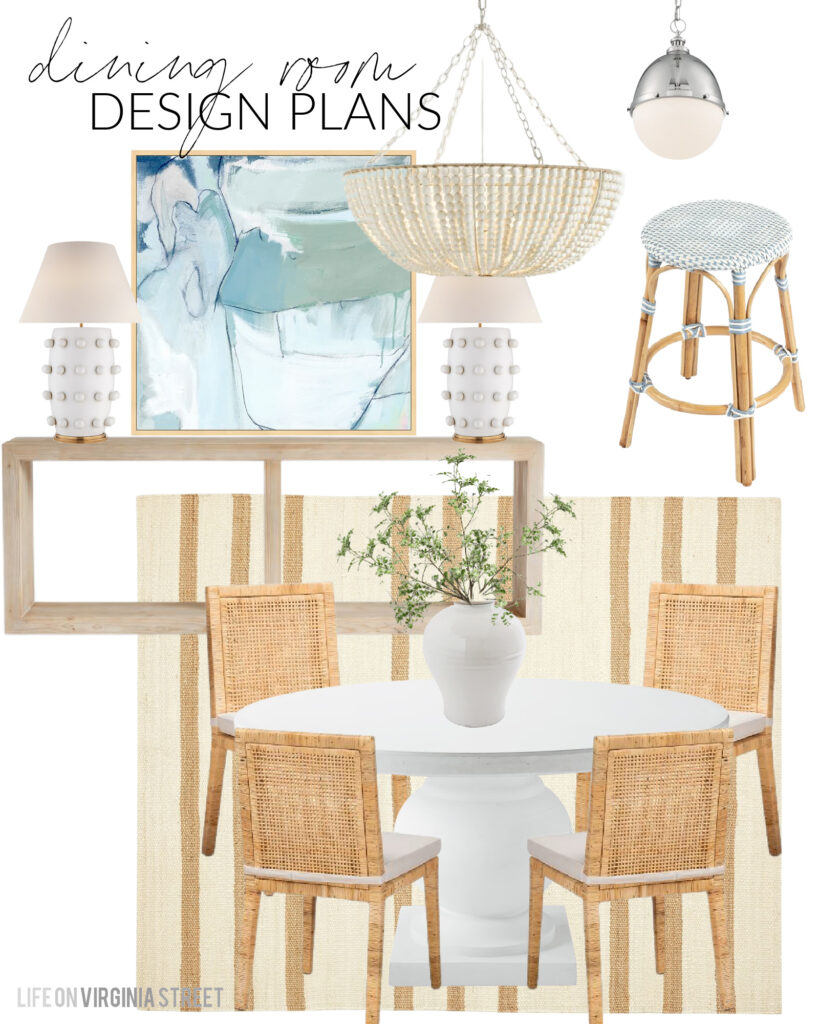 DINING ROOM & KITCHEN SOURCES: Abstract Art | Console Table | Lamps (look for less here) | Bead Chandelier (designer version here) | Striped Rug | Dining Table | Dining Chairs | Vase | Faux Greenery | Kitchen Pendant Lights | Kitchen Counter Stools
Modern Coastal Dining Chairs Around Our Current Home
We have the armchair version of the rattan side chairs shown above in our pool house, so I feel confident they'll be a good fit in our Florida coastal cottage, as well!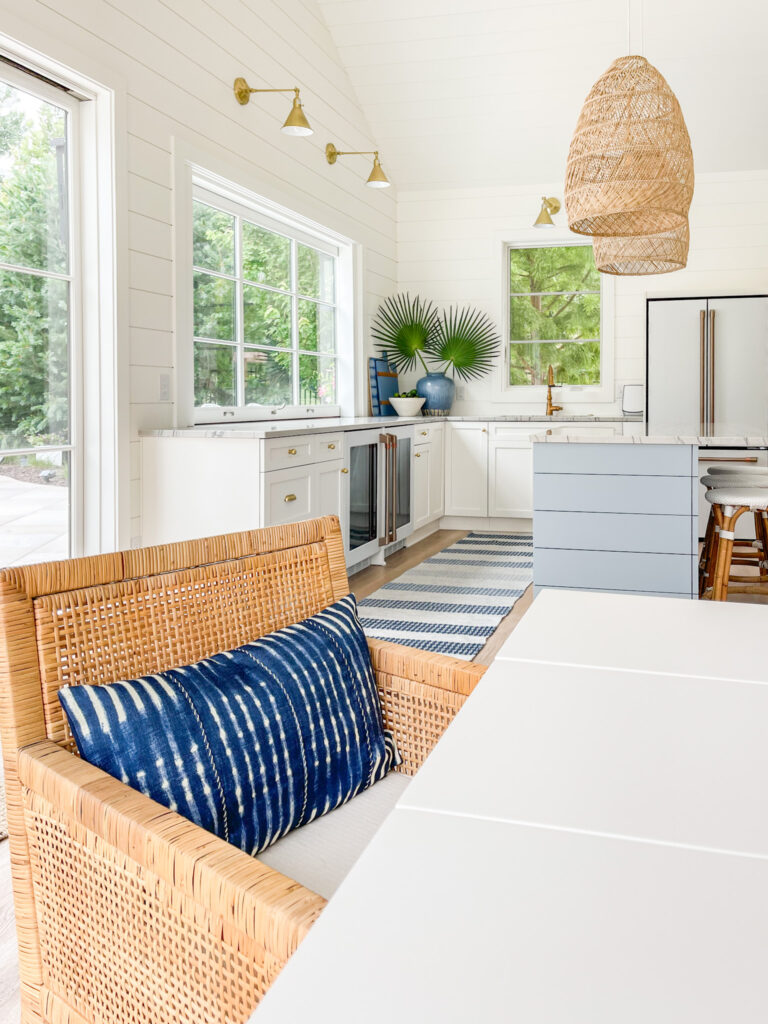 SOURCES: Rattan Chairs | Lumbar Pillow | Dining Table | Brass Sconces | Striped Runner Rug | Basket Pendant Lights | Blue Ceramic Vase | Counter Stools
Here's a look at the full pool house dining space, including the modern coastal outdoor bistro dining chairs.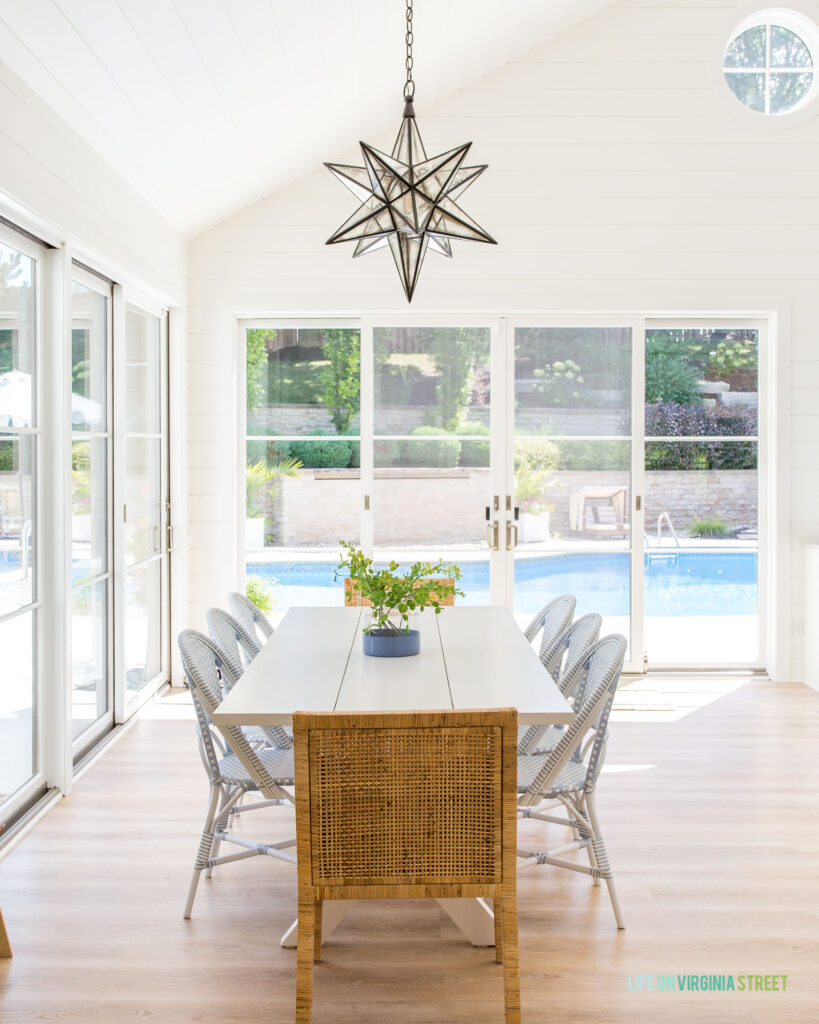 POOL HOUSE DINING ROOM SOURCES: Dining Table | Woven Chairs | Outdoor Dining Chairs | Star Pendant Light | Similar Faux Greenery | Dipped Vase
And although our current modern coastal dining chairs (the Tayabas chair from CB2) are no longer available, these chairs are very similar when they're in stock! They come in four/finish color options too!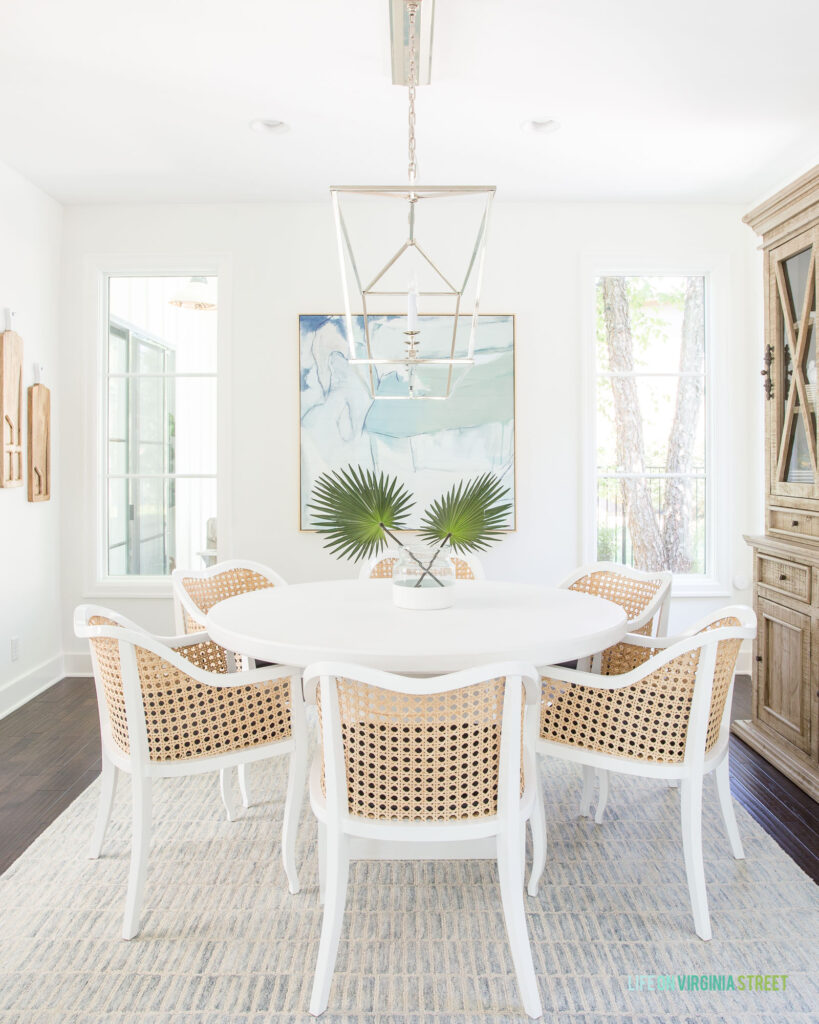 DINING ROOM SOURCES: Dining Table | Dining Chairs(look for less here) | Hand Tufted Wool Rug | Linear Chandelier(look for less here) | Abstract Art | Hutch Details | Dip-Dyed Serving Boards | Vase | Faux Fan Palms
At our Florida vacation rental, Hola Beaches, we have this chair to use at the desk in the upstairs suite. The chair is on the petite side, but it's a great value, and we're happy with the quality so far!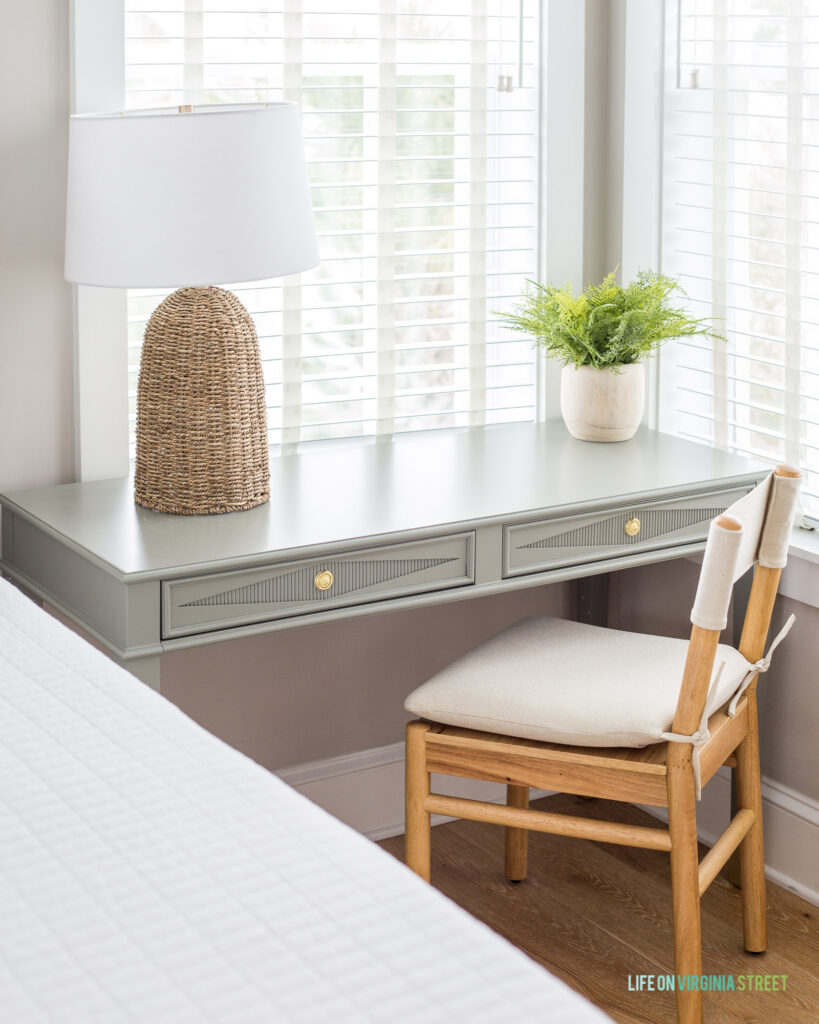 SOURCES: Wood Bed | Desk | Wood Chair | Seagrass Lamps | Faux Fern | White Quilt Set
Additional Modern Coastal Cottage Furniture Finds
Following are even more modern coastal cottage furniture and decor finds that you may be interested in! Tap the name of the article below to see the full post.
If you would like to follow along on more of my home decor, DIY, lifestyle, travel and other posts, I'd love to have you follow me on any of the below channels: