Sharing a thorough review of Serena & Lily Riviera Counter Stools after three years of use, including all the pros and cons!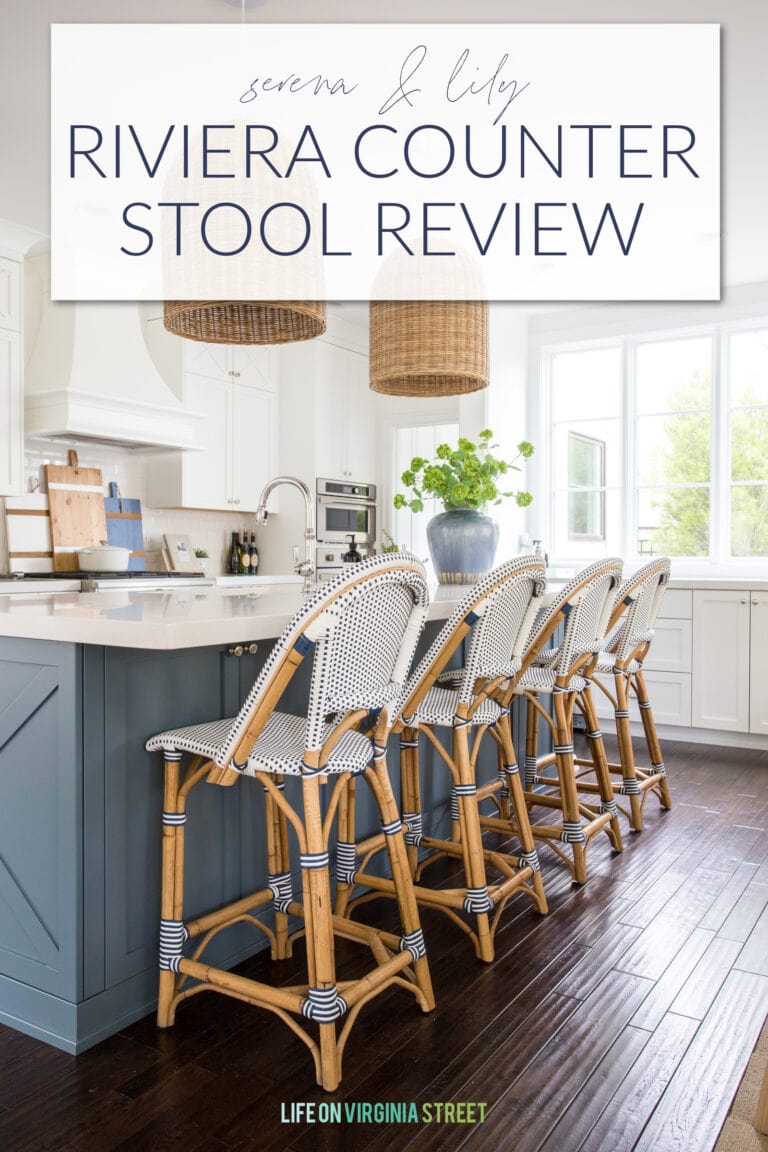 This post contains affiliate links for your shopping convenience. Serena & Lily provided me with the Riviera Counter Stools in 2018 as one of my partners during our kitchen renovation. This is not a sponsored post but I did receive store credit in exchange for my honest review. As always, all thoughts and opinions are my own. Click here to read my full disclosure policy.
We have a number of Serena & Lily furniture pieces around our home, but the one I'm most frequently asked about is our Riviera Counter Stools! When we began designing our kitchen for our renovation three years ago, I knew the stools would be one of the first things we'd incorporate into the space. Now that we've owned the stools for nearly three years, I felt it was time to give them a full review and a post you can refer to if you consider them down the road!
The Riviera Counter Stools and Bar Stools are so chic and work with a variety of decorating styles! They're based on the classic Parisian bistro chair, and work with decorating styles ranging from coastal to modern to farmhouse to traditional and more. With all the color offerings, there's a Riviera chair or stool for nearly every home type! I personally love the coastal vibe of the navy/white woven resin in combination with the hand-bent rattan. The effect is beautiful and the perfect mix of warm and cool elements!
Let's jump into my full review, including the environment in which ours live as well as the pros and cons of these beloved stools!
Our Serena & Lily Riviera Counter Stool Specifications & Environment:
Before I get into the general pros and cons of the counter stools, I want to share the exact specifications of the stools we ordered. We currently have the Serena & Lily Riviera Counter Stools (26″ high) in the Navy/White color combo. Serena & Lily also offers the same stools in bar stool height (same listing) in four colors, as well as a new swivel counter stool option. Additionally, they offer additional products in this line including backless bar and counter stools, dining chairs, arm chairs, kids chairs, and an outdoor collection to name a few. You can see the full Riviera line here for even more products.
We do not have kids but we do have three cats. However, we regularly have people over, including kids and we typically eat at our island exclusively (where the counter stools are). With Kurtis home almost exclusively this past year and a half, it's not uncommon for him to eat multiple meals here a day. It's rare for a day to go by where at least one of the stools isn't used.
We want our home to be livable, so nothing is considered precious. When we purchase furniture, we want it to not only look good, but to be durable and easy to clean.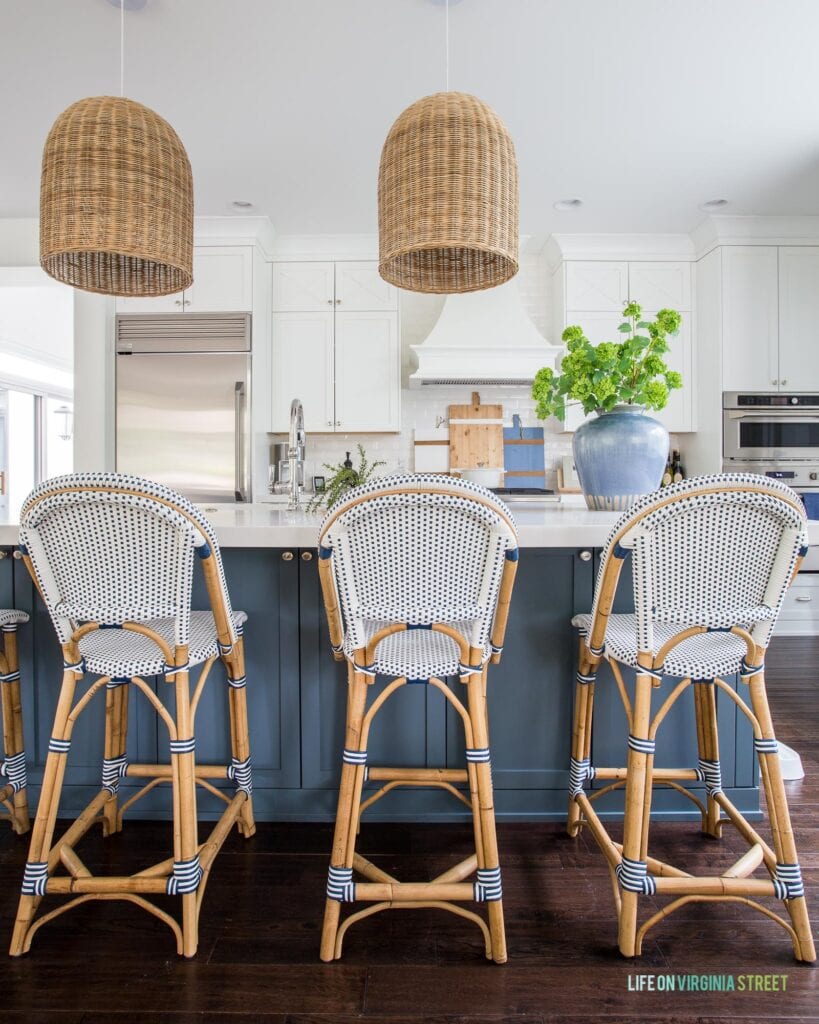 Serena & Lily Riviera Counter Stool Pros
Versatility – As mentioned above, the classic bistro style of these stools makes them work well in a variety of kitchen and dining areas! And with all the color offerings, it's easy to find a combination that will work well in a variety of homes.
Quality – I would borderline argue that these stools are indestructible! Even my dad, who is pretty strict on workmanship, thinks they are made incredibly well. They are sturdy, solid pieces that you can just tell will stand the test of time.
Comfort Level – We find these counter stools to be comfy for meals, work, and conversation. I probably wouldn't want to sit here for hours on end, but they are definitely some of the comfier counter stools I've sat in before!
Size & Weight Capacity – For reference, I'm 5'8″ and Kurtis is 6'2″. If you've ever shopped for bar stools our counter stools before, you know that there are so may factors to review. And if you look at the specifications of many counter and bar stools closely, the weight maximums can vary dramatically.  The Riviera Counter Stools hold up to 300 lbs., whereas many on the market today now only hold up to 250 lbs. I like that these can accommodate most and that their shape is comfier for both small and larger sizes!
Easy to Clean – I love that the Riviera Counter Stools require very little in the way of maintenance, and are easy to clean with a damp cloth. There really isn't much to it! The woven resin surface repels stains and is easy to clean up with little effort.
Serena & Lily Riviera Counter Stool Cons
Price – The price of the Serena & Lily Riviera Counter Stools and Bar Stools is higher than most of the others I considered, and are definitely an investment. However, the quality is there and they do frequent enough sales, that I'd wait for a sale to purchase them if possible! These aren't stools that you'll have to replace after only a few years of use.
Popularity – If you're someone that is looking for a totally unique counter stool or bar stool, these may not be for you. The Riviera line has increased in popularity over the years, and since the style is so versatile, they're in a lot of kitchens! On the flip side, there's a reason they're so popular, so as long as you're not trying for totally unique, this shouldn't be an issue for you!
Sunwashed Riviera Potential Issues – I love the look of the Sunwashed Riviera Stool & furniture line, however, a quick word of caution. While gorgeous in person, I do have concerns with the woven portion. In lieu of resin like the version we have, the sunwashed version is handwoven rattan. With it being a natural element and a rougher finish, I find that it is prone to snags (on the chair and your clothes). It may have just been the set I saw (which was nearly new), but I prefer the smooth finish to the resin finish for durability, clean-up and overall ease. I'm not saying don't ever buy the Sunwashed version! It would be gorgeous and perfect for some and may work well in a dining room in the chair version where you're not trying to slide on and off the stool. I just wanted to bring this variation to your attention if weighing both options.
Current Condition of Our Riviera Counter Stools
For the most part, our Riviera Counter Stools look as good as the day we got them! In fact, before I wrote this review, it was hard for me to even locate any areas that really showed any wear at all! Both the rattan frame and woven resin seats and back are in like-new condition.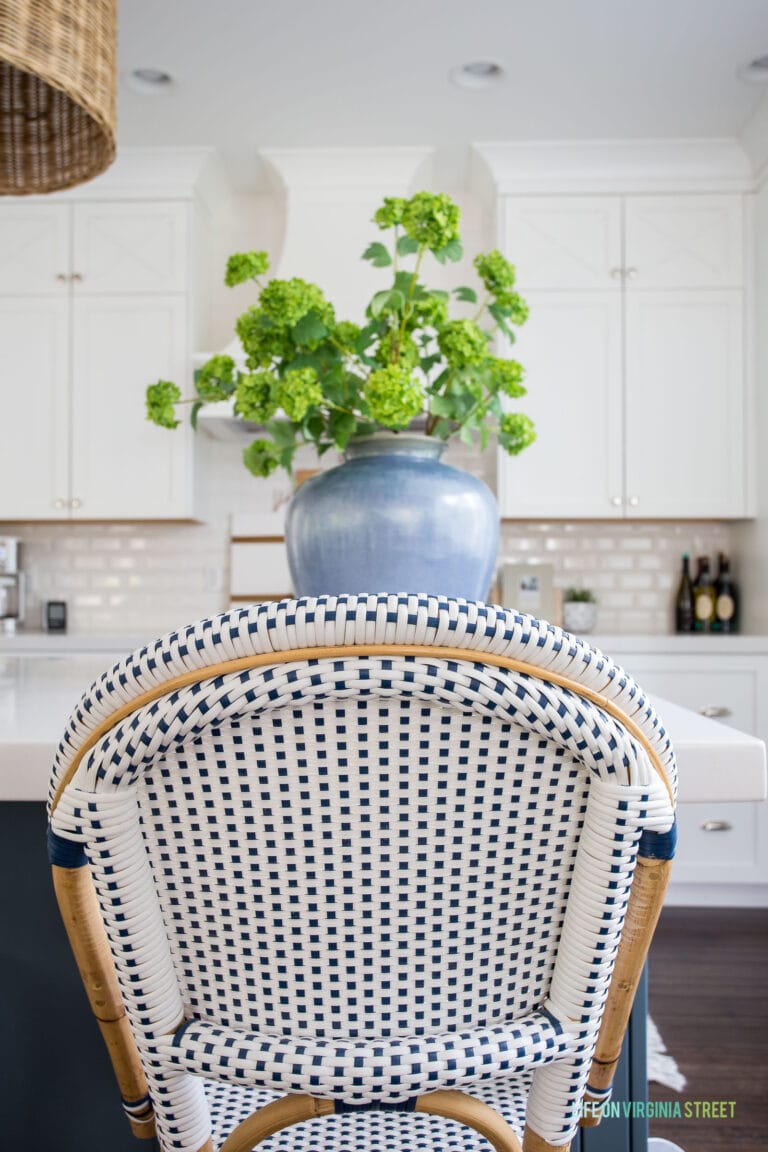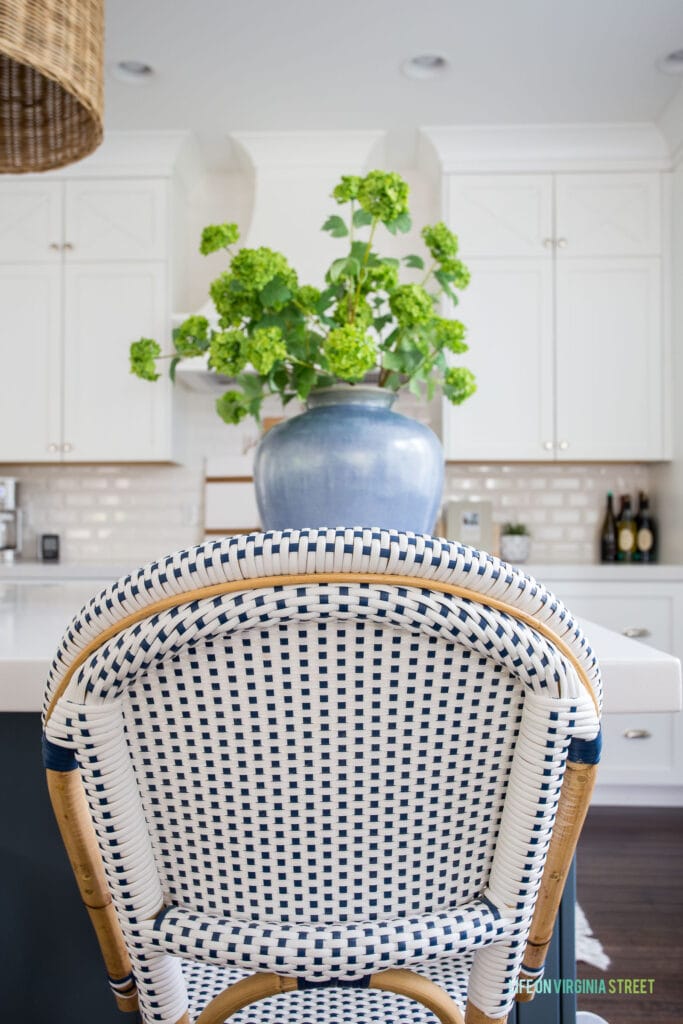 This is our most used stool since it's on the end we tend to eat at most. You can see after years of daily use, the seat is still taught and the weave is like new! Additionally, do you see the stool next to it pushed up to the cabinet? Since the face of the stool that sticks out the most is covered in the resin weave, we haven't had any damage to our painted cabinet doors!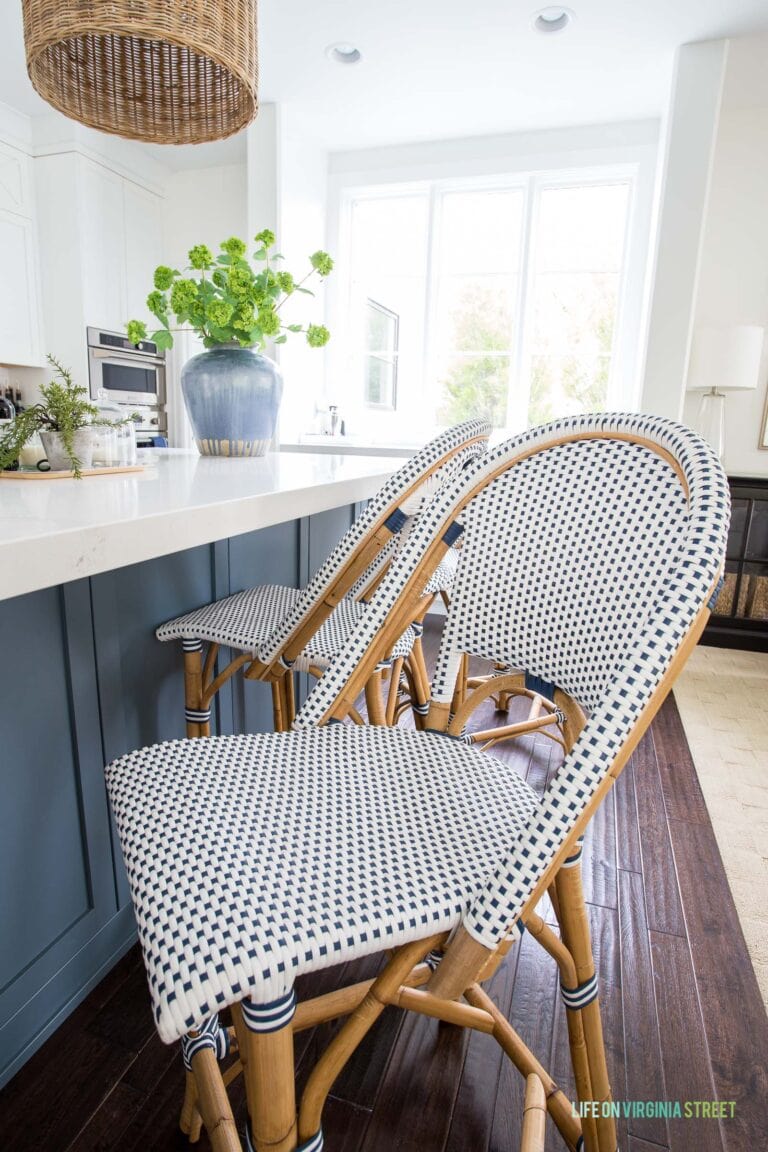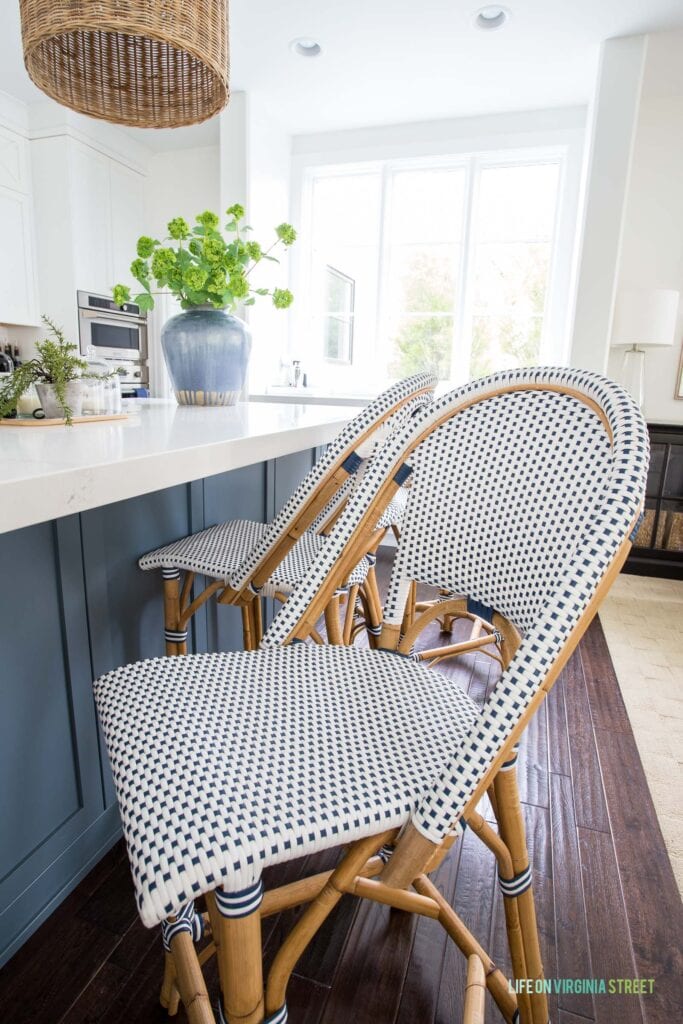 Although I would consider the navy/white combo a true navy in most lights, on the chair closest to the window, it can lean more towards a cobalt blue when the sun is shining. It's fun to watch them change color a bit throughout the day depending on the current lighting situation. With that said, we haven't experience any fading on the stools either. Rather, the variation just comes at different times of day and exterior light conditions.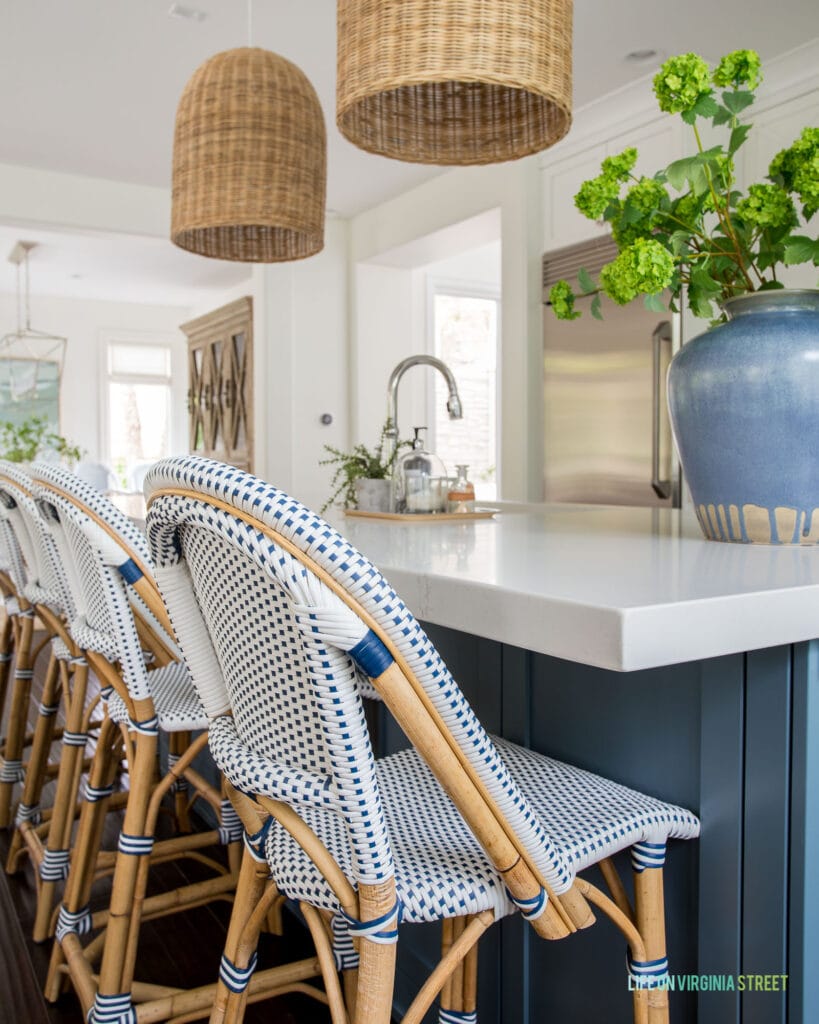 Closing Thoughts on Our Serena & Lily Riviera Counter Stools
If you're looking for a chic, long-lasting piece of furniture for your home, I can wholeheartedly recommend the Serena & Lily Riviera Counter & Bar Stools. Although they're a bit of an investment, their chic design and excellent workmanship more than make up for it! If the Riviera Swivel Counter Stools had been around during our kitchen renovation, we likely would have gone with those instead. I love ours, but with having four in a row (somewhat tightly), the addition of a swivel would have been helpful, particularly for the middle two chairs. Otherwise, we couldn't be happier with ours!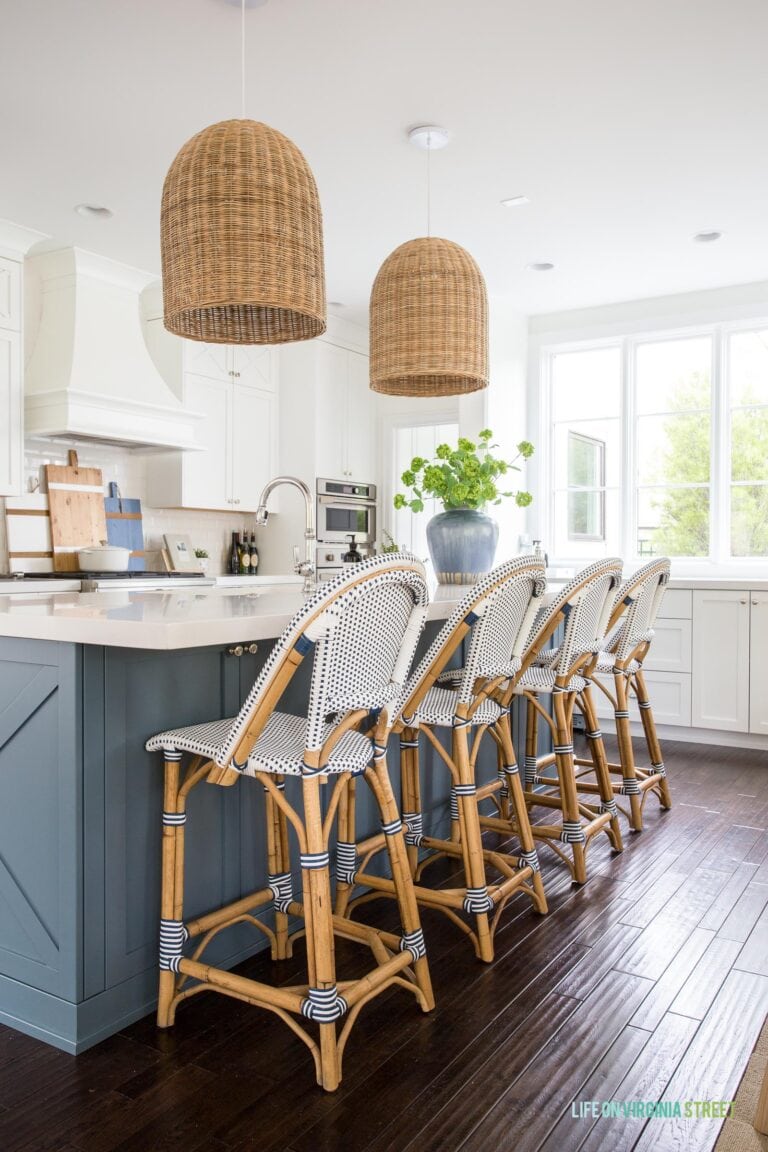 Following are a few other Serena & Lily favorites from around our kitchen! Click any of the images below to be taken directly to the product listing.

I hope you found this review helpful! If there are any other questions on the Riviera Counter Stools that I didn't address, please feel free to leave a comment and I'll respond with details!
If you would like to follow along on more of my home decor, DIY, lifestyle, travel and other posts, I'd love to have you follow me on any of the following:
Pinterest | Instagram | Facebook | Twitter
disclosure: some affiliate links used