A collection of more than 20 stylish modern coastal bookcases that work with a variety of decorating styles! Includes a mix of bookshelf finishes, sizes, styles and price points!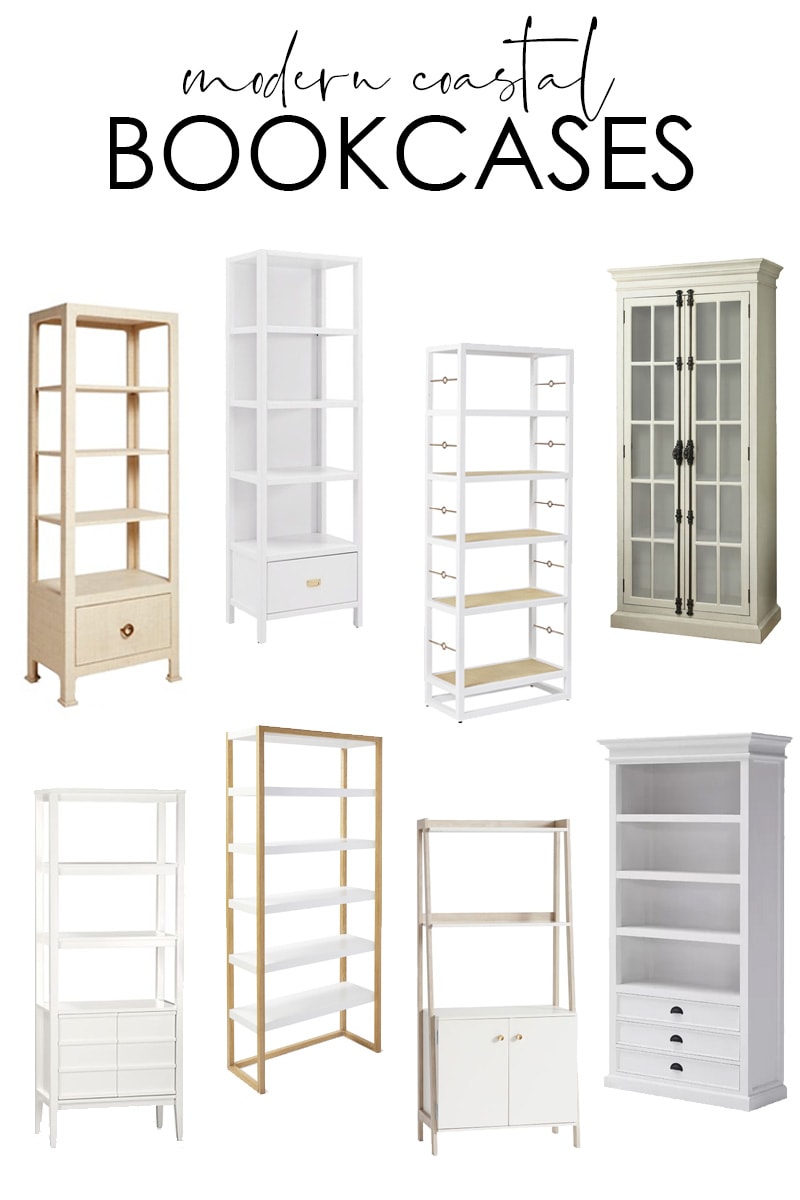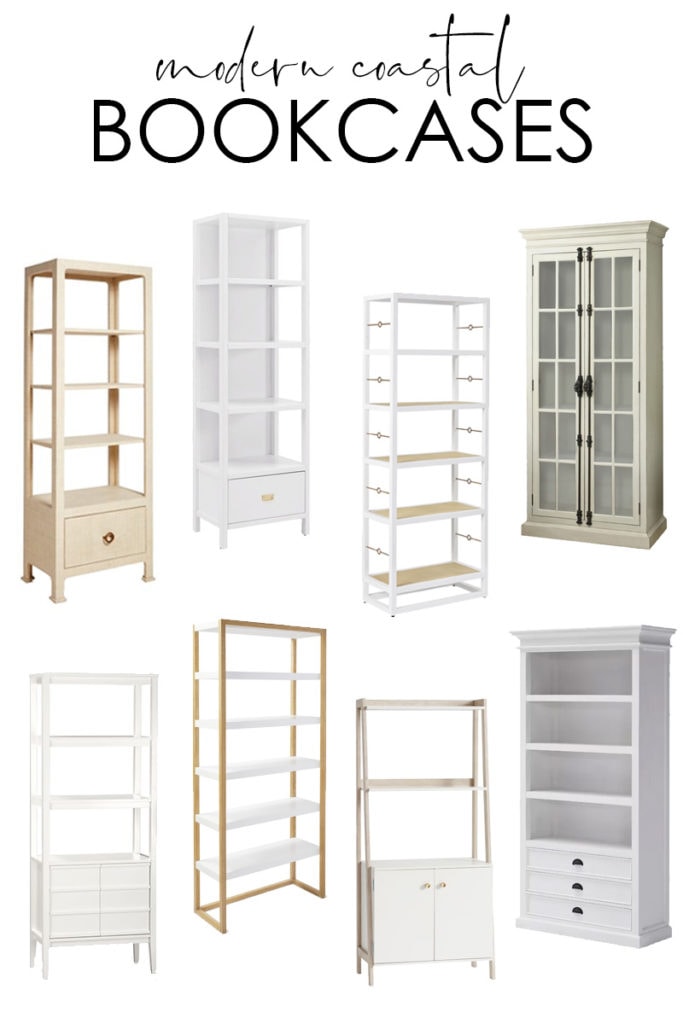 I actually had planned to write a different post today, but then I got sick and truly rational thinking (and energy) escaped me! So, in my mostly downtime earlier this week, I finished searching for something I'd been on the hunt for for awhile – bookcases! Today I thought I'd share some modern coastal bookcase options I found that I think you'll all love. First, I'm going to chat briefly about why I'm even looking for a new bookshelf option to begin with!
This post contains affiliate links for your shopping convenience. Click here to read my full disclosure policy.
The Backstory
As I mentioned in my recent summer home tour, our office is a workhorse which is why I don't show it as often as other rooms! It isn't just a pretty room in our house. We literally use it every single day, and it's not uncommon that I'm in here for 6+ hours every day (including weekends).
When I originally bought the bookcases for our office (a quick iPhone reminder of what they look like below), you may remember that we had just transformed the space to make room for two desks. Kurtis was wanting a space to also be able to work, so my giant old desk was no longer going to work for us jointly. At the time, I wasn't sure if this would really be a long-term thing for Kurtis or not, so function wasn't necessarily top of mind.
The bookshelves have served us well and work best for our room layout. They essentially act as a credenza to our desks and hold items we frequently reach for that don't fit in our desk drawer. However, now that it's been nearly two years (!!) since the room reveal (and even longer that we've been using the space this way), we've learned we both definitely need a drawer! Especially since our desks are so light on storage. We each have one of the linen boxes you see below. They're clunky and the lids open up and out (and don't stay open unless you're holding them). They act as temporary storage for business receipts, paperwork that needs to be scanned, etc. But, because the boxes don't work well, paperwork ends up on our desks for weeks on end until we're ready to deal with it. We also have Ziploc bags with receipts that are just left out because we don't have a spot to actually store them. It's time for a change!
Modern Coastal Bookcase Ideas
With all that being said, I've spend the last month or so looking into different options. I felt like my original pick leaned a little too farmhouse-y for my current design preference. So I intentionally sought out bookcases that had more of a modern coastal feel! It was hard to find great options that didn't sway too coastal/cottage-y or too modern. I was also looking for pretty specific features for our space:
Decent shelf space for books and baskets for storage
One or more drawers to store business receipts, paperwork, etc.
A dedicated space large enough to hold our scanner
Modern coastal vibe
Didn't clash with our white oak flooring or Simply White walls
Was 32″ wide (or less)
I think I found some really great options for a variety of budgets! There were a few I loved that didn't meet all of my parameters above, but I included them in case they may work for one of you!
Following are some of my favorite modern coastal bookcase options that I found on my hunt. I've included a variety of retailers and price points that should also work for more than just the modern coastal decorating style! Click any of the images below for more information on each item.

There were a few I loved and would have no doubt bought if I only needed one. But, since I had to go with a pair, that helped me narrow down my option. I actually ended up buying a pair on Tuesday night, thanks to a great sale that was coming to an end. However, I think I'll wait to share them with you until I have them styled in the space!
Other Office Thoughts
Overall, the office has been working well for us but I think it will work even better with this small tweak. I still need to work on the storage situation in the closet, but I bought some organizers recently to help with that. Since we're running two business in this space, it mostly involves boring paperwork and camera equipment 😉 But it will be nice to get it truly organized!
I still haven't fully ruled out painting the board and batten wall again. You may remember last winter I was toying with the idea because we both feel like the wall is really dark compared to everywhere in our house (but we still love it!). It's actually a super easy project and typically only takes me about a day, so it never bothers me to try it and re-paint if I hate it. I'm considering something like our front door color but am still scheming ideas, since it really isn't a priority.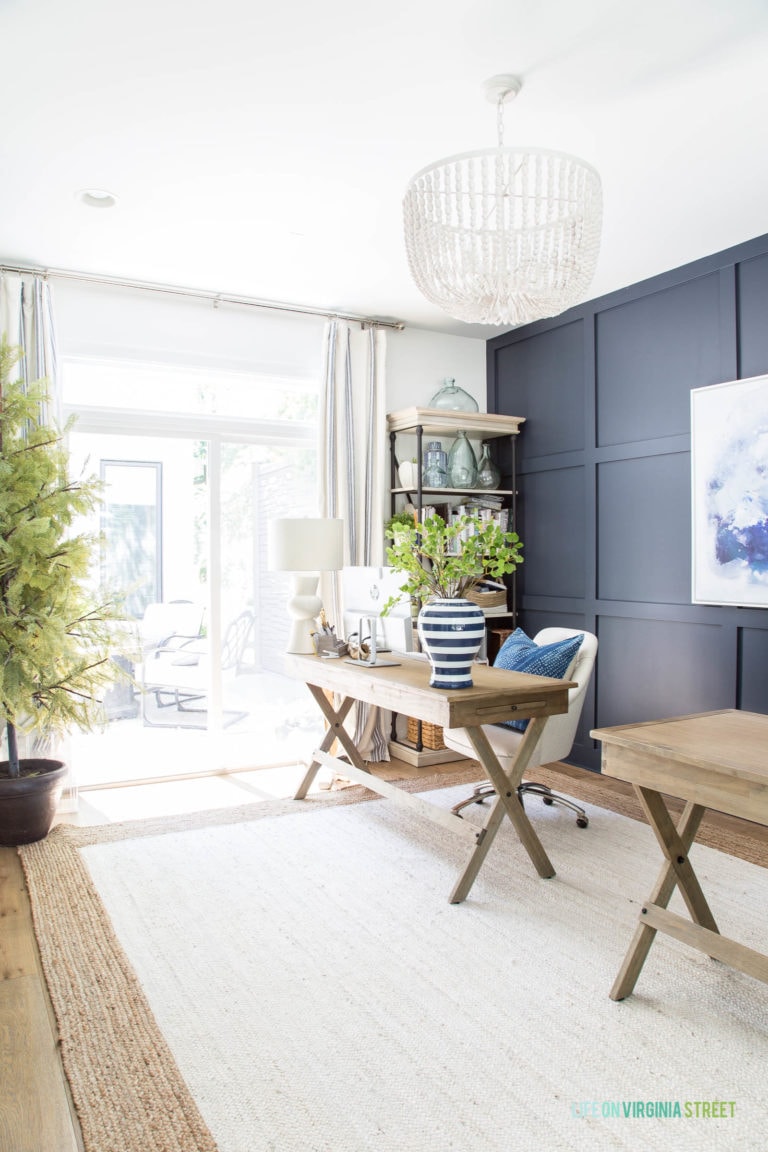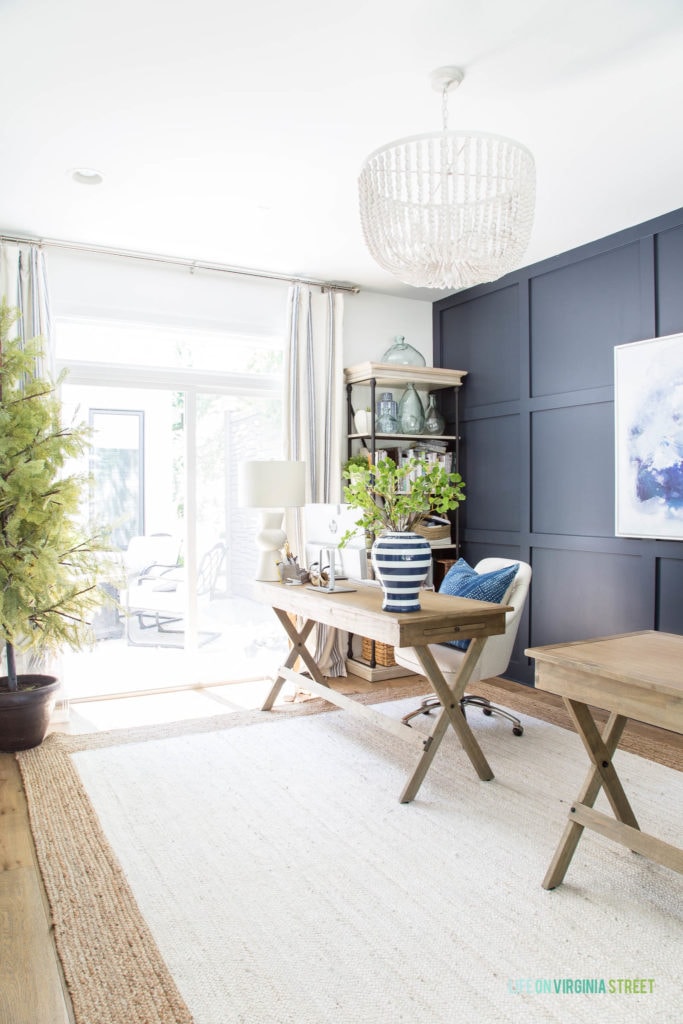 SOURCES: Wood Desk | Linen Chairs | Blue Dyed Pillows | Jute Rug | Striped Curtains | Bookcase | White Wood Bead Chandelier | Similar Lamps | Faux Ginkgo Stems | Similar Striped Vase | Abstract Art | Faux Cypress Tree – Locally at Amethyst Home
I'll share more details once I get more plans worked out!
If you would like to follow along on more of my home decor, DIY, lifestyle, travel and other posts, I'd love to have you follow me on any of the following:
Pinterest | Instagram | Facebook | Twitter 
disclosure: some affiliate links used