A stunning collection of traditional coastal coffee tables.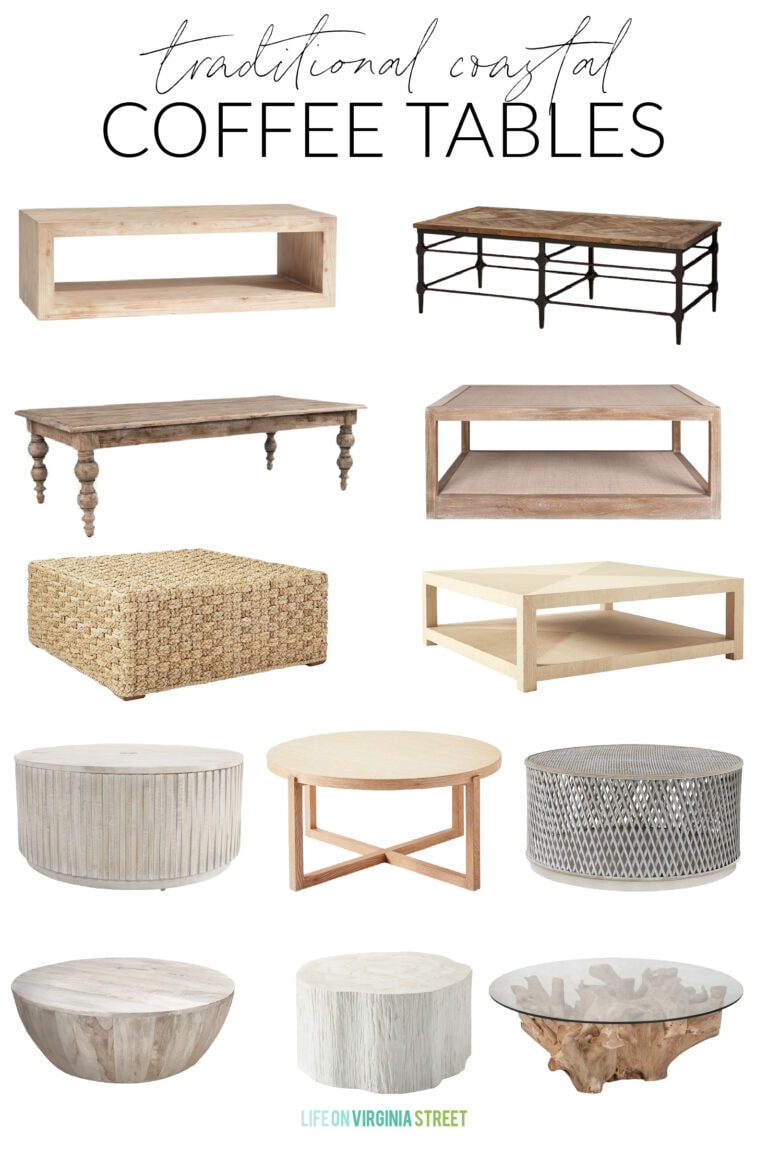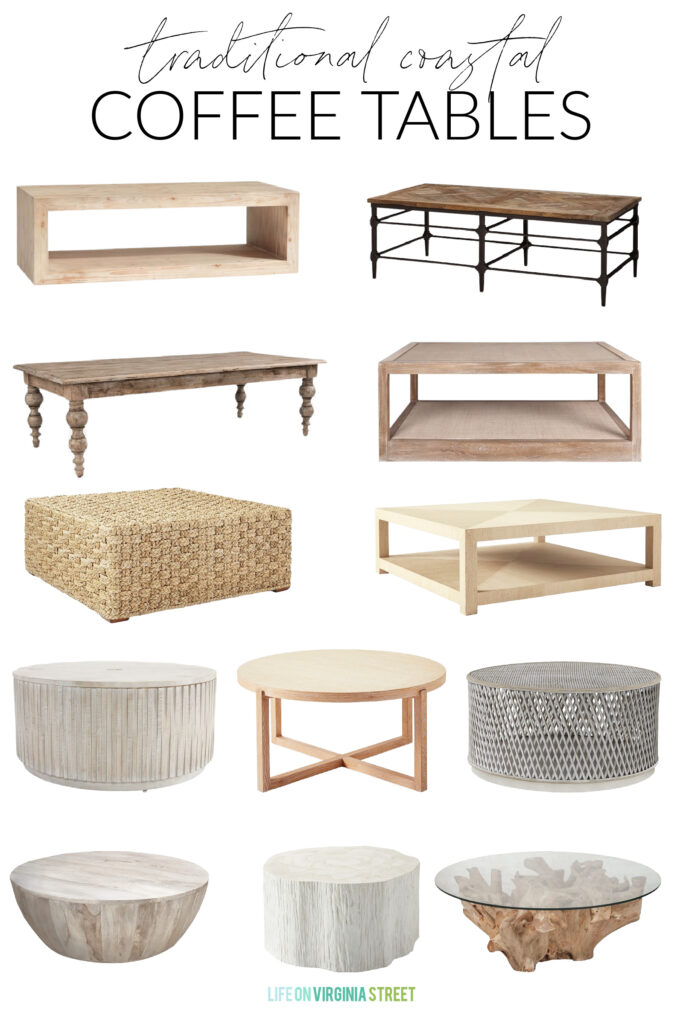 In a rather quick turn of events, we sold both of our sofas and coffee table on Tuesday night. As of Saturday, we will only have one leather chair left in our living room! My new comfy sofas are scheduled to arrive on Black Friday, but that leaves us without the new chairs for a few weeks and no coffee table at all. And, my parents are flying into town next Saturday. Oops! Fingers crossed the sofas actually arrive on schedule! With all that, I was forced to sit down and finally look at some coastal coffee table options for our living room. I searched hundreds upon hundreds of tables from a variety of retails and thought I would share my findings with you today – even more than what's shown in the graphic above!
This post contains affiliate links for your shopping convenience. Click here to read my full disclosure policy.
Our current coffee table is a large one, measuring in at 40x60x19. Kurtis is very insistent that he needs to be able to reach the table when he is lying down on one of the sofas. Since he has been fairly flexible in this whole makeover, I'm really trying to find something close in size (potentially a tiny bit smaller). Since I realize this may not be a concern for all coffee table shoppers, I've included some options at smaller sizes below. They just won't make my top list of contenders.
As a reminder, here are the sofas and the spindle chairs we already purchased. And before anyone thinks we've won the lottery with all the furniture we've purchased recently, I've actually sold enough on Facebook to pay for both of the sofas already! Once I sell the other leather chair, I'll also have nearly enough to cover both of the chairs. So, the reality is, the coffee table will probably be my only out of pocket expense. God bless Facebook selling groups! 😉
The Coffee Table Search
I definitely want something much lighter than what we already have, so I'm looking for a driftwood or white tone. However, I also don't want the space to be too monochromatic (although – isn't that what throw pillows and throws are for?). I want something with a traditional coastal vibe and I think I found quite a few that fit these guidelines.  But seriously, who knew large coffee tables were so expensive?! Following are some of my top traditional coastal coffee table picks.
Click any of the images below (double-tap on mobile) to learn more about each of the coffee tables shown.

I'm loving the slightly modern vibe to this coffee table. I think it may help balance out some of the more feminine details in the room, like the spindle chairs and skirts on the sofas. This one is one we both really like (it matches the guest bedroom bed!) and the price is right, but it's too small and we're contemplating if it would look weird to butt two up to each other. Which one is your favorite? Any others I should consider?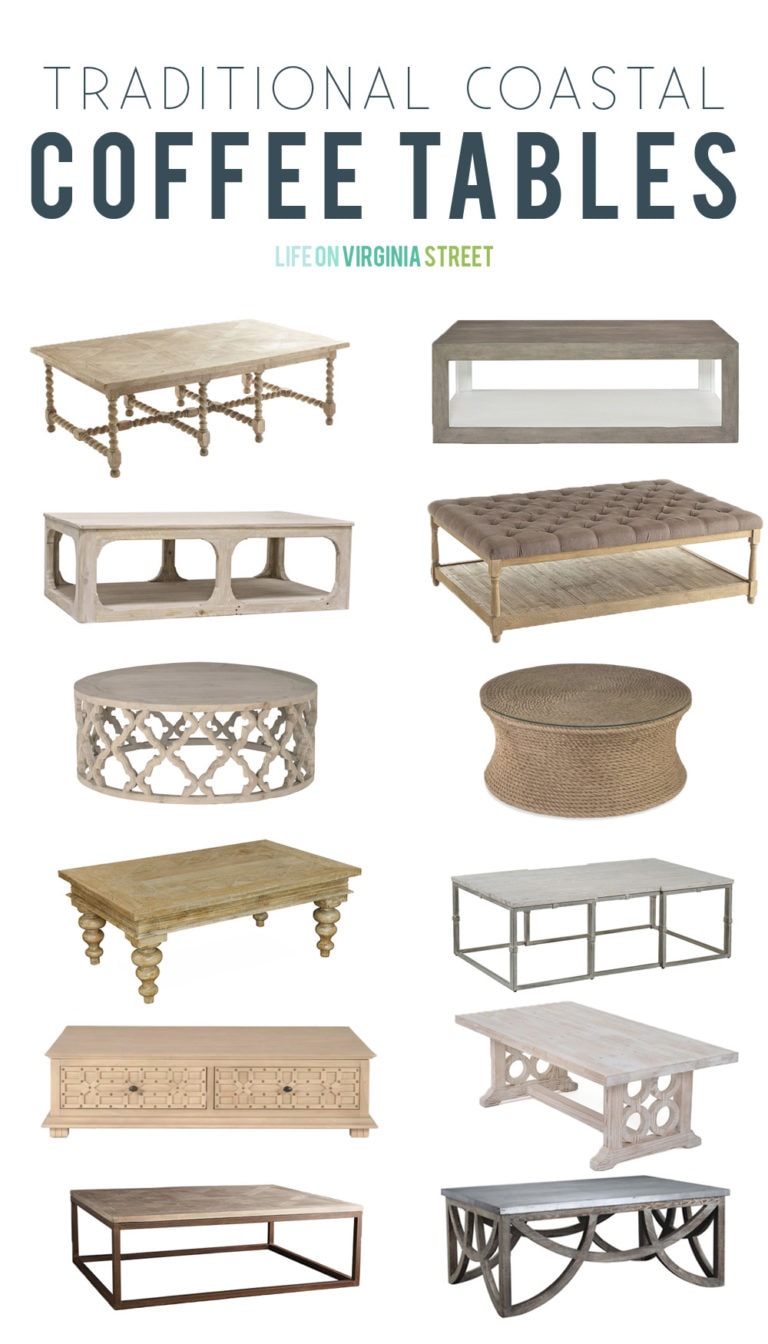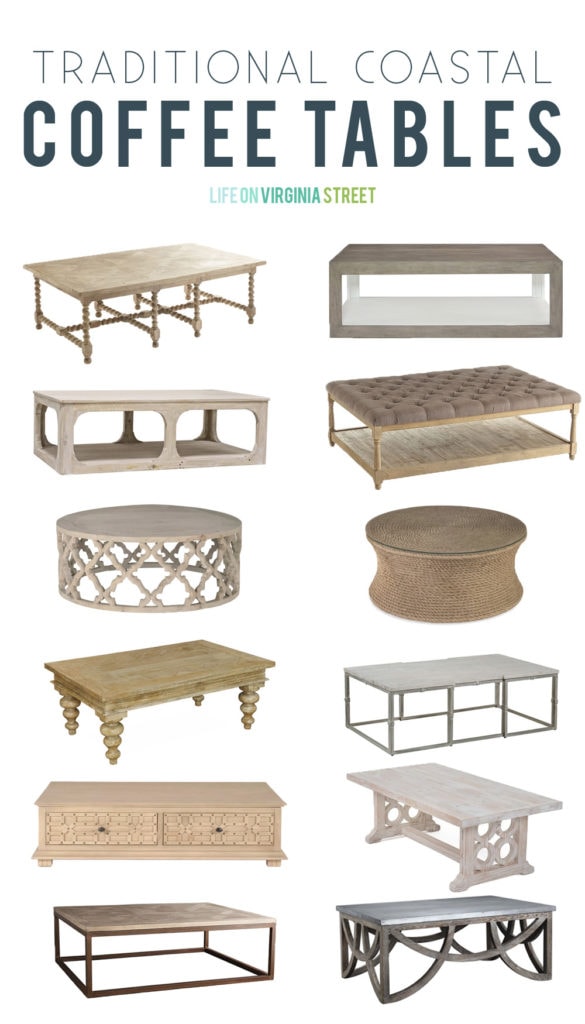 If you would like to follow along on more of my home decor, DIY, lifestyle, travel and other posts, I'd love to have you follow me on any of the following:
Pinterest / Instagram / Facebook / Twitter
disclosure: some affiliate links used