A stunning collection of traditional coastal coffee tables.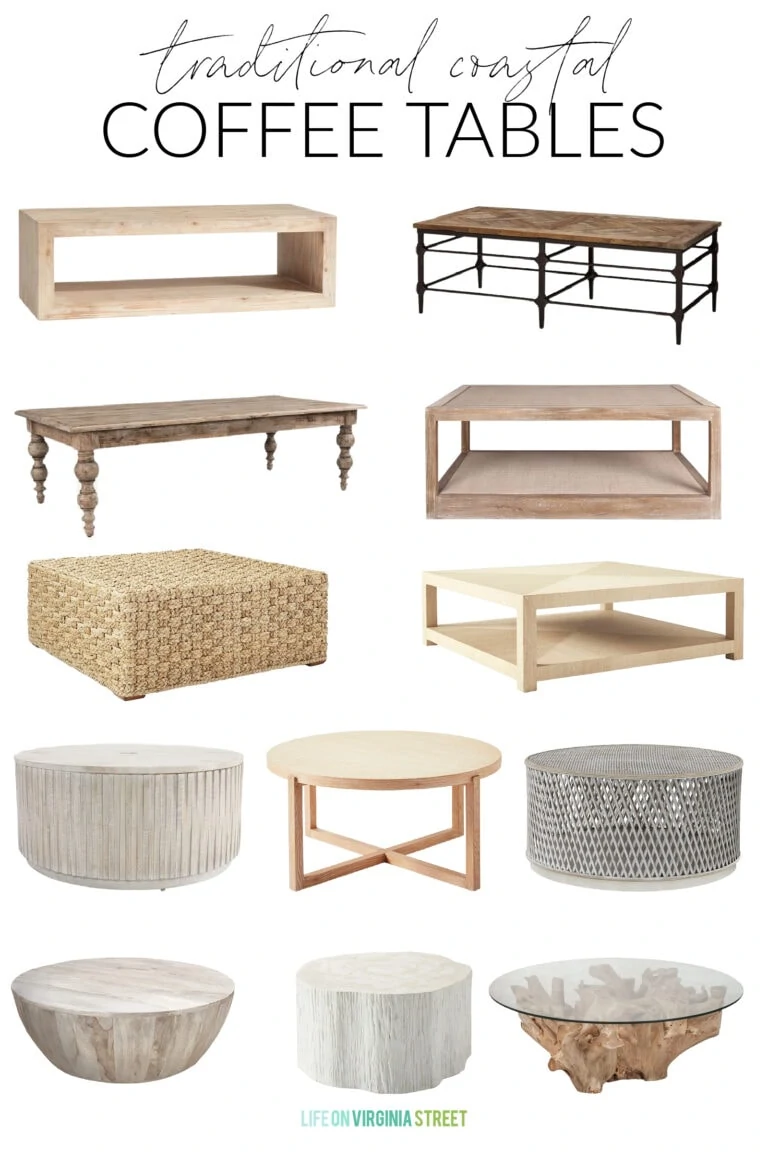 With the upcoming completion of our pool house, we knew we'd be making a few coffee table switches around our home. A few months back, I began a search for a traditional coastal coffee table for our den. I had originally written this post back in 2017 when I was searching for a coffee table at the time for our living room and referenced it again earlier this year. But, I quickly realized many of the coffee tables from that period nearly four years ago were no longer available. In my search for a new table, I also updated the products in this post, and today added even more info to help you search for the perfect coastal coffee table!
This post contains affiliate links for your shopping convenience. This post was originally published Nov 16, 2017 and has been updated with current information and products. Click here to read my full disclosure policy.
Traditional Coastal Coffee Table Ideas
It turns out that traditional coastal coffee tables and modern coastal coffee tables are becoming increasingly more popular that they were in 2017! I found a number of retailers at various price points that now carry some really beautiful and unique options! Following are some of my top traditional coastal coffee table picks.
Click any of the images below (double-tap on mobile) to learn more about each of the coffee tables shown.

Coffee Tables Around Our Home (Now & Years Past)
Heading back in time a few years, we added this this coffee table around the time we upgraded to these sofas and spindle chairs. It was the first time we had actually bought furniture for this living area. Prior to that, we were using furniture brought over from our last house (which had a much larger, open concept floor plan). The old furniture felt way to heavy in the space, so we tried to order smaller based upon that (with the exception of the sofas).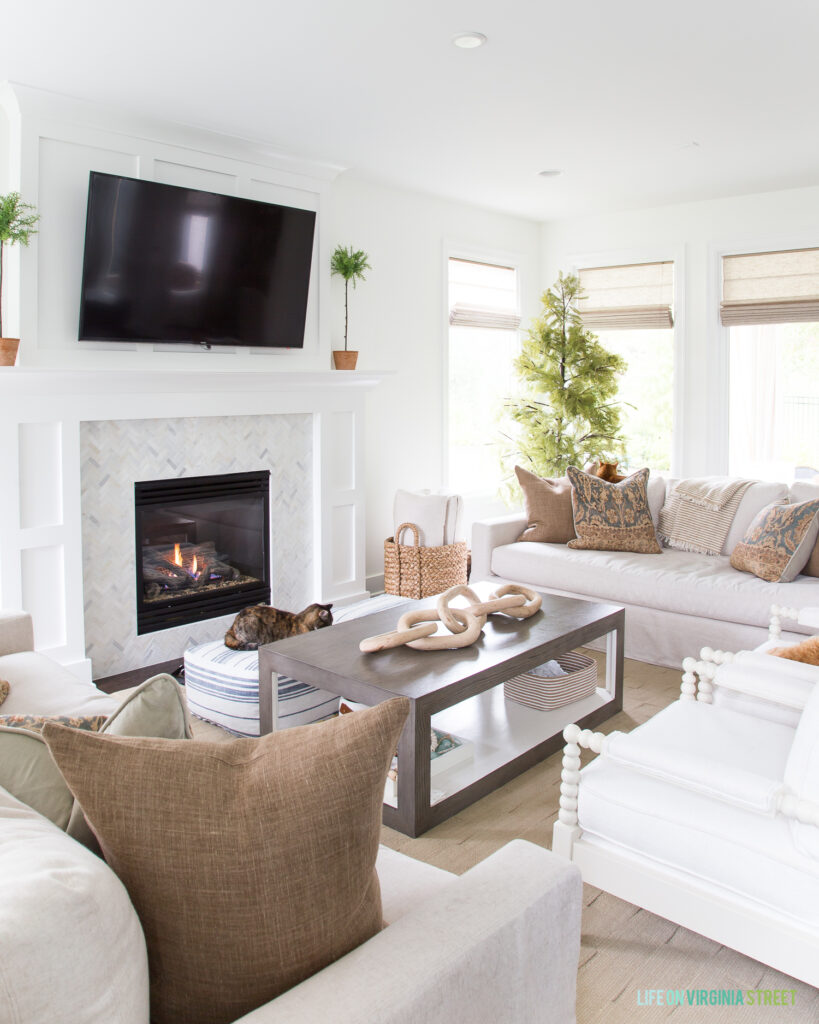 FALL LIVING ROOM SOURCES: Linen Sofa | Spindle Chairs | Chunky Knit Blanket | Bronze Linen Pillow | Patterned Pillow | Coffee Table | Similar Oversized Wood Chain | Topiaries | Large Woven Basket | Faux Cypress Tree – Amethyst Home
When we transformed my prior craft room/TV room/overflow guest room into our den a few years ago, I knew a round coffee table would work best for the flow. With the double chaise sectional, I knew this smaller round table would create a better walkway with less nicked shins and knees! The coffee table has served us so well, that we've actually decided to move it to the pool house once it's complete. We love that the top lifts off to provide additional interior storage, and the enamel top is super easy to wipe clean!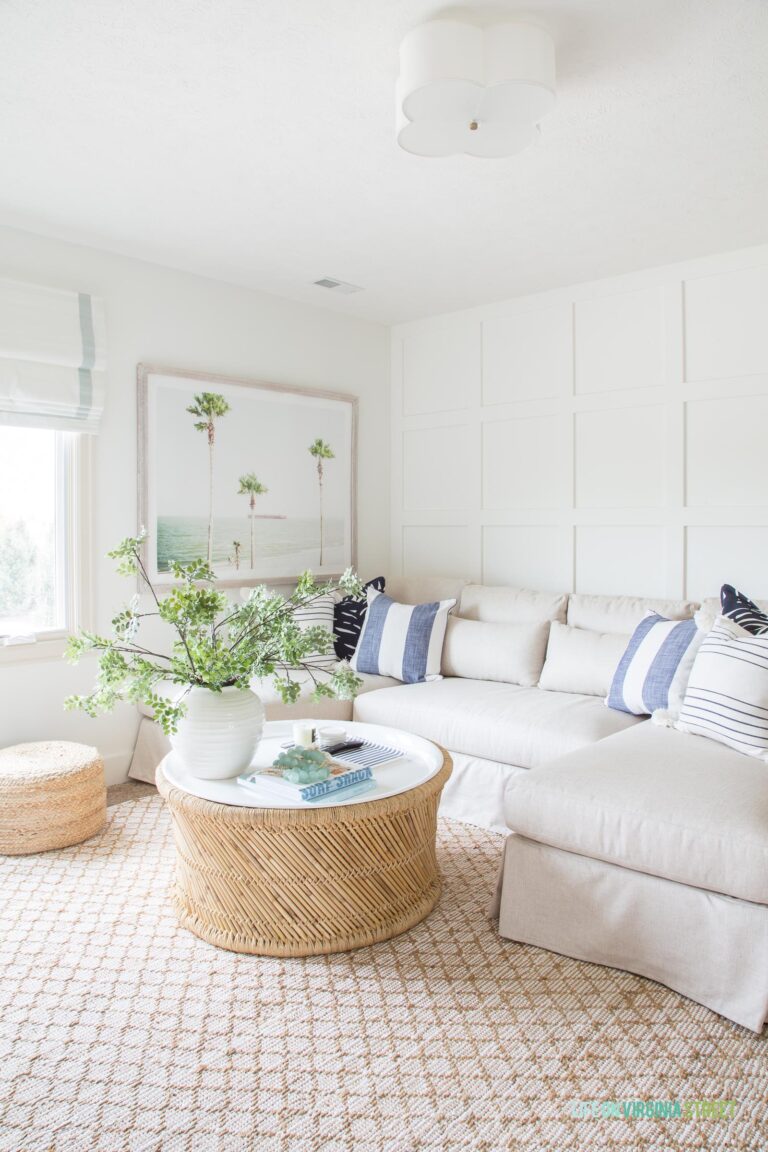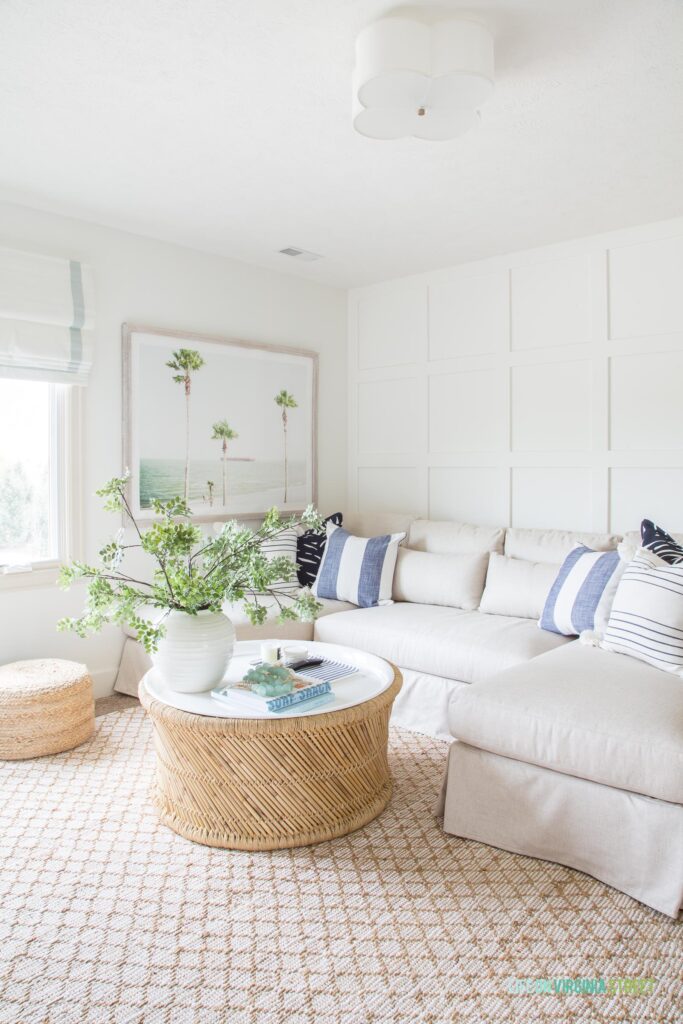 DEN SOURCES: Pottery Barn Sectional | Diamond Jute Rug | Scallop Light Fixture | Coffee Table | Palm Tree Art | Jute Poufs | Similar Ceramic Vase | Faux Greenery Stems | Small Striped Pillow | Wide Striped Pillow | Palm Print Pillow | Striped Throw | Roman Shades
Since we knew we'd be moving the table above out to the pool house, I began another search for coffee tables to use in the space as mentioned above. The second I saw this one, I knew it was perfect! I love that the lid also opens with hidden storage, and I love the mix of the gray wash on the warm wood. In the image below, the left side is a bit washed out thanks to the window but the middle and right side give a fairly accurate representation of the varying colors in real life! It's such a beautiful and unique coffee table! You can see more images of it in my summer home tour.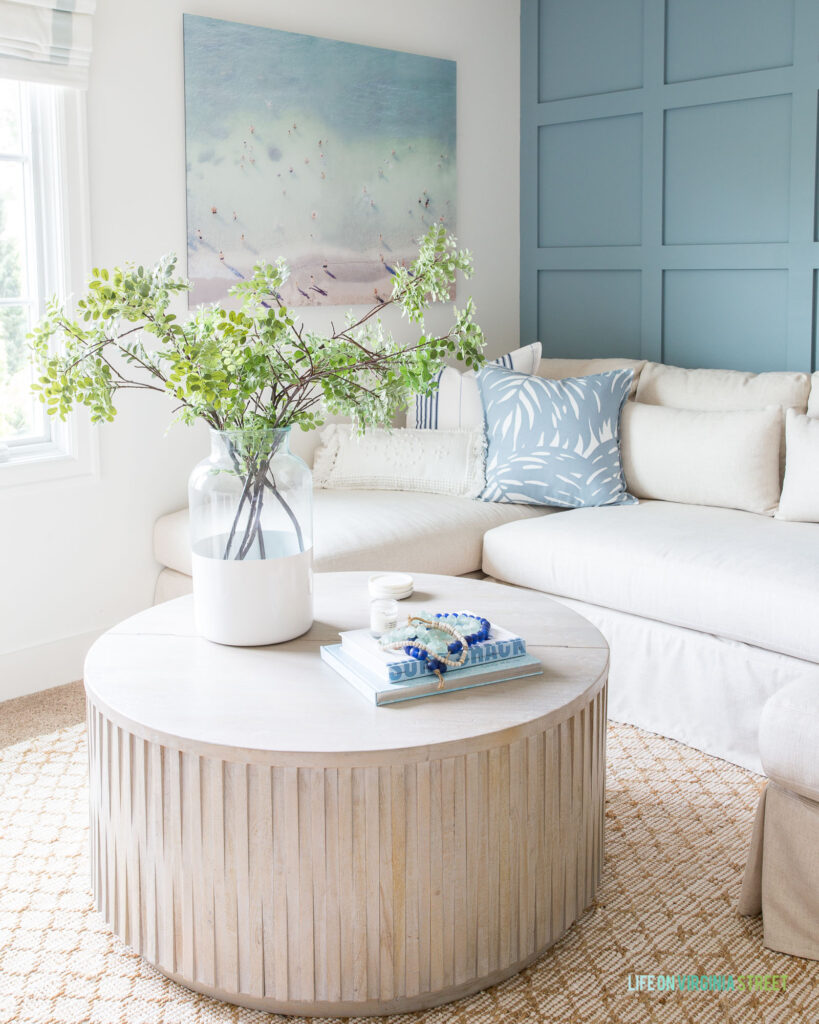 DEN SOURCES: Sectional (read my review here) | Coffee Table | Beach Art | Woven Rug | Roman Shades | Faux Greenery | Colorblock Vase | "Surf Shack" | "Escape" | Recycled Glass Beads | Marble Coasters | Palm Outdoor Pillows | Striped Outdoor Pillows | Textured Lumbar Outdoor Pillows
In our living room currently, we have this raffia wrapped coffee table. It's still a favorite of mine and gives off all the coastal vibes. However, if you're in a home with a lot of traffic or worry about consistent spills, I would not recommend this surface on a coffee table (unless you go with a darker color). Ours still looks great, but we are diligent about using coasters.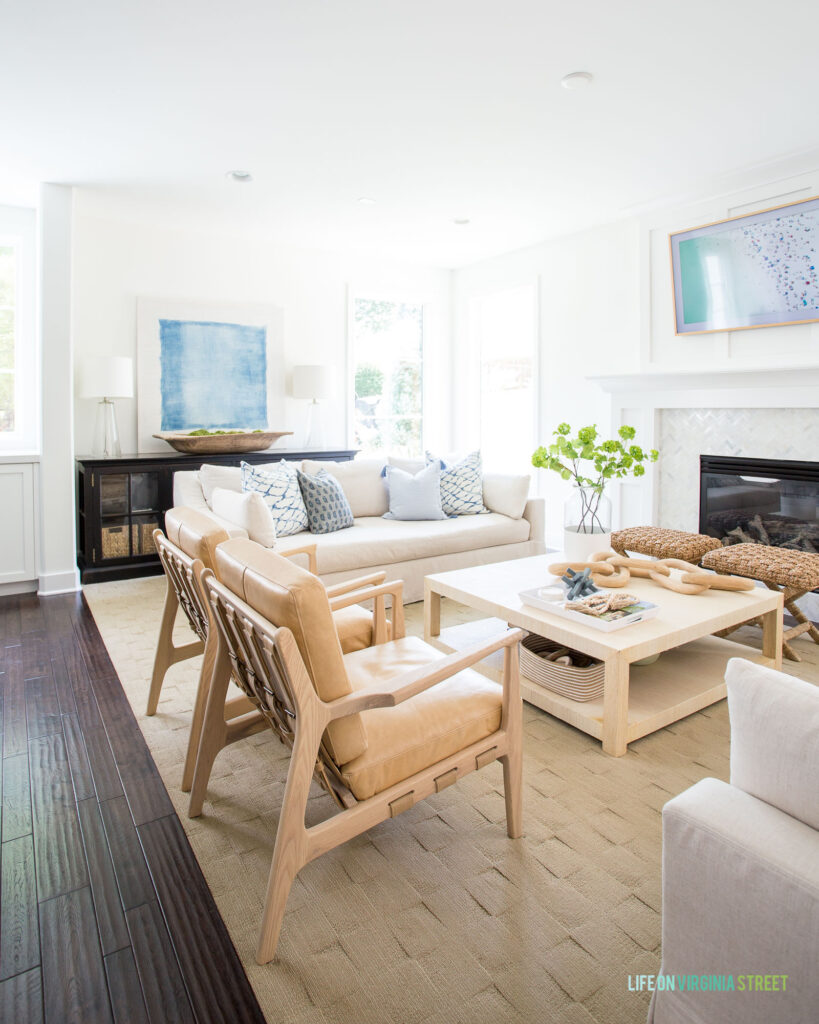 LIVING ROOM SOURCES: Linen Sofas (read my review here) | Buckle-Back Leather Chairs | Raffia Coffee Table | Woven Stools | Colorblock Vase | Faux Viburnum Stems | Similar Wood Chain Object | Faux Olive Tree | Weathered Whitewashed Terra Cotta Planter | Indigo Ombre Canvas Art | Similar Black Cabinet | Lamps | Wood Dough Bowl | Water Effect Pillow Covers | Clipped Stripe Tassel Pillows | Similar Block Print Pillows | Frame TV
If you're on the hunt for a traditional coastal coffee table, I hope you found this post helpful!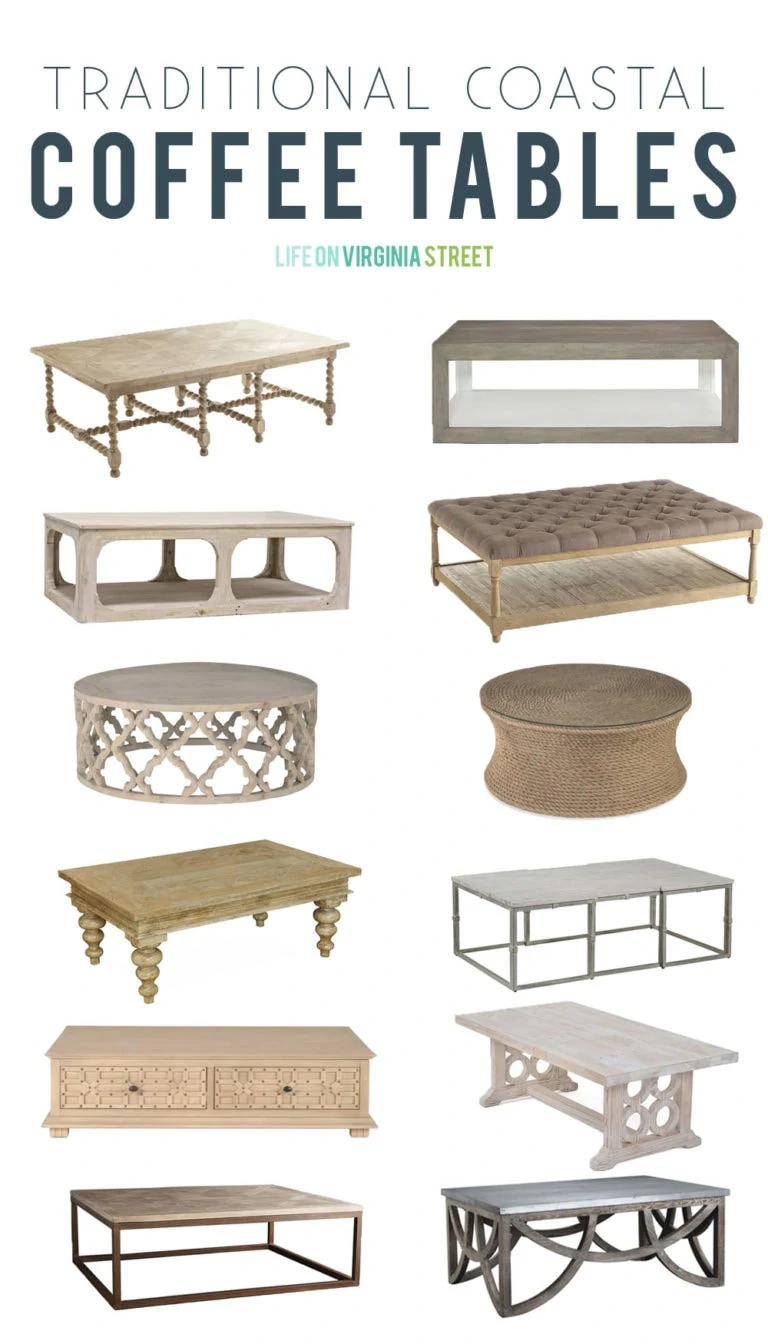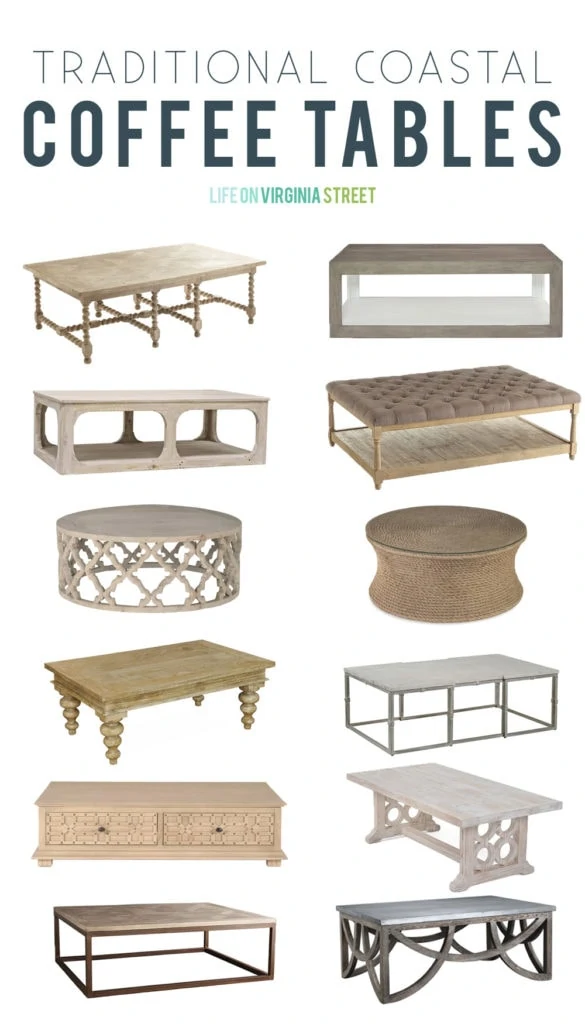 If you would like to follow along on more of my home decor, DIY, lifestyle, travel and other posts, I'd love to have you follow me on any of the following:
Pinterest | Instagram | Facebook | Twitter
disclosure: some affiliate links used