Sharing a collection of modern coastal round dining tables with a variety of finishes and leg styles. Also sharing details on how to know which size of round dining table is right for you!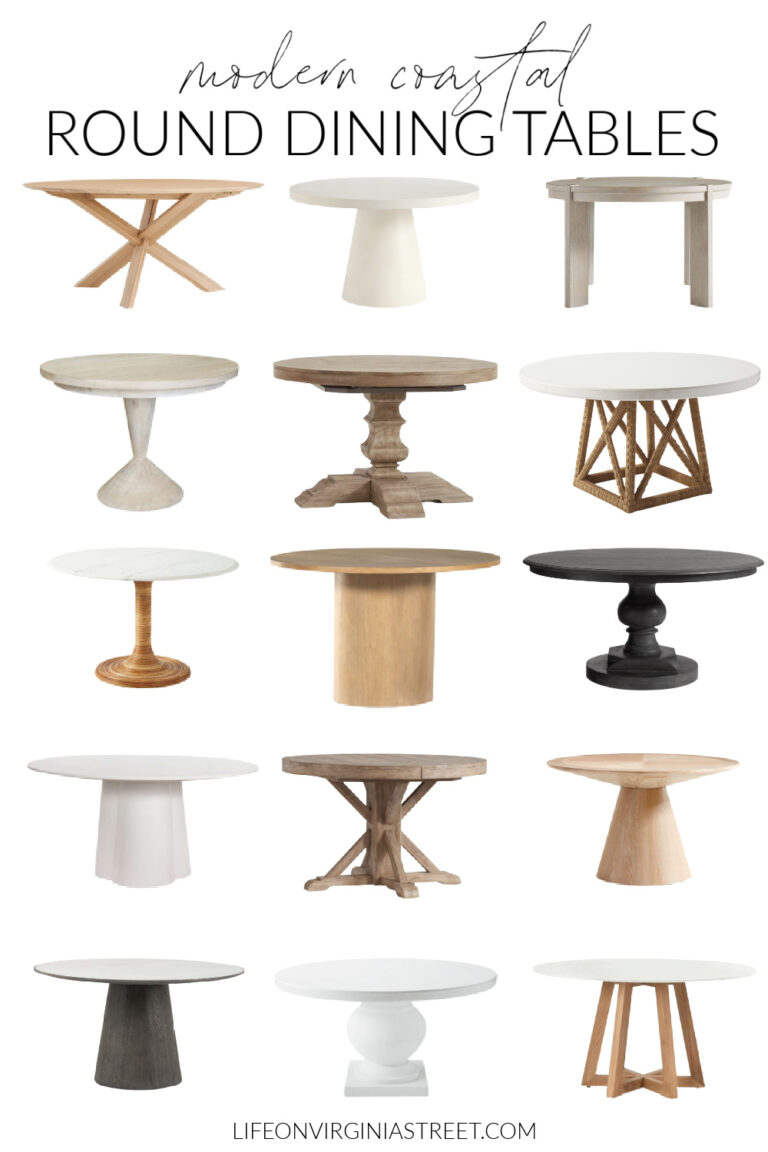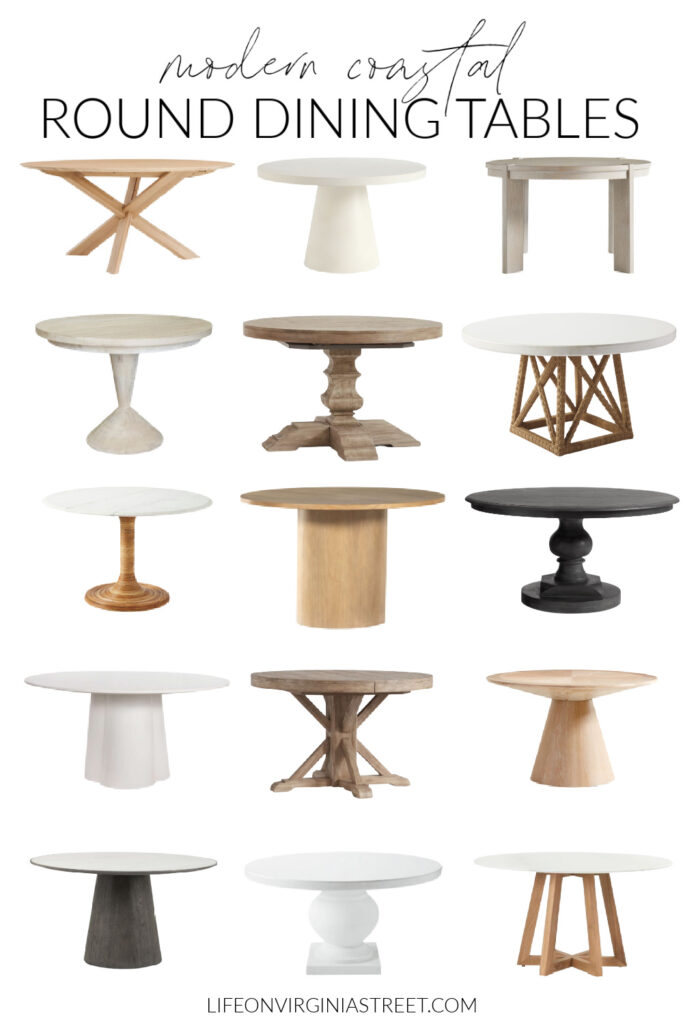 This post contains affiliate links for your shopping convenience. You can read my full disclosure policy here.
With our upcoming moving across the country, I've been looking for some furniture pieces to replace ones that won't be coming with us. The new owners of our home bought some of our furniture, and there are a few items I'll plan to sell prior to leaving. One item we're considering replacing is our round dining table. I'll get into more details below as to why we're wanting to replace ours. But in our new house, I think a round table will work best, as our new dining room is only 10'x10′! I personally also love how much group conversations are when seated at a round table versus a rectangular table. Today I'll be sharing some of my top contenders for modern coastal round dining tables.
Our Current Round Dining Table
Aesthetically, our current round dining table is everything I could ever want. We have the Serena & Lily Terrace Round Dining Table and it is absolutely stunning and the shape is perfection in my mind. However, the material (reconstituted stone) is rather porous so we find ourselves rarely using it. It's technically an indoor/outdoor dining table, but is meant to patina over time. With having selected the all white color combo, I don't love the idea of allowing it to patina. I like it white! I think in the right home, it could be absolutely perfect. But if you're looking for a table that will get frequent use, have small kids, and/or are not okay with the surface not staying white, this probably isn't the table for you. Otherwise, you could absolutely get a piece of glass cut for the surface to resolve 99% of the issues I have with the surface!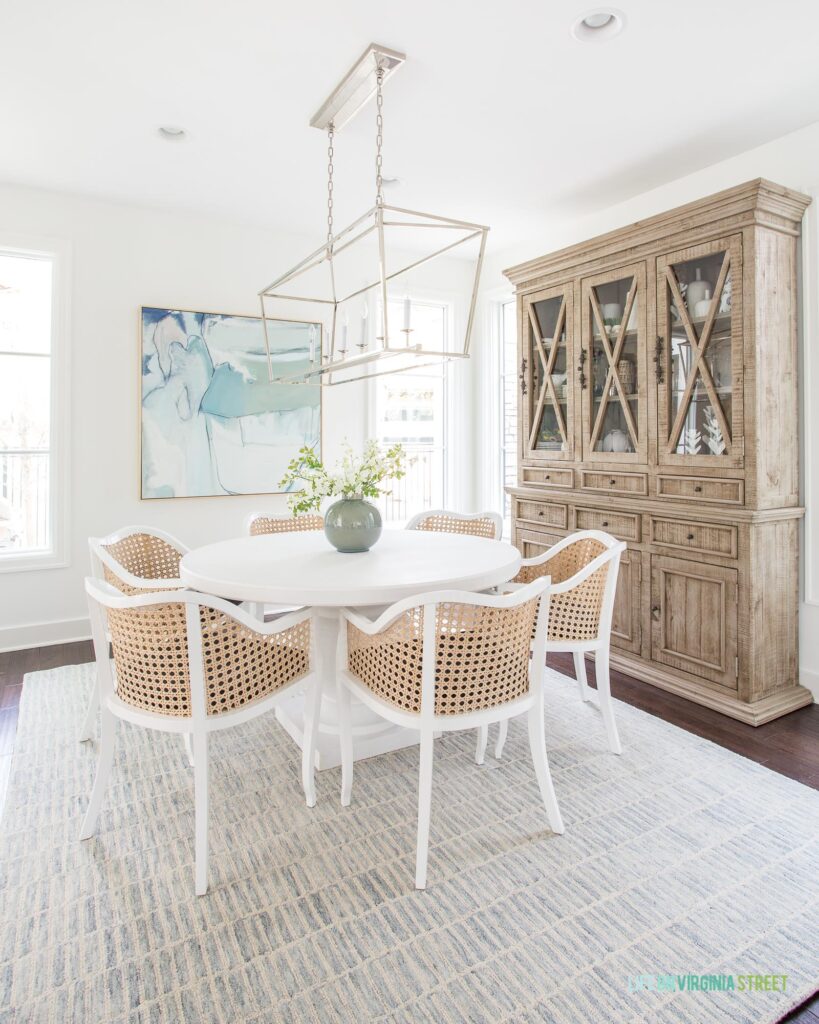 DINING ROOM SOURCES: Dining Table | Dining Chairs (look for less here) | Hand Tufted Wool Rug | Linear Chandelier (look for less here) | Abstract Art | Hutch Details
We're still considering bringing this table along with us, but it is also crazy heavy. Ideal if you truly are using it outside, not if you need to move it across the country. The table does come in two pieces (with the top simply being held in place by its own weight). But collectively the table weighs over 300 pounds! If we do bring it with us, we'll plan to have a piece of glass cut to protect the top surface.
What Size Of Round Dining Table Do I Need?
With a round dining table, sometimes it can be harder to visualize just how many people can sit at the table. These charts from Ballard Designs are incredibly helpful to see visually which round table may work best in your space! It also includes details on how many you can seat at an oval table and rectangular table!


According to Ballard, with a standard 20″ x 20″ chair in mind:
A 42″ round table can fit four people comfortably.
A 48″ round table can seat 4-6 people comfortably.
A 60″ round table can seat between 6-8 people comfortably.
For reference, our current dining table is 55″ in diameter, and seats six. However, our chairs are a bit bulkier since they all have arms! We're ideally looking for something in that 48-60″ range to fit six people+ if needed! I do like that some of the options I included below have a leaf that will extend them to an oblong shape when additional seating is required!
My Top Picks for Modern Coastal Round Dining Tables
Following are my top picks for modern coastal round dining tables. Tap on any of the images below to learn more about each of the tables shown.

I've shopped with Crate & Barrel in the past, but never purchased furniture from them. But their tables are currently some of my front-runners. I'd love to hear if any of you have had good experiences with their furniture! Funny enough I found this table and this table (Pottery Barn vs. Crate & Barrel), which I'm fairly certain is identical, but it's about $900 less at C&B. Too bad I have some PB rewards dollars I need to use. Ha!
And although I'm willing to invest in a nice table, my dream table is well beyond what I'm willing to spend. I love the cerused oak finish and shape, but may have to go for something like this one, even though it's quite a bit smaller.
Stay tuned for what we ultimately decide to do!
Additional Posts You May Be Interested In
Following are some additional related posts you may be interested in. Tap any of the blog post titles below to be taken to the full post.
Which of these modern coastal round dining tables is your favorite?
If you would like to follow along on more of my home decor, DIY, lifestyle, travel and other posts, I'd love to have you follow me on any of the below channels: