A beautiful collection of modern coastal dining chairs that work well in a variety of dining rooms! Includes sources for cane dining chairs, rattan dining chairs, wood dining chairs, and more. So many gorgeous options!
I mentioned in yesterday's post that I spent some of Christmas break taking time to finalize some room plans.  Without having the pressure of other deadlines and commitments, I felt like I was really able to take time to evaluate how we use various spaces and what our "wish list" items are in a few rooms so we can cross them off the list! One of those rooms is our dining room. Today I'll be sharing some tentative plans along with 20+ modern coastal dining chairs I've recently fallen in love with!
This post contains affiliate links for your shopping convenience. Click here to read my full disclosure policy.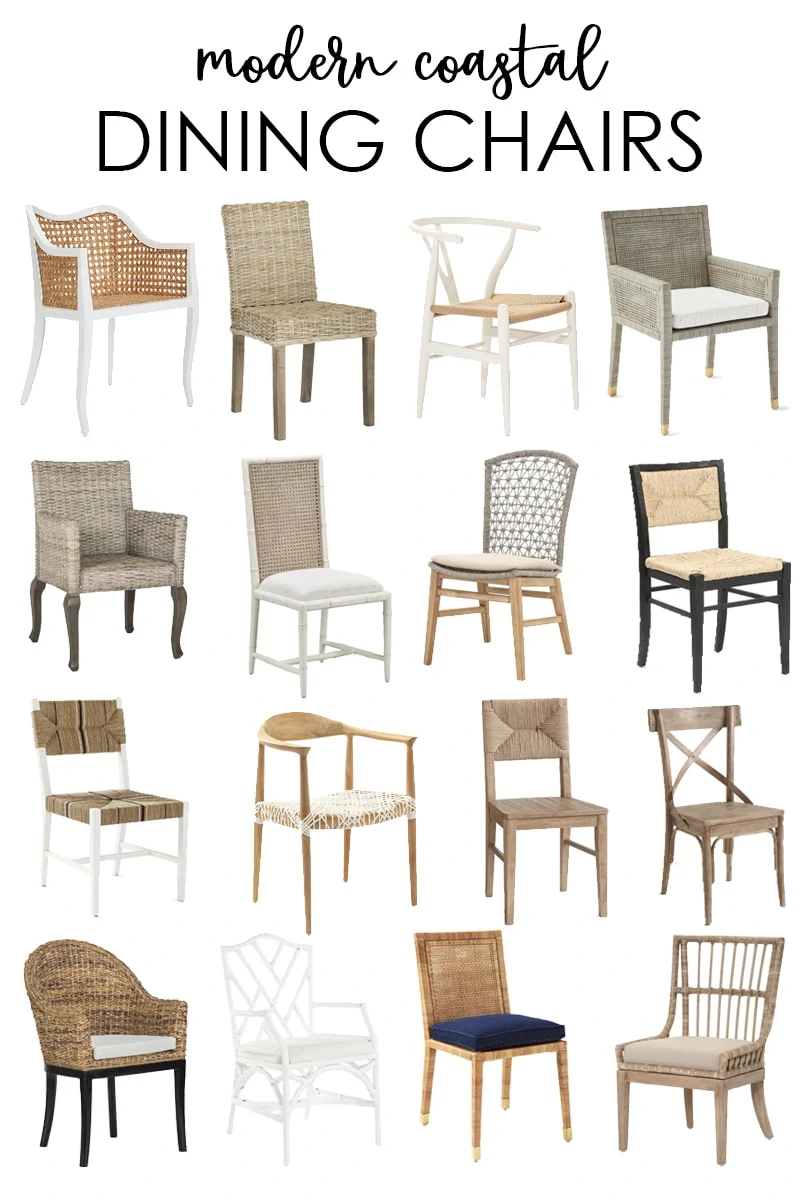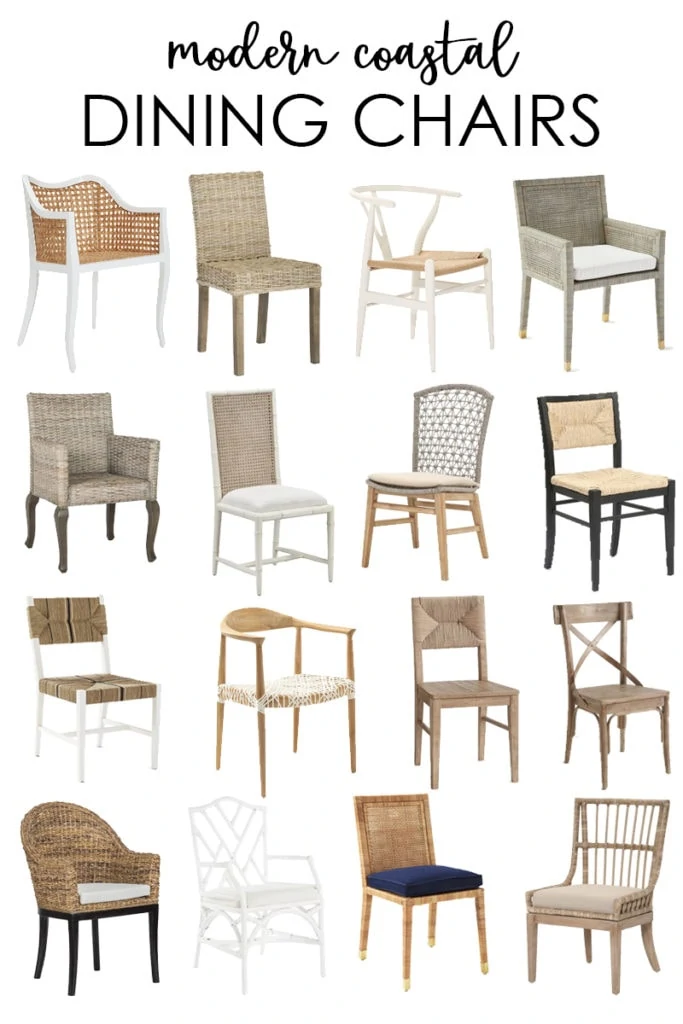 CHAIR SOURCES (please note there are even more options further down in the post):
1 (similar here) | 2 | 3 | 4
5 | 6 | 7 | 8
9 | 10 | 11 | 12
13 | 14 | 15 | 16
I'll get into more of my design thoughts and why I'm even talking about dining chairs in a minute. But first, let's look closer at the options I found.
Modern Coastal Dining Chairs
Following are 20+ coastal dining chairs that I've found and think could be beautiful in a variety of dining rooms! Although I call them modern coastal, I think they'd work just as well in dining rooms with traditional or transitional elements too. Be sure to also check out my post on Modern Coastal Cottage Dining Chairs for even more ideas!
Simply click on any of the images below to learn more about each item. Most of the items I selected will be much more washable and durable than our current linen chairs! I tried to include options for a variety of budgets. And, as you're comparing prices, please note that many of these are only sold in pairs so the price shown is for two chairs!

Coastal Dining Room Design Board
Now that you've seen my top picks, let's get into why I'm even discussing dining chairs! I've decided I need to be better about sharing behind-the-scenes and in-process projects, as I figure they may be helpful to some.
So today serves to just lay out my thoughts in hopes of finalizing some of my decisions! Admittedly, our dining room is super close to done so it really isn't a major priority. After some our fall updates and the addition of some storage for the pool tools, we were much closer to a finished space. We also needed a new rug (since our former one was bleached from the sun and saltwater on one side).
But as I really examine how we use the space, I've begun to think the linen chairs we have are a bit too formal for how we live and entertain. We absolutely love them. They're beautiful, comfy and we've never had issues with stains (admittedly due to not much use). But, I think they scare our guests a bit. Especially since we tend to have guests in the summer that may be wearing bathing suits or wet clothes. We're eating food off the grill on paper or melamine plates rather than fine dining. People end up sitting outside even when the temps aren't necessarily comfortable to do so! As much as I love the chairs, I'm not sure they're the right fit for our dining room. They are probably a better fit for a formal dining room (not your only dining room). When I ordered them, our pool was only about two months old and I don't think we had any idea how much more we would entertain in the future!
So, I started searching for chairs that felt less "precious". I've absolutely fallen in love with these cane chairs. I love that they break up all the wood tones a bit with the polished white edges. But I'm in a holding pattern to see if they ever go on sale. In the mean time, I've been on the hunt for other coastal dining chair options and thought I'd share them with you. Since I'm not in a hurry to make this change (I'd just like to figure something out by summer) I figure I have some time to make sure of my decision! Because our current chairs are still in excellent shape, I'm fairly confident I can sell them at a solid price to help pay for the new ones. That's the beauty of Facebook selling groups when you want to do a makeover. 😉 UPDATE: Be sure to check out my Tayabas Cane Chair Look for Less post!
With this potential change, I've made a few design boards that help me visualize how any of the options may ultimately look in the room. I use Photoshop to make my boards, but I've found even if you can cut and paste elements into a Word document or some other tool, you can quickly eliminate or confirm pieces you want in a space! Here's the mood board I'm most in love with currently.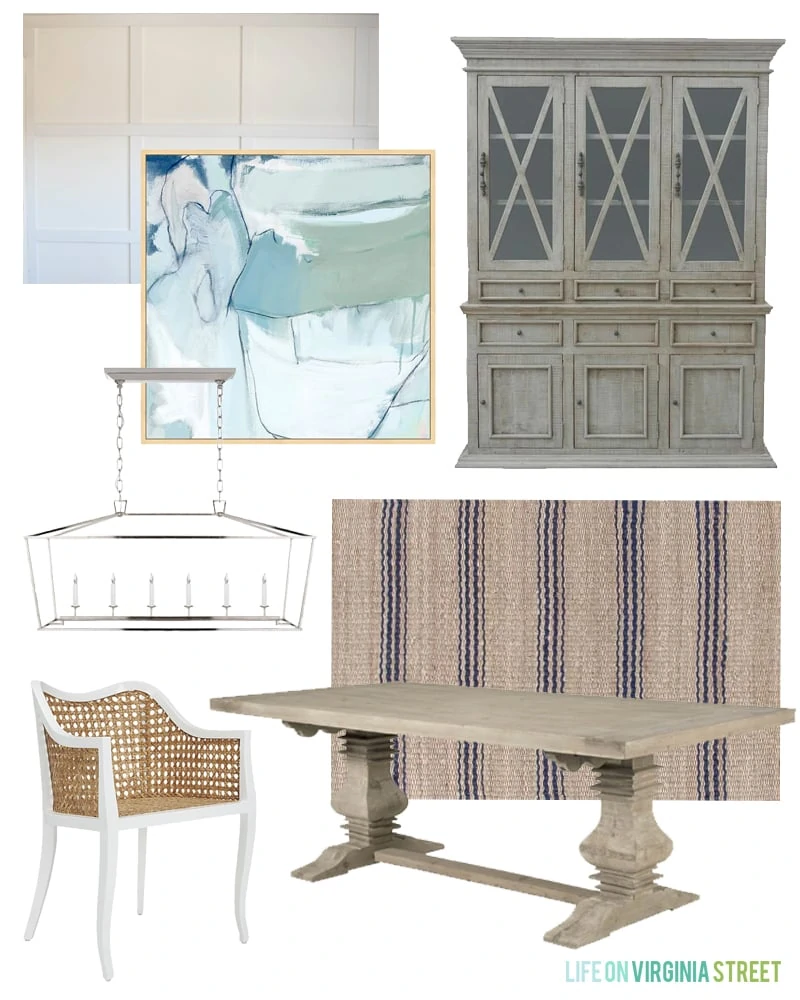 ELEMENTS OF THE DESIGN BOARD:
BOARD & BATTEN – We've talked about adding a board and batten feature wall in the dining room using our tried and true method. I just feel like the walls need a bit more visual interest.
ABSTRACT ART – This abstract art is already hanging in the room and it's gorgeous! I've talked about wanting it for ages and finally saved up all my rewards from the PB card and ordered it during some black Friday deals when I was paying freight shipping on another item. It took about eight weeks to arrive, but it's here and I love it every bit as much as I thought I would!
HUTCH – We've had it for a few years now and still love it!
LINEAR CHANDELIER – This element is probably a lifer in our dining room! You can find a similar look for less here.
DINING ROOM TABLE – Admittedly, the table isn't water-friendly either, but the beauty with it is that it's intended to patina over time. So I don't worry near as much about spills or cracks or dents. It's held up really well over the years!
RUG – This is another one I go back and forth on. I actually ordered this rug, but now I may want to use that in another space. I still love the striped rug we had in here originally and thought about just re-ordering that one! But, I would like something slightly dark on the base to hide stains as much as possible knowing how much traffic goes on this rug in the summer! So, I'm eyeing this striped beauty now. Although this indoor/outdoor version might be a better option for the location!
Like I said, I'm trying to just share some behind-the-scenes thought processes. Unlike in the past where I just show my final design board and then jump right to the reveal. Hopefully you found it helpful and/or interesting! And hopefully you found a modern coastal dining chair you loved!
If you would like to follow along on more of my home decor, DIY, lifestyle, travel and other posts, I'd love to have you follow me on any of the following:
Pinterest | Instagram | Facebook | Twitter
disclosure: some affiliate links used