Learn how to get our coastal dining room look for less! I've collected similar items at a lower price point to help you get a coastal dining room on a budget!
Today I'm sharing a topic that has actually been on my to-do list for quite some time! I've gone around all the pieces in our coastal dining room, and tried to find multiple alternative items for every single item to help you achieve a similar look for less!
This post contains affiliate links for your shopping convenience. Click here to read my full disclosure policy.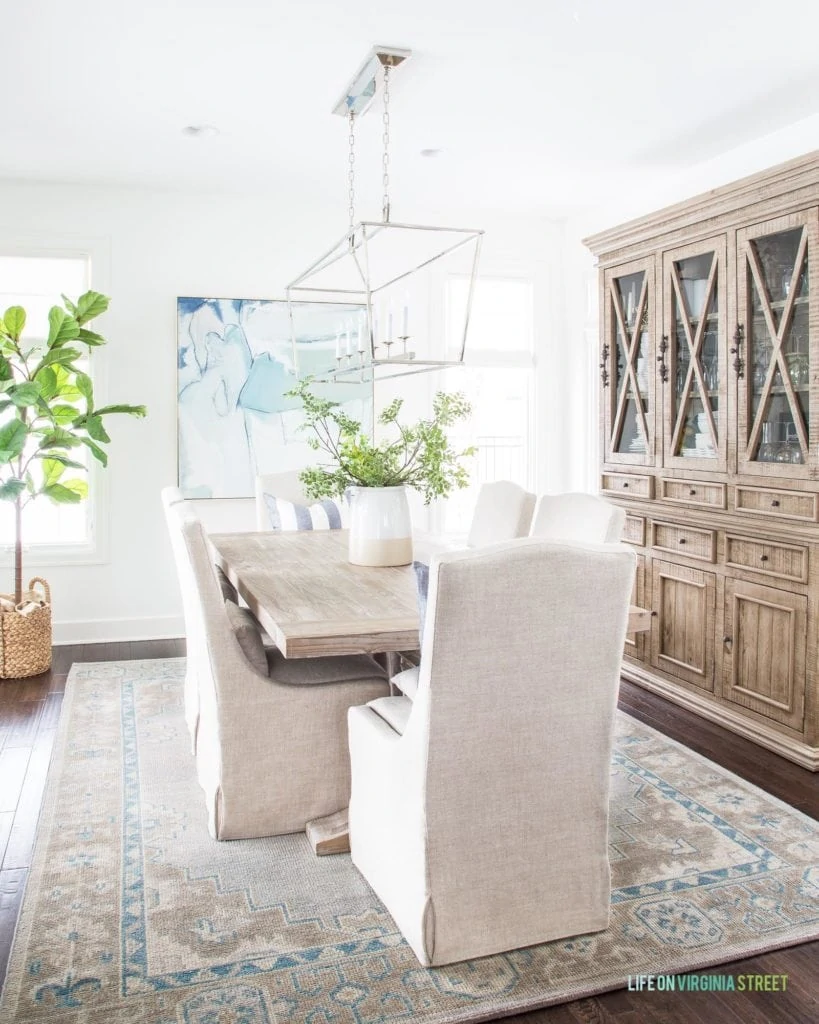 DINING ROOM SOURCES: Linen Dining Chairs | Reclaimed Wood Dining Table | Hand-Knotted Rug | Chandelier (look for less here) | Abstract Art | Hutch | Faux Fig Tree | Basket | Vase | Faux Greenery Stems | Striped Pillows
I had actually partnered with Hayneedle on our dining room several years back. With that, I got the dining table and chairs from them (they no longer carry either).
Over the years I've received multiple requests for other retailers (since they were out of stock at Hayneedle) or more affordable options. Rather than only share one item at a time, today I'm going to be sharing an entire coastal dining room Look for Less post! If you like the idea, I'd be happy to do something similar in other rooms in our home. Let's jump into the specifics!
Linen Dining Chairs Looks for Less
Our slipcovered linen dining chairs have held up remarkably well since we got them. Granted, they don't get tons of use, but we've been very happy with their durability and comfort. They're only sold in pairs, and I know the price is hard to stomach for most. However, at the time, they were a great look for less option for these chairs I loved from Restoration Hardware! Click any of the images below for more great alternatives!

Reclaimed Wood Dining Table Looks for Less
Our reclaimed wood dining table is one of the items in the room that has the best affordable alternatives, since it was the most expensive item in the space. Most of the options I found about a half the cost of ours. I also found several that are the same shape (but a darker stain), that even less expensive! Click any of the images below to learn more about each of the options!

Darlana Linear Pendant Light Looks for Less
Our dining room chandelier is arguably one of the most knocked-off designer light fixtures out there. I've actually dedicated two posts on great alternatives (Darlana pendant look for less and my review of the best Darlana knock-offs) so those posts are full of additional inspiration and ideas. The second post actually shows some of the finishes in real life! Click any of the images below for details on each option!

Abstract Art Looks for Less
The abstract art is a new addition to our dining room, and by far one of my favorites! I had eyed it for years, but the price and freight shipping costs always turned me away. So, I ultimately ended up saving up my rewards from my Pottery Barn card, waited until I could get it on sale, and then got it. And I haven't regretted it since! Mine is the 50″x50″, so while it is hard to find affordable art close to that size, I was able to find some alternatives that would give you a similar vibe. Click any of the images below to learn more about each piece of artwork!

Reclaimed Wood Hutch Looks for Less
I actually have an entire blog post dedicated to our dining room hutch because it's one of the most common questions I get about items in our home. Sadly, it's not available anywhere that I can find, but that post offers tons of alternatives that give you a similar vibe. Unfortunately hutches are not typically a budget buy. I believe ours was around $1200 as a close out floor sample item, but retail was closer to $3,000. This is one item I have a very hard time finding for less (and most options are more than what I paid). But I did want to share some alternatives. Click any of the images below for more details on each item.

Hand Knotted Rug
If you love our hand knotted rug as much as I do, it's one I recommend you hold out for the real thing. This is my first hand knotted rug, I couldn't believe the difference in quality! Pottery Barn frequently hosts rugs sales (or sitewide discounts), so I think this is one worth saving up for, rather than buying a cheap alternative. Especially since most don't have the same look! However, this rug is the next best thing if you don't want to pay for the hand-knotted version. The colors and patterns are very similar!
If there are other rooms in our home where you'd like for me to create a look for less post, feel free to let me know in comments!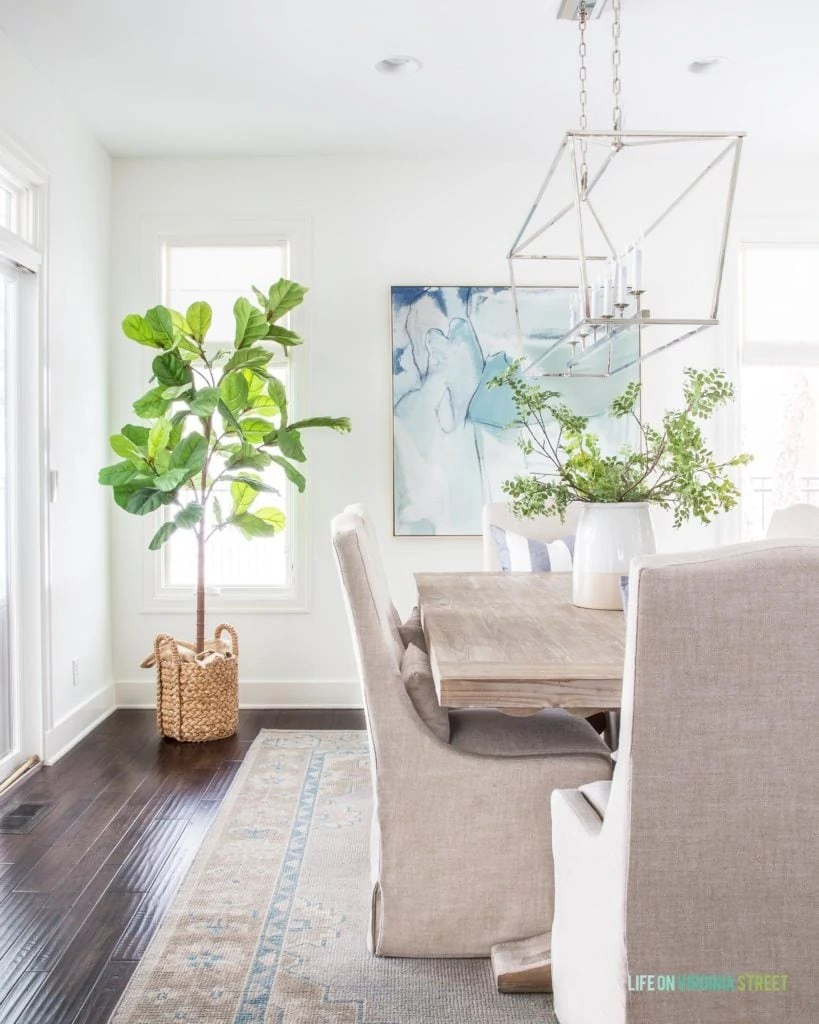 If you would like to follow along on more of my home decor, DIY, lifestyle, travel and other posts, I'd love to have you follow me on any of the following:
Pinterest | Instagram | Facebook | Twitter 
disclosure: some affiliate links used