Today I'm sharing some progress pictures on our Florida rental home, Hola Beaches 30A, from our time down there earlier this month. As it turns out, it's pretty hard to update an entire house (both from a budget and time perspective) in three weeks. Add in issues with getting shipments and delays in general these days, and it gets further complicated. So, rather than the "reveal" post I had high hopes of prior to our departure, today I'm going to share some progress pictures. Unfortunately, most of what we got done was tied to things that don't necessarily translate in photos (like painting, grout work, organizing, selling old furniture, etc.). But we definitely made some good progress and still hope to get down there one more time for a quick wrap-up session before the busy summer season rolls around!
This post contains affiliate links for your shopping convenience. You can read my full disclosure policy here.
We had a list of items ahead of time that we knew were top priorities. A few pieces of furniture that had to go and then just some overall touch-ups, etc. Eventually with the decor, I'll take it even more "30A style" but when it came to doing the final accessorizing, I had to make a quick trip to Target to crank things out. Over time, I'll continue to add more pieces from local stores. I'd also love to find a really great faux fan palm source, but so far no luck. The ones in these images were clipped from the yard 🙂
Okay, let's jump into the updates we were able to make! Consider these the in-between photos for now.
Here's how the main living space looked when we first bought the home late last year. It's such a beautiful open concept space, but some of the items needed replaced. We also wanted to inject a little color and some of our style into the rooms.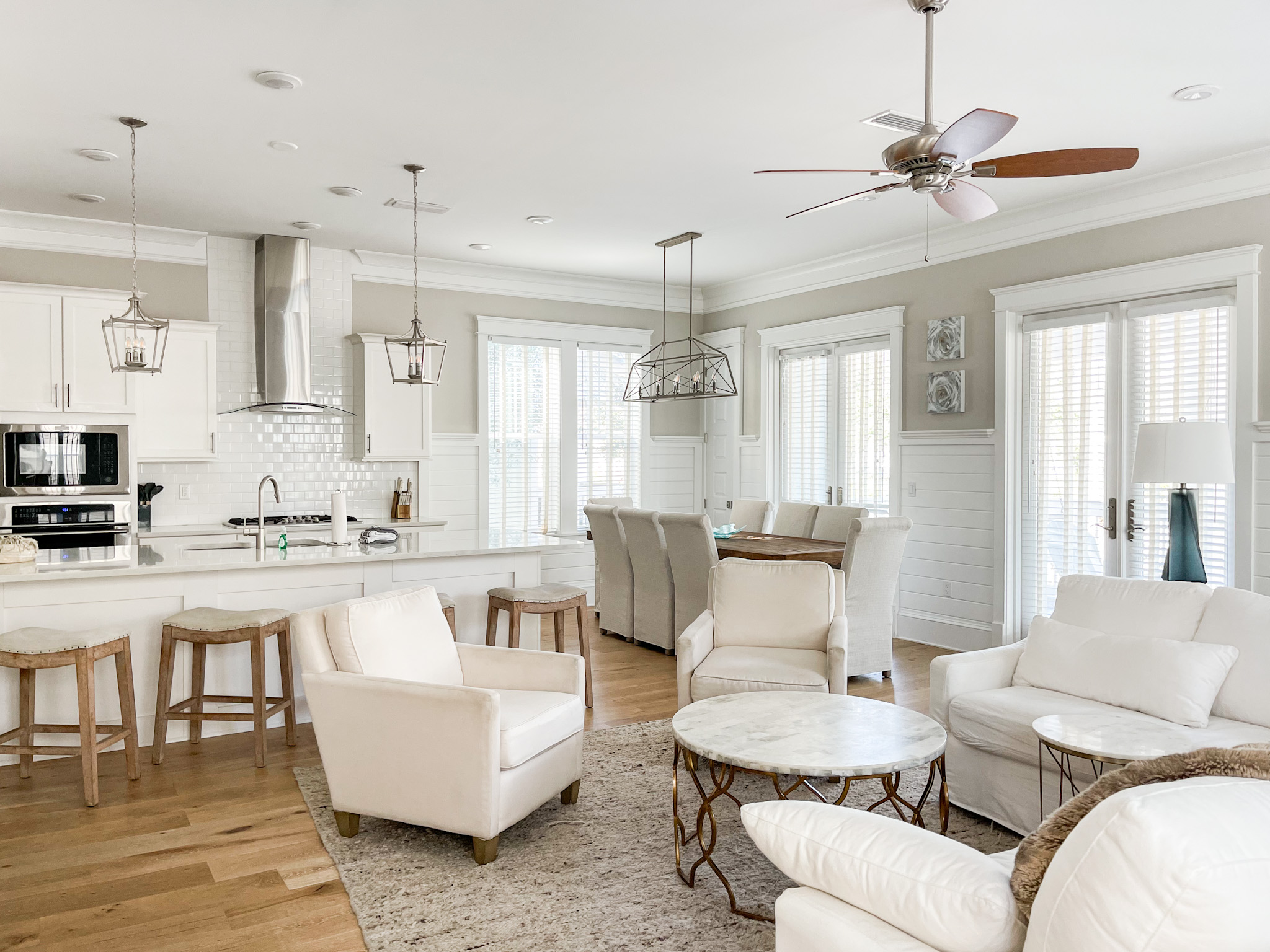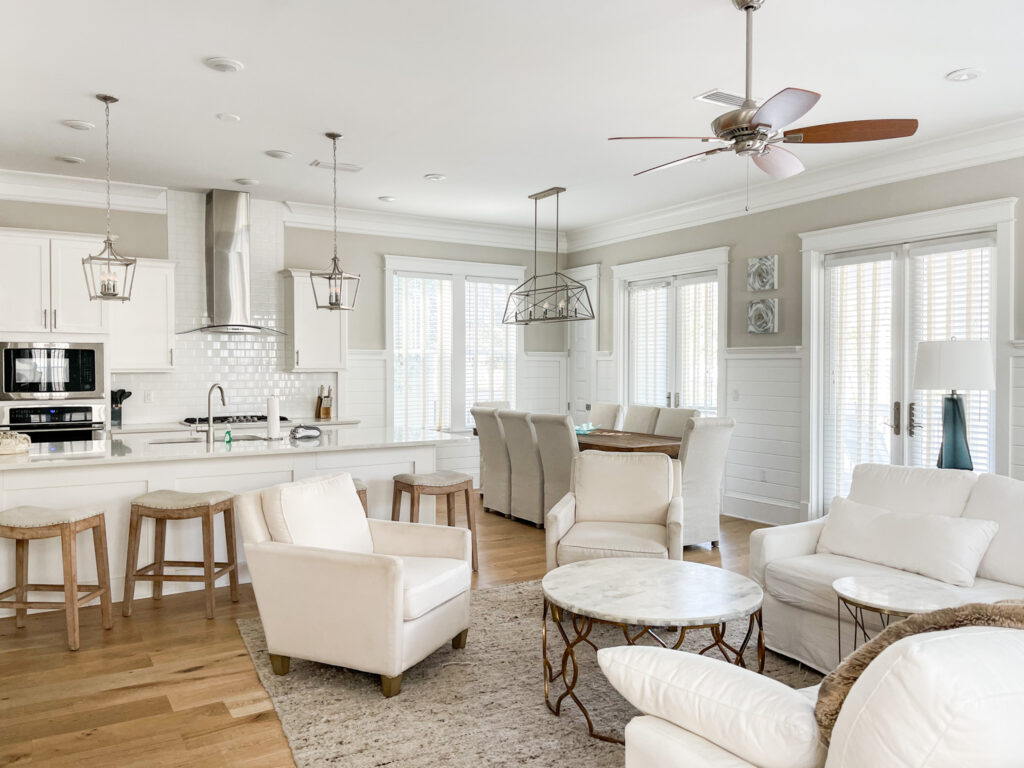 Here's how the same angle looked once we left! We didn't get nearly as many things done in here as we wanted to, but the tired furniture has been updated and it all feels just a little more homey. Eventually we'd love to build out a range hood cover, replace the dining light and replace the ceiling fan. We actually tried to replace the fan while we were there, but I didn't realize I had bought a "smart" fan that required a lot more wiring than we were used to. So, the old one went back up for now!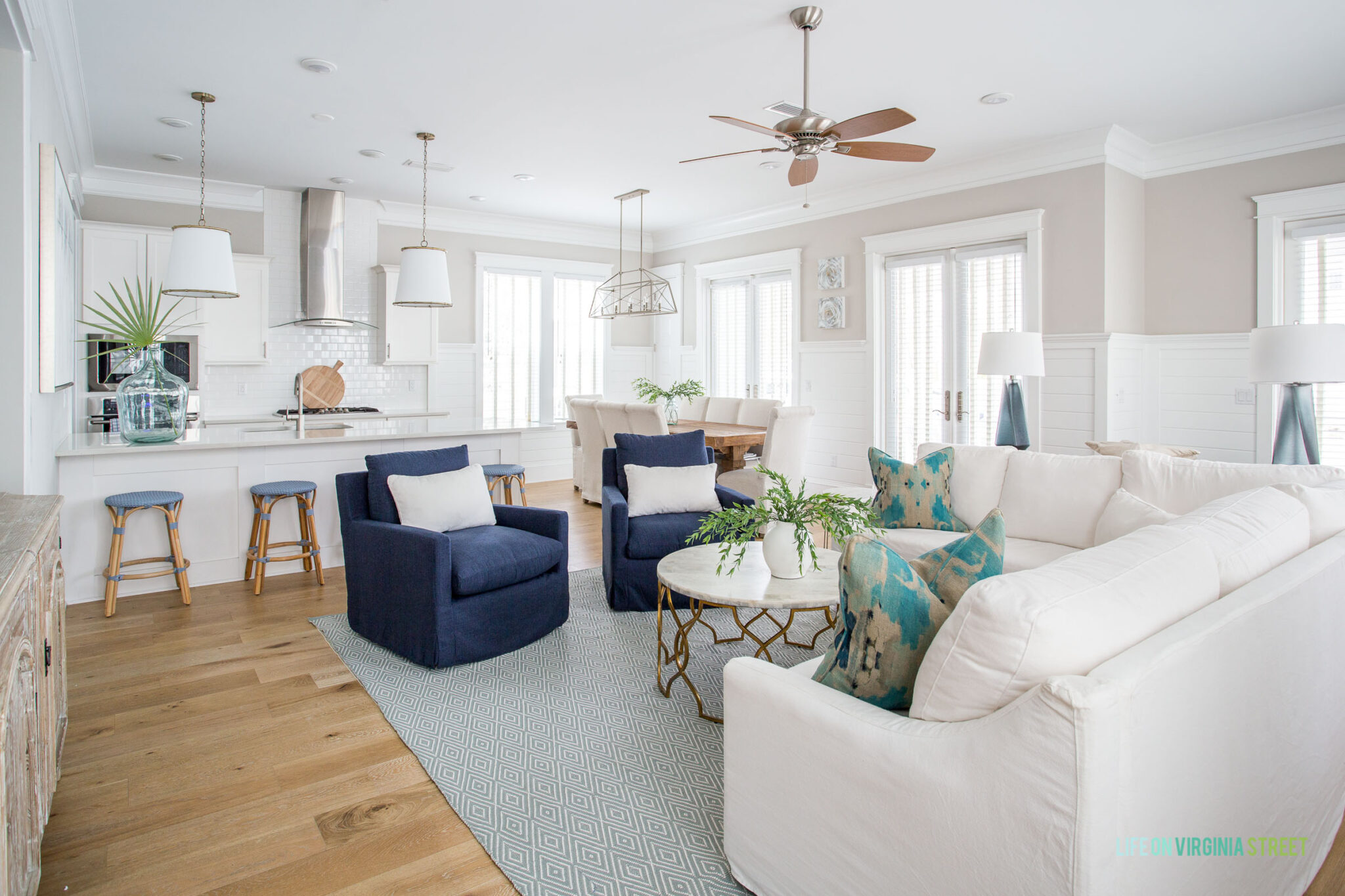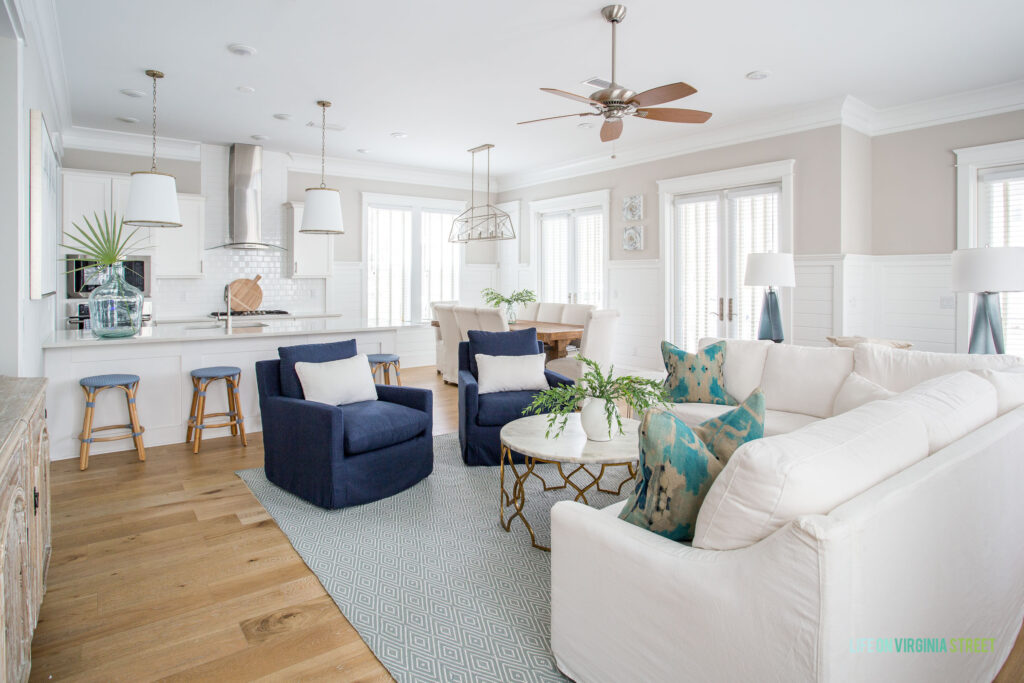 In the kitchen, we also replaced the bulky upholstered stools. You'll notice in most of the pictures they had been turned at an angle because they didn't fit great if they were just slid straight in. We're very happy with the quality of the new woven counter stools and love the bit of color they add to the otherwise neutral space. Although the prior light fixtures didn't need to be swapped out, we felt they were a bit too small for the space, and wanted something with a more coastal vibe. We love these brass bamboo linen pendant lights that I found!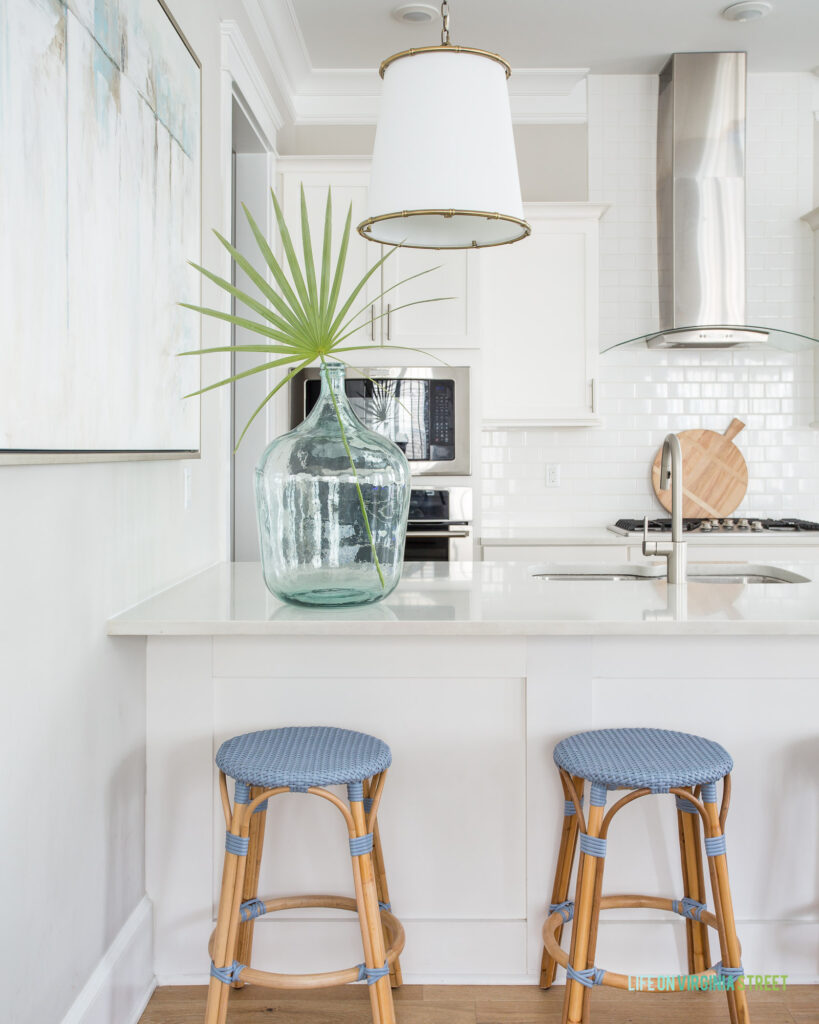 HOLA BEACHES KITCHEN SOURCES: Brass Bamboo Linen Pendant Lights | Woven Counter Stools | Similar Recycled Glass Demijohn | Wood Pizza Paddle
I know several people questioned my need to replace some of the furniture since it's just a rental, but the prior white chairs had numerous stains. Stains which were no longer removeable at this point even after several cleanings. Their time had passed long ago! I had gone back and forth on whether or not to invest in performance chairs, but ultimately decided to try a more affordable option first to see how it goes.
The white cushions on the new chairs in the living room were just taken from the sofa for now 😉 We're thrilled with the quality and comfort level of the chairs (and they technically are a performance fabric). We're hoping they are better equipped for a rental than the old white ones. Time will tell!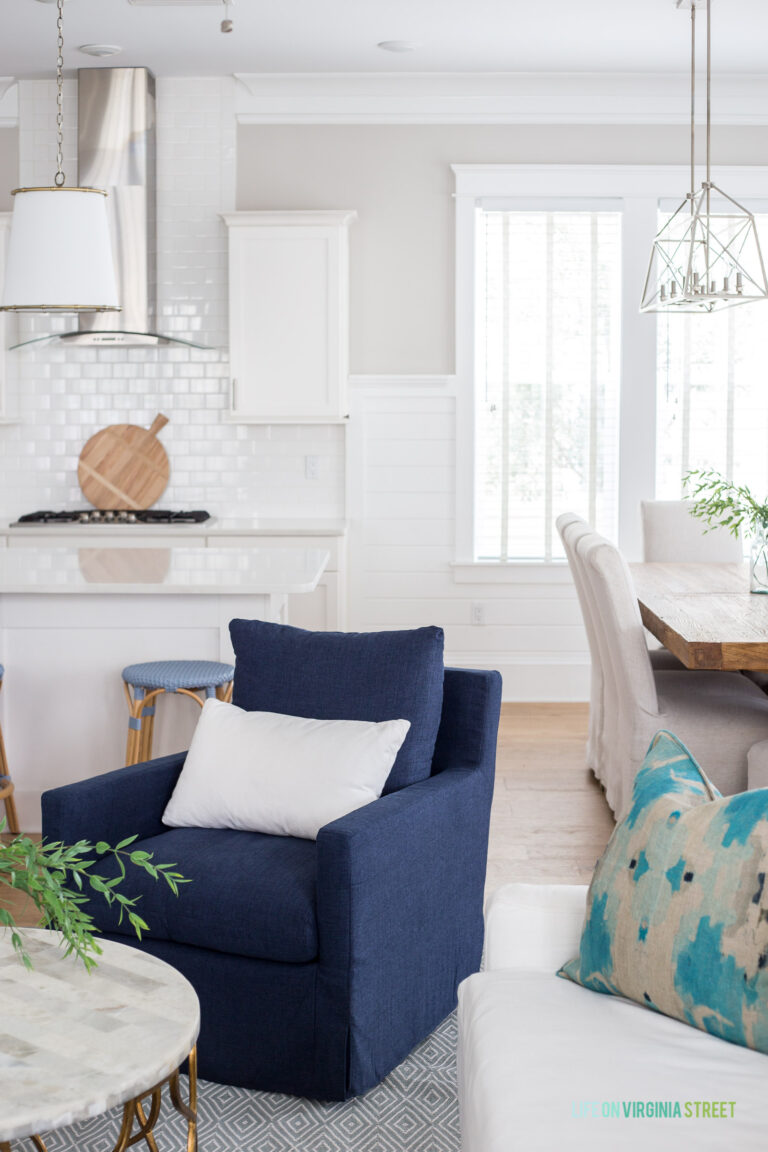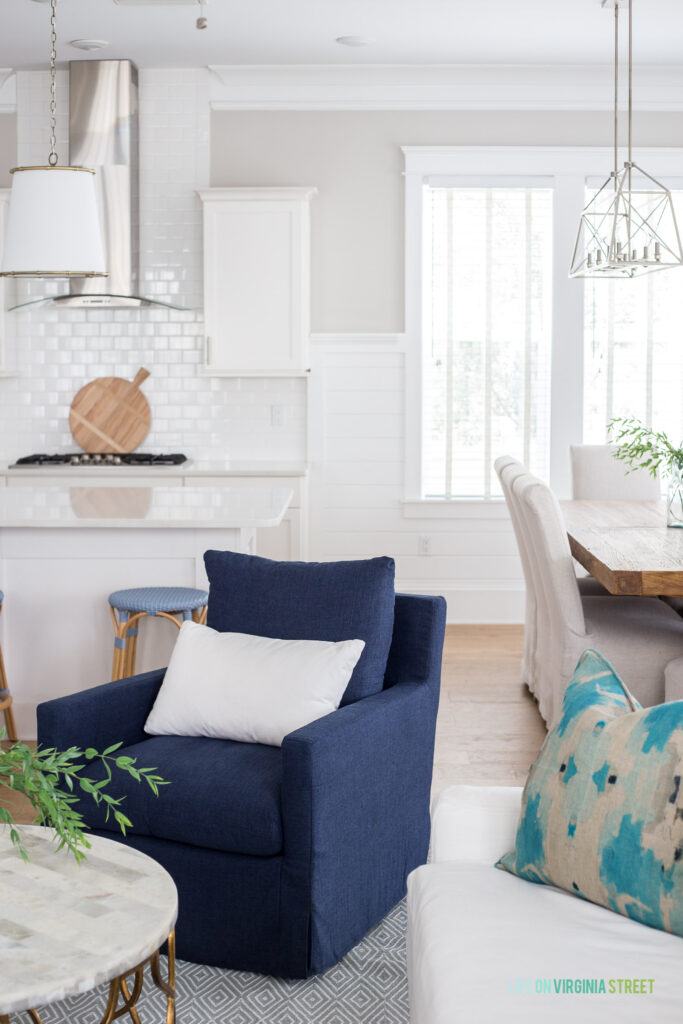 The white sectional was purchased locally by the prior owners right before we bought the home. This one is the most similar option I can find. The coffee table and wall art also came with the home. The linen pillows were a bit of an investment, but they are so gorgeous in person. I went with this option (and several others from their sale section) because they also included high-quality inserts and have an elevated beachy vibe I was going for. Eventually I'll probably add in some stripes to pair with them!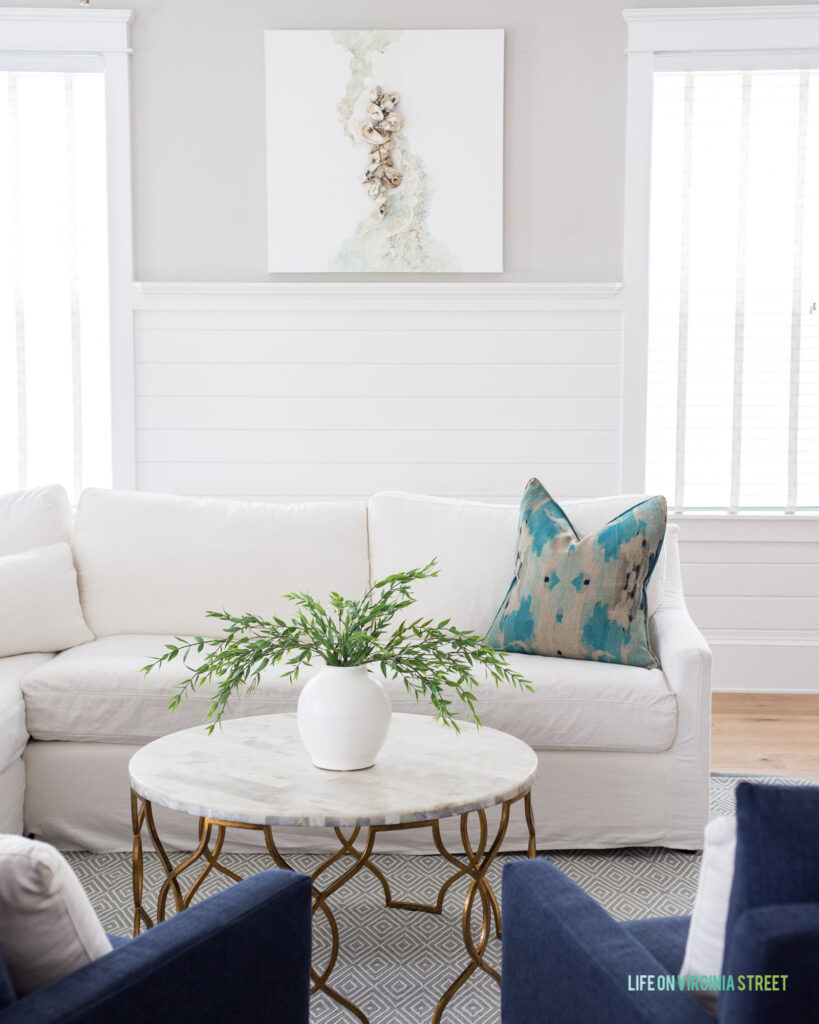 We also replaced the old rug with this indoor/outdoor rug for something better equipped to handle sand and heavy traffic. We have several from this brand in our home and love that they are washable, bleachable, and yet are still soft underfoot.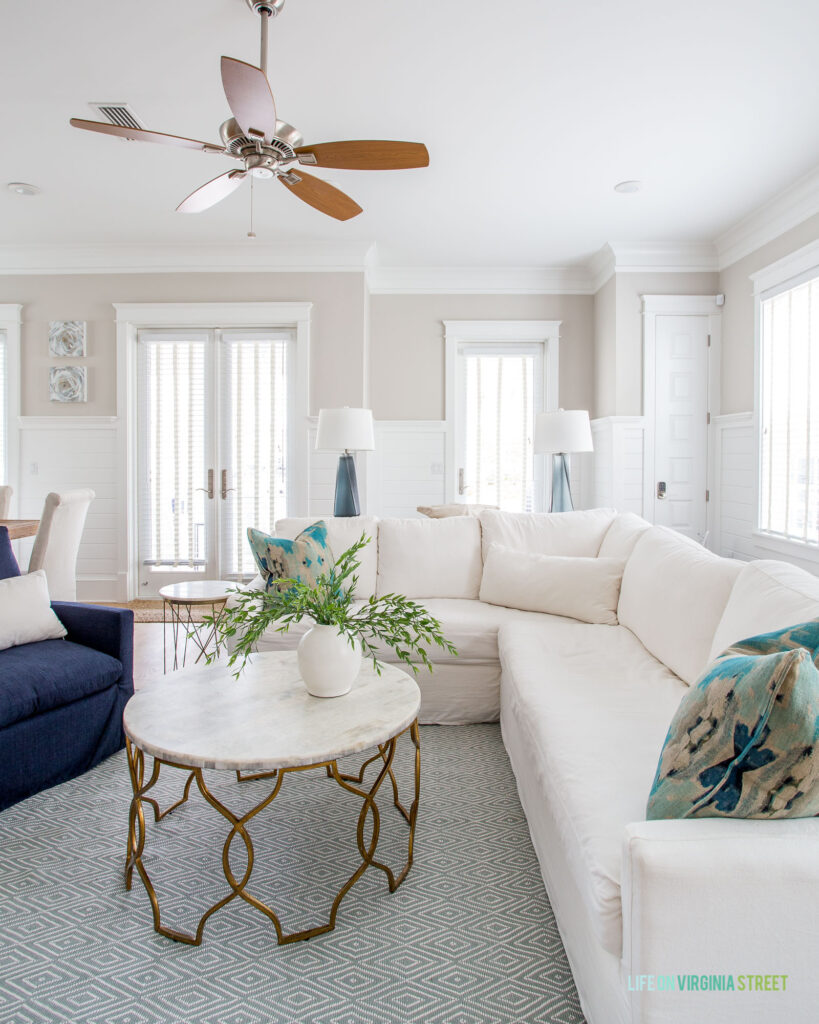 HOLA BEACHES LIVING ROOM SOURCES: Similar Sectional | Navy Blue Swivel Chairs | Coffee Table | Rug | Faux Greenery | Vase | Linen Pillows | Similar Lamps
We left everything in the dining room as is for now, but added a simple vase with faux greenery. Unfortunately I don't have sources for any of the original furniture pieces here.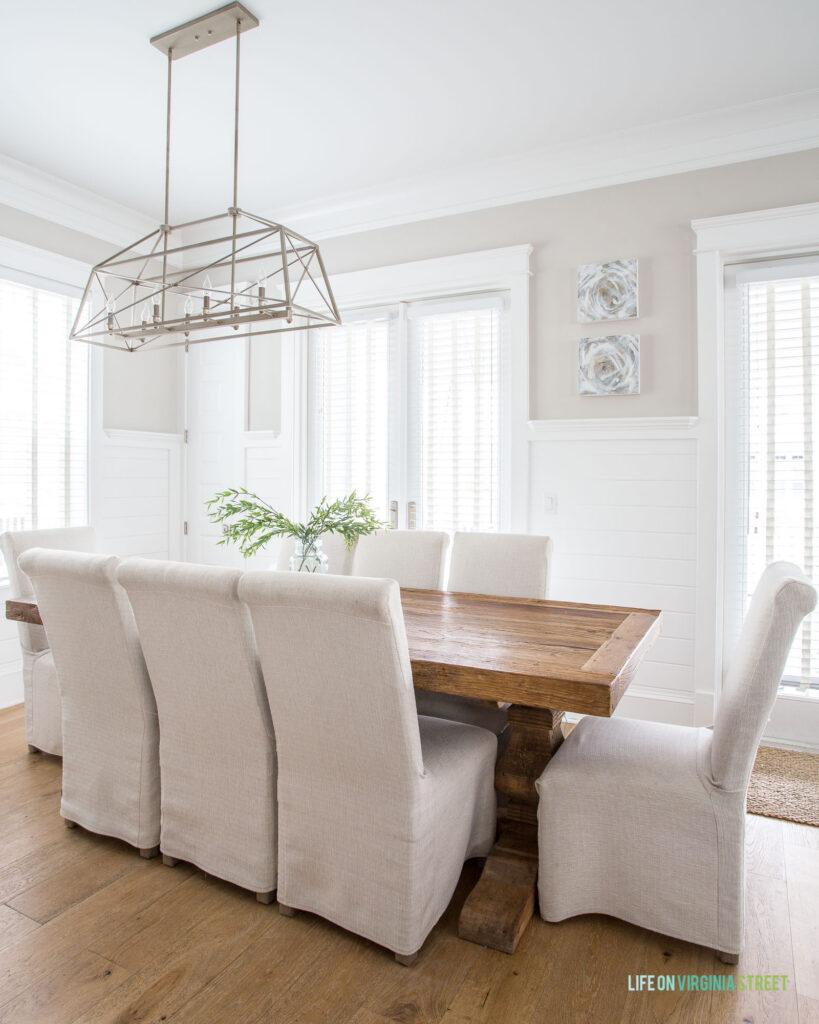 In the main floor king suite, we replaced the upholstered bed with this gorgeous woven bed. Unfortunately it didn't arrive until the day before we had to leave, so I didn't get to do much in the way of styling. But the bed itself is a stunner and has the perfect coastal vibes we were looking for. Eventually we'll swap out the creamy nightstands and dresser, ceiling fan, velvet armchairs and the rug.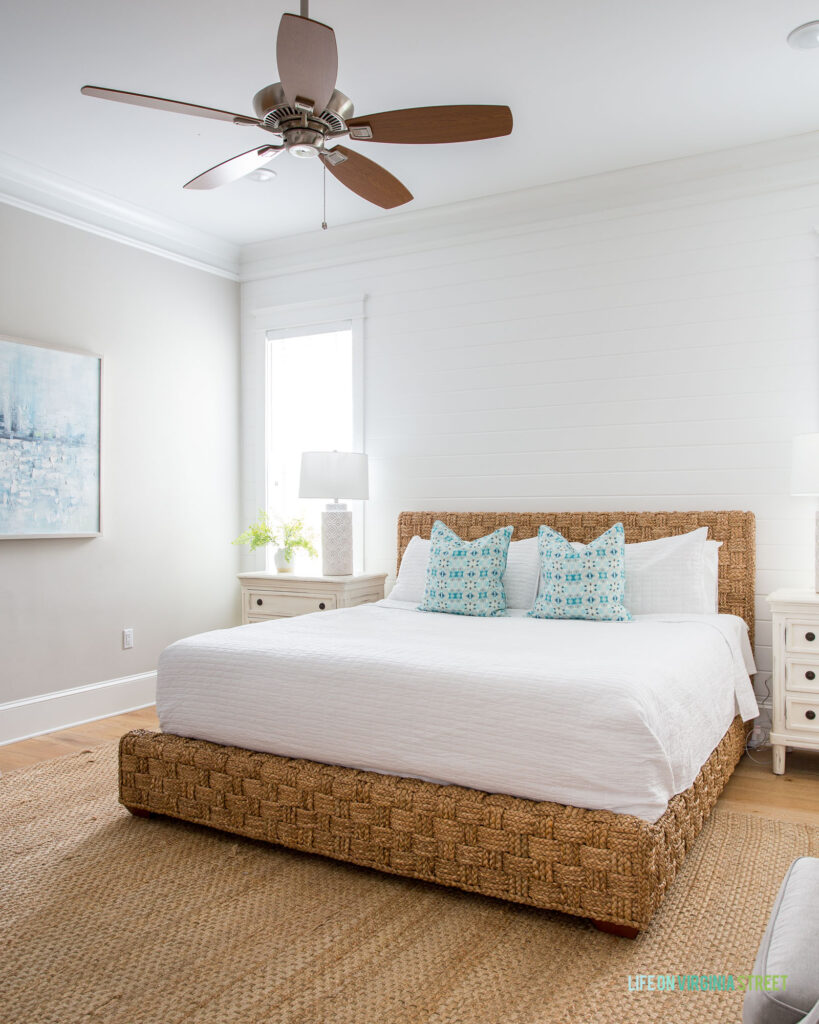 I didn't realize until I was going through so many of the pictures just how crooked some of the lamp shades were. They were all fixed later but I was scrambling to get photos and they weren't my top priority at the time. Now it's all I can see! I added these linen pillows, a faux maidenhair fern, and some lamps from HomeGoods.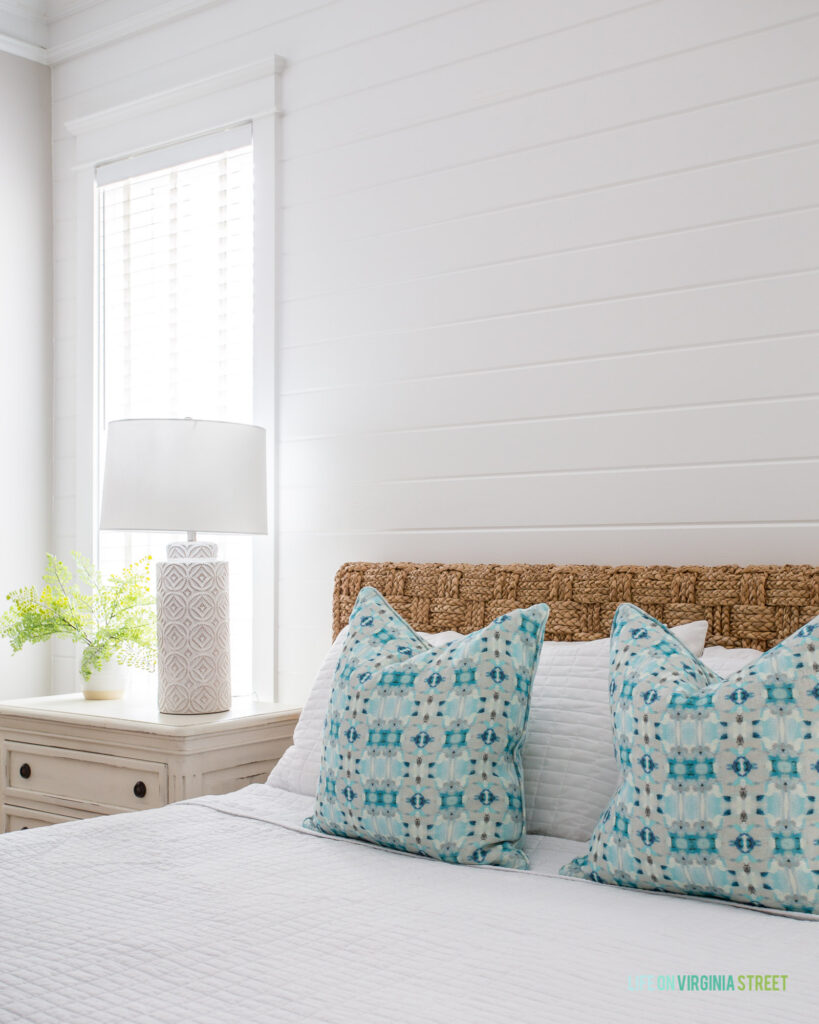 MAIN FLOOR KING SUITE SOURCES: Woven Bed | Faux Maidenhair Fern | White Quilt Set | Linen Pillows | Rug | Lamps: Homegoods
Moving upstairs to the additional king suite, we made quite a few changes to create a small office space. We replaced the old nightstands with a small desk and a coordinating nightstand.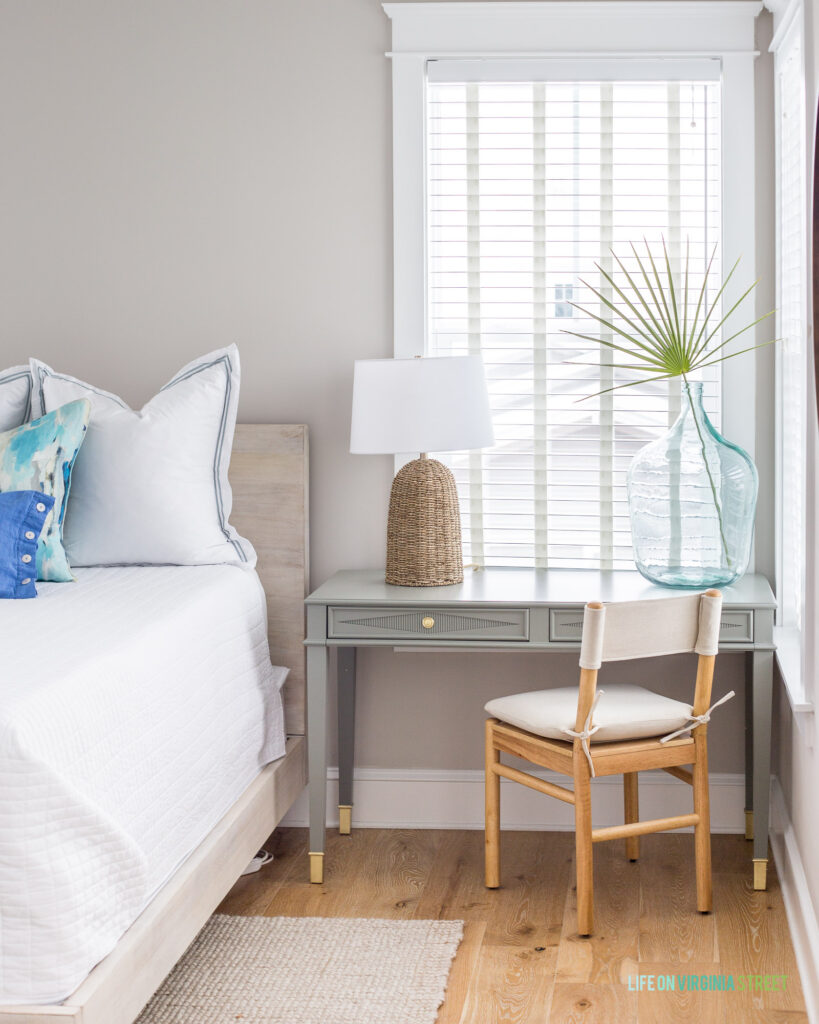 We also swapped out the old upholstered bed for this light wood bedframe. The frame is intended to be used without a box spring, but it looked really low to us (especially with such high ceilings) so we left the box spring. Now it just looks like we have the world's tallest mattress.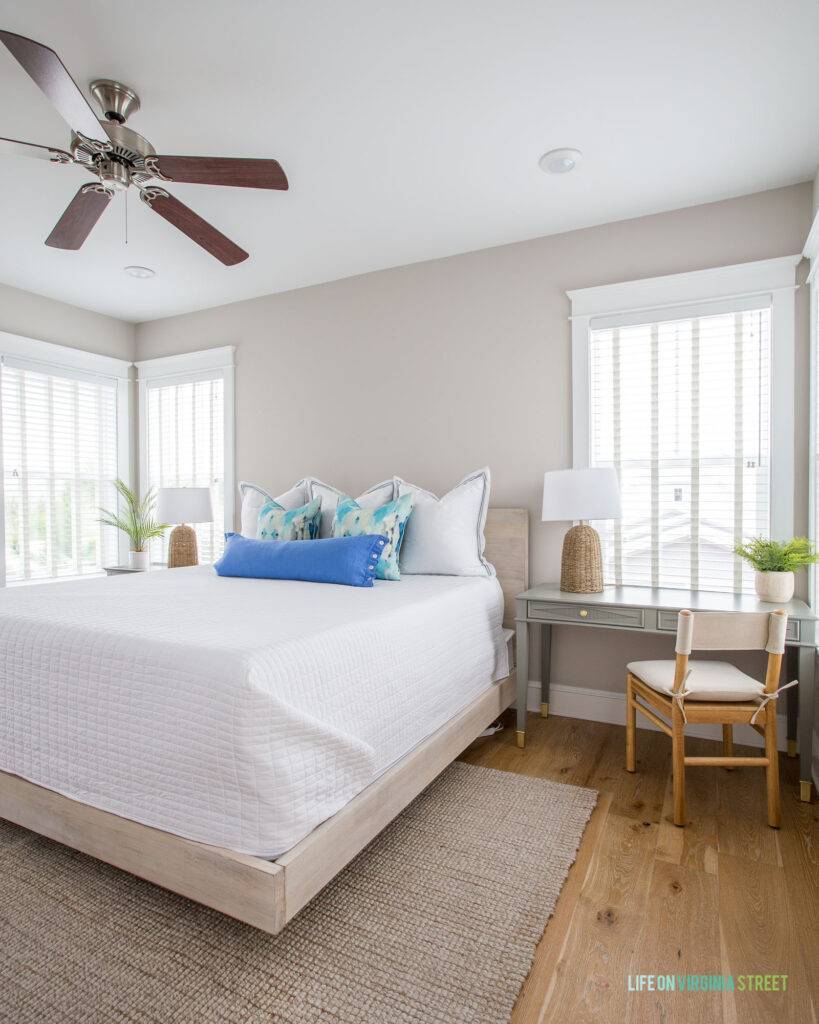 One of the cool features of the nightstand is that it has integrated charging for phones.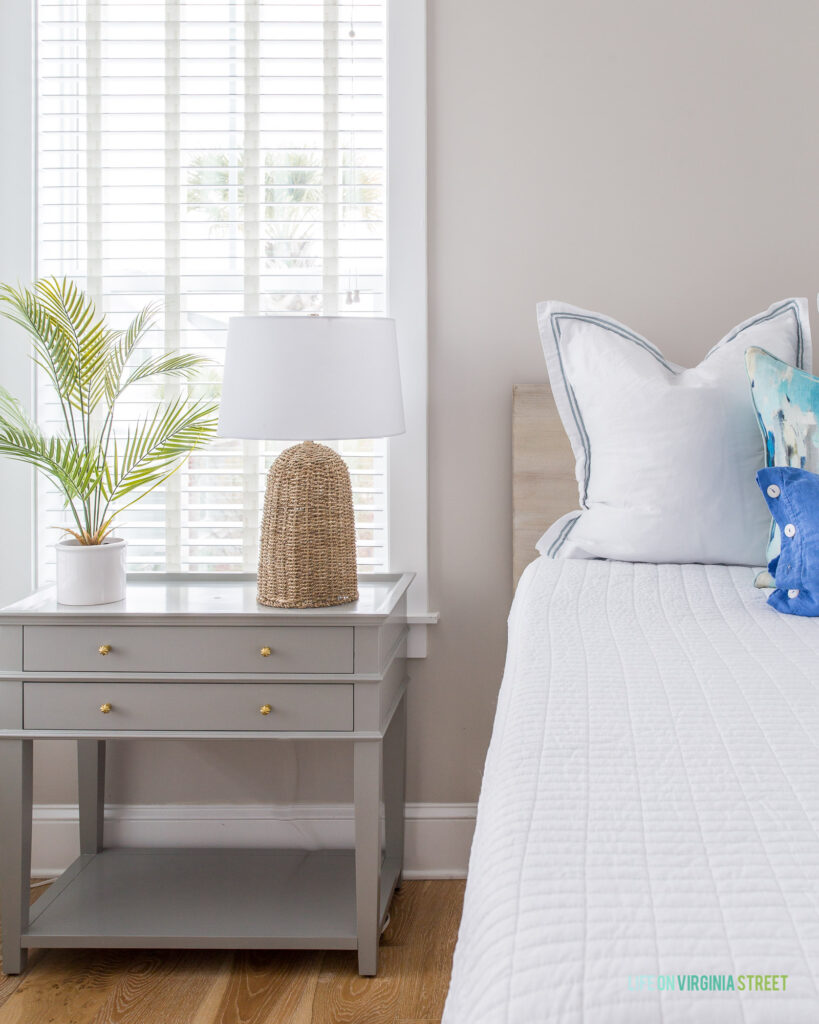 I'm so happy we decided to carve out this little working space in this bedroom. Not only is it great for when we visit, but with so many people working from home, I'm guessing it will be used by our guests as well!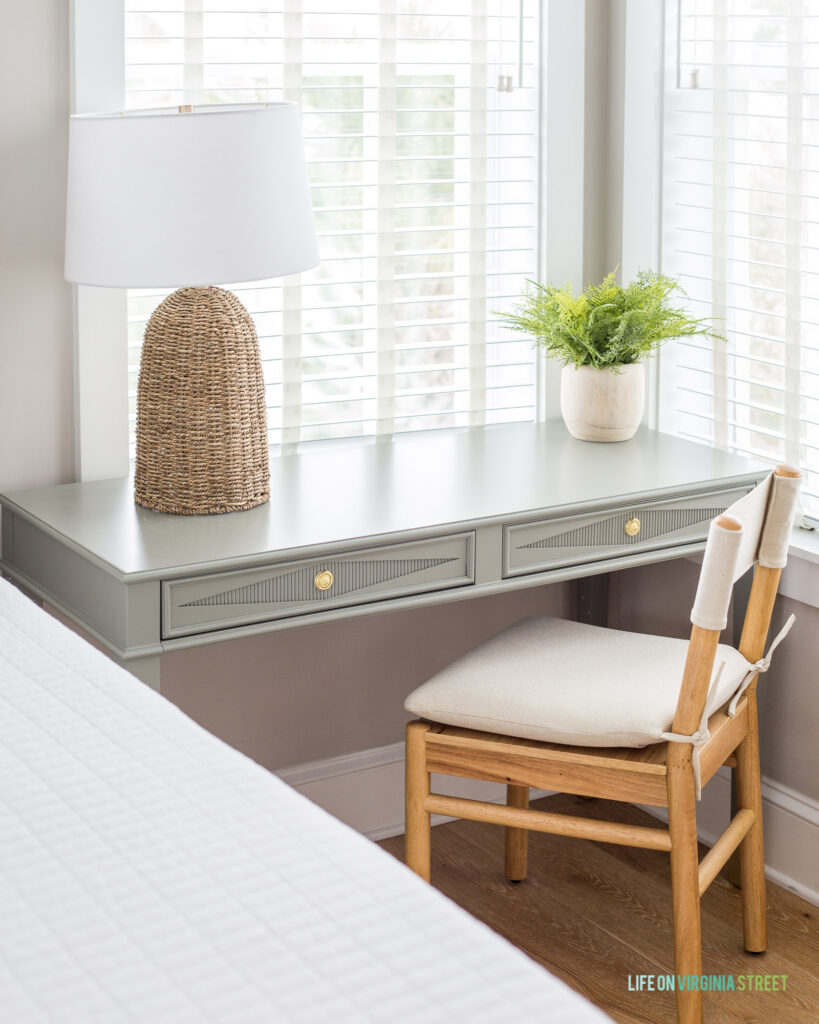 UPSTAIRS KING SUITE BEDROOM SOURCES: Wood Bed | Desk | Nightstand | Wood Chair | Seagrass Lamps | Faux Fern | Faux Palm Plant | White Quilt Set | Euro Sham Covers | Linen Pillows | Lumbar Pillow
In the queen suite, which also has a daybed with a trundle and adjoining bathroom, our biggest priority was swapping out the mattress. Our brother-in-law had tested the old one and said it wasn't great, and basically folded in half when you laid on it. So, that was our top priority in here! Due to time and shipping constraints, we went with this bed in a box option with great reviews. We haven't been able to test it personally yet, but I'll be sure to share once we're able to.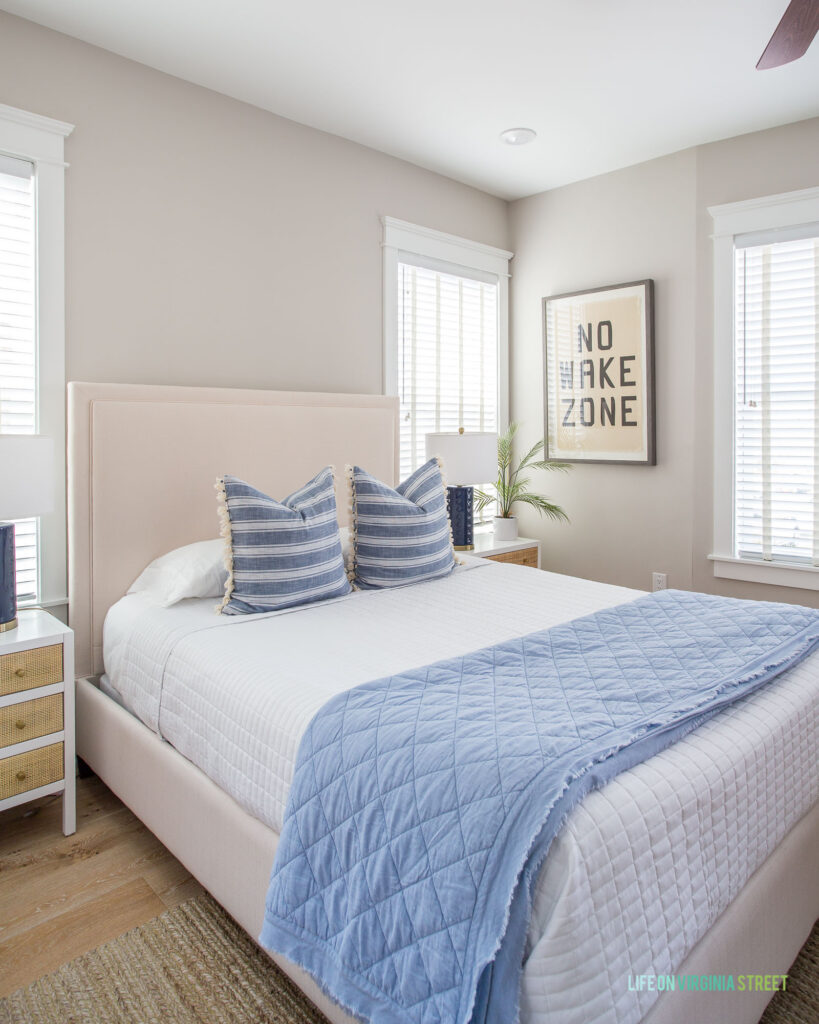 QUEEN SUITE SOURCES: Similar Upholstered Bed Frame | Rattan Nightstands | Blue Frayed Quilt | White Coverlet | Striped Pillows | Navy Blue Pair of Lamps | Faux Palm Plant | 'No Wake Zone' art purchased locally at BeCasa but similar can be found here and here
As you may know, we also added these cute rattan nightstands. They were a major pain to put together, and are on the shorter side, but we're really happy with them! Such an improvement over the chunky farmhouse nightstands that were here previously.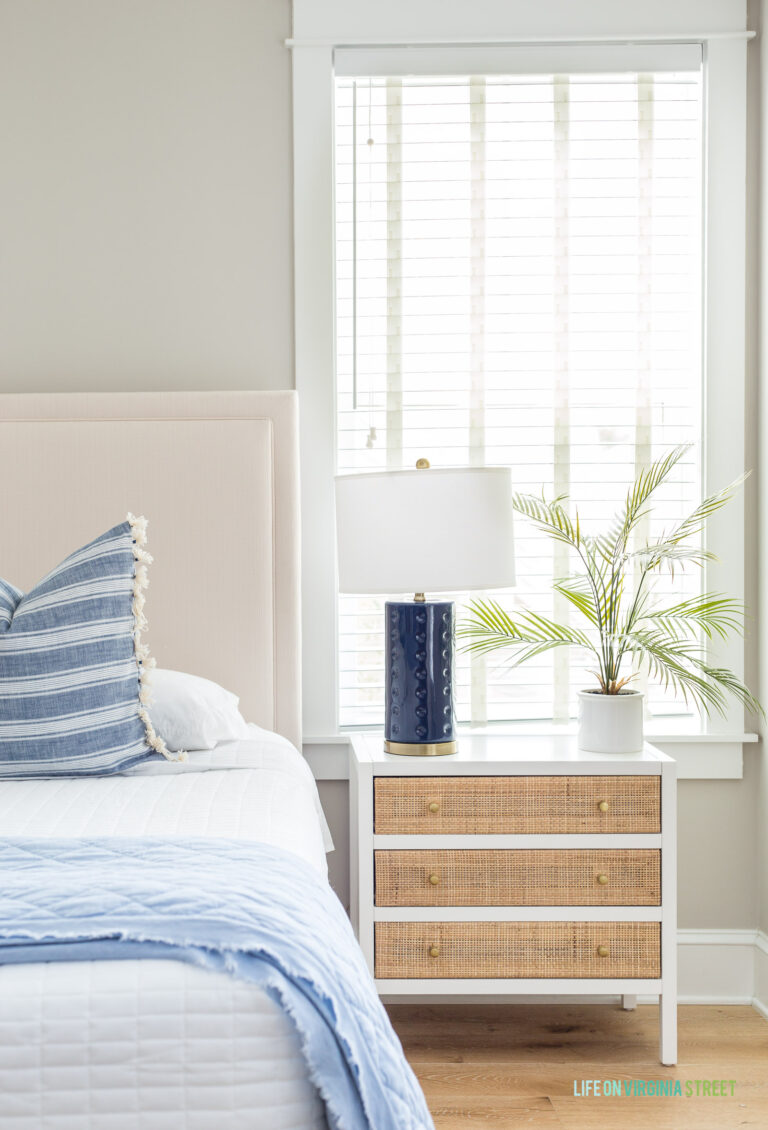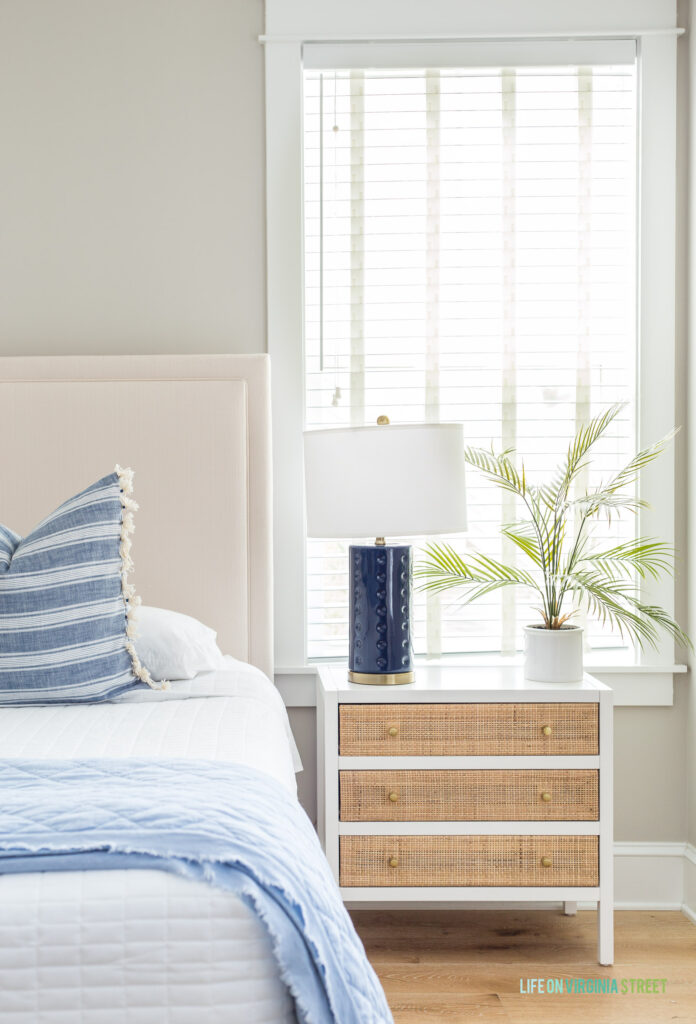 The smaller queen bedroom is tucked in a back corner near the bunk room. So I thought it would be a fun place to bring in some brighter colors. These Linen Pillows make me smile every time I see them! The colors are just so happy!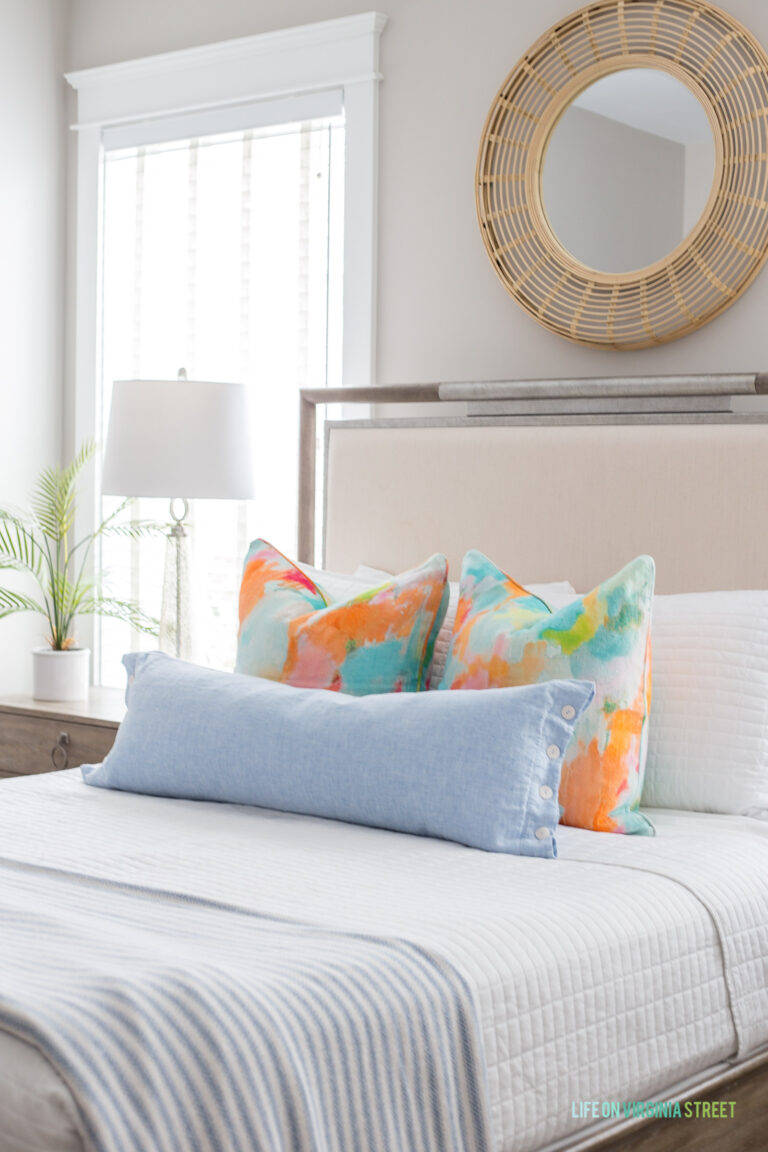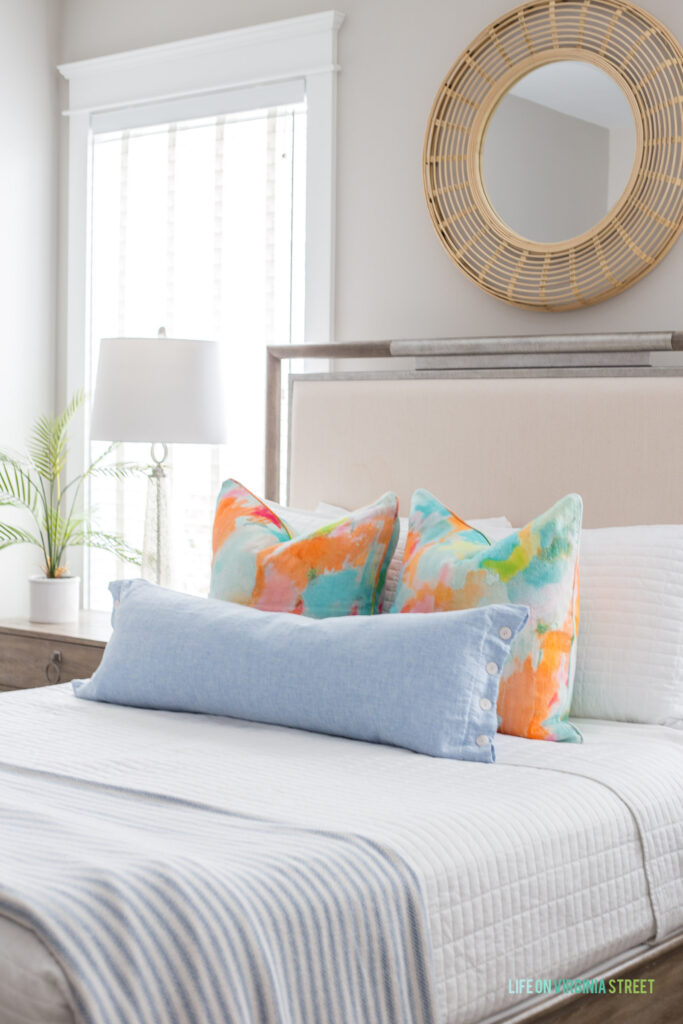 QUEEN BEDROOM SOURCES: Linen Pillows | Lumbar Pillow | Striped Blanket | Faux Palm Plant | Similar Mirror
In the bunk room, the only changes we made were replacing the broken curtain rod for the curtain door and then adding these fun pom pillows and stripe pillows for a little color.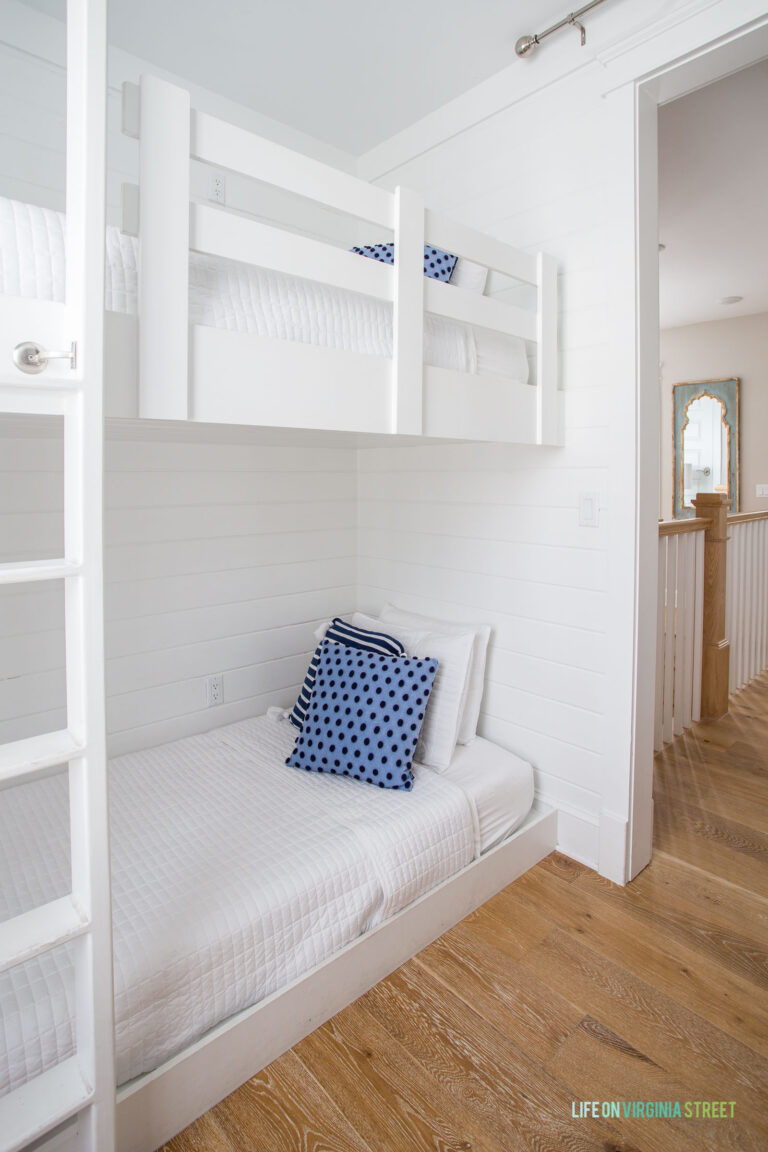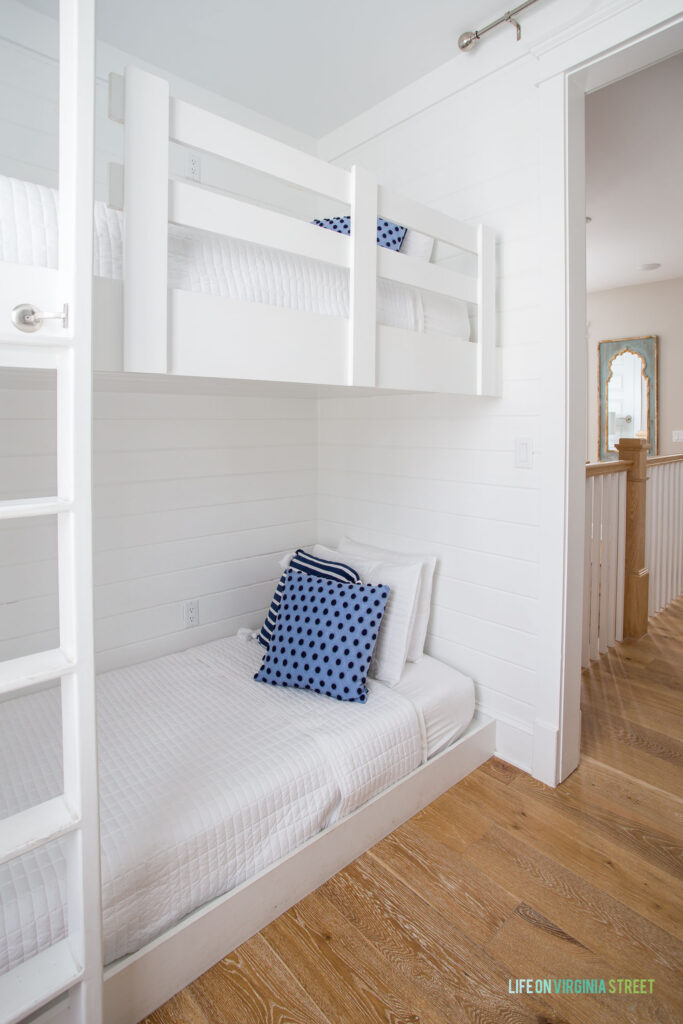 Moving to the garage, we also got all the pool and beach toys off the floor by installing some organizational racks we picked up at Lowe's. It looks so much better out here now!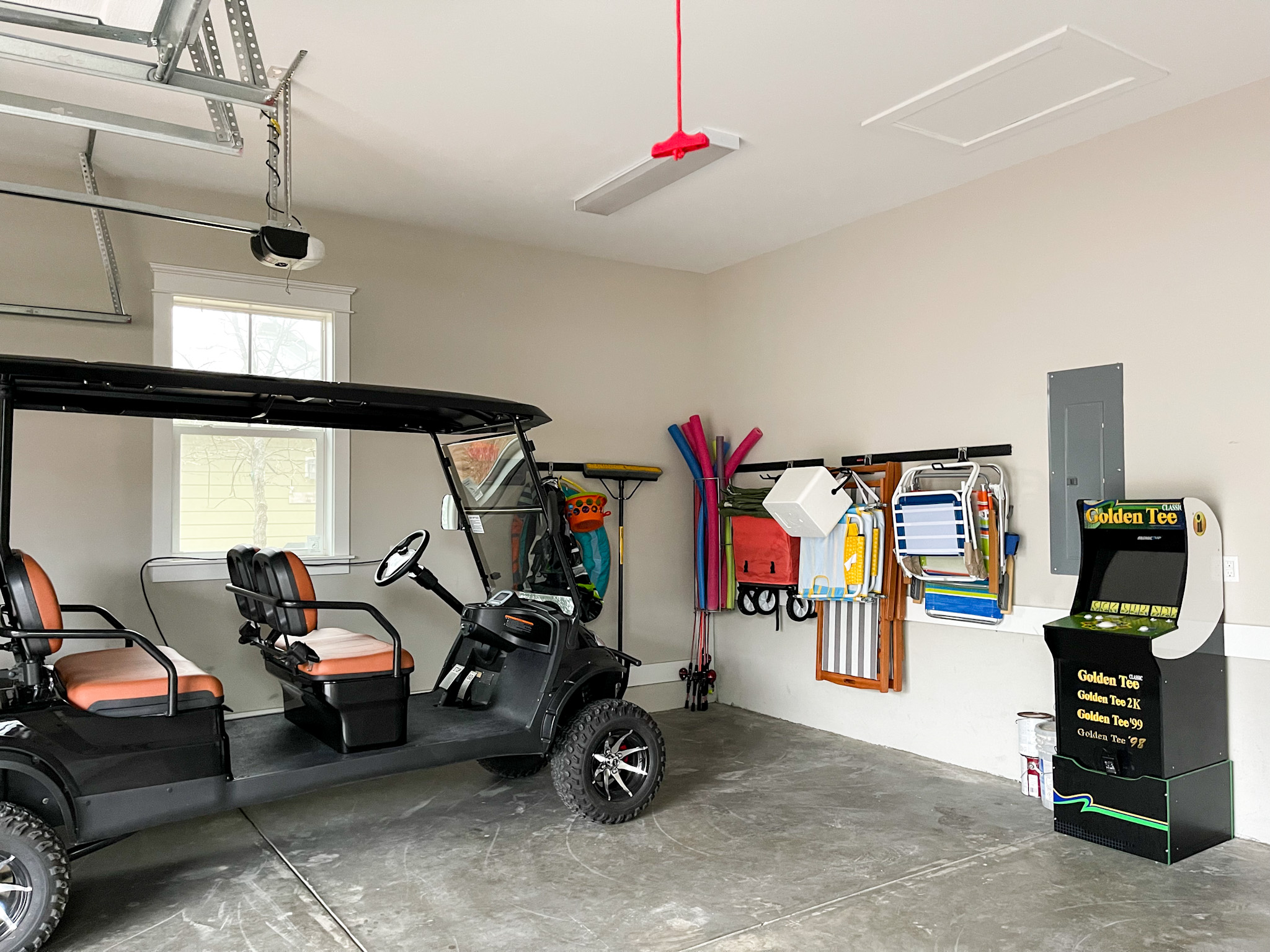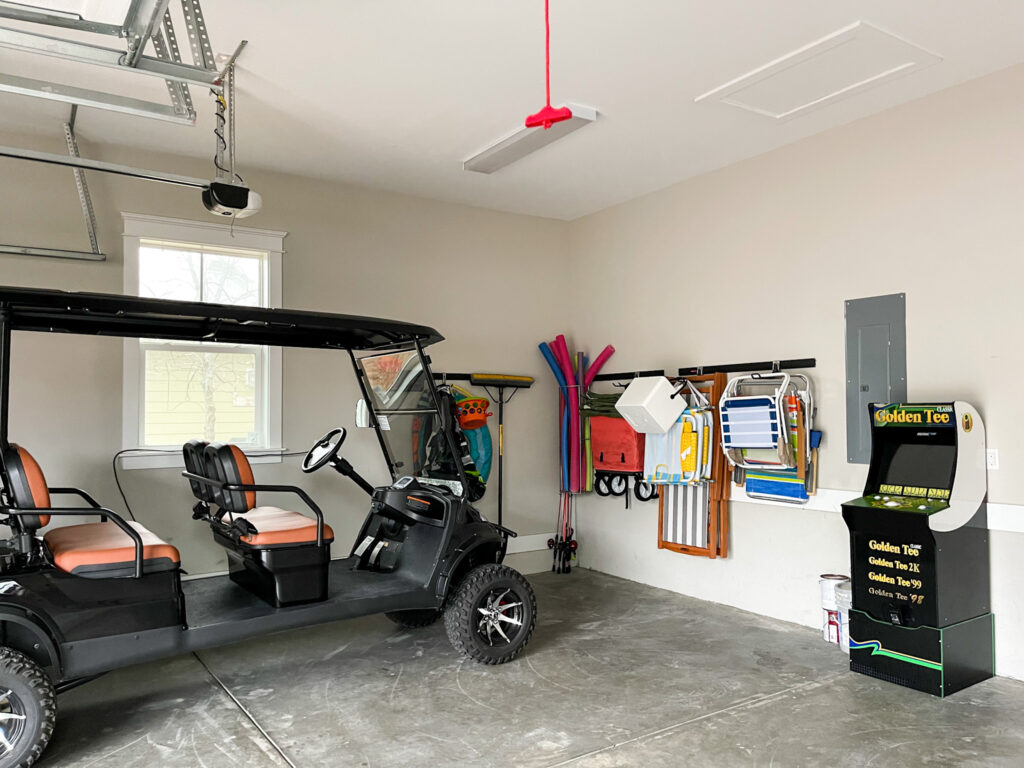 On the front porch, we replaced the ceiling fan, because the old one had started to get rusty. We used this option and are really happy with it so far!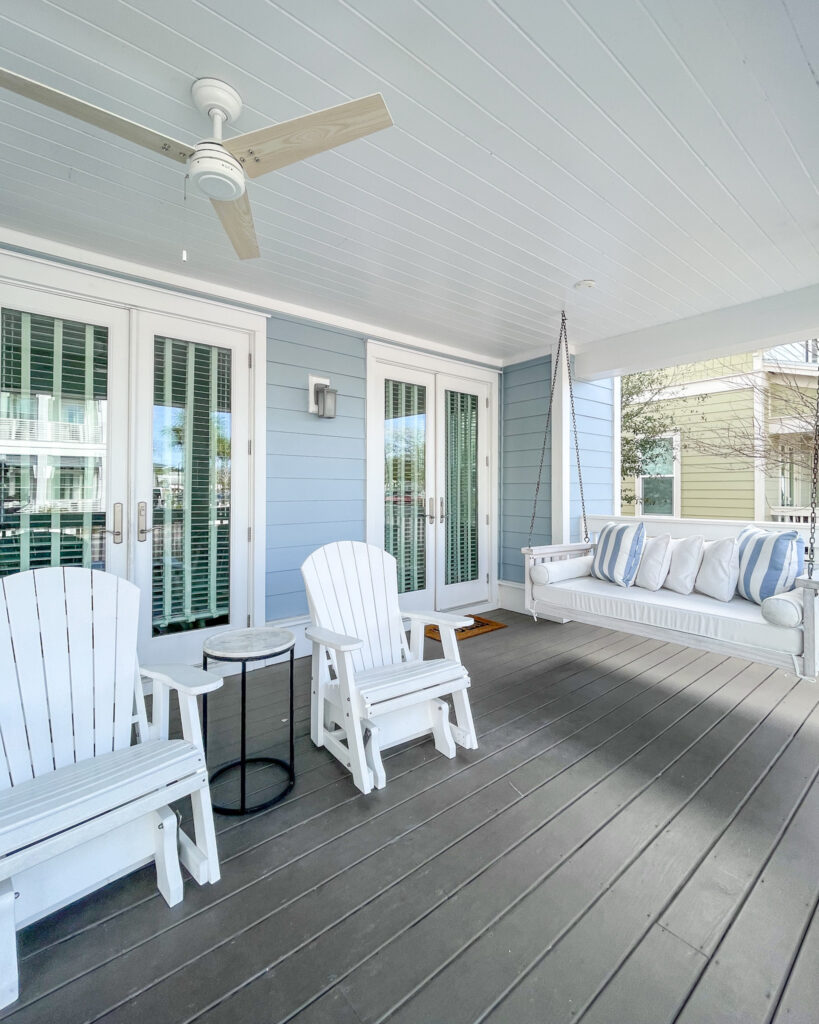 We also replaced the porch swing cushions, as they were really starting to show their age. Thankfully the swing frame was still in excellent shape! The Florida weather is no joke for outdoor furniture and even paint on the houses! We also added these cute outdoor striped pillows for a little personality! Now we just need the trees to bud again and turn green!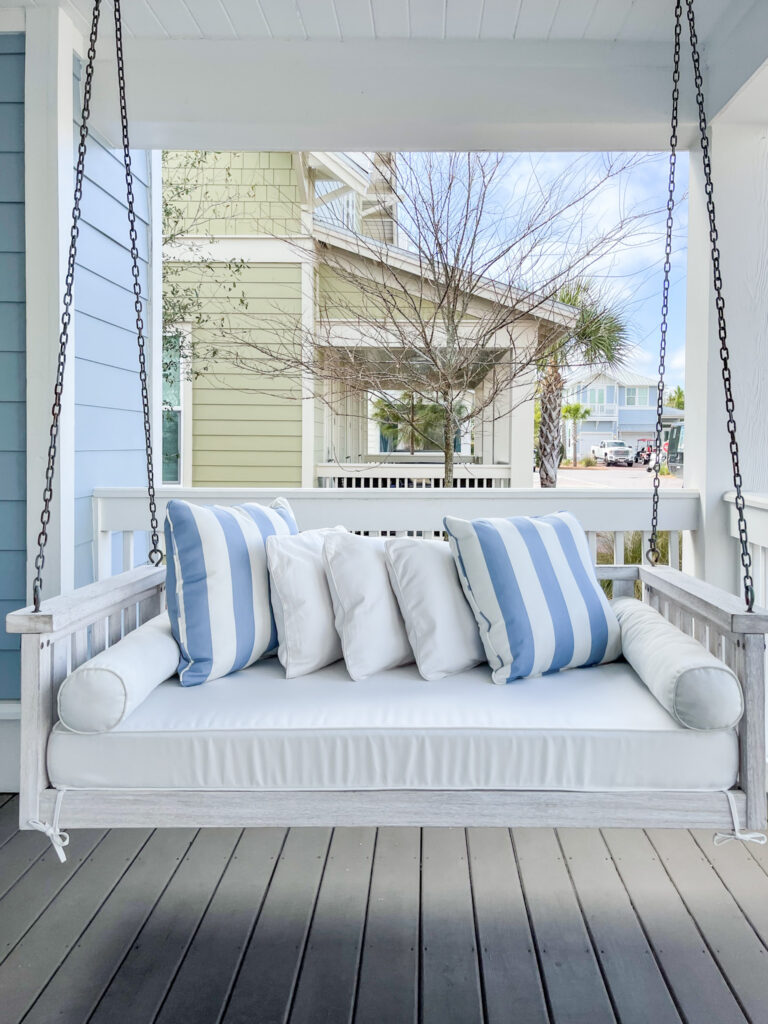 Lastly, Kurtis power washed everything and we replaced the door mats with these cute Hola! mats we found at Target.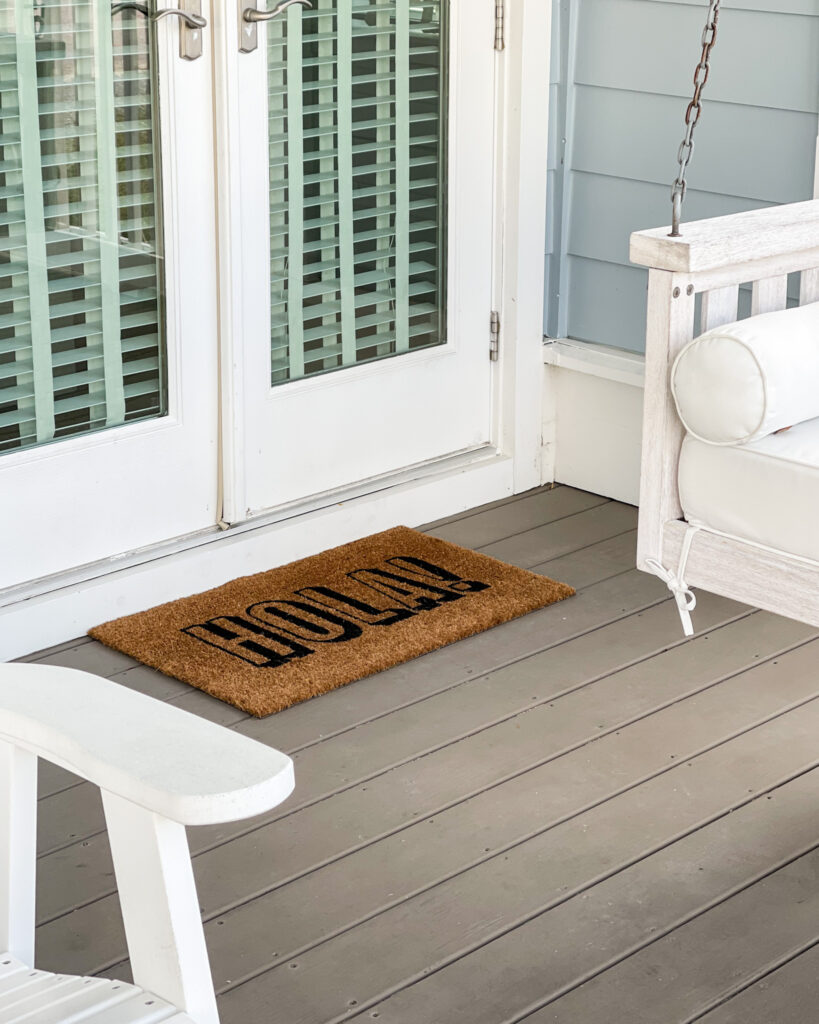 HOLA BEACHES FRONT PORCH SOURCES: Porch Swing | Similar Adirondack Chairs | Hola! Mats | Outdoor Striped Pillows | Ceiling Fan
That wraps up all of our phase one updates! Like I said, we had high hopes of getting even more done, but we're happy with the progress so far! I'll continue to share progress photos as we make further updates over the coming year.
We'll also be working on a post with our favorite restaurants, shops and things to do in the area, so be on the lookout for that!
More About Our Florida Rental House
If you missed the news, you can read more about our Florida rental house in the posts below:
If you would like to follow along on more of my home decor, DIY, lifestyle, travel and other posts, I'd love to have you follow me on any of the below channels: