As you may have guessed from the title of this post, we're going to go ahead and name our first Florida house we'll be living in the Florida Coastal Cottage. I think it will be easier to differentiate it from the Florida new build (need a better name for this one) when we talk about that home in other posts. And since they still haven't started the new build yet, we may be in the first house (the coastal cottage) much longer than we anticipated! So, today, I want to share some coastal cottage design plans we'll likely be starting with!
This post contains affiliate links for your shopping convenience. You can read my full disclosure policy here.
Florida Coastal Cottage Design Plans
Now that we've seen our Florida coastal cottage for the second time, and actually spent a few days living there in late August, I thought I'd share some preliminary design plans for a few of the spaces! You can read a lot more about the home itself in this post, but now I'll share a bit more about how we plant to decorate it (and use our existing furniture)! It's hard to believe we'll be there officially in less than three weeks!
A few items that we'll need to purchase right away, since the new owners of our current home bought our existing versions:
Living room coffee table
Office desk for me
Entryway console table
Nearly all of our rugs (and with LVP flooring on a concrete slab, these will be a priority!)
Several table and floor lamps
Some of the other items that were purchased from our current home in Omaha likely won't need to be replaced until we move to our new build. That's because we simply don't have the space, and I also don't want to commit to a specific style or product right now!
The nice thing about the area we're moving to in Florida, there are so many short-term rentals (including ours at Hola Beaches) that the furniture and decor resale market is amazing! I experienced this first-hand when I made a few furniture swaps in the spring at Hola Beaches. You can get really fair payments for your items and the buyers will come to you and pick it up! It also helps that we have set aside the furniture payment we received from the buyers of our home and have earmarked it solely for furniture and decor.
The coastal cottage design plans you'll see below are how I'd decorate for "everyday" style, not necessarily the holidays. So, some of these plans may not come to fruition until early next year. I imagine we'll decorate a bit for fall once we get down there and then for Christmas before we wrap up the day-to-day decor. Let's jump into the plans!
Florida Cottage Entryway Design Plans
We have a very small entryway, that is more of a nook right off the living room. The owners of our current home bought literally everything in our entryway (three tables, mirrors, lamps, faux greenery, vases, etc.) so I'll pretty much be starting from scratch. The entryway nook is about 5'x5′, but that also has to allow for the front door to swing inwards. The great thing about the space is all the natural light that comes from the window and glass front door! Over the weekend, I purchased this 36″ console table that will work perfectly in the space. I had a pretty specific list of characteristics I was looking for: small, totally open underneath for storage, had to ship in less than three weeks, needed a semi-coastal vibe, ideally under $500. It was basically the only one that fit the bill!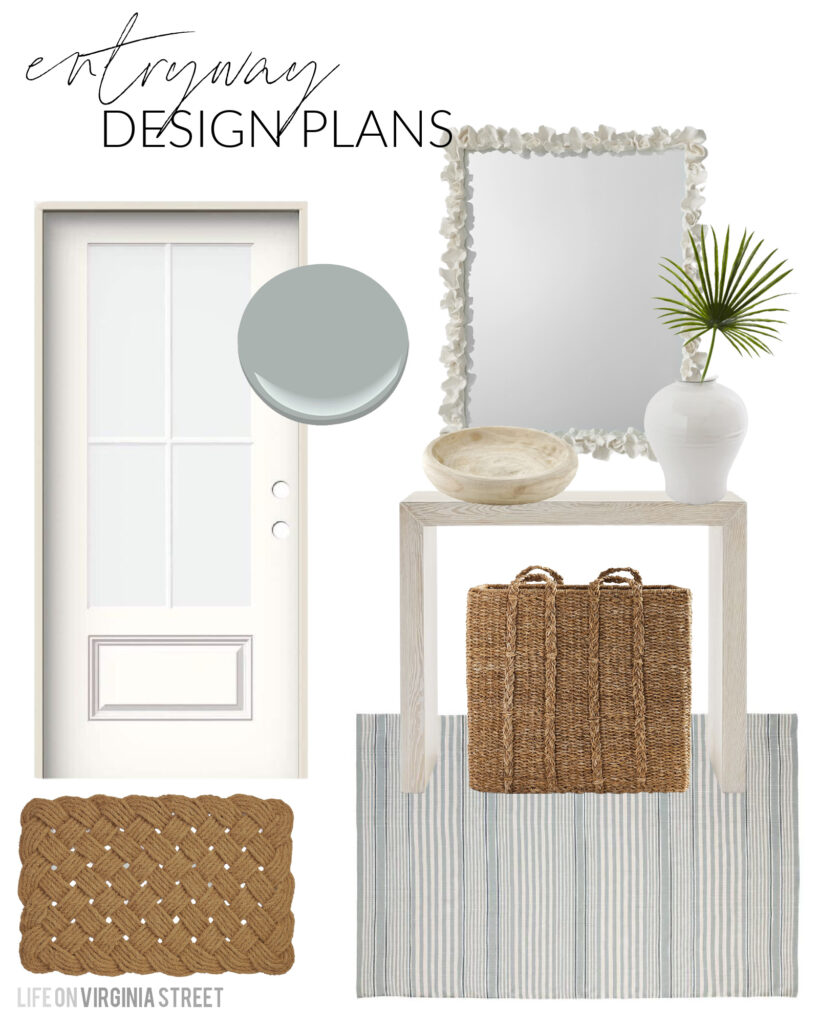 ENTRYWAY SOURCES: Door | Knot Door Mat | Paint Color: Boothbay Gray | Coral Mirror (look for less here) | Wood Bowl | Vase | Faux Fan Palm | Console Table | Basket | Striped Indoor/Outdoor Rug
Florida Cottage Living Room Design Plans
The buyers of our home purchased the coffee table in both our living room and our den. We'll still have this one which is out in the pool house currently, but we're pretty sure it won't be large enough for the living room. I had bought it purposely to fit in the nook in our sectional, and this room will be much more spread out. You can see most of the elements on the design plans are ones we already own, just pulled from different areas of our current home. The kitchen, living room and dining room are a big open space so I wanted to ensure they would flow well together! The house came with a large TV mounted on one wall, so we'll be using this console table we already own to ground the floating TV as well as provide quite a bit of storage.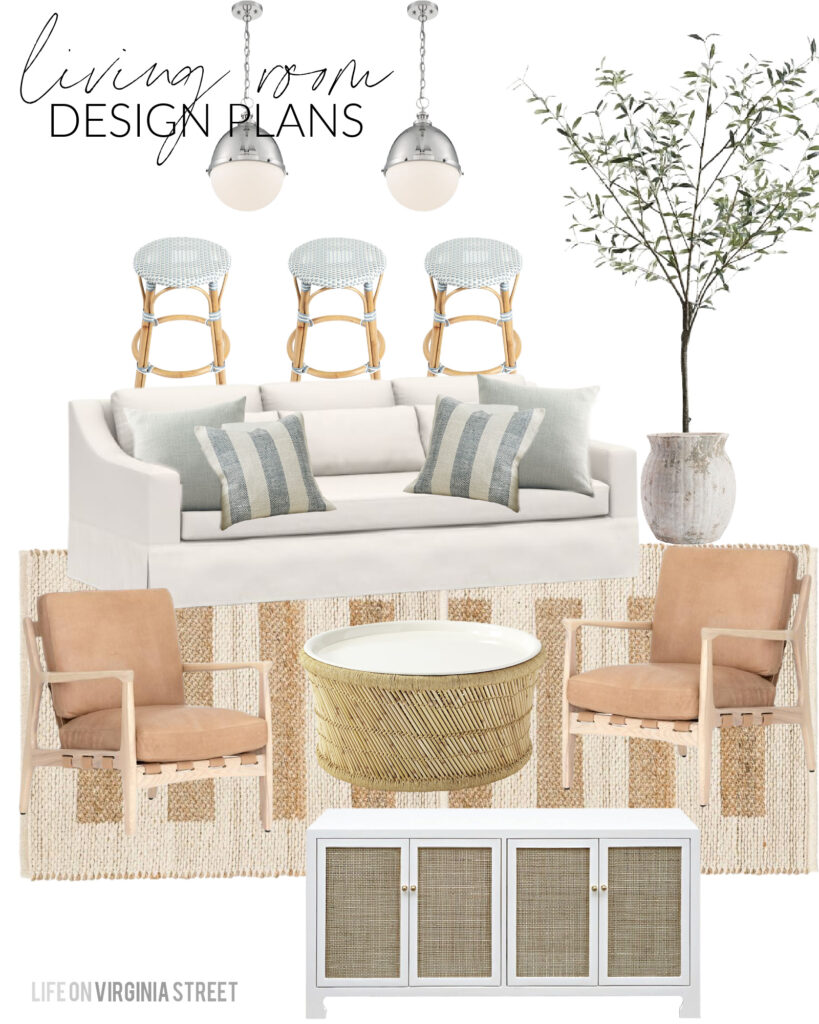 LIVING ROOM & KITCHEN SOURCES: Kitchen Pendant Lights | Kitchen Counter Stools | Olive Tree | Cement Pot | Sofa | Linen Pillows | Striped Pillows | Leather Chairs | Round Coffee Table | Striped Jute Rug | Console Table (look for less here)
Florida Cottage Dining Room & Kitchen Design Plans
Although the kitchen, living room, and dining room are all one open space, I thought I'd combine the dining room and kitchen since there really isn't much to the kitchen to warrant its own section 😉 The biggest decision in this space was the direction we wanted to take with the dining chairs. I found quite a few I liked but Kurtis vetoed most (who knew he was so opinionated on dining chairs?!). Although I haven't ordered them yet, I'm thinking I'll go with these chairs that have been in the forefront of my list for weeks now (and Kurtis approves of them). I ordered a bunch of fabric samples and will likely go with the Performance Boucle since it's one of the quick ship options that I like. Since we brought our dining table down in August, I ordered this rug ahead of time so we could get it all set up at once. I love it in place!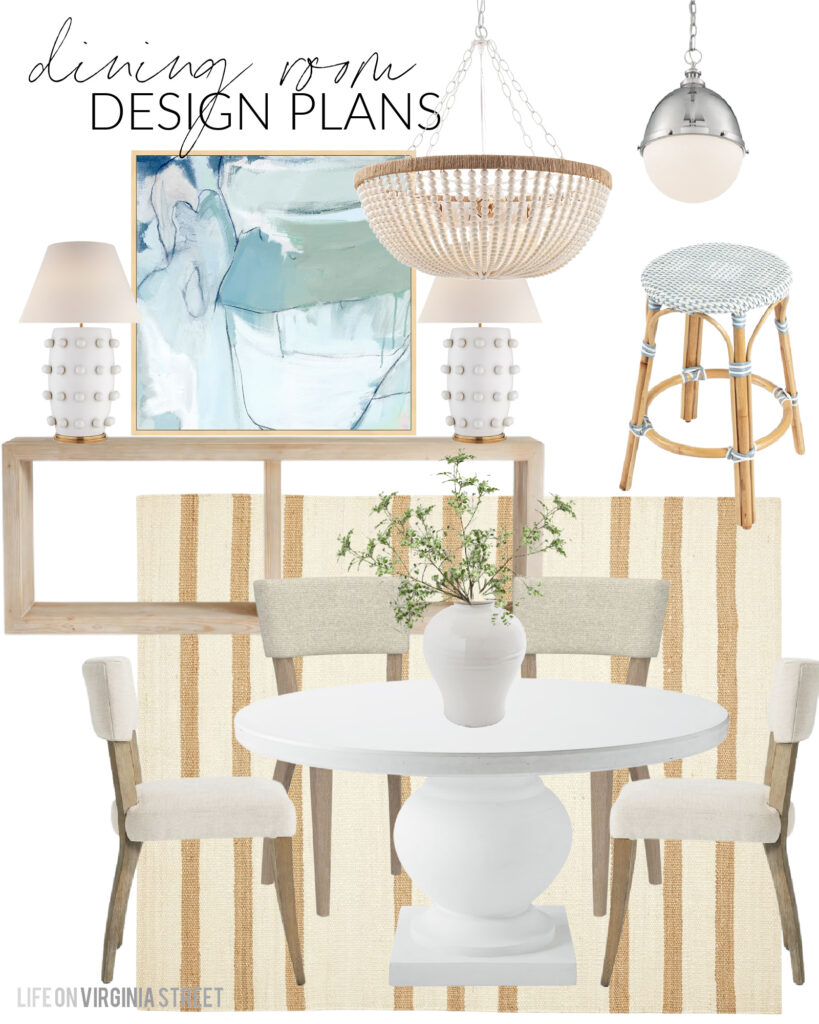 DINING ROOM & KITCHEN SOURCES: Abstract Art | Console Table | Lamps (look for less here) | Bead Chandelier (designer version here) | Striped Rug | Dining Table | Dining Chairs | Vase | Faux Greenery | Kitchen Pendant Lights | Kitchen Counter Stools
Here's the rug and dining table after we got it set up in August.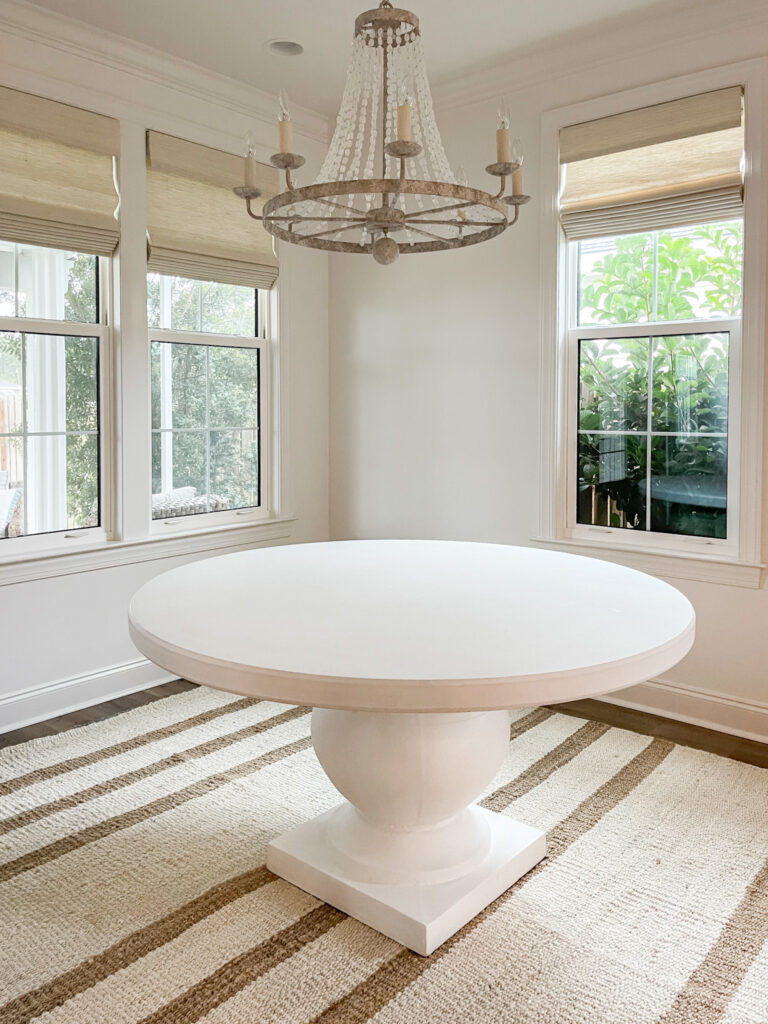 Florida Primary Bedroom Design Plans
We're going to be doing a few bedroom furniture swaps since we actually brought our guest bed down to Florida a few weeks ago and used it in our primary bedroom. So, I think it will actually stay there. The guest bedroom in this house is probably a bit too small to accommodate both Kurtis' office and a California King size bed, so I think the switch will work out nicely. The plans in this space are super tentative. I'm still undecided on this rug, even though it's one I've loved for quite some time. We're not used to 9′ ceilings in our bedrooms (all of ours are 8′ in Omaha), so it will be fun to play with the extra height! I might add these velvet pillows in for fall and winter for a little extra color and texture.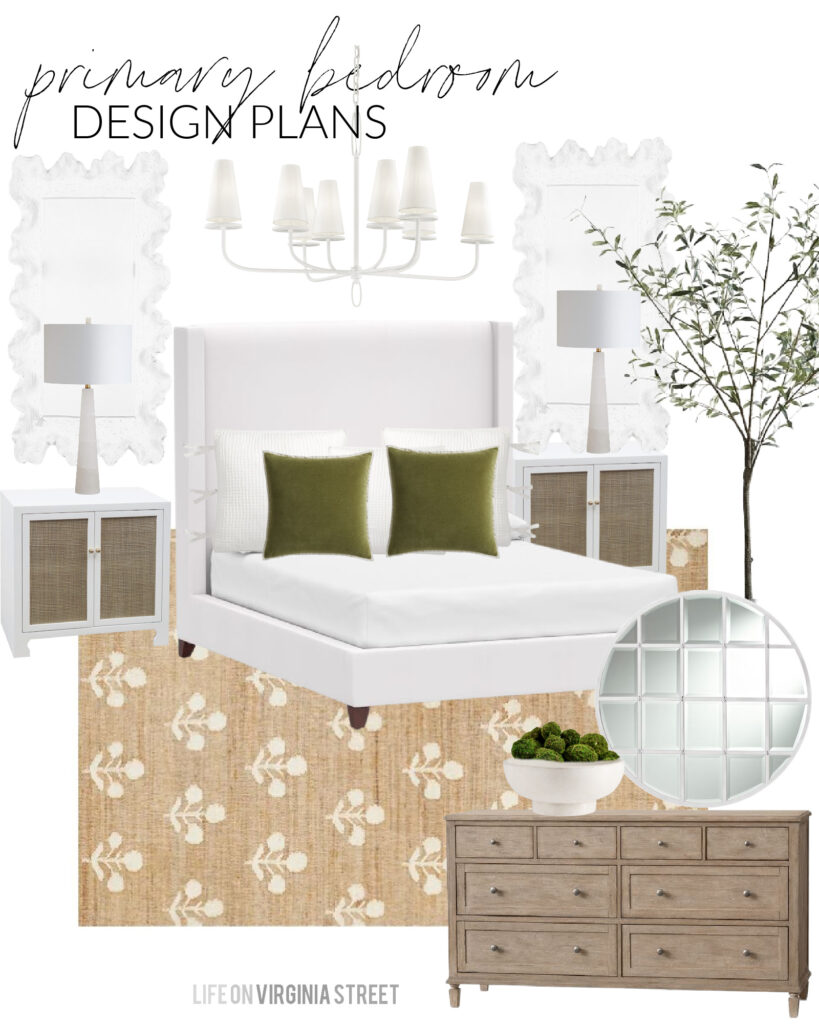 BEDROOM SOURCES: Bed | Nightstands (look for less here) | Lamps | Tall Mirrors | Quilted Euro Shams | Velvet Pillows | Chandelier | Rug | Olive Tree | Dresser | Round Mirror | Footed Bowl | Moss Balls
Florida Cottage Office Design Plans
We actually love our existing home office desks, but after seven or eight years, I'm ready for a change! Since the buyers of our home bought our desks we've been on the hunt for other options. We actually bought a desk for Kurtis when we were in Florida a few weeks ago, because he had some video meetings and needed one ASAP. We went with this desk and this temporary chair because the desk was in stock and fit perfectly in the little nook in what will be the guest bedroom and his office. We've had the same chairs in the past and really like them, and again, it was in stock and we could pick it up right away! We'll get a mirror or art up on the wall once we're down there.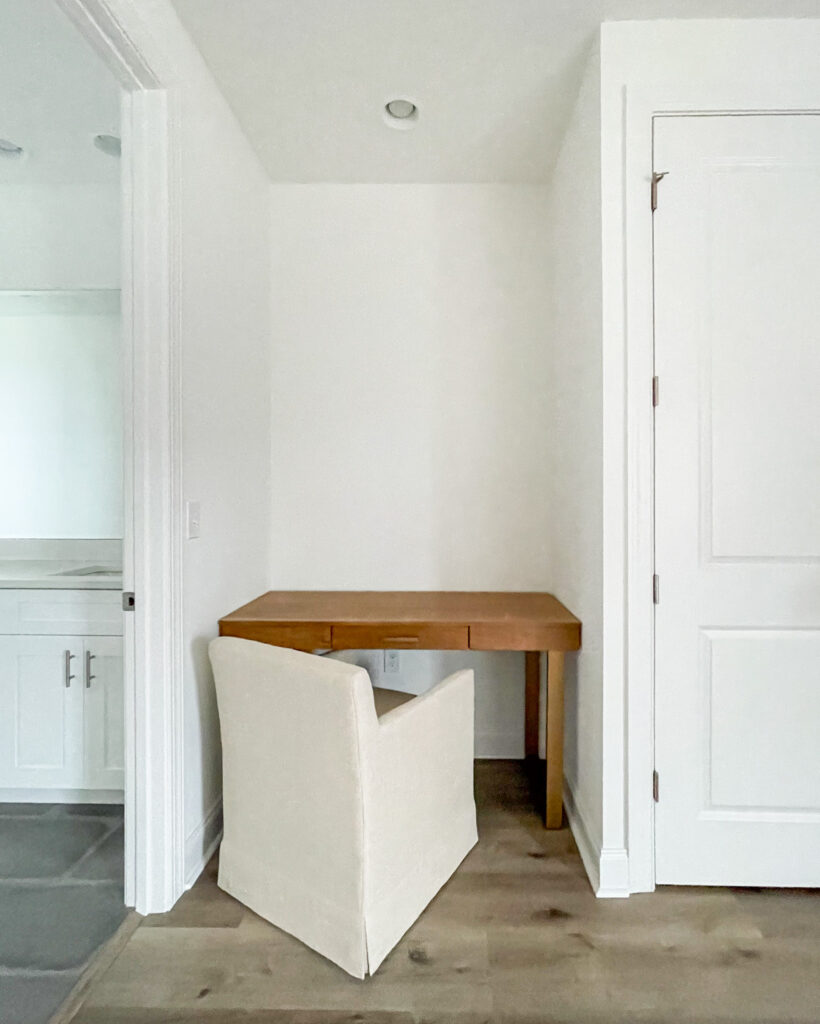 Here are the plans for my office. It's definitely going to be a Tetris situation since the bookcase was purchased for our current home office before we decided to move. It will work great in the new build too, but it's going to be a little snug in the coastal cottage. But we'll make it work! As you can see below, we're going to break it up to fit the various walls as well as possible. I had the hardest time finding a desk that was a quick ship – so many I loved wouldn't arrive until 2023! But, I ended up ordering this desk, which was my initial pick, even though it won't arrive until January. But that's much quicker than many others I found! And, if you can't tell by the design board, we're probably also going to have to squeeze the pool house sofa in the room as well for storage at this time!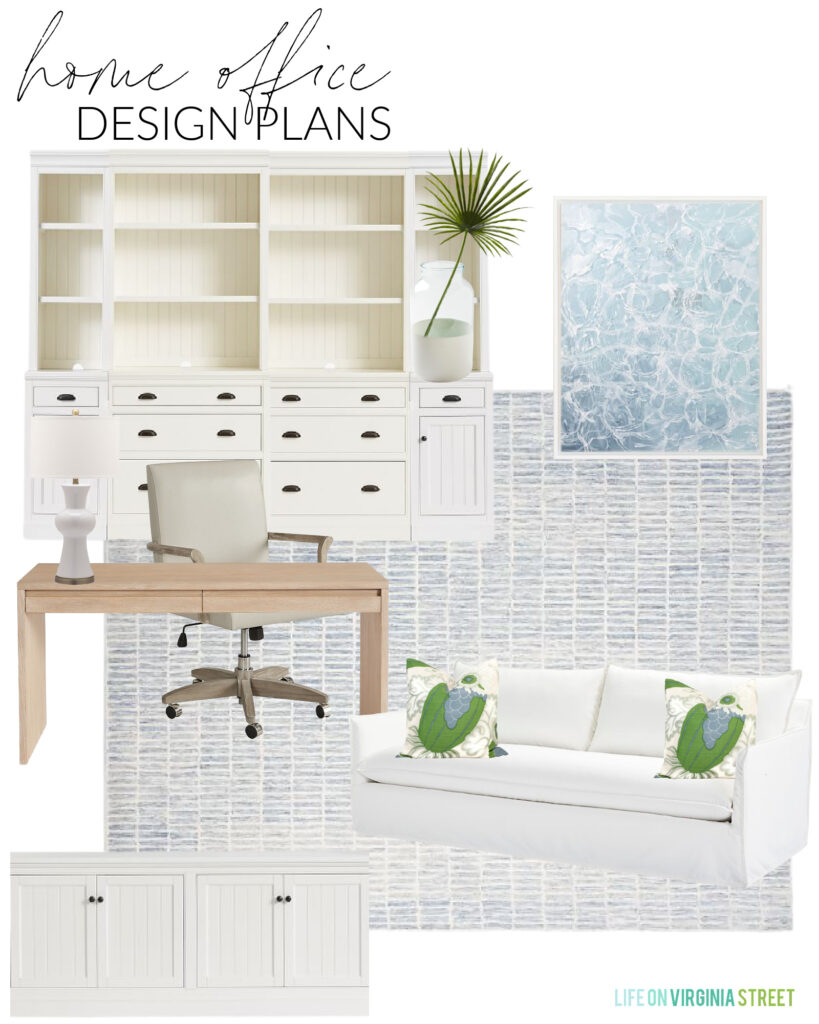 HOME OFFICE SOURCES: 5-Piece Entertainment Center | Lateral File Cabinet Bookcase | Rug | Desk | Desk Chair | Lamp | Faux Fan Palm | Vase | Water Art | Sofa | Pillow Cover
That about wraps up our plans so far! We're excited to get started on them once we arrive in Florida in a few weeks!
If you would like to follow along on more of my home decor, DIY, lifestyle, travel and other posts, I'd love to have you follow me on any of the below channels: