I wasn't actually planning on posting anything else holiday related until after Halloween, but here we are 😉  The funny thing is, Christmas decor hasn't even been on my mind recently with the move and trying to get settled with just regular decor. But, I kind of went down a rabbit hole this past week, made a mood board and one thing led to another. Turns out I now have almost all of my holiday decor purchased! Today I'm sharing all the green and blue Christmas decor goodies I found in my search.
This post contains affiliate links for your shopping convenience. You can read my full disclosure policy here.
Green & Blue Christmas Decor
If the title of the post and my intro didn't give it away, I'm planning to use shades of green and blue (with some natural textures mixed in for good measure) in my Christmas decor this year! It wasn't actually the color combo I initially had in mind but I kept finding so many cute things with these colors! I'll be using some of the items shown in the graphic below, as well as a few items shown later in the post.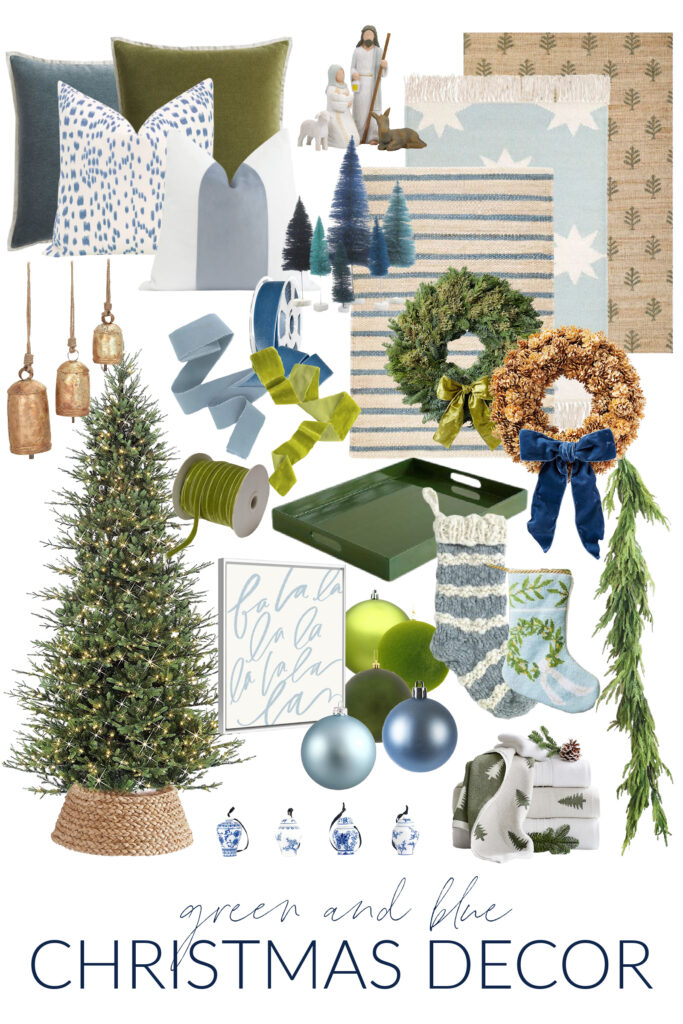 SOURCES: Blue Velvet Pillow | Green Velvet Pillow | Dot Pillow | Velvet Stripe Pillow | Nativity Figurines | Bottle Brush Tree Set | Striped Rug | Star Rug | Botanical Rug | Bells | Frayed Dusty Blue Ribbon | Blue Velvet Ribbon | Chartreuse Ribbon | Thin Green Velvet Ribbon | Lacquered Tray | Fresh Evergreen Wreath | Bleached Pine Cone Wreath | Faux Christmas Tree | Woven Tree Collar | Fa La La Art | Lime Green Ornaments | Flocked Moss Ornaments | Moss Green Matte Ornaments | Periwinkle Ornaments | Light Blue Ornaments | Mini Ginger Jar Ornaments | Striped Chunky Stocking | Bauble Stocking | Reversible Pine Tree Towels | Faux Garland
As I've been unpacking and getting the house a little more settled, most of what I was using was leftover from summer. If you remember our summer home tour, nearly everything was blue and green. So, rather than reinvent the wheel, and in an effort to reuse as many things as possible, I'm going with the blue and green scheme this year. Which actually works out well since I've used red in so many of my prior home tours! As much as I loved all the Stewart plaid in last year's Christmas home tour, I found that our pool house was my favorite room for the longest period. It was the only room that didn't include any red! So here we are.
It turns out these colors may be popular this year (or there's just a limited supply) because I'm already seeing low inventory or items that are sold out. So, despite it being a few days before Halloween, I wanted to share my finds as soon as possible!
Blue & Green Christmas Decor Favorites
Let's get to some of the gorgeous green and blue Christmas decor items I found in my search this week! A few items worth specifically calling out:
I'm strongly considering ordering this Fa La La Art that launched yesterday in the dusty blue color while it's 15% off. I think it would be so fun paired with this coordinating piece!
These moss ball ornaments may be one of my favorite finds! I don't know why they have me so excited, but they're going to be epic. The 4″ size has already sold out, so I'm guessing these 5″ balls won't last much longer either.
If you're looking for some epic gift wrap, look no further than this rattan gift wrap or this coastal holiday gift wrap bundle! They couldn't be cuter!
When we first moved here, I brought down three of my Christmas trees. I'll be donating two this week because we simply don't have the room for them. The one I kept is this 9′ tree we used in the pool house last year. I'll be pairing it with this seagrass tree collar that I've had for years. It's still a favorite and one of the larger ones I've found so it works well with larger trees.
Following are some of the green and blue Christmas decor items I found in my search this past week. You'll find the items shown in the graphic above as well as even more blue and green Christmas decor! Tap any of the images below to learn more about each of the items shown.

Additional Christmas Decorating Inspiration
Looking for even more Christmas decorating inspiration? Be sure to check out the following posts! Simply tap any of the post names below to read the full article!
Are you a fan of the non-traditional green and blue Christmas decor color scheme? I'm excited to use it this year!
If you would like to follow along on more of my home decor, DIY, lifestyle, travel and other posts, I'd love to have you follow me on any of the below channels: