As I'm sure you can imagine, if I had my way I'd tackle all of my wish list items in our Florida home right away. Not only is that not feasible from a budget perspective, it's probably not all that realistic with all the supply chain delays we're currently experiencing. It's also probably not a great idea to make changes after only staying in a space for a collective 12-15ish days or so!
With that, we've really tried to prioritize our projects based upon time, product accessibility, and what will really help our guests or add to their experience in a more positive way! Today I'm sharing our Florida home design plans as they stand today. They've only been modified at least 20 times in the past few weeks 😉
This post contains affiliate links for your shopping convenience. You can read my full disclosure policy here.
If you read our announcement post, we've only seen the home on three trips and are back again this week to work on some of the updates. The first visit, we stayed there to look at other homes – ours wasn't even on the market! The other time was to quickly fly down and close on the property, and then the last was to work on a few small projects right before I had my girls' trip in town for my friend's 50th birthday! Needless to say, making design plans remotely has been a bit of a challenge – especially as it relates to finding products that can arrive in the exact small window we're there. I also had to rely on various photos I took to approximate measurements, etc. So, we  were excited to get back down here last weekend to work on the house even more before the truly busy season begins.
However, Kurtis and I only have so much time to work on projects while we're in Florida – especially since we still work during the weekdays! I obviously have a lot more flexibility with that, but there are only so many projects I can do without Kurtis' assistance. While we're here this time around, we plan to tackle a few DIY projects, and I plan to get as much painting done as possible! The painting will include touch-ups in as many places as possible, but hopefully also adding a few fun colors throughout!
There a few key pieces in each room we'd love to replace over time. I was able to get a few orders placed prior to heading down and could coordinate a delivery that aligned with us also being in Florida. Others are going to have to wait until things slow down a bit, as the house is nearly 100% booked in March and April already.
Let's dig into a little bit of the short-term and longer term goals we tentatively have planned for several of the spaces. I'm sure these will evolve slightly over time, but these are the currently thoughts! Several of the items are placeholders for color/pattern ideas until I find the perfect pieces! I'm excited to test durability on many of these and report back to you guys. We're obviously newbies at the furnished rental thing, so it's hard to know if it's worth investing in performance products or if we just need to plan to replace things every few years. We're shooting for a mix right now to better equip ourselves for the future!
Florida Home Bedroom Design Plans
We have four bedrooms plus a bunk room so expenses can escalate pretty quickly if we do too much! Our property manager has recommended white linens and coverlets for the rooms, which we already have in place thanks to the prior owners. Now we just need to add a little bit of color and personality to each room, with a few furniture swaps as well.
Most of the dressers that came with the home are not my style and I'd love to gradually replace them over time. They're all very solid and great quality, but replacing them all will add up in a hurry. And since all the rooms have really nice sized closets, it's not a priority to replace them at this time. Maybe later this year or early next year! But, if you're on the hunt for a great light wood or coastal style dresser, I have some great options in this post from a few years ago, most of which are still available. We now own this dresser and this dresser at home. But I have my eye on a few of the other options too!
In the remaining queen bedroom and bunk room, we plan to just do some light refreshing in the form of throw pillows. I'm hoping I can grab some locally or at HomeGoods!
Florida Front Porch Design Plans
The front porch is so charming here! The porch swing was already in place and we love it so much! The cushions were starting to show their age, but thankfully Ballard sells replacement cushions. I'm also adding these striped cushions that tie in so well to the house color! And, we randomly found these Hola door mats at Target and they're perfect for Hola Beaches! And I love that the fan palms are part of the landscaping in our side yard!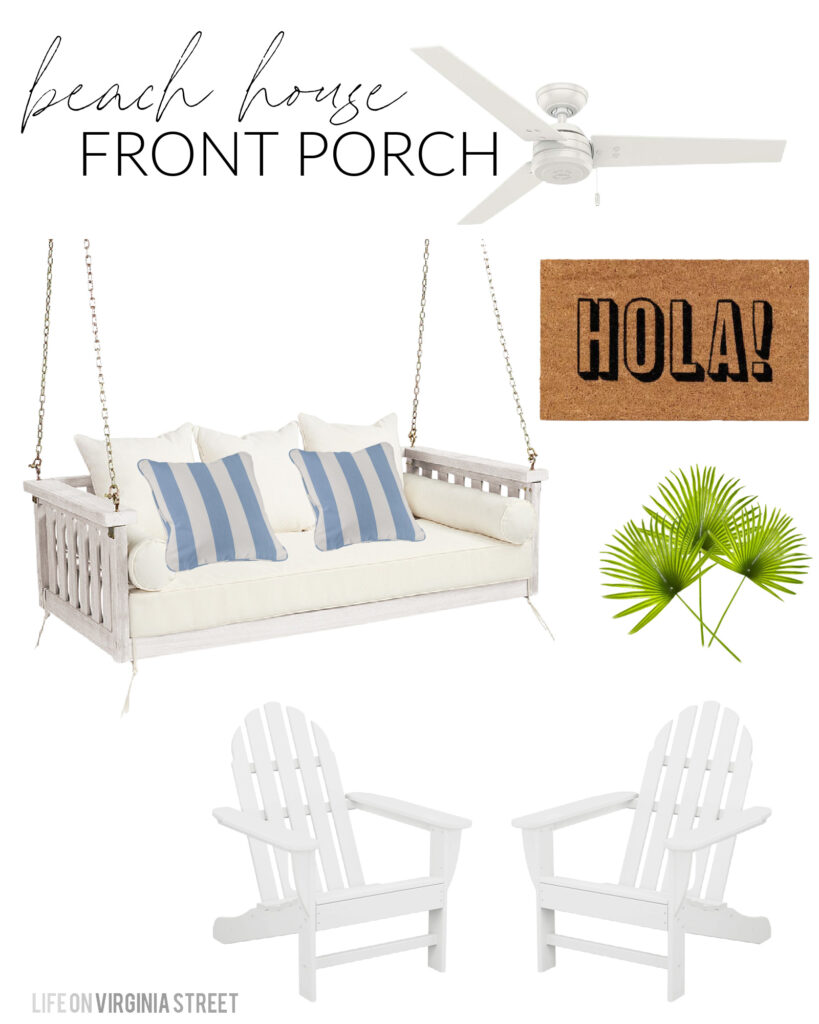 SOURCES: Ceiling Fan | Porch Swing | Striped Cushions | Polywood Adirondack Chairs | Hola! Door Mats
For artwork, we'd love to get some local photos either with our drone our my DSLR camera. I then envision blowing them up large and using them for art around the home!
I also thought I'd share these fun throw pillows I found. I ordered a few to give them a try. We're not making any changes in a few of the bedrooms at this time, so I thought some fresh linens would be a fun update!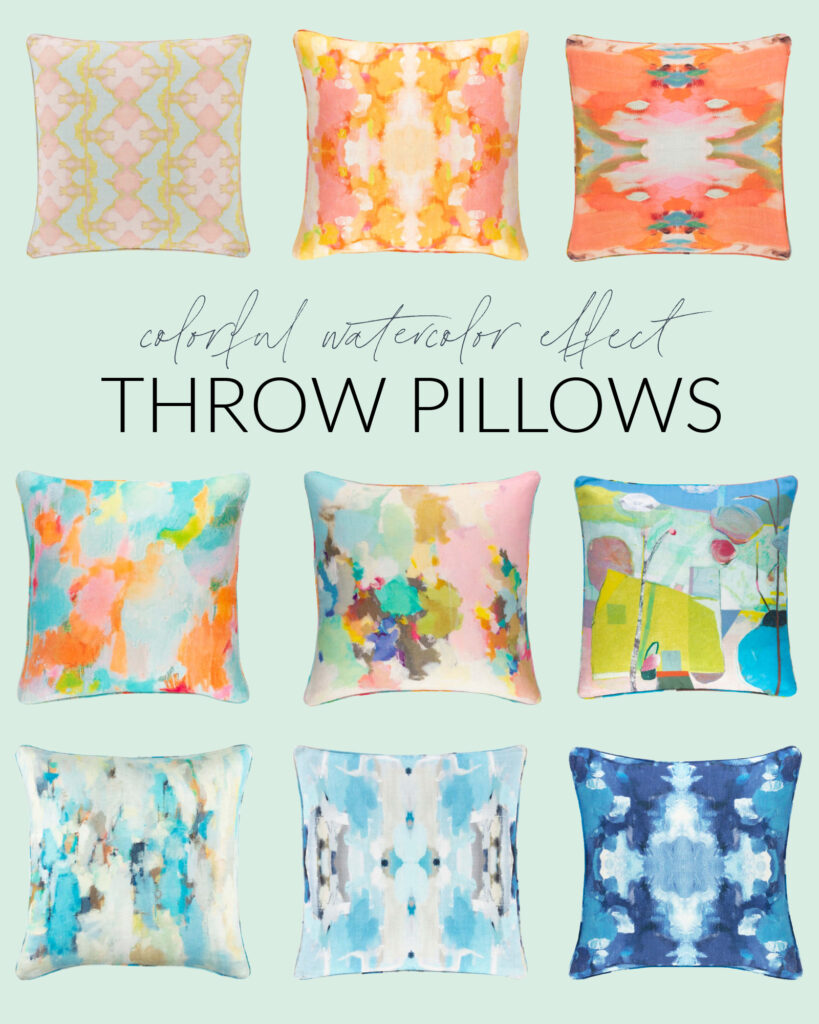 SOURCES: 1 | 2 | 3 | 4 | 5 | 6 | 7 | 8 | 9
I'm excited to head out of this week to some local shops. I'll be sure to share my favorite stores and finds along the way if you want to follow along the Hola Beaches 30A Instagram account!
Additional Coastal Decor Posts You May Find Helpful
Following are several of the older posts I've found myself referring back to in my search for the perfect beachy decor for our Florida Rental. Click any of the article title below to be taken to that post.
More About Our Florida Rental House
If you missed the news, you can read more about our Florida rental house in the posts below:
Tour Hola Beaches, our Florida rental house, and book a stay here.
Follow Hola Beaches on Instagram here.
I hope you all have a great week!
If you would like to follow along on more of my home decor, DIY, lifestyle, travel and other posts, I'd love to have you follow me on any of the below channels: