A round-up of beautiful light wood dresser options that work well in multiple bedroom styles. Includes dressers for a variety of budgets!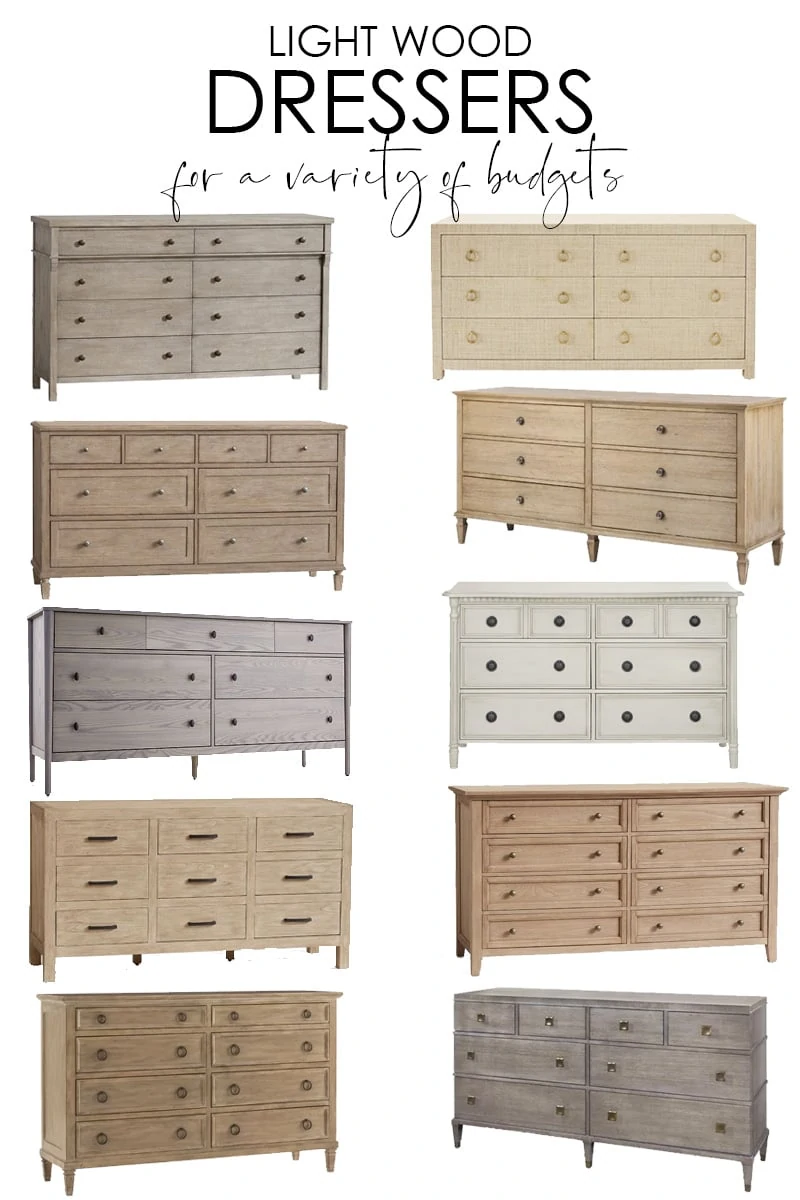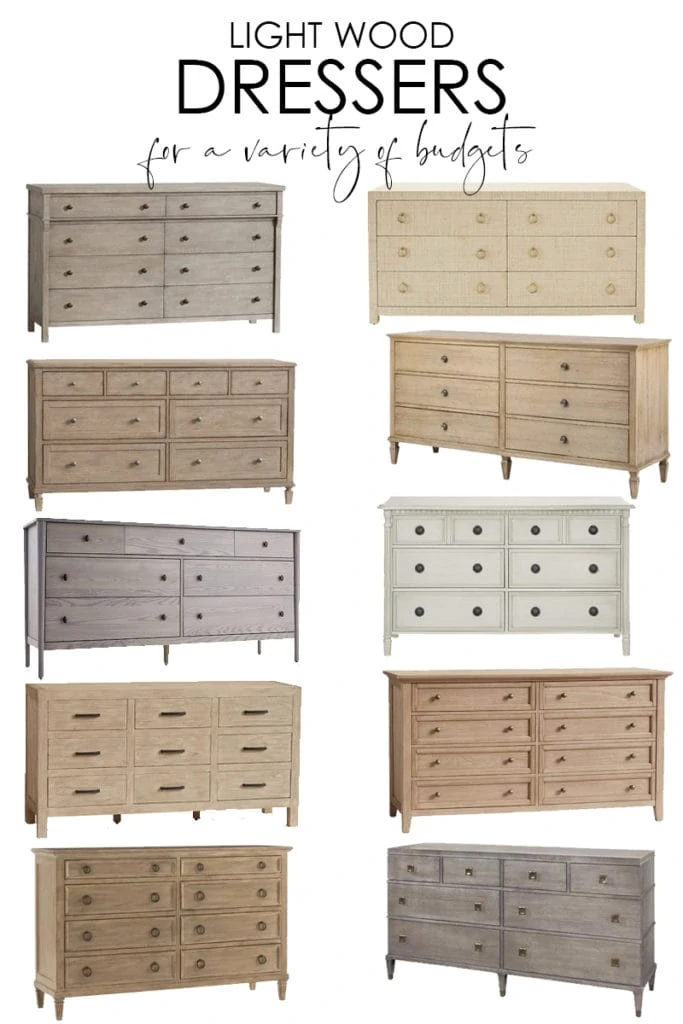 All dressers shown above, as well as many more, are sourced further down in the post.
A few weeks back, I shared our fall & winter project goals. And, as I shared in yesterday's post, I was able to set the wheels in motion to wrap up one DIY project and start another last week! Now that summer is officially over, I'm excited to get started on the list! Today I'm going to share a customized master bedroom update along with some beautiful light wood dresser options I found in my search.
This post contains affiliate links for your shopping convenience. Click here to read my full disclosure policy.
Our Current Dresser & Bedroom Furniture
I mentioned yesterday that I finally bought a new dresser for our bedroom. Up until early this year, I honestly don't think I had even searched for a dresser in nearly a decade. When we did buy our current one, we literally walked into Nebraska Furniture Mart one day and bought it, along with the matching night stands, because it was the only one we could both agree on. They served us well over the years, but hadn't been our style for a long time. The dresser and matching mirror are also much larger and taller than we needed. When I worked on our master bedroom makeover earlier this year, I knew I'd eventually have to address the old dresser but I didn't make it a top priority.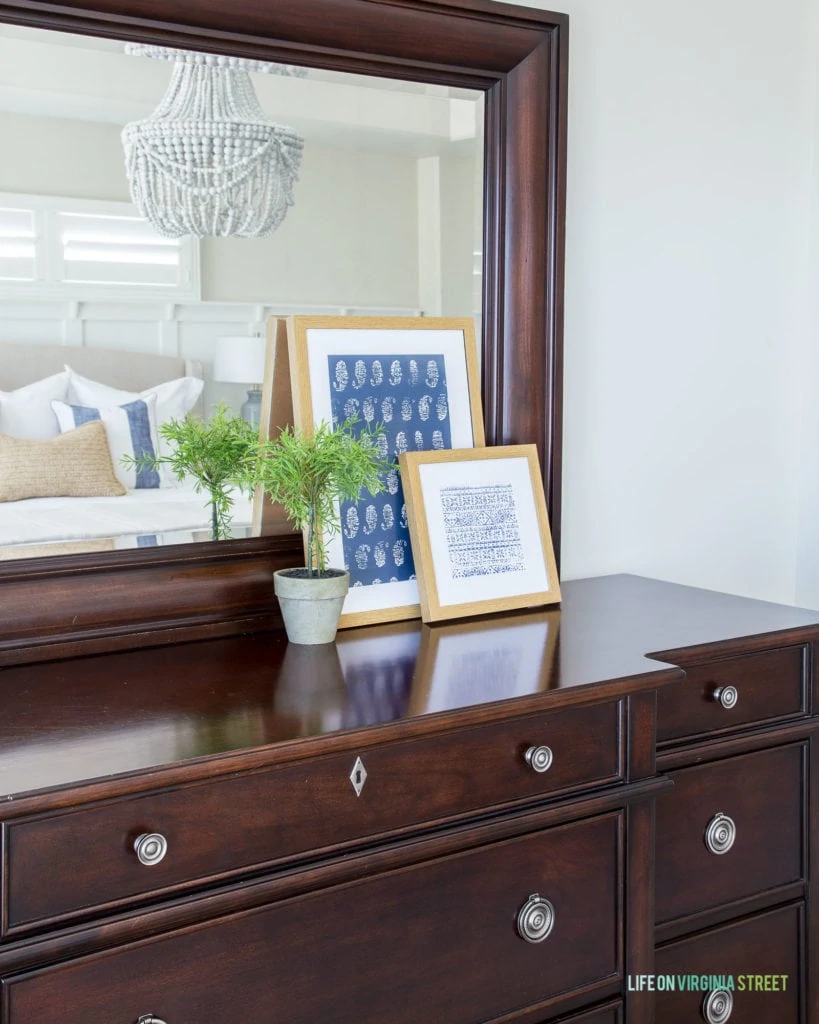 Fast-forward to me being sick inside with allergies for most of August, and I finally sat down to take some time to look for new fresh dresser options! Buying furniture online can be intimidating, but I also love the challenge. I search for reviews, customer photos, anything I can get my hands on! And I think I found some really great options for a variety of budgets!
As a reminder, here is how the remainder of our light and bright master bedroom looks, so you can see what other furniture we have in the space. The dresser wall sits directly opposite this area, across from the far nightstand by the windows.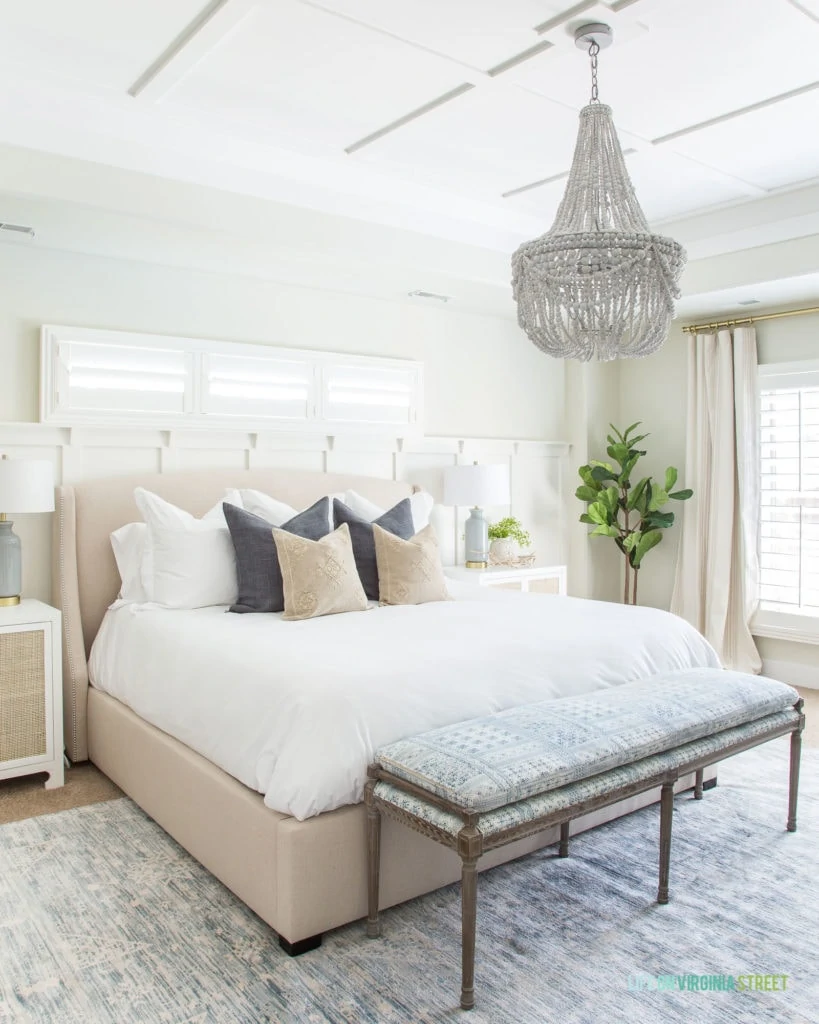 MASTER BEDROOM SOURCES: Similar Bed | Wood Bead Chandelier | Bench | Linen Pillows (color: Gunmetal) | Embroidered Pillows | Striped Curtains | Gold Curtain Rod | Faux Fiddle Leaf Fig Tree | Cane Nightstands | USB Ceramic Lamps | Rug | Decorative Manzanita Branch
Top Light Wood Dresser Picks
We knew we wanted a light wood dresser (or possibly white) that was oriented horizontally versus vertically, based upon the wall we have dedicated for this piece of furniture. We also wanted something that could last us for the next decade, or longer, so it needed to be solid wood, or very sturdy and durable if it wasn't. After a few weeks of searching, following are some of my top wood dresser picks! Simply click any of the images below to learn more about each item.

Our Master Bedroom Dresser Plans
My all-time favorite find was this raffia dresser, but I just couldn't justify the price (even when it's on sale). So, I continued my search, knowing I had to find something that could pair well with our nightstands. In the end, I narrowed down my selection, sent them in a combined image to Kurtis, and asked which was his favorite. It was super scientific 😉 He specifically liked that the top row on this particular one had more drawers to store smaller items, like our current dresser does. It seemed like the perfect option (plus I had PB reward money)!
We ended up purchasing this light wood dresser and I bought this mirror to go above it while they were both on sale last week. When I saw the stock photo below of the two paired together, I didn't even look for another mirror option! I absolutely loved how these look paired together and knew they'd work perfectly in our home! The dresser is from the same collection as the bed in our guest bedroom and I knew I loved the light wood tone and that it's durable and heavy!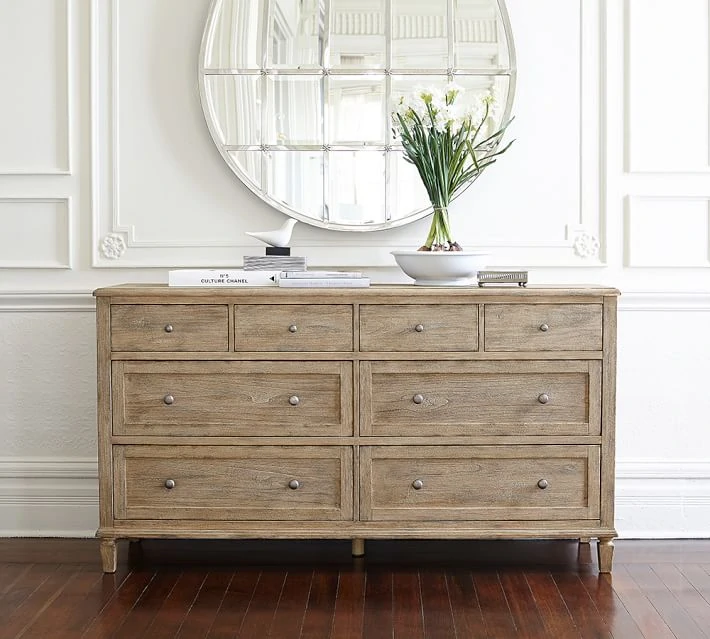 Image via Pottery Barn | Dresser | Mirror
Because I took full advantage of the capped-out freight shipping with Pottery Barn, it's probably going to be two months or so before the new dresser arrives. The other item I ordered (and will share soon) is an upholstery order so those always take longer and they don't deliver until everything is ready. I'll keep you posted!
I'm still on the hunt for the perfect dynamic rug for the space. The one in there currently has just been a placeholder that our friends gave us for free when they moved. Short of that, this room will be 100% done! We're so happy to almost have this entire project crossed off our to-do list!
If you would like to follow along on more of my home decor, DIY, lifestyle, travel and other posts, I'd love to have you follow me on any of the following:
Pinterest | Instagram | Facebook | Twitter 
disclosure: some affiliate links used