I think our home office may be our longest-running project to date. That's partly because I'm indecisive on final selections, but also because our needs have changed quite a bit in the last two years. In my last home office update, I go into a lot more details, so I'll avoid being redundant. But essentially, after I got a bid for built-in cabinets in our home office, I felt de-railed again. Now, half a year later, I'm circling back on that with some alternatives to built-in cabinets, as well as what we ultimately decided to do.
This post contains affiliate links for your shopping convenience. You can read my full disclosure policy here.
Again, I'm not going to rehash everything I shared in this post, but it's a good one to check out if you missed it previously. I'm also not going to address anything about Kurtis' home office for his day job today, as that's a post for another day. Today I'll be sharing some alternatives to the built-in cabinets we really wanted in our shared home office that we use for our three businesses.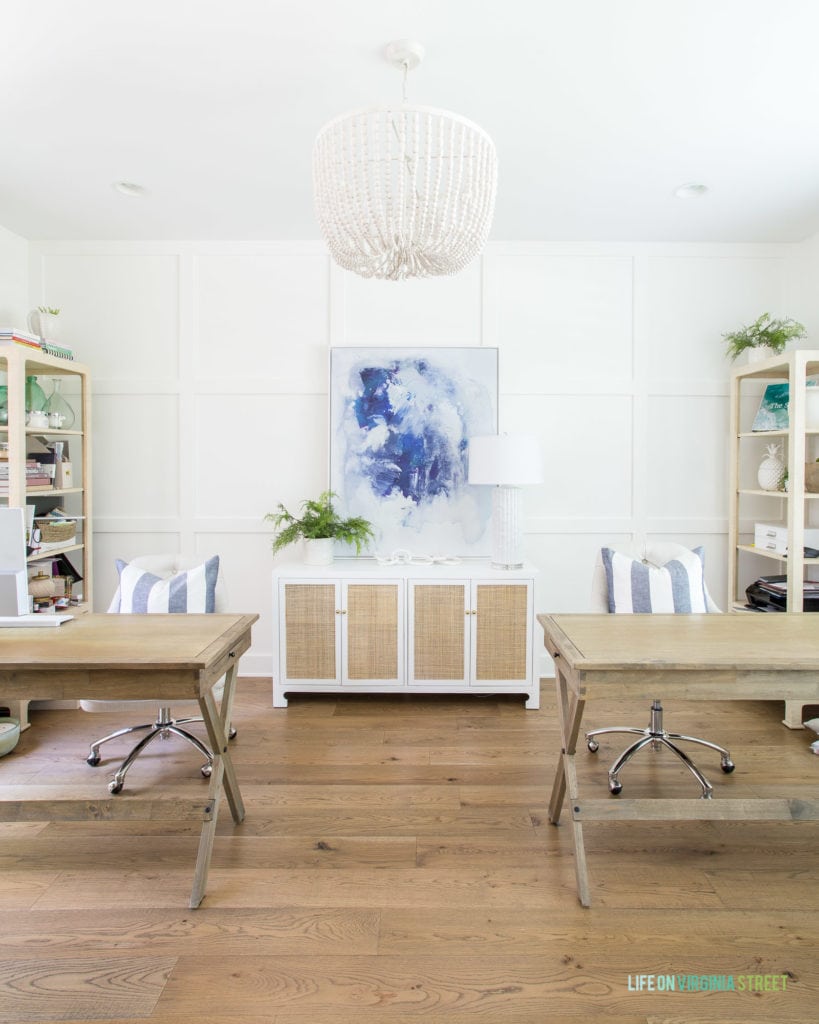 HOME OFFICE SOURCES:  Cane Cabinet | Wood Desks | Linen Chairs | Striped Pillows | Striped Curtains | Bookcases | White Wood Bead Chandelier | Similar Desk Lamps | Faux Fern Pots | Abstract Art | Marble Chain | White Bamboo Lamp – HomeGoods (old)
Home Office Built-In Cabinet Dreams
Last summer, I decided that built-in cabinets would solve many of our needs in our shared home office. I called a contractor, met with two designers, and went through two iterations of designs, and came up with something I absolutely loved and would fit all my storage needs. The only issue is, the bid came back in nearly double what they initially thought it would be. So, needless to say, I didn't move forward. Even if we cut a bunch of the storage, I still wasn't convinced we could get it anywhere near the original bid they thought they could achieve. And quite honestly, I wouldn't be surprised if those prices have gone up another 10% minimum since last summer.
Here's the rendering from my dream built-in cabinets that we finally came up with. It was designed to store everything for all of our businesses, including all my photography equipment, package arrivals, scanner, printer, tax paperwork, and so much more.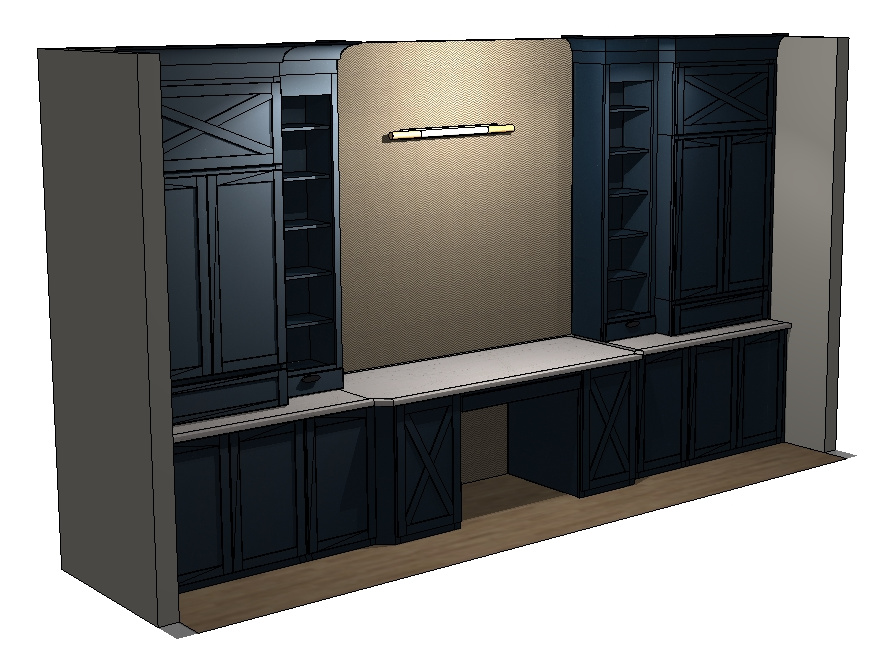 In addition to the cost, Kurtis didn't like the fact that I'd be moving him to the "wall desk" for the hour or two he sits with me each morning. I had been hoping to simplify the space by having him sit there, and then just have a floating desk in the middle for me. So, it was back to the drawing board!
Home Office Alternatives to Built-In Cabinets
After doing a lot of research and getting ideas from many of you, I thought I'd share a list of alternatives to built-in cabinets for home offices! We explored several of these and ultimately decided on one that best fit our needs as well as evaluating time requirements and supply chain delays.
Build our own cabinets
Explore IKEA cabinet systems
Purchase unfinished cabinets from Lowe's or Home Depot
A pair of matching cabinets pushed side-by-side to create credenza-like storage
Purchases pre-built office suites
Utilize pre-made entertainment centers
The Non-Custom Cabinet Option We Chose
We ultimately decided that due to time constraints with other projects, it made the most sense for us to explore pre-made office suites and entertainment centers from various retailers. In talking through it more with Kurtis, and him resisting the "wall desk", the entertainment center route actually made the most sense! Especially since I didn't want a true wall of cabinets – I wanted space left for art in the middle. I also like that most of the options from various retailers are modular, meaning you can mix and match to create a semi-custom look that best fits your needs. I also love that if we ever move, we can take them with us!
I casually perused sites over the past six months but never really found anything I truly loved. But, knowing that if I didn't make a decision, we'd be out another year, and I was needing some storage solutions immediately. Throw in shipping delays, and I finally dedicated a full morning to finding something a few weeks back. And, the order has been placed!
Here's a few rough mock-ups I did along the way to help me visualize what look I really liked best in the space. I have a tutorial on how to make design boards if you think it's something you'd also find helpful! I'm using the rug we already own in all of them, but we may need to go down to two smaller rugs to accommodate the new cabinets. I won't bore you with every single iteration I made to the design, so here were the top three contenders!
CABINET OPTION #1
I was first immediately drawn to this 3-piece entertainment set paired with these bookcases (left and right versions available). I loved that it was one of the taller options I found, included built-in lighting, and had a more custom look and feel with the staggered height and depth. I didn't love that there weren't any drawers.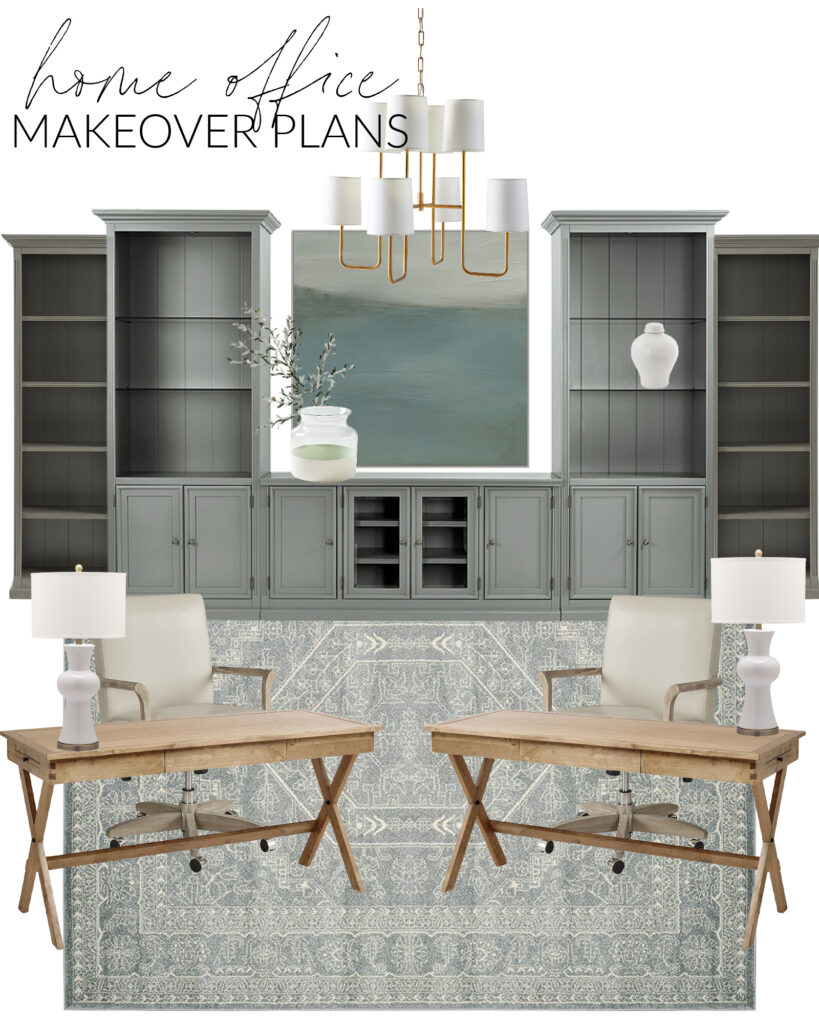 SOURCES: 3-Piece Entertainment Center | Right Bookcase | Left Bookcase | Chandelier | Abstract Art | Rug | Leather Office Chairs | Desks | Lamps | Colorblock Vase | Olive Stem | White Ceramic Cachepot
CABINET OPTION #2
I love the look of a moody office, but I've tried them several times, and find I don't love them long-term with as much time as I spend in mine. So, I also wanted to try a lighter option. It's really hard to find ones that fit the configuration we were looking for! I hate styling shelves and seeing clutter, so I searched for as many options as I could find that limited open shelving.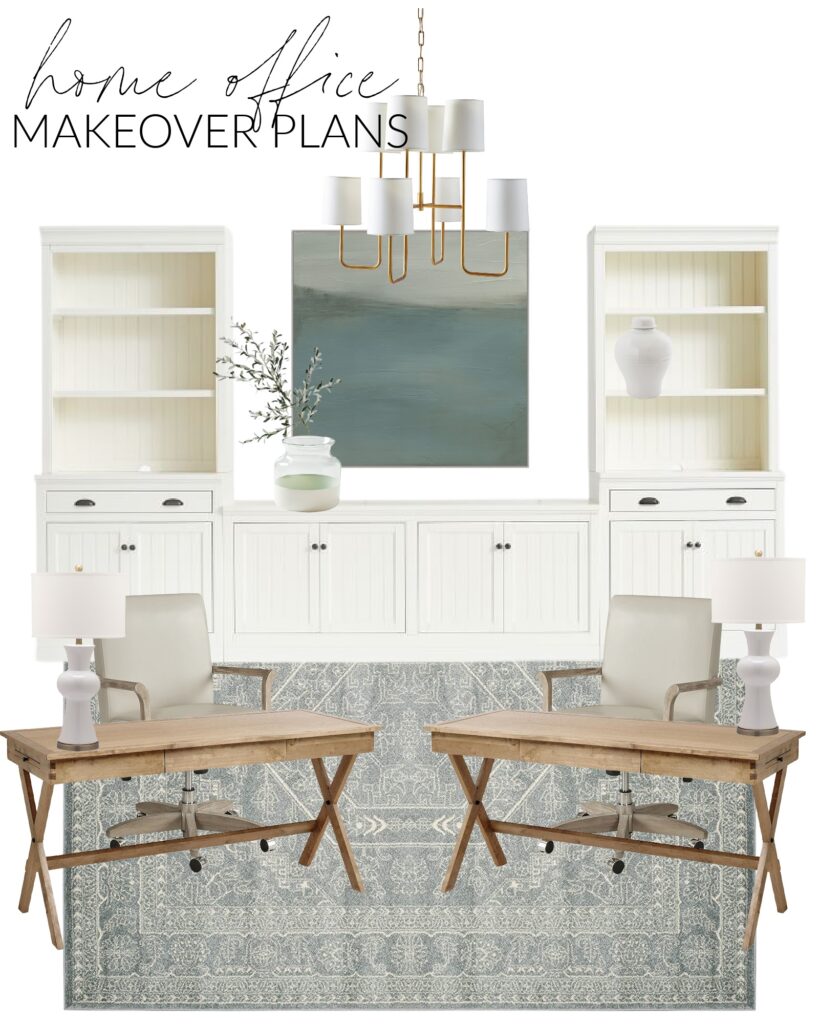 SOURCES: 5-Piece Entertainment Center | Chandelier | Abstract Art | Rug | Leather Office Chairs | Desks | Lamps | Colorblock Vase | Olive Stem | White Ceramic Cachepot
CABINET OPTION #3
At the end of the day, I wasn't comfortable ordering the gray set without having seen it in person. It also had more open shelves than I wanted, and it was also the most expensive option.
We finally ended up with this configuration using this piece (the smaller version of the one above) and two of this piece to maximize as much of the wall as possible. And although they're still not what I would consider super affordable, they're about 25% of the bid I got for the custom built-ins. I wish I were kidding – the built-ins were 4x more expensive! We're excited to have a combination of open shelving, lateral file storage, areas to store my camera equipment, drawers for supplies, printer/scanner space, etc. It fit all of our wish list needs!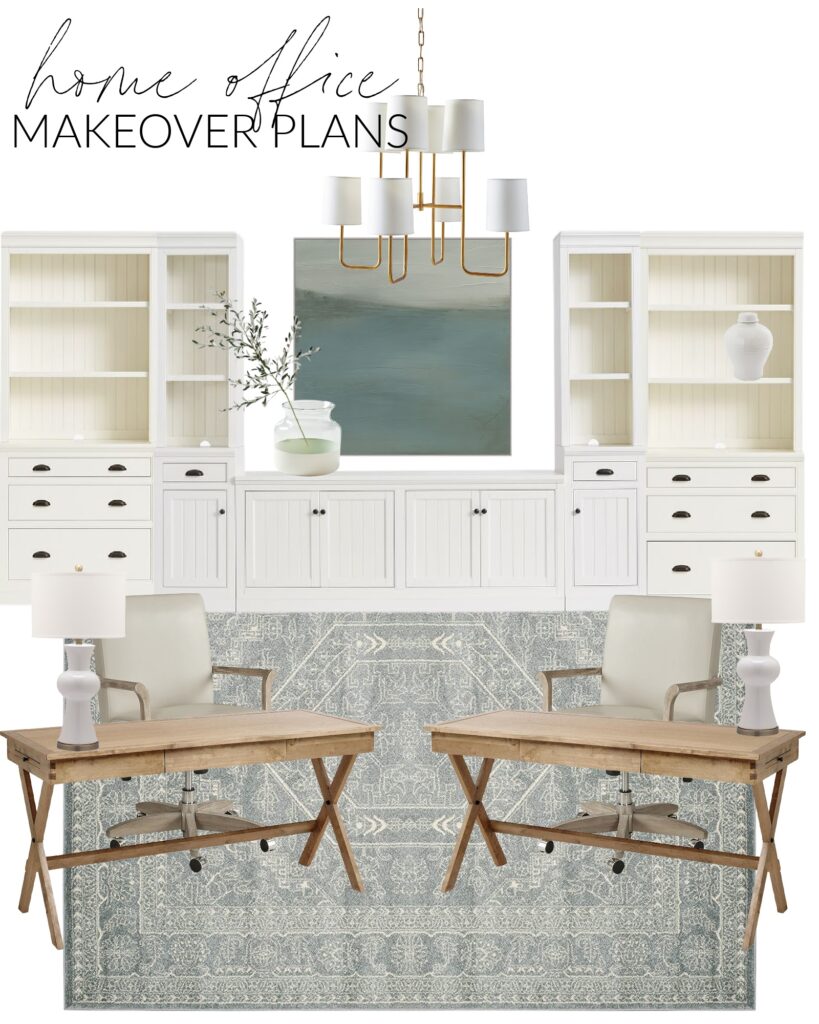 SOURCES: 5-Piece Entertainment Center | Lateral File Cabinet Bookcases | Chandelier | Abstract Art | Rug | Leather Office Chairs | Desks | Lamps | Colorblock Vase | Olive Stem | White Ceramic Cachepot
The set likely won't be delivered until late April or early May. Which realistically is probably one of the quickest options of any listed above. We're so excited to get this system in place and be able to use something other than a coat closet for most of our storage needs!
And a fun little bonus? I'll be able to move the cane cabinet up to the landing at the top of the our stairs where we were needing a new cabinet for our wi-fi storage. You can see more about that in our 2022 Home Goals post. That certainly factored in to our decision knowing we wouldn't also need to buy a console table or storage cabinet! I love being able to cross two items off my list this early in the year – especially since the wi-fi station has been on the list for 5+ years!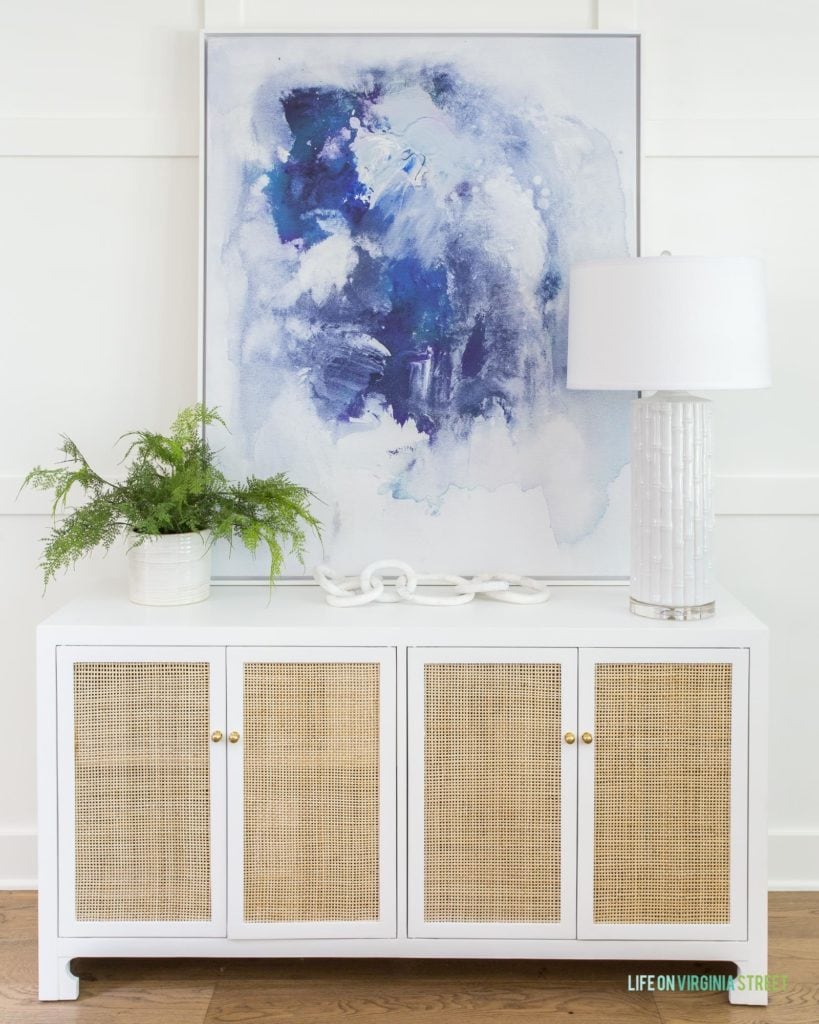 HOME OFFICE SOURCES:  Cane Cabinet | Faux Fern Pot | Abstract Art | Marble Chain | White Bamboo Lamp – HomeGoods (old)
We've also since hung up a new chandelier in the space. Since we knew we'd be keeping the room fairly light, the old white bead chandelier was getting lost after we painted the walls. I was also wanting something a bit more formal and traditional feeling since we'd be adding more cabinets. The warm gold color warms up the space and really pops against the white walls! We're already loving it! Also, ignore the styling on the cabinet for now (along with the paper towel book mark). This was mid-putting-things-away 😉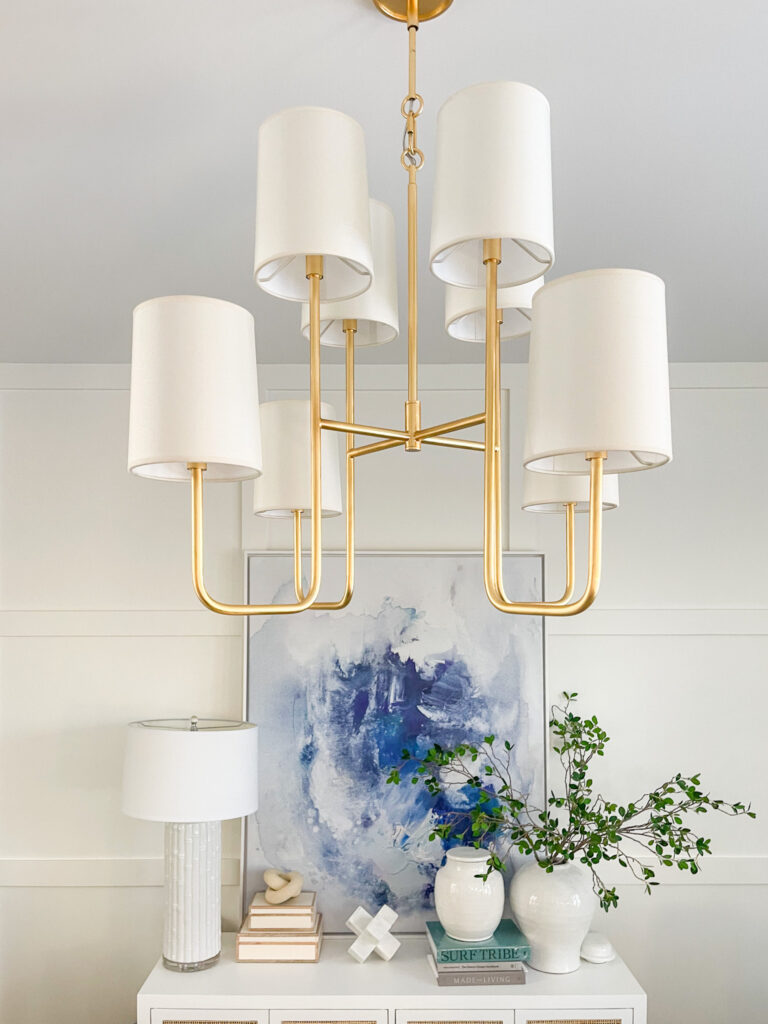 SOURCES: Chandelier | Faux Greenery Stems | Tall Urn | Smaller Urn | Abstract Art | Cane Cabinet | 'Surf Tribe' Book | 'Made For Living' Book | Marble Jack | Limestone Knot | Wood-Trimmed Boxes | White Bamboo Lamp – HomeGoods (old)
Stay tuned for the rest of our changes! It feels good to finally have a plan in place to get this room finished and much more functional!
Additional Home Office Ideas
If you're looking for even more home office ideas, be sure to check out the following posts. You can click on any of the post titles below to be taken directly to the article. Clearly I've shared a lot on this topic in the past 😉
If you would like to follow along on more of my home decor, DIY, lifestyle, travel and other posts, I'd love to have you follow me on any of the below channels: