Sharing my top tips for working from home, and how to be more productive while doing so!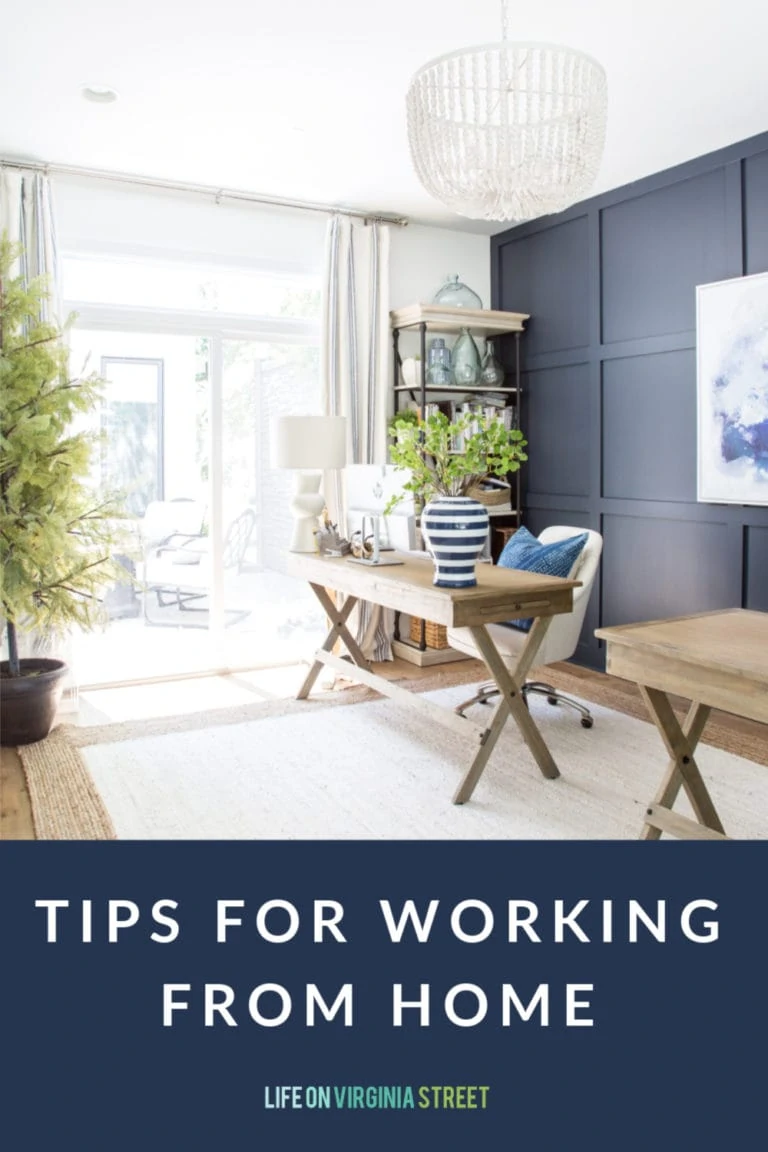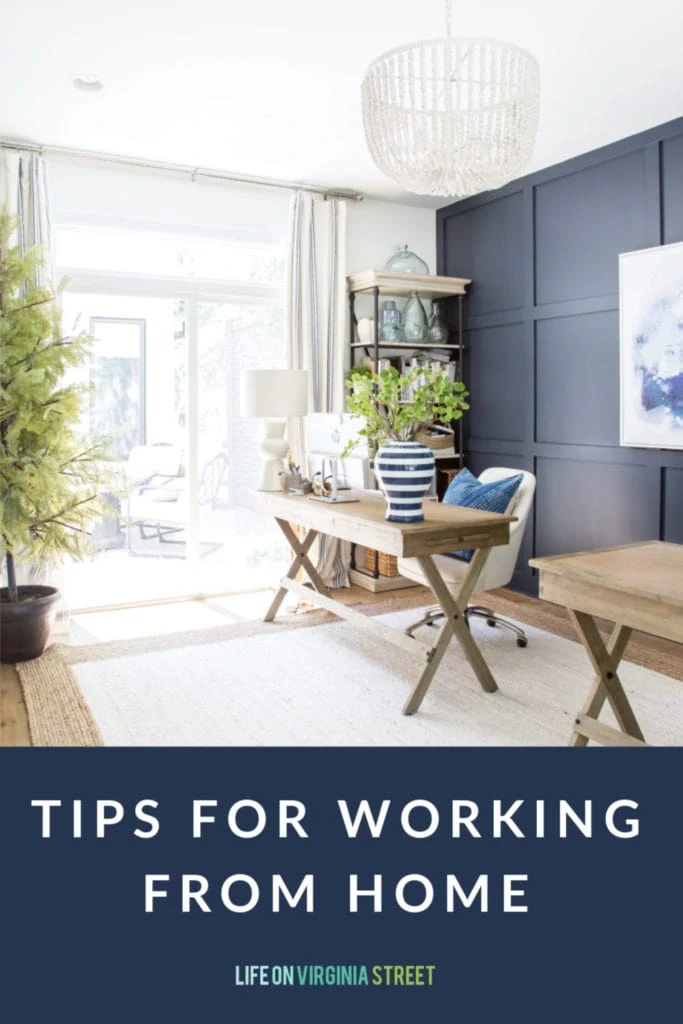 As someone who has made the transition from a corporate office job to a work from home job, I know the adjustment can be challenging. Add in all of the uncertainty with everything going on in the world today, and the combination isn't setting most people up for success on day one. It actually took me months to figure out how to be most effective working from home. And I know many of you don't have that time, as you may have been thrown into the situation rather quickly. So today, I wanted to share all of my best tips for working from home in hopes it may help ease you into this transition period a bit more easily!
This post contains affiliate links for your shopping convenience. Click here to read my full disclosure policy.
Have a Dedicated Work Space
If possible, have a dedicated work space. That doesn't mean you have to have a dedicated home office. Find a solid surface for your computer or laptop and work from there. For some, that's working from the kitchen counter, dining room table, a guest bedroom, or a corner in your bedroom. I also have a post with some simple home office desk ideas if you're on the hunt for one. But, I'd recommend not trying to work with a laptop on your lap in bed or from the couch. Having a dedicated, solid surface is key for focus and productivity!
Take Time to Write Out A Schedule
This one may be job dependent and task related. However, it's important to take time to write out a daily schedule and then be sure to implement it. I usually like to work in time blocks and then try to stay hyper focused during those windows. Each block is typically thirty minutes or an hour, but that then allows time for bathroom or snack breaks, even if the task doesn't require the full block. Every Monday morning, I also take about 15-30 minutes to fill out my weekly calendar with all the major tasks I need to complete for the week, daily appointments, etc. It helps me to get it on paper, out of my head, and is satisfying when I get to cross items off!
Most days, I typically have about five hours of desk work, and then the rest of the day I'm working on projects, taking photos, etc. I prefer to wake up and begin working immediately at my desk, cup of coffee in hand, usually by 5:30 or 6:00 am. I find these are my most productive hours, so I spend that time writing, answering emails, researching, working on SEO, etc. Since I tend to be less productive in the afternoon, I love to have most of my desk work and more critical tasks completed by 11 am, and then focus on the more creative side of things. Know when you're most productive and have the most mental clarity, and plan to handle your most important tasks in that time frame! This also may mean working around your kids' schedules if they're home with you. Carve out focused work time during their naps, online education time, before they wake up or after they go to bed at night!
The Housework Discussion
Because there is a lot more freedom and flexibility in working from home, it can be easy to get distracted by the housework piling up. Adding specific housework to your schedule is critical so it doesn't take over your life and working hours. If you want to tackle laundry one day, be sure to write it into your schedule and not allow it to take over your day. If you like to have your kitchen cleaned every day, set a time block on your scheduled every day to tackle it. If you walk your dog daily at the same time, schedule that in. Otherwise, it will suddenly be noon, and you haven't accomplished any work work. Housework is obviously important too, but you can't allow it to take over your day!
Not only that, I want to make it clear that working from home does not mean your house will always be clean simply because you'll "have so much time" to work on it. That's 100% false, and you need to lower your expectations in this area in order to work at home successfully. Just because you have time to throw in a load of laundry, does not mean you'll have time to always have a spotless house. Dishes will pile up, floors will get dirty, clutter will accumulate – and maybe even more so than in the past since you're home more now. When you're working, you can't also focus 100% of your attention on housework – and that's okay!
Schedule Breaks If Needed
If you need a break, take it! Much like at the office, it's nearly impossible to sit at your desk for eight hours straight each day, so it's good to break things up a bit. This may mean stepping outside for a few minutes for some fresh air, or making another cup of coffee. But just remember to get back on schedule and be mindful of your time away from your desk. You don't want to have to work until bedtime because you took so many breaks throughout the day!
Keep A Tidy Work Space
Keep desktop clutter to a minimum. It may feel cute to decorate your desk space, but the less visual distractions you have, the better for your overall productivity! After a day or two of using your new workspace, make a list of things that could make it function even better. Maybe that's having a pen and highlighters handy, or a phone charger nearby. Start with the basics and go from there! If you don't use it daily, put it away and only take it out when it's needed!
Limit Distractions
In many ways, keeping a tidy work space helps with this point. However, it is also important to limit distracting sounds. I know a lot of people that work from home with the TV on. But I can pretty much guarantee it does zero to help with their productivity. Work may be more enjoyable, yes, but certainly not more productive.
Additionally, if your home currently has a lot of background noise (from kids, a spouse on conference calls, etc.), it may be worth investing in some sound canceling headphones. My Airpods have been my saving grace now that Kurtis is working from home. Another option is to play music that will help your brain focus (without singing is preferred). I've also found that it's important to set my phone on silent, and turn the screen over so I'm not tempted to look at it every time the screen lights up.
I've also had a lot of luck with these timer cubes to accomplish tasks. Could I set a timer on my phone? Absolutely. But, I also know that if I open my phone, I easily get distracted and feel the need to check Instagram, Facebook, you name it! With the timer cube, I decide to tackle a task, flip the cube to the dedicated time amount, and work on nothing else until the timer goes off. It seems super basic and a bit odd, but I know when my timer is running, I have to buckle down and focus and crank out whatever task I'm supposed to work on. I don't use the timer for everything throughout my day. Mostly just those tasks I hate doing, because I'll find a distraction (intentionally) otherwise! I feel like the price has spiked on them, so you could easily use a kitchen timer or something else to do the trick. Just don't use your phone!
Get Dressed
If you're having a hard time getting in a work mindset, try showering and getting dressed for the day first. For some people, this part of their routine needs to continue. For others, they're fine rolling out of bed in pajamas and getting right to it (I'm one of those people). See what works best for you and go from there!
Stay Connected & Social
In this period of social distancing, that doesn't mean we can't be social. Take time to chat with co-workers, your boss or others in your industry. It's important to still communicate verbally with one another, as so much can get lost in translation in text form. If you have an important meeting, see if you can do it via Zoom or some other method where you can actually see each other's faces! Kurtis also loves Microsoft Teams in the corporate world because the screen will focus on who is speaking at the moment, and it's much easier remain attentive!
Staying social and connected can also help dramatically with the feeling of isolation that comes along with working from home. When I left corporate America, that was one of the biggest challenges for me! It's can be a huge adjustment if you don't talk to anyone at all throughout the day! If you work for yourself, find others in a similar situation that you can talk with generally about business. It's so important to stay connected, even at a distance!
Know When It's Time To Quit
This doesn't mean throwing in the towel and quit working from home entirely. This means knowing that when 5:30 rolls around (or whatever you deem to be quitting time), you disconnect from work. Take time to spend with your family or on some "me" time. One of the challenges of working from home is that there isn't always a clear boundary around these distinct time periods, and you need to make an effort to separate the two! Time away from work is so important, and it will help you be that much more productive when you are within working hours! If you're looking for some ideas, be sure to also check out my post on 50 things to do when bored at home!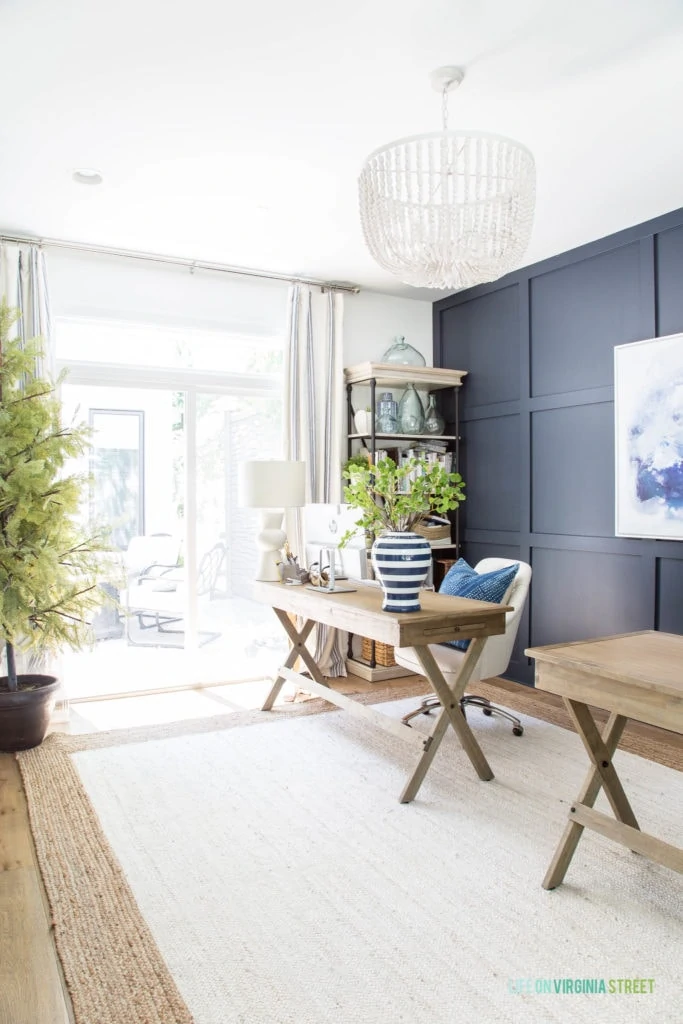 OFFICE SOURCES: Wood Desks | Linen Office Chairs | Blue Dyed Pillows | Jute Rug | Striped Curtains | Bookcase | White Wood Bead Chandelier | Similar Lamps | Faux Ginkgo Stems | Similar Vase | Abstract Art | Faux Cypress Tree (sold out)
I personally love working from home now and all the flexibility it can provide. However, I didn't always feel that way. At the end of the day, you need to give yourself some grace. If you're not used to working from home, it can be a major adjustment! Just know that you're trying your best and working through this new "normal"!
I hope you found these tips helpful! If you've found any other methods and routines that work well for you, I'd love to hear!
If you would like to follow along on more of my home decor, DIY, lifestyle, travel and other posts, I'd love to have you follow me on any of the following:
Pinterest | Instagram | Facebook | Twitter
disclosure: some affiliate links used