Sharing a collection of stylish daybeds with trundles that help save on space while providing extra beds for sleeping!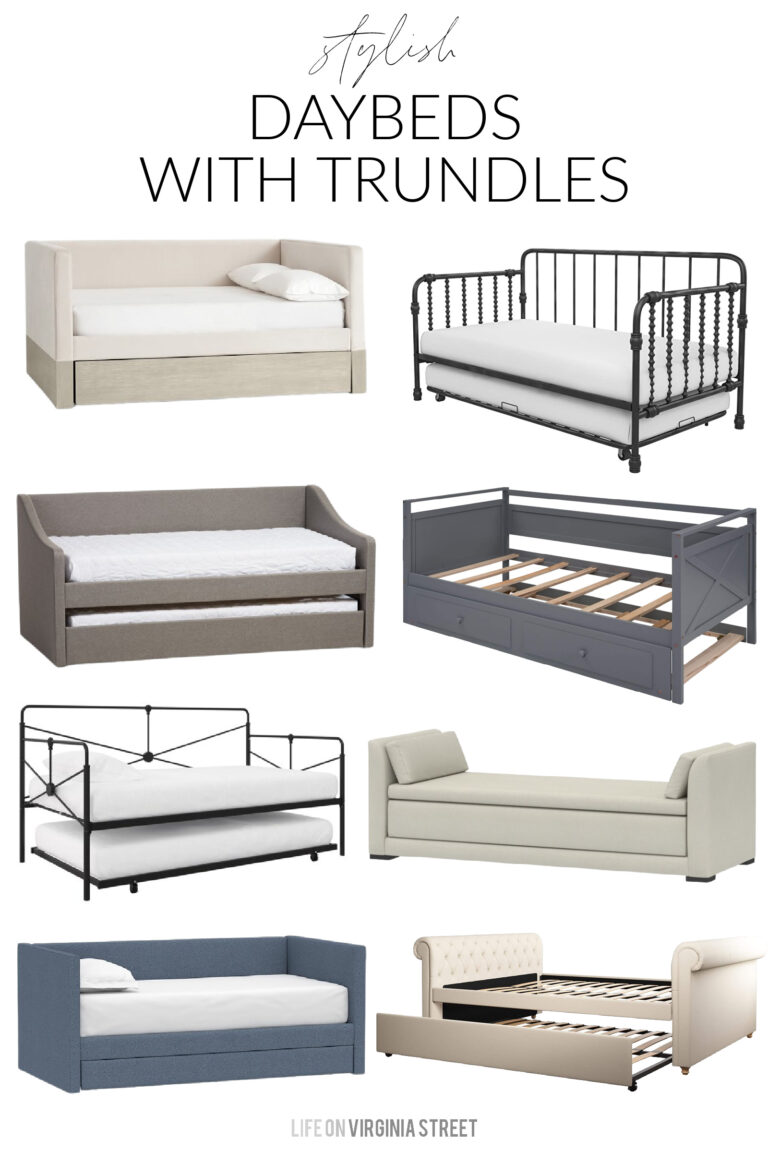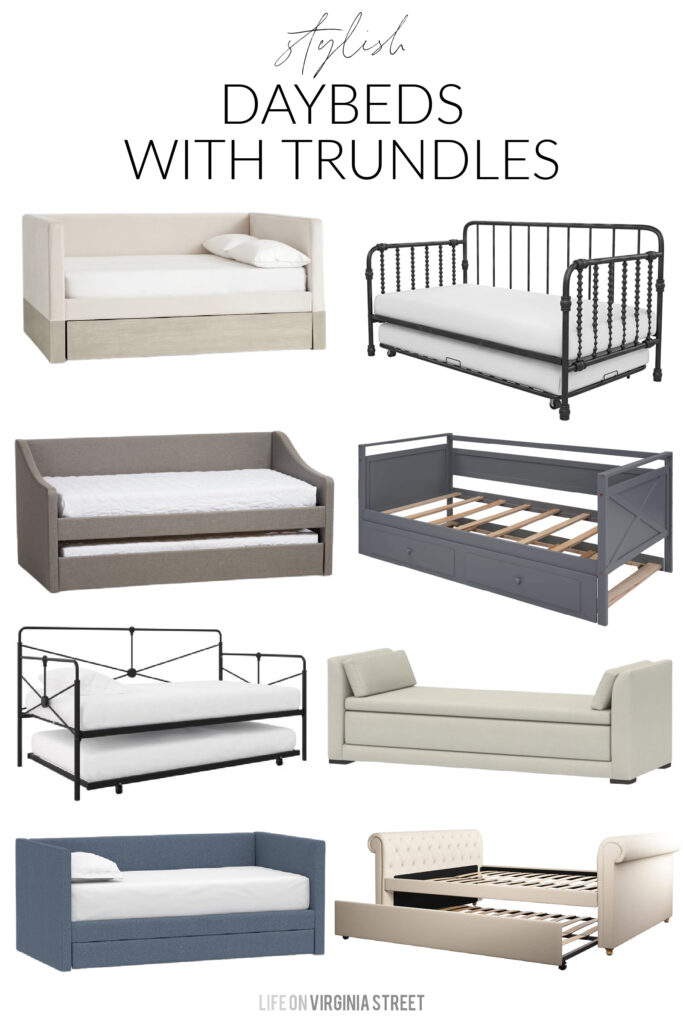 This post contains affiliate links for your shopping convenience. You can read my full disclosure policy here.
Home Office Ideas for Kurtis
Last month, I shared some home office ideas for both Kurtis' and my spaces, and some changes we needed to make. Now that Kurtis is working from home full-time, the "temporary" set-up we had created for him nearly 22 months ago wasn't cutting it. Prior to the lockdown, he had been home for hip surgery for a few months and had only returned to work for about two weeks when his company sent everyone home. Now that that temporary situation is more permanent, I shared some of the challenges we were facing in giving him a dedicated home office separate from mine. You can read more about all of that here.
With the renovation of our small guest bathroom, Kurtis really wanted to stay in this guest bedroom if possible. It's the smaller of the two bedroom, which means it is only used when it's a full house. The challenge with the space is that their are two doors on the left side of the bed (one that even swings outwards so we can't use a nightstand). Then on the wall opposite the bed where you walk in, we have the door, and then a weird just on the wall. And, as you can see in the image below, the wall opposite the row of doors has this odd window that drops so low to the ground, we can't set furniture against it.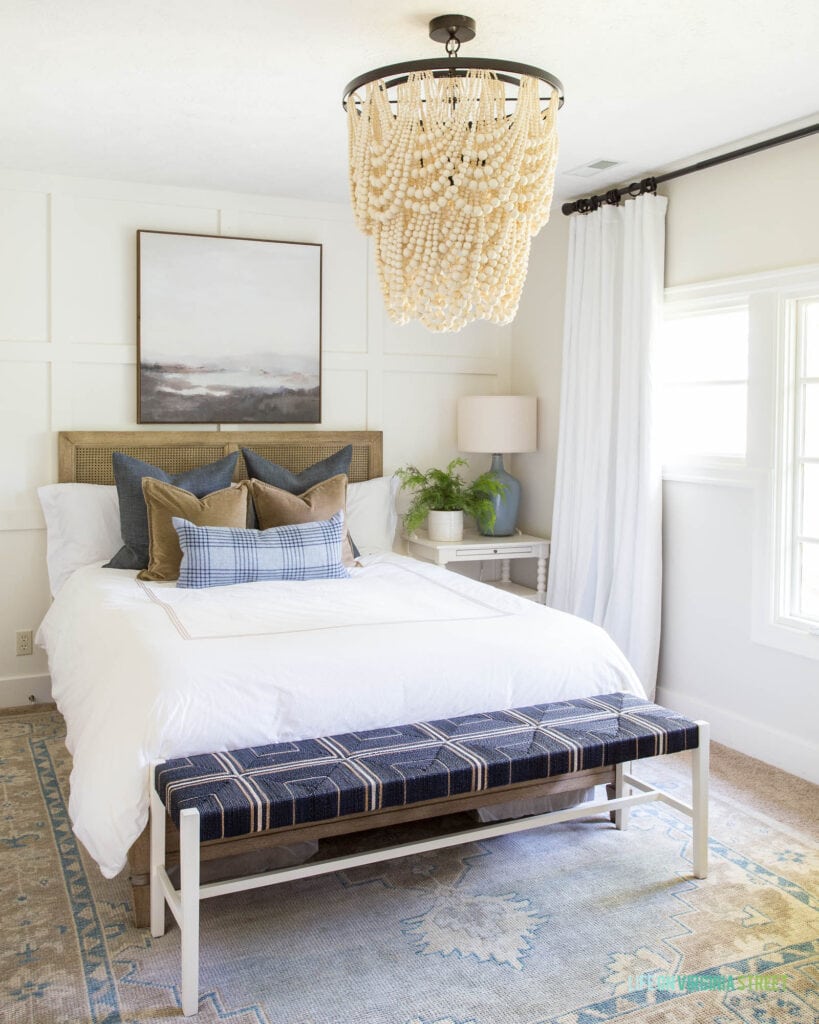 GUEST BEDROOM SOURCES: Wood Cane Bed | Hand-Knotted Rug | Bead Chandelier | Abstract Art | Spindle Nightstand | Belgian Linen Drapes | Iron Curtain Rod | Iron Finials | Iron Curtain Ring Clips | Woven Bench | Linen Pillows | Velvet Pillows | Plaid Lumbar Pillow | Ceramic Lamp | Faux Fern | Hotel Style Duvet Cover
But, I think we finally have a solution! Many of you suggested looking into Murphy beds, so we started there. Unfortunately with the shape of the room and the door locations, and some weird angles on one wall, we realized pretty quickly it wasn't going to work. But, it got our wheels spinning as we looked for more space-saving bedroom ideas!
Since we need this space for guests so infrequently, we realized a space-saving bed may be the best route. I then started to look at daybeds with trundles as a solution. They've come a long ways since years past! Many looking like sofas or other permanent furniture fixtures when not in use. It seems like a great option for this space! Especially since it can still sleep two people, unlike other small bed options. With a daybed, Kurtis would then also have space to float his desk a bit more to provide extra leg room and not be smashed up against the wall. So, the search for the perfect daybed with a trundle began!
Daybeds with Trundles
Funny enough, I think the first daybed with a trundle that I stumbled upon will be the winner, but I haven't ordered anything yet. Many I saw definitely fell more into "kid" territory, but I still found quite a few chic options that works just as well for adults! Following are even more daybeds with trundles I came across and liked as I continued my search.

So, what are your thoughts? Do you think the daybed/trundle solution could work?
If you would like to follow along on more of my home decor, DIY, lifestyle, travel and other posts, I'd love to have you follow me on any of the following:
Pinterest | Instagram | Facebook | LTK
disclosure: some affiliate links used