Sharing some home office progress and updates as well as a collection of affordable neutral rugs! Each of these options have a bit of color but still work as a neutral element in your room design.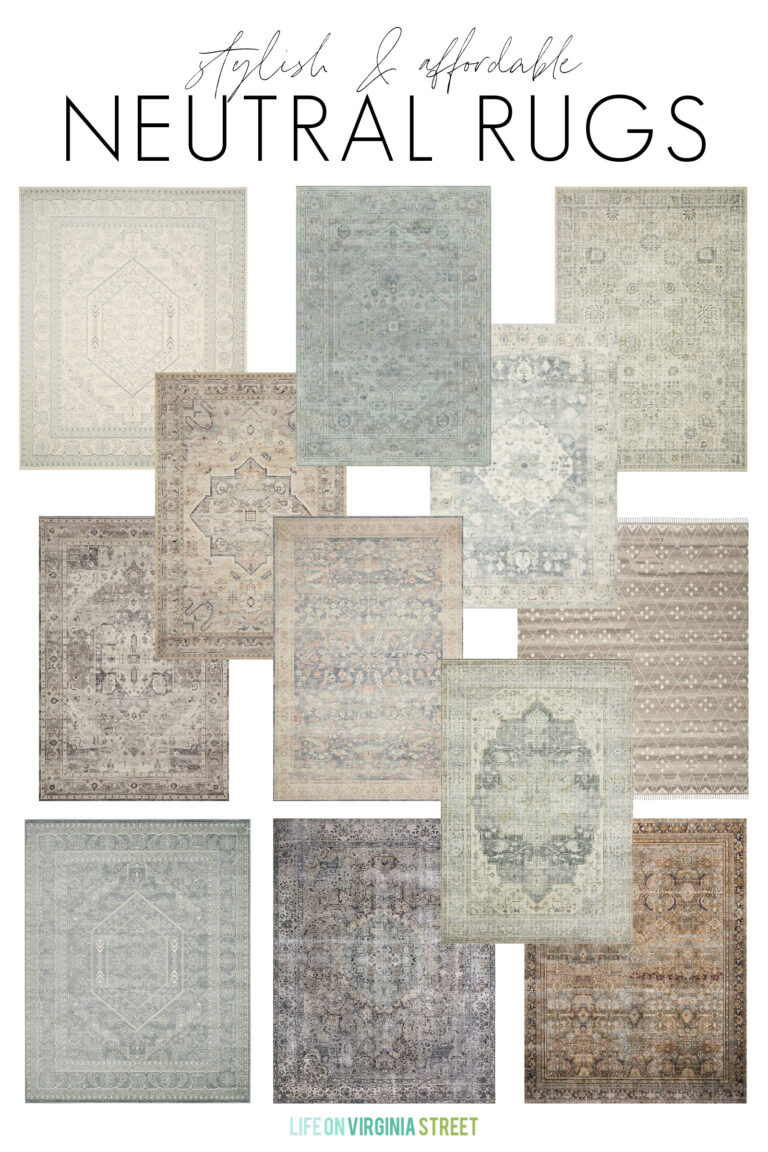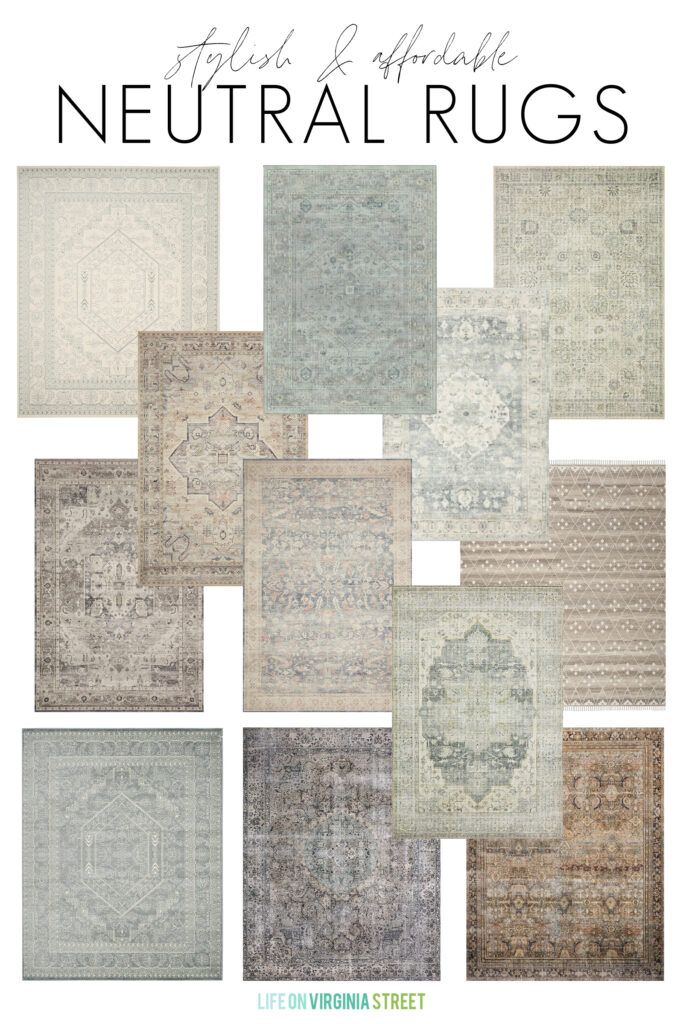 Back in January, I shared my home office design board and plans. Then we did some travel, the pandemic hit and the project basically stalled. And, since I don't love working on projects during the summer months, I haven't made tons of progress since. But, with fall quickly approaching, I knew I needed to get the ball rolling on this one. So today I'm sharing my office progress as well as some affordable neutral rugs!
This post contains affiliate links for your shopping convenience. Click here to read my full disclosure policy.
Before we jump into it, I wanted to remind you the Nordstrom Anniversary Sale starts today for select cardholders. But access will continue to open up over the next week and a half or so! You can see my initial top picks if you're wanting to get started adding items to your 'Wish List' to make checkout easy wants you have access to the sale! Now, on to today's post!
Home Office Progress
Over the spring months, I painted the board and batten wall in Benjamin Moore Simply White. I know a lot of you loved the Hale Navy but Kurtis and I were both ready for a change. In my home office design board and plans, I mentioned I wanted to go down the path of finding a pretty mid-tone blue gray to change it up a bit. But, the prior Hale Navy was making it difficult for me to choose a blue gray color I loved. So, since I only had the Simply White at home when things were shut down, I went with it. It's actually the color we have on the other three walls in the room, so it worked and has provided a good blank slate for the summer months until I figure out the final color. Here's how it looked in our summer home tour. The white actually makes the room feel so much bigger now! But the space is far from finished.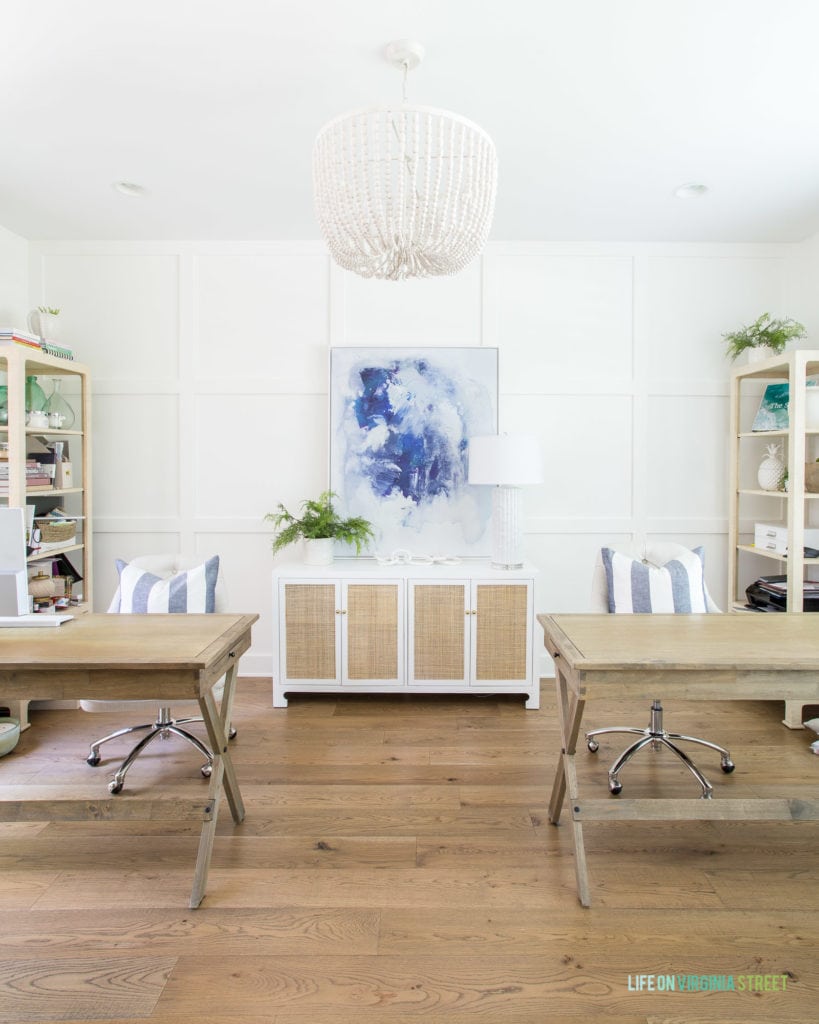 HOME OFFICE SOURCES:  Cane Cabinet | Wood Desks | Linen Chairs | Striped Pillows | Striped Curtains | Bookcases | White Wood Bead Chandelier | Similar Desk Lamps | Faux Fern Pots | Abstract Art | Marble Chain | White Bamboo Lamp – HomeGoods (old)
Affordable Neutral Rugs
So, as I started thinking about tackling this space again, I decided to prioritize what I focus on. It's become apparent over the past six months or so that we really need to get a rug back down on the floors. It was always recommended I have one from the flooring company thanks to our rolling chairs. Not only that, in the fall and winter months, our office always feels so cold with the walls of windows/doors. I know a rug could also help add some warmth back when it's needed. I knew I wanted a rug that had a bit of personality, but also "reads" as a neutral in the room, even with some color. But I also knew that, based on our last rug selection in here, it couldn't be jute and needed to be able to sustain our chairs rolling on it.
So, over the past week or so, I tried to find an affordable neutral rug I loved that had good reviews and a look I liked. This became a challenge since we needed either a 9×12 or 10×14. I actually hate rug shopping. I find myself with decision paralysis every time I start looking for a rug! But, I was able to find some really great options! Here are a few of my favorite affordable rugs I found in my search. Click any of the images below to learn more about each of the items shown. Please note that some of these are under the same listing so you'll have to click the various color offerings to see all the options!

Updated Office Design Board with My Rug Selection
I ultimately decided on this rug in the slate/ivory colorway. I think it will be a really beautiful option, and although it's a color, I think it will still act like a neutral in the room. Here is an updated design board I put together of the space with the rug in there. If you're ever wanting to make you own, see my tutorial on How To Make a Mood Board for Interior Design or Fashion Collages. The rug should be arriving today or tomorrow so I can't wait to see in person! But, I love that the reviews had so many "real life" photos to help me make my decision! I still need to figure out what I want to do for art, pillows, a possible new paint color, etc. so it's a bit bland right now. As you can see I'm also contemplating a light fixture swap. I'll keep you posted as I make more decisions! This may be the world's longest room makeover ever! 😉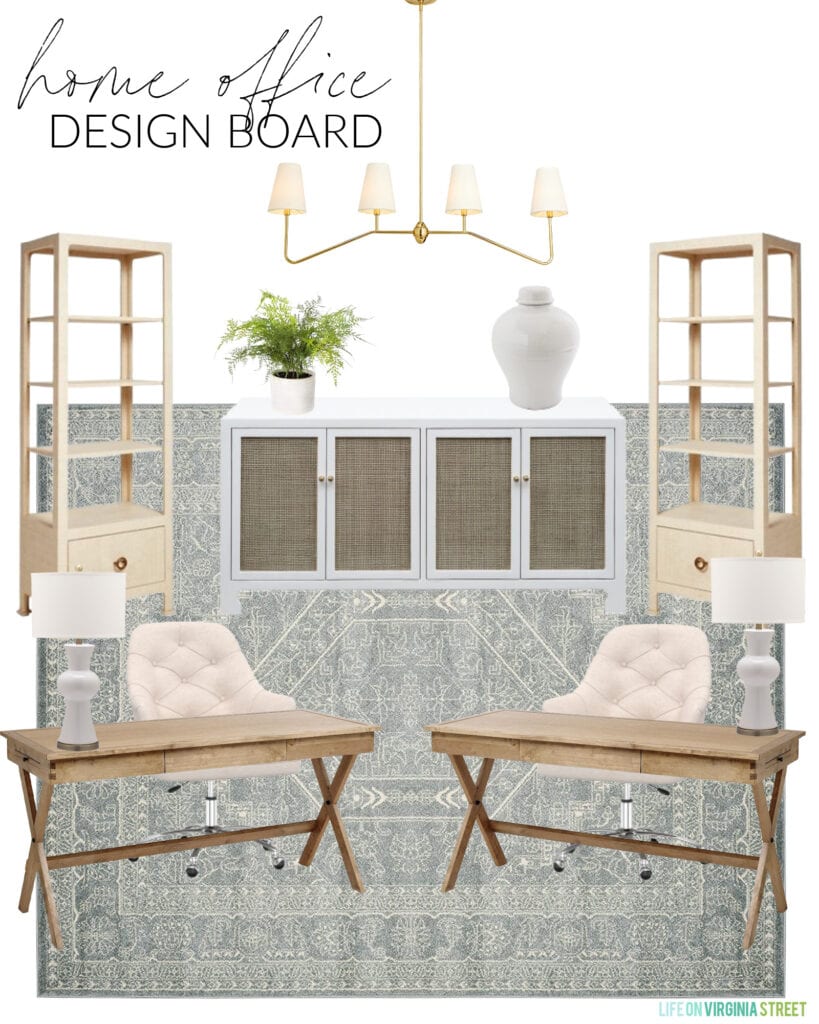 HOME OFFICE DESIGN BOARD SOURCES: Rug | Cane Cabinet | Wood Desks | Tufted Desk Chairs | Bookcases | Similar Desk Lamps | Faux Fern Pots | White Urn | Linear Chandelier
This rug (in the dove/charcoal color option) was a close contender so I actually ordered it to try as a runner in our kitchen. I thought it could be really pretty for fall and the winter months! Stay tuned.
Additional Affordable Rug Options + Office Posts
Looking for even more rug ideas? Be sure to check out these additional rug posts I've created in the past.
And a few other posts related to our home office and home offices in general:
If you would like to follow along on more of my home decor, DIY, lifestyle, travel and other posts, I'd love to have you follow me on any of the following:
Pinterest | Instagram | Facebook | Twitter
disclosure: some affiliate links used