Good morning! I hope you all had a nice weekend! It's so hard to believe November is already here. There are days this year where it feels like we're in the longest year ever, and then many more that make it feel like the shortest. But I'm really looking forward to Thanksgiving and Christmas before we give 2020 the boot! Here's what we've been up to this past week.
This post contains affiliate links for your shopping convenience. Click here to read my full disclosure policy.
Home Projects & Updates
We met with a contractor on our guest bathroom makeover and I hope to have the bids back in the next day or two. I'm really hoping we can make the small bathroom work with it. Since we're super flexible on timing (with zero holiday hosting plans), he thinks they could squeeze both projects in by the end of the year, with maybe a few final finishes carrying into the new year. Fingers crossed!
The vanity also arrived last week! And to the surprise of probably no one, it had an issue. Which is partly why I ordered it so early when they had a sale, even though I knew we weren't ready for it yet.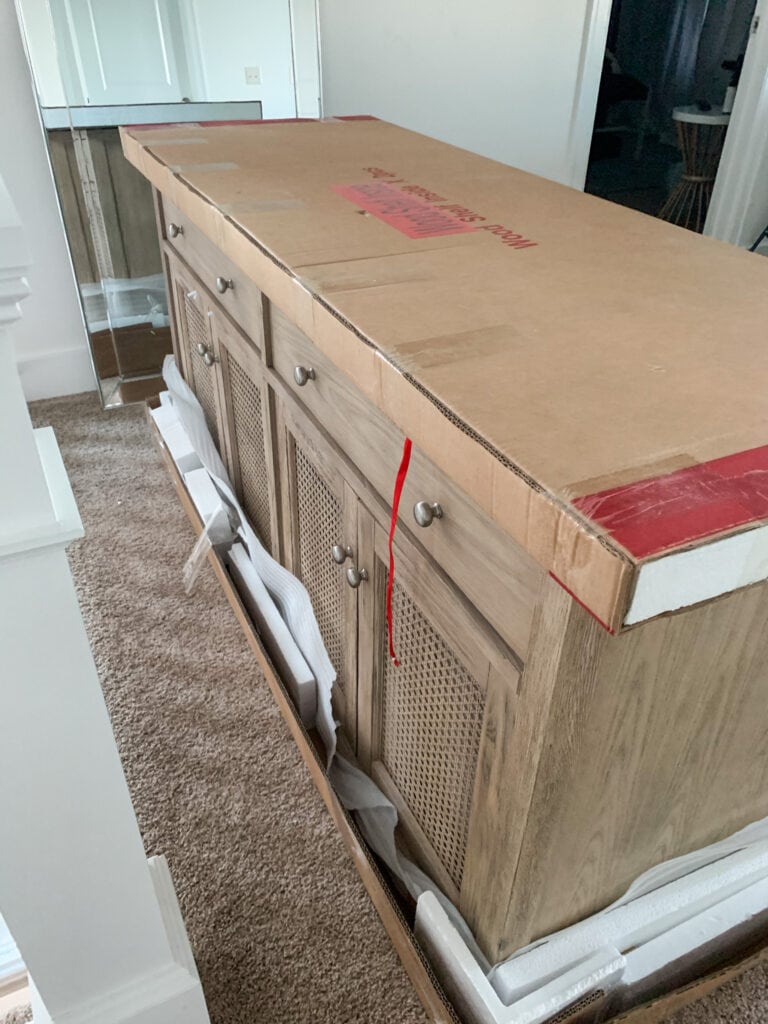 It comes with a Carrara marble top, and around both sinks, the marble was split in half from one of the sink holes all the way to the front of the sink. So much I'm not even sure if the weight of either sink would have been supported. Because of the weight of the unit, the drivers wanted to leave the base and we're hoping PB will just ship a new countertop. I let them call it in, but have plans to call PB today to get the full scoop! I think it's going to be beautiful though!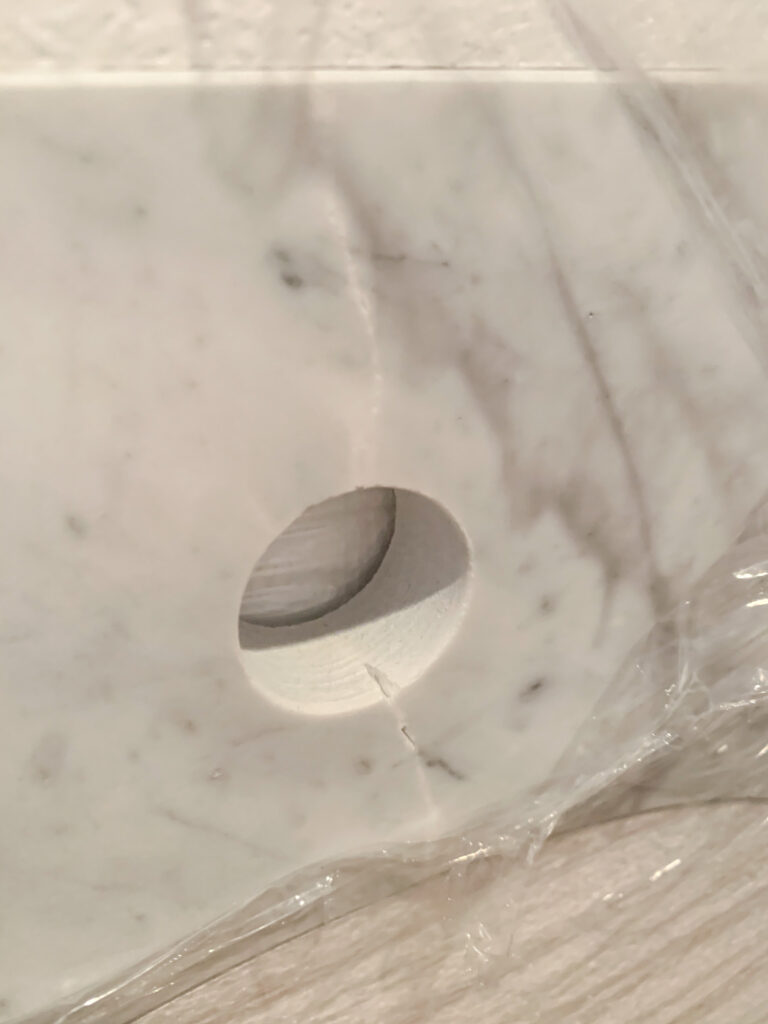 I had to turn in some images to a brand last week for an Instagram post that won't go live until the week of Black Friday. So, with that, I decided to start decorating our dining room for Christmas – since by the time the post goes up, I should be fully decorated! I'm so in love with these cute windowpane napkins and faux cedar napkin rings I ordered from Target!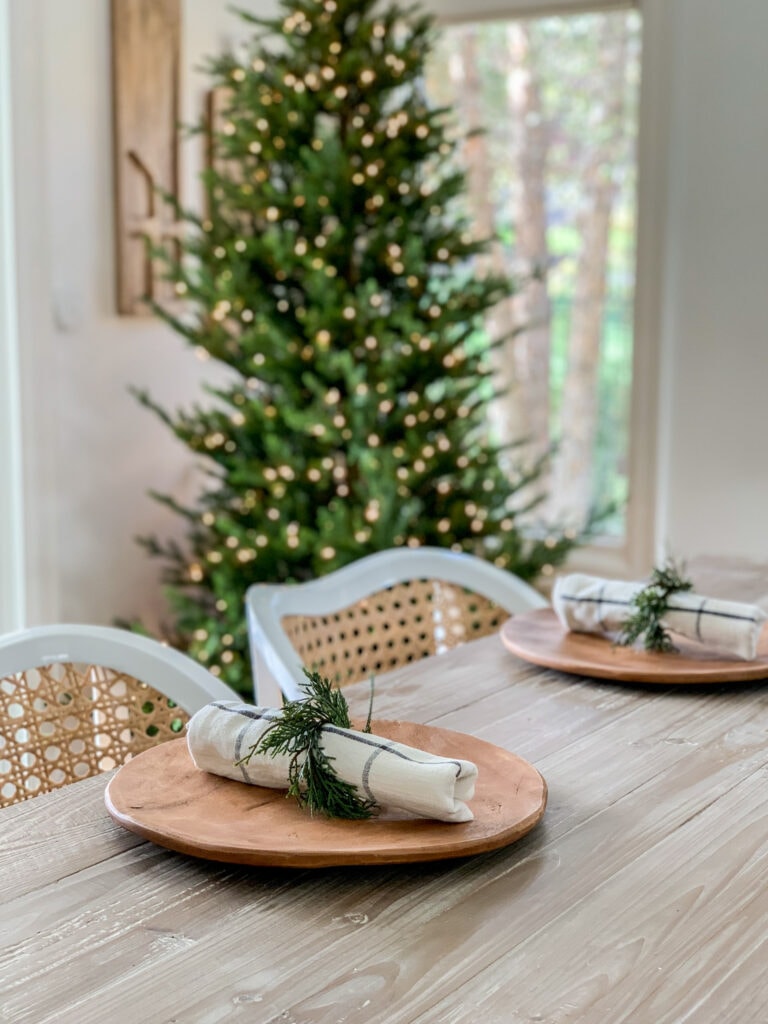 DINING ROOM SOURCES: Faux Christmas Tree | Cane Chairs (similar here) | Dining Table | Wood Chargers | Windowpane Plaid Napkins | Faux Cedar Napkin Rings
Speaking of our dining room, my new Lindsay Letters canvas arrived last week and I finally got around to opening yet yesterday. Henley was dying to check it out. Also, mostly she just wanted to wedge herself inside that box to be with it 😉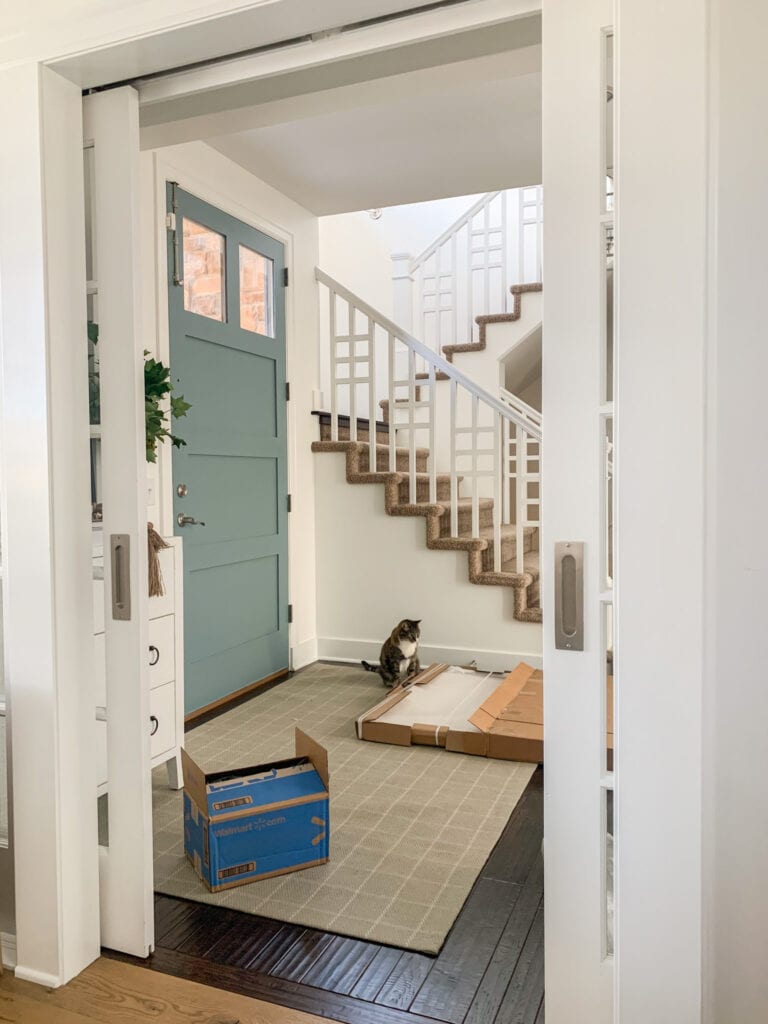 I did a video yesterday for Instagram but totally forgot to take a photo of it until night time. But here it is and I couldn't love it more! I got the Fall On Your Knees canvas in Evergreen with the gallery white frame. Mine is the 40×50 size and it's massive! She extended her launch sale through the end of the night, so you can get 15% off everything right now at checkout!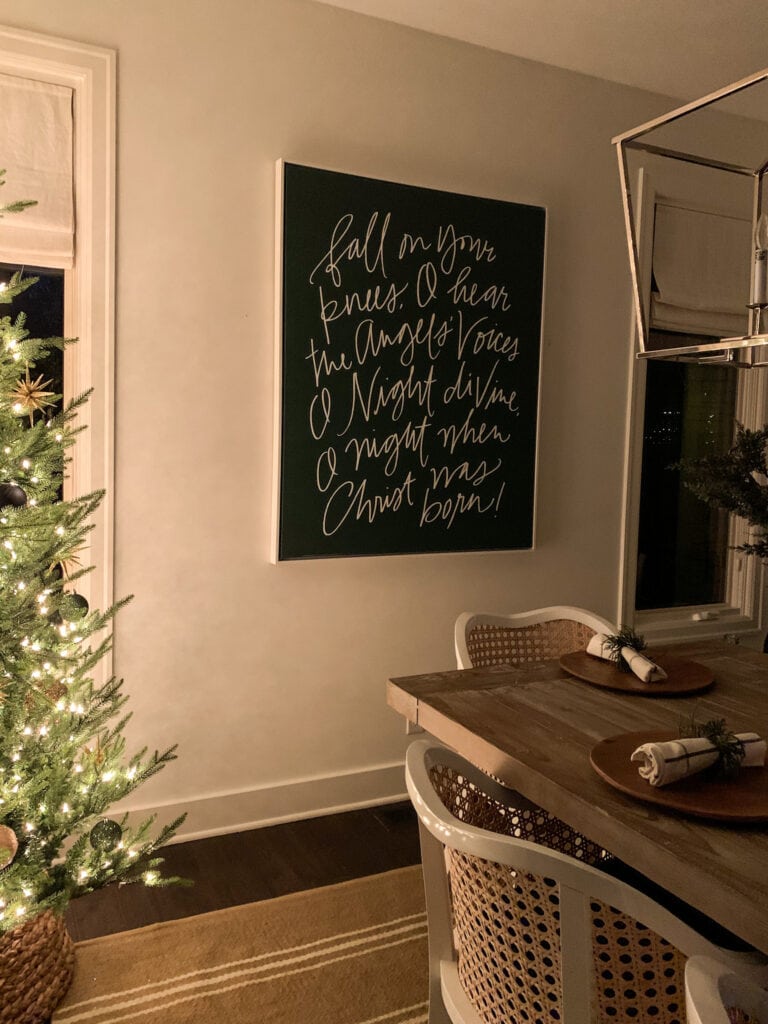 I also want to show a quick shot of the Amazon tree at dusk so you can see how it looks lit up. I talked more about the differences in the two trees in this post. And I know several of you went to buy the Amazon tree but it was already backordered until late December. But, good news – it's now back for delivery next week! The did raise the price about $60, but it's still $120 less than the Wayfair version if you're still interested!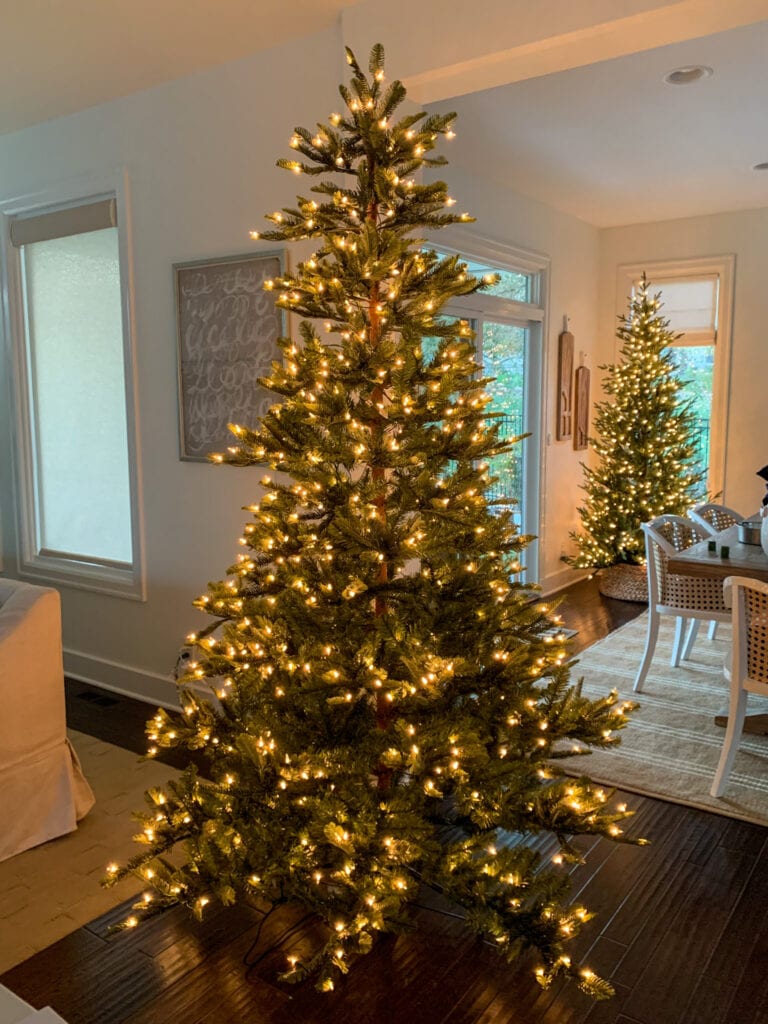 Top Sellers Of The Week
Following are the top sellers of the week across all of my channels. Links to each item are below the graphic.
Around Town & For Fun
Lots of cozy nights around here lately. Our weather has been all of the board these past few weeks, but now it's supposed to be in the 70's this week. Followed by highs in the 30's and snow 😉 You can also see here the top position of our new automated window coverings. They essentially go all the way into the headrails. As a reminder I have a highlight saved on my Instagram called "Window Coverings" if you want to see how they work!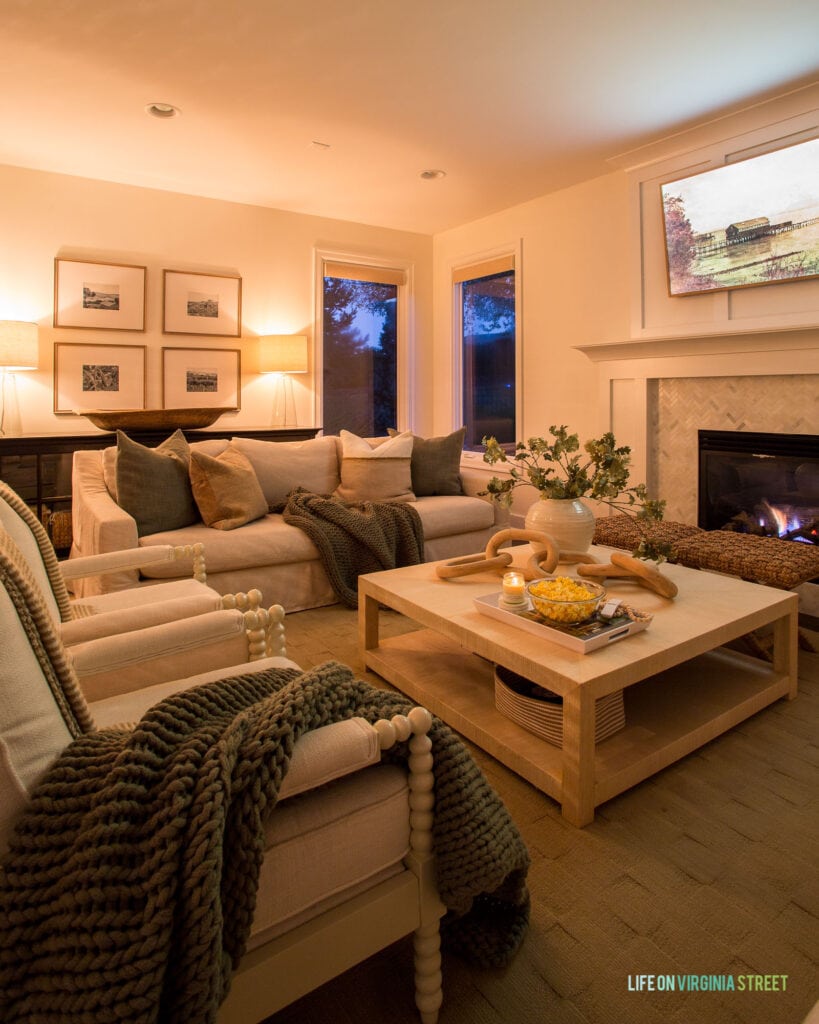 FALL LIVING ROOM SOURCES: Linen Sofa | Spindle Chair (similar here) | Raffia Coffee Table | Similar Black Credenza Table | Lamps | Gallery Wall Frames (similar here) | Wood Dough Bowl | Woven Stools | Frame TV | Chunky Knit Throw Blanket | Sage Green Linen Pillows | Vintage Stripe Pillows | Vintage Rug Pillow Covers | Similar Wood Chain Decor | Wood Beads with Tassels | Similar Vase | Faux Oak Leaf Stems (old) – Pottery Barn
Saturday morning we had some visitors on our street. There were nearly a dozen wild turkeys that made it up the hill! They were fun to watch, but truthfully, they scare the crap out of me!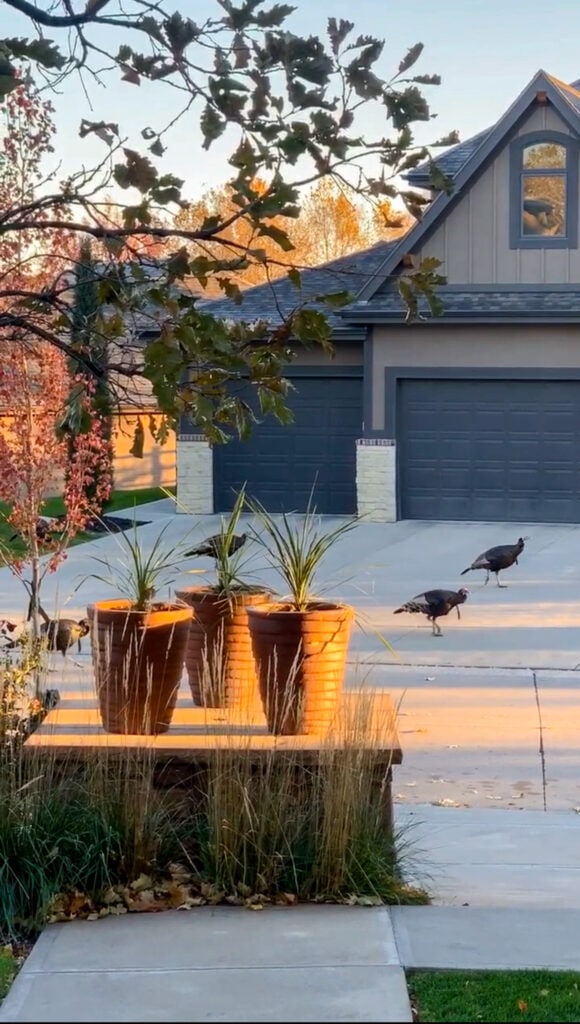 I made my favorite chicken corn chowder recipe and it was every bit as good as I remembered! I have the recipe here, with what are possibly the world's worst blog photos in the history of the world.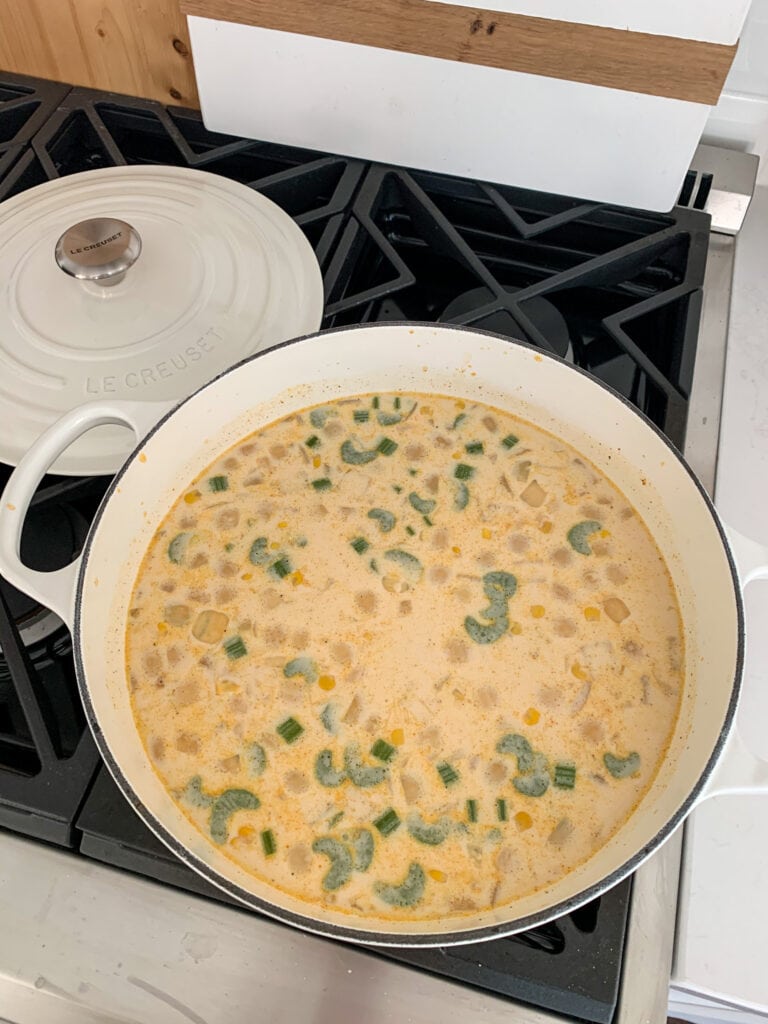 We spent Halloween night at our friends'/goddaughter's house. Our neighborhood had trick or treating, but most people set out tables at the end of the driveway for the kids to pick their own treats. Several got super creative with candy launching tubes. I didn't even get a picture of Zoe because she was so busy with her cousins and having too much fun. But could Elle be any more darling in her little turkey outfit?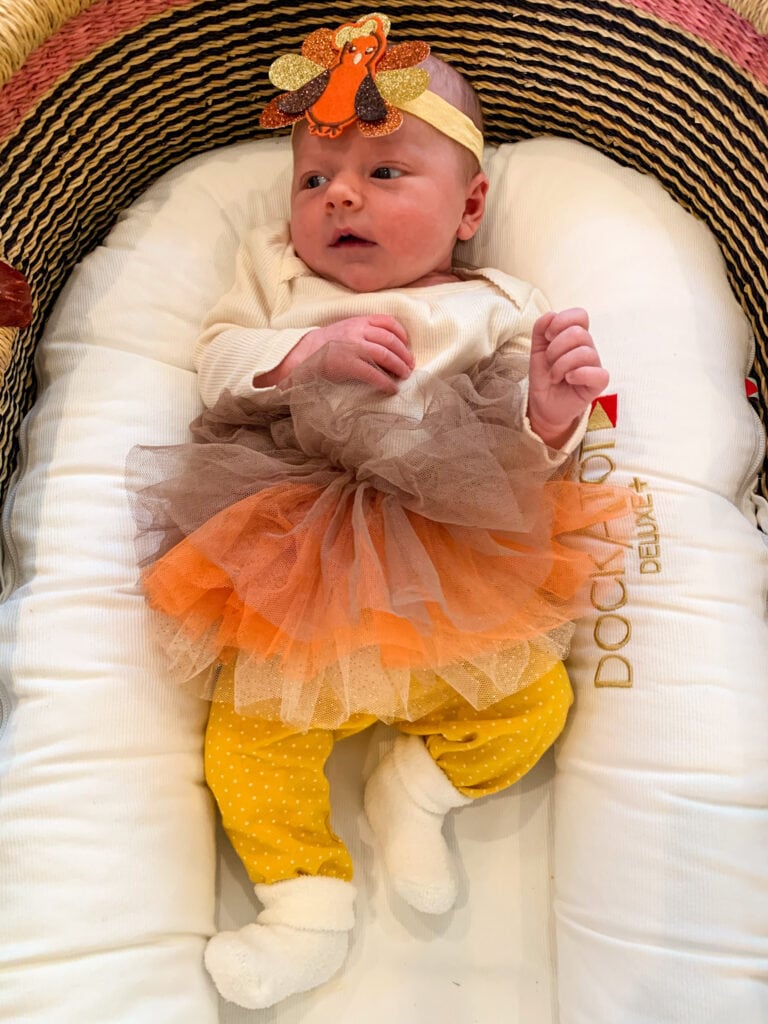 And I hate to end on a sad note, but we got word late Halloween night that the guy I've been working closest with on the Tudor flip was killed in a motorcycle accident. Over the past six months I've gotten to know him a lot better and he was such a good guy, and the news was devastating. He was a vet and approaching retirement age and had survived so much else in his life already. We talked and texted multiple times a week. My heart breaks for his family (including his work family) and friends. I tell you all this, only because I know I got a lot of you really excited about the project, but I think I'm going to need a week or so to start posting about it again. When the time feels right, I promise you I'll get you all the details, and maybe speed up the timeline a bit to get to the reveal fairly soon. RIP, Chris. You will be missed by many!
Needless to say, Sunday was a bit of a blur and we didn't really do much.
We have a busy week ahead, and we look forward to going out to vote tomorrow!
Recent Buys & Sales
Following are some of the sales that have carried over from the weekend or new ones that have started today! You can see some of my top picks from the weekend here.
I hope you all have a great week!
If you would like to follow along on more of my home decor, DIY, lifestyle, travel and other posts, I'd love to have you follow me on any of the following:
Pinterest | Instagram | Facebook | Twitter
disclosure: some affiliate links used