I hope you all had a wonderful weekend! I'm hoping to get a few small projects wrapped up this week so that our home can be ready for all the guests arriving over the next month or so! Summer is officially in full-swing!
This post contains affiliate links for your shopping convenience. Click here to read my full disclosure policy.
Home Projects & Updates
I spent the bulk of last week working in our backyard. There are so many areas that needed refreshed. When we initially did the backyard renovation, we knew there were areas we'd have to work on in phases because it wasn't all in the budget to do right away.
One of the areas was on the hill by the limestone ledges. We actually added these stones the year after our pool was finished. Although it's hard to see in photos (and even sometimes in person until you're up there), the hill is crazy steep. So much so, it can't be mowed with a lawn mower. Our lawn guys essentially have to trim this entire area with a weed eater. It becomes a mess and there is dead grass everywhere.
So, I got to work tearing out a lot of the grass so I could add some ground cover and make the area look a bit more intentional.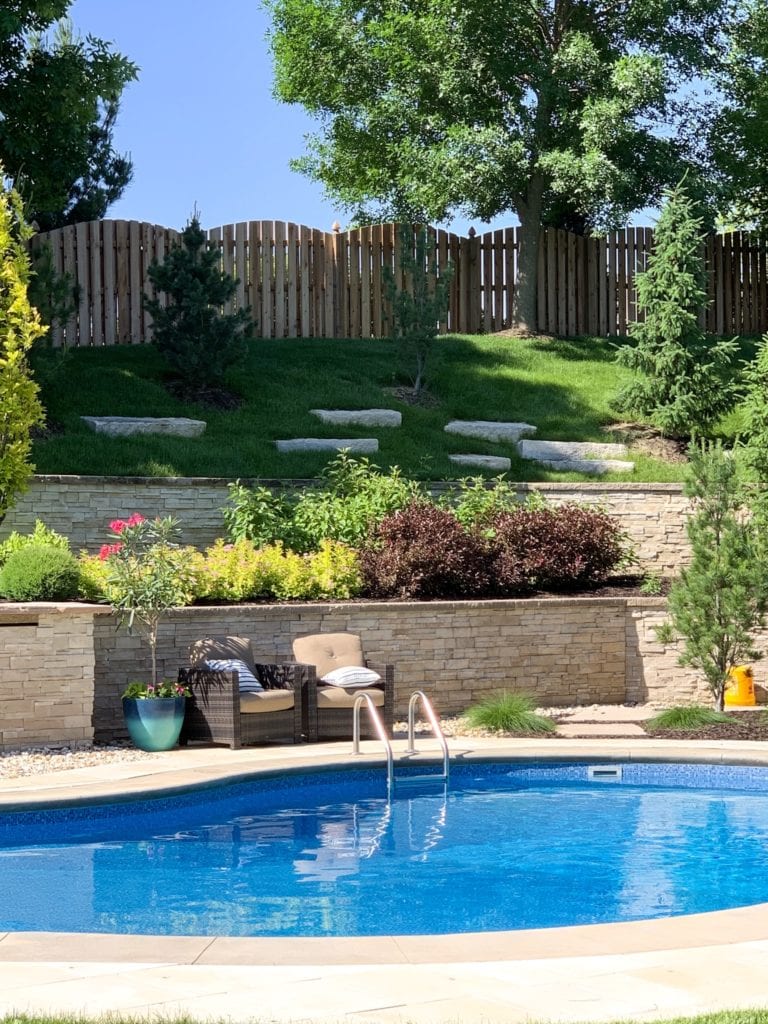 You can see grass had also started to overtake the tree rings and everything just looked really messy.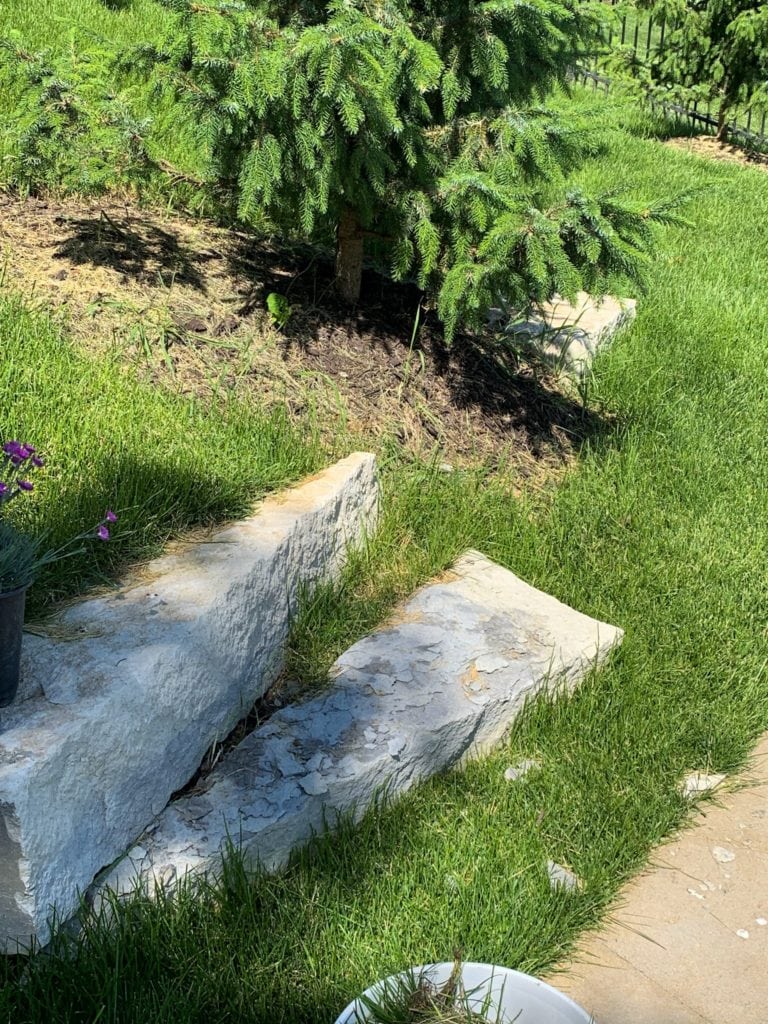 After nearly four full days of work, I got a lot of the grass torn out (I still have more to do) and I got some plants added. I actually have even more plants I'm hoping to add today. I'm just hoping all the ground cover does it's job and fills in quickly! I'd prefer not to add mulch up here if possible since I'm pretty sure it will all just wash away with the slope. Does anyone know how quickly these ground covers typically fill in?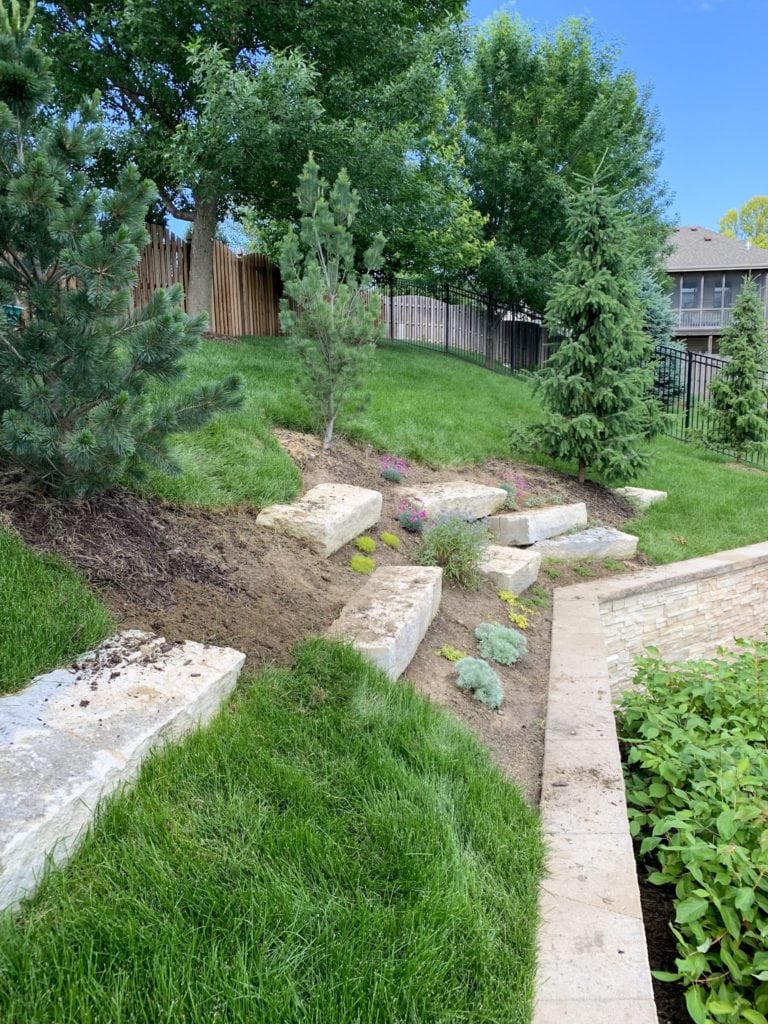 We also had this area above our first wall that really hadn't been touched in four years. It desperately needed some plants and personality. Essentially I planted everything from to the left of the first golden spirea (the yellow looking shrub in the front). I added another dogwood and two weigelas to match the other side of the landscaping. On the hill portion I then added two mini limelight hydrangeas bushes and some catmint! I'm excited to see it all fill in over the years and add some much-needed color! It looks so much better not just being a random sea of mulch now!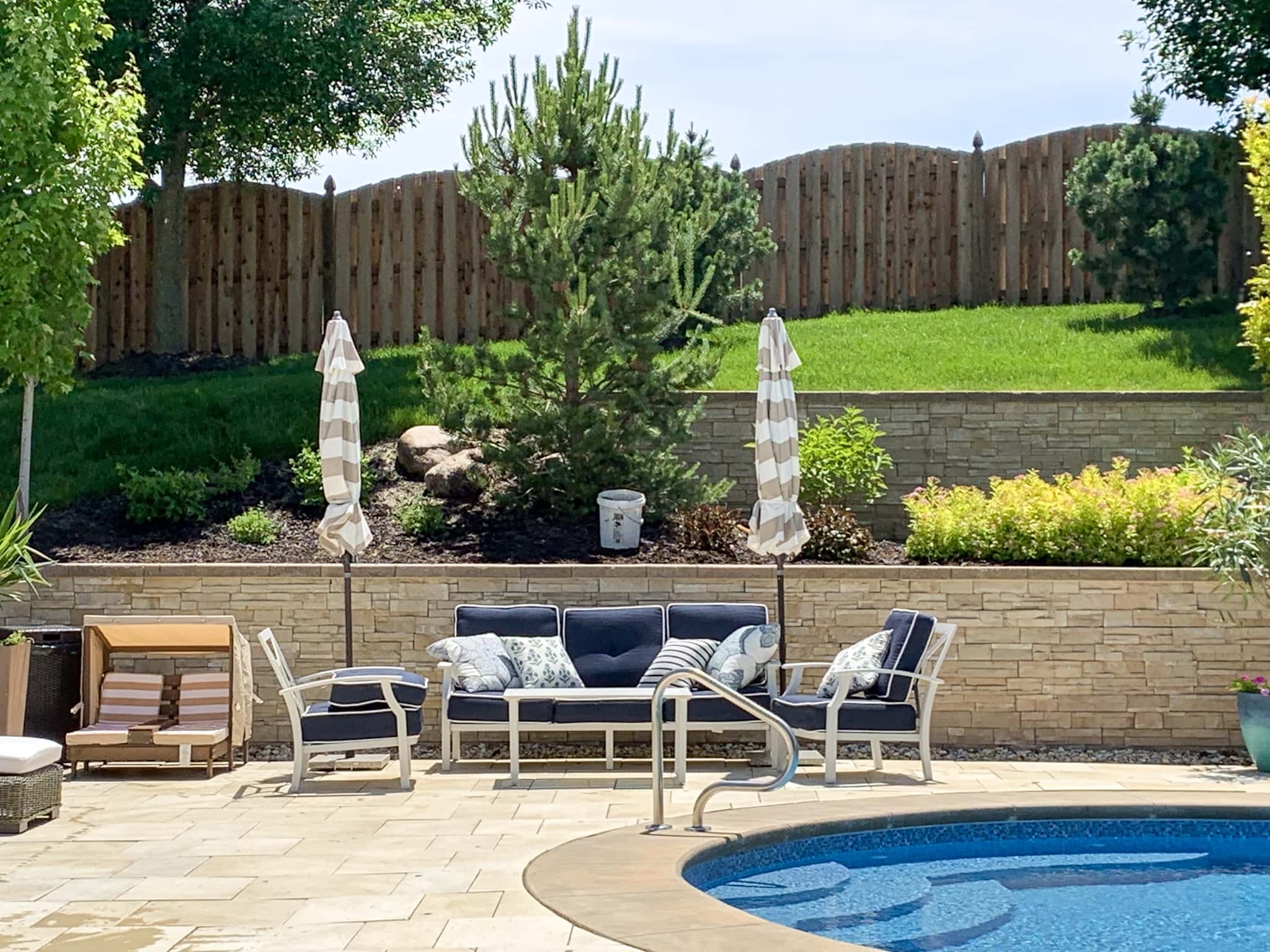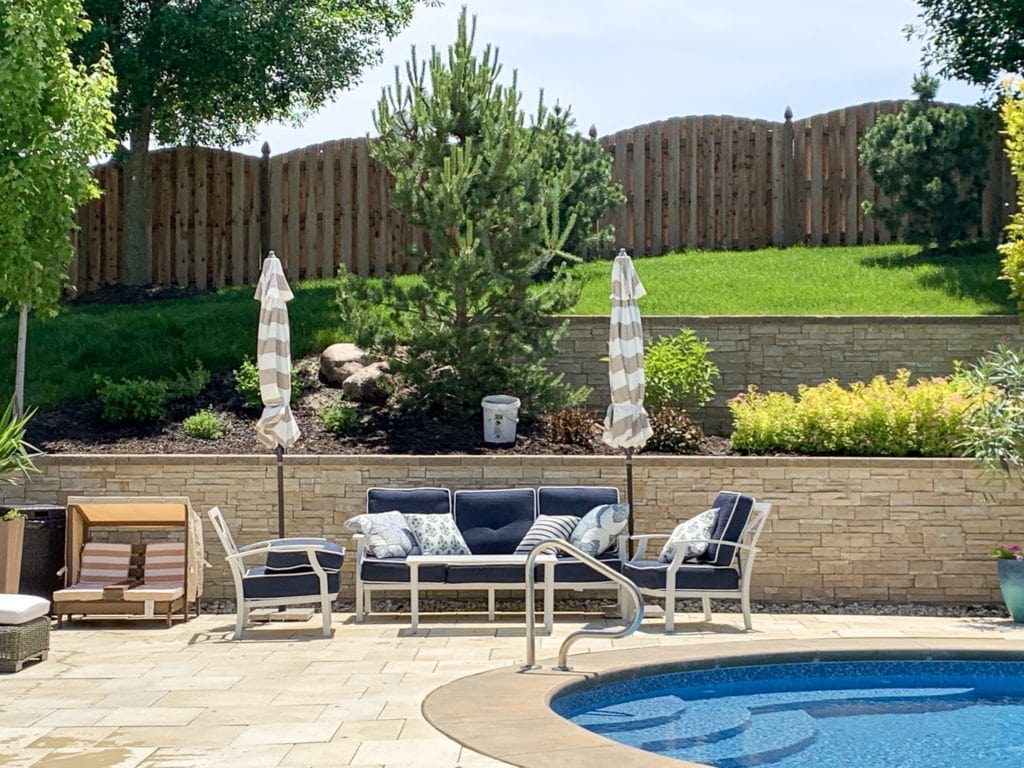 Mini Cabana | Conversation Set | Umbrellas | Medallion Pillows | Botanical Pillows | Striped Pillows
Our yard has been bunny central lately. I'm guessing that's because our yard is fenced and we're one of the few houses without dogs. This little guys was perhaps the smallest I've ever seen! An hour lately I wasn't as in love, once I saw another rabbit on it's hind legs treating my planters as an all-you-can-eat buffet 😉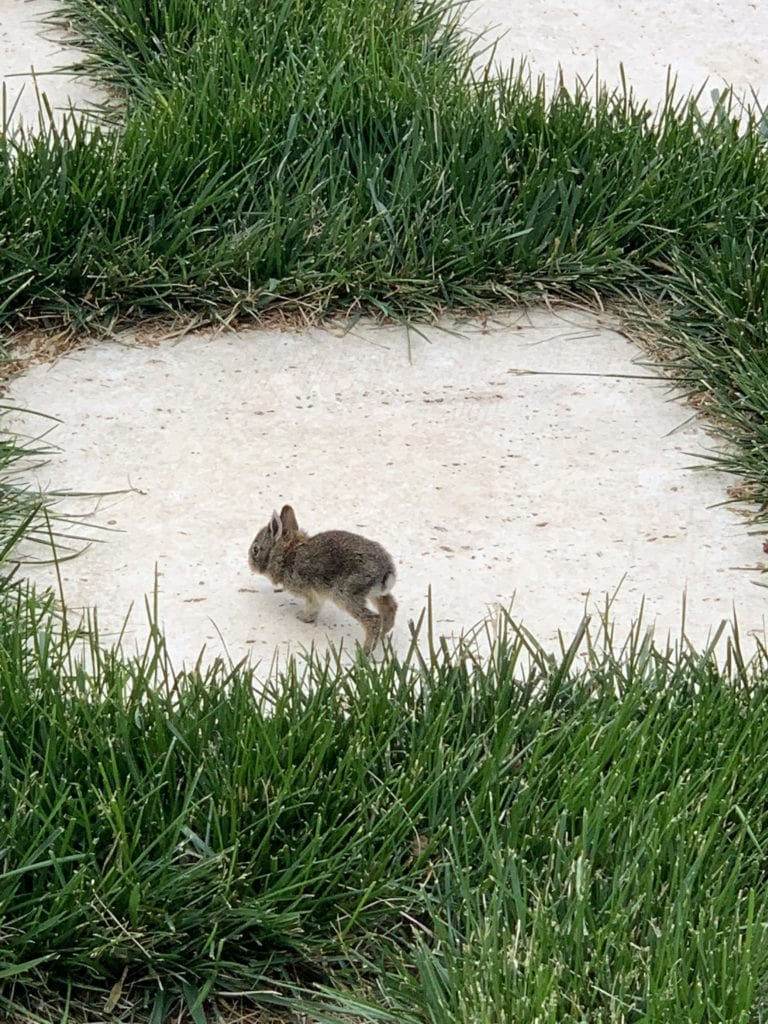 The photo above demonstrates this as well, but our lawn guys do not trim our checkerboard pavers well at all. So usually two or three times a season, Kurtis has to go out and clean it all up. It had actually gotten so bad that grass had grown a good 2-3 inches over the pavers on all sides.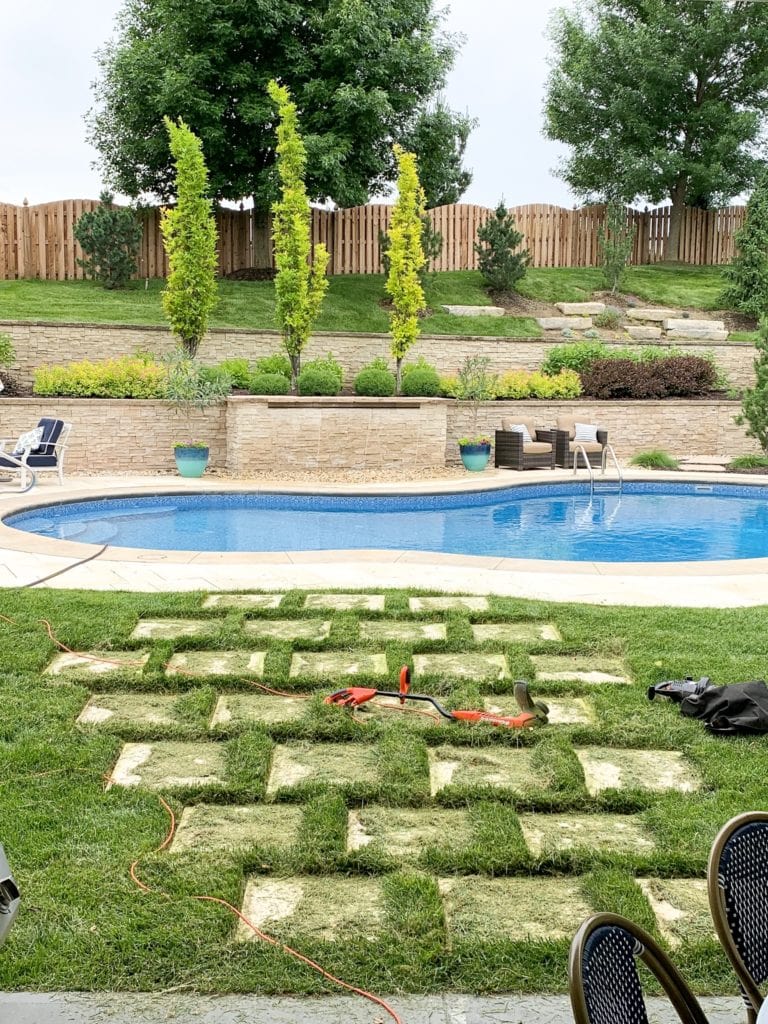 It's amazing how much larger they looked once he was done! It started raining while he was wrapping up, but we're hoping that means all the grass stains will get washed away soon!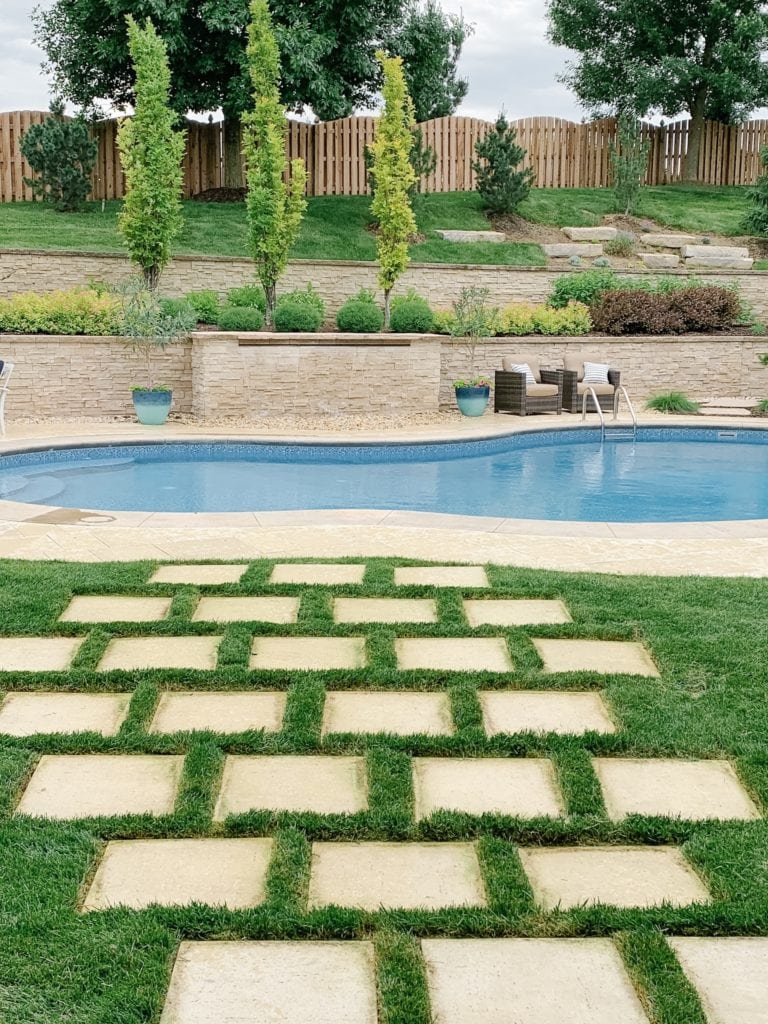 My goal this week is to wrap up the rest of planters around the yard. I am so far behind on them at this point! But I still want to get a few more going to add some color in our backyard. Fingers crossed I can still find a decent selection of plants and flowers out there with it already being well past a month into the growing season!
Around Town & For Fun
Friday we had to wrap up some stuff at the bank for our rental business. Afterwards, we hit up Pitch for some lunch because we love their patio spaces!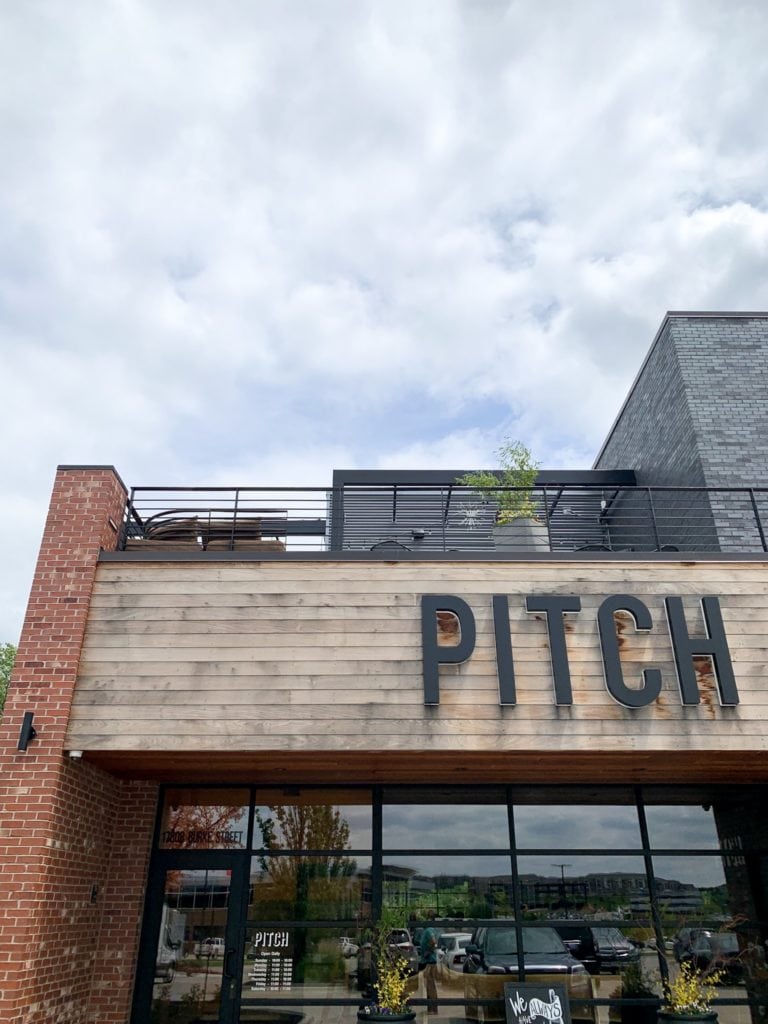 We're still feeling all the Italy feels, so we opted for Aperol spritzes and their charcuterie board. Nobody quite makes Aperol spritzes like the Italians though!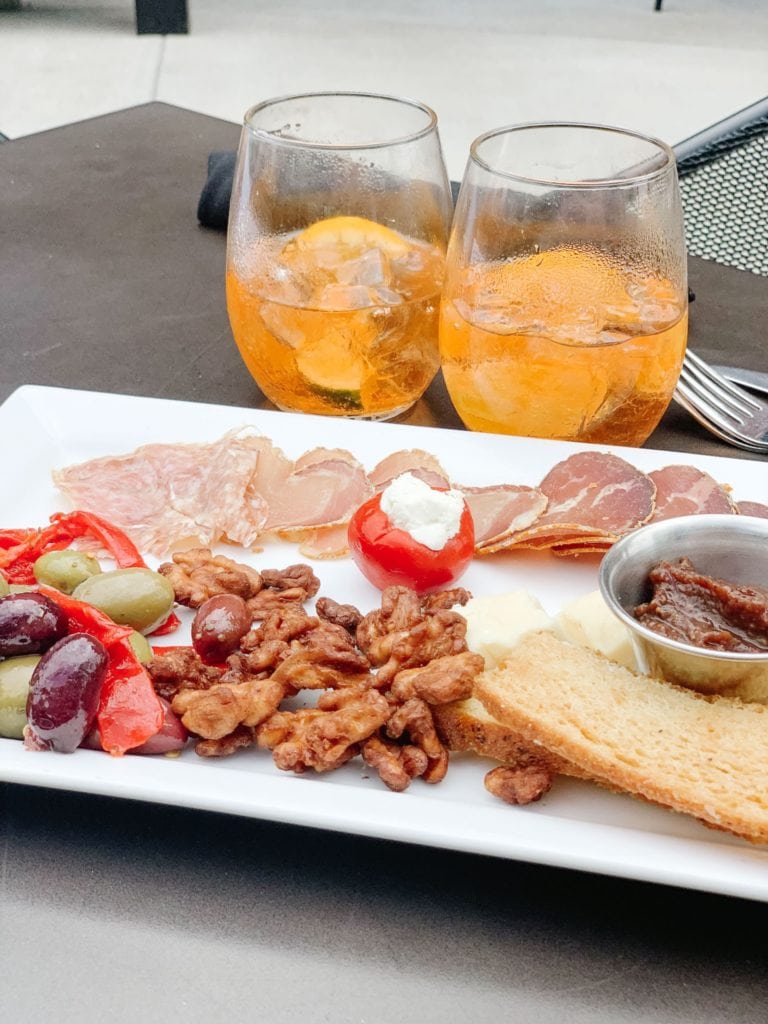 Kurtis's parents also came in town for Father's Day weekend so we met them and Pat and Janine at Lazlo's that night for dinner. We followed it up with coffee and dessert on the back patio at our house.
Over the past few days, I recently got hooked on the show StayHere on Netflix. It's about vacation rental properties (a dream of mine!). I found it so interesting and even got Kurtis hooked! It's only one season but I highly recommend it if that's something that interests you at all either. There's also a big design element (with Genevieve Gorder) that's fun to watch!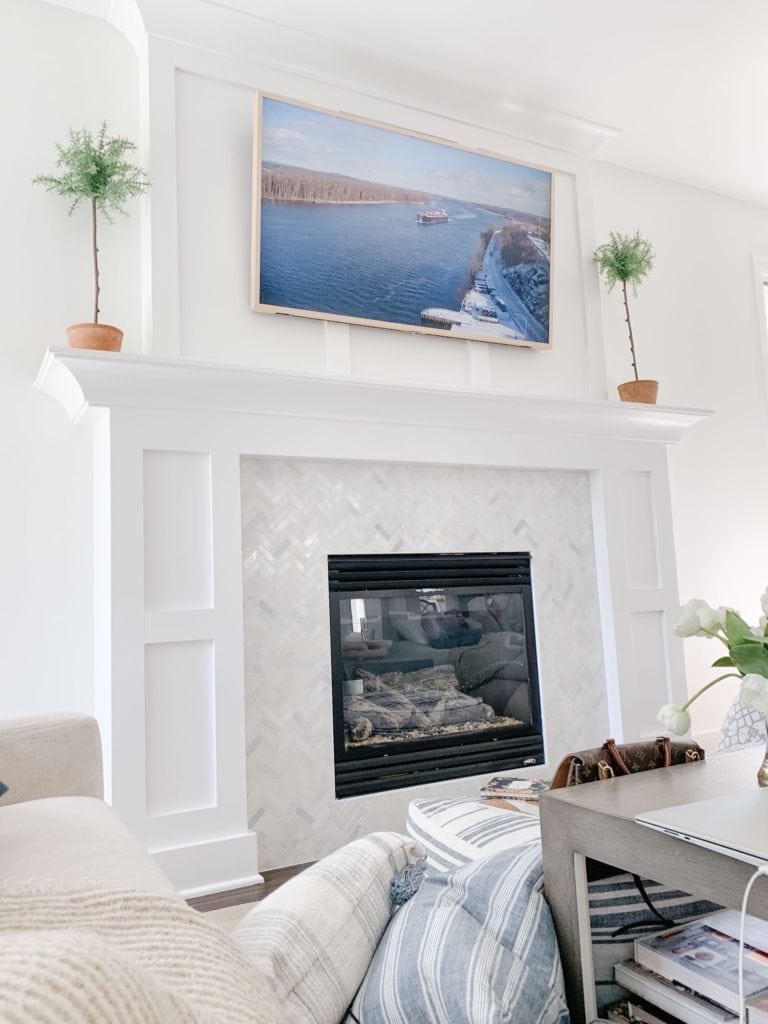 Sunday we headed to church and then over to Pat and Janine's for a Father's Day lunch. The weather was beautiful and I always love spending time on their covered deck!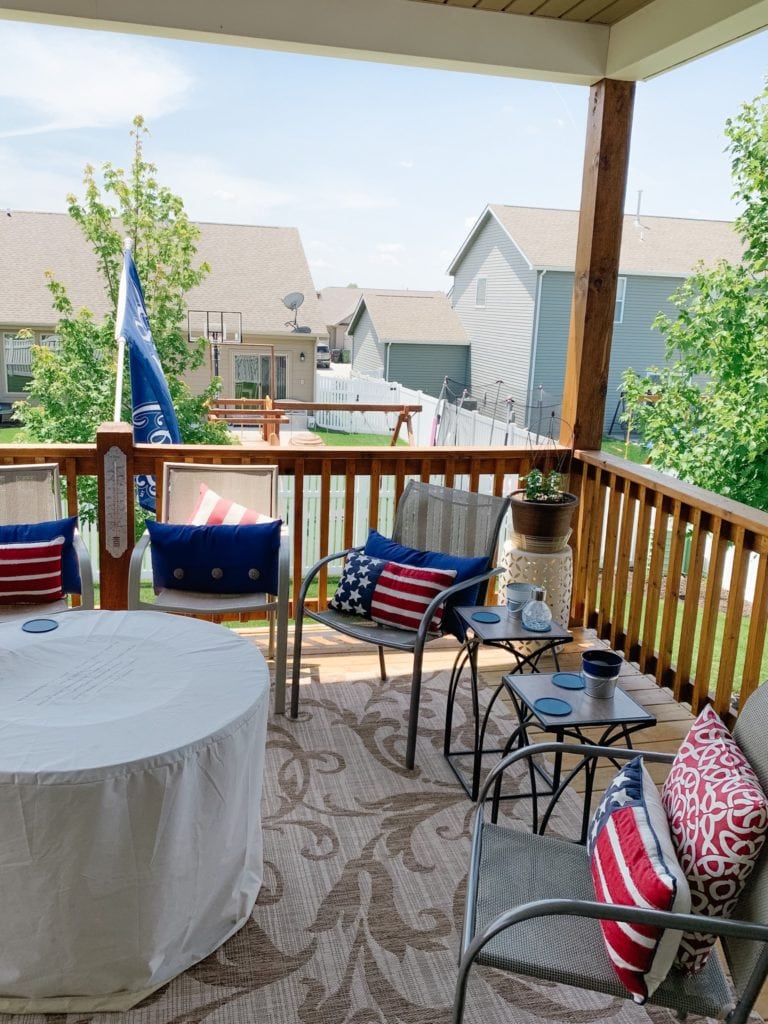 We spent the late afternoon out at the pool. It was the perfect temperature outside and it was fun to hang out with our next door neighbors who are sadly moving at the end of the month.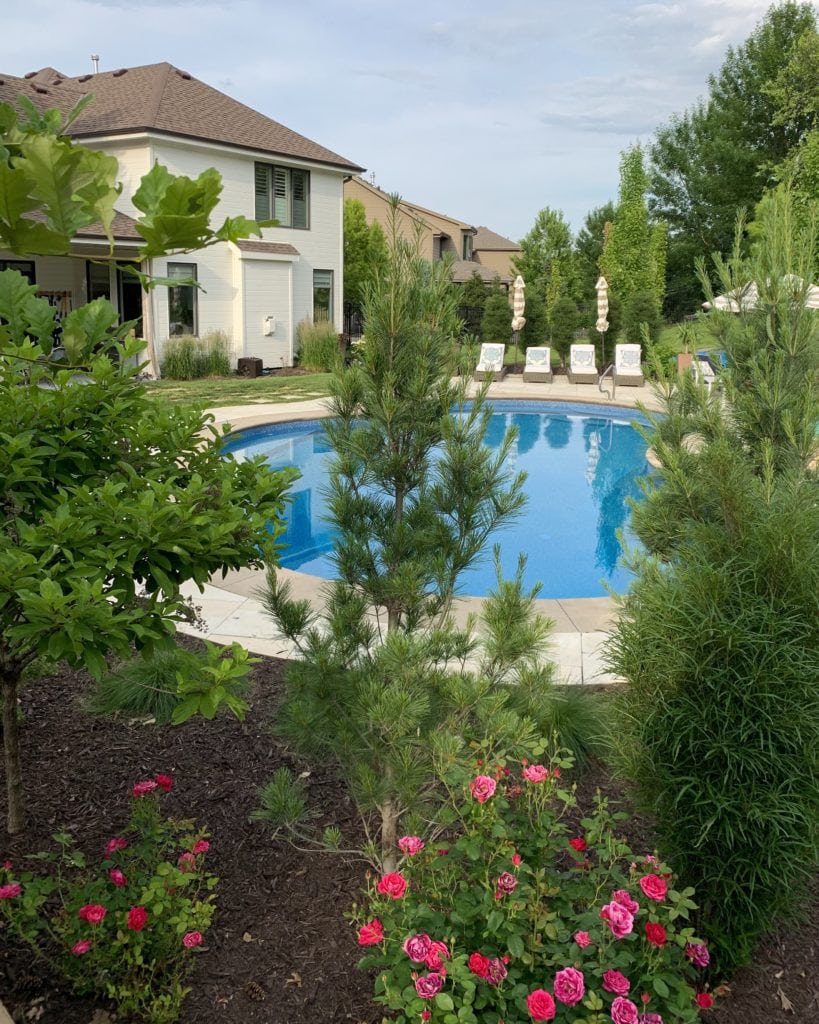 Chaise Lounge Chairs | Pillows | Striped Umbrellas | Outdoor Curtains
While Kurtis napped on the couch after dinner, I took the cats outside for a little fresh air. They know they're not allowed to leave the covered patio, but it's always a bit of a struggle. Typically after five minutes only one of the cats is left because the others get kicked back inside for eating grass or some other random nonsense 😉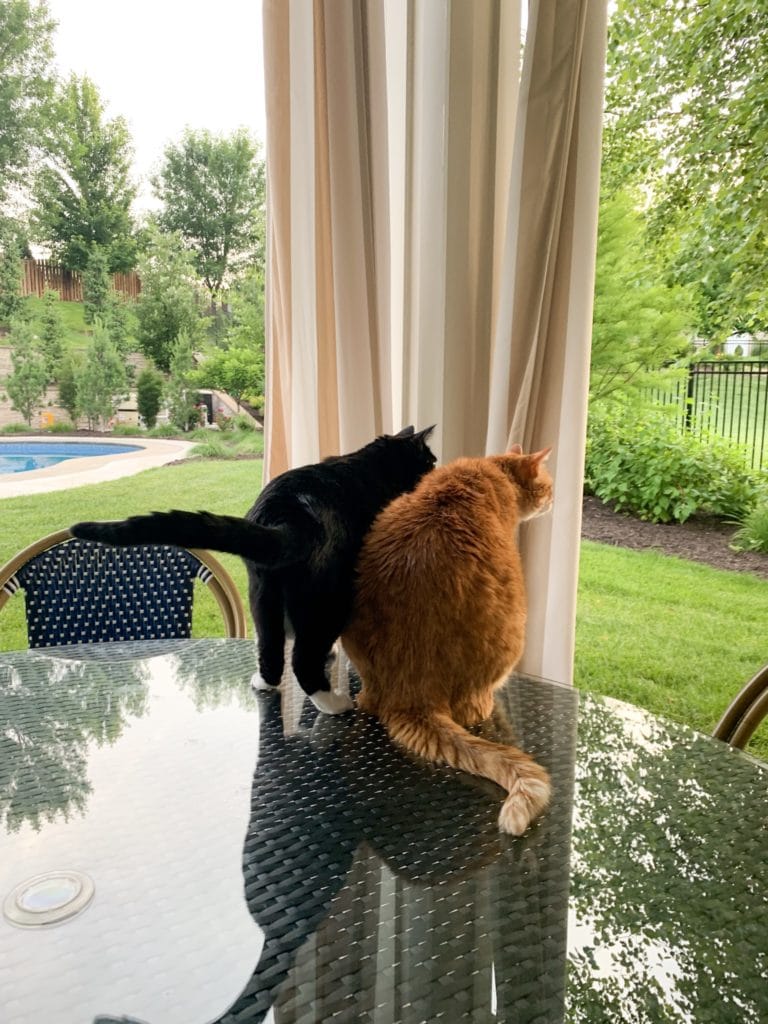 Outdoor Curtains | Bistro Chairs | Outdoor Dining Table
I have yet to pull out any summer decor so I'm really hoping I can get that done this week. Otherwise, I may as well wait until fall at this point!
Recent Buys & Sales
Following are some of the weekend sales that are still going strong!
I hope you all have a wonderful week!
If you would like to follow along on more of my home decor, DIY, lifestyle, travel and other posts, I'd love to have you follow me on any of the following:
Pinterest | Instagram | Facebook | Twitter 
disclosure: some affiliate links used