A Christmas Tree Collar is a great alternative to a Christmas tree skirt, especially if you have pets or small children! See how stylish these tree collars can be and find inspiration and the best options available today (before they sell out)!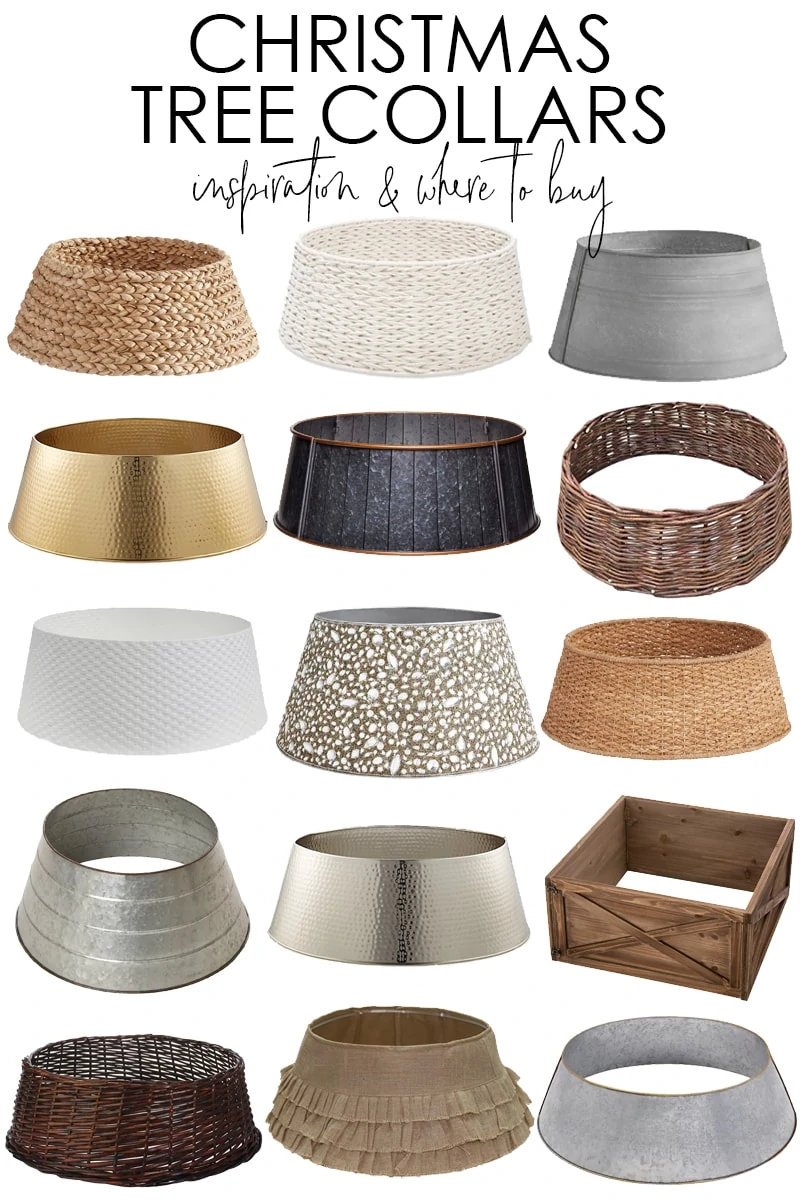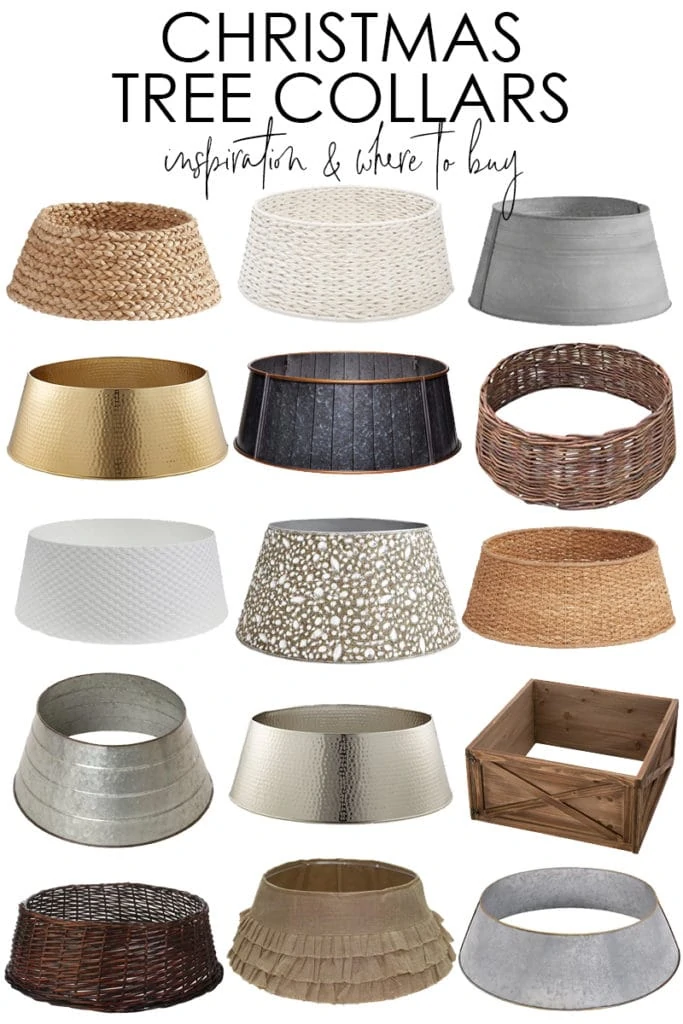 Okay – I know it's early to be talking about Christmas. BUT! Hear me out. Every year I share my favorite Christmas tree collars, and most sell out before Thanksgiving even arrives. Many times before November even arrives! And each year I'm asked to share them earlier and earlier so the selection is still plentiful. With the continued state of delays this year, I'm already seeing some tree collar options backordered into November.
So today, I wanted to share all of the available options that are in stock and will be to you before you're ready to decorate. And if you don't want to think about Christmas this early, that's okay! You can save this post for later or just ignore it entirely 😉 We'll be back to fall starting tomorrow!
This post was originally published November 8, 2018, but I'm updating it today with current finds and some additional, updated photos! This post also contains affiliate links for your shopping convenience. Click here to read my full disclosure policy.
You may have noticed I have loved using a Christmas tree collar with our trees over the years. Today I'm sharing more than 20 Christmas tree collar ideas as well as my top picks of those available for sale today! I realize I'm sharing them a bit early in the season, but I feel like these are easier to have in place before you set up your tree. I learned the hard way several years ago 😉
What is A Tree Collar?
If you're not familiar with what a tree collar is, they basically take the place of a Christmas tree skirt and have a much more polished and streamlined look. For us in particular, it works out well because it helps keeps our cats out from under the tree. This also helps prevent them from attacking the Christmas tree skirt on a daily basis. I also love the look visually. It's such a fun alternative to a tree skirt and can completely change the look of your Christmas tree!
Christmas Tree Collar Ideas
Before we get to my top Christmas tree collar picks, let's take a look at a few examples of ones I've used over the years in various rooms so you can see how cute they are! Last Christmas, I used the woven Christmas tree collar, shown below, under the tree in our dining room. It has since sold out, but I found several similar woven tree collar options below. This woven tree collar is the closest look! And if you're on a much tighter budget, this woven tree collar is a great find for a similar look!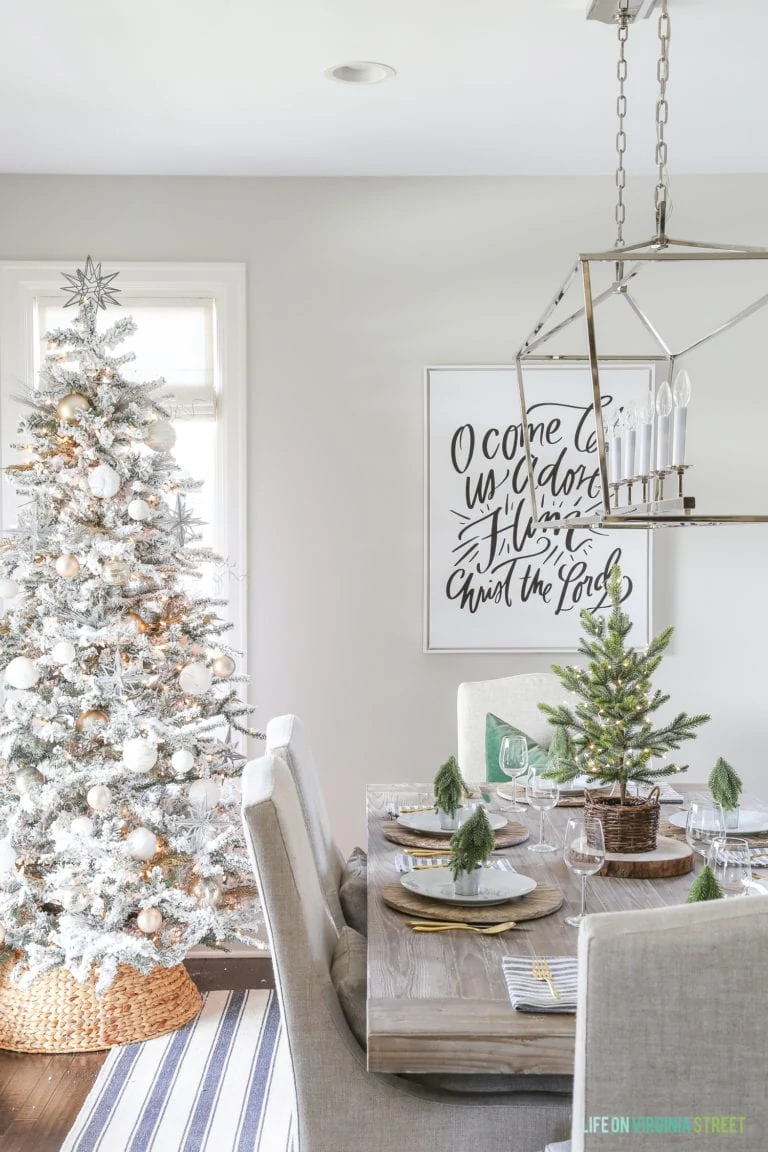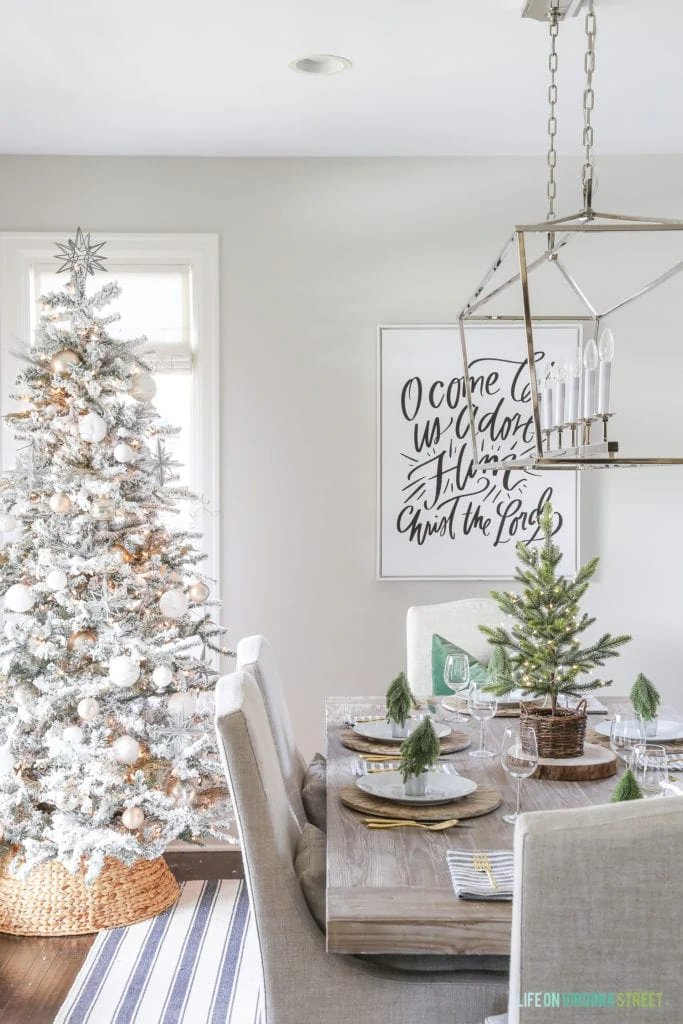 CHRISTMAS DINING ROOM SOURCES: Flocked Christmas Tree | Similar Seagrass Woven Christmas Tree Collar | Canvas Art | Chandelier (look for less here) | Dining Table | Dining Chairs | Similar Wood Chargers | Similar Potted Mini Christmas Tree | Striped Rug | Velvet Pillow Cover
You can see the actual Pottery Barn woven tree collar in last year's dining room. Since I had so much color from the Stewart plaid, I kept the tree bare and decoarted only with the tree collar.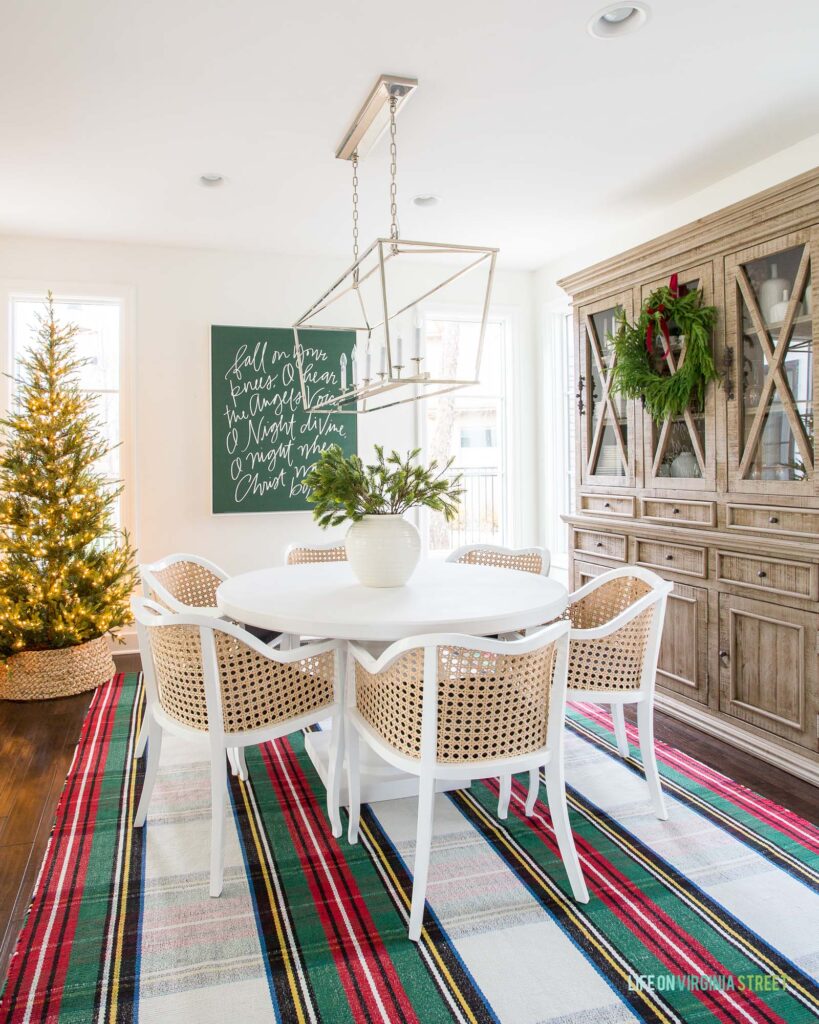 CHRISTMAS DINING ROOM SOURCES: Dining Table | Cane Dining Chairs (look for less here) | Linear Chandelier (looks for less here) | Faux Christmas Tree | Woven Tree Collar | Stewart Plaid Rug | 'Fall On Your Knees' Canvas | Faux Pine Stems | White Vase | Faux Pine Wreath | Velvet Ribbon | Hutch
In our living room in prior years, I used a beaded tree collar (similar here) and it was equally as beautiful! This is the best photo I have, but I loved that the beads added a touch of sparkle under the tree.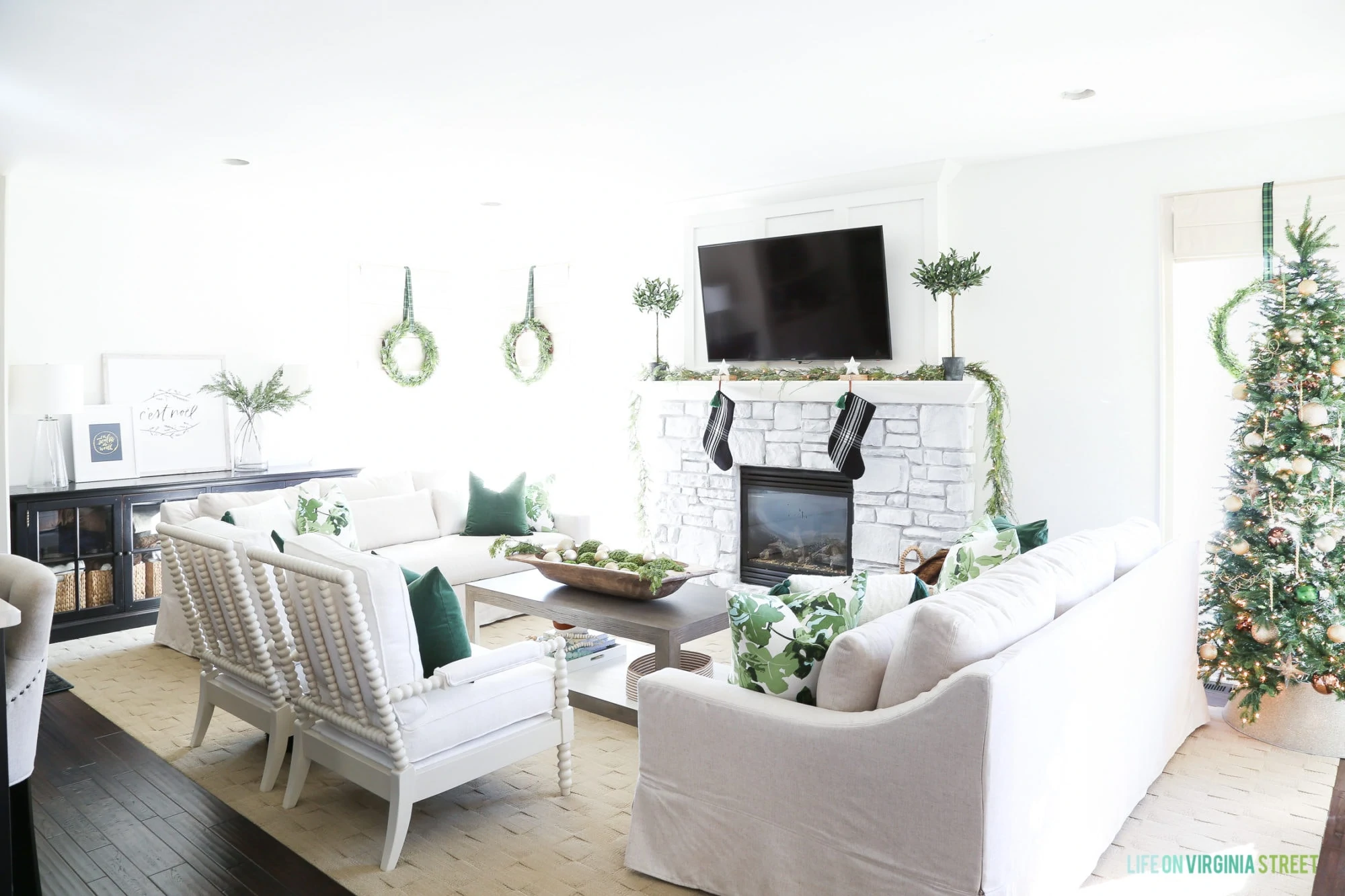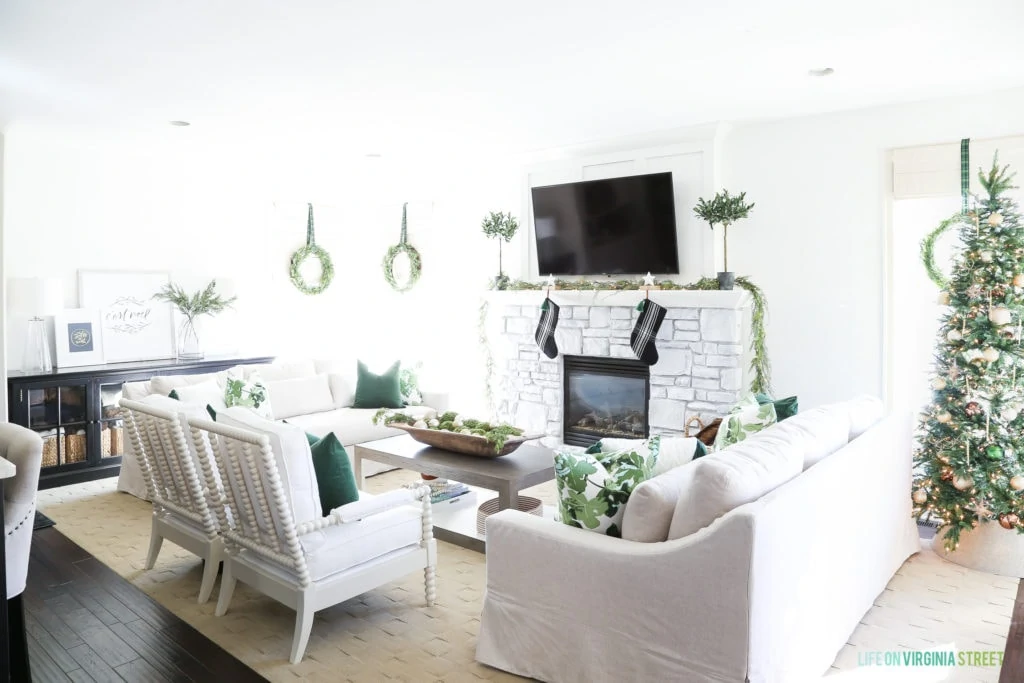 CHRISTMAS LIVING ROOM SOURCES: Linen Sofas | Spindle Chairs | Coffee Table | Dough Bowl | Lamps | Similar Beaded Tree Collar | Green Velvet Pillows | Fig Leaf Pillows
I picked up this next tree collar that I used two years ago from Hobby Lobby and love how it looked! Upon closer inspection it was a bit ragged with some splinters, but otherwise was a great deal for the price! This whitewashed seagrass tree collar, although a bit more expensive, is nearly identical and is available for shipping!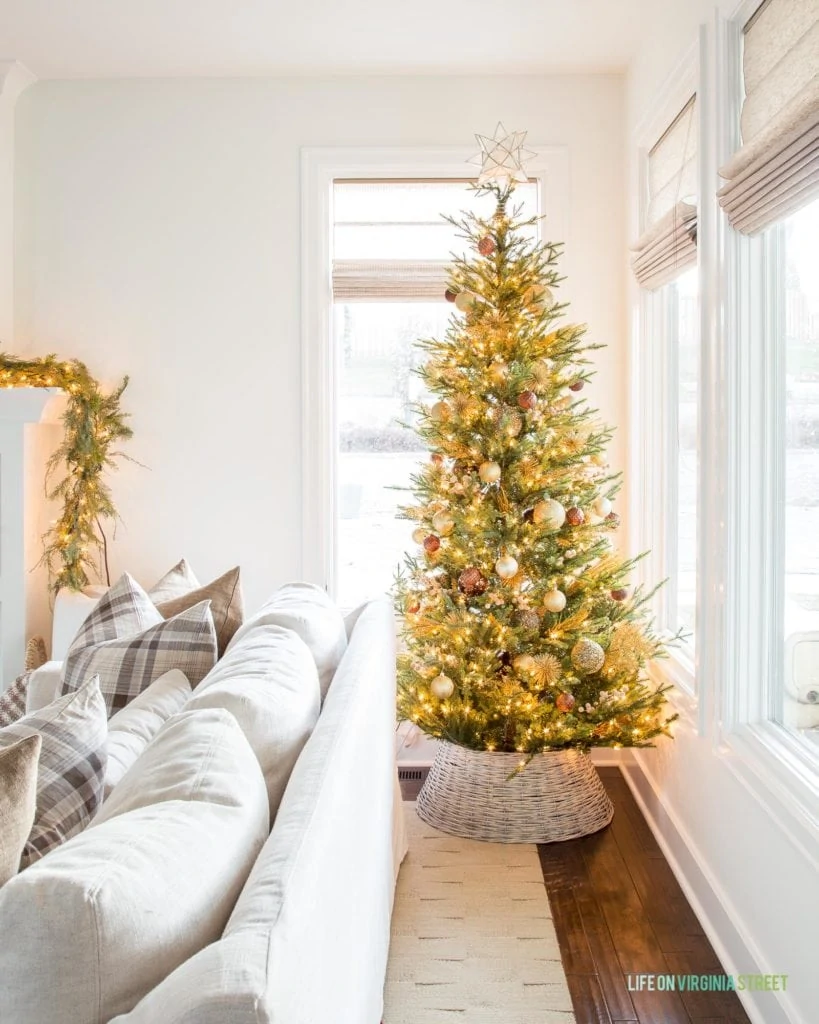 LIVING ROOM SOURCES: Linen Sofa | Linen Pillows | Plaid Pillows | Faux Christmas Tree | Capiz Moravian Star Tree Topper (similar here) | Similar Whitewashed Tree Collar | Various Ornaments: Hobby Lobby
Two years ago, we had a Christmas tree in our bedroom for the first time ever, and I'm not sure I'll ever go without in the future! I loved it so much and used this white rope tree collar (similar here). Side note: our Plaid Bedding that sold out in November the last two years, is back in stock and also offered in a red version, as well!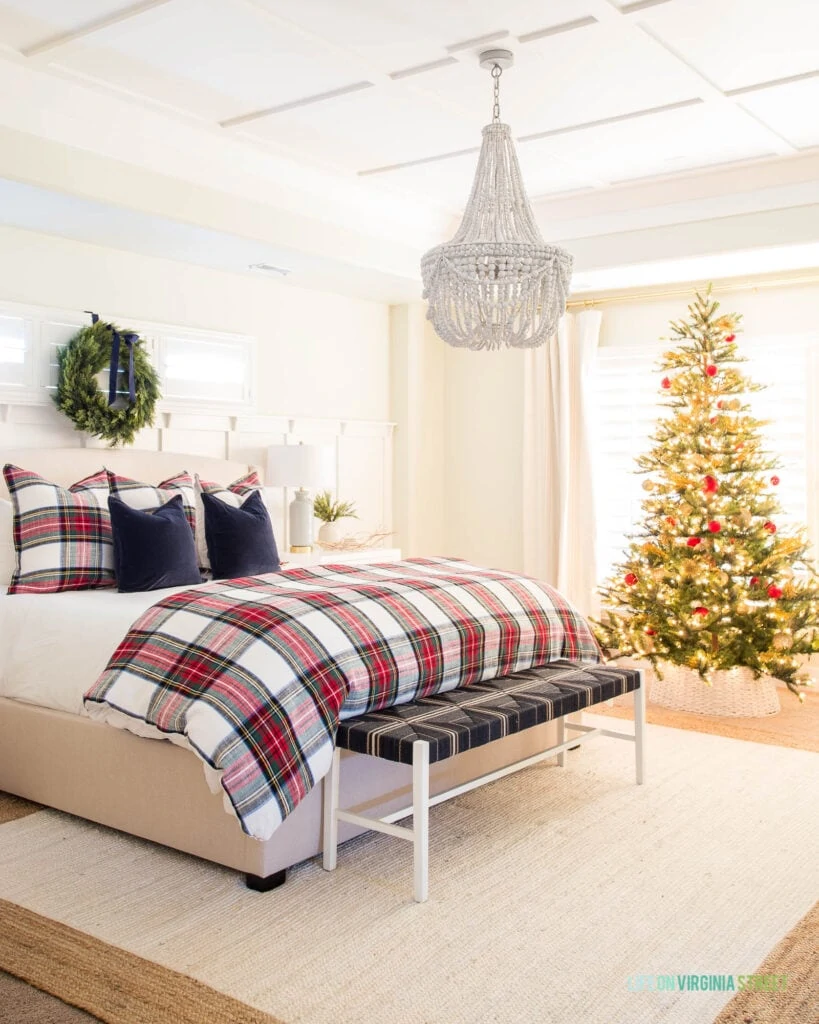 CHRISTMAS BEDROOM SOURCES: Similar Upholstered Bed | Bead Chandelier | Cane Nightstands | Striped Curtains | Gold Curtain Rod |  Woven Bench | Jute Rug | Plaid Bedding | Velvet Pillows (similar here) | Faux Christmas Tree | White Rope Tree Collar | Wreath – old from Studio McGee | Ornaments & Picks – old from Hobby Lobby
And if you're looking for a budget tree collar, I ordered this woven one due to the incredible price and great reviews, and it does not disappoint! We used it in our pool house last year, and it is one of the few I brought with me to Florida. It breaks down into two pieces, which makes it so much easier to store than most other tree collars! They brought it back this year, but I can pretty much guarantee it won't be in stock past the end of the month.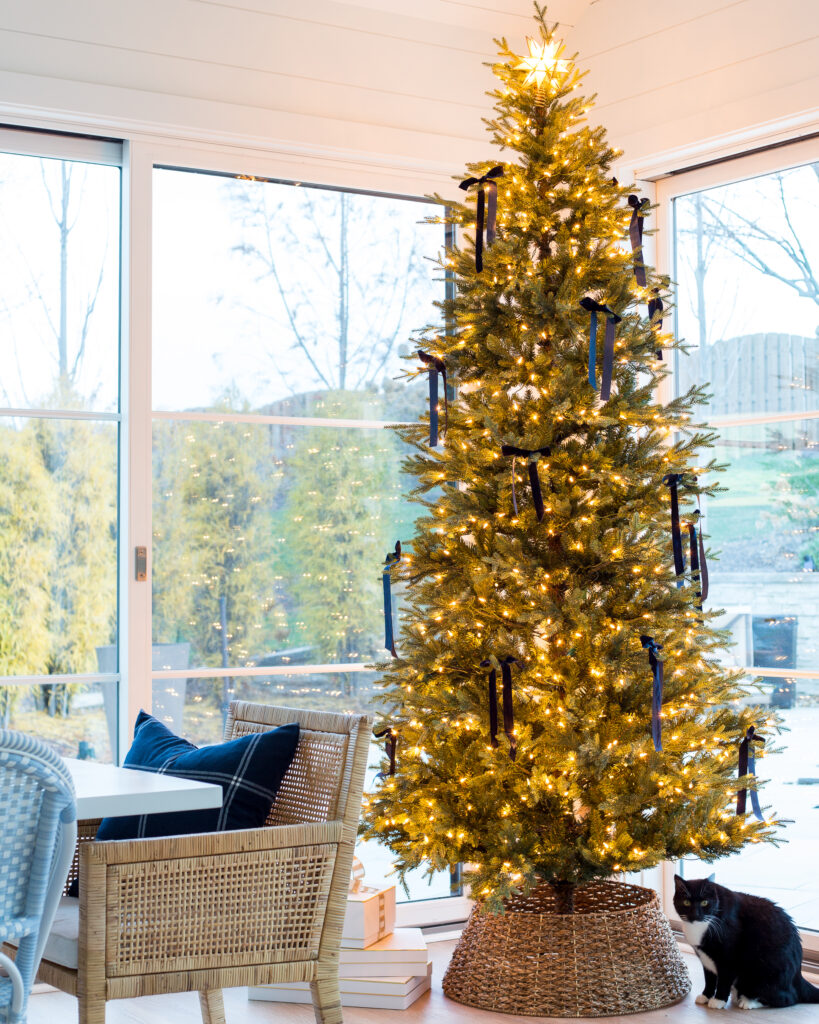 SOURCES: 9′ Artifical Christmas Tree | Woven Tree Collar | Navy Blue Velvet Ribbon | Moravian Star Tree Topper | Dining Table | Bistro Chairs | Rattan Chairs | Plaid Pillow Cover
Favorite Tree Collars for Your Christmas Tree
Before you order a Christmas tree stand collar, you'll want to ensure that you order one large enough to accommodate the base of your Christmas tree stand. In most situations, you shouldn't have any issues (unless perhaps you have an unusually tall tree). But I want to point that out so you don't order one that won't fit your tree! Since it's a collar, if you place your Christmas tree stand on the floor (without the tree attached), you should be able to slip the collar over and then assemble the tree. So, the base of the tree shouldn't be wider than the base of your collar.
Following are even more holiday tree collar ideas that are currently in stock at various retailers! Simply click any of the images below (you may have to double-tap on mobile) to go to the product details. Several in the graphic above have sold out. However, I've linked to a ton of options still available as of today and will continue to add to the list as more become available!
WOVEN CHRISTMAS TREE COLLARS (click any image below to be taken to product listing):




METAL CHRISTMAS TREE COLLARS (click any image below to be taken to product listing):


ROPE, FABRIC & JEWELED CHRISTMAS TREE COLLARS (click any image below to be taken to product listing):

WOOD & MISC. CHRISTMAS TREE COLLARS (click any image below to be taken to product listing):

Additional Christmas Decorating Inspiration
Looking for even more Christmas decorating inspiration? Be sure to check out the following posts! Simply click any of the post names below to read the full article!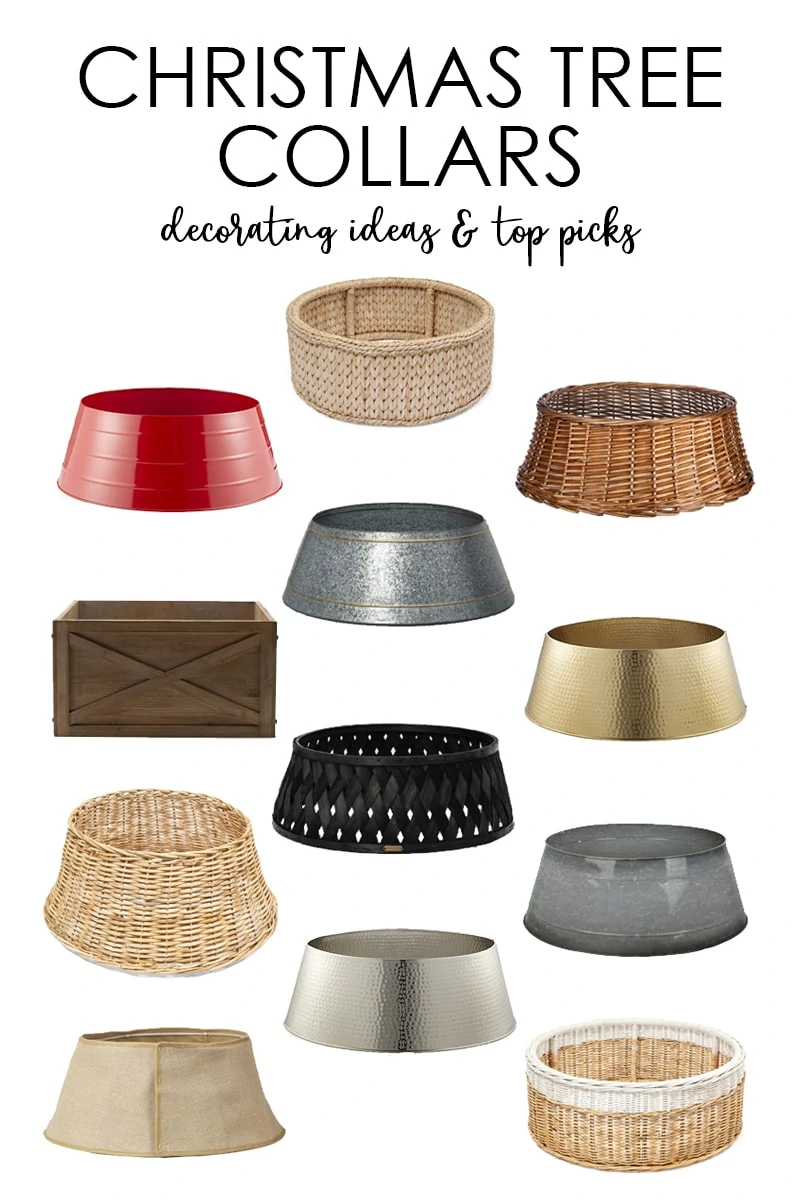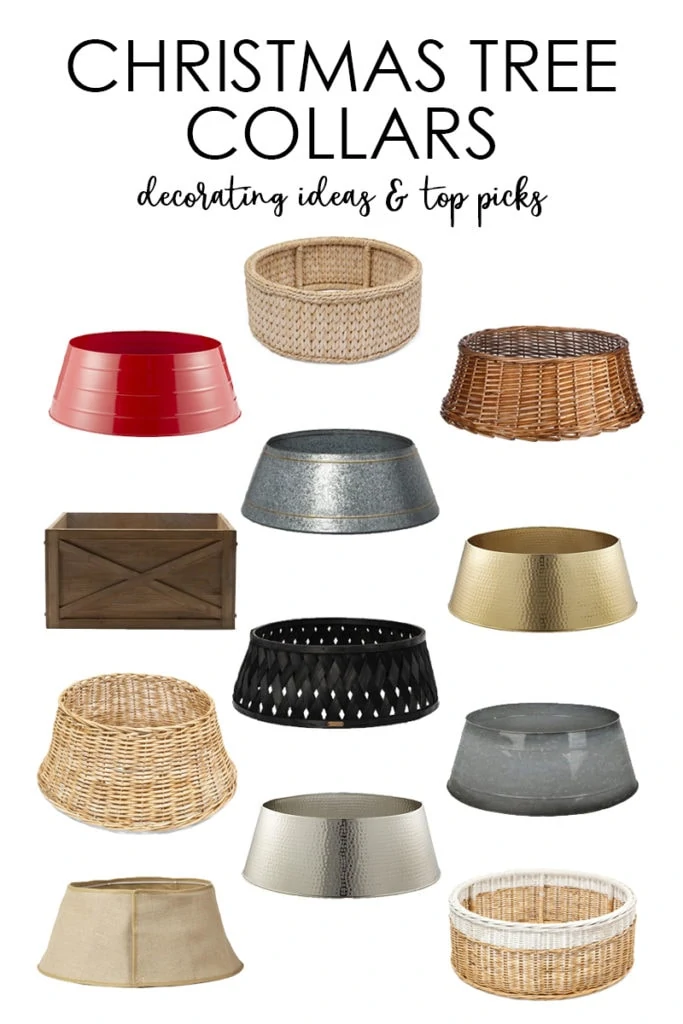 Are you a fan of tree collars paired with a Christmas tree? If so, hopefully you found one you love! You can pin the graphic below to save on your holiday decorating boards as well!
If you would like to follow along on more of my home decor, DIY, lifestyle, travel and other posts, I'd love to have you follow me on any of the following:
Pinterest | Instagram | Facebook | LTK
disclosure: some affiliate links used