Benjamin Moore Hale Navy is one of their most popular paint colors – for good reason! I'm sharing some of my favorite spaces using this paint color, including our newly updated den!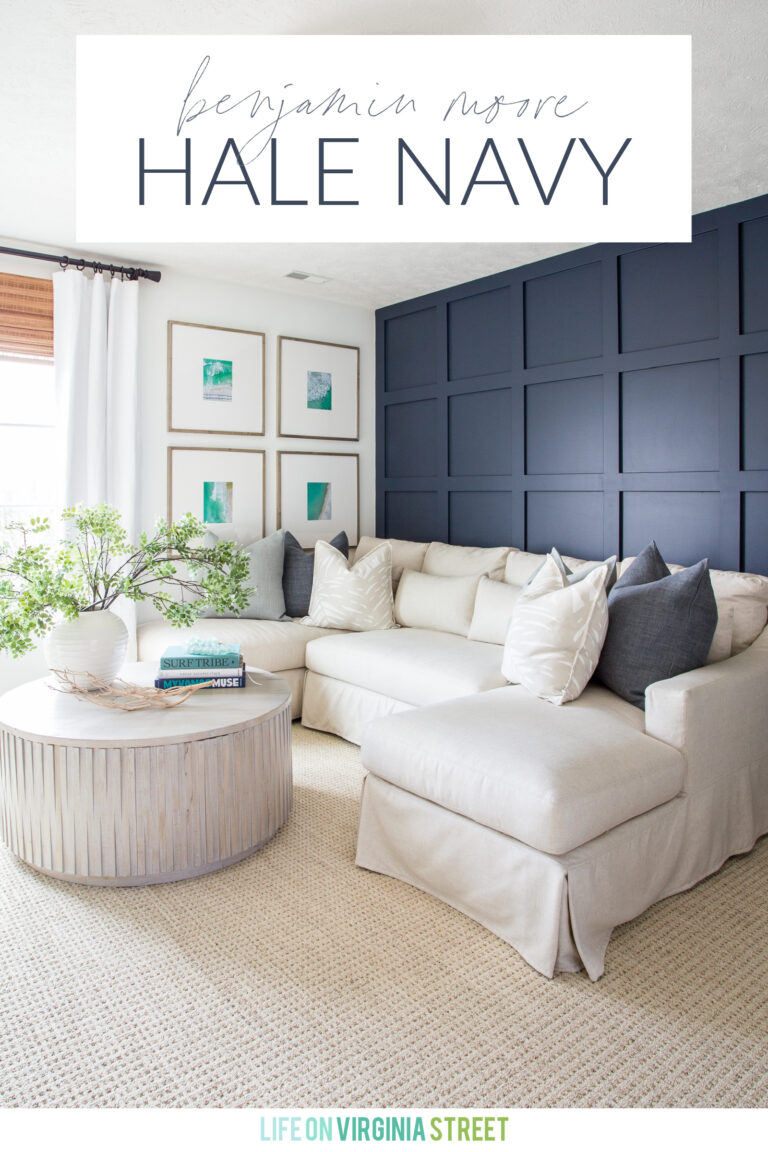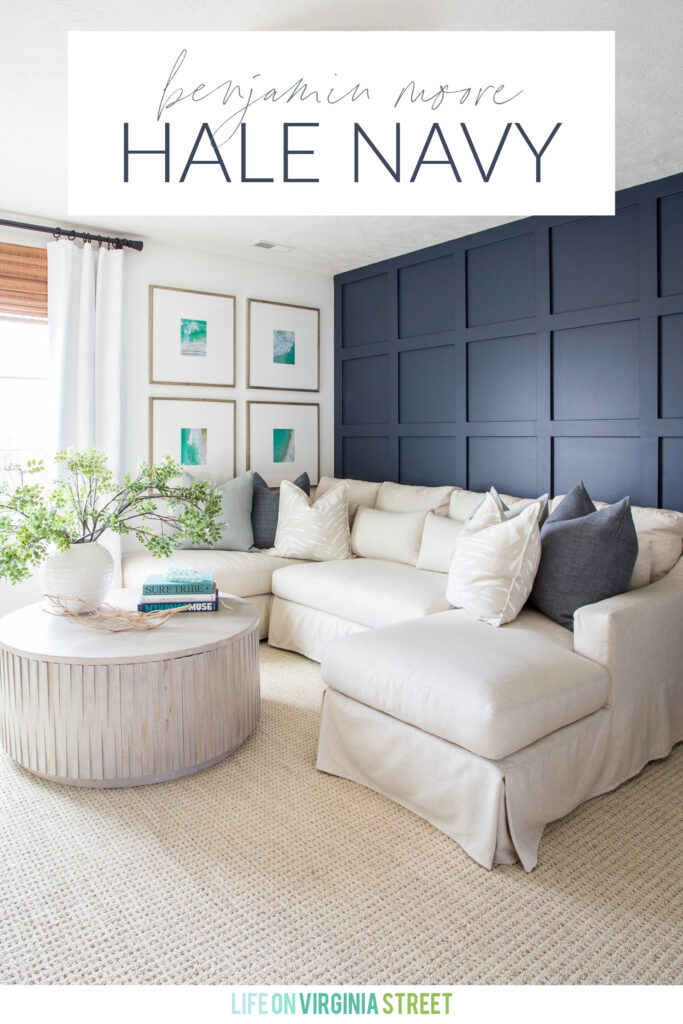 Benjamin Moore Hale Navy, number HC-154, is one of Benjamin Moore's most popular paint colors for good reason! It is a rich, true navy blue paint color and can essentially be used as a neutral in your home because it pairs well with so many other paint colors. Benjamin Moore describes it as a use-anywhere shade of navy with a classic maritime feel. It's truly one of those colors that goes with nearly everything since it's an excellent balance of warm and cool tones! It also works well with so many different decorating styles.
This post contains affiliate links for your shopping convenience. You can read my full disclosure policy here.
Times We've Used Benjamin Moore Hale Navy In Our Home
Our Hale Navy Home Office
The first used Benjamin Moore Hale Navy in our home when I painted our home office about six years ago. It was originally Sherwin Williams Urbane Bronze for several years (which I also loved!) but I craved a change and painted it navy blue. I use an eggshell finish whenever I paint our board and batten walls, and I did that as well here in our office.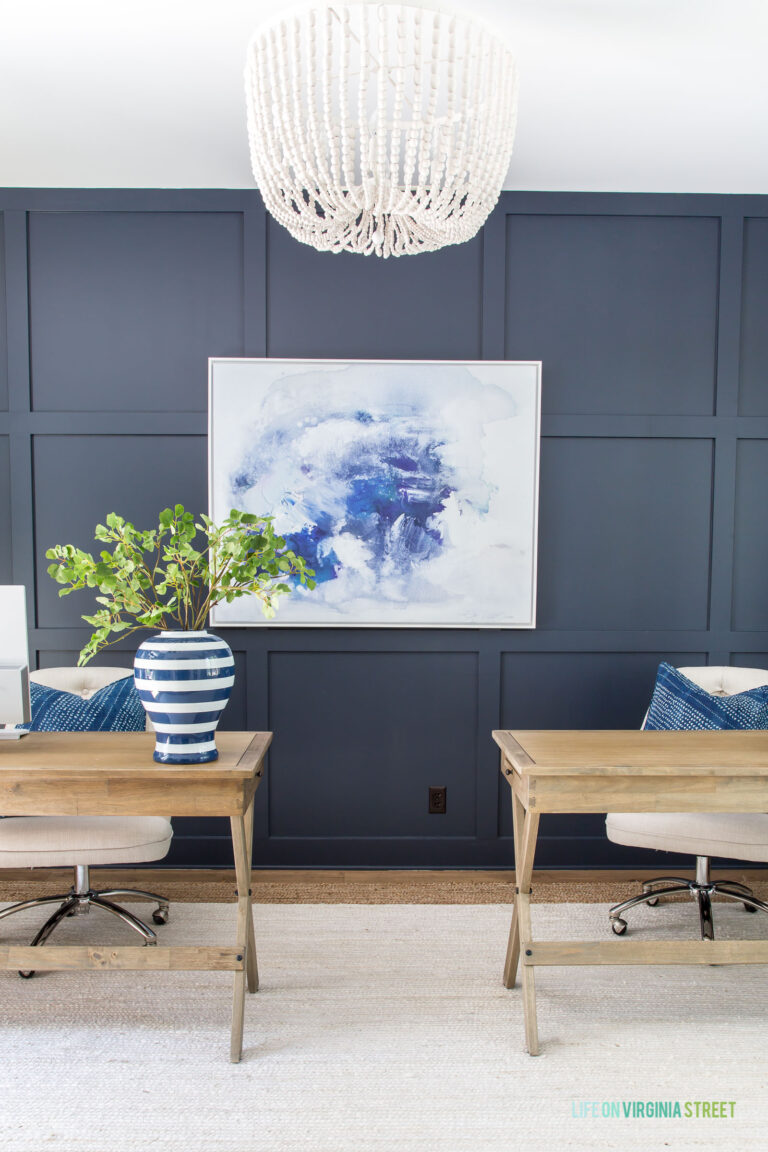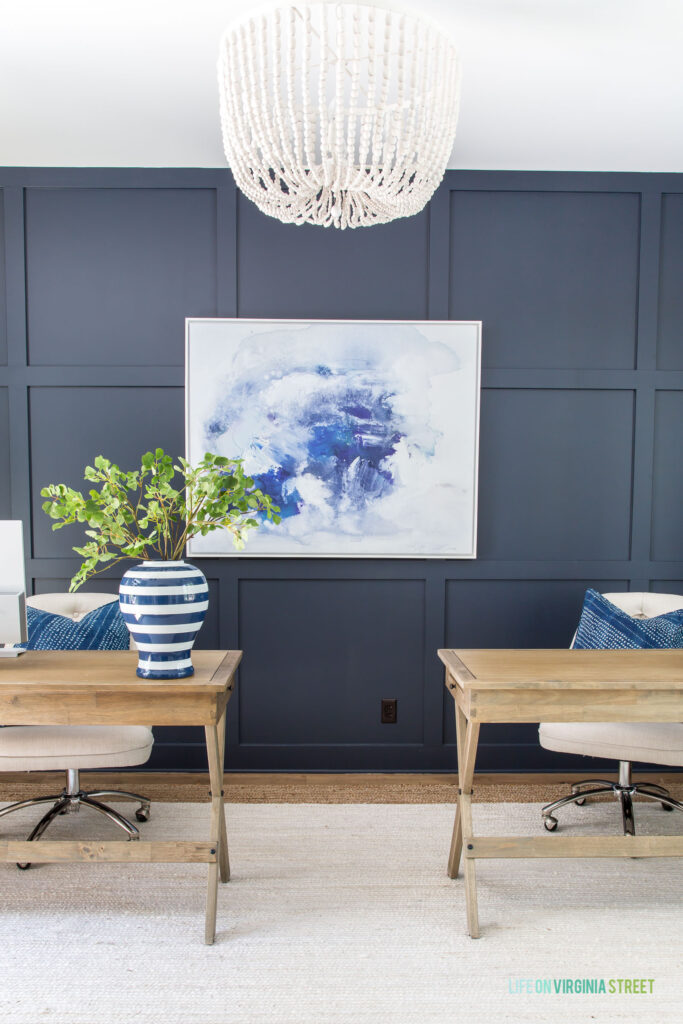 Our office gets natural light exposure from both the south and north, so the navy blue was a little less intense in here. That was especially true because the other three walls were all painted Benjamin Moore Simply White.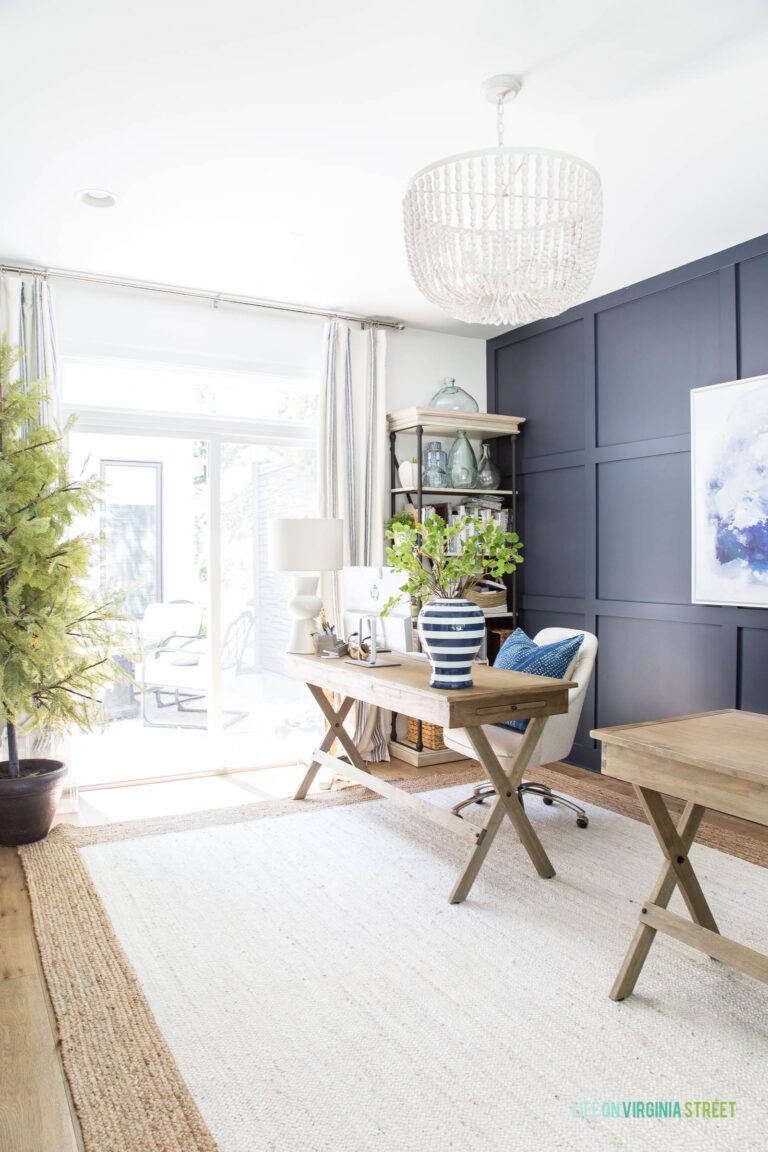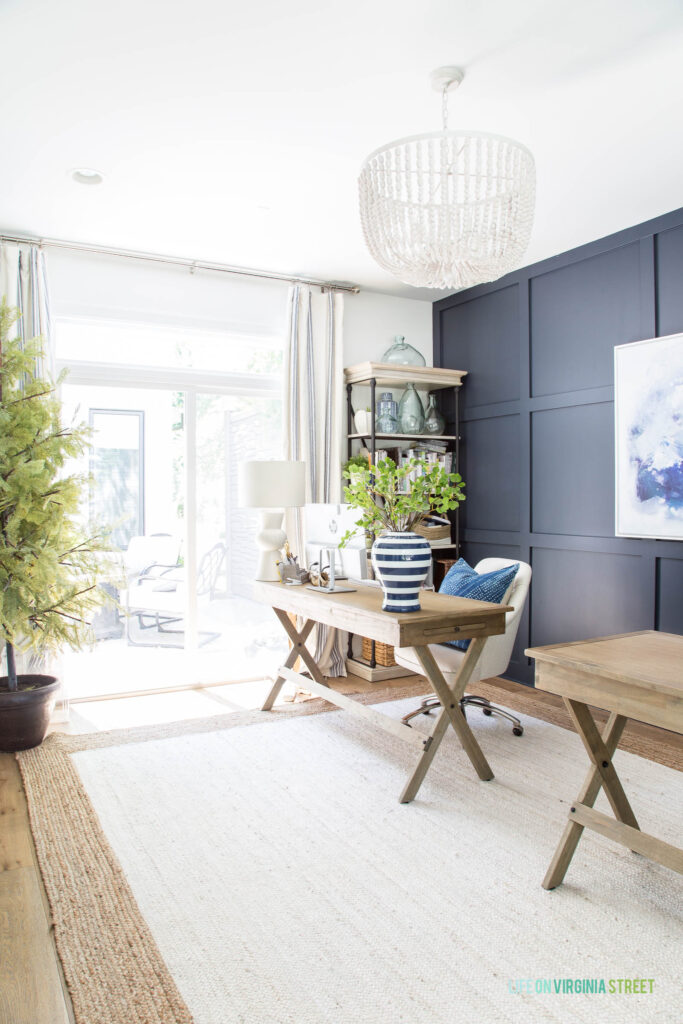 SOURCES: Wood Desk | Linen Chairs | Blue Dyed Pillows | Jute Rug | Striped Curtains | Bookcase | White Wood Bead Chandelier | Similar Lamps | Faux Ginkgo Stems | Similar Striped Vase | Abstract Art
Our Hale Navy Powder Bath
I also decided to paint our thermofoil cabinets in our powder bathroom Hale Navy in a semi-gloss finish. I wasn't sure the paint would hold up on the plastic-like cabinets, but they've held up incredibly well and still look like this today! One thing I noticed. The color looks a bit lighter in here, likely because I used a white primer. Whereas in the office, I didn't need a primer because the walls were already dark. So, if you prefer the more intense version of Hale Navy, I'd consider a tinted primer when you paint! But, keep in mind that the sheen of the paint will likely also impact the intensity of the color as it reflects more or less light.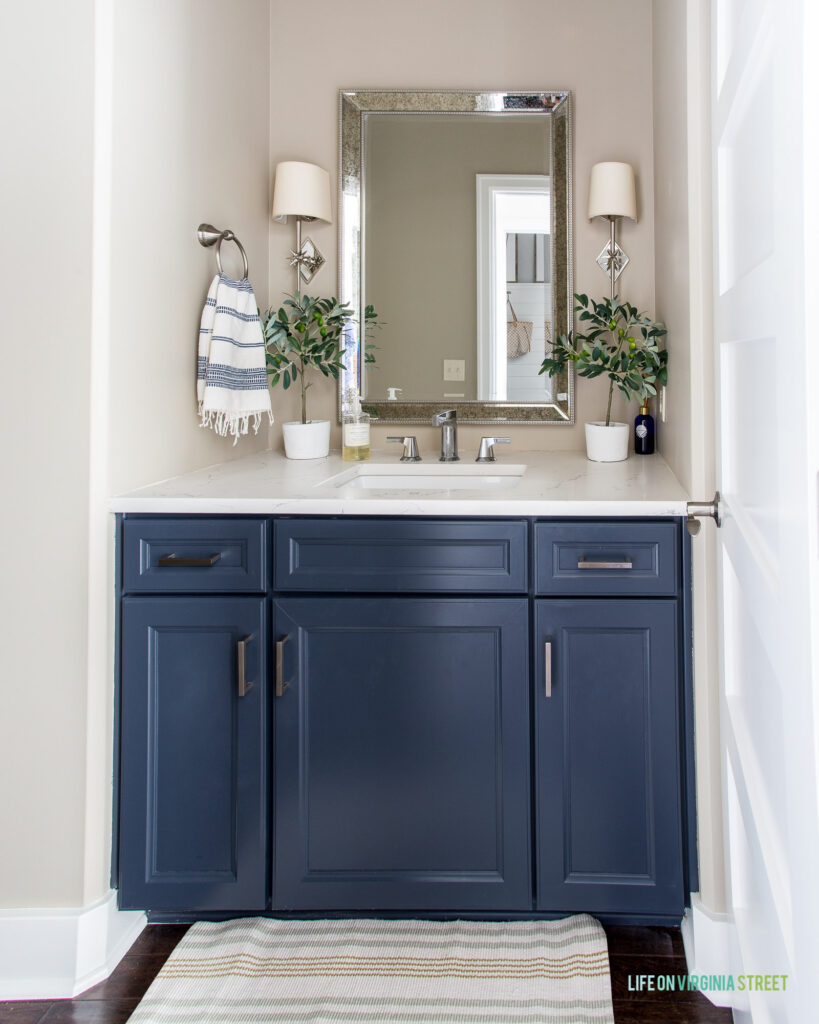 POWDER BATH SOURCES: Star Chandelier | Star Sconces | Striped Rug | Similar Mirror | Meyer Lemon Hand Soap | Faucet | Similar Olive Topiaries
Our Hale Navy Interior Front Door
Even further back in time, I painted the interior of our front door Hale Navy. While I truly love this color, it felt like a little too much contrast to me in this space that doesn't get quite as much natural light. But it really is a beautiful color option for doors, as well!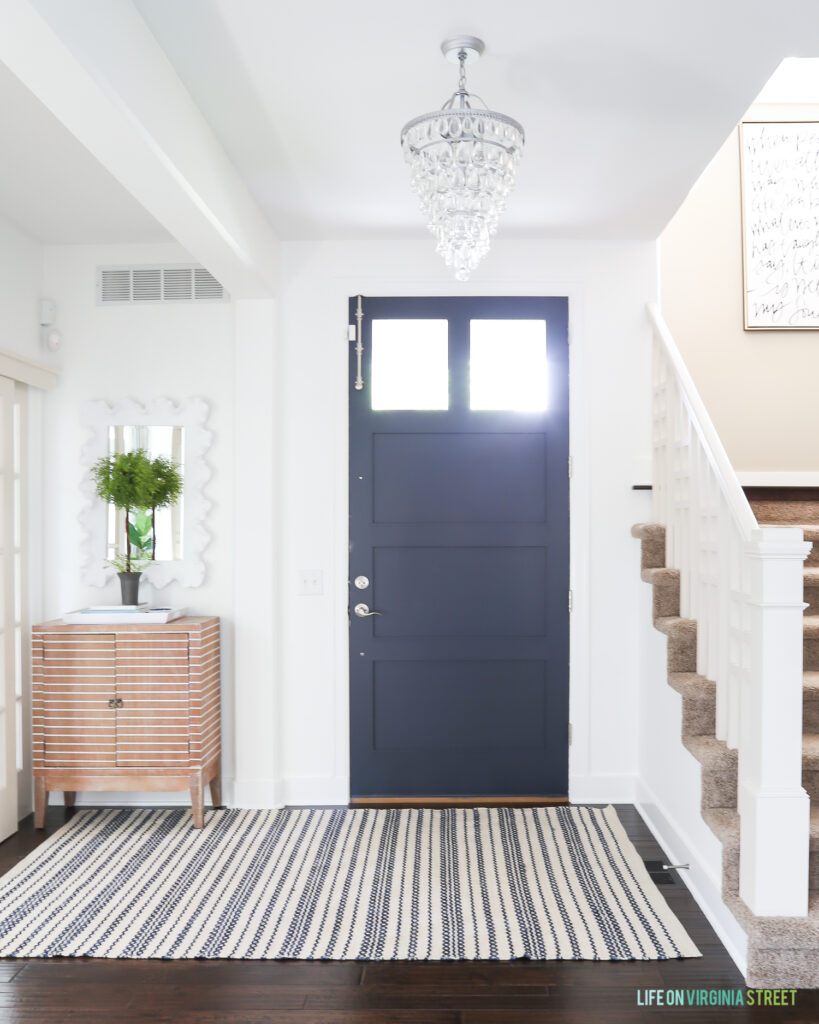 SOURCES: Striped Cabinet | Mirror | Rug | Chandelier
In 2020 while were at home early in the year, I decided to change things up in our office and painted the board and batten wall Benjamin Moore Simply White. It turned out I didn't love the navy day-to-day in a room I spent so much time in. But I really did miss the navy once we painted it. I just knew it couldn't stay in the office. So, I focused on a new room!
Our Hale Navy Board & Batten Den
Can you believe our den looked like this shortly after we moved in?! It was my craft room/junk room/workout room and much more.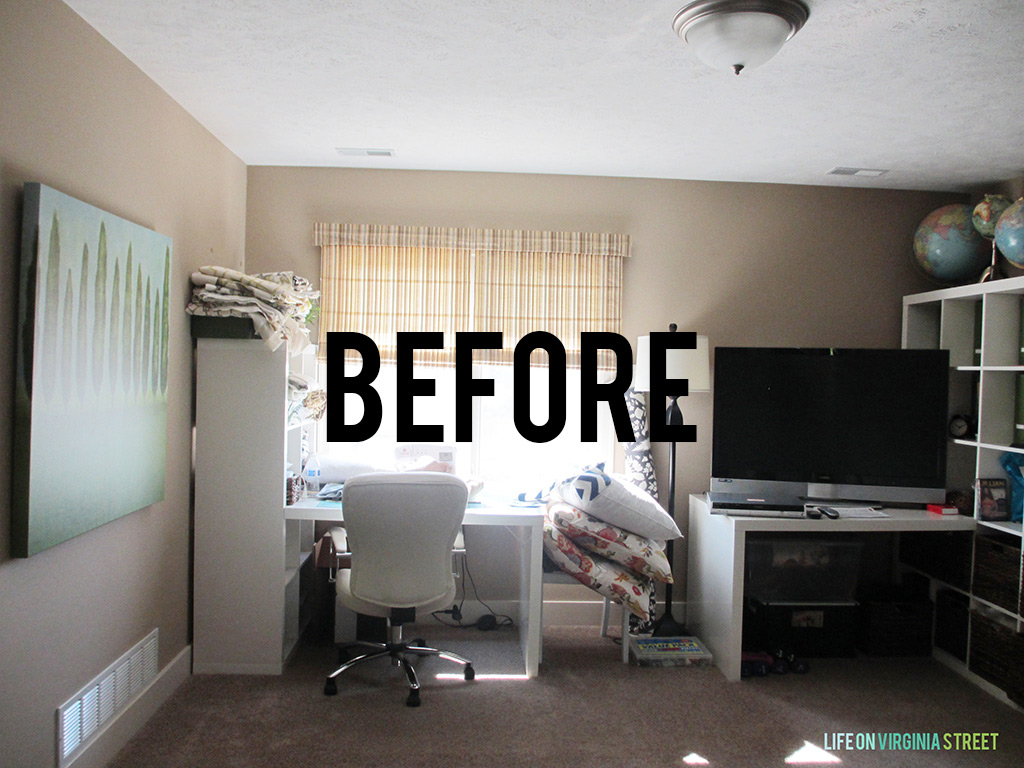 About five years later, we did our first major refresh after several makeovers along the way, in our coastal den reveal. It was the first time the room felt like it was the space it was intended to be. Here is how our den looked when it was all, including the board and batten, painted Benjamin Moore Simply White.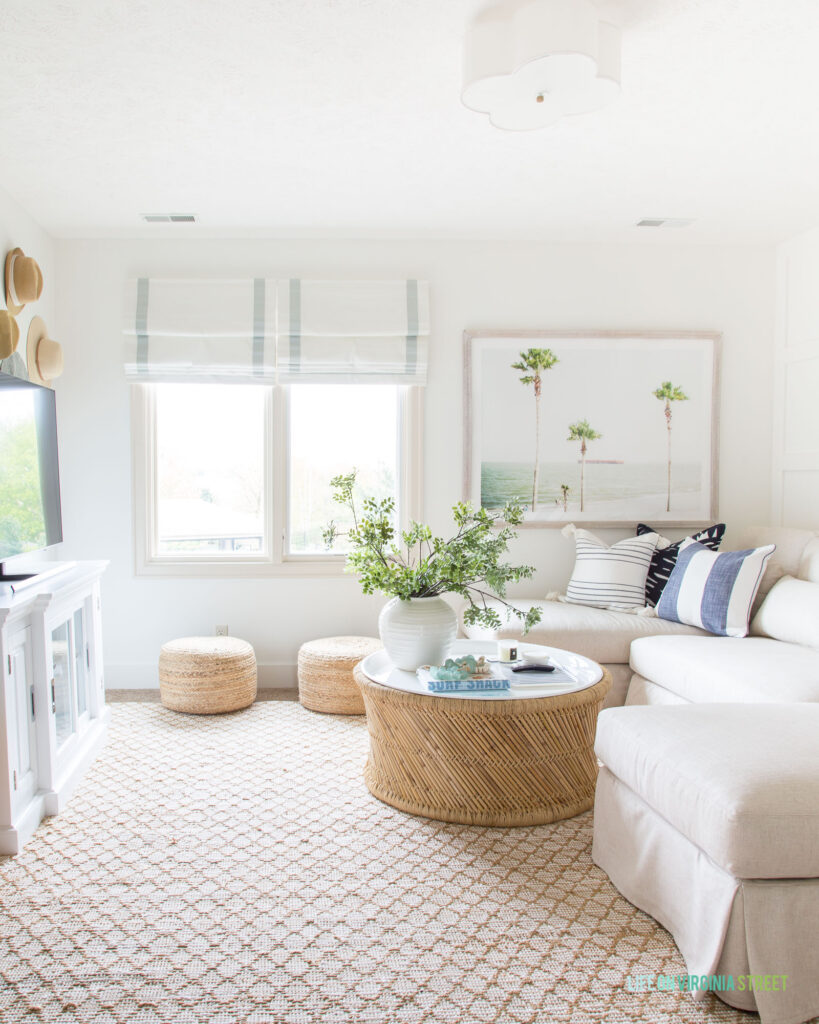 DEN SOURCES: Pottery Barn Sectional | Diamond Jute Rug | Scallop Light Fixture | Coffee Table | Palm Tree Art | Jute Poufs | Similar Ceramic Vase | Faux Greenery Stems | Small Striped Pillow | Wide Striped Pillow | Palm Print Pillow | Striped Throw | Roman Shades
Fast forward several years later. We still loved the room, but the pool house addition was complete and it felt like we needed this space to function differently than it had in the past. Since we now had another light and bright living area (and I was missing the Hale Navy from our office) I completed a quick one-day paint makeover. I shared the update in last year's fall home tour.
But, more recently, I also wanted to add some dimension to the room, so today I'm sharing with you to the latest updates and how the room looks today. Not only has the board and batten feature wall been painted Benjamin Moore Hale Navy, we now have linen blackout drapes and cordless bamboo woven shades. It's the perfect cozy reading room or spot to watch a movie!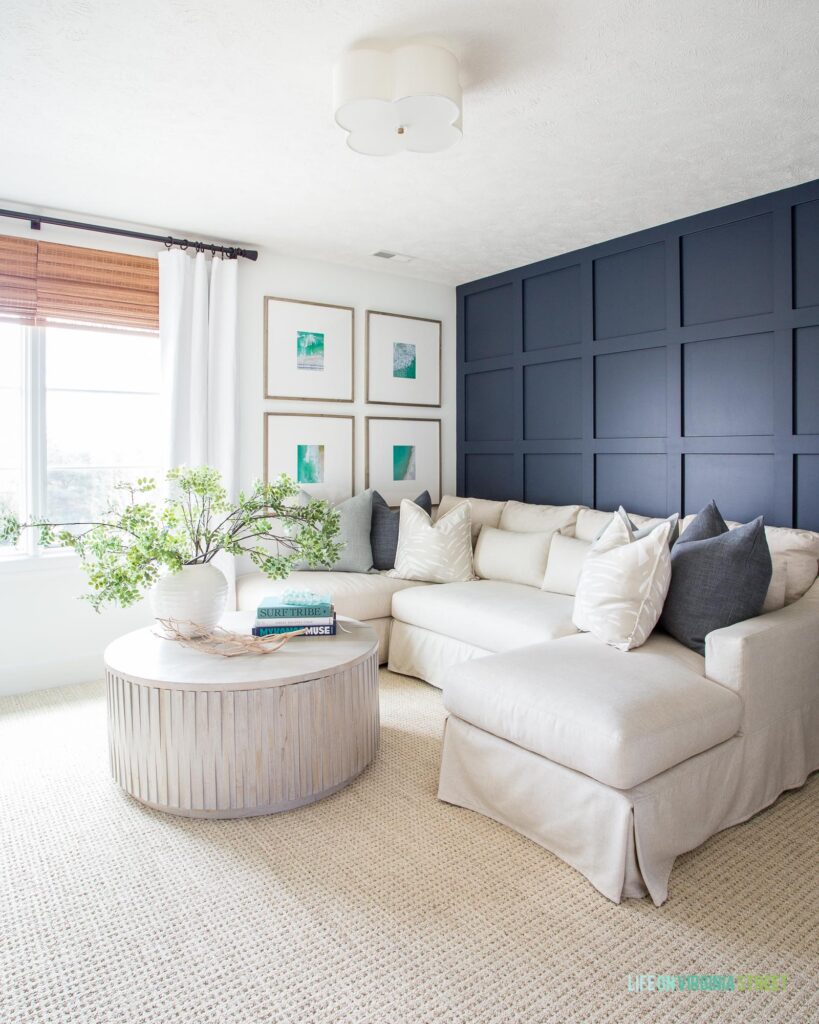 DEN SOURCES: Sectional (read my review here) | Coffee Table | Scallop Light Fixture | Gallery Wall Frames(look for less here) | Art: Personal Vacation Photos (coming soon for download!) | Linen Blackout Drapes | Cast Iron Curtain Rod | Woven Cordless Shades (color is Tuscan) | Chambray Linen Pillow Cover | Midnight Linen Pillow Cover | Palm Pillow Cover | Faux Greenery | Vase | 'Surf Tribe' Book | 'Great Escapes Italy' Book | 'Mykonos' Book | Recycled Glass Beads | Tripod Lamp | Carpet (color is Beach) | Paint Colors: Benjamin Moore Hale Navy and Simply White
One of my favorite features is the new gallery wall I added. I had some of our drone photos print from our last stay at Hola Beaches 30A. It's fun to have a bit of Florida in this space!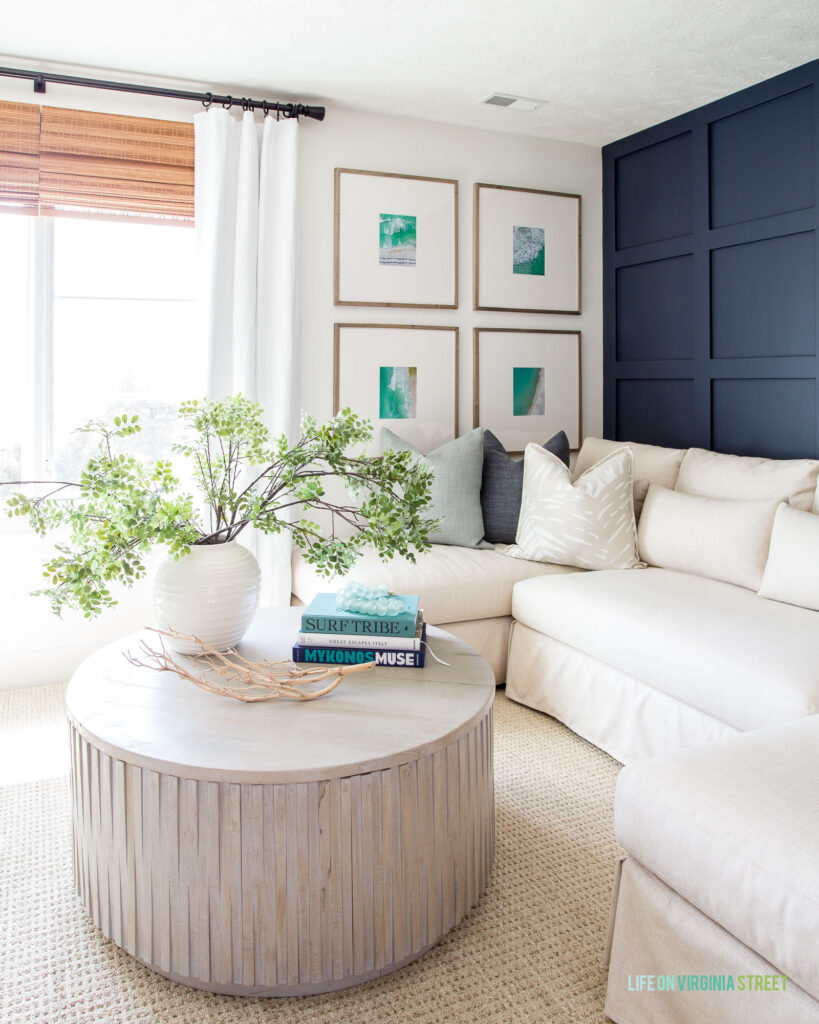 We absolutely love the dimension that has been added to the space by painting the board and batten navy blue! It makes it feel so much more cozy in the room now!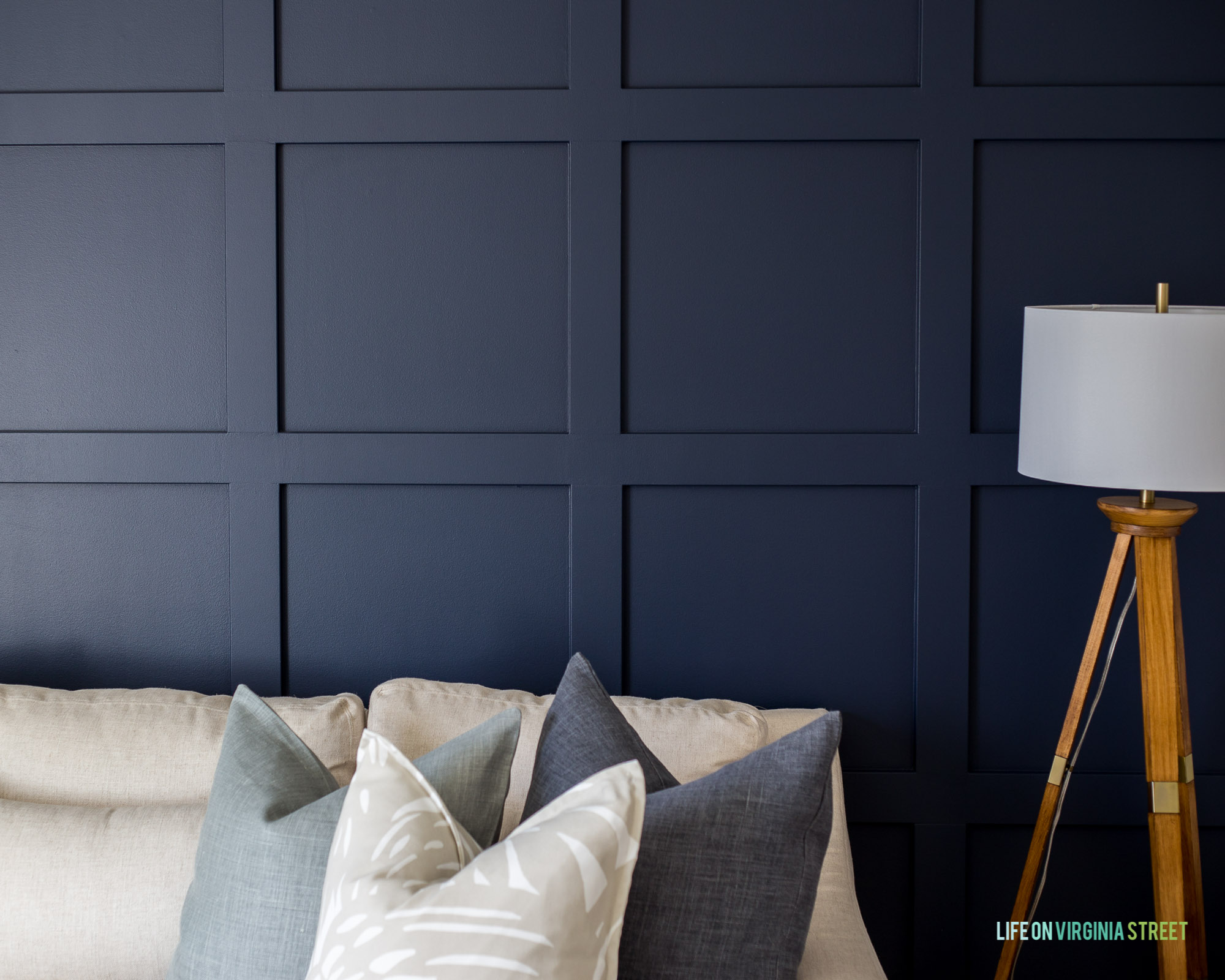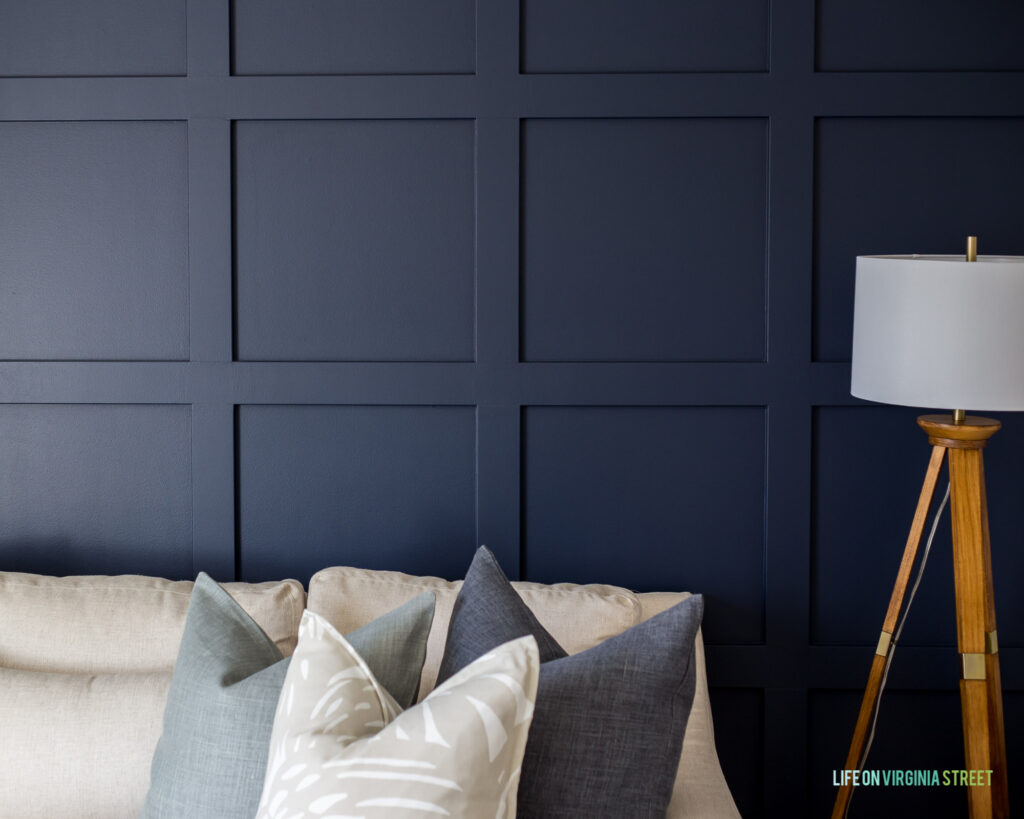 Colors That Go With Hale Navy 
Because Benjamin Moore Hale Navy is essentially a neutral, there are so many other colors that pair well with it. Following are a few of my favorite paint colors that work well with Hale Navy.
Benjamin Moore Simply White
Sherwin Williams Agreeable Gray
Behr Castle Path
Benjamin Moore also recommends the following coordinating colors.
Benjamin Moore Coventry Gray
Benjamin Moore White Dove
Benjamin Moore Lenox Tan
Benjamin Moore Glacier White
If you're wanting to try large, pre-painted samples, I'd definitely look into Samplize for picking the perfect navy blue paint color & pairings for your home! Their large peel and stick samples are made with real paint (not dyed to mimic the color) so it can definitely help narrow down your top picks.
Benjamin Moore Hale Navy Compared To Sherwin Williams Naval
There are many great navy blue paint colors out there, but Benjamin Moore Hale Navy and Sherwin Williams Naval remain my two favorites!
We have used both  in projects, and they are two of my favorites. In fact, since I'm not a huge fan of color-matching, they are very similar in many ways if you love to stick with a particular brand.
Both colors are very much a true navy blue. I'll share examples of how we used Hale Navy in the next section. But, in our Tudor flip house, we used SW Naval in the kitchen and here is the end result. It is especially such a beautiful color paired with bright whites and gold tones.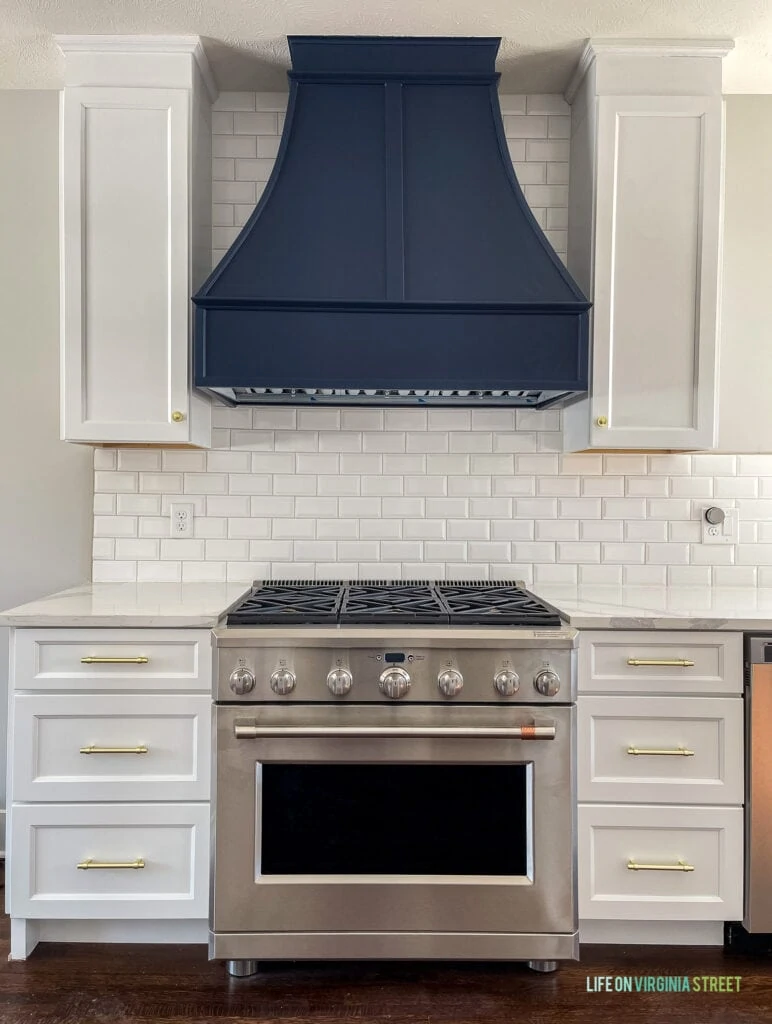 Right off the bat, you'll also likely notice that Naval is a darker navy than Hale Navy.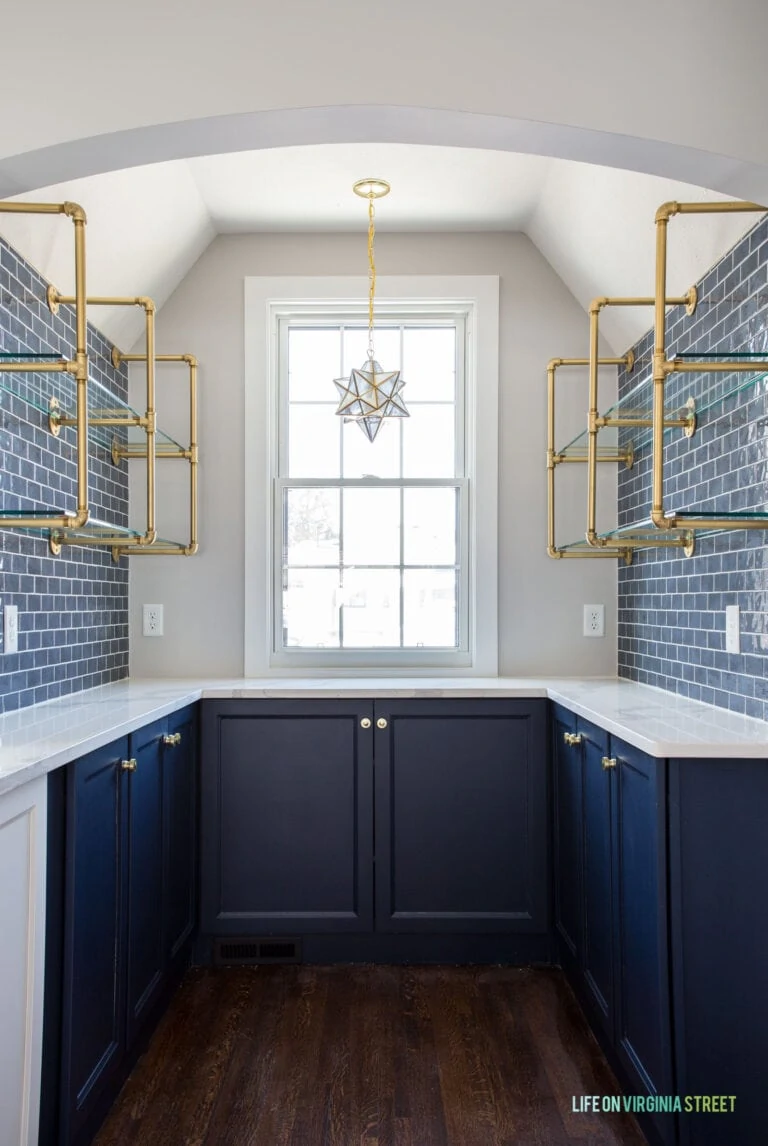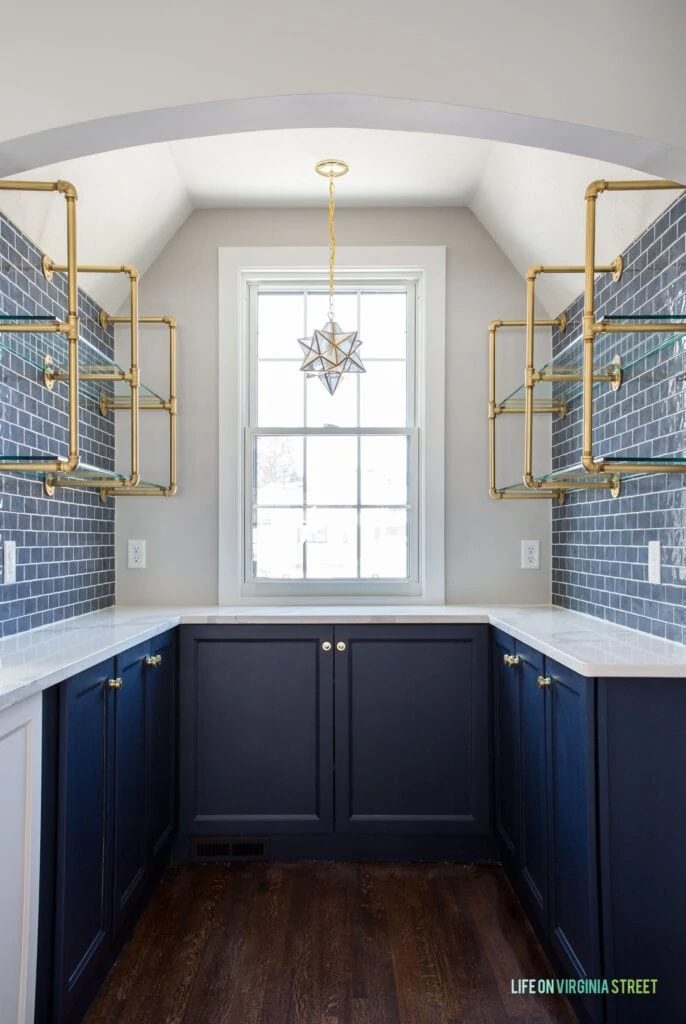 KITCHEN & PANTRY SOURCES: Moravian Star Pendant Lights | Cabinet Knobs | Cabinet Pulls | Similar Range Hood | White Subway Tile | Blue Subway Tile
Bottom-line, you really can't go wrong with either color. If you're looking for a slightly moodier and darker color, perhaps try Sherwin Williams Naval. But, Benjamin Moore Hale Navy still remains the favorite for me and how it looks in our home!
Additional Paint Color Inspiration
If you're looking for even more paint color inspiration, be sure to check out these other posts by clicking on their titles below:
Free Paint Color Organization Printables
If you frequently paint your home like I do, it can sometimes be difficult to keep all your colors (and paint cans) organized! I recently created a free paint color organization printable set that I think you will all love!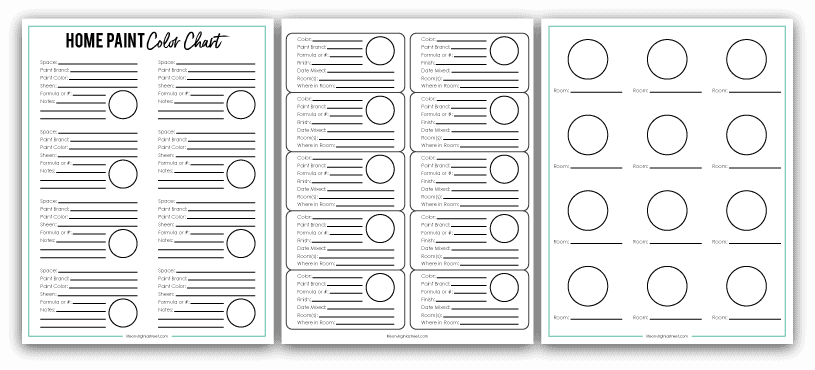 Simply complete the form below and I'll email the PDF files over to you to start using today! It will also subscribe you to my email list, however, you can easily unsubscribe at any time if that isn't your thing.
If you would like to follow along on more of my home decor, DIY, lifestyle, travel and other posts, I'd love to have you follow me on any of the below channels: