A collection of the best warm gray paint colors along with real-life examples of each option to help you pick the best paint color for your own home!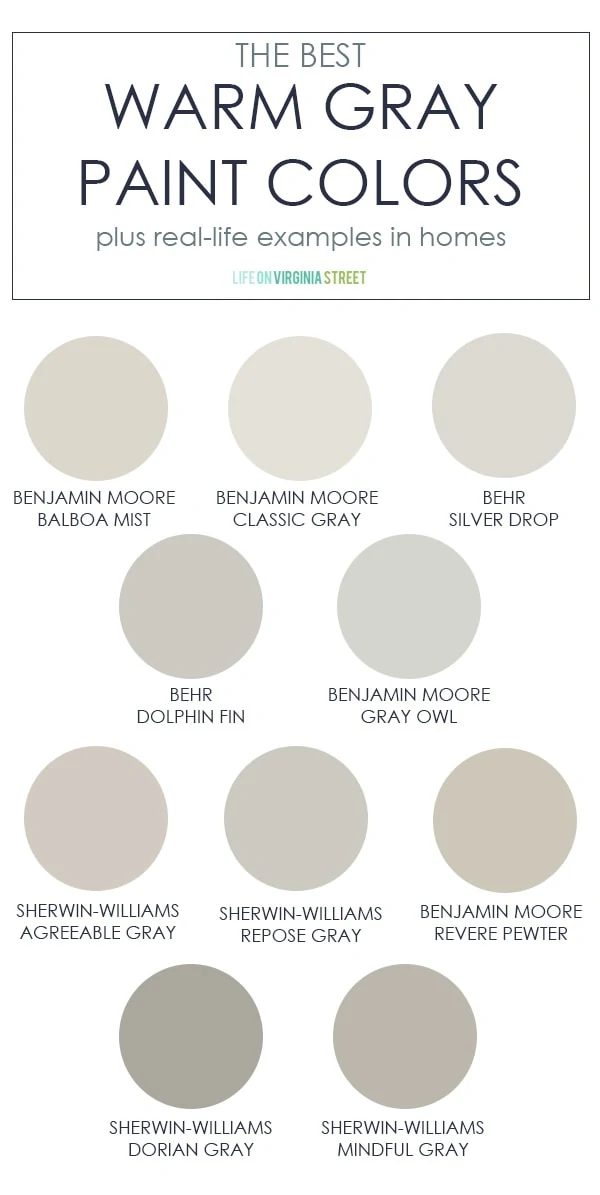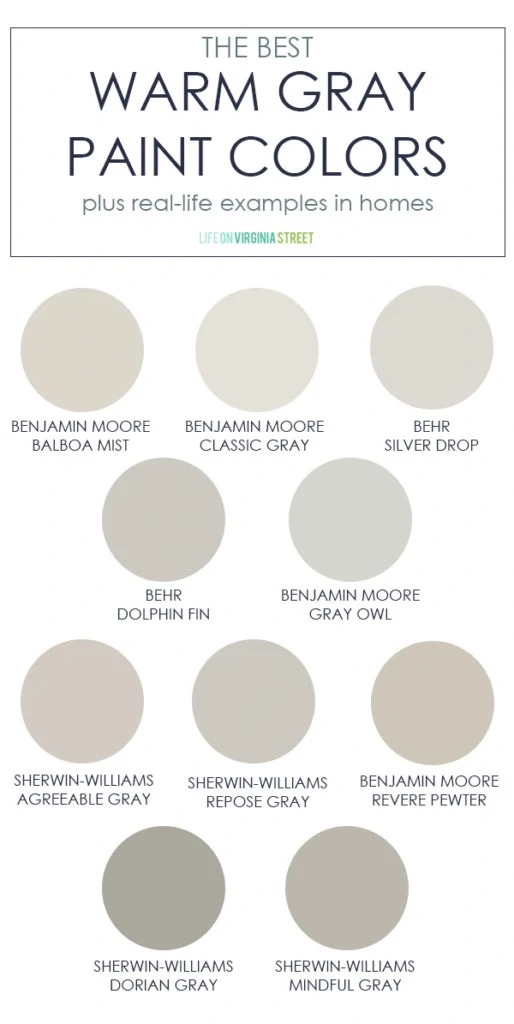 Whenever January rolls around, I'm immediately in the mood for some room makeovers and refreshes! And one of the easiest and most affordable ways to update a space is with paint! Today I'm sharing the best warm gray paint colors that I think tend to look good in the widest variety of home and lighting conditions. Along with that, I'll be sharing images of the colors in real-life spaces so you can get a better feel as to how they look off the paint chip.
This post contains affiliate links for your shopping convenience. Click here to read my full disclosure policy.
The Best Warm Gray Paint Colors
I feel like we're going to be seeing less and less cool gray paint colors over the next few years. As we see more wood tones coming back and spaces that feel much warmer and cozier, we'll also see the gray paint color trend shift to warmer tones. You may have also heard the term "greige", which is really just a hybrid of beige and gray. It's essentially the same idea, but even slightly more warm than warm gray paint colors. And although several of the colors I've chosen look very warm on a paint chip, they definitely have gray undertones when you put them up on walls! I think you'll agree that most of these could be considered perfect neutral paint options! If you're looking for more "true gray" options, be sure to check out my post on The Best Gray Paint Colors!
Following are what I believe to be the best warm gray paint colors that will look good in a variety of homes and lighting conditions! Much like white paint colors, I do not recommend color matching warm gray paint colors (unless you go pretty dark). I've tried it in the past, and I don't feel like the color matching is accurate. And this goes for all brands! So, I tried to include some fairly comparable options with a variety of paint brands.
If you're wanting to try large, pre-painted samples, I'd definitely look into Samplize for picking the perfect warm gray color for your home! Their large peel and stick samples are made with real paint (not dyed to mimic the color) so it can definitely help narrow down your top picks.
Benjamin Moore Balboa Mist
Although technically an off-white, Benjamin Moore's Balboa Mist is a beautiful warm gray color that is a serene neutral. It has subtle nuances of white that suits tranquil, serene environments as well as creates color-enhancing accents for dynamic spaces. Perfect if you have colorful artwork or accessories!
Benjamin Moore Classic Gray
We have Benjamin Moore Classic Gray in our guest bedroom walls and it's one of my favorite neutrals! It's a definitely chameleon, but is one of the very best light warm grays. It can look gray in some lights and much warmer in other lights, but it's an excellent neutral if you don't want something in-your-face!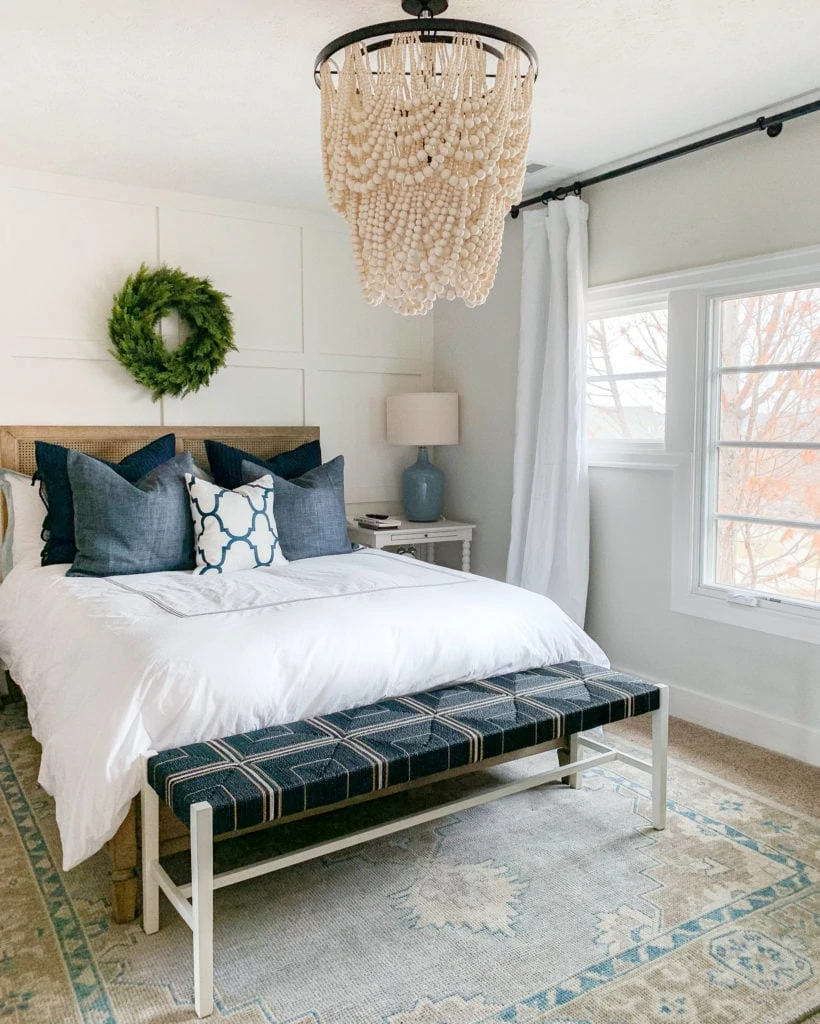 GUEST BEDROOM SOURCES: Cane Bed | Bead Chandelier | Nightstand | Lamp | Wreath | Pick-Stitch Shams | Linen Pillows | Trellis Pillow | Bench | Linen Drapes | Cast Iron Curtain Rod | Cast Iron Finial | Curtain Rings | Hand-Knotted Rug
Behr Silver Drop
We had Behr Silver Drop in our dining room right before we painted it Benjamin Moore Simply White. It's another chameleon color that can change warmer and cooler depending on the time of day and lighting conditions.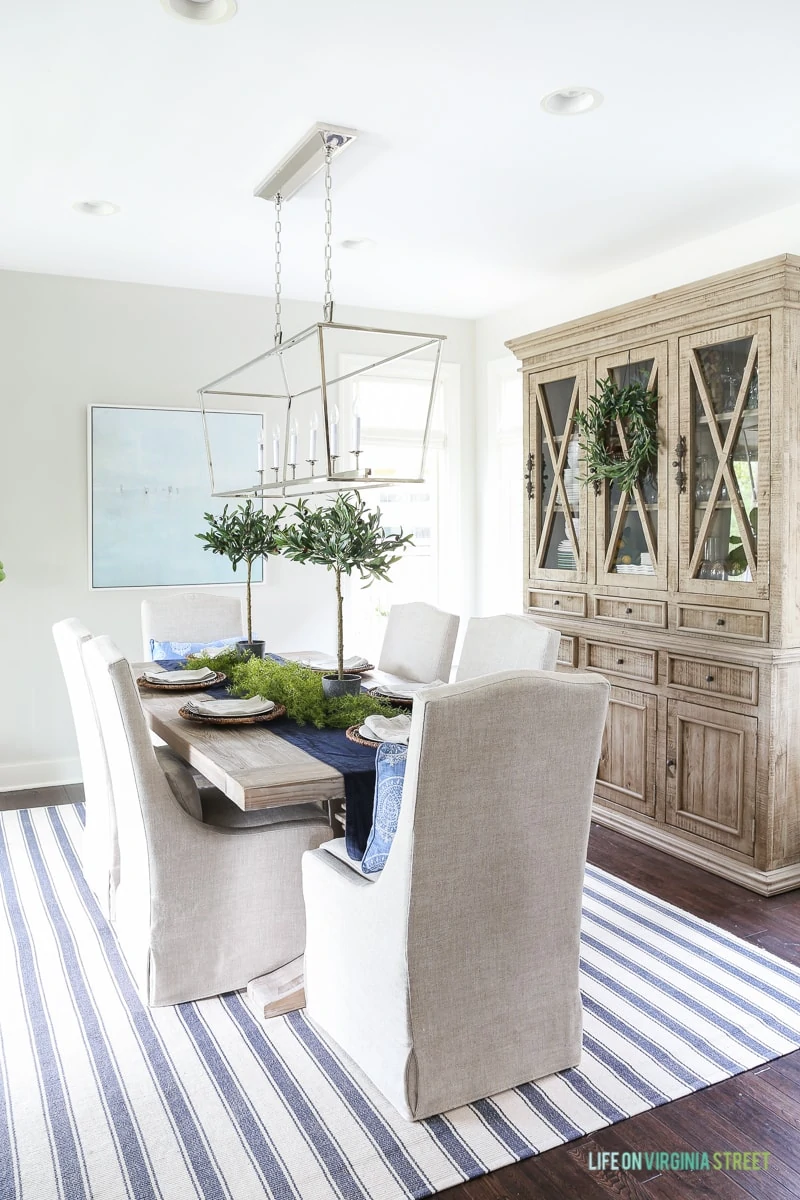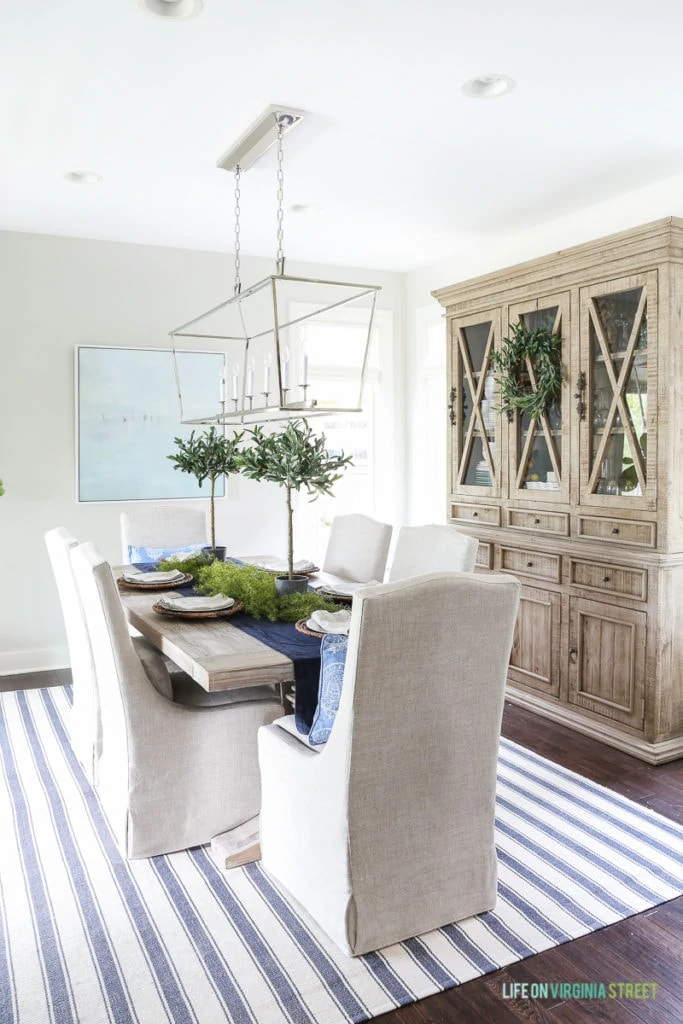 DINING ROOM SOURCES: Dining Table | Linen Dining Chairs | Striped Rug | Chandelier (look for less here) | Velvet Table Runner | Hutch Details | Art: old – One Kings Lane | Olive Leaf Topiaries & Wreath: old – World Market
Behr Dolphin Fin
We actually used Behr Dolphin Fin in our other guest bedroom back when it had striped walls. It leans more true gray, but has warm enough undertones that it can work well in a variety of homes! Especially if your space faces south and receives more natural sunlight!
Benjamin Moore Gray Owl
One of the more popular Benjamin Moore Gray colors, Gray Owl has also been a top seller for them for awhile. It's a very versatile light warm gray paint that can work well in a variety of homes!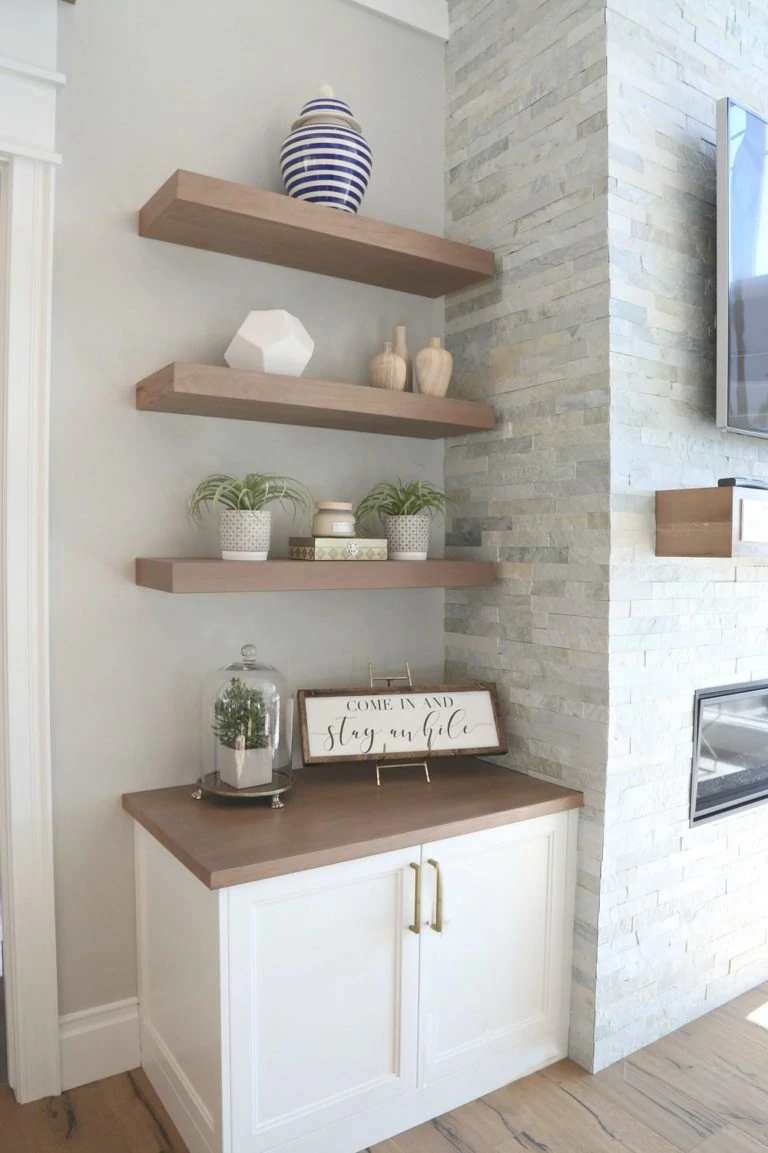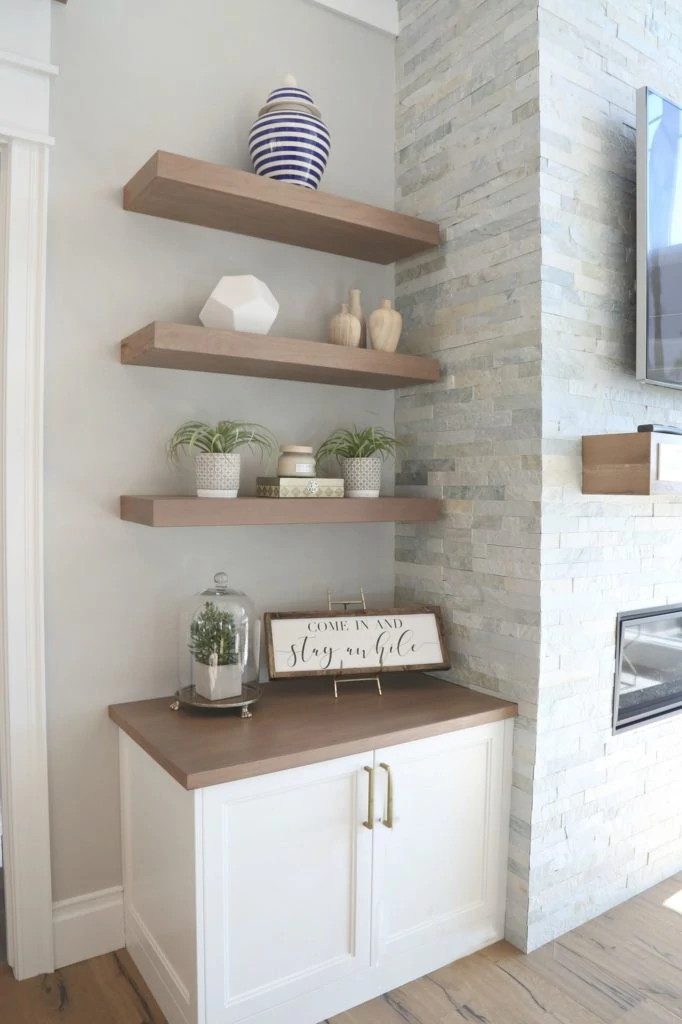 Sherwin-Williams Agreeable Gray
If I had to pick one color that universally looks good in every home I've seen it in, I would immediately say Sherwin-Williams Agreeable Gray. It's the color we use in all of our investment properties and everyone that walks in asks what it is! It appeals to the beige lovers and the gray lovers equally! You can take the full tour of one of our rental homes that we essentially gutted and painted fully in Agreeable Gray.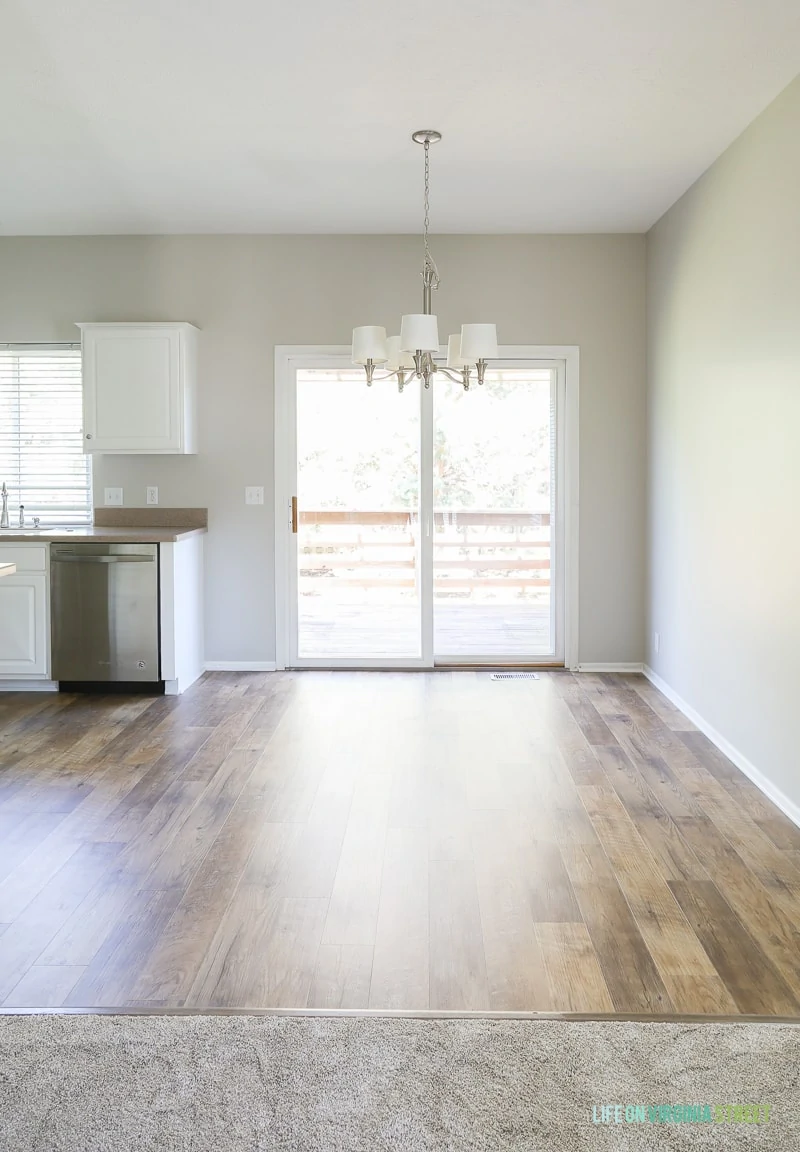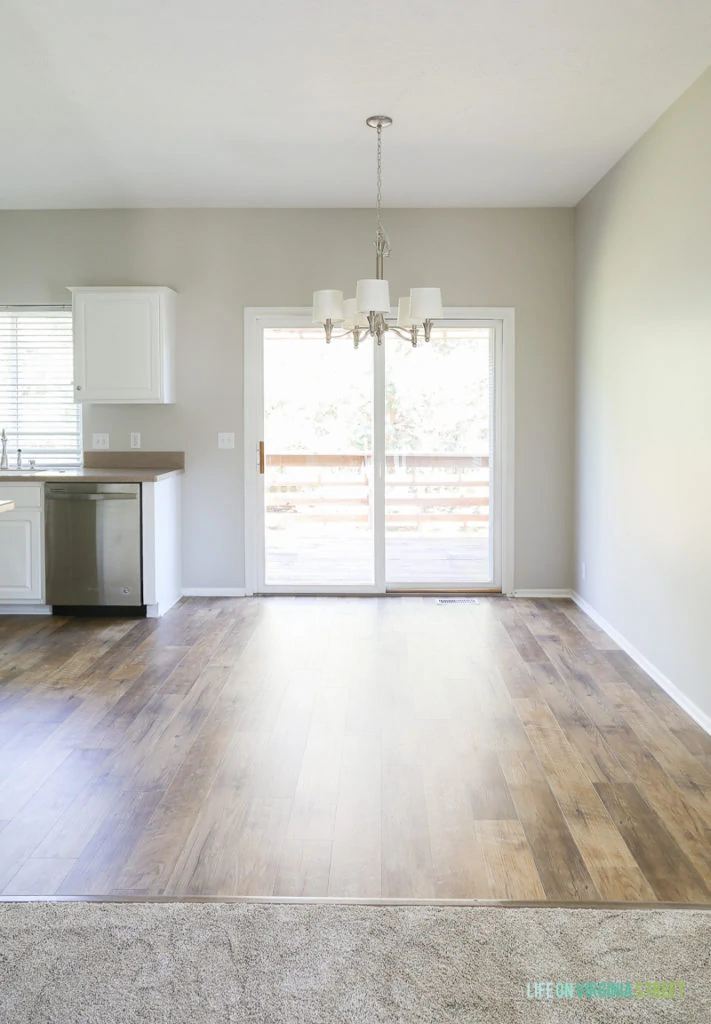 Sherwin-Williams Repose Gray
My mom painted their entire first floor Sherwin-Williams Repose Gray and she couldn't love it more! It definitely leans a bit more gray, but it still has slightly warm undertones to avoid it feeling cold or stark. It's a beautiful whole-house option!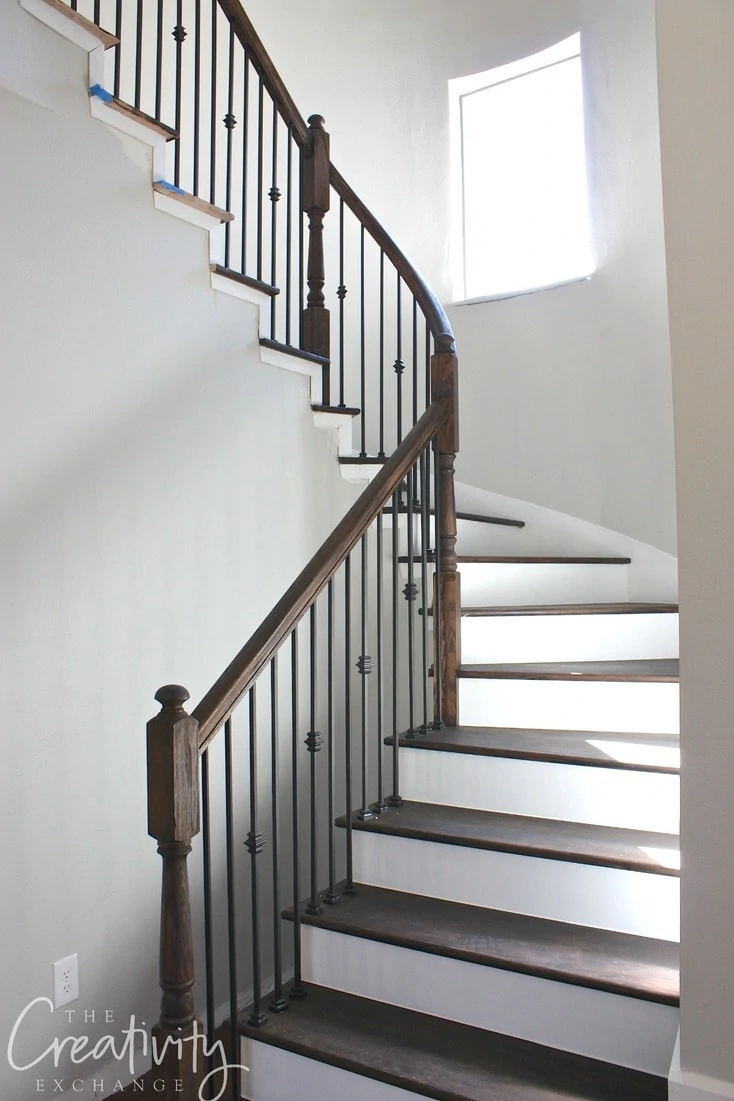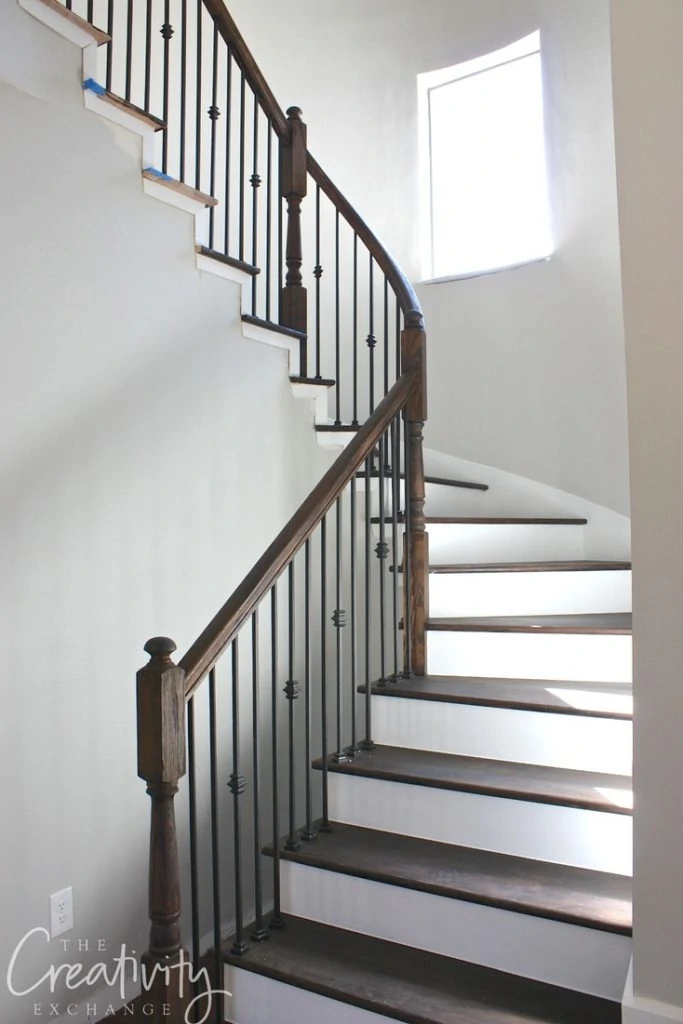 Benjamin Moore Revere Pewter
Benjamin Moore Revere Pewter has long been considered another "perfect" paint color if you're wanting a gray greige look. It comes off a bit dark in some homes, so if you love the look and tones, you can always ask the painter counter to mix it at 50% or 75% (or whatever variation) to lighten it up to the perfect color for your home!
Sherwin-Williams Dorian Gray
A much deeper and rich warm gray, SW Dorian Gray is perfect for moodier spaces! And, as you can see in the photo below, it's warm enough that it can even pair with brown tones without looking "off". It also adds a lot of depth and dimension to a space!
Sherwin-Williams Mindful Gray
Sherwin-Williams Mindful Gray is one of those colors that looks warmer on the paint chip, but will likely show up cooler once painted on your walls. But, it's a beautiful warm gray that works well in bathrooms, kitchens, and other spaces and looks great with marble that may have a variety of veining and colors. I would argue the photo below makes it appear slightly warmer than it may in other spaces.
The photo below shows the same space just to show how the color can change based on lighting and angles!
Additional Paint Color Inspiration
If you're looking for even more paint color inspiration, be sure to check out these other posts by clicking on their titles below:
Free Paint Color Organization Printables
If you frequently paint your home like I do, it can sometimes be difficult to keep all your colors (and paint cans) organized! I recently created a free paint color organization printable set that I think you will all love!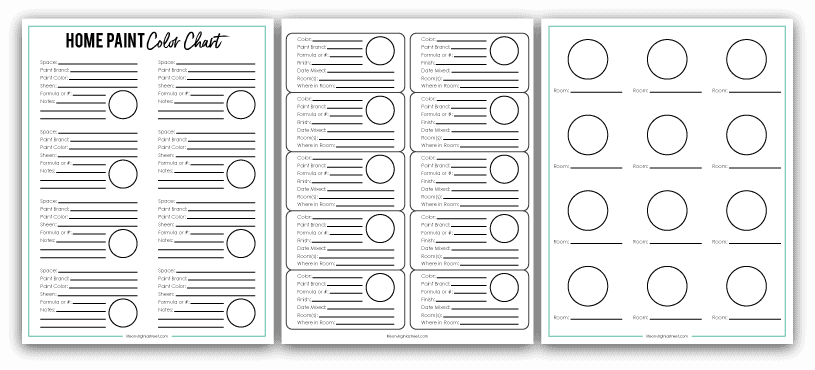 Simply complete the form below and I'll email the PDF files over to you to start using today! It will also subscribe you to my email list, but you can easily unsubscribe at any time if that isn't your thing.
I hope you found these ideas and the best warm gray paint colors helpful!
If you would like to follow along on more of my home decor, DIY, lifestyle, travel and other posts, I'd love to have you follow me on any of the following:
Pinterest | Instagram | Facebook | Twitter 
disclosure: some affiliate links used