Sharing the best blue-green paint colors, along with real-life examples of these colors in homes!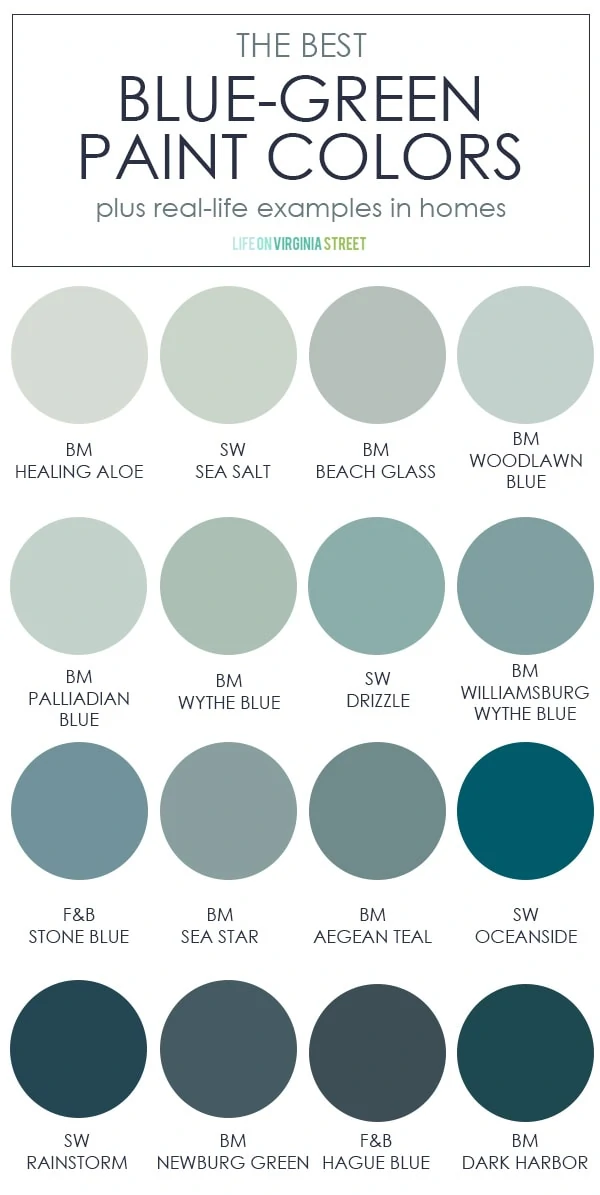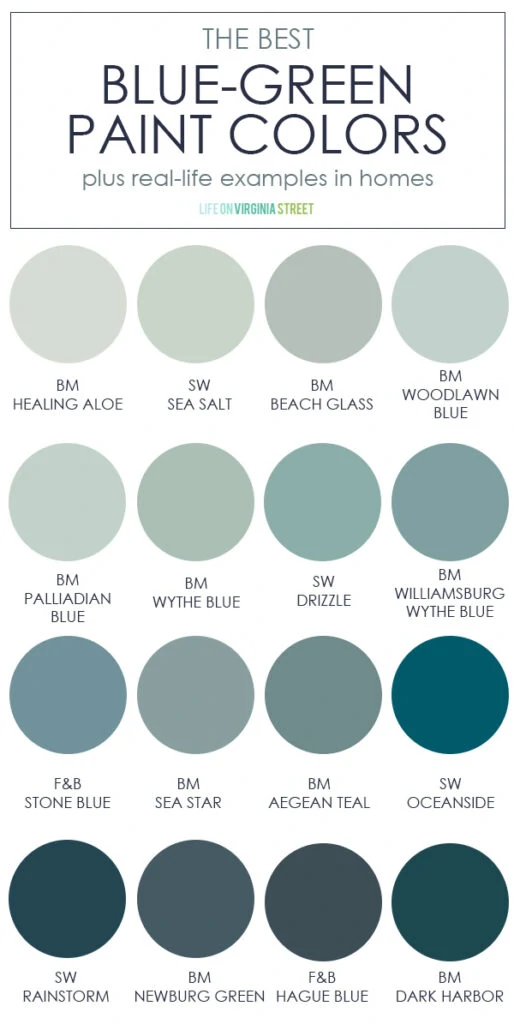 After sharing my post on the best blue gray paint colors, I received requests for a similar post on the best blue green paint colors! So, I'm back today with so many more beautiful muddy blue color options that lean more green than gray! I've also included links at the very end of this post to tons of other top paint colors picks if you're interested!
This post contains affiliate links for your shopping convenience. Click here to read my full disclosure policy.
The Best Blue Green Paint Colors & Real-Life Examples In Homes
It's no secret that various shades of blue paint are having a moment right now! And my coastal loving heart is here for it! The trouble is there are so many variations of the color. Blue mixed with gray, blue that leans more green, and so on. Below, I'm narrowing down the best blue-green paint colors that work for a variety of decorating styles! If you feel like these colors are too saturated or bold to use on the walls in your home, the also make stunning accent colors on cabinets, front doors, shutters, and more!
If you're wanting to try large, pre-painted samples, I'd definitely look into Samplize for picking the perfect blue green paint color for your home! Their large peel and stick samples are made with real paint (not dyed to mimic the color) so it can definitely help narrow down your top picks.
Benjamin Moore Healing Aloe
If you've followed me for a long time (7+ years?), you may remember my obsession with Benjamin Moore Healing Aloe. It's the prettiest pale blue green color that looks amazing with bright white trim. The image below from Caitlin Creer Interiors served as inspiration for many years for me!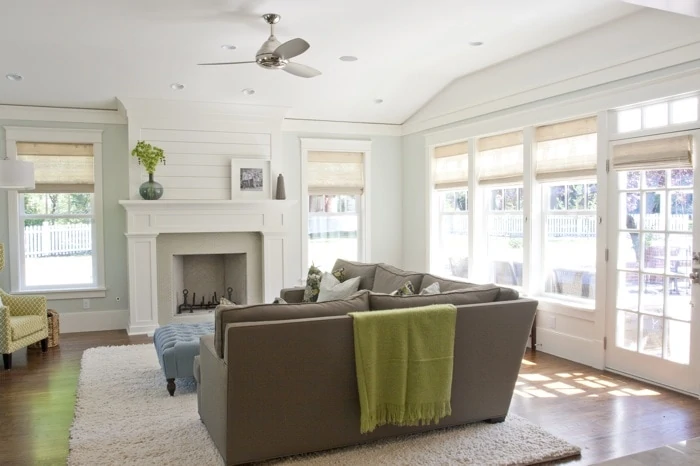 Sherwin Williams Sea Salt
We used used Sherwin Williams Sea Salt previously in our master bedroom. It was the perfect serene color, especially once I got around to painting all of our trim white (versus the prior almond color). You can see more about the process in my post on our Sea Salt bedroom reveal. It's definitely a chameleon color that will look more blue in some lights and more green in others. I also know a few people that felt it was super saturated in their home and they just asked the paint counter to cut saturation to 50% or 75% and it was perfect! There's a reason this one is so popular!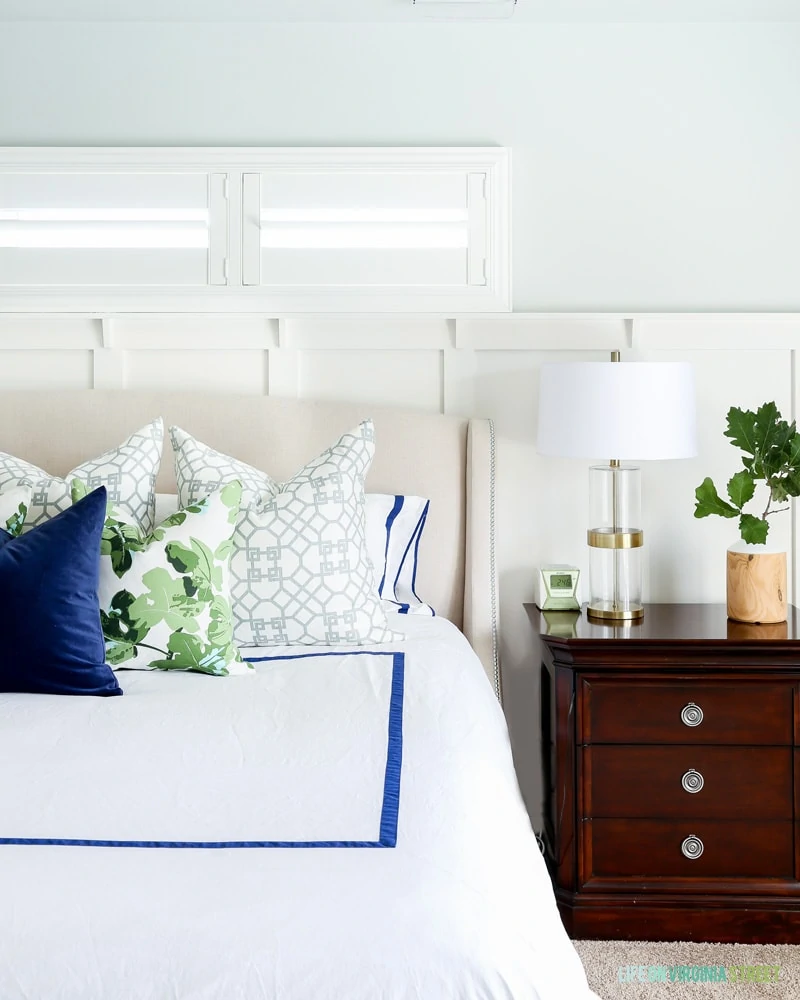 Benjamin Moore Beach Glass
Benjamin Moore Beach Glass is a beautiful "muddy" blue green paint color. It has touches of gray, making it look like a neutral in some lights. It's a pretty way to add some color to your space, without it being to bold.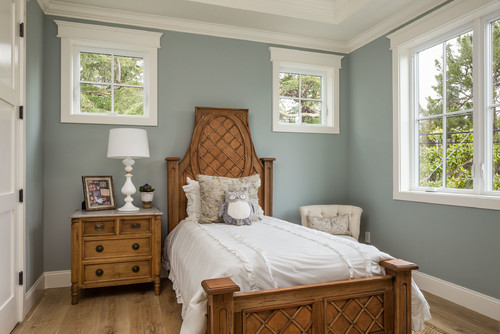 Benjamin Moore Woodlawn Blue
Benjamin Moore Woodlawn Blue is another one of those colors that can actually work somewhat like a neutral in some spaces. It's a color that pairs beautifully with so many other shades. Especially in coastal style homes!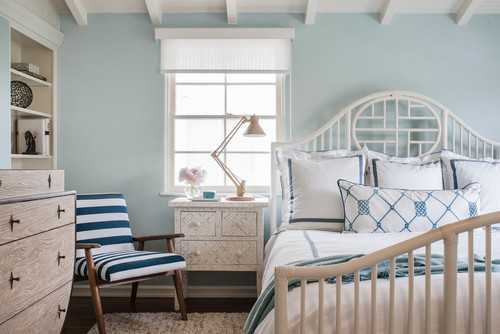 Benjamin Moore Palladian Blue
Palladian Blue is a soothing blue green paint color that, despite it's name, tends to read more green than blue. It looks beautiful paired with bright white and other shades of blue, or with bold pinks and corals!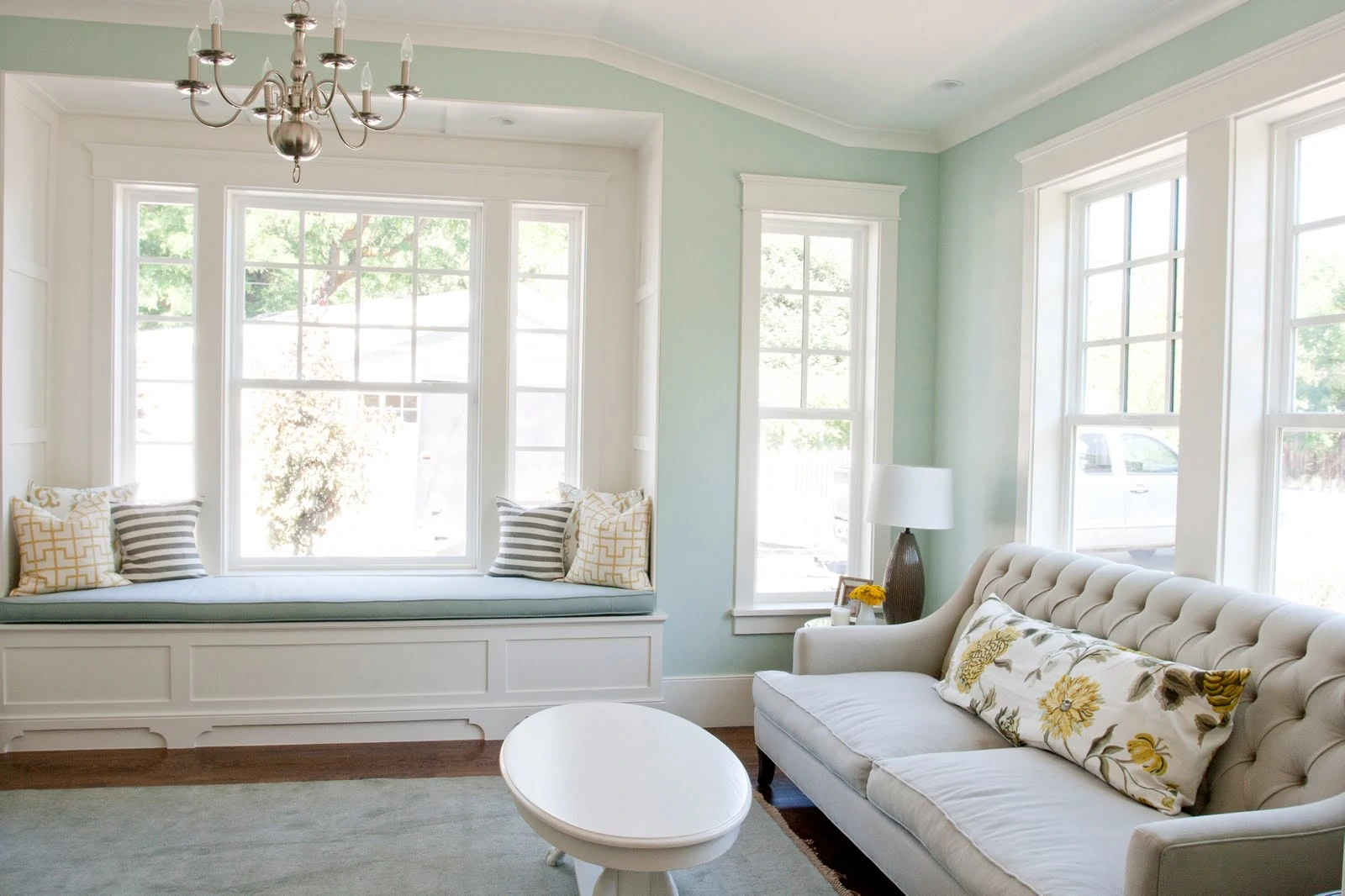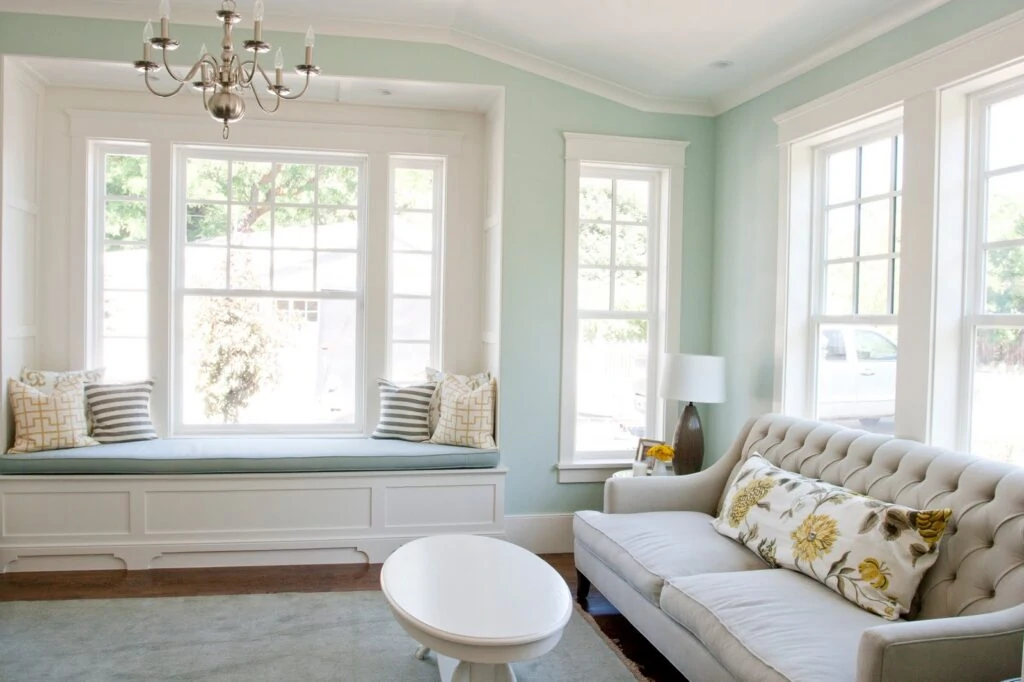 Benjamin Moore Wythe Blue
Benjamin Moore Wythe Blue may very well be one of the most popular front door colors on the planet. It's another chameleon that takes on more blue or green undertones depending on the environment. It looks great with so many exteriors and looks just as great on shutters!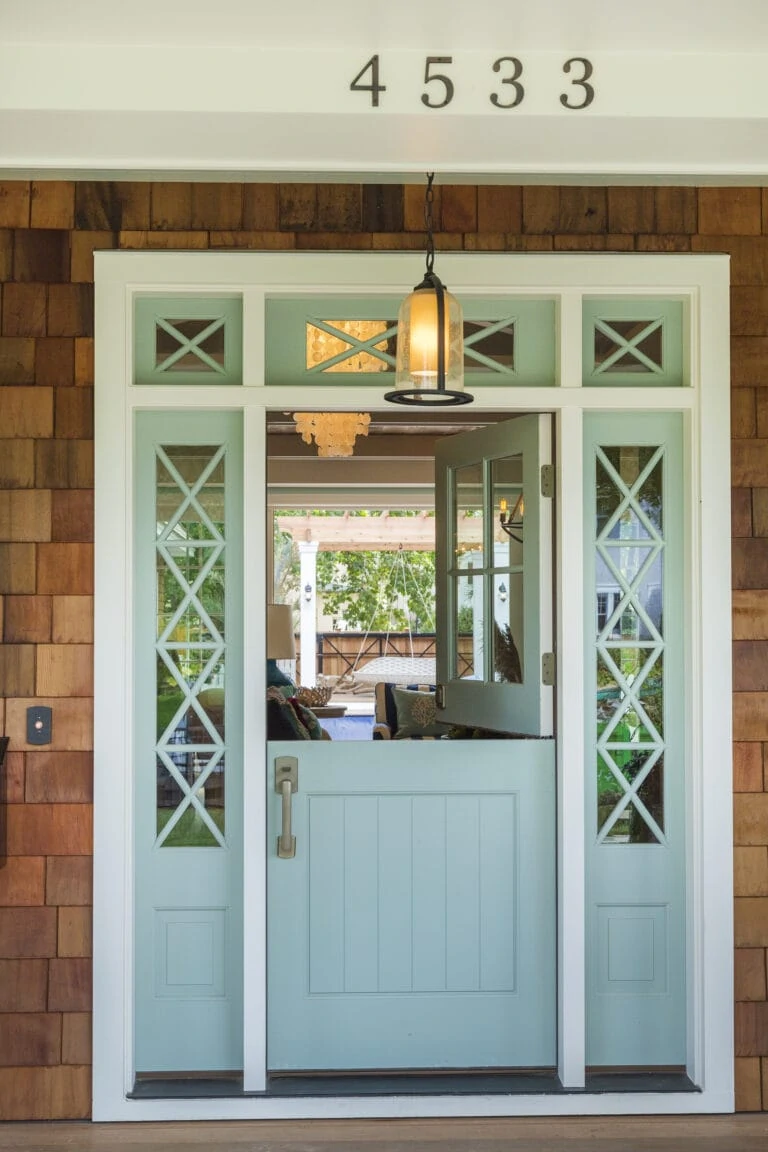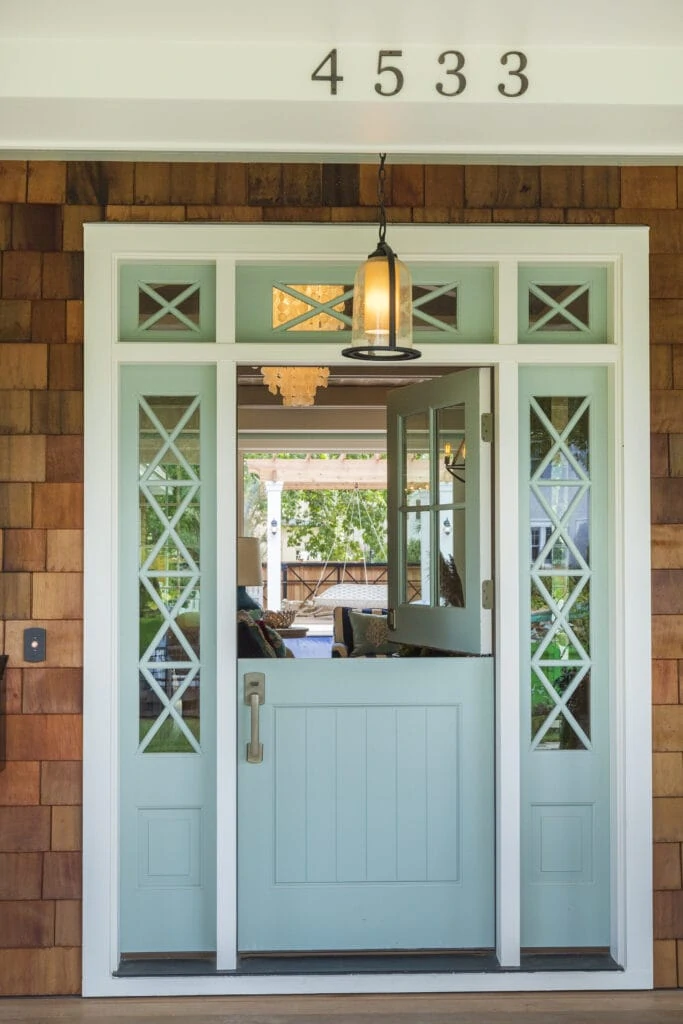 I first fell in love with this stunning blue green paint color back in 2011, in the Hiya Papaya home tour on House of Turquoise. It was basically my dream exterior at the time!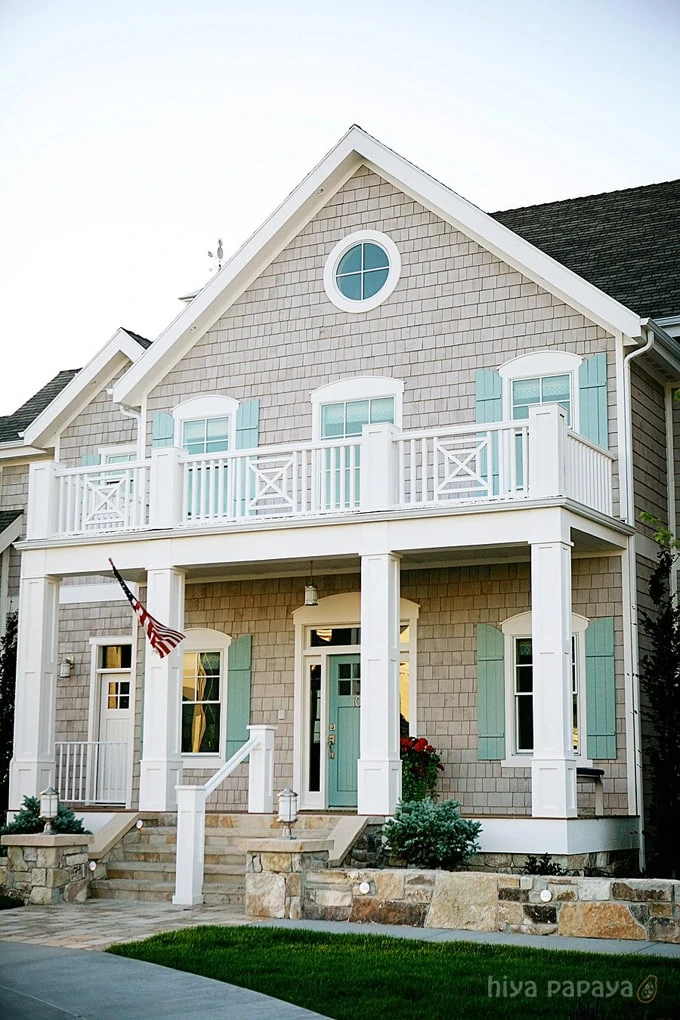 Sherwin Williams Drizzle
Although Sherwin Williams Drizzle is a popular front door paint color, I love its application below on a ceiling! Such a beautiful and tranquil color. Paired with bright white, it also gives those Caribbean and Florida Keys vibes! If you're looking for a similar color by Benjamin Moore, their St. Lucia Teal is very similar!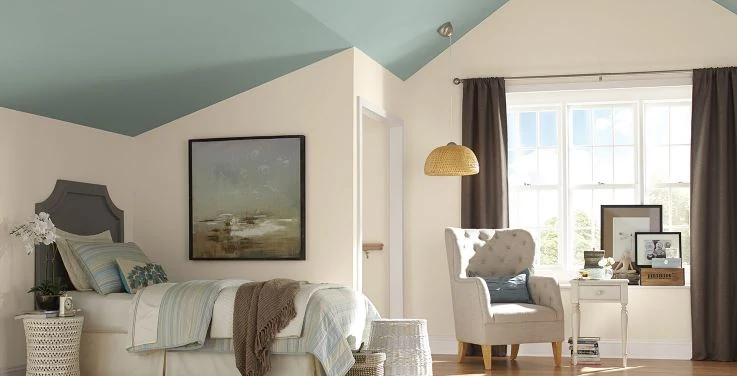 Benjamin Moore Williamsburg Wythe Blue
Benjamin Moore Williamsburg Wythe Blue sounds a lot like Wythe Blue that I mentioned previously. But it's very different! Benjamin Moore says they "we transported paint colors from the past and gave them a future. Our Williamsburg® Paint Collection is a palette of timeless colors that are both historic and modern." I love this more saturated and teal version of the classic color. And the image below shows a unique and beautiful color pairing with this blue green paint color!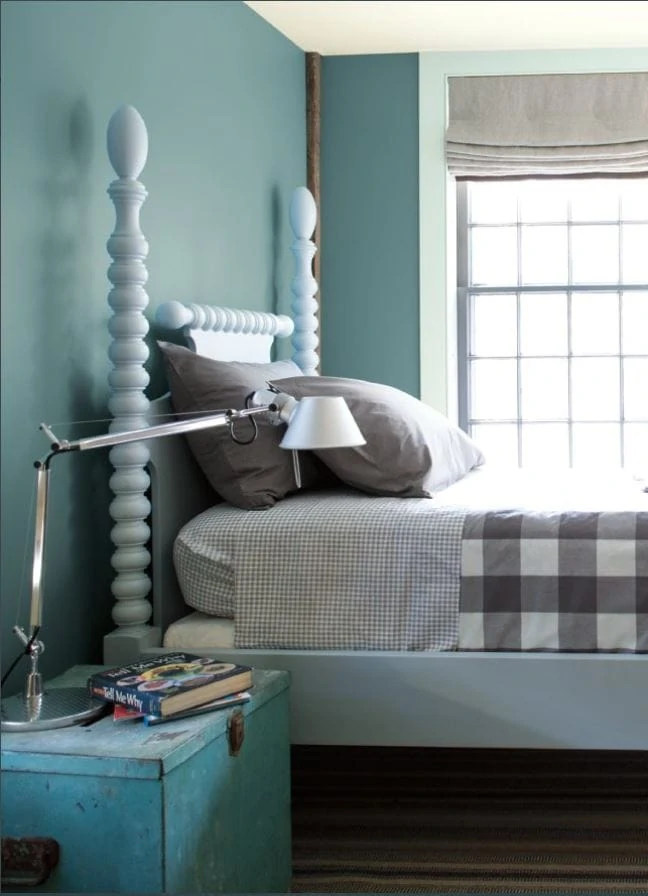 Farrow & Ball Stone Blue
This warm and timeless blue is named after the indigo pigment which was often imported in lumps in the 18th century. Farrow & Ball Stone Blue is a lively color that work well with both warm and cool tones.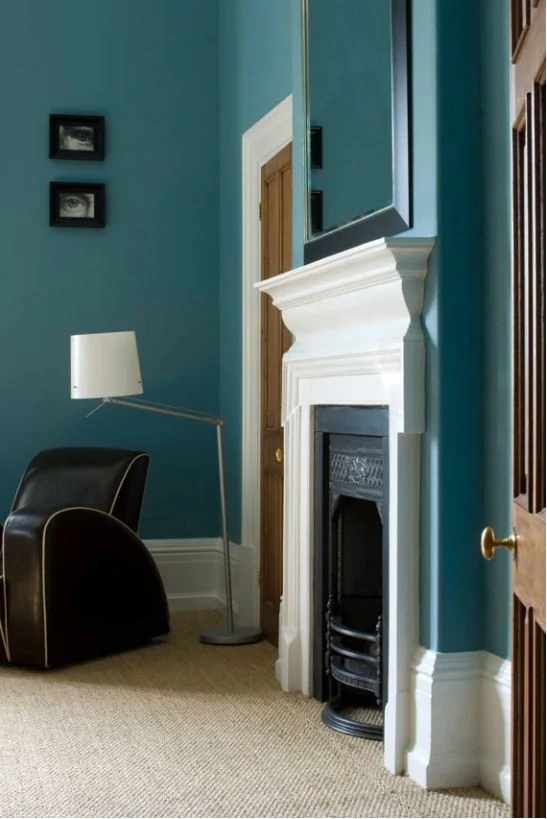 Benjamin Moore Sea Star
A beautiful mid-tone blue green paint color, Benjamin Moore Sea Star is a great way to get a coastal vibe in your home!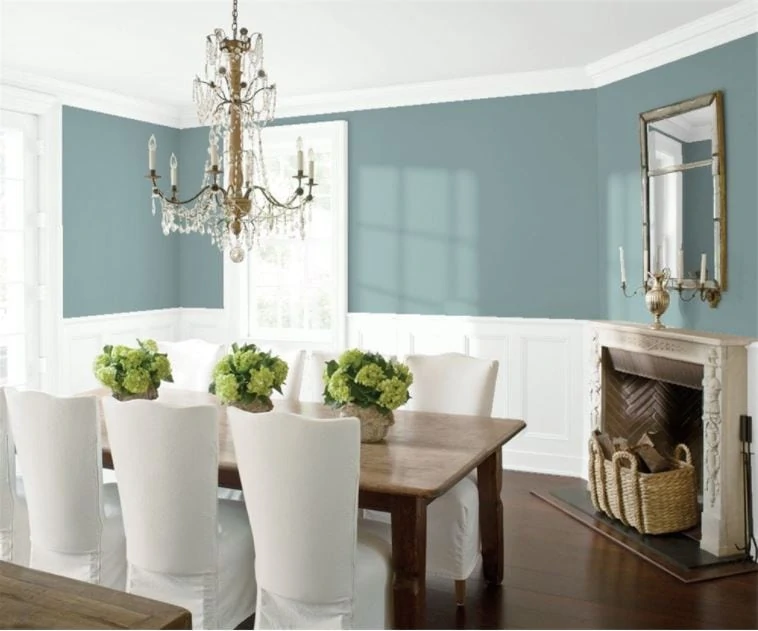 Benjamin Moore Aegean Teal
This next beauty, Benjamin Moore Aegean Teal, is actually the Benjamin Moore Color of the Year for 2021! If you want a mid-tone mix of blue and green and love saturation, this color is a winner! If it's too bold for you to consider on walls, I think it would make a stunning bathroom cabinet, front door, or kitchen island color. It looks so pretty with whites and wood tones!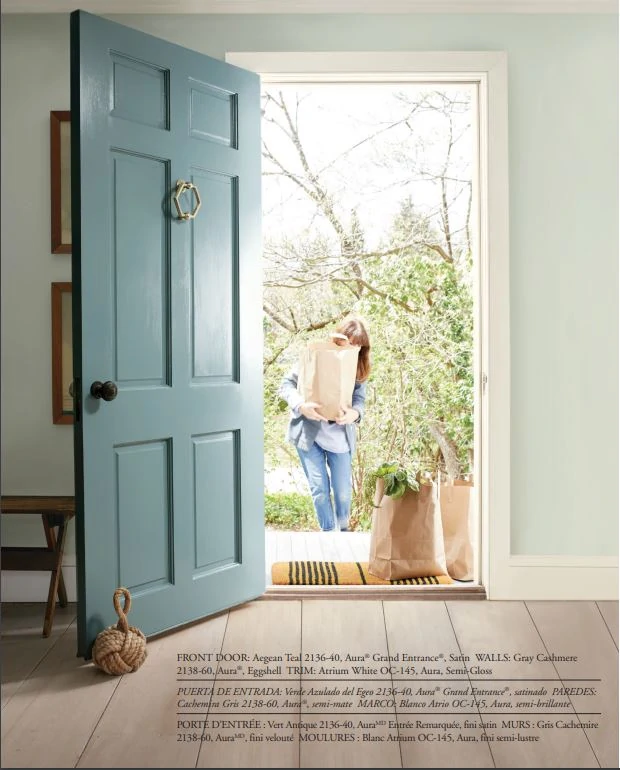 Sherwin Williams Oceanside
Sherwin Williams Oceanside was the 2018 Sherwin Williams Color of the Year! I personally love this rich blue with jewel-toned green most when it's paired with other bold colors, like in the example below. From Sherwin Williams, "Oceanside's multi-dimensional, marine-inspired look can create a welcoming statement as a lively color for a front door. Its green-meets-blue tone can also boost creative thinking and clarity of thought in a home office, or invite meditation and introspection into a bedroom or reading nook."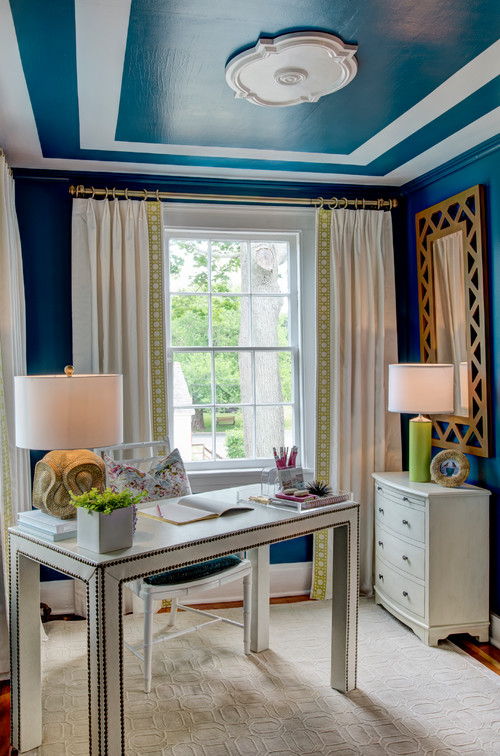 Sherwin Williams Rainstorm
I love Sherwin Williams Rainstorm for a kitchen island or an accent wall. It would also be beautiful on built-in cabinets in a home office!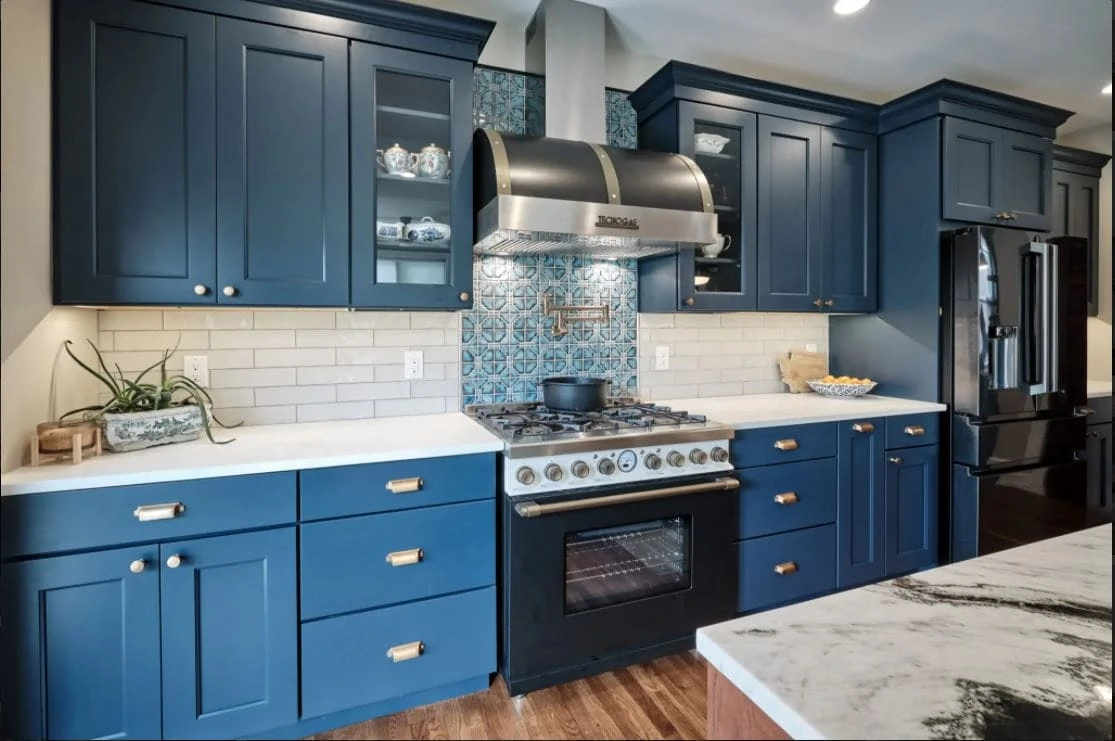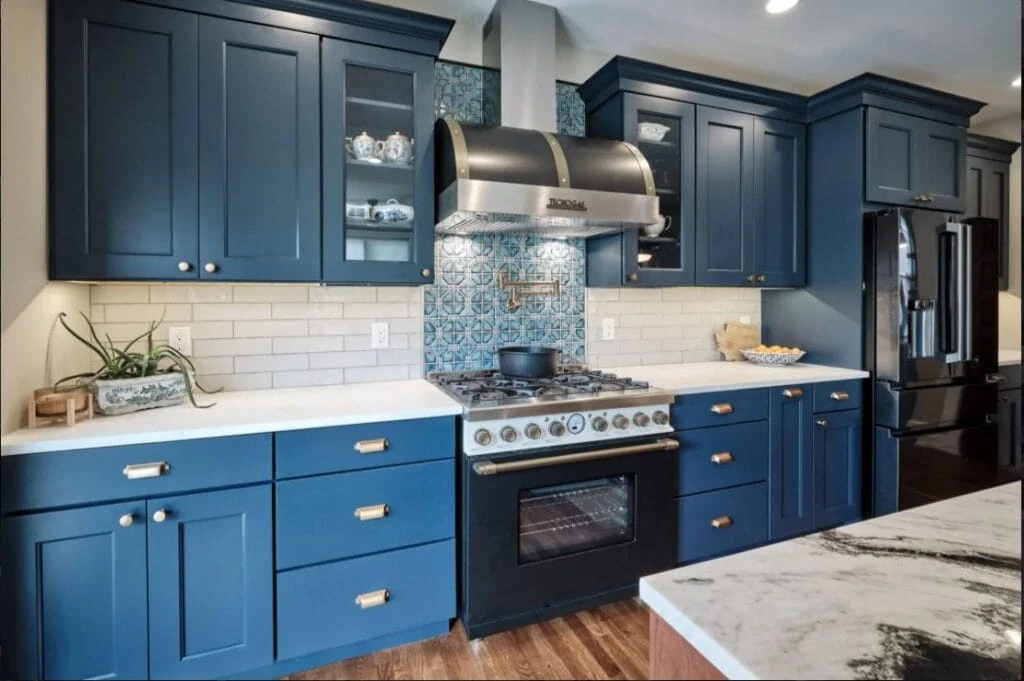 Benjamin Moore Newburg Green
Don't let the name fool you on this one. Although it has green undertones, the color still reads as a rich, jewel-toned blue in rooms. It's the perfect option if you can't commit to a true, dark navy blue as this leans more teal.
Farrow & Ball Hague Blue
This paint color has been super popular in recent years. It's such a gorgeous peacock blue paint color that looks good in so many spaces! I absolutely love it on walls in moody living rooms, libraries and dining rooms!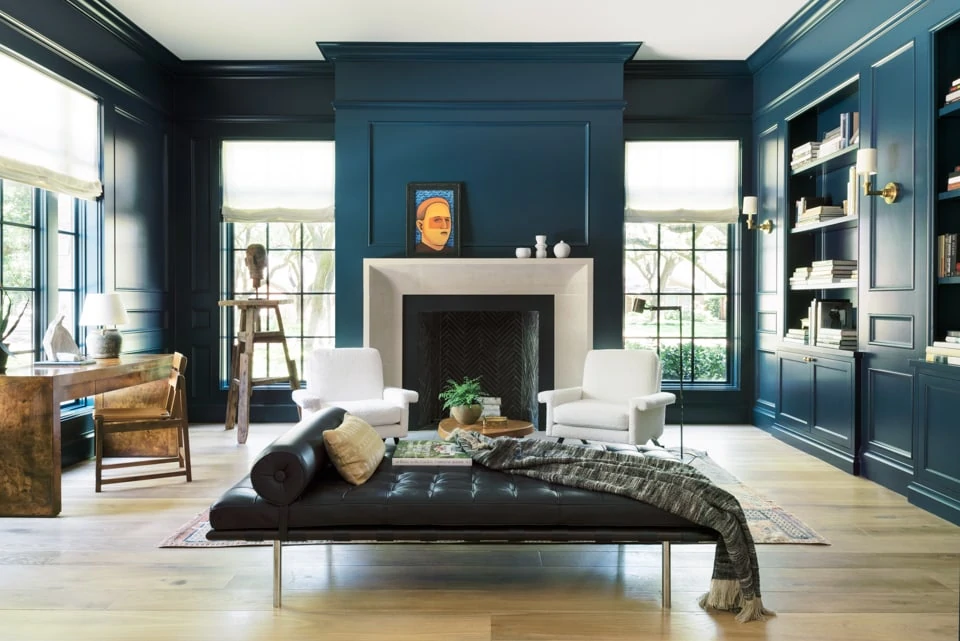 Benjamin Moore Dark Harbor
This bold and dramatic blue green paint color looks just as beautiful it matte finishes as it does on glossy lacquered walls! The moody color is perfect for spaces where you're looking to inject a little drama, whether it be a study, dining room or powder bath!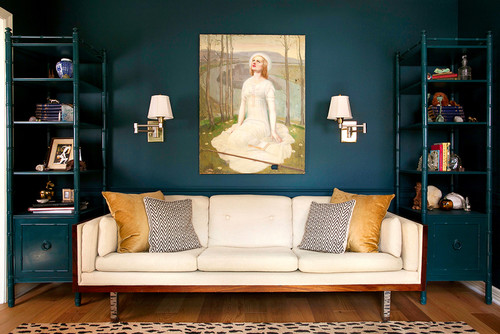 Any other blue green paint colors you've used and loved in the past? I'd love to hear more ideas in the comments!
Additional Paint Color Inspiration
If you're looking for even more paint color inspiration, be sure to check out these other posts by clicking on their titles below:
Free Paint Color Organization Printables
If you frequently paint your home like I do, it can sometimes be difficult to keep all your colors (and paint cans) organized! I recently created a free paint color organization printable set that I think you will all love!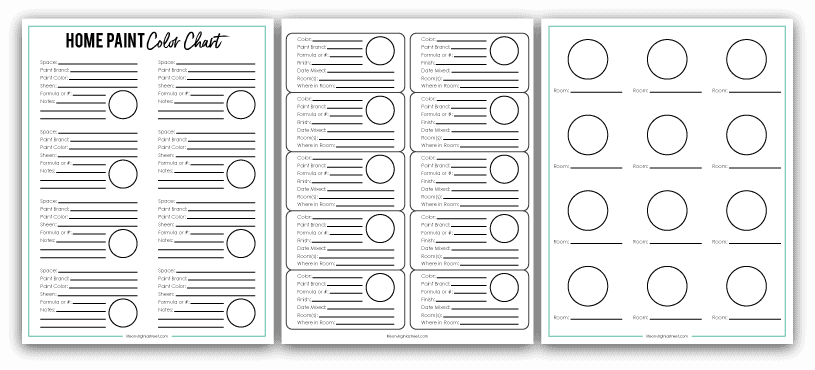 Simply complete the form below and I'll email the PDF files over to you to start using today! It will also subscribe you to my email list, however, you can easily unsubscribe at any time if that isn't your thing.
I hope you found these ideas and the best blue green paint colors helpful! Any other colors you're on the hunt for?
If you would like to follow along on more of my home decor, DIY, lifestyle, travel and other posts, I'd love to have you follow me on any of the following:
Pinterest | Instagram | Facebook | Twitter 
disclosure: some affiliate links used