Sharing the best black paint colors, along with real-life examples of these colors in homes!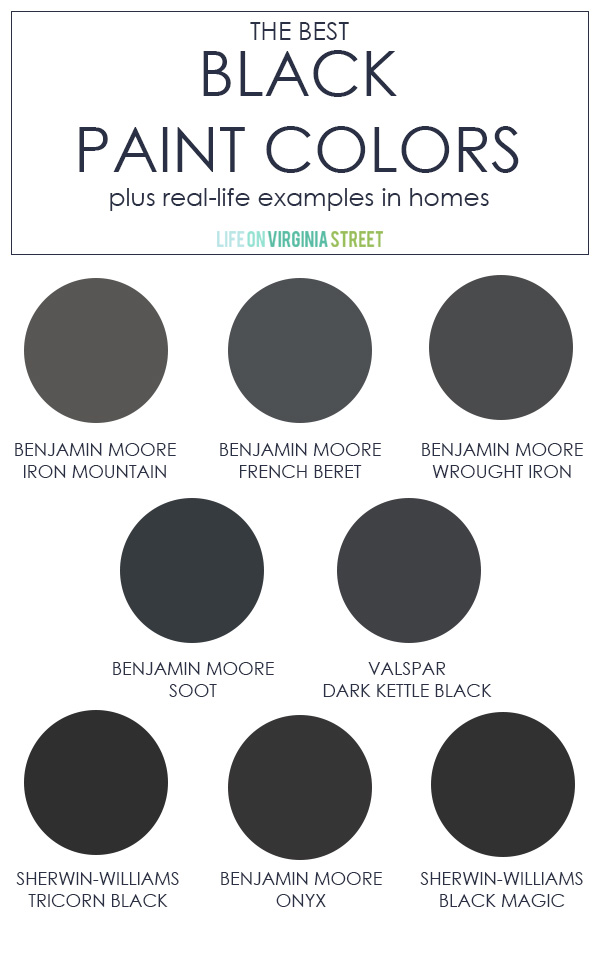 If you're a long-time reader, you're probably wondering why on earth I'm chatting about the best black paint colors today! I use very little black in my light and bright decorating style, which is basically the opposite of rich and moody black paint! But the truth is, nearly every room can use a touch of black to help add some dimension and interest. In fact, at our last house, I painted both the exterior and interior front door black!
But the real reason is that, recently, my brother and sister-in-law moved into a new house and needed some help with paint colors. Their style is more rustic and organic than mine. Moving from Colorado to the base of the Tetons in Idaho, their new house perfectly reflects their style, and it's going to be such a beautiful home! I suggested they go with a black front door (along with their natural wood exterior and black window frames). Turns out, I had a lot of opinions on which colors to test. So, I thought that today, I'd share my top picks for black paint!
This post contains affiliate links for your shopping convenience. You can read my full disclosure policy here.
The Best Black Paint Colors & Real-Life Examples In Homes
If you've ever searched for the perfect black paint color, you probably realized rather quickly that it can be just as difficult as searching for a white paint color. It's not as black and white as you'd think – pun fully intended 😉 Undertones can play such a huge part in these colors that may seem basic, and can totally change the overall look. So today I'm sharing the best black paint colors that should fit a variety of your painting needs!
If you're wanting to try large, pre-painted samples, I'd definitely look into Samplize for picking the perfect black paint color for your home! Their large peel and stick samples are made with real paint (not dyed to mimic the color) so it can definitely help narrow down your top picks.
The first three black paint colors listed below are on the much softer side, with the undertones being more apparent. They're great options if you're not sure that you can fully commit to a true black!
Benjamin Moore Iron Mountain
We actually used Benjamin Moore Iron Mountain as our accent color when we painted our house exterior Benjamin Moore White Dove. It's one of those colors that sometimes looks like a soft black, dark gray or blackish-brown. The colors is a really great match for Andersen's and Pella's bronze window trims, as well. It's definitely a chameleon and we really love it (we also have it on our front door and shutters).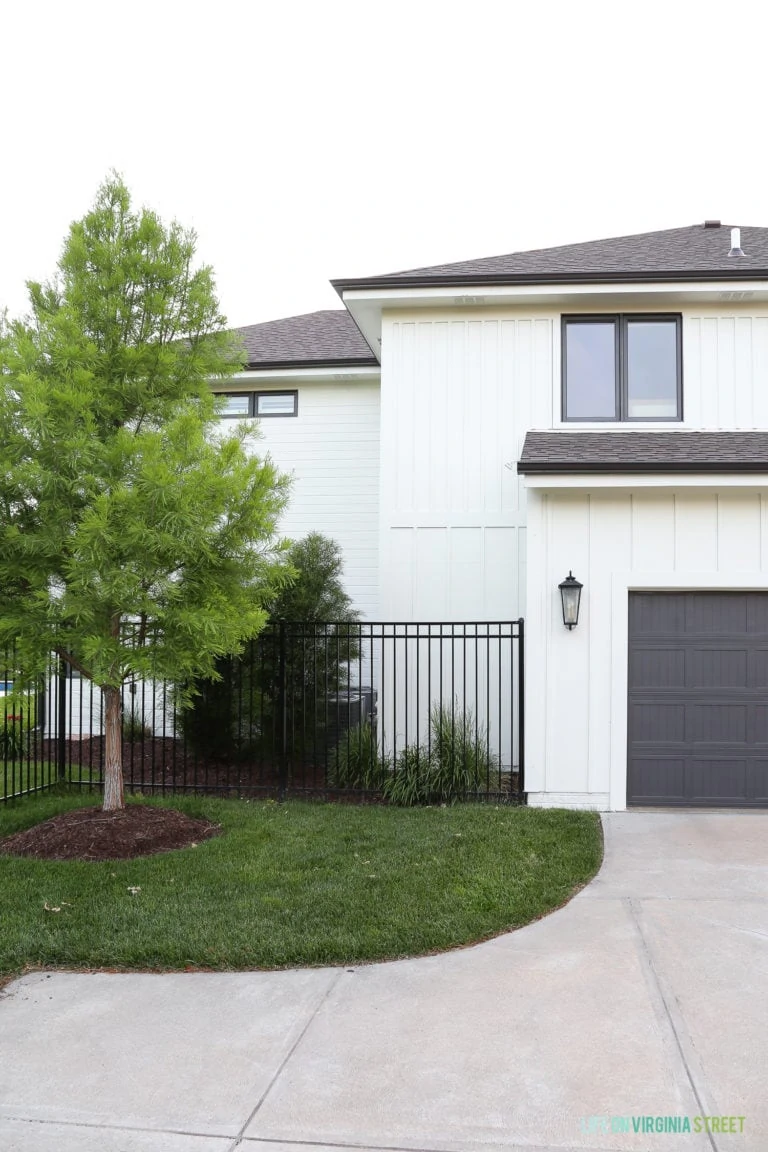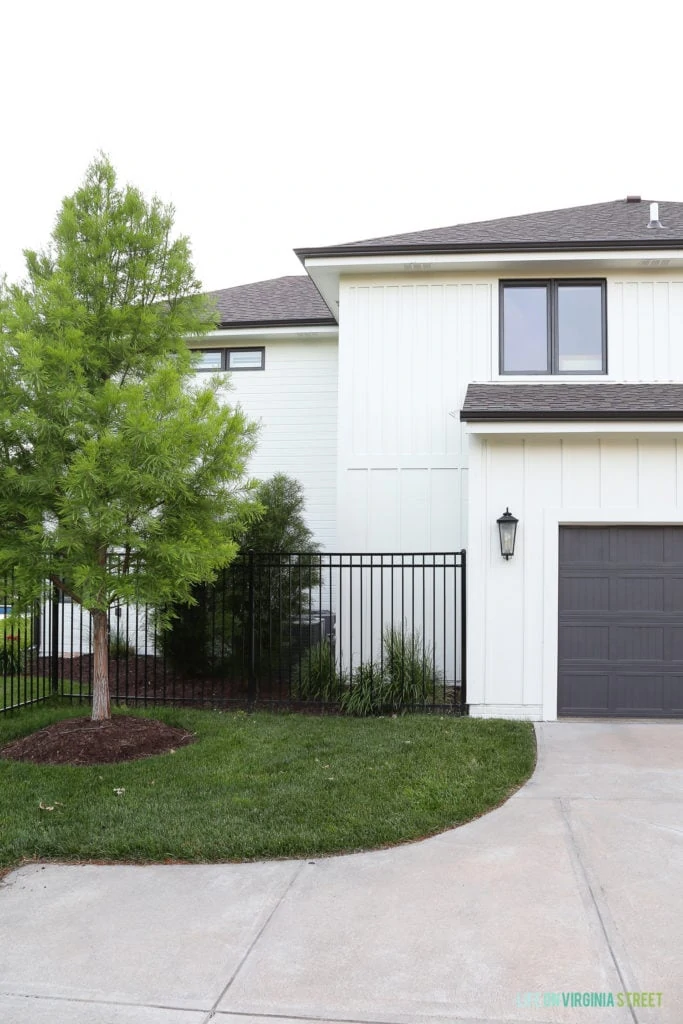 Here's how that same color looks in an interior on kitchen cabinets.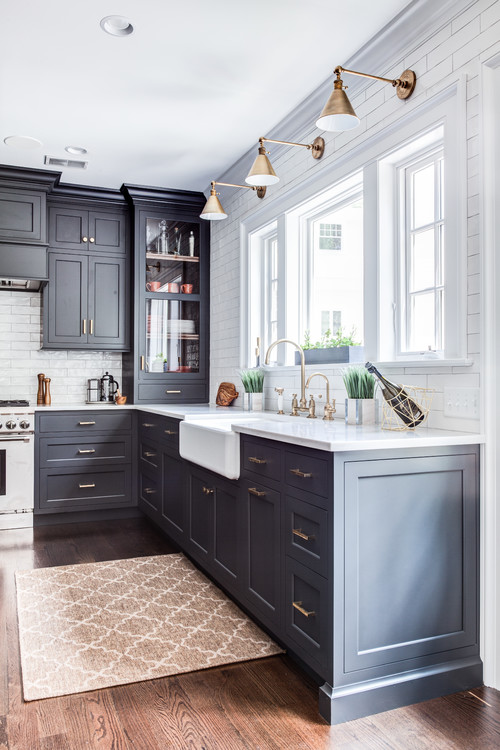 Benjamin Moore French Beret
According to Benjamin Moore, French Beret is a cross between darkest gray and navy. This smart, saturated shade conveys unerring style. Infinitely fashionable, it transforms a space with timeless elegance.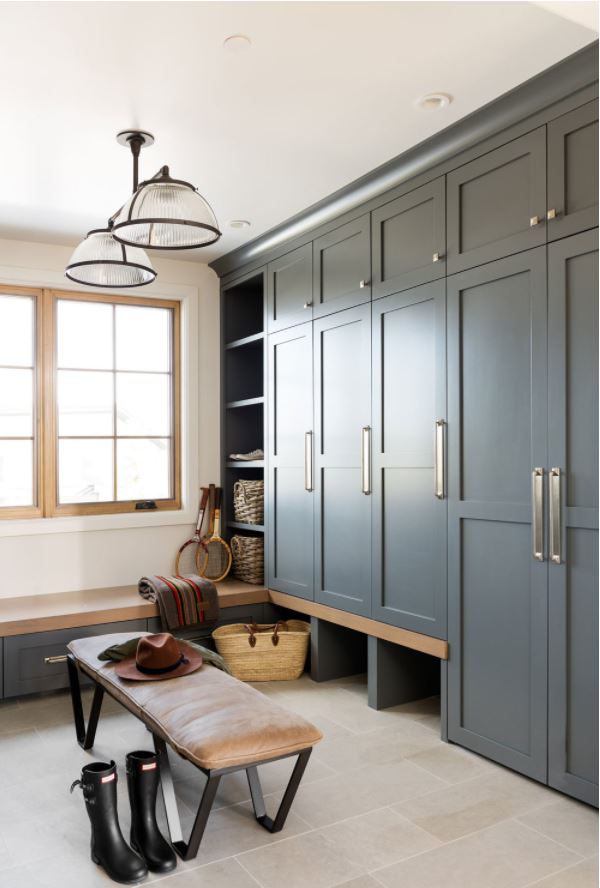 Benjamin Moore Wrought Iron
Benjamin Moore Wrought Iron is less harsh than a true black, and contains some brown, blue, and gray undertones. It's definitely a chameleon of a color and each of those undertones will show up differently depending upon the natural light source where you paint it. If you're looking for a Sherwin Williams equivalent, I would give Sherwin Williams Iron Ore a try!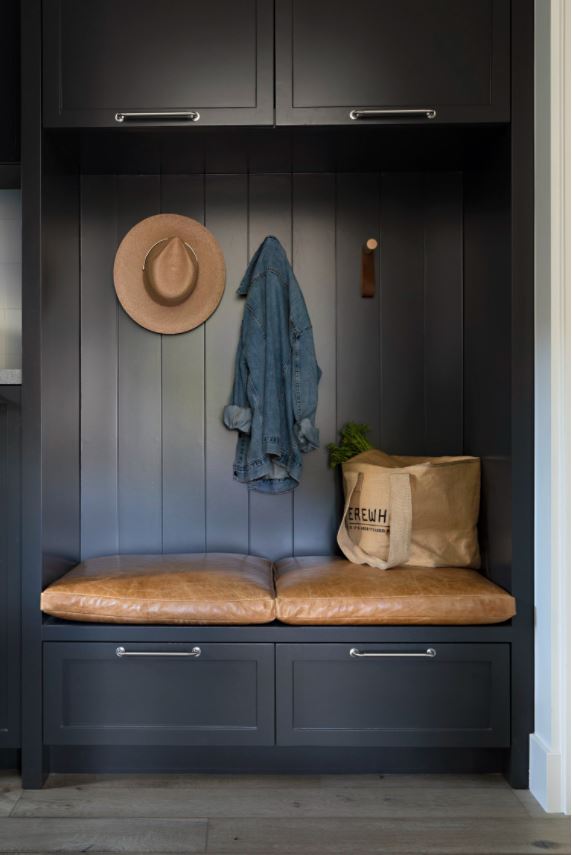 And here is how that same color looks on an exterior. So gorgeous either way!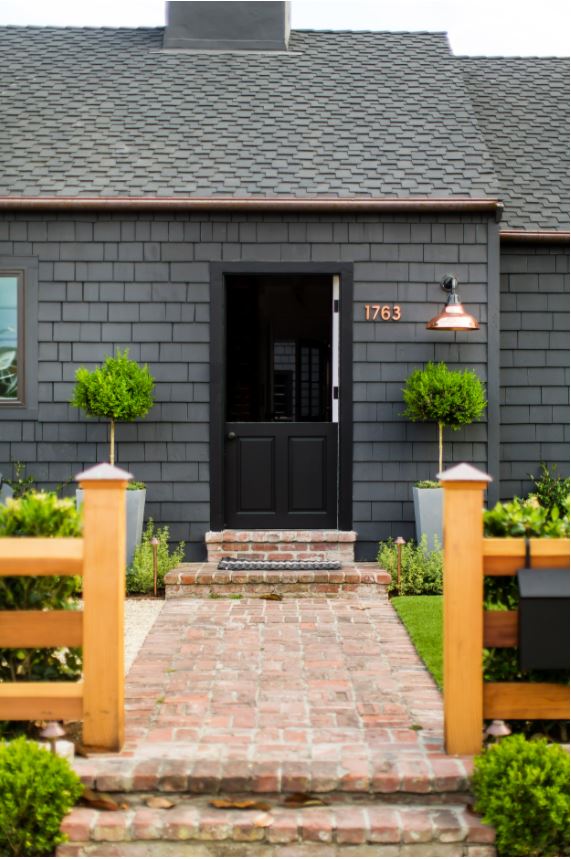 Benjamin Moore Soot
Benjamin Moore Soot is a very dark charcoal gray, with blue and gray undertones. It comes off as a soft black in most spaces, and is a great option if you want the black look, but are hesitant to go with the most saturated options.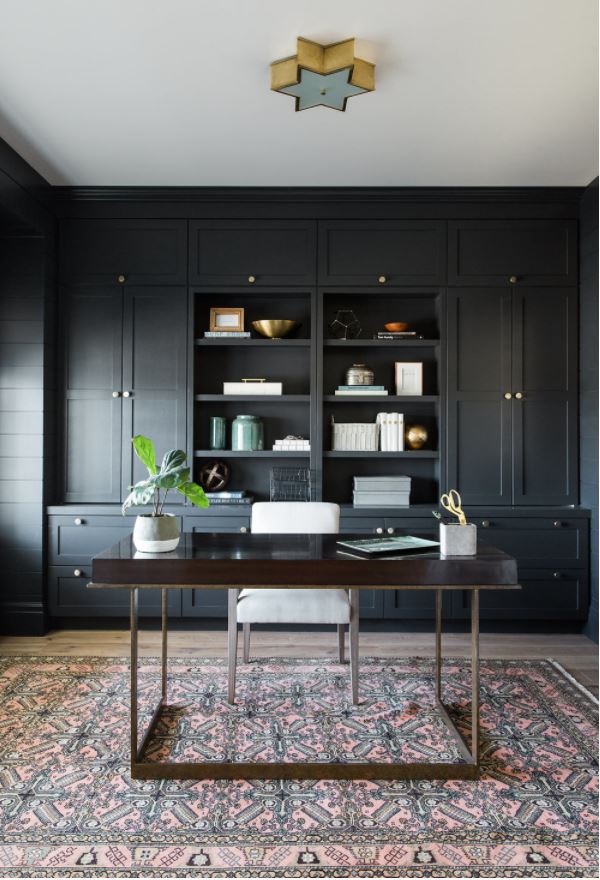 Valspar Dark Kettle Black
Valspar Dark Kettle Black is the color we used on both the interior and exterior of our front door at our last home. Back when I wasn't as great at taking straight photos 😉 It doesn't have any blue or green undertones, and is a soft, true black.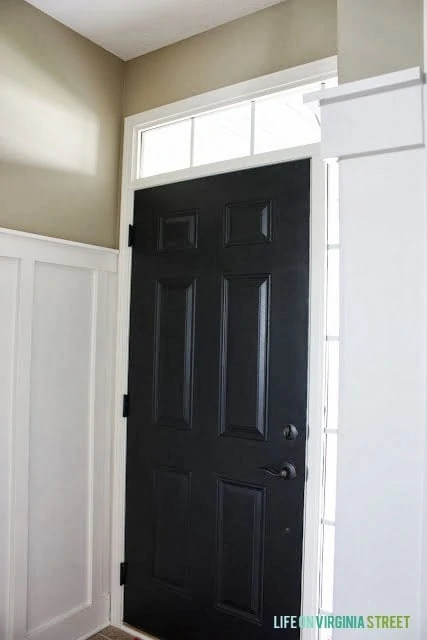 Sherwin Williams Tricorn Black
Sherwin Williams Tricorn Black is a saturated and almost "true" black. This is the color I recommended for my brother and sister-in-law's front door. It seems like everyone that uses it, loves it!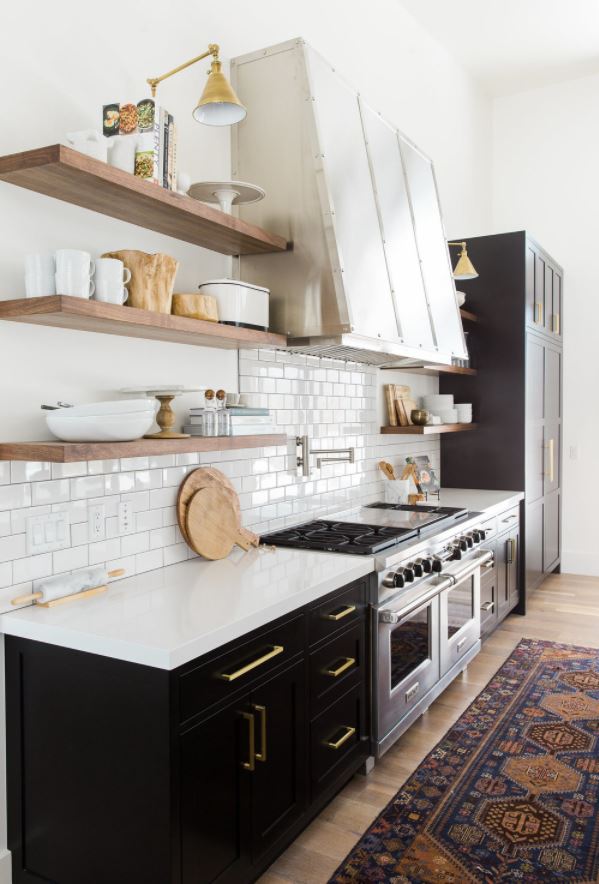 Benjamin Moore Onyx
If you're looking for a slightly warmer option than Sherwin Williams Tricorn Black, I'd give Benjamin Moore Onyx a try! It's also a very saturated black but is slightly warmer in nature. This might be a better option if your room gets a lot of natural light. It's also one of my favorites in a matte finish (or low gloss) for walls!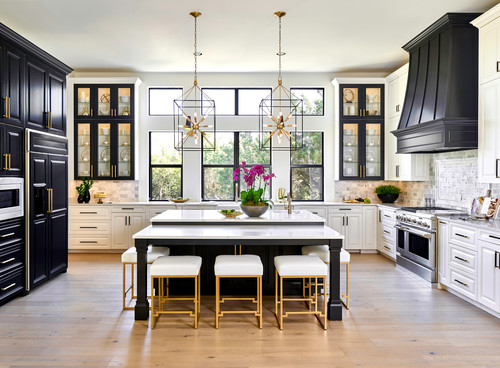 Sherwin Williams Black Magic
Sherwin Williams is a dark, true black paint color with undertones. With the warm undertones, it's an easy "true black" to use and won't feel harsh or stark in your home. This is a great one for kitchen cabinets, exterior trim or doors or even on walls in a moody office space.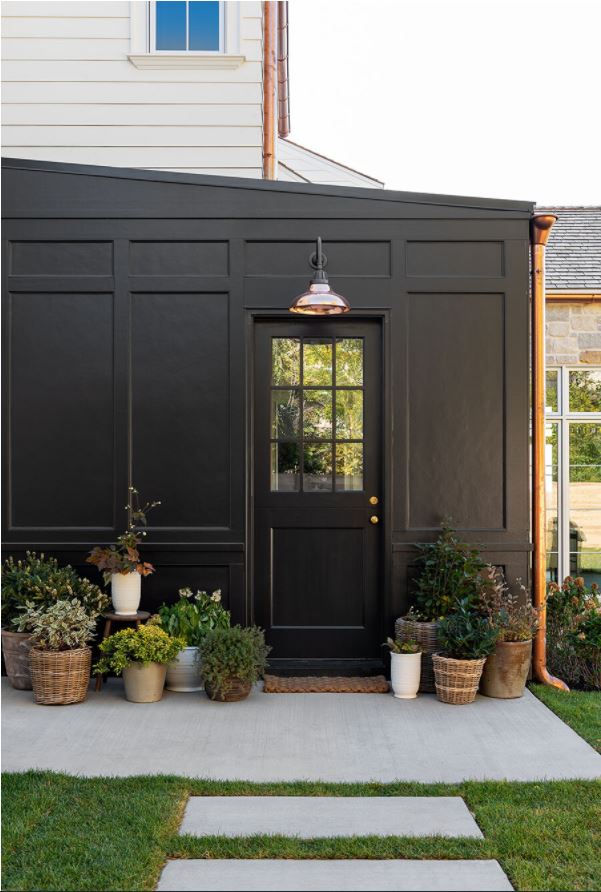 Additional Paint Color Inspiration
If you're looking for even more paint color inspiration, be sure to check out these other posts by clicking on their titles below:
Free Paint Color Organization Printables
If you frequently paint your home like I do, it can sometimes be difficult to keep all your colors (and paint cans) organized! I recently created a free paint color organization printable set that I think you will all love!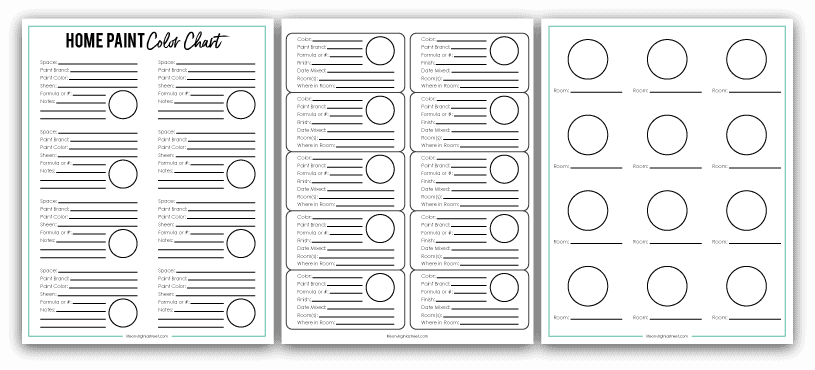 Simply complete the form below and I'll email the PDF files over to you to start using today! It will also subscribe you to my email list, however, you can easily unsubscribe at any time if that isn't your thing.
I hope you found these ideas and the best black paint colors helpful! Any other colors you're on the hunt for?
If you would like to follow along on more of my home decor, DIY, lifestyle, travel and other posts, I'd love to have you follow me on any of the following:
Pinterest | Instagram | Facebook | Twitter 
disclosure: some affiliate links used