Are you stuck at home for the foreseeable future? Today I'm sharing 50 things to do when bored at home.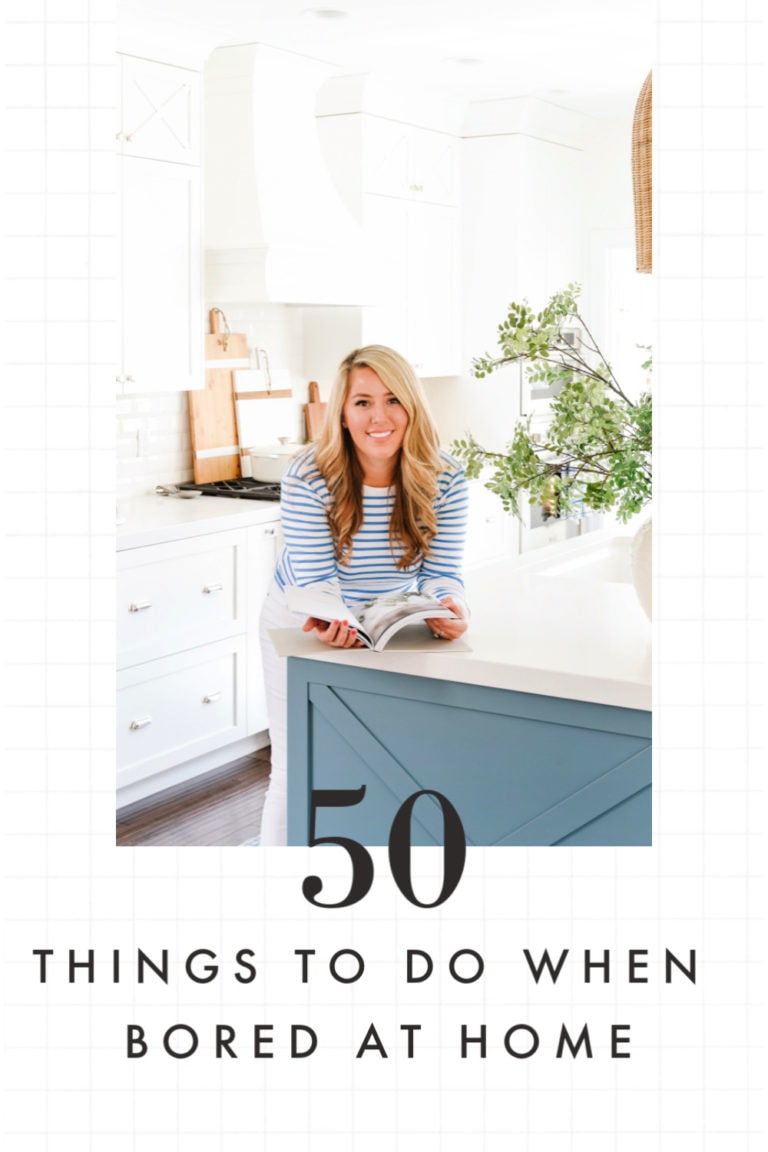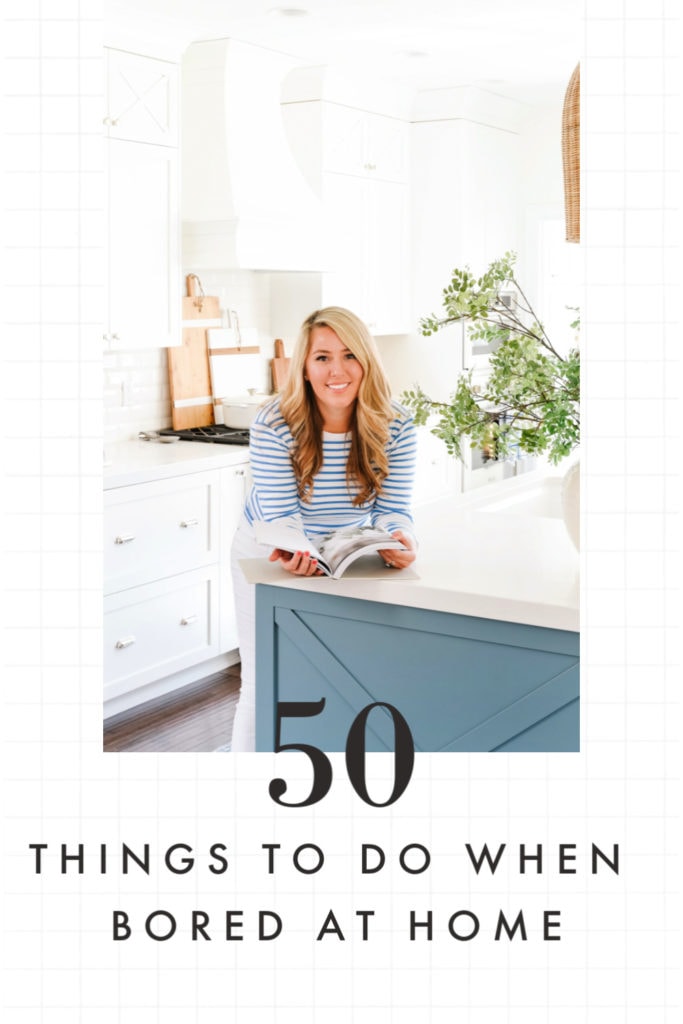 After being essentially stuck in our house for six weeks early in the year with Kurtis' hip surgery, and now after we'll both be home for the foreseeable future, I thought I'd share my tips and things to do when bored at home! Is it inconvenient to be stuck in your house for days on end (especially if not mandated)? Yes. However, I want to ensure I do my part to ensure I'm not potentially spreading coronavirus to someone that is much more vulnerable. Let's find ways to enjoy spending this time at home as much as possible!
Thankfully we're both able to work from home which I know isn't an option for everyone. If it is for you, you can read my top tips for working from home for some ideas. But more likely than not, many of us will be home over the next few weeks much more than we have ever been in the past. It can sound glamorous for a few days, but as someone that made the shift from corporate America to working from home, it can definitely be isolating and trying at times! So today, I want to share all my best ideas for things to keep you busy and entertained when you're home outside of work hours!
Since there are already a ton of lists out there that focus on how to entertain kiddos when they're home, I'm focusing more on what adults can do (although some do apply still to kids). These ideas are just as useful whether you're practicing social distancing as they are when you're stuck inside during winter break, during a snow storm, or any other reason you may be staying home.
This post contains affiliate links for your shopping convenience. Click here to read my full disclosure policy.
50 Things To Do When You're Bored At Home
This list is a mix of fun activities, household tasks, and activities that are designed to help others in your community that may need a bit of a lift during these trying times. Several of these items are also intended to knock out those tasks that forever seem to be on our to-do list and are always hanging over us. Following are some ideas for ways to stay busy, tackle boredom and have a more enjoyable time while you're at home!
Read a book. This may seem like an obvious choice but it's a great way to take your mind off things. I also recently invested in this e-reader. I found that when I tried to read books on my phone I was becoming more and more distracted by texts, alerts, etc. Having a dedicated reader has made a huge difference!
Work on a puzzle. This is also a great time to have conversations with loved ones in your home! I just ordered this double-sided puzzle from one of my favorite photographers of one of my favorite places on the entire planet. I can't wait to try it!
Open your recipe books and find inspiration for new meal ideas.
Look into others in your community that may need help. When local schools in our area closed, my mind immediately jumped to those children that depend so much upon their school meals. So I did some research on where to donate. Find a cause that means a lot to you and see what you can do to help! Following are a few of our favorite options (that help support many types of people in need):
Plan your next room makeover. I even have a free 5-day email course to help you get started if you're interested!
Binge watch a new series (or re-watch an old favorite). Here are a few of our recent favorites that are a bit on the lighter side (except for the last two):

Schitt's Creek
Parks & Recreation
Love Is Blind
Arrested Development
The Office
Friends
24
Justified

Download some new music.
Resume a hobby you haven't worked on for awhile.
Support your local businesses in unique ways. Local businesses will likely be hurting for some time, so find unique ways you can help support them! Following are a few ideas to help support local retailers, restaurants, salons, and more:

Buy a gift card now to use at a later date
Order take-out or delivery
Check to see if they have an online version of their store

Research your next vacation for when it's safe to travel.
Listen to a sermon from your church.
Get a head start on your spring cleaning.

Wash windows
Wash your floors
Deep clean your bathrooms
Dust blinds and window coverings
Tackle that pile of laundry you've been avoiding

Knock off home maintenance items on your list.

Change furnace filters
Replace the batteries in your smoke detectors/carbon monoxide detectors
Replace water filters in your fridge
Clean your dishwasher filter
Handle repairs you've been procrastinating

Try a new cocktail recipe. Pull out your old cocktail book or try a new craft cocktail recipe from my local friends at Gastronom blog!
Work on your taxes.
Take a walk or sit outside.
Clean your car.
Decorate for spring. I have some spring decorating ideas and design boards if you're looking for inspiration!
Play a game. Following are a few of our favorites:

Cards (we love Euchre)
Heads Up! (an app for your phone)

Purge your closets and sort for donation or selling.
Get your planters and flower beds ready for spring planting. Check out my posts on How To Plant Flowers In a Pot, Summer Planter Ideas and Front Porch Planter Ideas for loads of inspiration! And don't forget to try my favorite fertilizer! It's a game-changer for getting incredible blooms!
Have an at-home spa day or night. Take a bubble bath, use a face mask, give yourself a mani-pedi. This facial steamer will instantly transport you to the spa!
Start a new at-home workout program.
Choose a project or two that have been hanging over you and haven't gotten around to doing.
Make a bucket list for the rest of 2020.
Organize and backup up all your digital files and photos.
Call or FaceTime someone you haven't talked to in awhile. Just because many of us are practicing social distancing, doesn't mean we can't be social. In fact, I would argue that now is the time to pick up your phone for an actual conversation in lieu of texts!
Organize your pantry and/or kitchen cabinets. how to organize kitchen cabinets and drawersBe sure to check out my post on for all of my favorite organizational tools and ideas!
Take a nap.
Start a new podcast.
Rearrange your furniture. If you're feeling a bit stir crazy, try moving around furniture in one of your rooms for a whole new look!
Tackle that DIY projects that has been on your list for months!
Dust the leaves on all your houseplants (regardless if they're real or faux). And, if you're looking to bring the outdoors in but don't want a real plant, be sure to check out my post on the best fake plants!
Plant seeds to start your own herb or vegetable garden.
Call your local nursing home and see if you can get a pen pal or two. Since most nursing homes have restricted visitors at this time, reach out to a local one to see how you can provide an alternative social interaction for those that live there!
Burn your favorite candle for a few hours. My current favorites are this one, this one, and this one!
Spend more focused time playing with your kids or pets.
Learn a new language. We've had great luck with Rosetta Stone in the past, but there are so many other programs and apps out there now that are also great options!
Have a rom-com movie marathon. They just don't make them like they used to! These are movies I continue to watch year after year (or even month after month).
Revisit your New Year's resolutions and check your current status.
Research the big purchase you know you've been needing to make so you're ready when needed.
Prep for a summer or fall garage sale.
Put together a care package for someone who may need some extra love.
Find a You-Tube video or other online tutorial for a new task you've been wanting to learn.
Clean your patio spaces and prep them for warm weather.
Stretch your creative muscles. Open a sketch book, try your hand at painting, write a poem, sit down at the piano, pick up your guitar. The possibilities are endless!
Print those photos you love but have just left on your phone or camera. I typically just have my photos printed at Target so I can pick them up same-day. However, there are tons of options out there for having them printed directly to your doorstep! You can see how I use mine as artwork around our home in my post on Simple and Affordable Artwork Ideas.
Practice yoga.
Shred old paperwork you've been storing and haven't dealt with.
Catch up on your favorite blog! If you have a favorite blog, scroll back through their archives for posts you may have misses or to revisit favorites!
We plan to work through a lot of this list over the next few weeks. In fact, we even brought up a six-foot table from the basement to dedicate as our "puzzle table" in our hallway!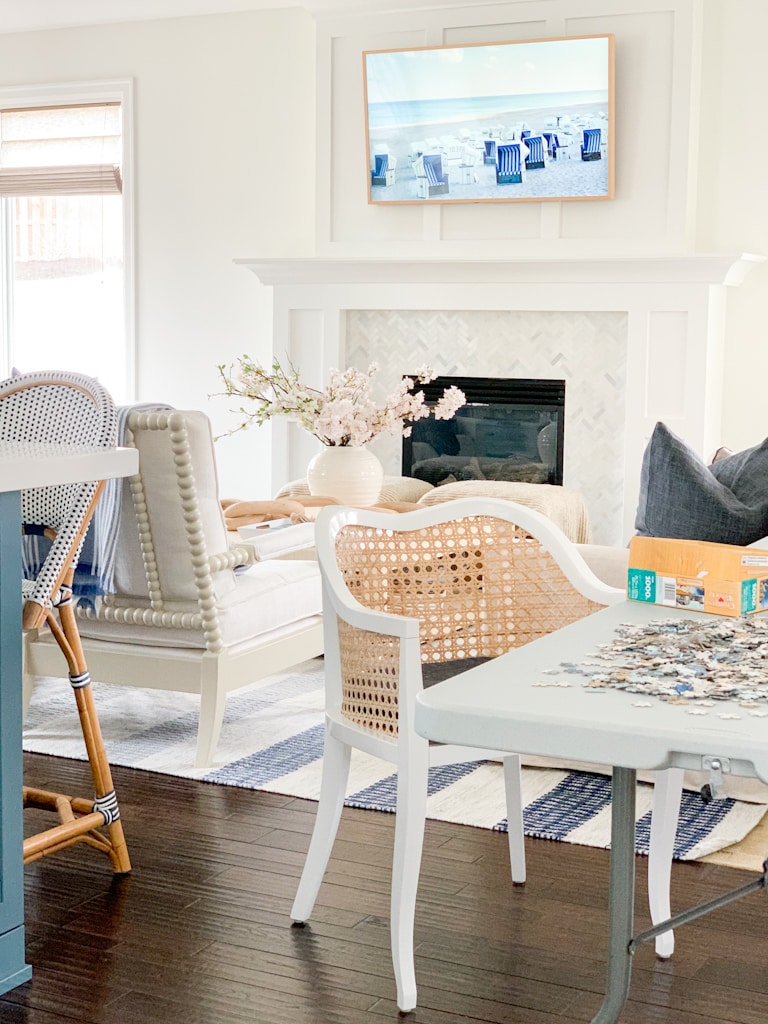 SOURCES: Cane Chair (look for less here) | Counter Stool | Spindle Chair | Striped Blanket | Striped Rug | Cherry Blossom Stems & Dogwood Stems | Linen Pillow | Frame TV
Additional Resources When You Can't Leave Your Home
Looking for additional resources when you can't or don't want to leave your home? Following are some options we use regularly. Some of these do come with a fee but we have found it more than worth the convenience factor!
DoorDash. They will deliver meals from most of your local restaurants. This helps support local and chain restaurants, but also helps provide income for those that may not be able to work due to the current situation otherwise. If you don't have DoorDash in your area, Uber Eats, GrubHub, etc. are other options that offer similar services! If you don't love the delivery fees, simply call your favorite restaurants directly and order pick-up! If you're local, my friends over at Gastronom blog have compiled an Omaha Quarantine Takeout Food List!
Shipt. For the last year-and-a-half or so, we haven't done much grocery shopping. I regularly use Shipt to have a shopper get my groceries. In our current area, they go to Target, Hy-Vee (a regional grocery store), CVS, Petco, Sur La Table, and Office Depot/Office Max. You add items to your list, select your delivery time, and they will bring it all right to your doorstep. It's another way to stay out of crowds and also support those who are needing extra income! If you use my referral link, it will cut your annual membership from $99 to $49. This isn't sponsored – they offer the same type of link to anyone that signs up 🙂
Instacart. We solely use Instacart when we need items from Costco (although they offer a lot more options). In Omaha, they also added alcohol recently (which Shipt has had for some time). So, if you're dreading facing the crowds at Costco, this is a great alternative!
What else are you doing to stay busy and flatten the curve over the coming weeks? I'd love to hear any other ideas you may have!
If you would like to follow along on more of my home decor, DIY, lifestyle, travel and other posts, I'd love to have you follow me on any of the following:
Pinterest | Instagram | Facebook | Twitter 
disclosure: some affiliate links used