Sharing a collection of the best fake plants that I have in my house. Also includes tips and recommendations on where to buy the best faux greenery and flowers, as well as what to specifically look for for the most lifelike artificial plants!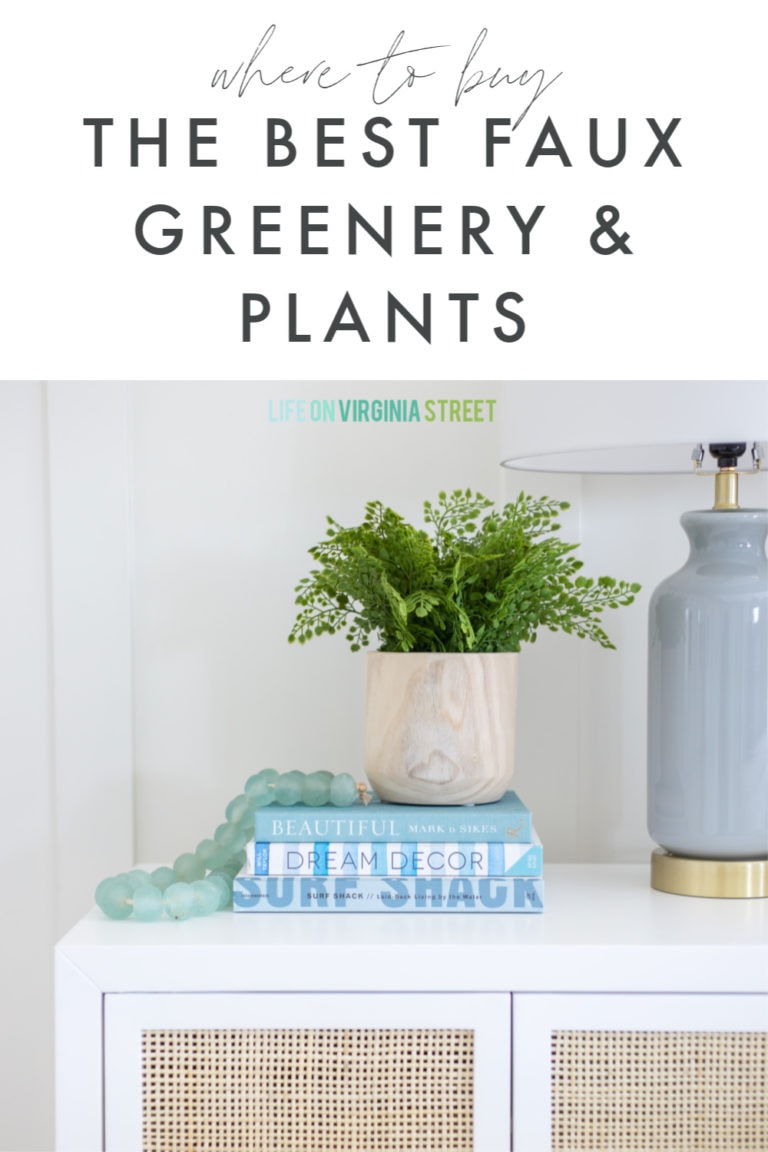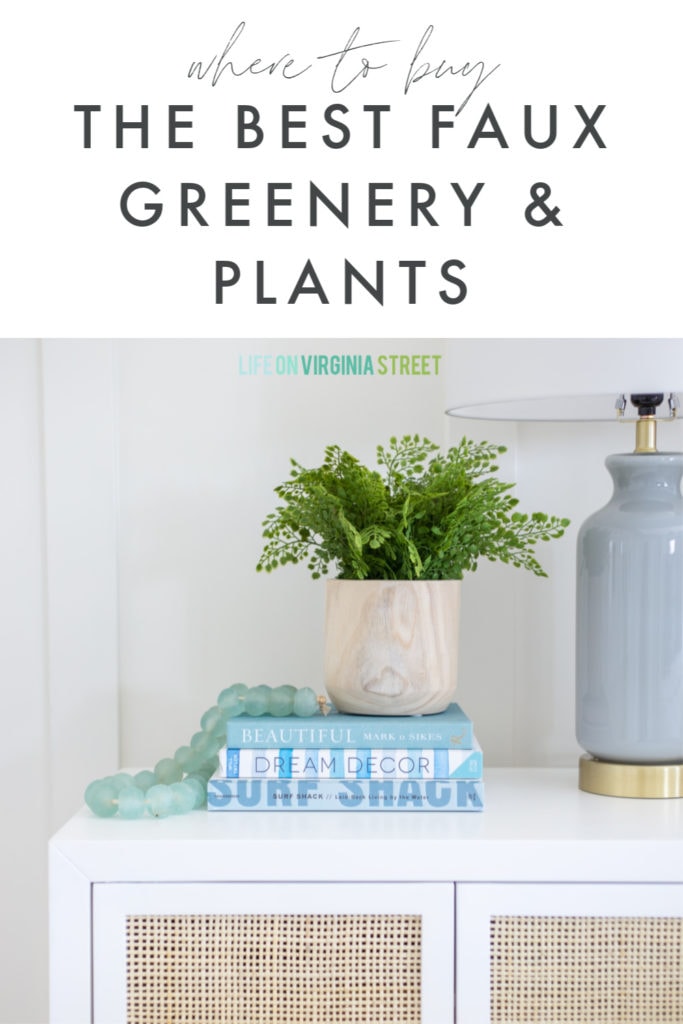 It's my personal belief that most rooms look better with the addition of some greenery! It's one of my favorite ways to add life to a space and it's unlikely you'll find a room in our house without some form of greenery. Faux greenery, flowers, and plants can be a hot topic in the design world. However, fake plants can be a great solution for many people, including those with a black thumb, those with pets, etc. Today I'm sharing my favorite sources for the best fake plants! I'm also offering great tips on what to look for and when the best time is to buy from each of the retailers listed below.
You may have seen this post in the past, but I've refreshed it with all the most current information! As you go through each of the sections, try and envision each of the spaces in our home without they greenery I'm highlighting. I think you'll agree – most of the spaces would fall pretty flat without this addition and pop of color!
This post contains affiliate links for your shopping convenience. Click here to read my full disclosure policy.
What to Look for to Find the Best Fake Plants
Fake greenery has gotten a bad rap in the past, because let's be honest – there are some really bad options out there. But, if you know what to look for, faux indoor plants and flowers can look incredibly life-like without much maintenance or effort! Following are a few of my top tips on what to look for when buying fake plants.
I prefer stems over pre-arranged plants already in vases. This allows you to use them in multiple ways and to arrange them the way you prefer them to look.
With that being said, I look for stems with a more organic shape. Sometimes, the wilder the better. You don't want it to look as though you placed a perfectly crafted piece of fake greenery into your vases and vessels.
Look for bendable or wired stems so that you can arrange your fake plants to your liking. This helps to make them look much more lifelike.
If buying online, be sure to read the reviews! If there are a large number, you can usually really upon the quality reports. This is particularly true on sites like Amazon and Wayfair.
I've had the best success in buying realistic fake plants when I've looked for the following varieties: fig leaves, tropicals, maidenhair ferns, succulent varieties, boxwoods, natural greenery branches and stems and other fern varieties. The benefit to many of these is that even when real, they sometimes look fake.
Most times, plastic plants look the most life-like. Especially when they have a foam element to them making them even feel realistic.
Remember to keep them clean! Since fake plants are otherwise so low-maintenance, it may be easy to forget to dust them. Keep the surfaces clean so they not only last longer, but look more realistic! If buying silk varieties, keep them away from direct sunlight or they may fade over time.
Where To Buy the Best Fake Plants
Following are my favorite sources for buying the best most realistic faux plants and what I buy at each store. Further down in the post, I'll share specific examples from several of the following stores. Tap any of the store names below to see their selection.
Amazon Faux Greenery & Stems
With Amazon offering products from so many sellers, it can sometimes be difficult to find the true gems when it comes to their faux greenery and faux floral selection. But many times, their prices are unrivaled and over the years, I've found some products there I really love! Their customer reviews are also incredibly helpful.
These faux greenery stems are a favorite budget find! They're a really great size, and work nearly every season. I also love that the "branches" are wired so you can shape them to look very organic and natural.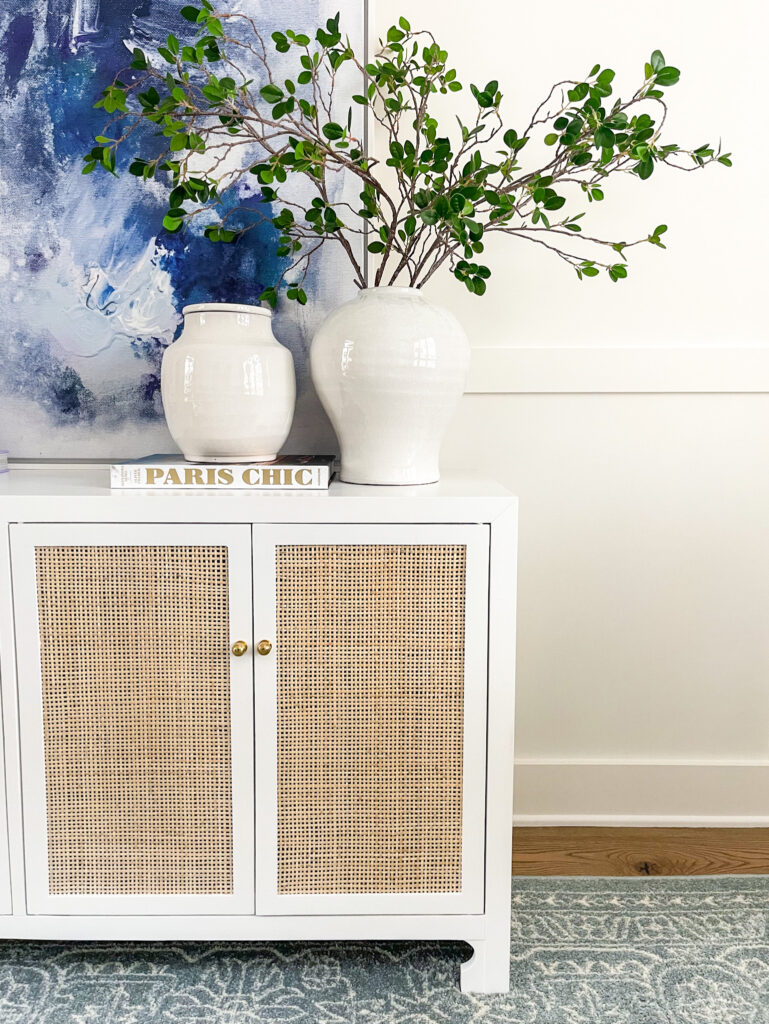 SOURCES: Rug (Slate/Ivory Color) | Faux Greenery Stems | Tall Urn | Smaller Urn | Abstract Art | Cane Cabinet Door | 'Paris Chic'
These faux tulips are still one of my favorite finds ever! They are slightly on the petite side, but they feel so real to the touch and look gorgeous in arrangements. Because my vase has a rather wide mouth, I have two sets of the tulips here.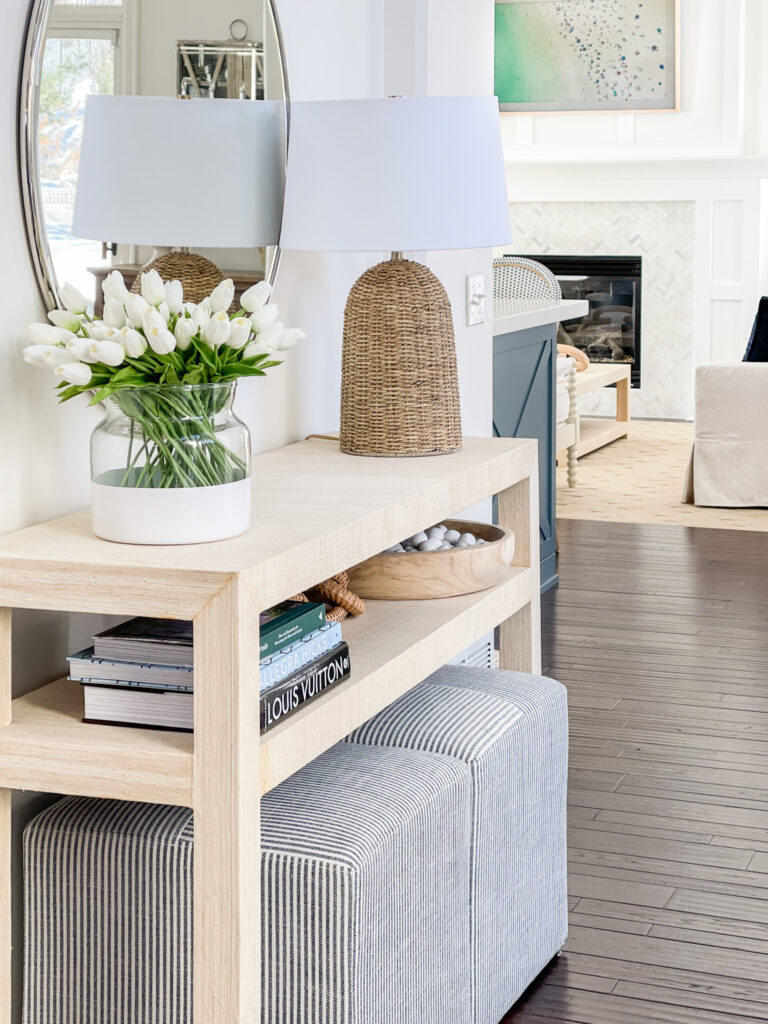 SOURCES: Raffia Console Table | Similar Round Mirror | Seagrass Lamp | Colorblock Vase | Faux Tulips | Striped Ottoman Cubes
Pottery Barn Faux Plants & Greenery
Although it tends to be one of the more pricier options, Pottery Barn is my favorite source for the best fake plants. From faux greenery stems and topiaries to fake flowers and fig trees, I'm rarely disappointed in the quality of Pottery Barn's selection. Not only that, their stems are much more substantial than other retailers. So, you may only need three of their stems to fill a vases (vs. 6-10 from many other stores). You can shop all of their realistic artificial plants here. I've also included a few of my favorites from around our home below.
These faux green petal leaf branches have been a Pottery Barn staple for several years for good reason. They work in nearly every season, and have a great, organic element to them and can easily be shaped. In the vase below I have three branches. I have six stems in the vase below (it is a very wide-mouth vase).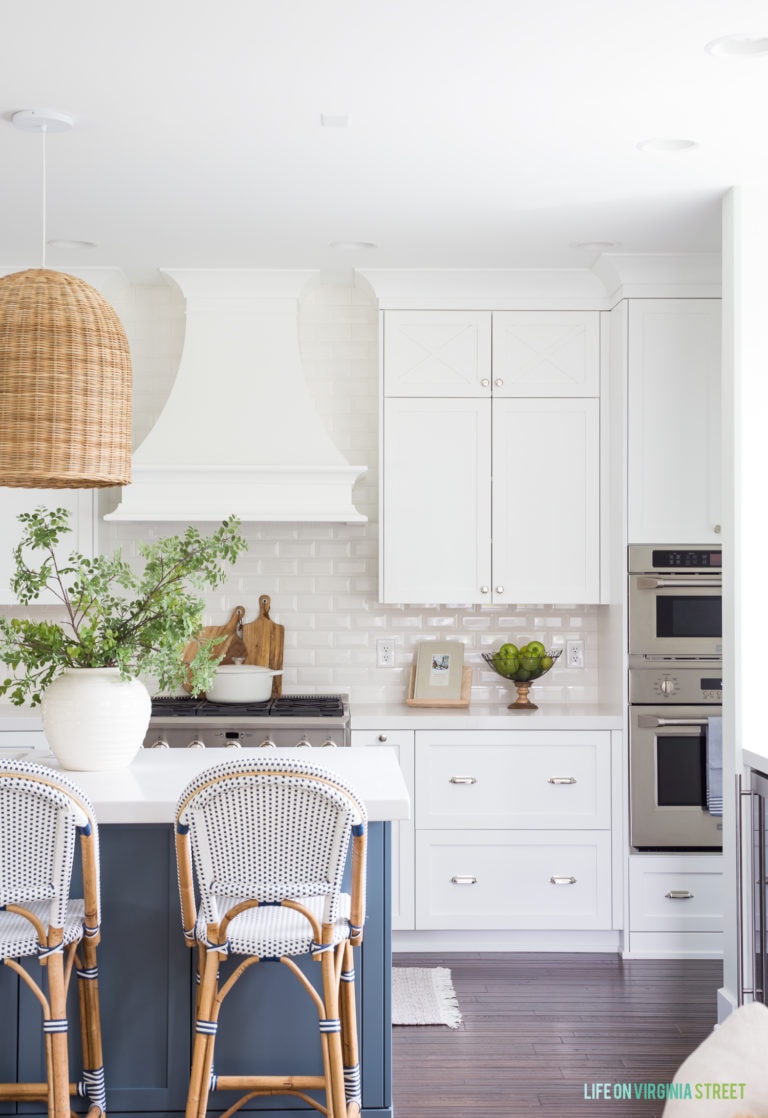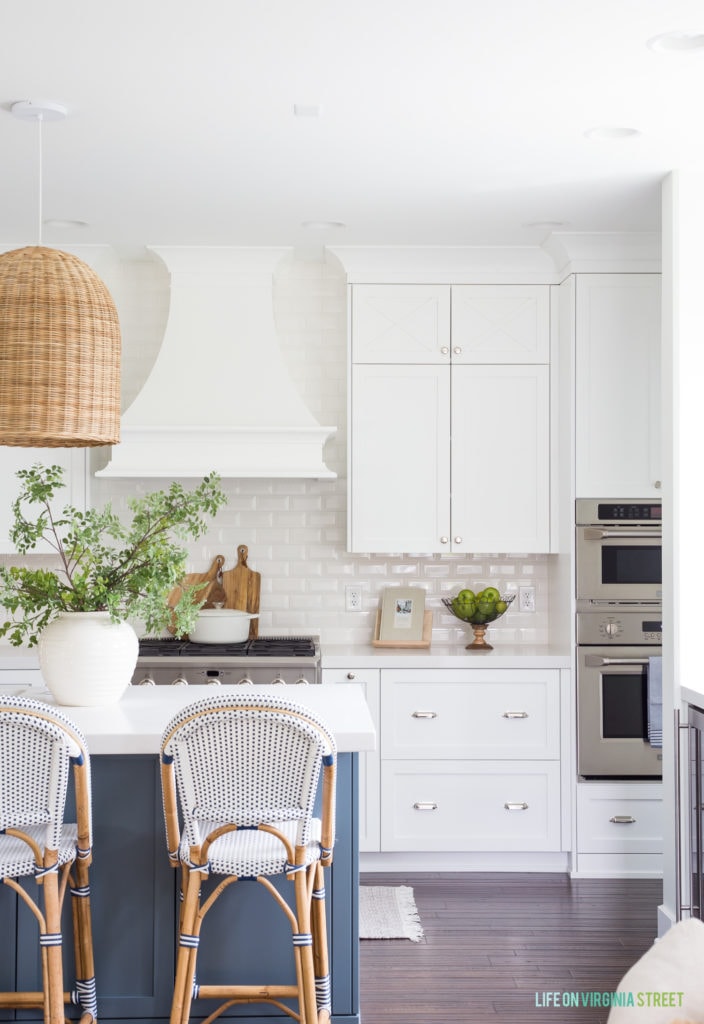 KITCHEN SOURCES: Faux Greenery | Similar Vase | Counter Stools | Basket Pendant Lights | Runner Rug | Cabinet Knobs | Cabinet Bin Pulls
I have this faux fiddle leaf fig tree from Pottery Barn in both sizes they offer. Out of the box, it doesn't look great. But with some gentle leaf adjustments (they're all wired) it looks beautiful! You can see my tips on styling and adjusting it in my post on the best faux fiddle leaf fig trees and styling tips. You can see the tree shown below in combination with my favorite faux greenery stems (only four stems).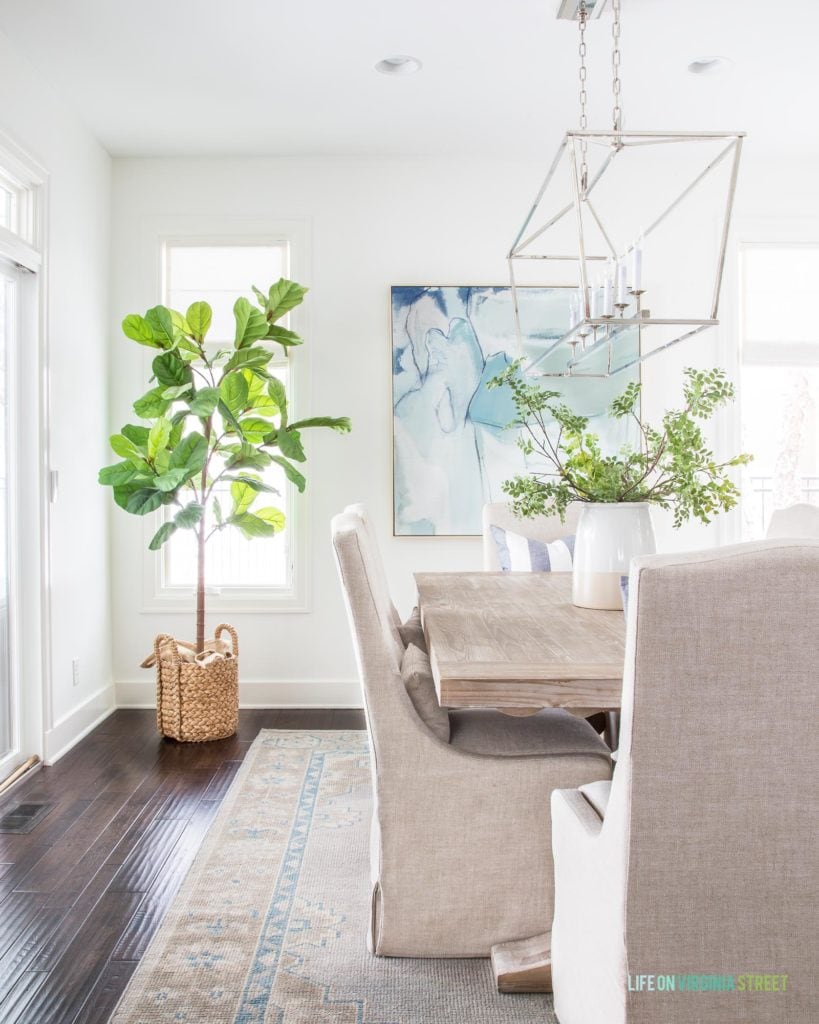 DINING ROOM SOURCES: 7′ Pottery Barn Faux Fiddle Leaf Fig Tree | Basket | Hand-Knotted Rug (look for less here) | Art | Linen Dining Chairs | Dining Table | Vase | Faux Greenery Stems | Striped Pillow Covers | Chandelier (great dupe here)
I'm also a huge fan of their olive stems that they typically bring back each fall! You can usually find them 20-40% off at various times throughout the fall and winter season.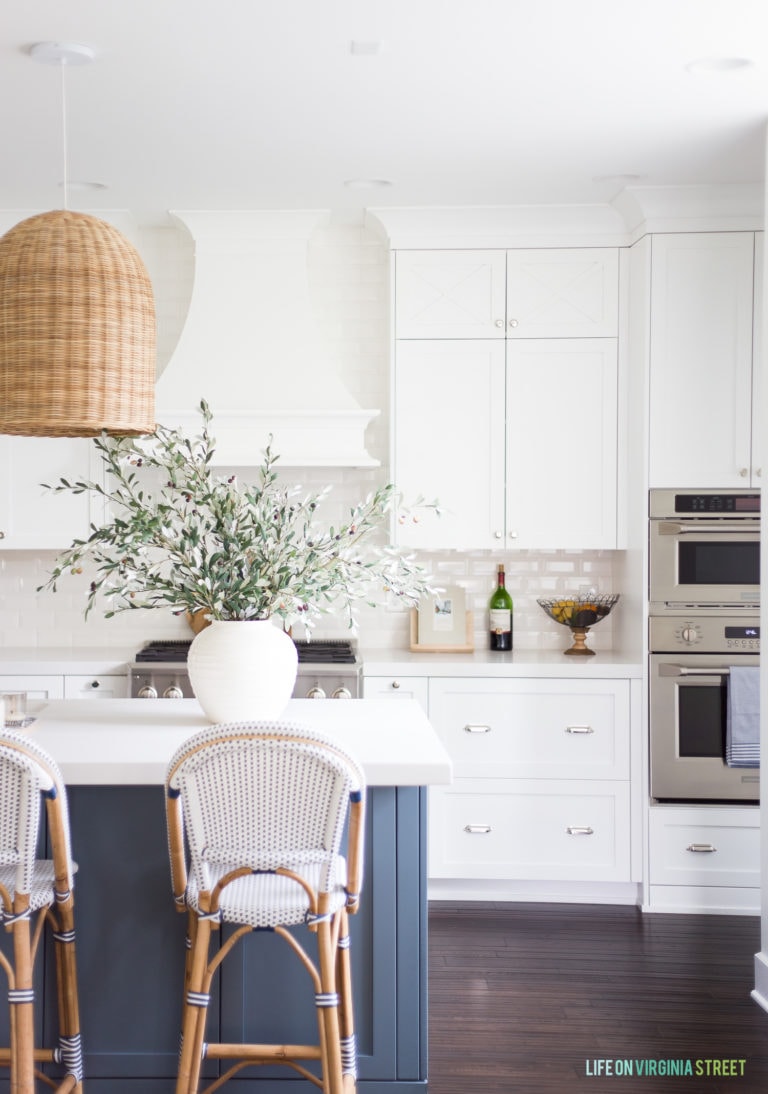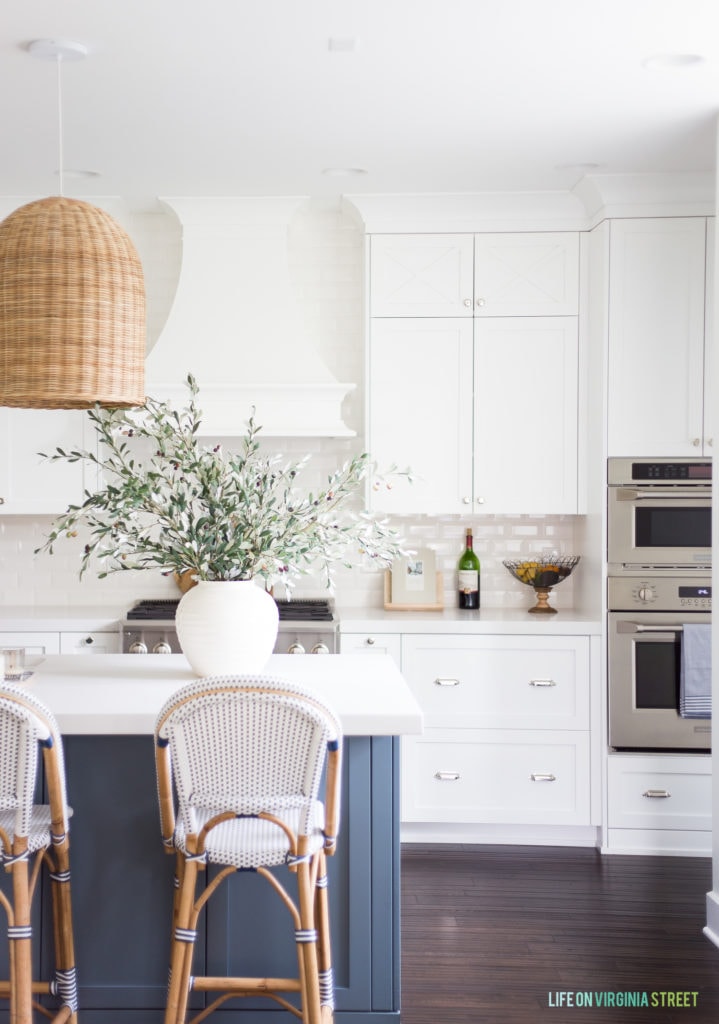 I was so happy to see Pottery Barn brought back these faux fig branches that I used several years ago! They're beautiful for fall!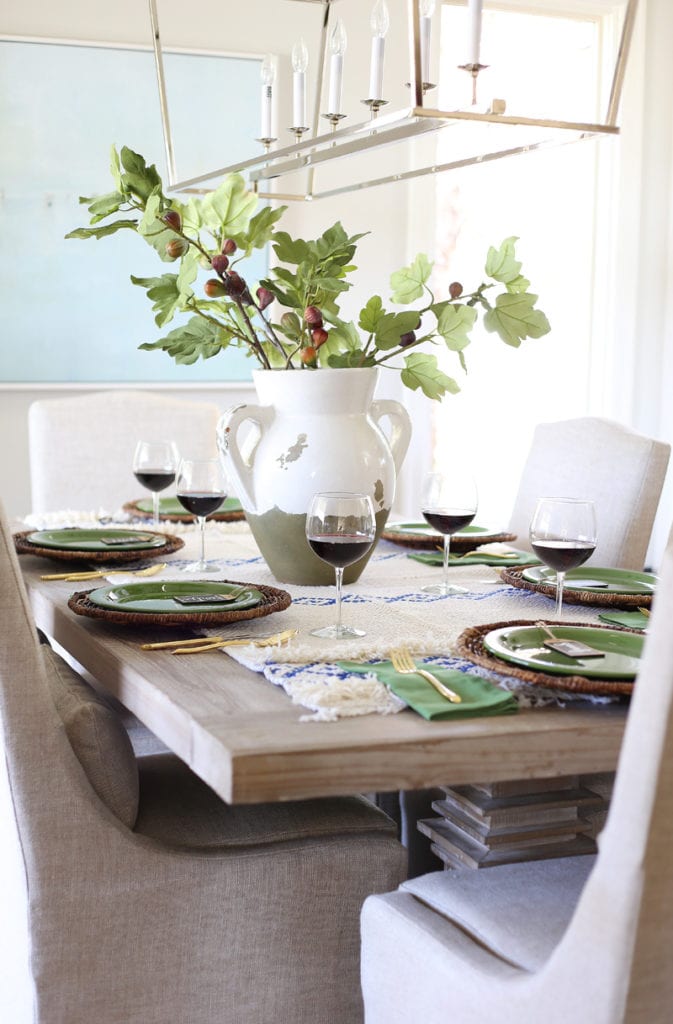 They also tend to have a really great selection of topiaries! This lemon tree topiary in our entryway (we have the medium size here) is still one of my all-time favorite buys!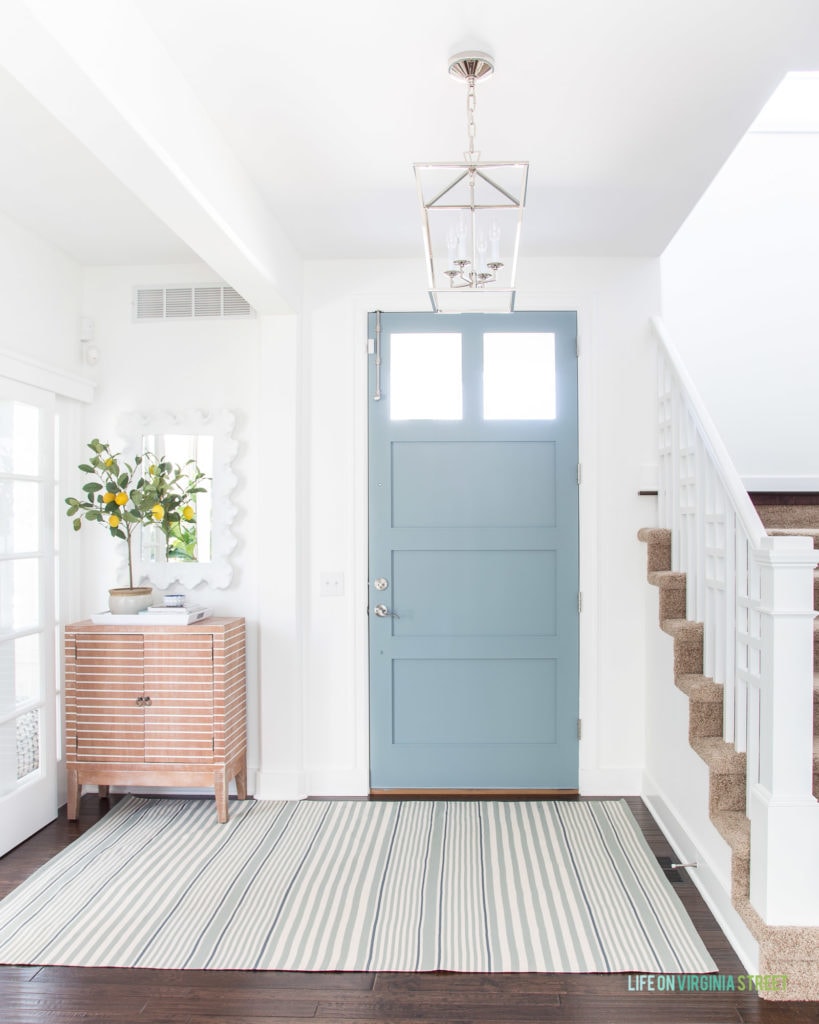 ENTRYWAY SOURCES: Striped Rug | Lantern Pendant Chandelier | Striped Wood Cabinet | Mirror | Faux Lemon Tree | Door Color: Benjamin Moore Water's Edge
Lastly, they have some of the best faux olive tree options I've seen in person! This faux potted olive tree is my personal favorite (in either size)!
Hobby Lobby Artificial Plants & Greenery
Hobby Lobby is another go-to for the best faux greenery, especially if I need something same-day and can't wait for shipping times. I will never pay full price for theirs, as I feel like they go on sale every few weeks for 30-50% off! They also have arguably the most expansive selection of any chain store. You can shop their faux greenery and foliage here.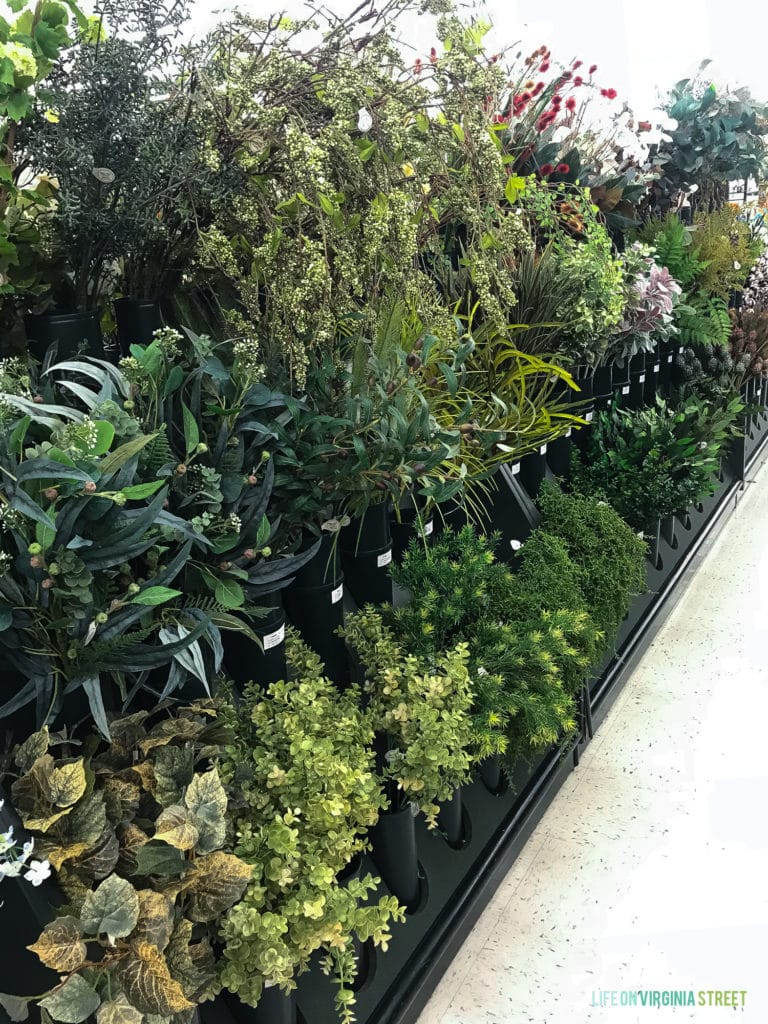 They also have a really beautiful selection of mini greenery bushes (near their greenery swags), although they tend to be much pricier than the stems shown above. I was super impressed with the olive leaf bundles I found there recently – and they're currently half off! For the price, the faux plant decor is really beautiful and another pretty option for fall.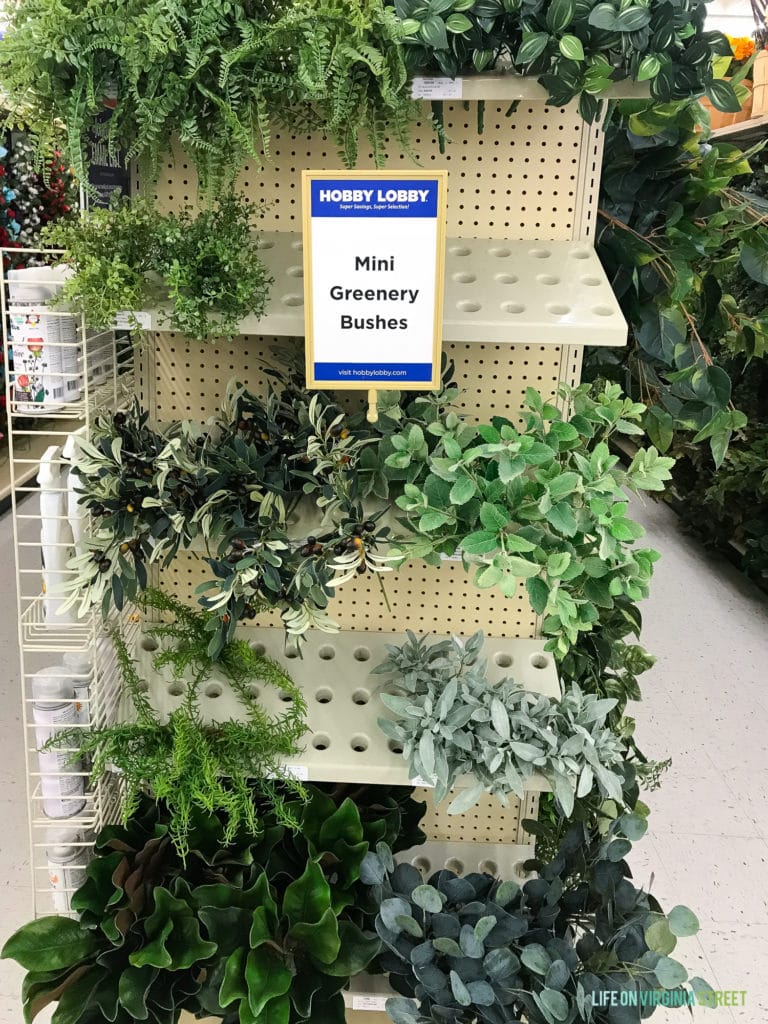 Target Faux Greenery & Plants
I love that Target has recently expanded their home decor offerings, and now has a botanicals section. This faux maidenhair fern in a wood pot is one of my favorite finds ever! It looks good in virtually every room in our home!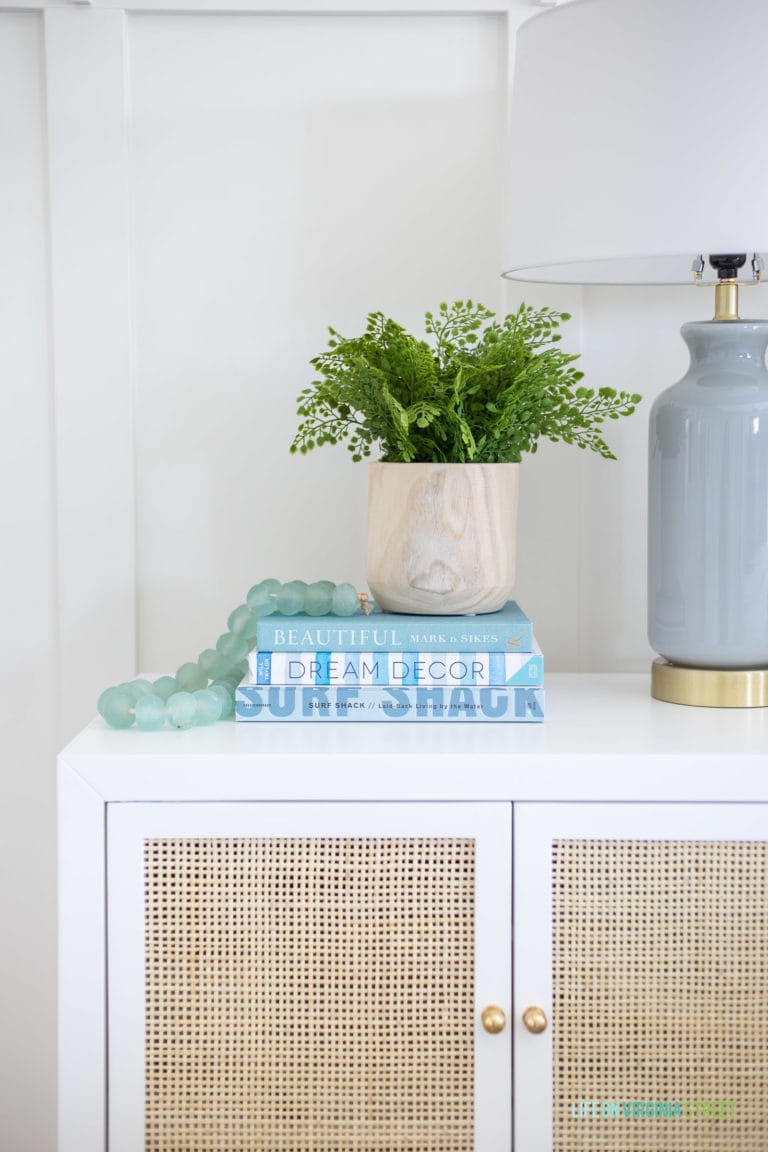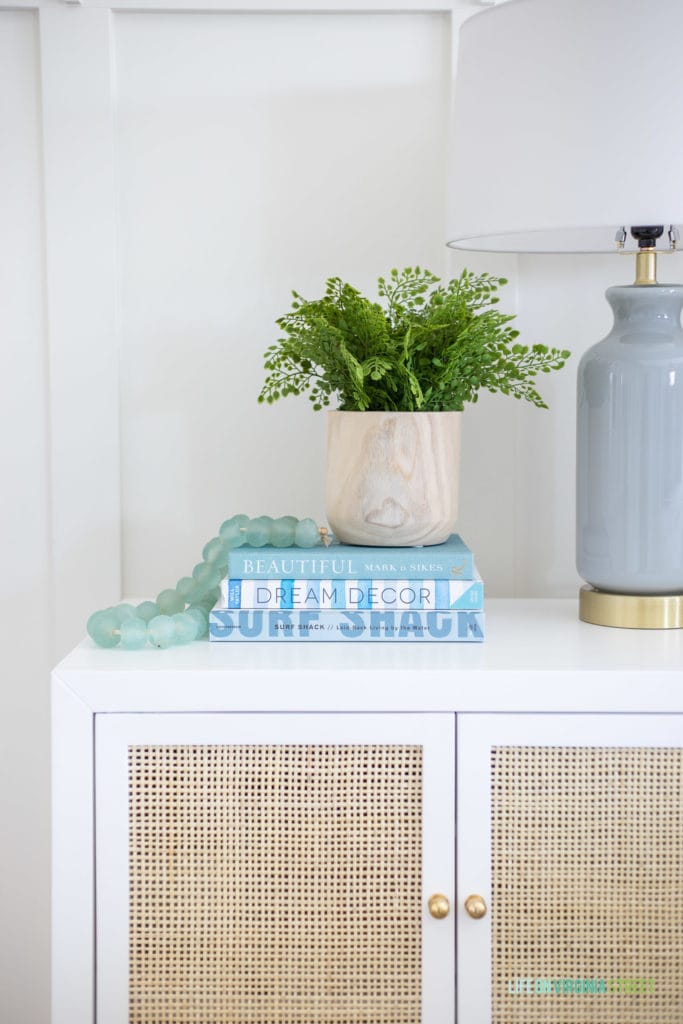 NIGHTSTAND SOURCES: Faux Maidenhair Fern in Wood Pot | Cane Nightstand | USB Ceramic Lamp | Glass Beads | "Beautiful" | "Dream Decor" | "Surf Shack"
Following are some faux plants and greenery I'm loving from Target right now. Click any of the images below for more info.

Michaels Faux Greenery & Plants
Michaels is another great local option for faux greenery, plants and flowers. They have a rather expansive selection both in stores and online. They also have a good selection of faux florals and I was especially impressed by their faux peonies and hydrangeas. You can see their current florals and faux greenery here.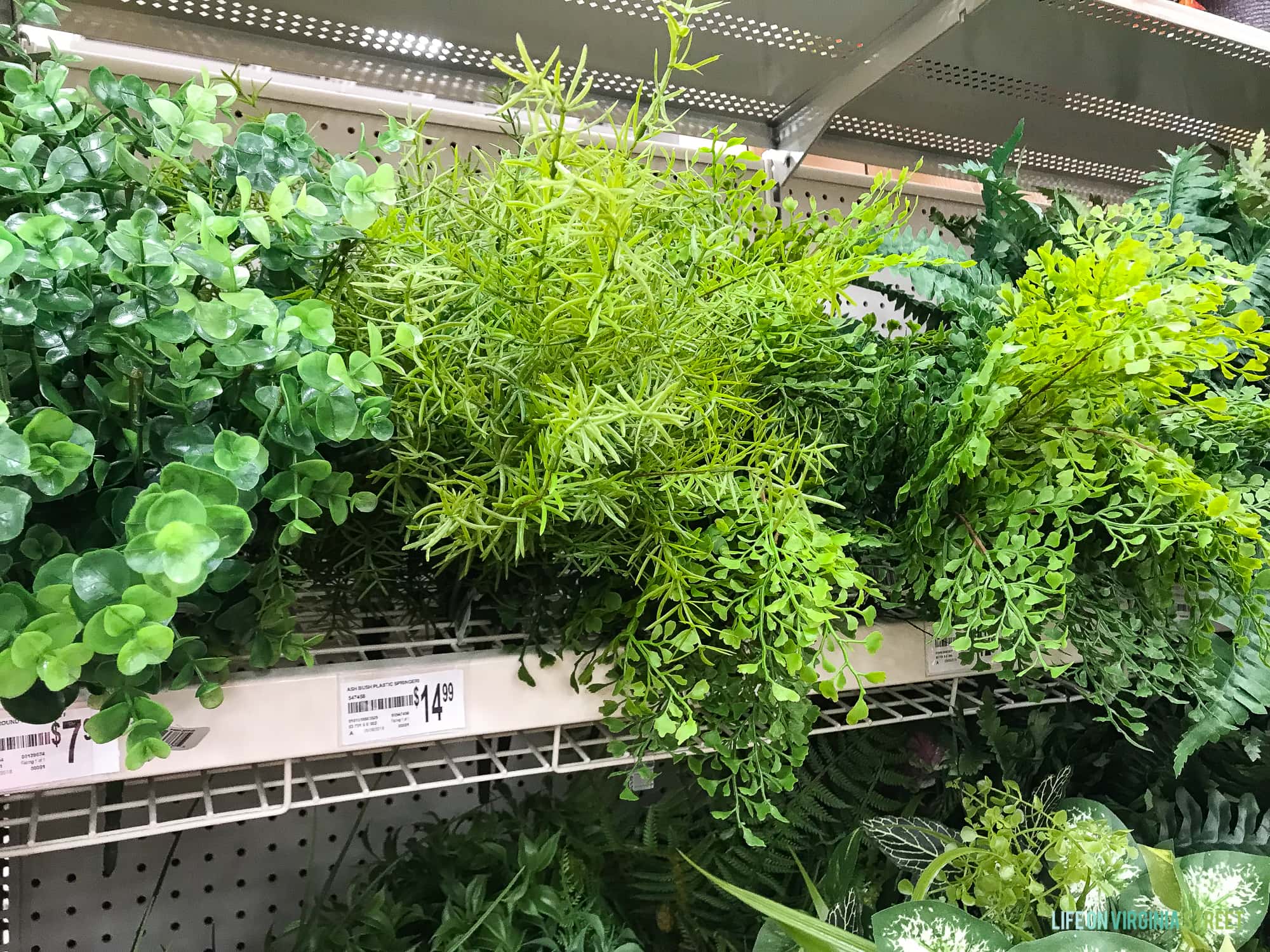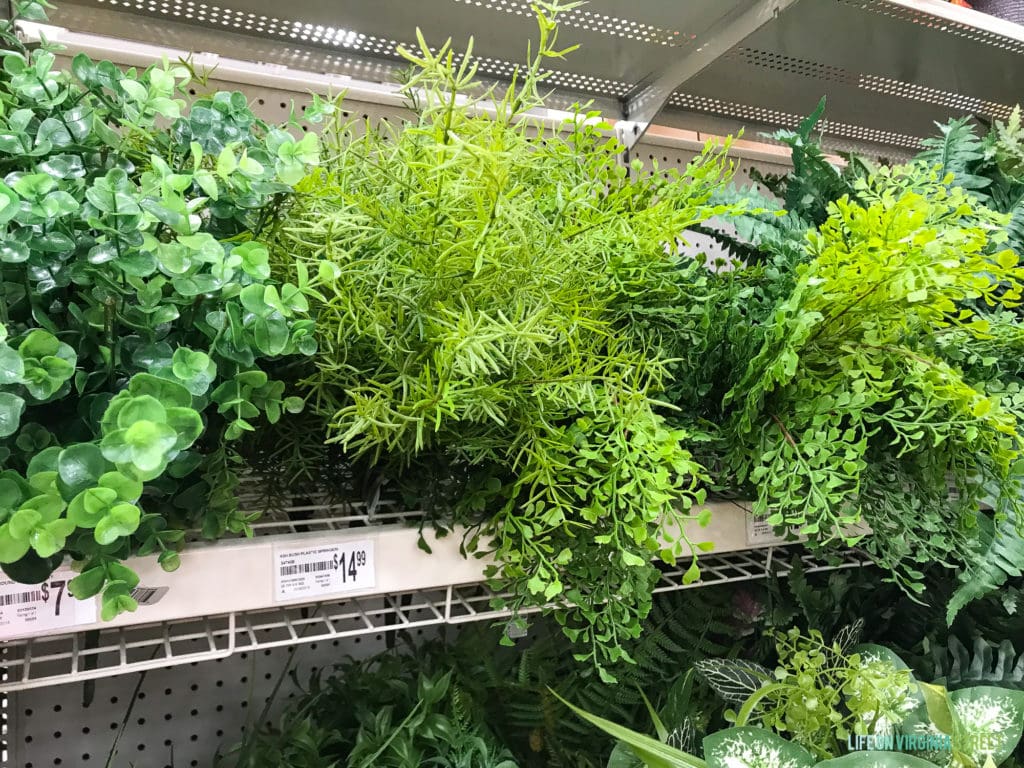 Terrain Faux Greenery & Plants
Terrain is a sister company to Anthropologie and has a bit more of a boutique feel to their stems. I love that they typically carry unique, beautiful options that you can't find anywhere else! Occasionally, you will find some of their lines at Anthro and Nordstrom, but quantities and styles are usually limited. However, if I find a stems I love, I usually check all three sites in case one is offering a sale! You can shop their faux greenery and florals here. They currently have an incredible selection of citrus stems!
I found these ginkgo stems at Terrain last year (no longer available), and it's one of my favorite finds! I was able to find similar gingko stems here that are still available!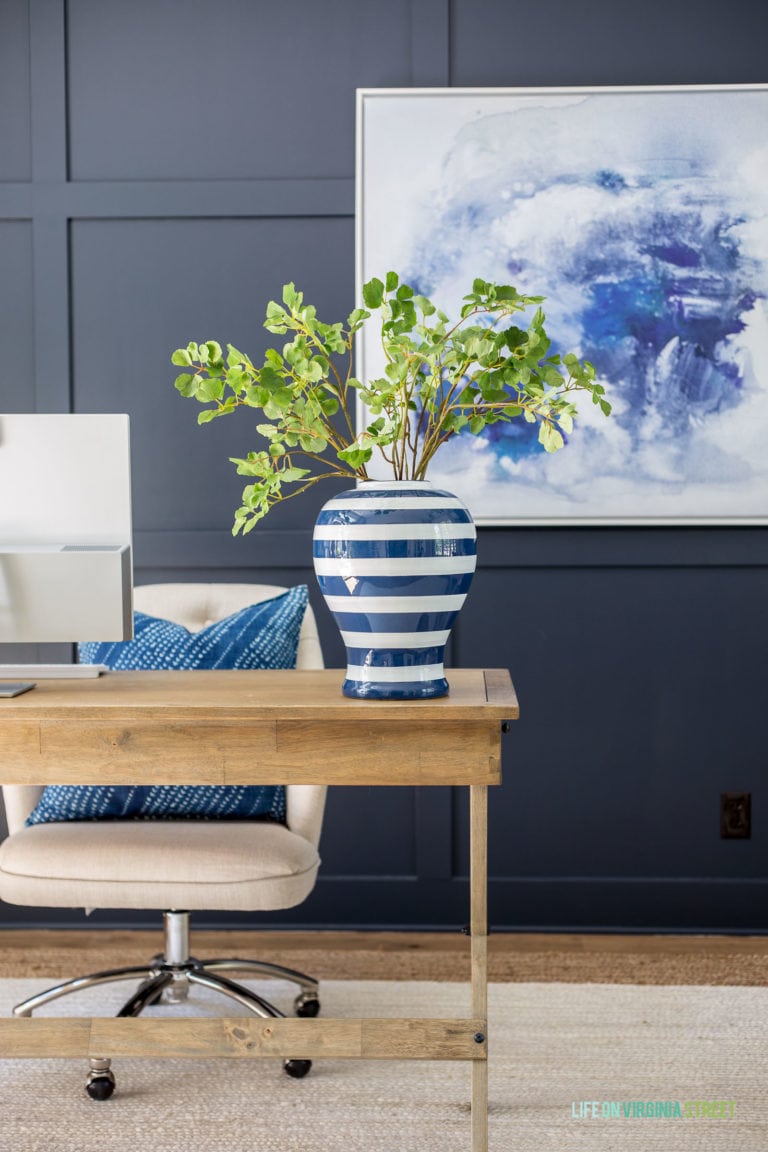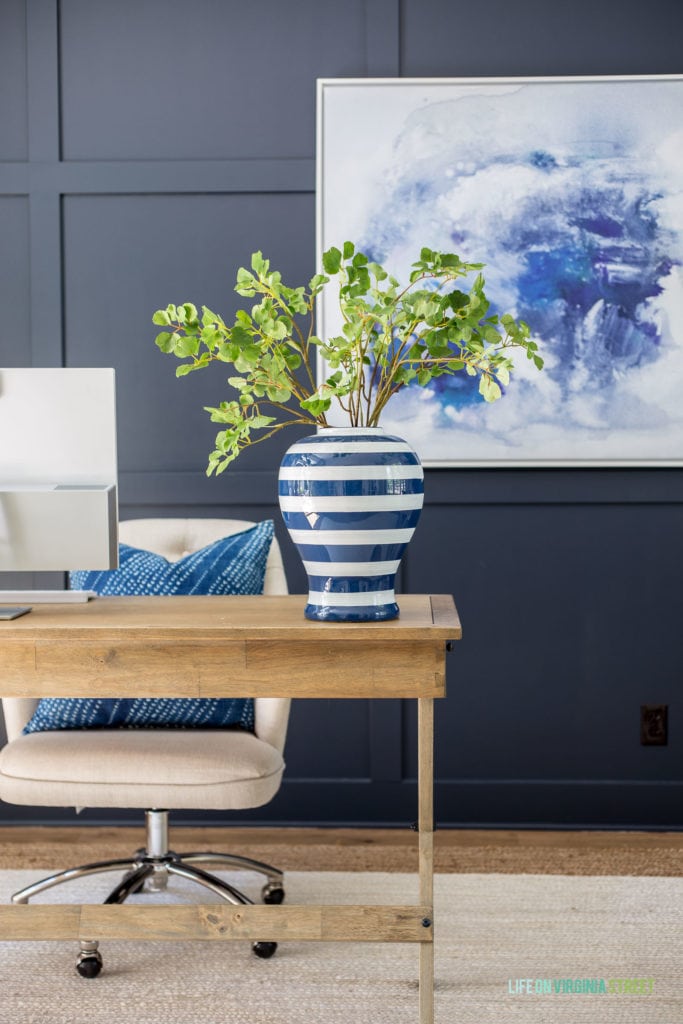 OFFICE SOURCES: Similar Faux Gingko Stems | Similar Striped Vase | Wood Campaign Desk | Rolling Chair | Abstract Art | Throw Pillow | Jute Rug
TJ MAXX, Marshalls and HomeGoods Faux Greenery & Plants
If you're on the hunt for more of an "arranged" type plant or florals, try checking out TJ Maxx or Marshalls (online or in stores) or HomeGoods! I've bought multiple preserved boxwoods from them in the past and even some faux versions that have worked well.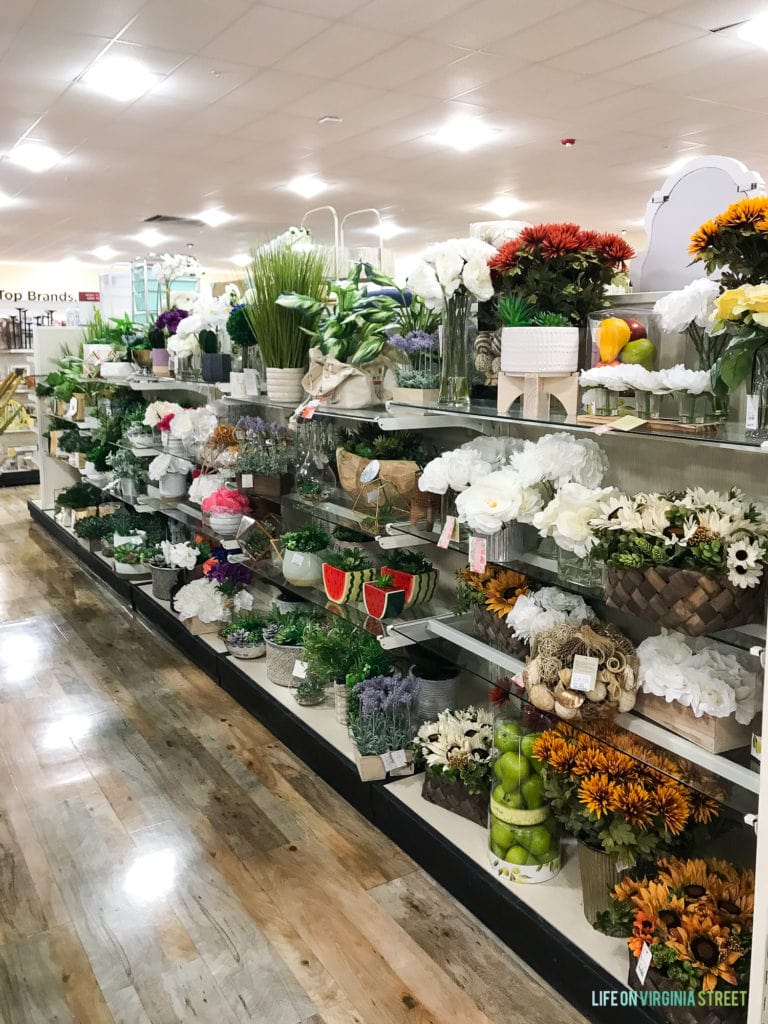 I found this vase of faux tulips there last spring and it's one of my favorite and most realistic looking artificial floral arrangements! Notice how they added clear filler in the bottom of the vase to give the illusion of water, making it look much more life-like!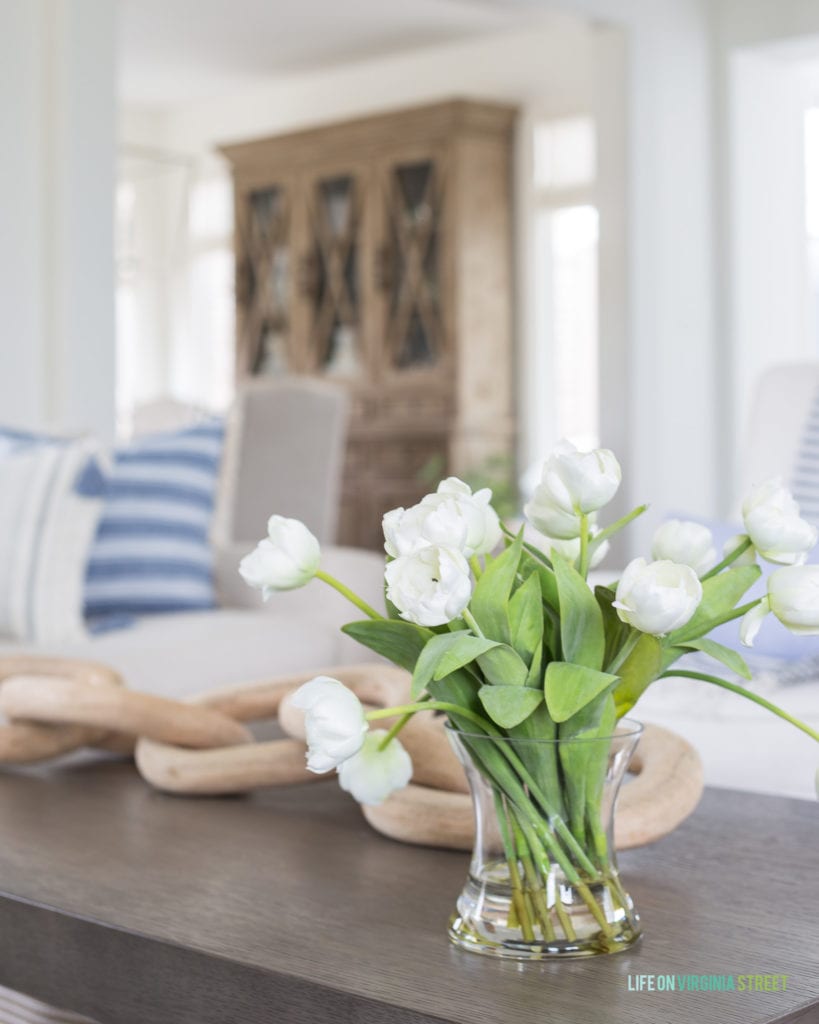 Wayfair Faux Greenery & Florals
Wayfair can definitely be hit or miss when it comes to faux florals and greenery. However, I think they have one of the best review systems out there so it's pretty easy to find the winners and duds pretty quickly! This faux olive tree I got bought there is an incredible value for the size and it's now available here on Amazon!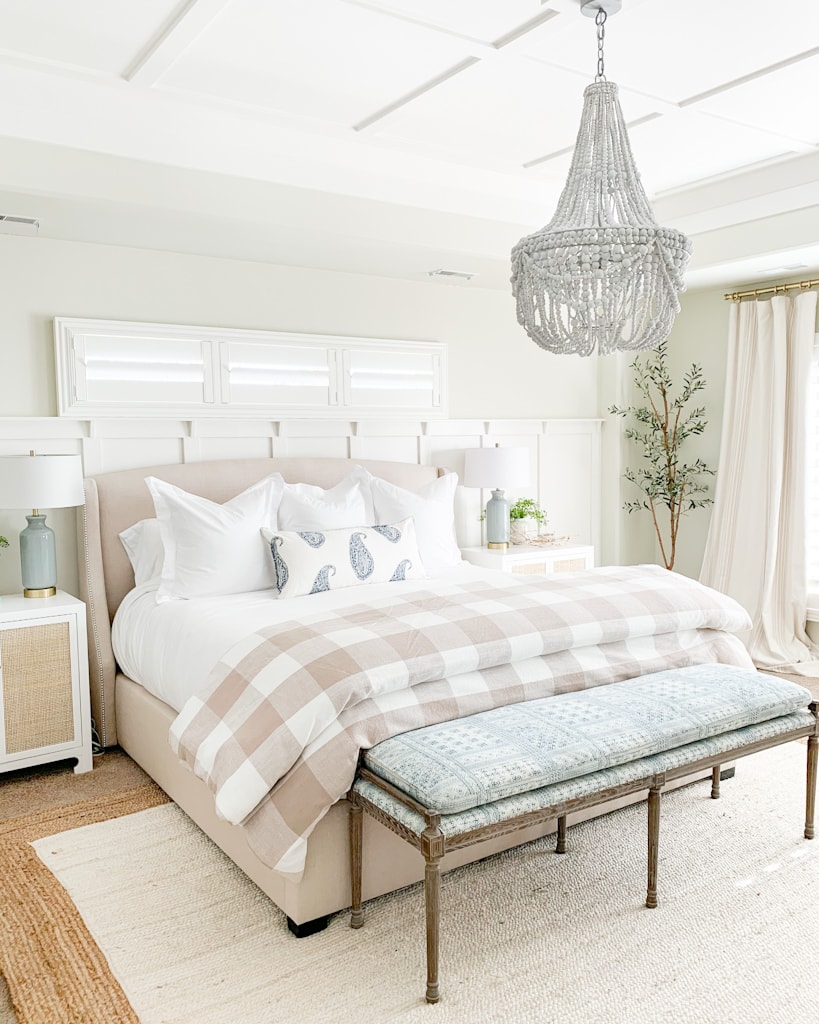 MASTER BEDROOM SOURCES: Faux Olive Tree | Similar Upholstered Bed | Buffalo Check Bedding | Paisley Lumbar Pillow | Wood Bead Chandelier | Bench | Jute Rug | Cane Nightstands | USB Ceramic Lamp | Striped Blackout Curtains | Gold Curtain Rod
West Elm Faux Greenery & Plants
I feel like West Elm tends to offer the best selection of tropicals and non-traditional fake greenery. I've had their faux fiddle leaf fig stems for years and still love them! They're a bit more fabric-y than I would typically prefer, but the coloring on the leaves is life-like and I love that they are on wired stems, making them easier to arrange than most. Plus a few stems go a long ways with these. I have two in the large vase below. You can shop all of their faux botanicals and florals here.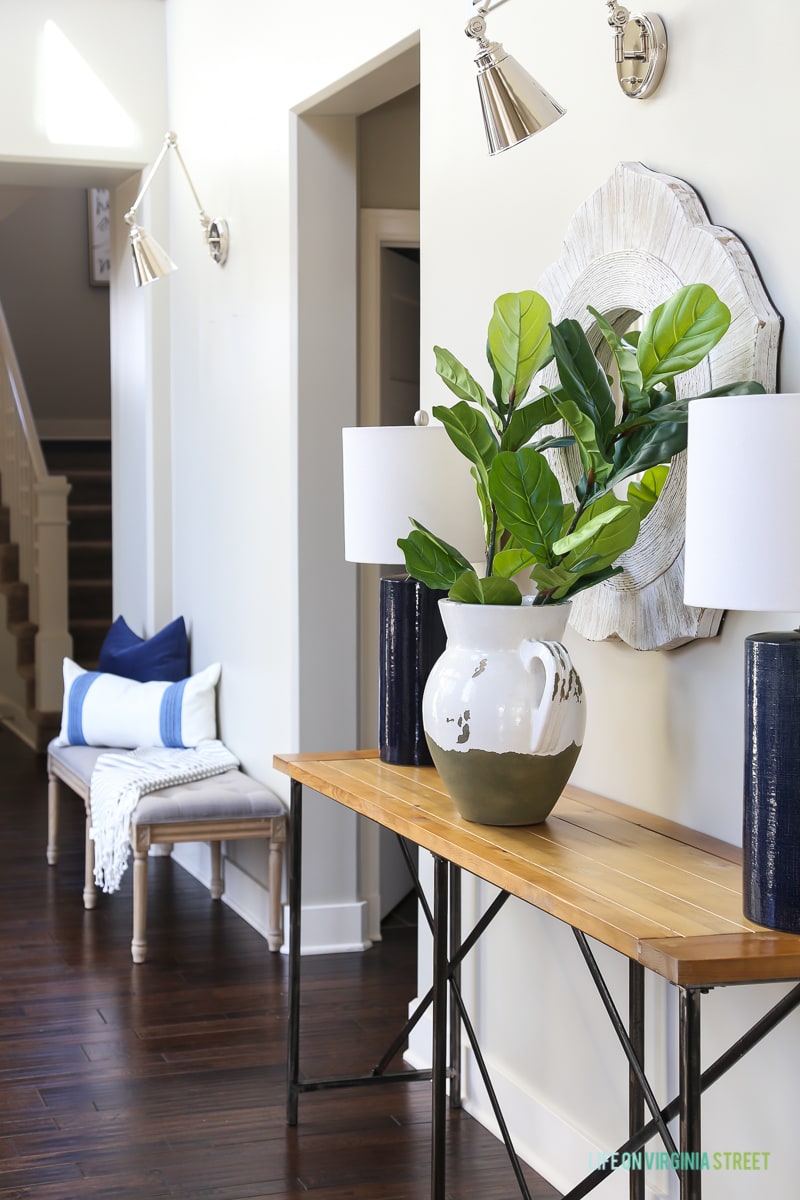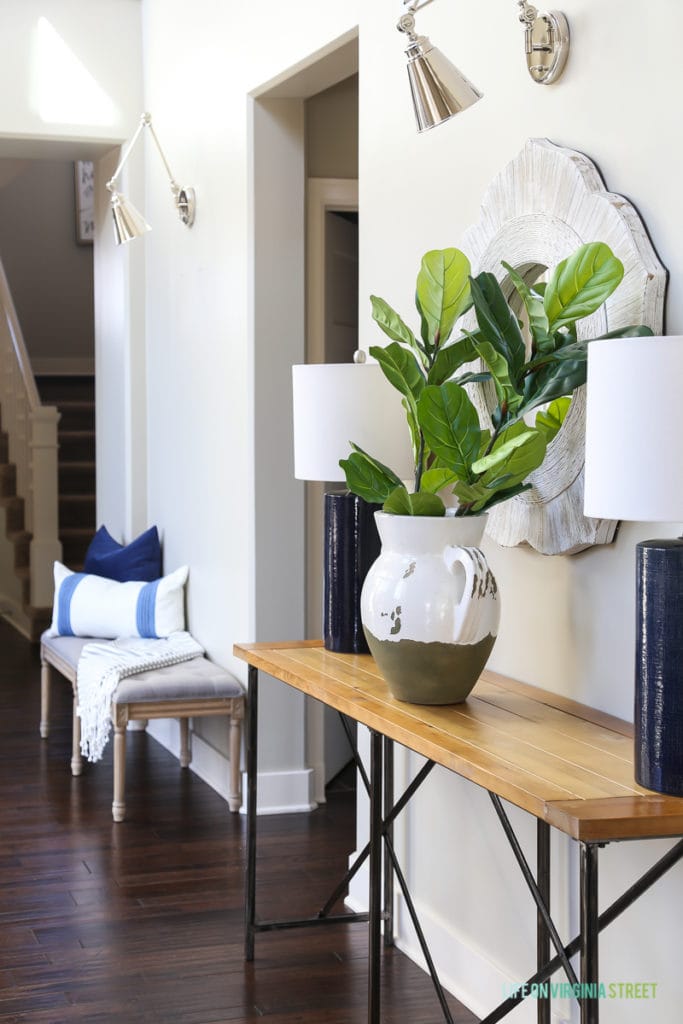 OLD ENTRYWAY SOURCES: Faux Fiddle Leaf Fig Stems | Vase | Console Table | Lamp Bases | Swing Arm Sconces | Bench
Following are a few of my favorite West Elm faux greenery and stems (click any of the images below to learn more about each item):

JOANN Fabrics Faux Greenery & Plants
Although JOANN also has loose stems, I find they have a better selection of faux greenery in the wreath area. And they frequently have coupons you can use too! I'm a big fan of their mossy wreaths.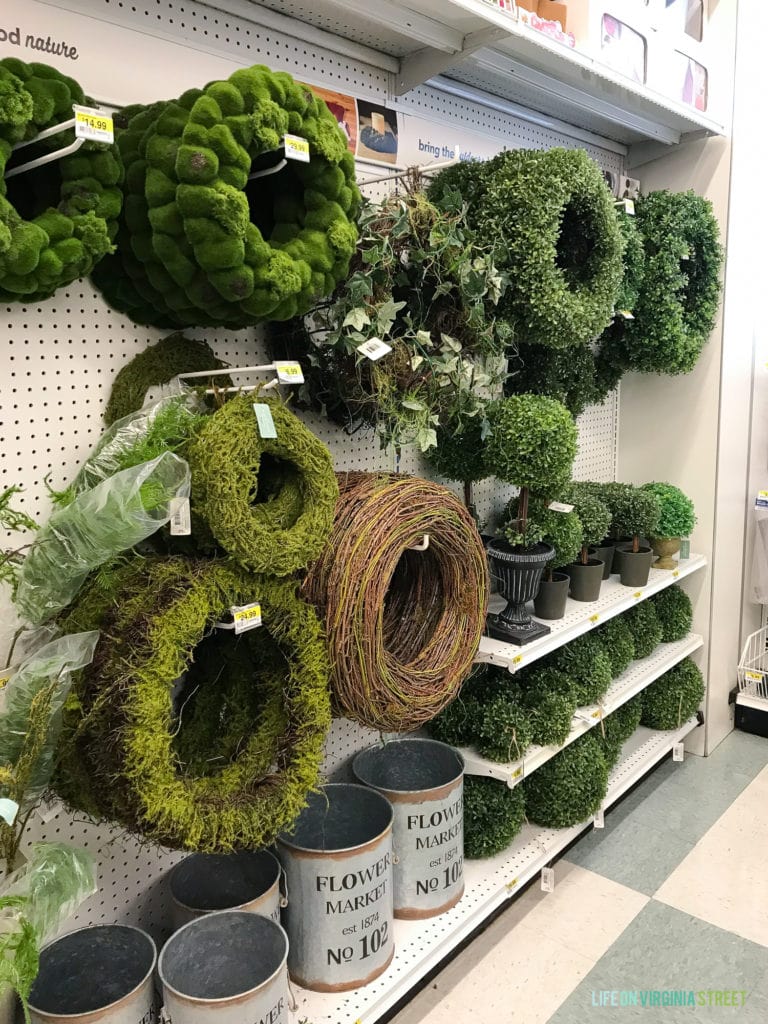 World Market Faux Greenery & Plants
World Market isn't usually one of my go-to's for greenery, but seasonally I feel like they can have some good options. In the past, they have been a great source for faux olive plants and other fall greenery. For example, topiaries and wreath I used in our fall dining room a few years back. And although I haven't seen it personally, their faux fiddle leaf fig tree gets rave reviews too! You can shop their plant shop here.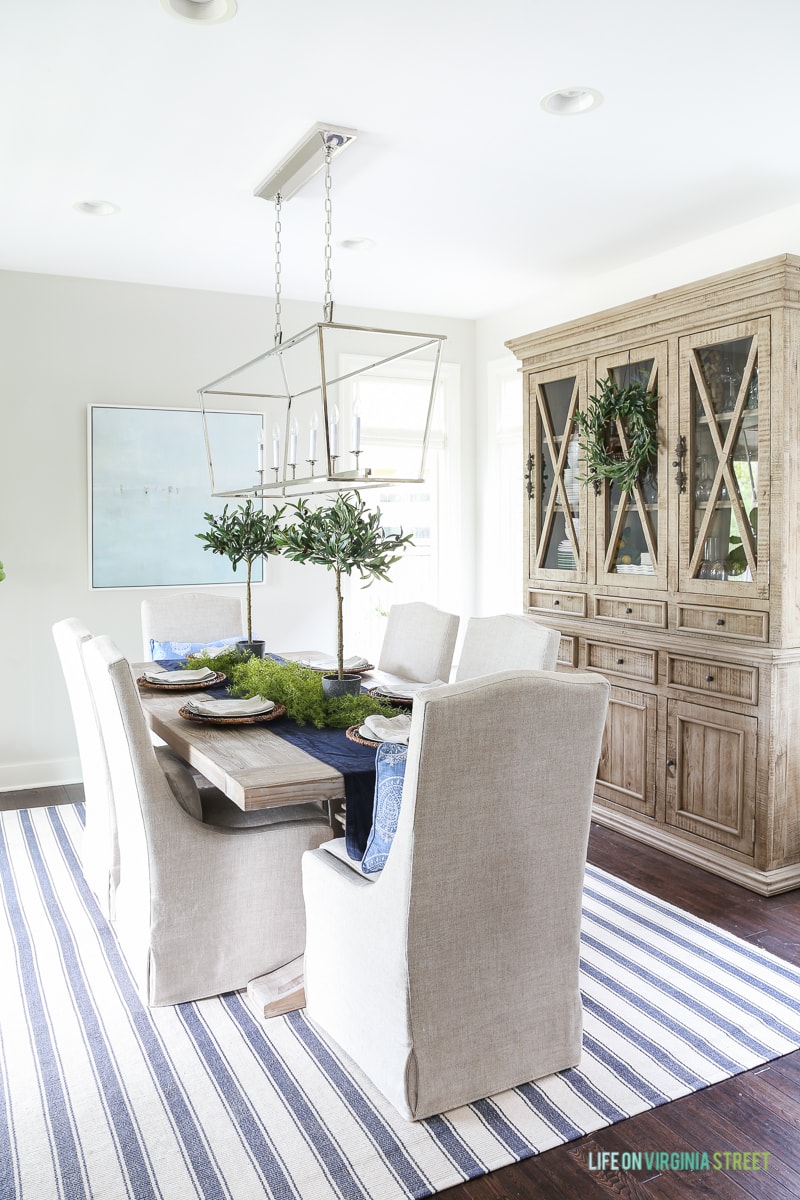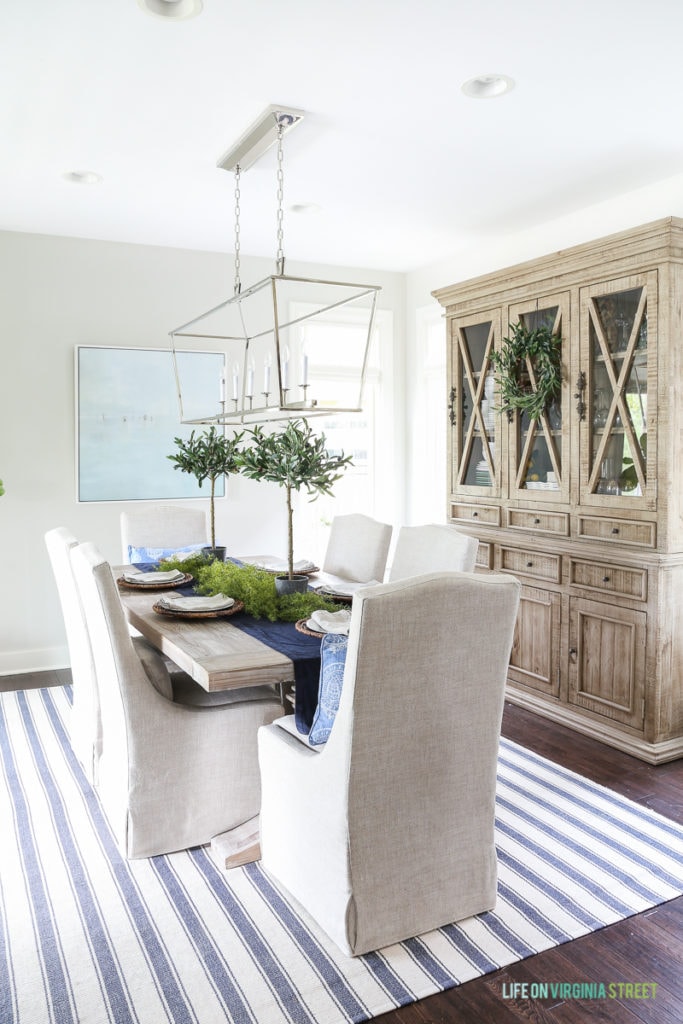 Local Home Decor Boutiques Faux Greenery & Plants
Be sure to also check local home decor boutiques. Many times their greenery isn't much pricier than craft stores, and the quality can be better at times. Not only that, they usually give creative ideas for styling and displaying the greenery! I saw this pretty basket filled with faux stems when I was at Amethyst Home a while back.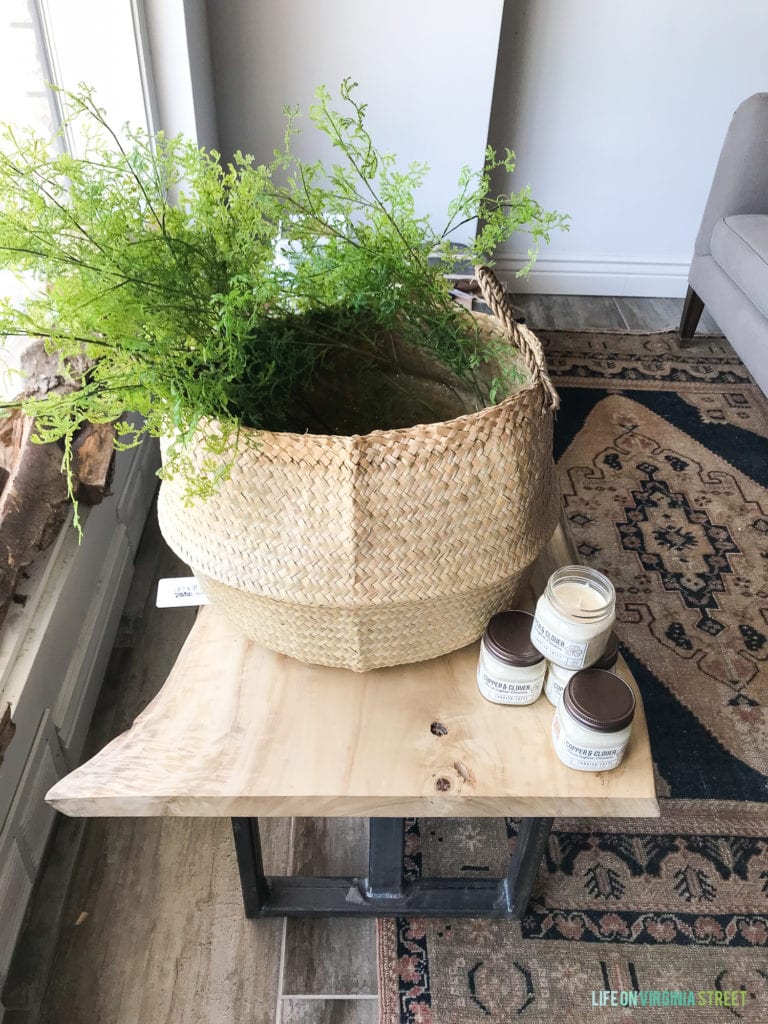 So did I forget to cover any stores? Any other sources you love for finding the best fake plants? I'd love to hear!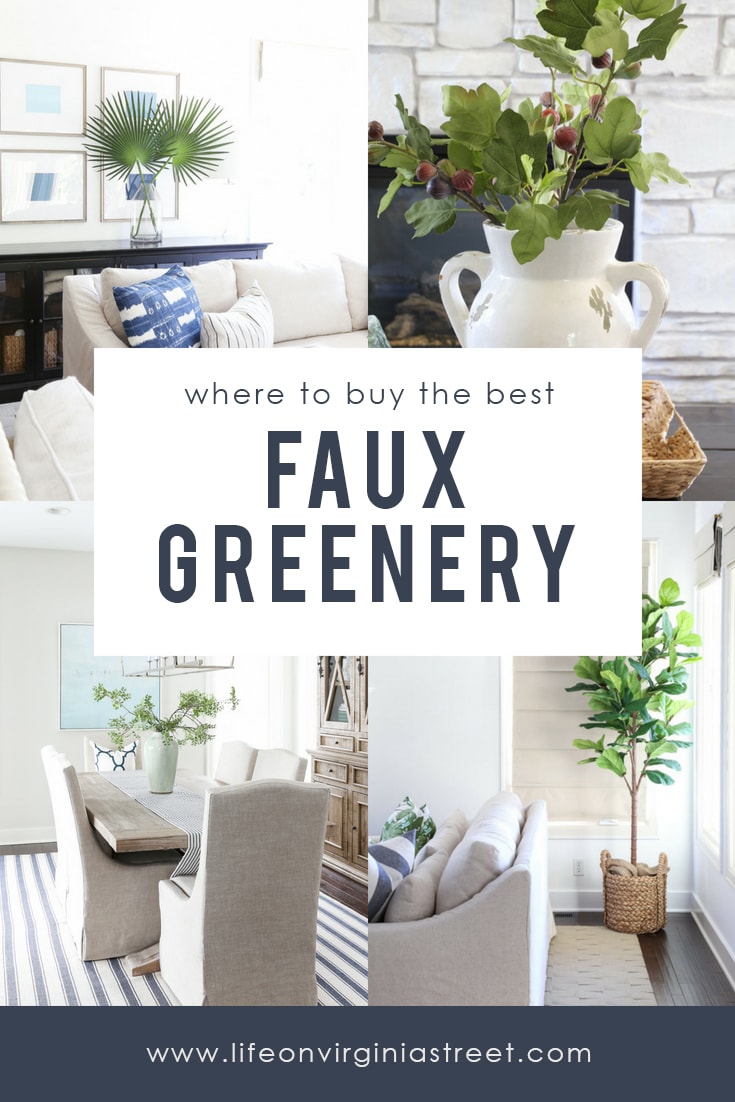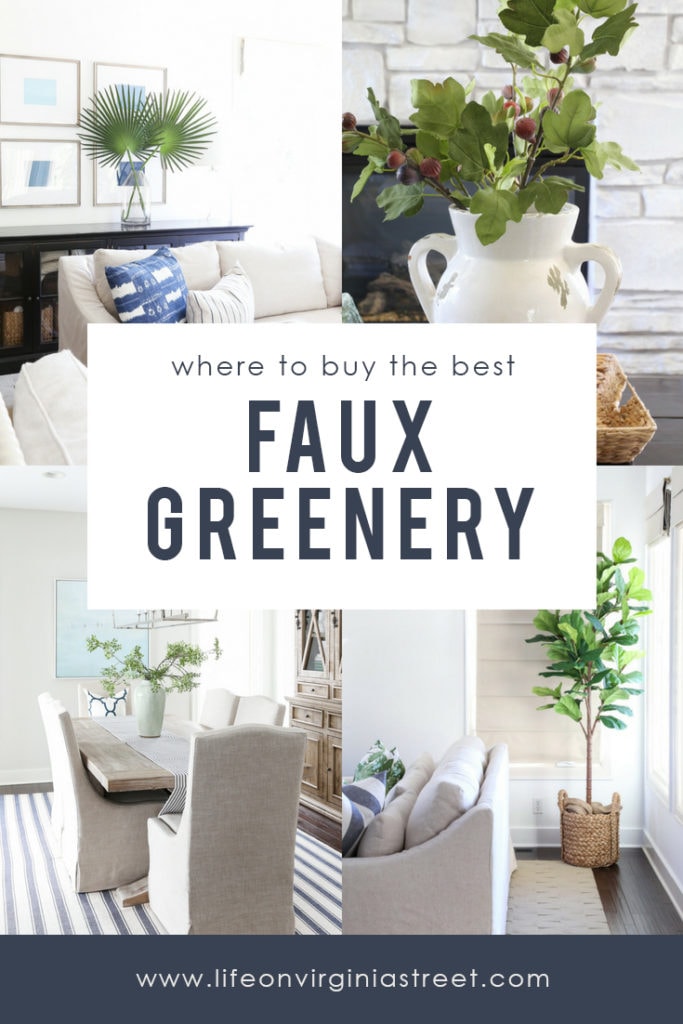 If you would like to follow along on more of my home decor, DIY, lifestyle, travel and other posts, I'd love to have you follow me on any of the following:
Pinterest | Instagram | Facebook | Twitter
disclosure: some affiliate links used