Now that March has finally arrived, I feel like it's acceptable to officially talk about spring decorating! Today I'm sharing my 2020 spring decorating ideas along with the design boards I've made for each of the rooms in our home.
This post contains affiliate links for your shopping convenience. Click here to read my full disclosure policy.
I've found that by creating these little design boards for each room (I make mine in Photoshop), I end up spending less on seasonal decor. In the past, I'd find something cute and buy it and then later figure out where to use it. But, over the last year or so, I've been trying to be much more intentional about my home decor purchases. Both from the money side of things but also because it was starting to get ridiculous trying to store everything!
I think you'll find that I'm keeping things pretty simple again this season. Mostly just a few swaps of throw pillows, greenery/florals, and some other minor seasonal decor! Seasonal decorating doesn't have to be complicated! I haven't finalized a few of the items I'll be using yet, so some of the items from the boards may still change. Let's jump into the design boards. Hopefully they'll give you some spring decorating ideas along the way!
Spring Decorating Ideas in our Entryway
In our entryway, I'm bringing back our favorite striped rug. I get constant questions about how I keep it clean, but I'm telling you, this brand is indestructible. You can literally hose these off (and bleach them) and yet, they are still soft underfoot! I feel like the colors in the light blue version were made for our entryway! The only thing I bought for this space was this wool pillow (I actually got a square version). Although the texture is a bit more fall/winter-ish, I loved the pretty colors in it that felt very spring-like!
Spring Decorating Ideas in our Living Room
You've already seen quite a bit of my living room so I won't go into two many details here. But these are all the items that are already in place. I'm really loving the addition of a little pink this time of year! It helps warm everything up and add a bit of personality to the space!
Spring Decorating Ideas in our Kitchen
Per usual, I don't do a lot of decorating in our kitchen. But, I did add this striped runner and it already feels so much more like spring! I get a lot of questions about how we keep our runners in place on the hardwoods. I invested in one of their rug pads about a year ago, and that thing keeps a death grip on every rug I've used it with! Plus it adds some nice cushion when you're standing at the sink. You'll also see my favorite faux greenery stems popping up in most of the design boards. I've used them for years and years and still haven't found anything I love more! They are very substantial and a little goes a long ways!
Spring Decorating Ideas in our Dining Room
Our last two cane dining chairs arrive today and I couldn't be more excited! I'll share them as soon as I get the room put back together and find another home for our old chairs. I recently ordered these chambray napkins and love that I finally found a set of six, rather than the usual four. The quality is great and I'm planning to use them soon in my Easter tablescape! But I love that they're also seasonless!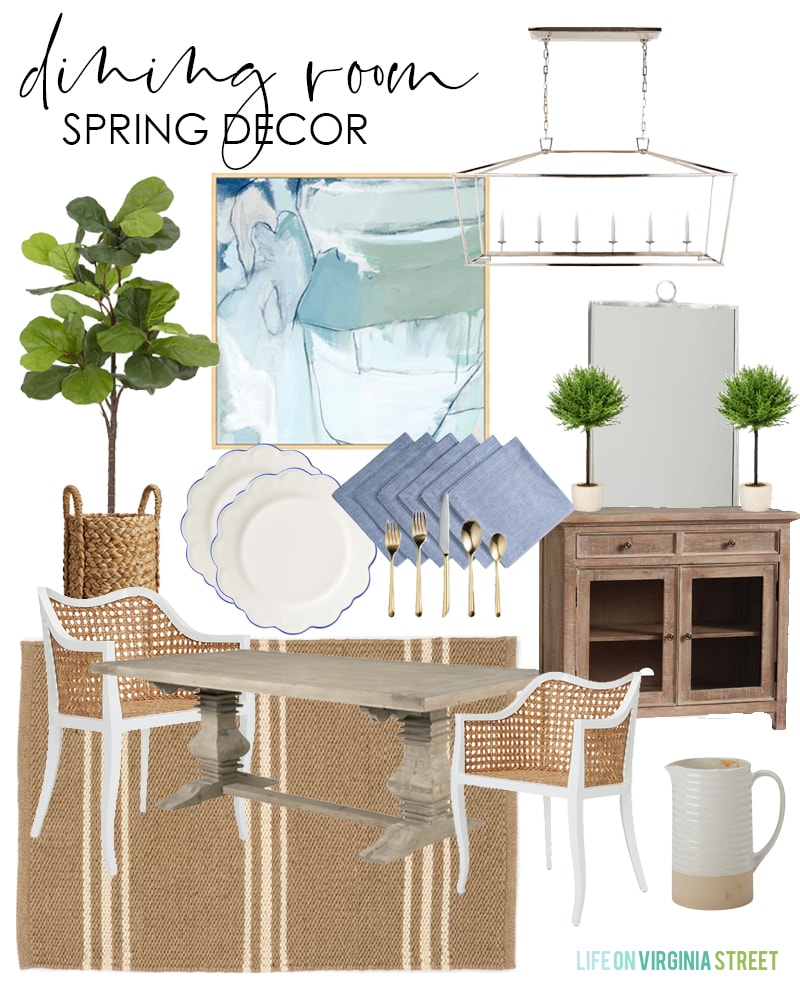 Spring Decorating Ideas in our Master Bedroom
I'm so glad my faux potted maidenhair fern is back in stock! It's one of those accessories that looks good in every room. Seriously! I've used it in our kitchen entryway, pantry, guest bedroom and now our master bedroom! I love the raw natural wood pot and the overall look in general.
Spring Decorating Ideas in our Guest Bedroom
I came across this hummingbird pillows a while back and became obsessed. I really couldn't justify the price though for a seasonal item. I then found the fabric here available for sale and was going to make my own. Fast forward a few months and I found the same fabric on eBay! It was a huge savings per yard, but I needed to buy 10+ yard and it ships from the UK where the fabric is made. After thinking it over, I ended up buying it. So, I'll likely be selling the extra if anyone is interested. It hasn't arrived yet so I'll post more if I do. But, long story short, if there is a pillow fabric you love, do some research and see if the fabric is sold to the public (many I find are to the trade only). If so, try your hand at making your own pillows! I can usually make two front and back pillows for the cost of one pillow on Etsy with fabric on only one side! I have a full tutorial here if you're interested! I'll be pairing the pattern with one of my all-time favorites, Betwixt. I made pillows in several colors years and years ago (some even before we moved into this house)! Still such a timeless pattern that goes with everything!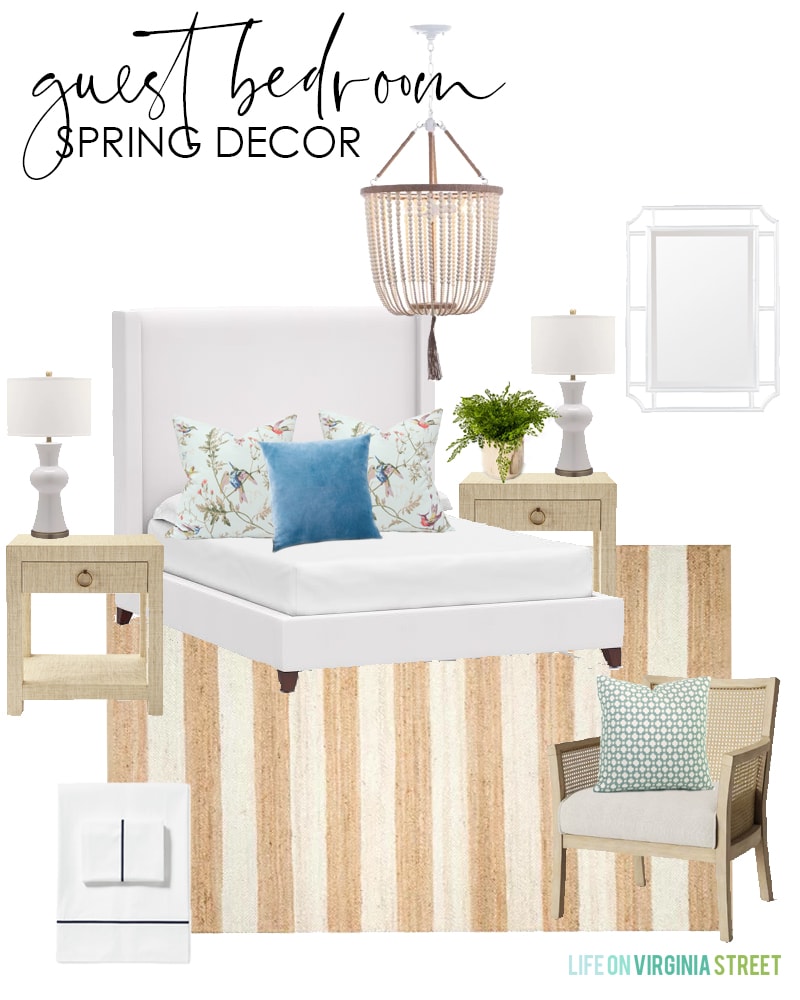 GUEST BEDROOM MOOD BOARD SOURCES: Hummingbird Pillows (fabric available here) | Velvet Pillow | Upholstered Bed | Bead Chandelier | Striped Rug | White Banded Sheets | Nightstands | Pair of Ceramic Lamps | Faux Potted Maidenhair Fern | Mirror | Cane Chair | Geometric Pillow
Spring Decorating Ideas in our Den
I've had this fabric for awhile now and haven't gotten around to sewing pillows with it. Much like I'm doing in the guest bedroom, I've found it to be much more cost-effective to buy the fabric myself and make my own pillows. So this spring it is happening! No more delay! The pattern is one of my favorites ever (you may remember the charcoal version in our guest bedroom a long time ago). Not entirely sure what I'll pair it with, but I'm hoping to get started on the sewing this week!
Additional Spring Decorating Ideas for 2020
Looking for even more spring decorating ideas for 2020? Be sure to check out the following posts. Simply click the title of the article you want to read for more info!
Happy spring decorating!
If you would like to follow along on more of my home decor, DIY, lifestyle, travel and other posts, I'd love to have you follow me on any of the following:
Pinterest | Instagram | Facebook | Twitter 
disclosure: some affiliate links used