Sharing tips on how to organize kitchen cabinets and drawers as well as some of my favorite kitchen organizers!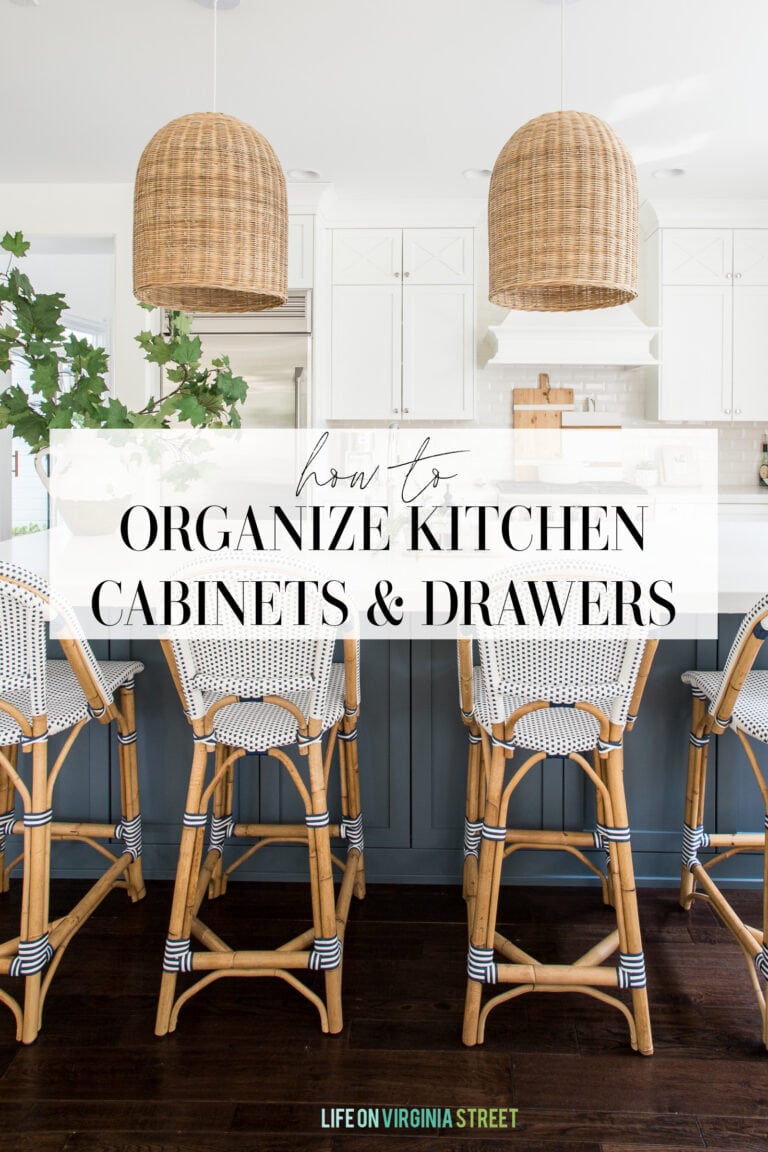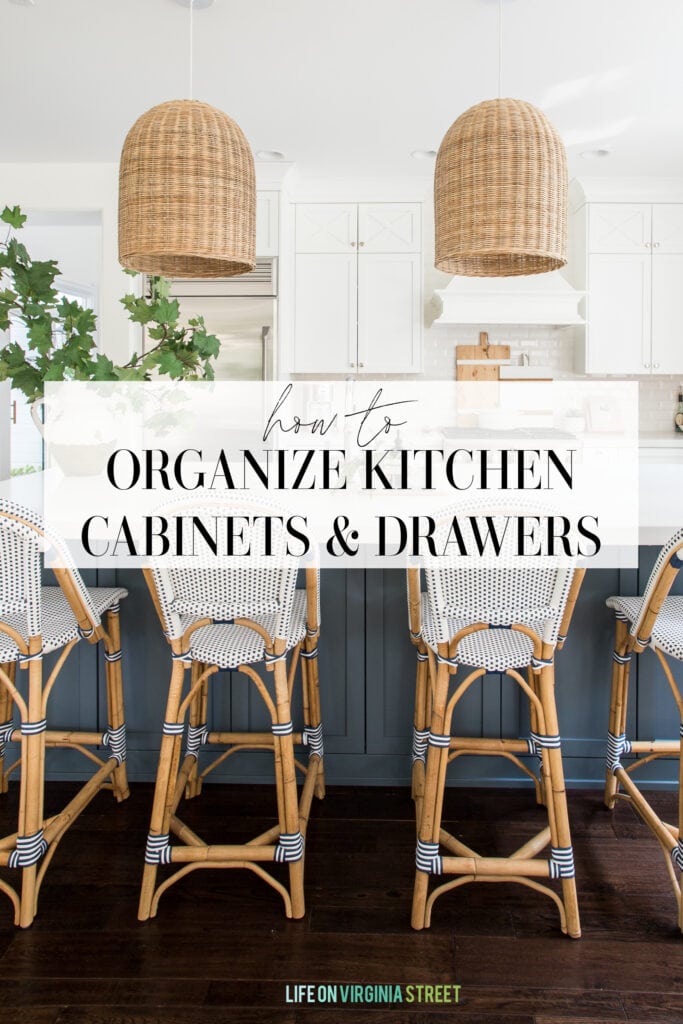 Over the past few weeks, I shared a few mini tours of our kitchen, showing where I stored various items and the organizing pieces we use. I was shocked how much interest it sparked so I thought I'd elaborate further and share some of the information on the blog. Today I'm sharing some kitchen organization tips and ideas as well as ideas for how to organize kitchen cabinets and drawers!
This post contains affiliate links for your shopping convenience. Click here to read my full disclosure policy.
Before we jump into all the details, if you're interested in taking the video tours I mentioned, you can find them on my Instagram page, in the highlight bubble labeled 'Kitchen Org'!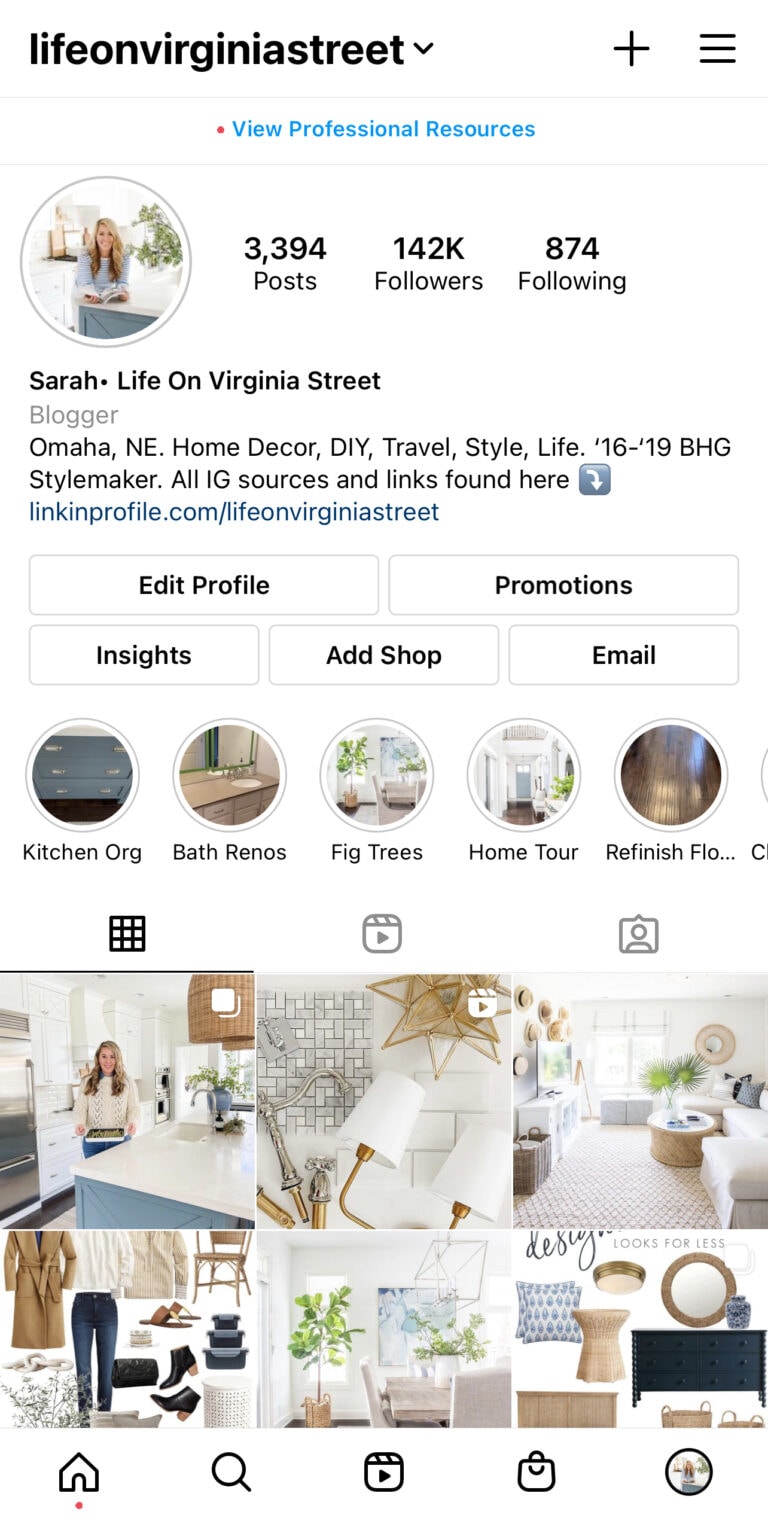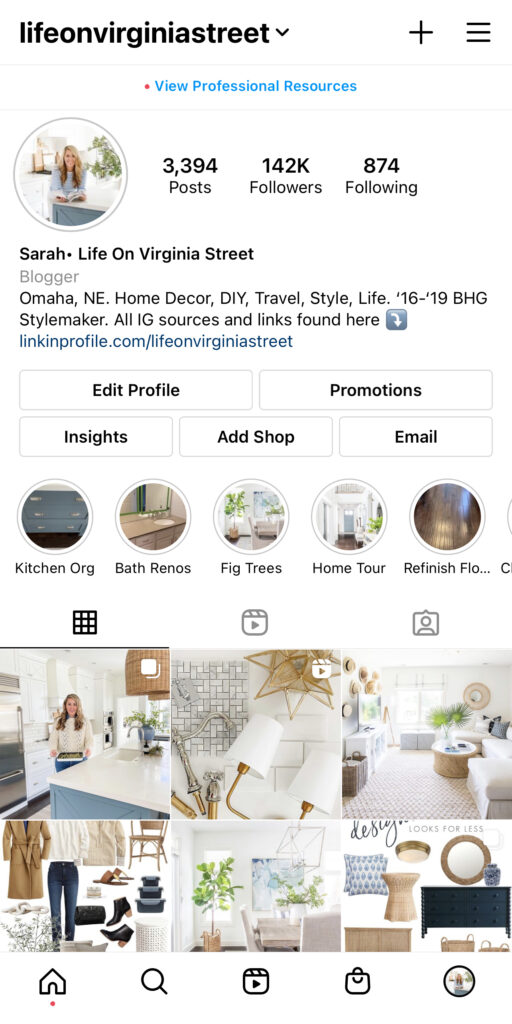 I also have a bunch more details on our kitchen (including more photos) in my original Coastal Kitchen Reveal and Coastal Kitchen Remodel FAQs posts!
How To Organize Kitchen Cabinets and Drawers
Before I ever tackle organizing our kitchen cabinets and drawers, I start by taking everything out and sorting the items. Much like the unworn clothes in the closet in your bedroom, I'm guessing your kitchen drawers & cabinets have tools and appliances you never use either. To really organize effectively, set aside items that can be donated or sold prior to adding items back in the drawers or cabinets.
I then vacuum and wipe out the drawers and cabinets. Despite being closed 99% of the time, it's amazing how much dust and food crumbs can accumulate in both the kitchen cabinets and drawers over time!
Once you've taken inventory of the cabinet(s) and/or drawer(s) you want to tackle, I'd recommend seeing if there are organizational pieces that may help manage the space better down the road! There are so many great organizers nowadays, and I'm sharing some of my favorites with you below. At the end of the post, I've also collected other top-rated items that others swear by.
Here's a high-level look at where we store nearly everything in our kitchen. I then do a deeper dive by section and have a similar guide for our pantry!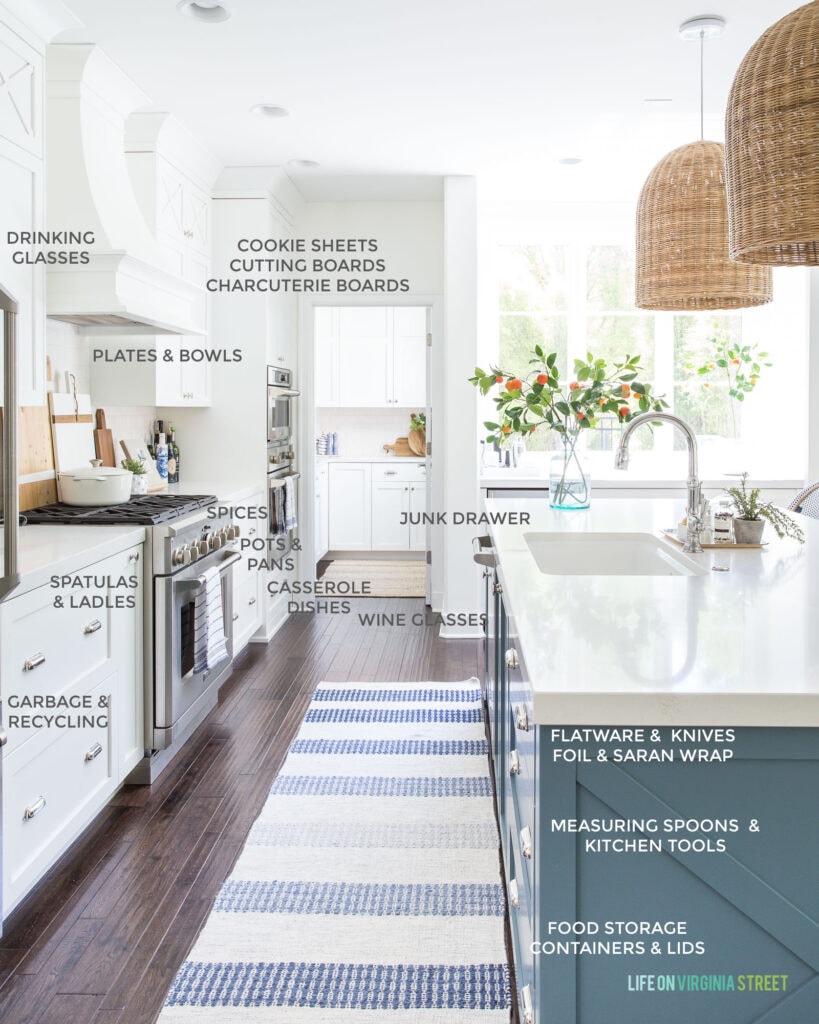 KITCHEN SOURCES: Counter Stools | Basket Pendant Lights  | Striped Runner Rug | Faux Orange Stems | Similar Glass Vase | Faux Orange Topiary | Large White Ceramic Dot Vase | Natural Wood Serving Board | White Serving Board | Small White Ceramic Dot Vase | Similar Faux Asparagus Fern | Sunday Suppers Cookbook | Similar Recipe Book Stand | Island Paint Color: Benjamin Moore Providence Blue
And although I don't have a great photo showcasing much of it (outside of in this post) I thought I'd mention a few more storage items. We have shallow storage on the back of our island (so grateful Erica Bryant Design suggested this). There are six cabinet doors total with three connecting areas. I store my seasonal plates and candles in these cabinets. Basically things I don't need access to more than a handful of times throughout the year.
In the area under the window, we have three drawers. The top is filled with cat stuff (treats, toys, medicine, etc.). The middle has acrylic pool glasses. The bottom has our Yetis and NutriBullet cups, etc. The far right set of cabinet doors is where I store most of my entertaining pieces like large platters, trays, etc. Kurtis also has a handful of beer growlers in there. Above the fridge, I have some vases and then chargers for our dining room that are too large to store in my hutch!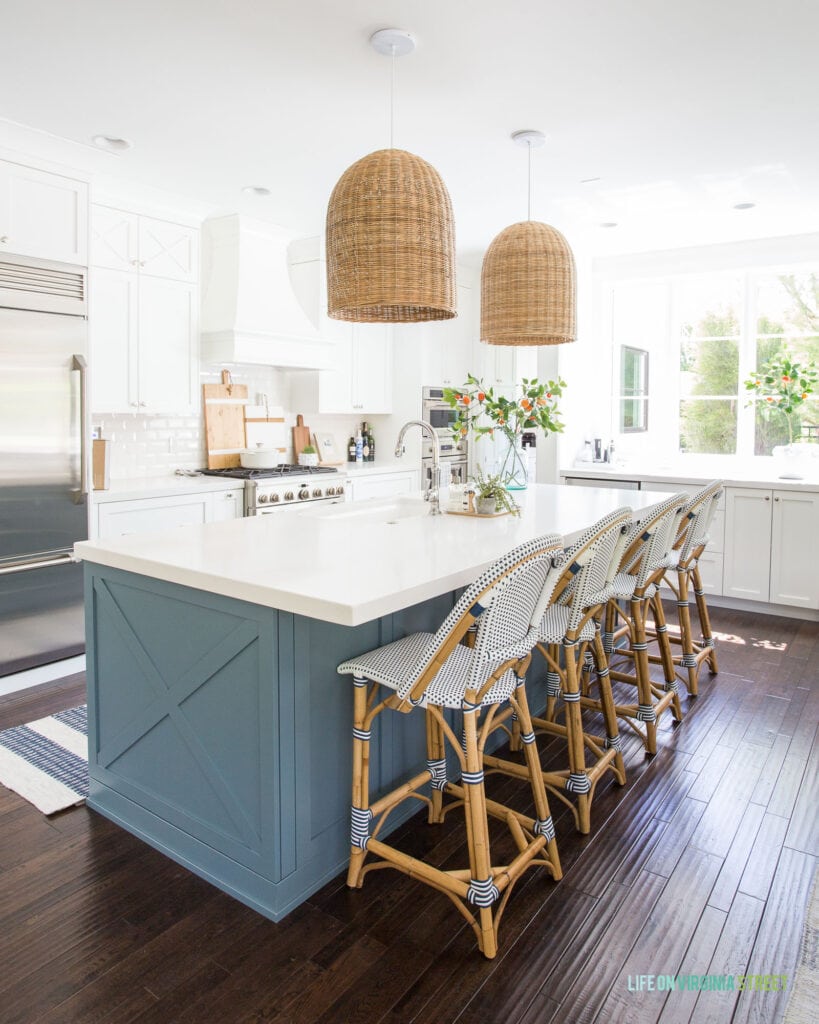 Let's dig into some of these drawers and cabinets!
Kitchen Drawer Organizers
As much as I love drawers on the lower half of a kitchen, they can also be a bit of a challenge to organize. The key to drawer organization is to utilize dividers as much as possible.
Our cutlery drawer is one of my favorite features in our kitchen. We use this system to maximize our space with our flatware on top and knives on the bottom. You essentially just order the size that will fit your existing drawer and then install it! My in-law's added the same system to their kitchen, so when it came time for our remodel, we knew we wanted it in our kitchen as well. We then store our foil, saran wrap, and baggies on the side. In the image below, I have the flatware drawer pushed back halfway so you can see both levels.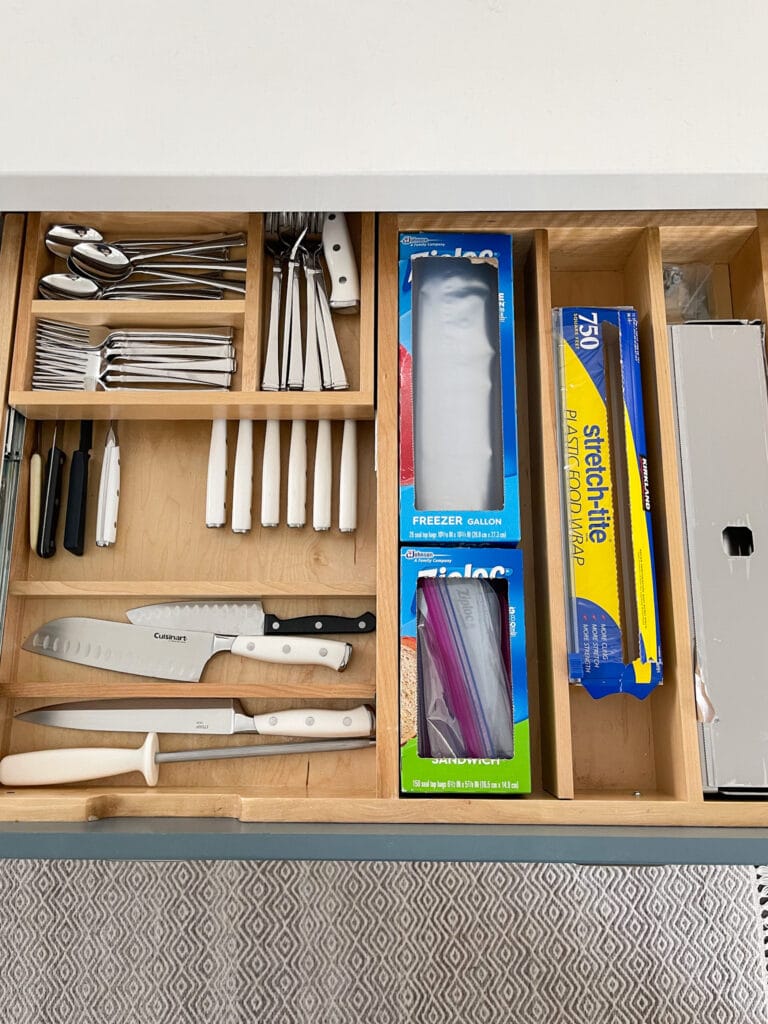 If you're looking for something similar but don't want to invest in the full system, these adjustable drawer dividers can go a long ways in helping to keep drawers organized! And these non-slip organizing trays are a great way to corral items like measuring cups, measuring spoons, utensils, and more!
Food Storage Container & Lid Storage Ideas
Regardless if you store your food storage containers in a drawer or cabinet, I think we can all agree that the lids seem to be the biggest hurdle in making things feel organized! We made the switch to glass food storage a year or two back and love that most of the containers nest well together. But the lids always seemed to wreak havoc on our drawers! We bought this lid organizer in the fall and it has been a total gamechanger! It comes in two sizes and works just as well in cabinets as it does drawers!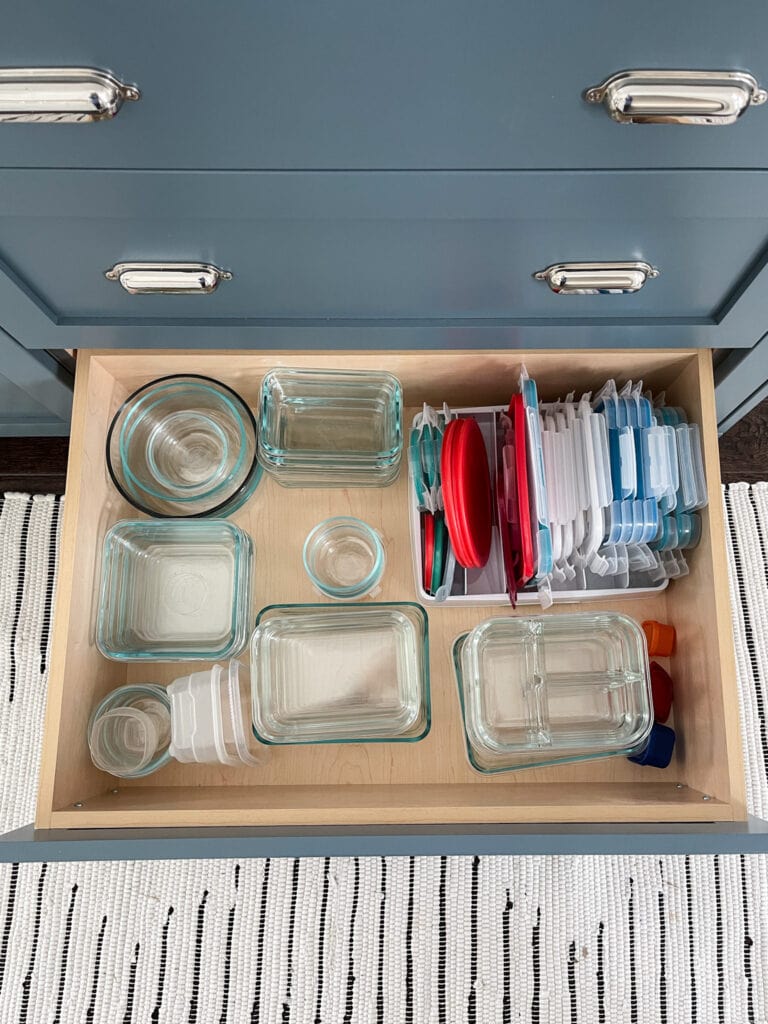 Kitchen Trash Storage
Prior to our kitchen renovation, Kurtis had installed this trash pull-out system in one of our lower cabinets. It was a game changer, and a great way to get the trash can off the floor and hidden! So, when we moved forward with our kitchen renovation, we knew we wanted something similar integrated in the new design. Our cabinet maker built this one and modeled it after the other version. Plus, since we had the space, he added a spot in the center to store clean trash bags. We use the left-hand side for garbage and the right-hand side for recycling. We couldn't be happier with this system!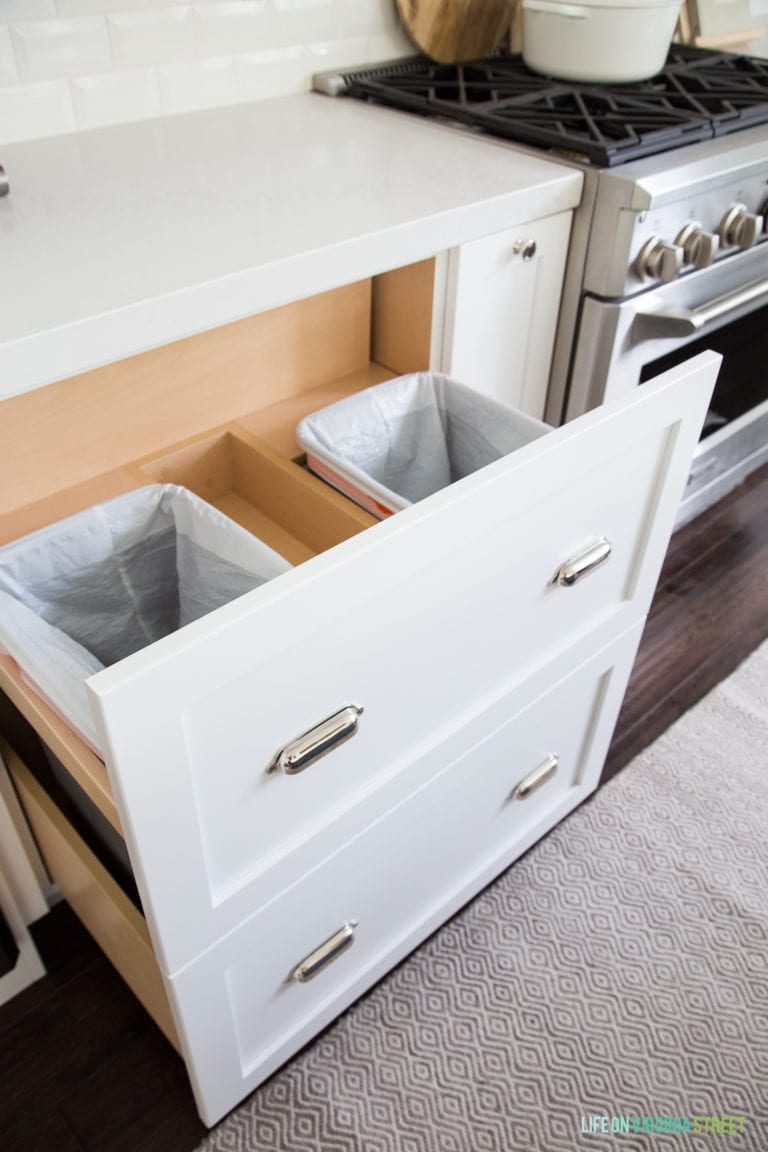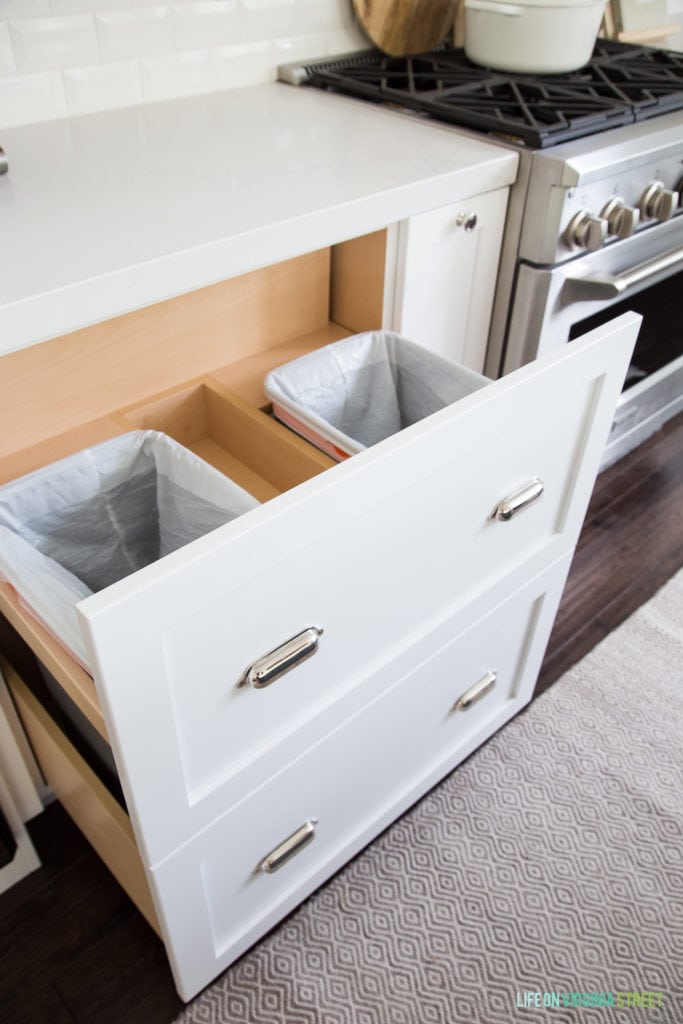 How To Organize Spices In A Drawer
Spice drawers like ours can be such a great addition to a kitchen. However, if they're not properly organized and maintained, they can actually become a nightmare. Same can be true in a cupboard when there's no rhyme or reason as to how they're stored.
Last winter, I started the process of organizing our spice drawer. I made it pretty far until I came across a handful of spices that were expired. Rather than buy new right away, I took a few months to replace them as needed. But, that left a mix of decanted and organized spices with random bottles of all sizes and colors to contend with. The below image is how the spice drawer looked prior to starting. See the predicament? When you're standing at the stove cooking, it's nearly impossible to know what the contents are of each container without picking them up one by one to inspect them.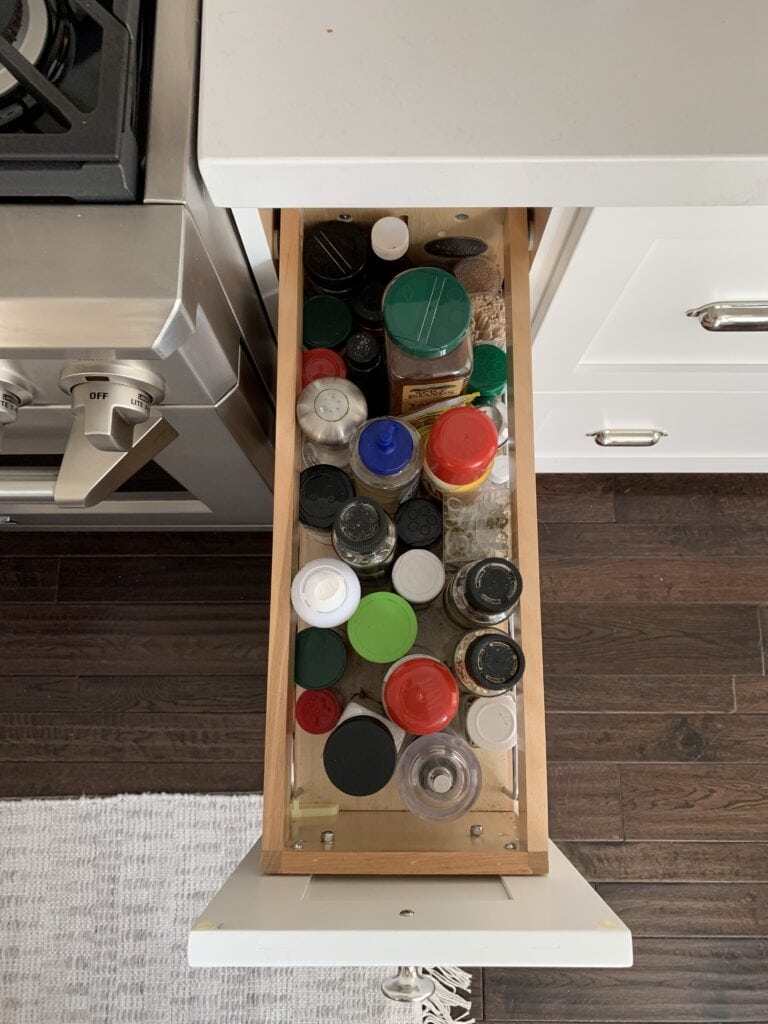 A few weeks back, I finally tackled decanting all the new spices and getting everything re-organized and alphabetized. I can't tell you how much easier it is to have the label on top of the spices in a bold font to quickly see when we're cooking at the range. I love that the spice bottles I used (I did a mix of 4 and 6 oz. bottles) come with two sets of pre-printed and blank labels, and that they work just as well on top for drawers or on the front for cabinets! If I did it again, I would only use one size of bottle to help keep it a bit more tidy and orderly.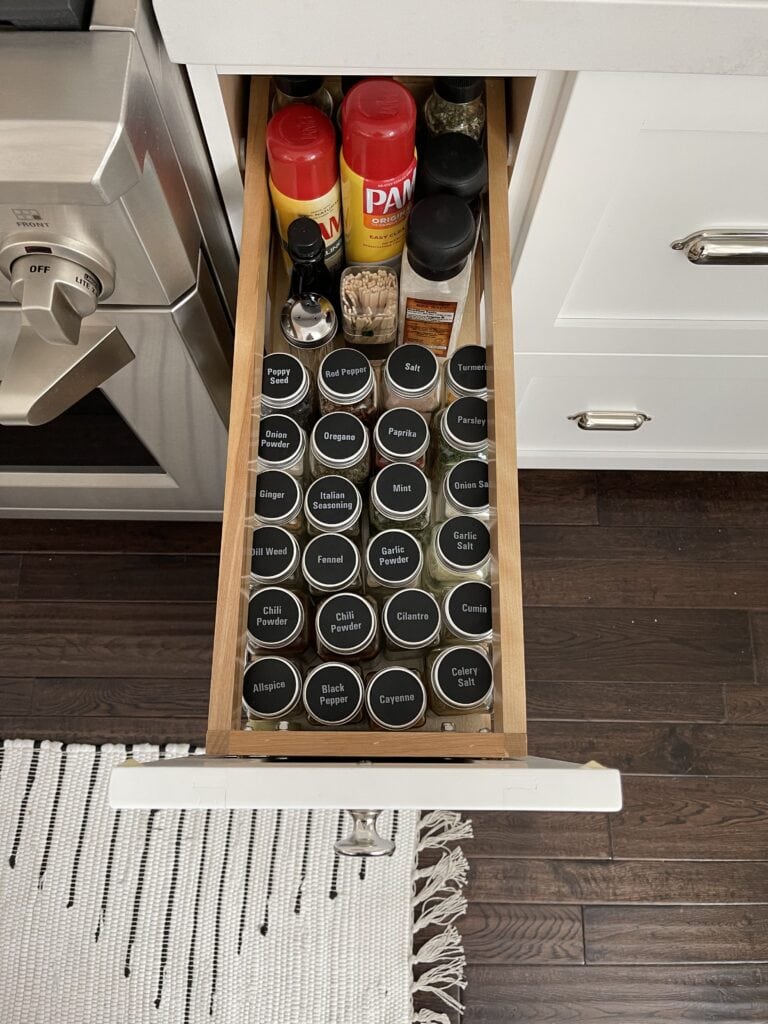 If your spices are in a cabinet, these tiered shelves work great so you can see all the bottles.
Pots & Pans Organization Ideas
Next, let's talk about how to organize pots and pans! This same method also applies to oversized mixing bowls. By nesting like items, you're able to conserve a lot of space. We currently have our pots and pans in the two large drawers next to our range.
We have these wood peg board systems install in each of the drawers. In the top drawer where we store our pans and lids, we use the peg boards in combination with this lid organizer and pan organizer. We have one pan that is really large so it can only be stored in there by storing it at a bit of an angle rather than upright, but otherwise everything looks really tidy this way.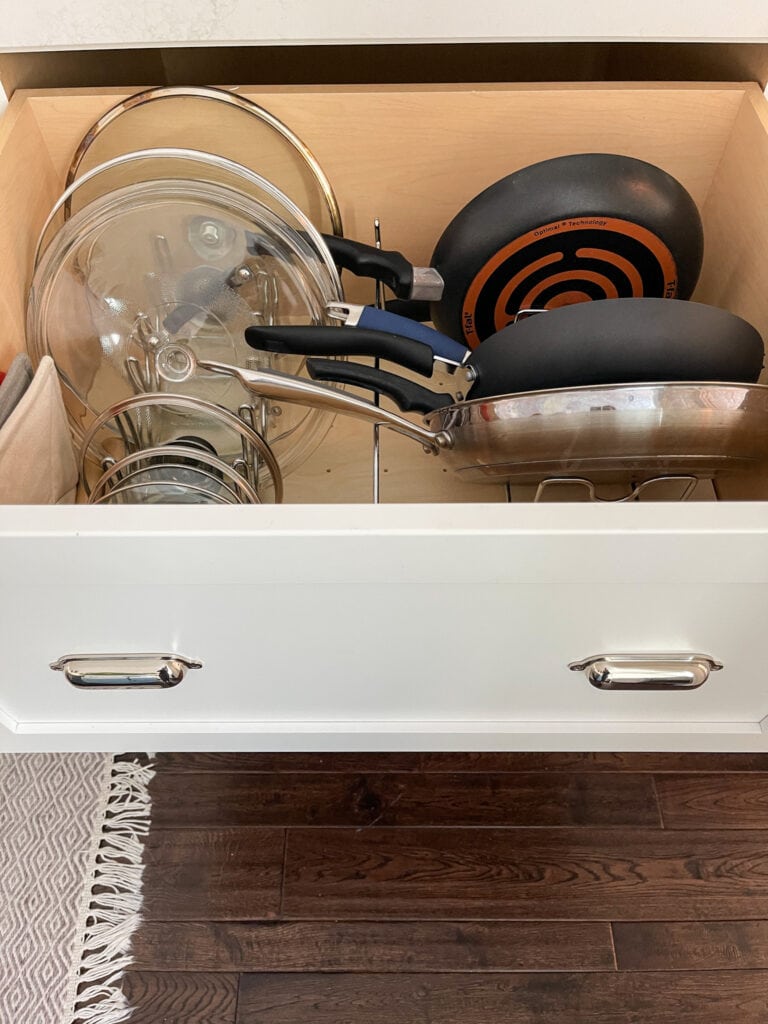 In the lower drawer, we just use the wood peg board kit with the included pegs to organize our mixing bowls and pots. The pegs simply help keep things contained and from sliding around the drawer.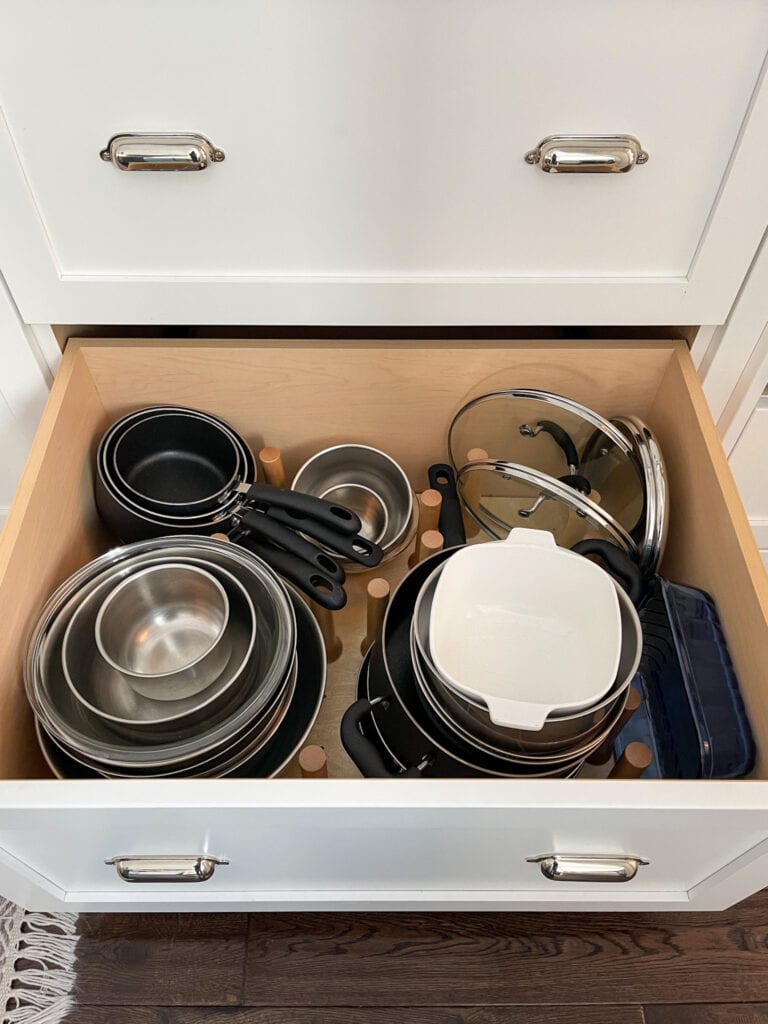 We store all of our cookie sheets, cutting boards, and charcuterie boards vertically in the cabinet above our microwave. We used something similar to this and it's a great way to keep things organized, but also allows for much easier access than if they're all nested.
Tips for Organizing Under Your Kitchen Sink
The area under our kitchen sink isn't worthy of a photo currently 😉 I showed it on Instagram Stories and got a lot of great ideas from you guys on how to keep it more organized, so I actually have a handful of items arriving any day now to get started! The one item you guy seemed to really love was one left by the prior home owners. We have a small tension rod in the upper portion of that area under our sink to hold our paper towel roll. We loved it so much when we first saw it and have never taken it down since! It's super handy! Here are a few more ideas:
Fridge Organization
I'm the first to admit that our fridge could use some help when it comes organization. However, we're big fans of these pop can holders – particularly since we usually have the same types of soda on rotation.
If you go through a lot of fresh produce, these produce keepers are a great way to keep items fresh, longer!
You can also try using bins like these highly rated ones to corral similar items
Pantry Organization
It's taken us the almost-three-years of having our remodeled kitchen to finally find the best pantry usage. We decant most of our dried goods and swear by these OXO containers! We've picked them up at Costco before, but they're available at many retailers. They're a bit of an investment, but they always keep our food fresh with the airtight lids. I love that they're also stackable and make so much better use of cabinet space!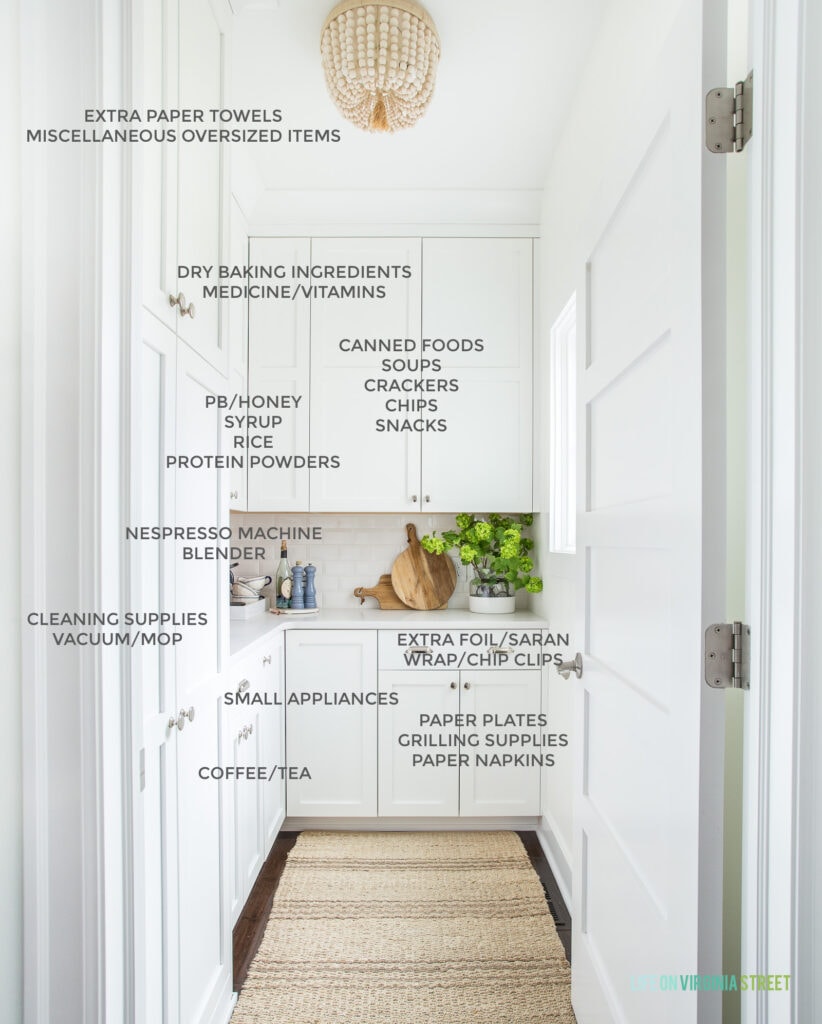 PANTRY SOURCES: Flush Mount Bead Light | Salt & Pepper Mills | Similar Wood Boards | Faux Viburnum Stems | Paint Dipped Vase | Cabinet Knobs | Drawer Bin Pulls | Dash & Albert Rug – bought secondhand from a local designer
Since I know it's hard to visualize some of those locations, here's another view with additional details. Both the upper and lower corner cabinets are one set of connected doors that opens fully. I have even more photos of them opened up in this kitchen FAQ post if you're interested in seeing how those work. They allow us to store larger items and avoid having a lazy Susan to reach everything.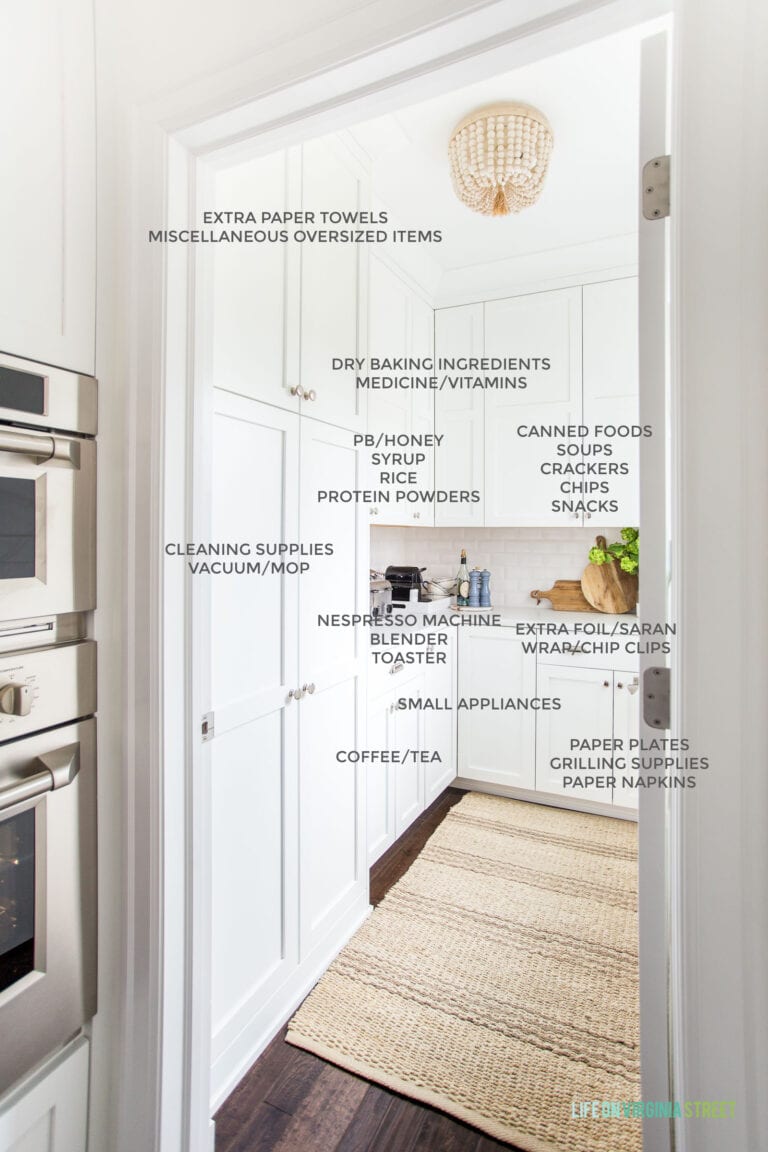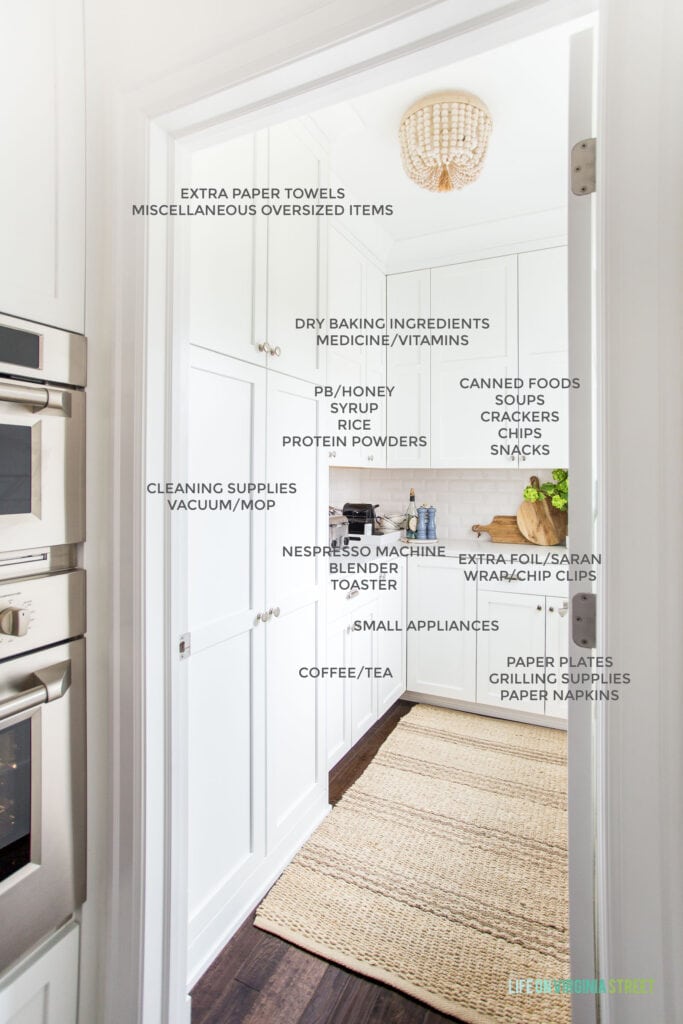 If you have open shelves in your pantry, I'd recommend using baskets or bins to sort like items. If you're a tea drinker or use sweetener packets, this tea caddy has been great for us! It helps us get rid of all the random sized boxes and keep it all nice and orderly!
Additional Reader Favorite Organization Items
Following are some other reader favorite kitchen organization items that have been shared with me. You can tell pretty quickly by the reviews on most of these that they're all winners too! Click any of the images below to learn more about each of the items.

At the end of the day, you have to do what makes the most sense for you and how you personally use your kitchen! Sometimes it takes a little creativity and not necessarily listening to what the experts may tell you to do! I hope you found these kitchen organizing tips helpful!
Additional Kitchen Related Articles
Looking for even more kitchen-related articles? Be sure to check out the following posts. Simply click on the name of the article and you'll be taken directly to the post!
If you would like to follow along on more of my home decor, DIY, lifestyle, travel and other posts, I'd love to have you follow me on any of the following:
Pinterest | Instagram | Facebook | Twitter
disclosure: some affiliate links used