Sharing my 2020 summer decorating ideas and mood boards for various spaces around our home! Includes ideas for both indoor and outdoor spaces.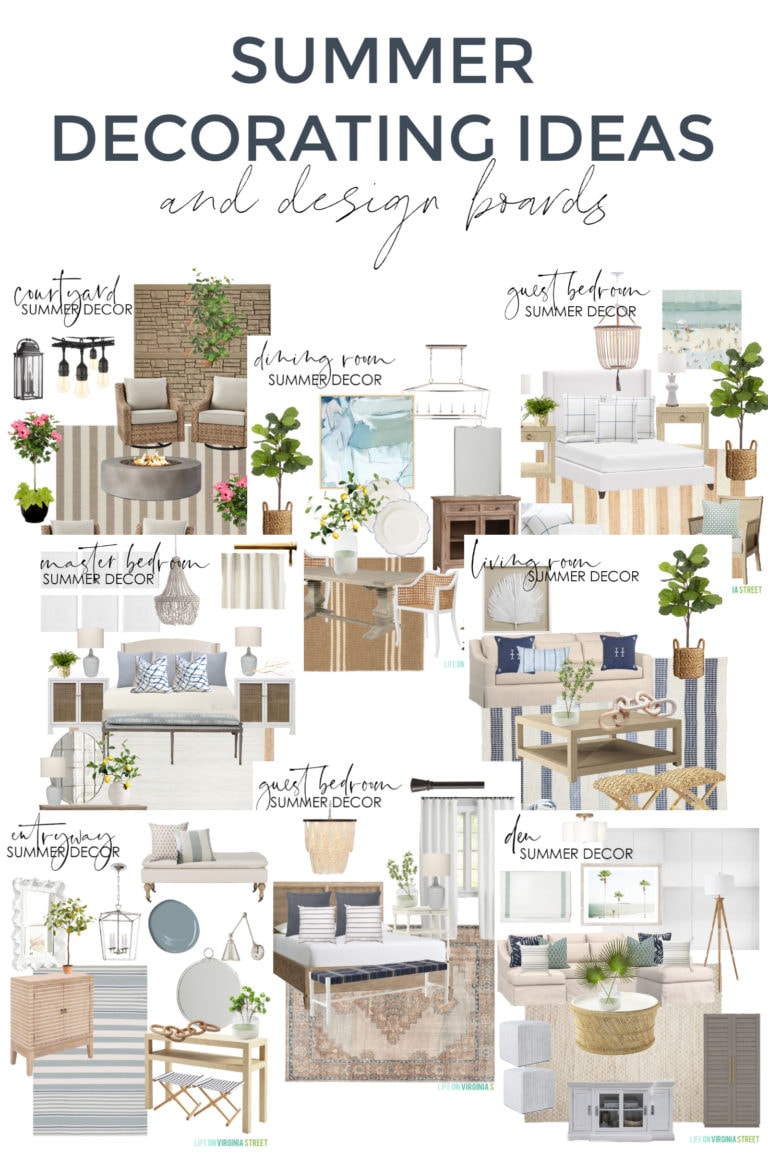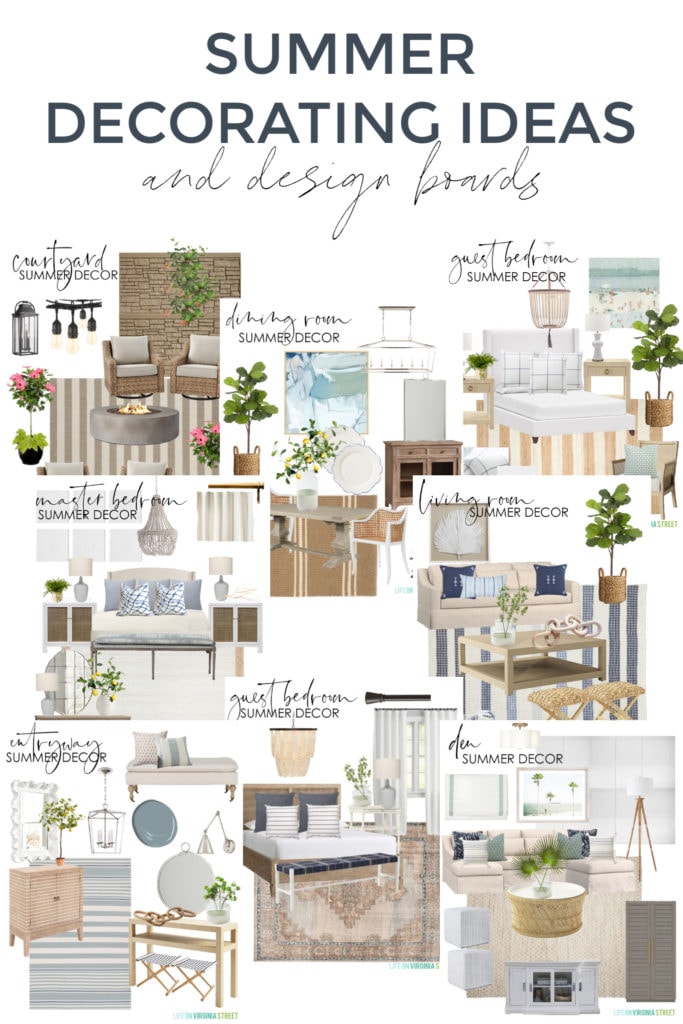 It's hard to believe, but my summer home tour is only a week and a half away! I'm still kind of in shock that May is almost over and June will be here next week. I have a lot to wrap up in my summer decor, but today I wanted to share some summer decorating ideas along with my tentative mood boards I have planned for our spaces, both indoors and out! I'm still finalizing some spaces so I have a few placeholders along the way, but this should give you a good preview of what's to come in my summer home tour!
This post contains affiliate links for your shopping convenience. Click here to read my full disclosure policy.
It's no secret that summer is my favorite season by far. And in the warmer months, I get just as excited about "decorating" our outdoor spaces as those indoors. That includes adding in plants, flowers, and anything to help make the outdoor spaces feel even more special. If you're limited on budget this year, even bringing in some greenery or clipping from the outdoors can make a huge impact in your spaces!
Typically I have a recurring theme in most of our rooms, but this year I didn't really come up with one. I tried to re-use as many things as possible that we already owned but re-imagined in new ways for different spaces. If this year's summer decor had a theme I guess it could be summarized as blue, white, stripes, citrus, palms, greenery and summer. How's that for random?! But, hopefully my design boards will give you some summer decorating ideas that you can use in your own home!
If you haven't already tried making your own design board, be sure to check out my tutorial on how to make a mood board for interior design. It's a great way to curate looks for any of your spaces and see how everything pairs together. I also find it helps me from overbuying. No more random purchases just because I think something is cute and I'll find a home for it. If it's not on the board first, I try to not buy it!
Let's jump into this year's summer decorating ideas and design boards!
Entryway Summer Decorating Ideas
I like to keep our entryway fairly simple because of the awkward shape. There are so many spots to decorate that I never want it to feel cluttered. However, I also want to make sure it has a lot of the character and design elements you'll find in other spots in our home! That means lots of stripes, blue tones and citrus!
Living Room Summer Decorating Ideas
The biggest change in our living room for summer comes in the form of this gorgeous oversized palm art! I got it a month or two back during one of their Premier Day sales and it's so gorgeous in person! I also love using shades of blue in the summer months. There's something so calming about the colors. This embroidered blue pillow and striped lumbar pillow are fun new additions for the season. They look much more expensive than their actual price tag!
Kitchen Summer Decorating Ideas
I typically keep our kitchen summer decor pretty simple throughout the year. For summer this year, I'm going to be adding in one of my citrus topiaries for a little pop of color. I don't decorate much with orange, but I think it will be really pretty paired with all the blue elements I brought in for spring! Another idea would be to bring your herbs indoors and use them on your countertops. They make for pretty decor while also being very practical for use during cooking!
Dining Room Summer Decorating Ideas
Oh, our dining room. The room that's been in limbo for months and months now. I've been trying to get this room wrapped up since before the holidays and then shipping delays came and self-isolation started so I didn't sell our old chairs. We currently have 12 chairs in this little room, but I'm hoping to get the old ones listed this weekend so I can get this space whipped back into shape! I'll likely be adding these faux lemon stems to the tabletop for a fun contrast to all the blue and neutrals. Everything else I already have on hand, but am just mixing up new combos I haven't used together before!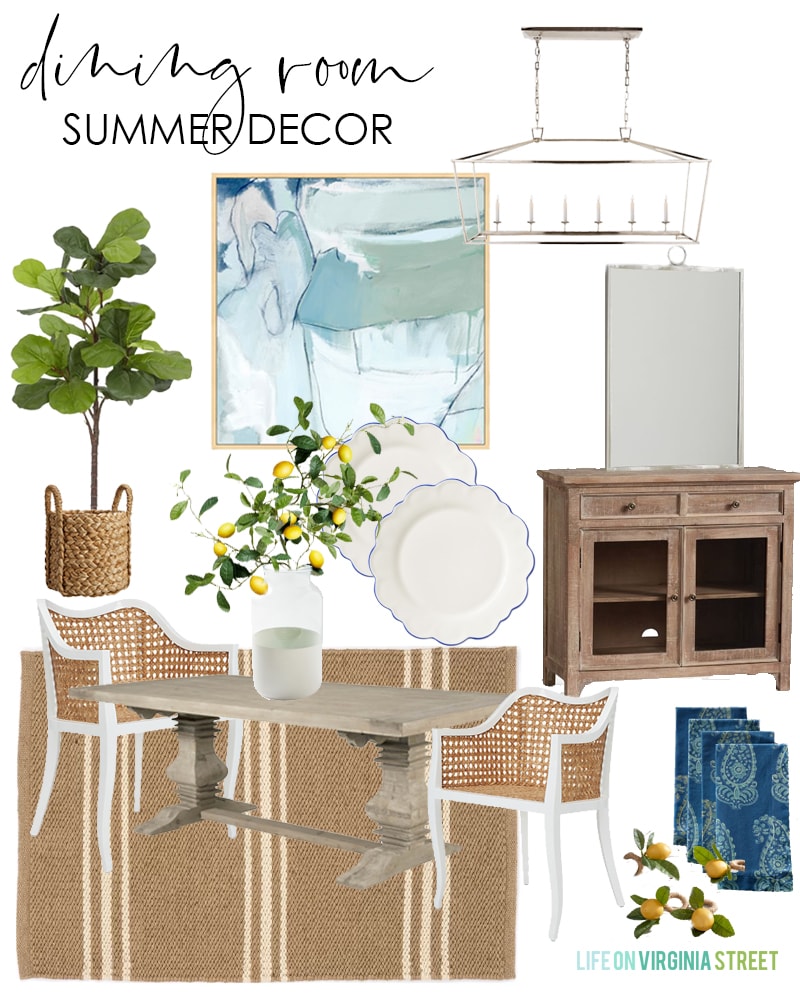 DINING ROOM DESIGN BOARD SOURCES: Dining Table | Cane Dining Chairs (knock-off version here) | Striped Rug | Buffet Table | Chandelier (knock-off version here) | Abstract Art | Paint Dipped Vase | Faux Lemon Branches | Scalloped Plates | Faux Fiddle Leaf Fig Tree | Seagrass Basket | Mirror | Block Print Napkins | Lemon Napkin Rings
Master Bedroom Summer Decorating Ideas
Our master bedroom underwent a big makeover about this time last year. So, I'm just looking to switch up the linens a bit and bring in these water print pillows I've used for years. I love them in the summer months! I also love bold blues paired with lemons, so I'll likely bring in some lemon stems here too on top of our dresser. Most of the photos in our gallery wall are from vacations in Italy, so I think it all pairs well together! To personalize your own space, find images that bring you joy that you could add to a space and decorate around them!
Guest Bedroom Summer Decorating Ideas
Our house is typically the busiest and full of guests in the summer months. We're not sure how that will all shake out this particular summer, but I still plan to focus on both guest bedrooms and give them a little summer love. This abstract art is still a favorite and I love the punch of color it adds to the space! I love that with that simple swap, the linen bedding we used at Christmastime still feels fresh for summer!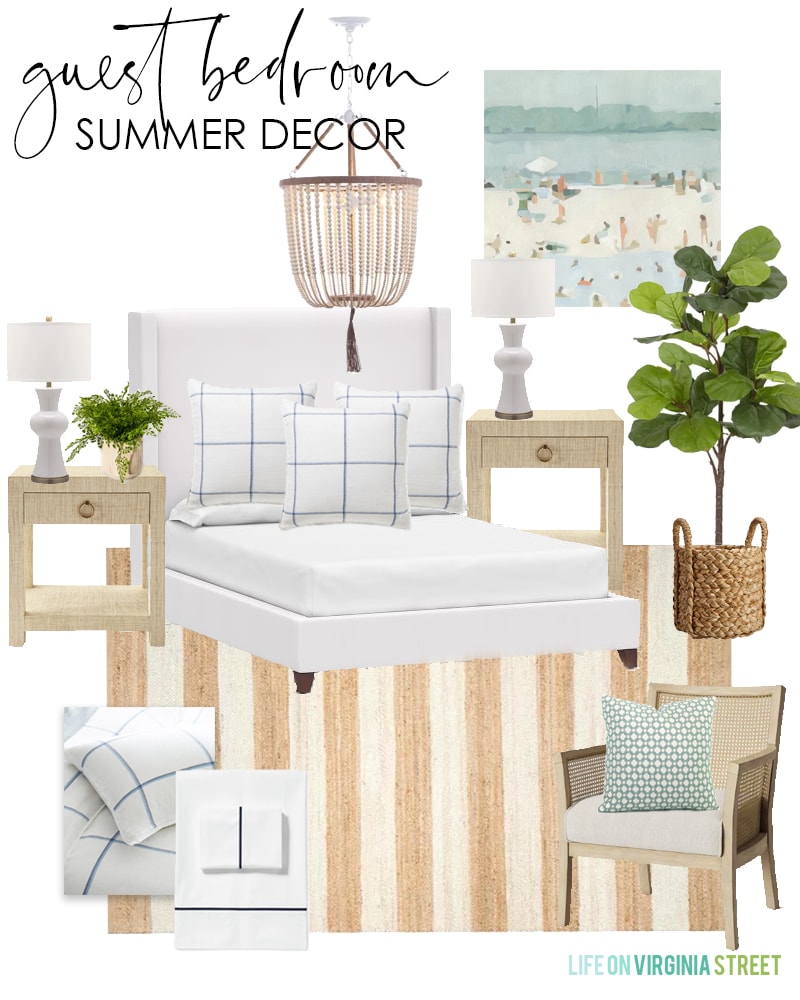 KING GUEST BEDROOM MOOD BOARD SOURCES: Upholstered Bed | Bead Chandelier | Striped Rug | Abstract Beach Art | White Banded Sheets | Plaid Bedding | Plaid Lumbar Pillow | Raffia Nightstands | Pair of Ceramic Lamps | Faux Potted Maidenhair Fern | Faux Fiddle Leaf Fig Tree | Seagrass Basket | Cane Chair | Geometric Pillow
Guest Bedroom Summer Decorating Ideas
This additional guest bedroom with summer decorating ideas is also serving as Kurtis' home office. So, thanks to all the video conference calls he does on a daily basis, I'm keeping the room super simple. I haven't actually shown this space styled in over a year (thanks to this also being his camp after hip surgery recovery last winter). So, I'm hoping to get looking great again, even if it will still be really simple! Adding in simple striped pillows helps tie it in to decor in our other room and give it that summer feel without going over the top. Summer decorating doesn't have to be complicated!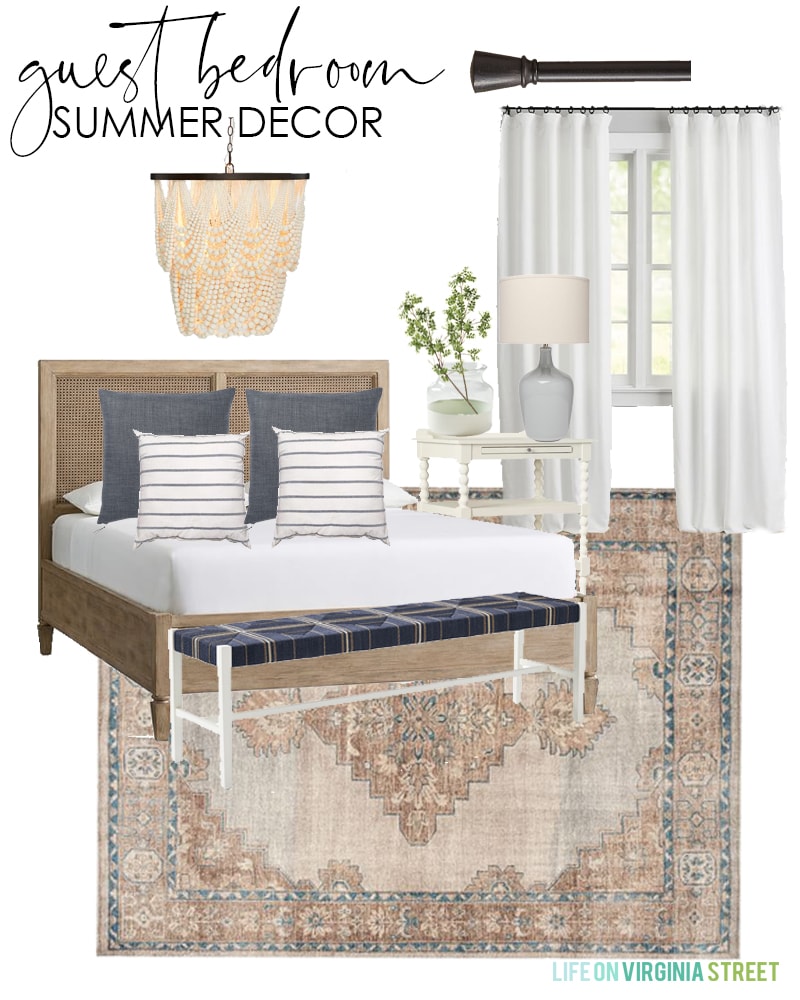 QUEEN GUEST BEDROOM MOOD BOARD SOURCES: Cane Bed | Hand-Knotted Rug | Bead Chandelier | Linen Drapes | Curtain Rod | Bench | Lamp | Nightstand | Striped Pillows | Linen Pillows
Summer Decorating Ideas in Our Den
Can you believe we just passed the one year anniversary of our den reveal? It's hard to remember what this room even used to look like before the changes! Since the room is still very new to us, I don't typically make any major changes for the season. But this year I thought it would be fun to bring in my fan palm leaves and just really got hardcore with the beachy vibe in here! When I photograph my home tour next week, I'll be sure to get picture that include our new storage cabinet as well, so you can see how it looks in the space!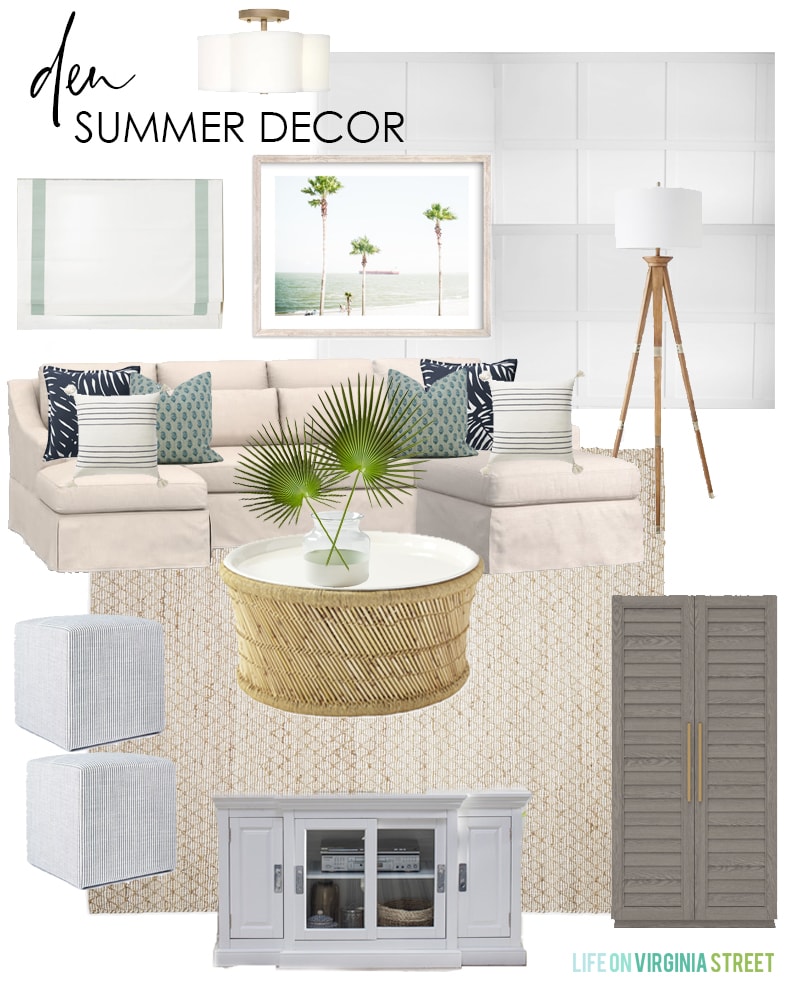 DEN DESIGN BOARD SOURCES: Sectional | Rug | Storage Coffee Table | Faux Fan Palm | Dipped Vase | Scallop Light Fixture | Grosgrain Ribbon Cordless Roman Shades | Palm Tree Art | Floor Lamp | Striped Ottoman | TV Stand | Palm Print Pillow | Block Print Pillow | Striped Tassel Pillow | Striped Throw | Shutter Storage Cabinet
Summer Decorating Ideas on Our Pool Deck
This will be the first year in five that I haven't bought any new pillows for the pool deck. Although our medallion pillows faded a bit last year in the elements, I still love them and plan to re-use them. And these striped pillows are still going strong after five years! That Sunbrella fabric is no joke!
We actually own these umbrellas and plan to continue to use them, but they were under $100 a few weeks ago and now are over $200. So I'm showing this scalloped version instead in my mood board since I love them just as much!
Summer Decorating Ideas on Our Patio
Admittedly, I don't really love how our patio design looks on "paper". But it's important to remember all the natural elements that surround your outdoor spaces when considering your plans! The trees, flowers, grass, etc. bring so much to outdoor spaces that it's much easier to keep your plans very simple.
I talk more about the string light situation below in my section on the courtyard, but I have plans to bring the string lights back after I found these shatterproof string lights. Here we don't have to deal with the elements so much as the wind that makes our outdoor curtains turn into weapons 😉 But I refuse to part with the curtain both for the privacy as well as the overall vibe they create! And if you saw my Instagram Stories earlier this week, I shared a few of the new outdoor dishes I ordered and we can't wait to use them. They're all even cuter in person!
Summer Decorating Ideas in Our Courtyard
The biggest changes for the season come in our courtyard. I'm working hard this year to bring the magic back to the space. After we built our pool, the courtyard (which used to be our favorite outdoor space) became a bit neglected. Now that our birch trees have grown up, it's also much dirtier and it's harder to get it to dry out.
After sharing my Wednesday Watch List this week, I added this set to my cart and was about to checkout. Then, I thought I'd randomly see if our BFFs outdoor set was back in stock. I'd been stalking it since they got it a few months ago, but never had any luck. Then, I noticed that they were now offering the outdoor sofa and swivel chairs separately! I told Kurtis and he immediately said "buy them". This never happens 😉 But we both fell in love with the look and they were comfy and look so much more expensive than they are (and they come with covers!).
We also lost all of our string lights in a hail storm a few years ago (the same storm that took out or roof). We hadn't replaced them because we get hail too frequently. But, then I found these shatterproof string lights and freaked out a little. And since you can see the courtyard from all rooms on our main floor, I'm thinking I'll add the string lights to a timer to run a few hours each night.
I also wanted to mention that I finally found details on our "wall" in our courtyard. It's actually these fence panels and they've held up so well in the 7.5 years we've been here (but I think they're almost 12 years old)! They come in multiple colors and sizes.
I should also note that I included a fire pit and rug in the design but the rug has been vetoed and the fire pit was a random selection from my fire pit table post). Kurtis promises to sit out here with me more if I ditch the rug (to help keep things dry) and we still haven't decided what to do on a fire pit. After a reader suggested painting a rug, I'm contemplating that or even doing a stencil on the entire surface of the concrete to look like concrete tiles. I just need to decided if it will adhere well with how much debris we get here!
This is single-handedly the spot I'm most excited to update for summer and start using it more frequently. It may have to be hour new happy hour location!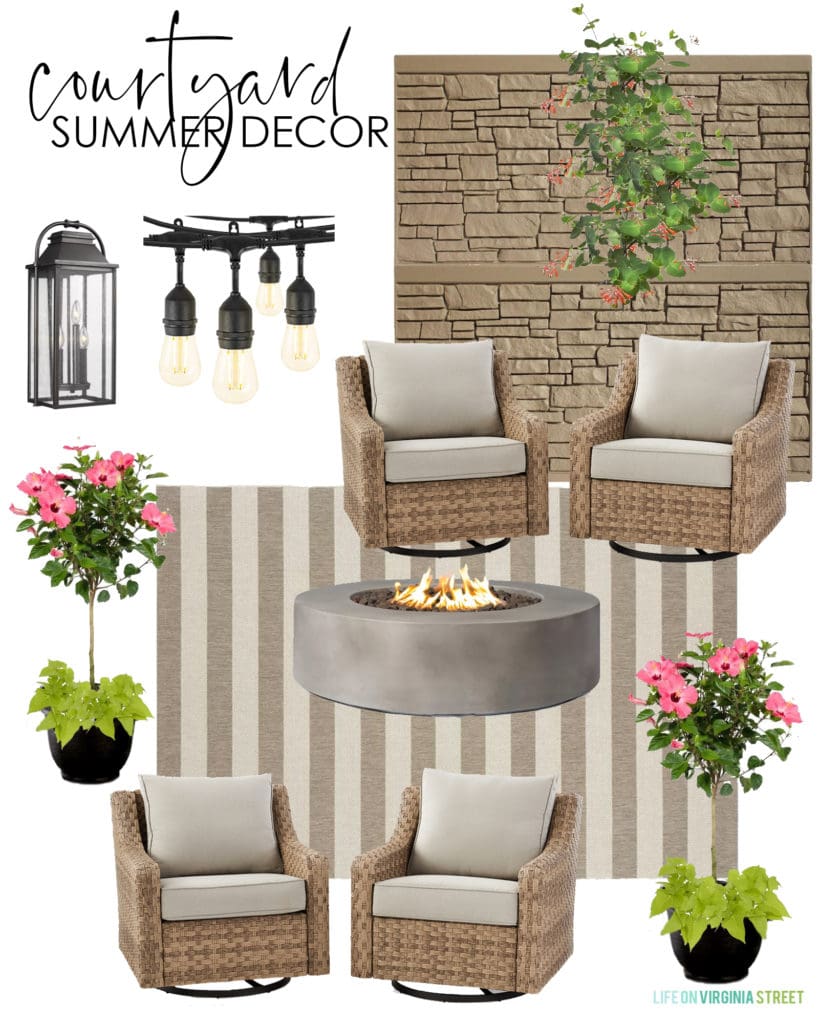 COURTYARD DESIGN BOARD SOURCES: Swivel Chairs | Fire Pit | Striped Outdoor Rug | Shatterproof String Lights | Hibiscus Topiary | Sweet Potato Vines | Resin Planters | Wall Lantern | Faux Stone Fence Panels | Honeysuckle
Additional Summer Decorating Ideas for 2020
Looking for even more summer decorating ideas for 2020 for both indoors and out? Be sure to check out the following posts. Simply click the title of the article you want to read for more info!
Happy summer decorating!
If you would like to follow along on more of my home decor, DIY, lifestyle, travel and other posts, I'd love to have you follow me on any of the following:
Pinterest | Instagram | Facebook | Twitter 
disclosure: some affiliate links used