Sharing a collection of cane & rattan home decor favorites – one of my favorite looks for the warmer months! Also includes details on a few look for less options from around our home!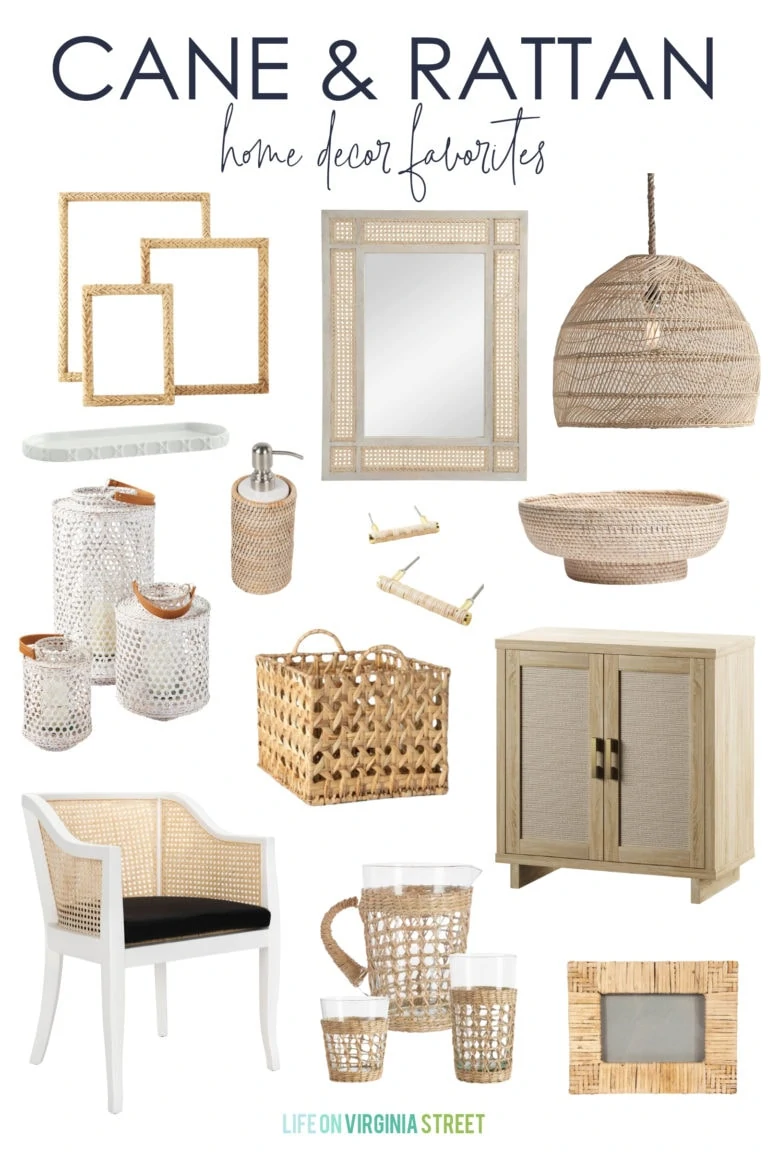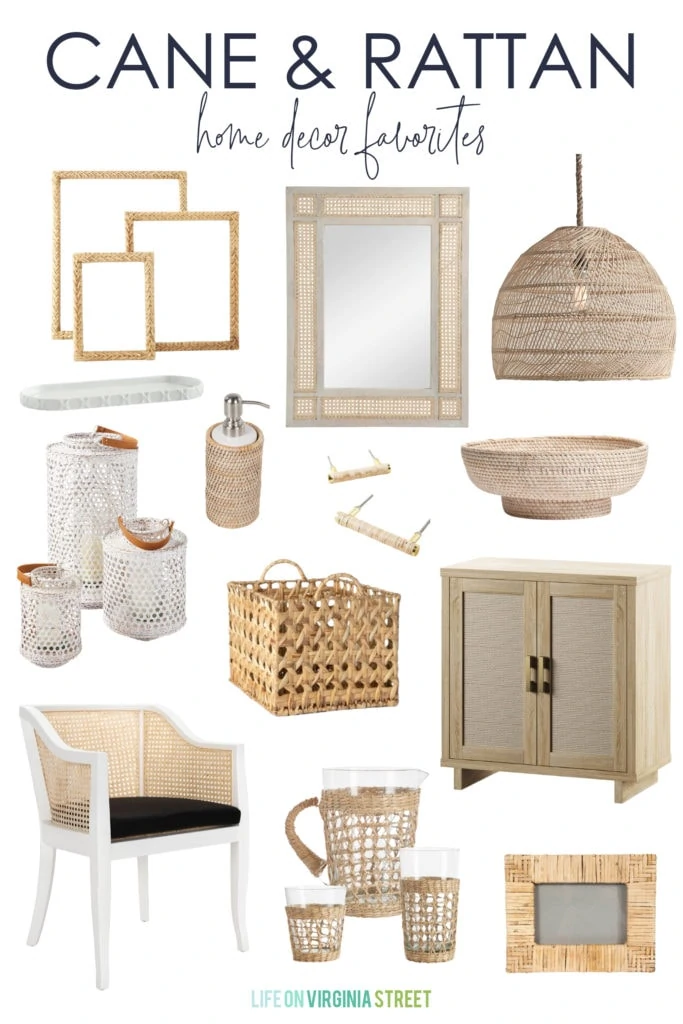 As the warmer months approach, I'm seeing more and more cane and rattan home decor accessories. And I can't get enough of them! They were a big trend last year, as well, and I've done a few posts in the past with favorites from years past. So today I thought I'd pop in quickly to share some current season cane and rattan accessories that I'm loving this year!
This post contains affiliate links for your shopping convenience. Click here to read my full disclosure policy.
Cane & Rattan Home Decor Favorites
I love the warmth and texture that cane, rattan, and other woven pieces can bring into a space! They're even more fun to use in the summer months! Following are some of my recent cane and rattan home decor finds. Simply click any of the images below to learn more about each of the items.

Cane & Rattan Decor Looks For Less Around Our Home
I frequently get asked if I've been able to find a dupe for our cane cabinet and nightstands.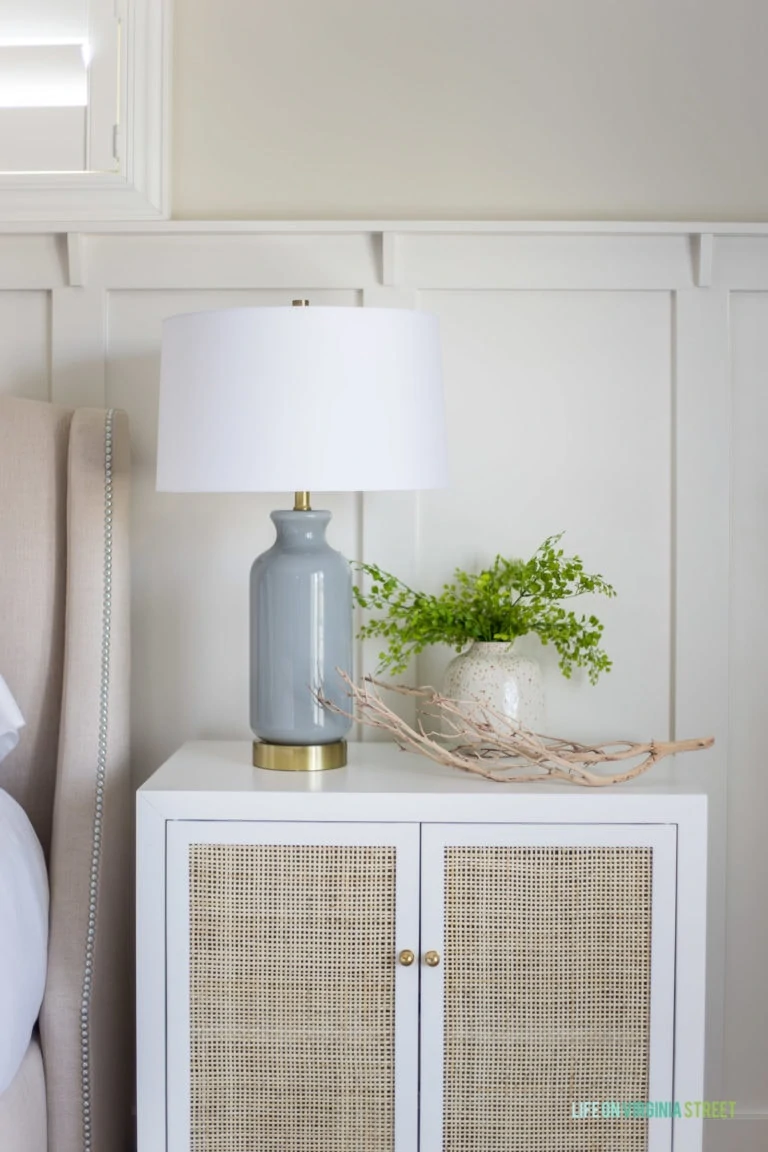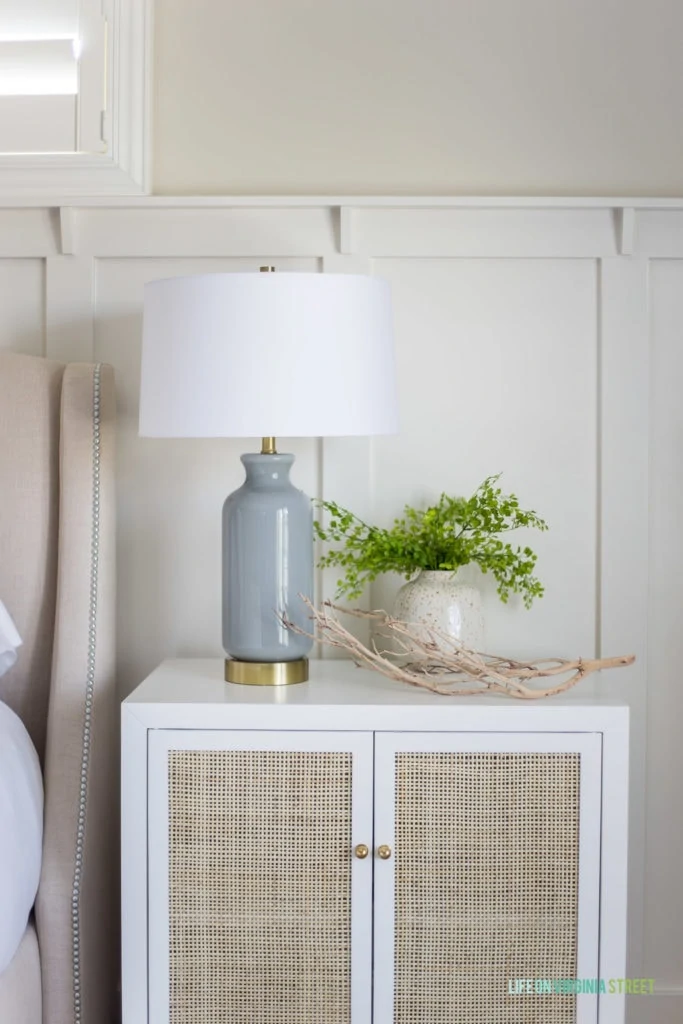 MASTER BEDROOM SOURCES: Nightstand Cabinet | USB Lamp | Manzanita Branch | Vase | Faux Maidenhair Fern | Similar Bed
The short answer is no, unfortunately. I've searched high and low for a combo with the white lacquer finish and the can doors and I've come up with nothing. I did recently find this accent cabinet that is a really great price. It's MDF and doesn't have cane inserts, and you'd have to do a little DIY on the outer frame to make it white. But I think it could be a good budget alternative to our nightstands and give the same overall vibe!
You could also try a cabinet like this one and remove the insert and add your own cane inserts if you wanted to get really adventurous! Just make sure you order the right size to perfectly fit your interior cabinet doors.
And unfortunately, I haven't been able to find anything that looks the same as our cabinet we're now using in our office. This cane cabinet is probably the closest option but isn't a super huge savings (and they still don't have a white option). But I have a few more posts listed at the end of this post about cane and rattan that may help you find an alternative!
The good news is, the dupes for our new cane dining chairs are back in stock! I'm actually worried the ones we got may be discontinued since the product listing has been fully removed. I was asked recently on Instagram about when I'll share the new ones in the space. For now, this pic I snapped a few months ago will have to do! Unfortunately with the self-isolation, I haven't been able to list or old chairs (I don't really want to leave them out on our porch)! It's not exactly photogenic in there with 12 chairs 😉 Hopefully I'll have an update soon!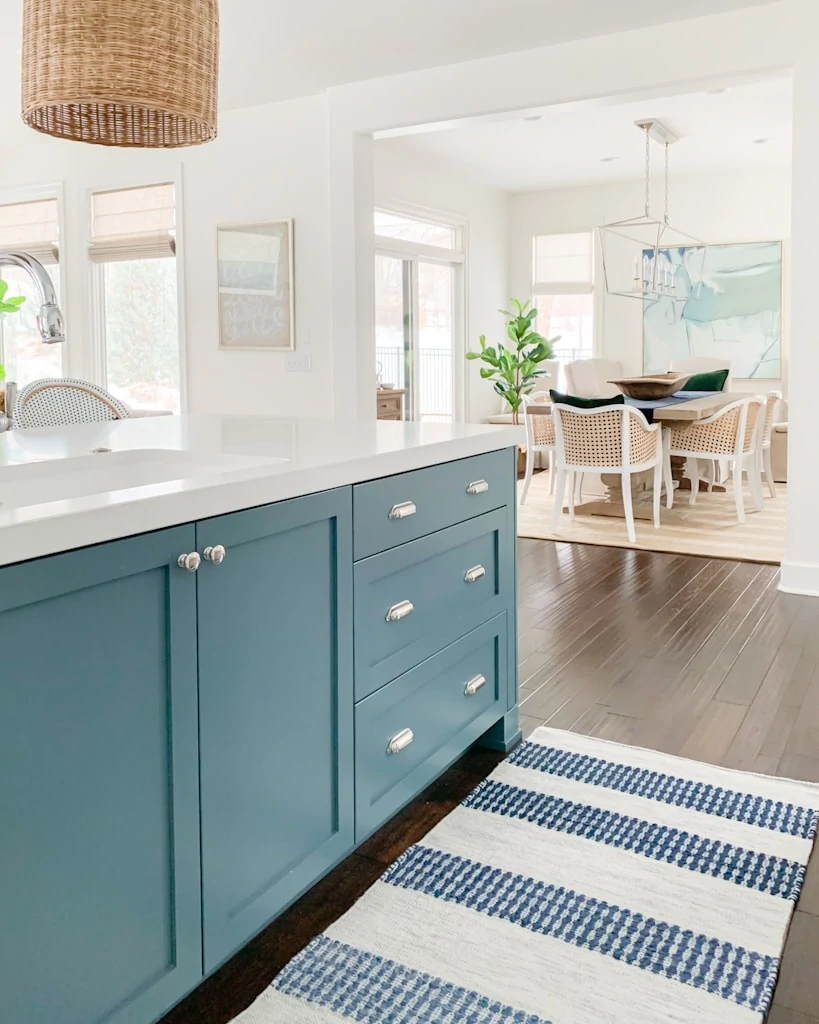 KITCHEN & DINING ROOM SOURCES: Striped Runner Rug | Basket Pendant Lights | Cabinet Hardware | Cane Dining Chairs | Dining Table | Abstract Art | Faux Fiddle Leaf Fig Tree | Linear Chandelier (look for less here)
Additional Cane & Rattan Posts You May Enjoy
Do you love this look as much as I do?
If you would like to follow along on more of my home decor, DIY, lifestyle, travel and other posts, I'd love to have you follow me on any of the following:
Pinterest | Instagram | Facebook | Twitter 
disclosure: some affiliate links used