I am sharing the coastal charm of my 2019 summer home tour and decor!
Well, I'm considering it a win that I'm sharing my 2019 summer home tour this year prior to July 15th (which I'm calling the midpoint of the season). I know most bloggers shared their summer home tours in May (or earlier). But with our travel and losing Bearcat and hosting visitors, I was finally able to put most of the final touches on our coastal summer decor (and get it photographed) this week! We've kept things pretty simple and uncluttered this season, but it feels perfect for the hot summer months!
I'll call out a few sources along the way, but I'll also share all the sources (or a similar alternates) in a widget after the last picture from each room. I'll also include links along the way for full room reveals and posts if you want even more details on a specific space. There are a few spaces that haven't changed much (or at all) since the last time you saw them, but I know it can be helpful to have the full tour with all rooms in one space! I hope you enjoy our summer home tour!
This post contains affiliate links for your shopping convenience. Click here to read my full disclosure policy.
Welcome to our lovely home! My front porch planters got a bit of a late start this year, as I didn't plant most of my flowers until mid-June.  So, while the growth isn't all that impressive, I'm loving the depth of color they add. I'm still so happy with our decision to paint our house white last year – even if our stone is still very orange and brown. The white paint brightens it all up so much!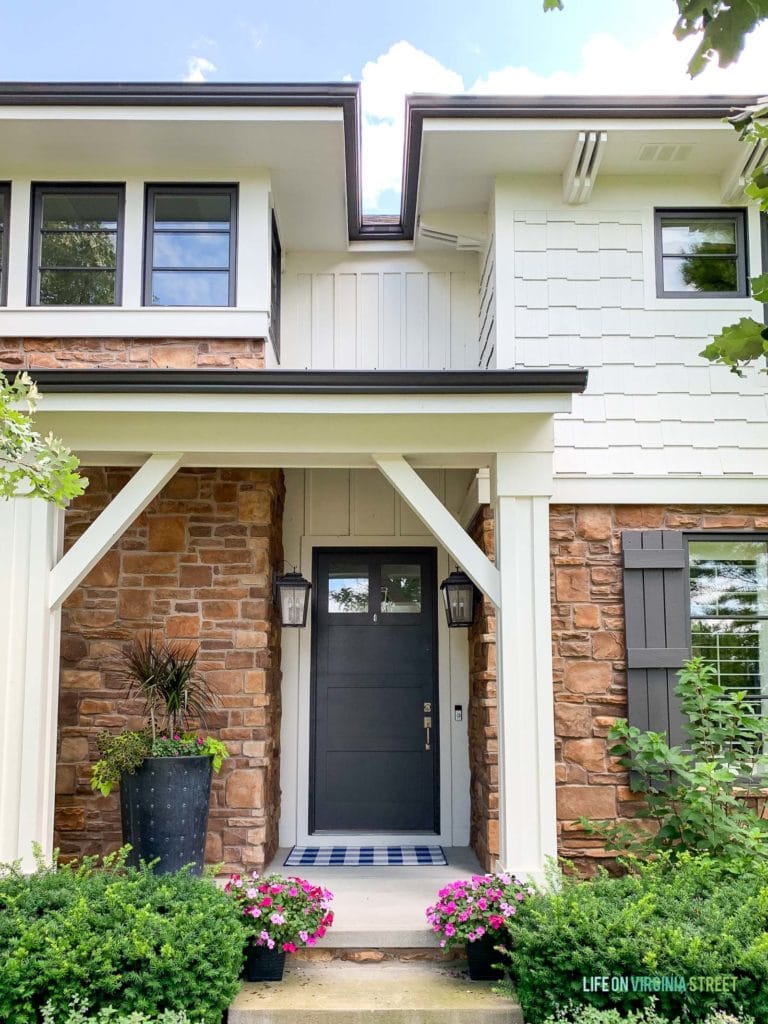 I haven't changed the entryway at all since spring, but that's because I got such a late start on my spring decorating! I had intentionally chosen the
lemon tree
knowing it would transition so well into summer. You can check out the details to the most recent updates to this space when I painted the door
here
. The
striped rug
is one of my favorite rugs of all time! It comes in multiple sizes, three gorgeous color options and is indoor/outdoor and virtually indestructible! The brand even says you can bleach them!
Moving forward down the hallway towards our light and bright kitchen, living room, and dining room, I made a few more prominent updates for summer that I shared last week. The watercolor lemon art is such a fun update for summer and will be so easy to swap with other seasonal art down the road!
Moving down the hallway to our kitchen, I usually don't change much in here seasonally. Although this picture is only a week or two old, this was before I swapped out the spring decor in our living room. You'll see the summer updates further down in the post.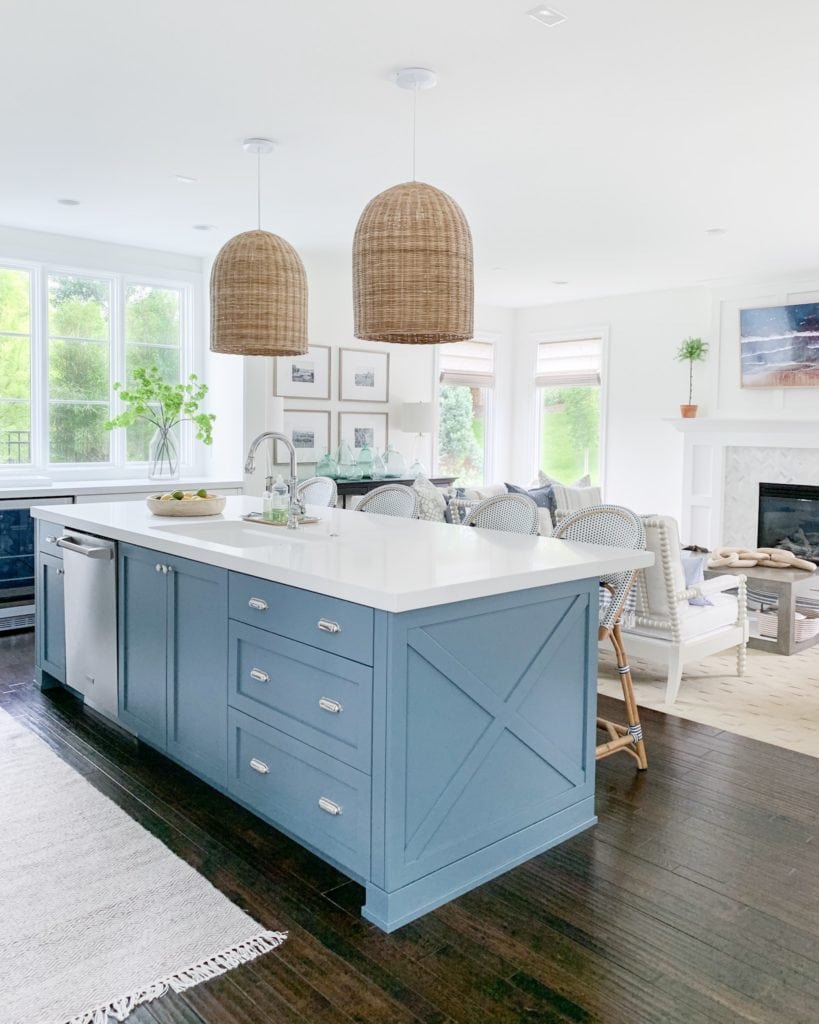 One of the few changes I made in our kitchen for summer was the addition of these viburnum stems (similar here). I love their bold lime green color. They remind me so much of hydrangeas but I love that they bloom so much earlier in the year. So, these stems may have inspired me to plant some real viburnum bushes outside for some pretty spring color and blooms!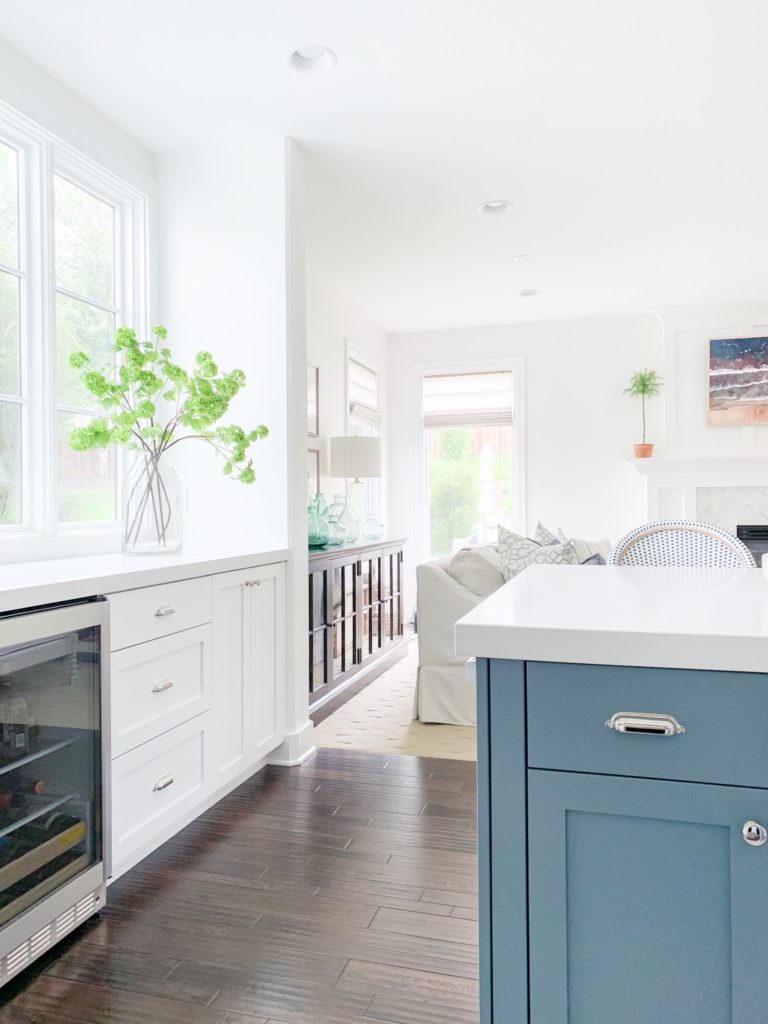 We're still really loving our counter stools! My dad even commented last week how impressed he was with the construction. They pair so well with all the green outside too! Because you know, most people decorate to match their plants and trees outside 😉
Since I kept things pretty pastel in the living room for our spring home tour, I went with a dreamy palette of bold blue for summer!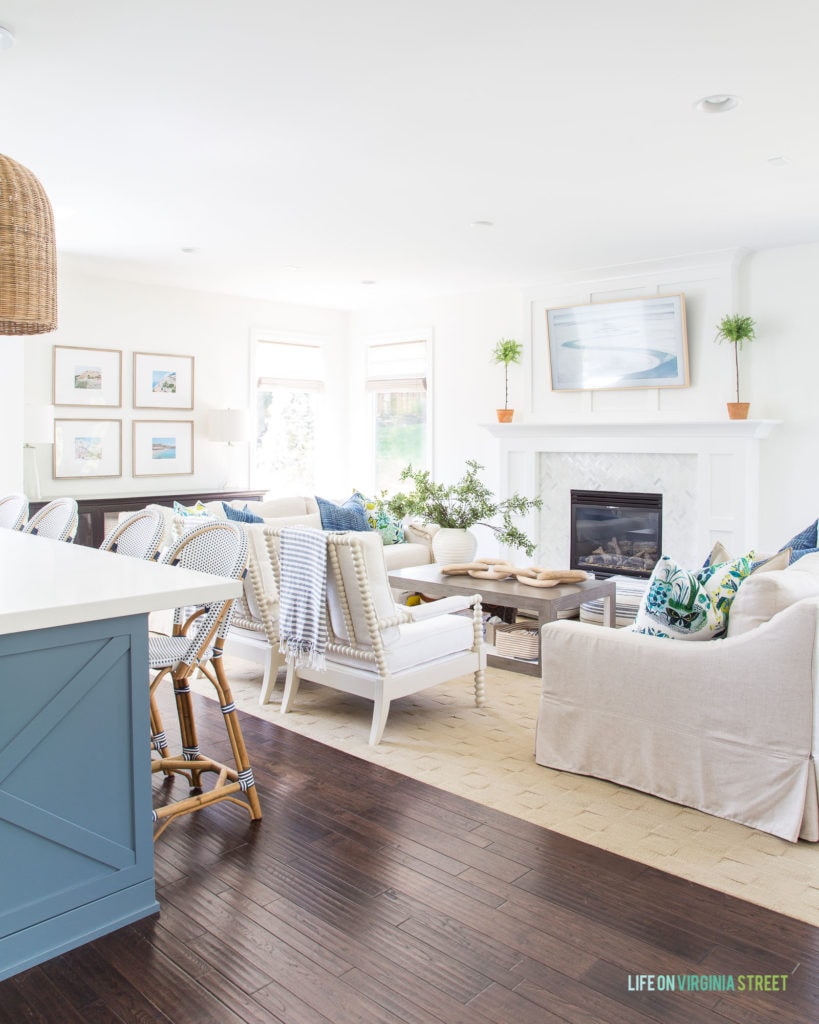 Overall, I still try to keep things pretty neutral and tame, since there is so much to compete with all the blooming views outside!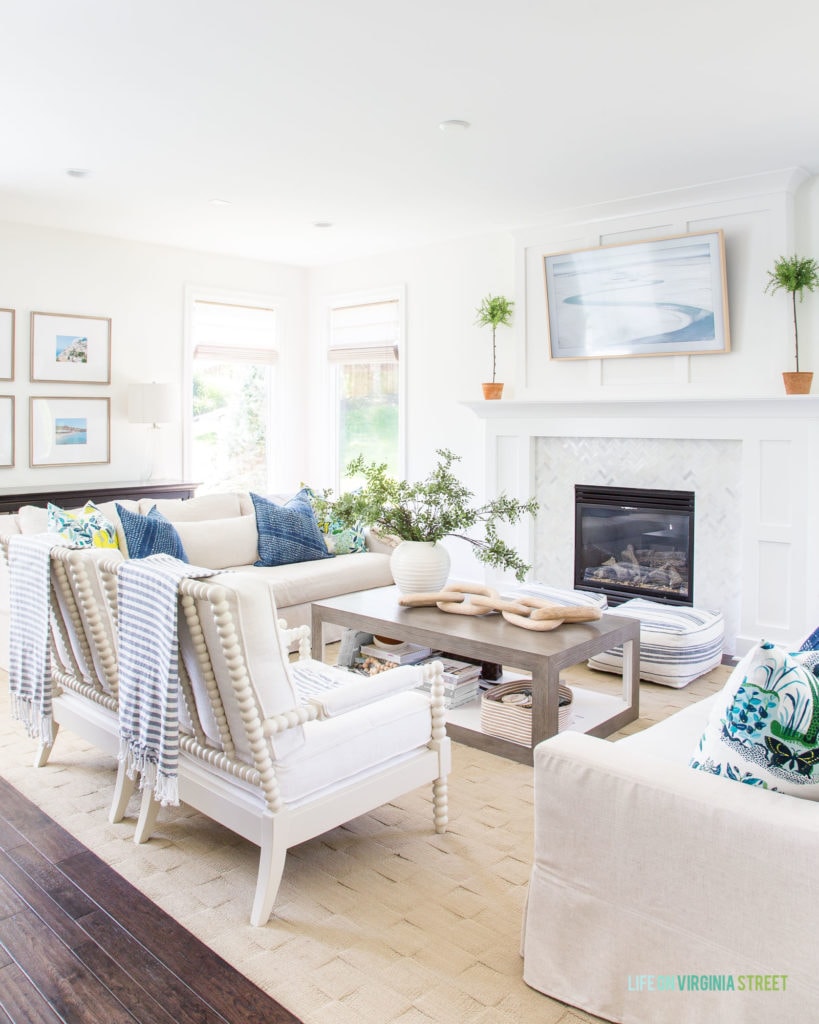 This is one of my favorite views! The calm white living room with the views of the pool outside. Most of the windows on the south side of our house are completely shot. They pop at night (our alarm system actually went off last night because of one of them). I hate that this one looking out on the pool is actually so bad that it's really foggy and blurry. But windows are basically one of the last things we want to deal with right now!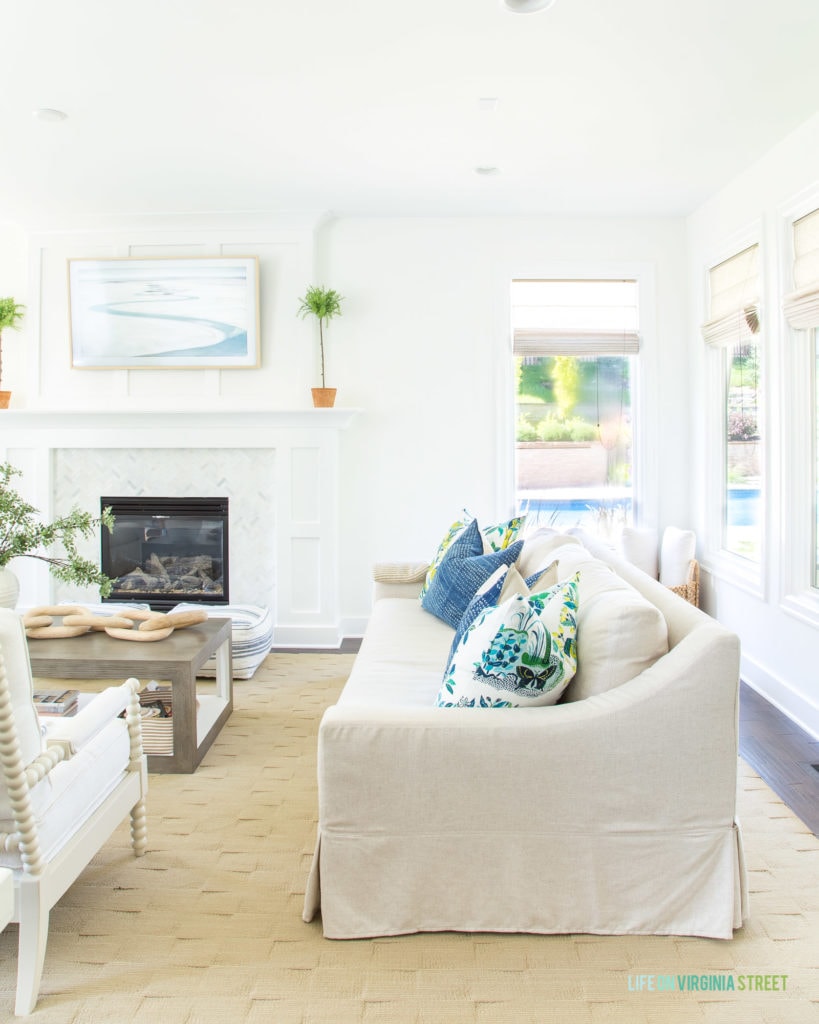 I'm so excited I finally added this adventurous Citrus Garden fabric to our home! If you've followed me for awhile, you know I almost bought it years and years ago, but couldn't justify the $200+ per yard price tag (with a two yard minimum)! But, over the winter I found three yards on eBay for under $75 total. It has some minor flaws (a little dye bleed), but I was able to work around most of that. I couldn't be happier with the throw pillows! And fortunately, there are quite a few sellers on Etsy that sell pillows with this fabric so you don't have to buy full yardage either. These hand-dyed pillows are so beautiful that I want one in every room! Each one is unique (they also come in gray) and the price is pretty great on them right now!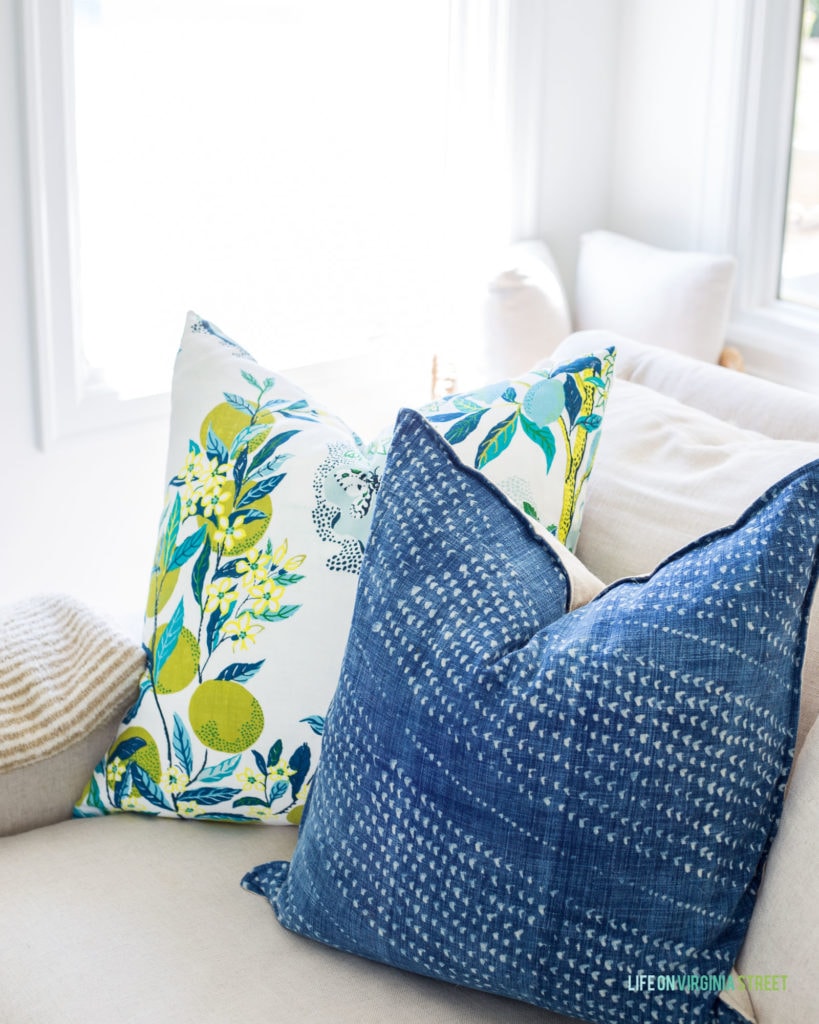 I updated our gallery wall with new prints from our recent trip and love that the bold blues and lemons in the pillows remind me even more of those vacation places!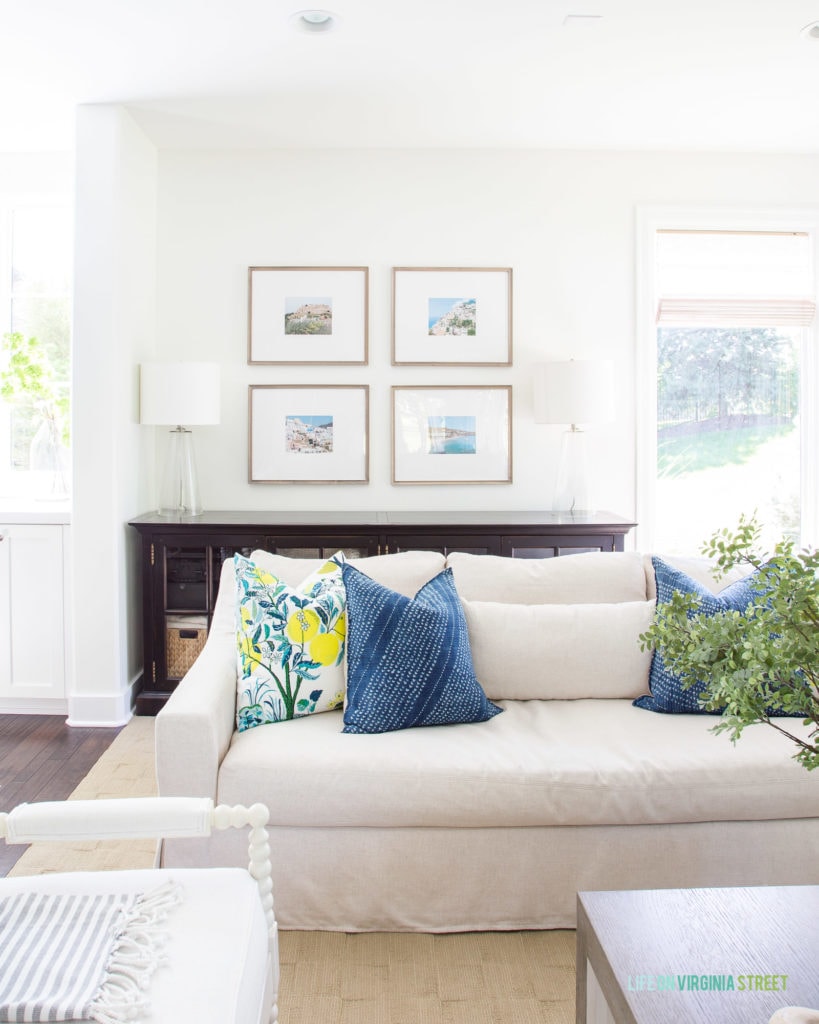 I've already changed the "art" on our Frame TV no less than a dozen times this summer 😉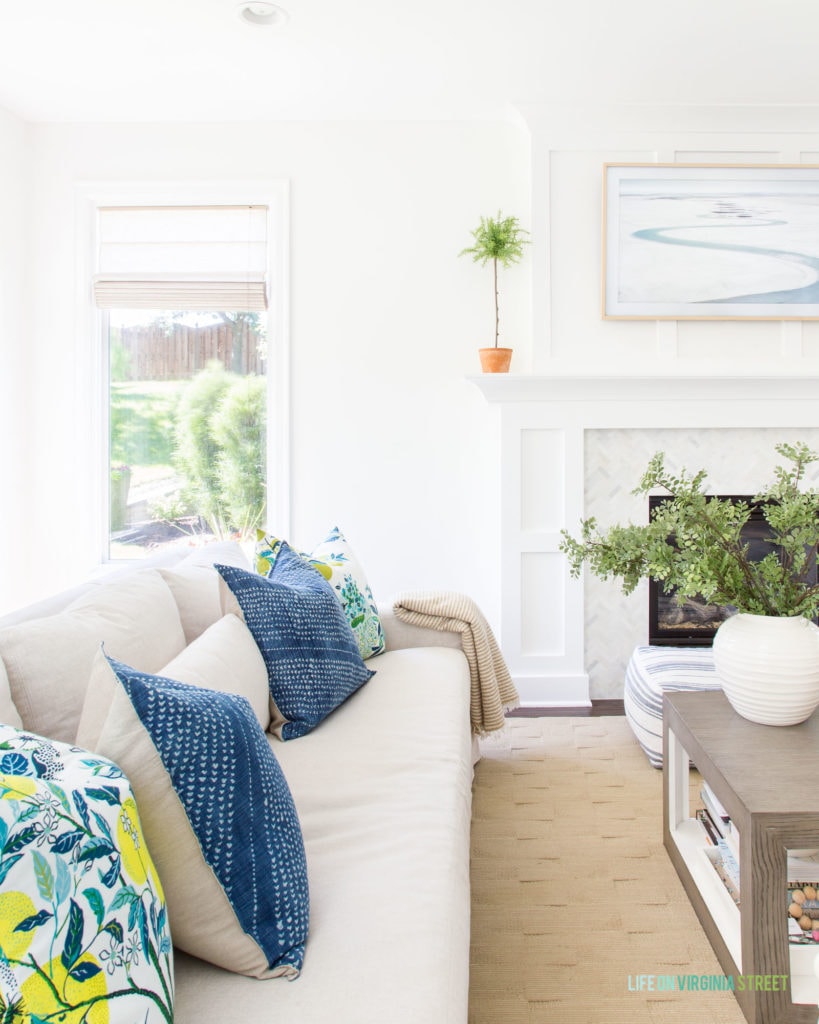 I've had this wooden chain for a few years (from Pottery Barn) and it's still one of my pieces but you can find an almost identical one here! And, if you're wondering if this vase travels around our house, I actually bought three last year when they were on major clearance because I love them so much! Filled with my favorite faux greenery, it always makes every room look prettier and more alive!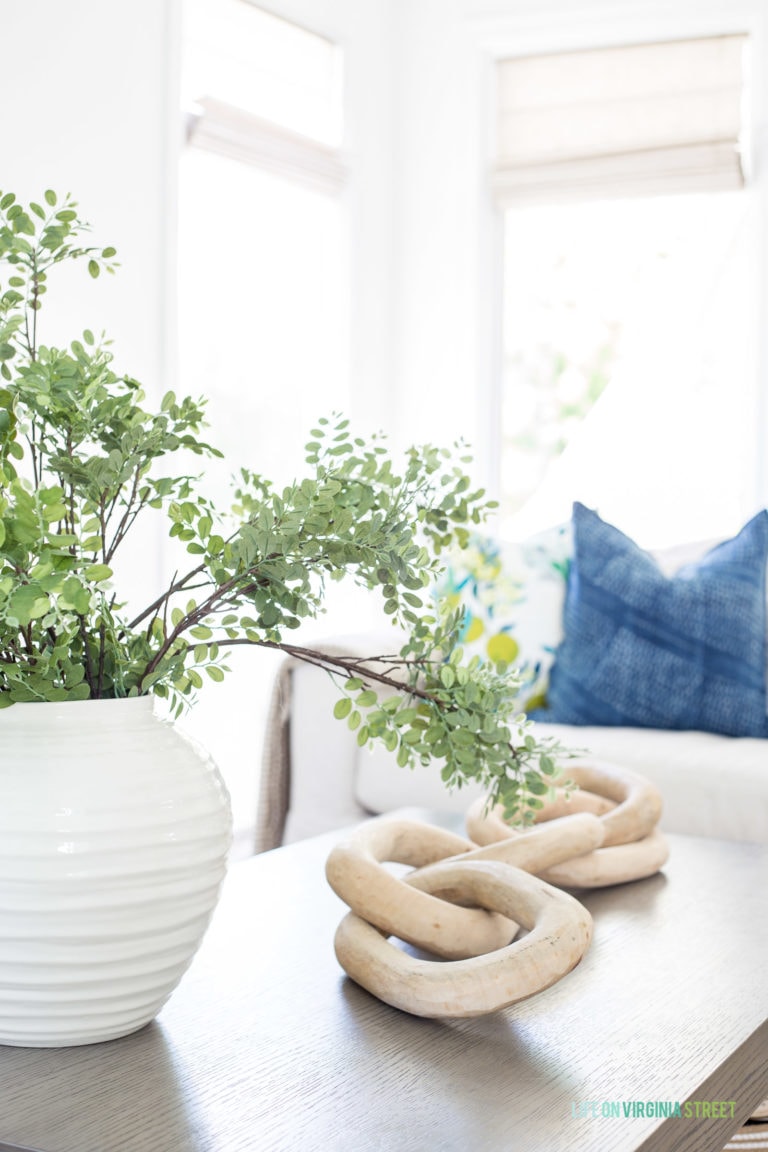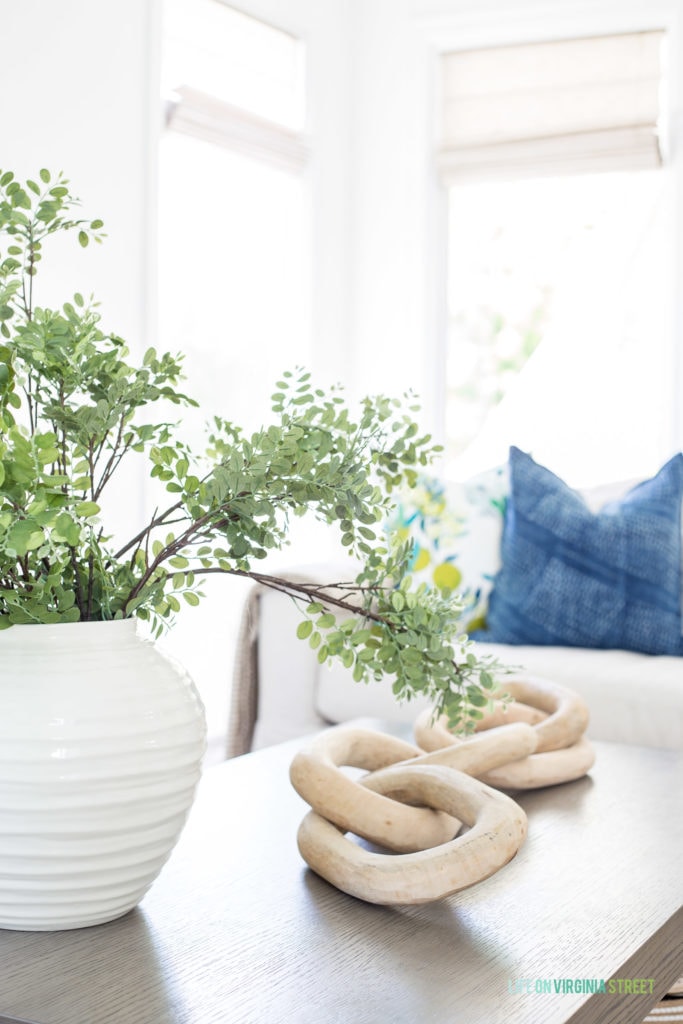 Here you can get a better idea of how our warm neutral living room and dining room flow together.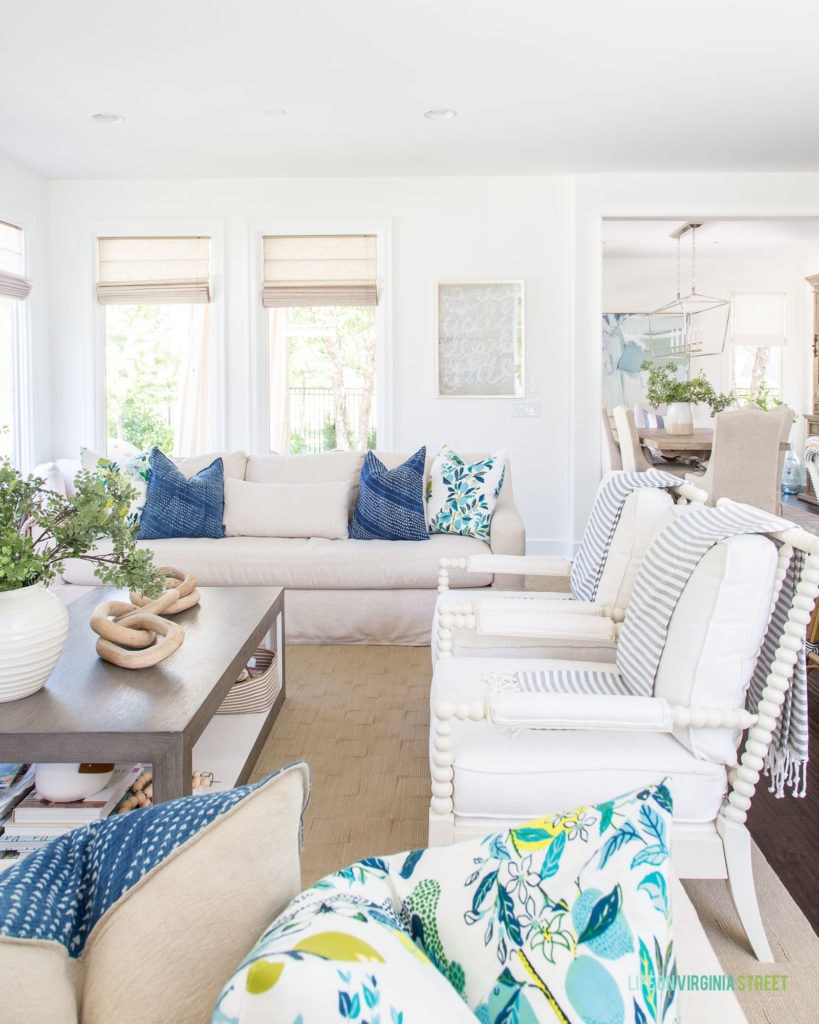 SUMMER LIVING ROOM SOURCES: Linen Sofas | Spindle Armchairs (similar here) | Coffee Table | Similar Wood Chain Decor | Wood Dough Bowl | Citrus Garden Pillows | Blue Hand-Dyed Pillows | Faux Topiaries | Vase | Faux Greenery | Gallery Wall Frames (similar here) | Lamps | Similar Black Cabinet | Frame TV
I really haven't made any changes to our dining room since spring. But thankfully it all still works well for summer!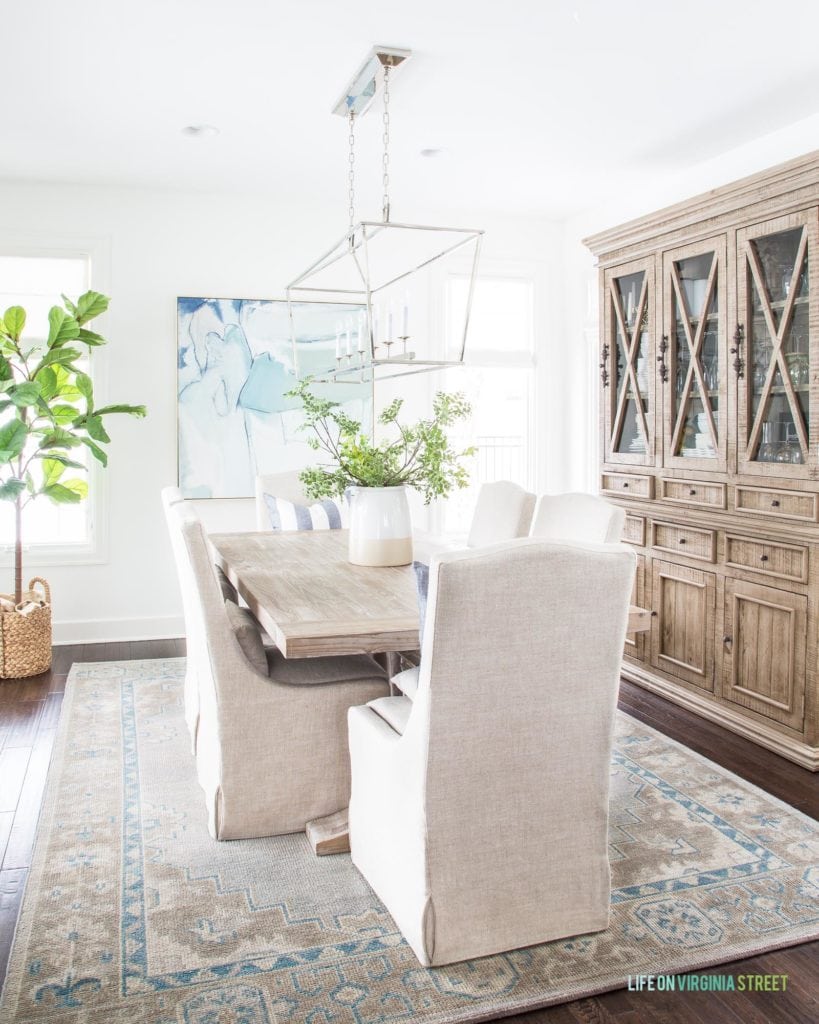 I have some cute items I've picked up recently that would work for a summer tablescape, so I may put it all together and photograph it for you next week. Summer is by far our busiest entertaining season!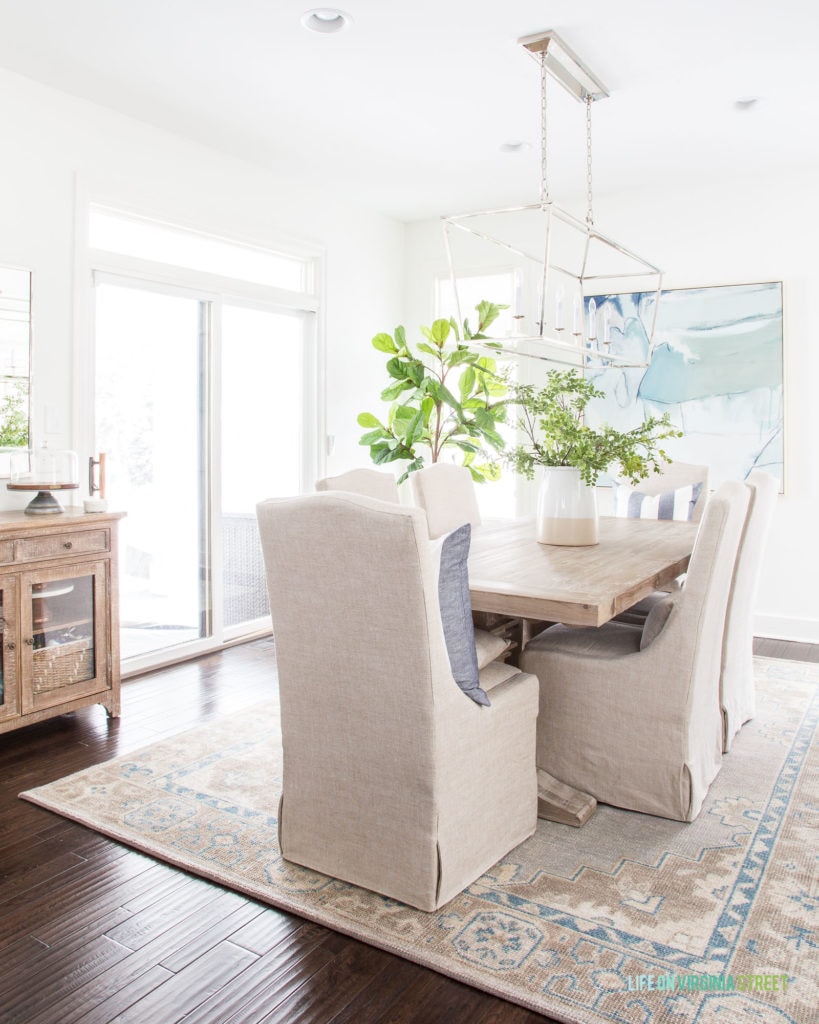 As I mentioned earlier this week, our "pool cabinet" is still going strong and we're so happy with this addition. Especially in the summer months when it can hide all of our pool supply clutter! And if you're looking for details on our hutch (that you can see in the reflection below), it actually sold out years ago. But, I have a post dedicated to it along with some great hutch alternatives.
Our office is a space I rarely show on the blog or Instagram (unless it's an old picture). And that's mostly because we use it every single day, and it typically looks that way 😉 When my family came in town last week, I forced Kurtis to clean up the stacks of paper that had accumulated on his desk. I documented the rare occasion with some new photos!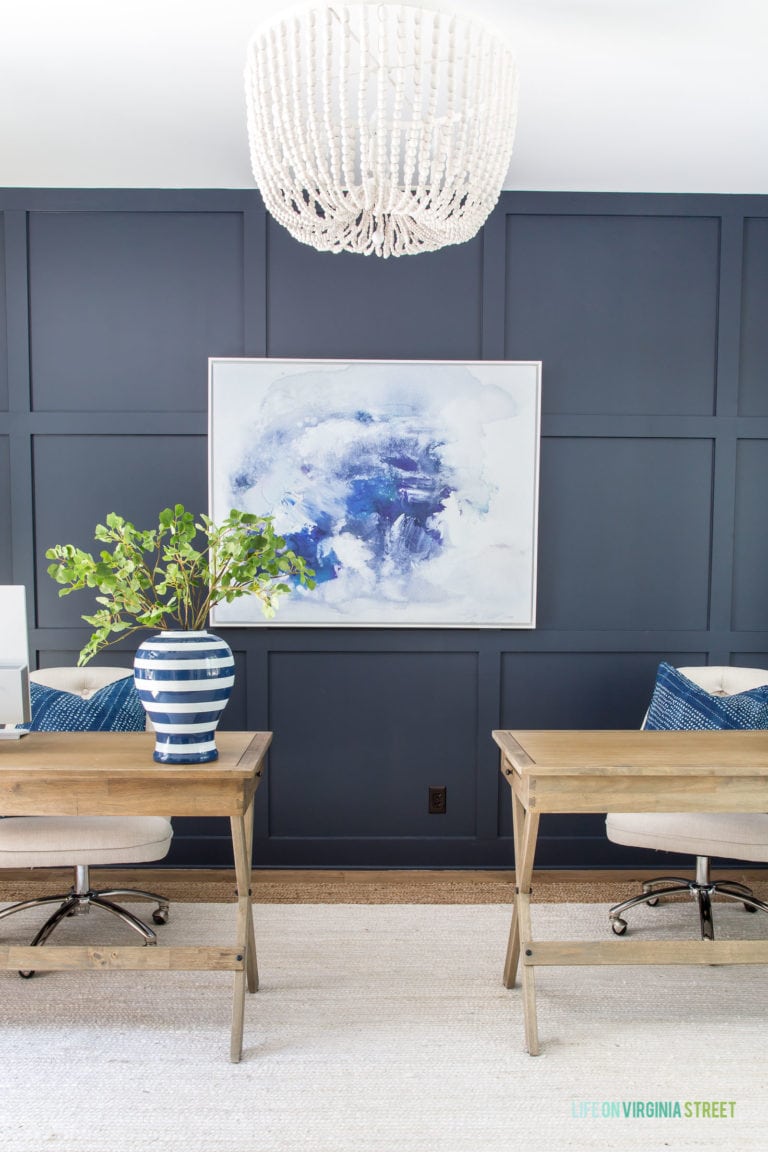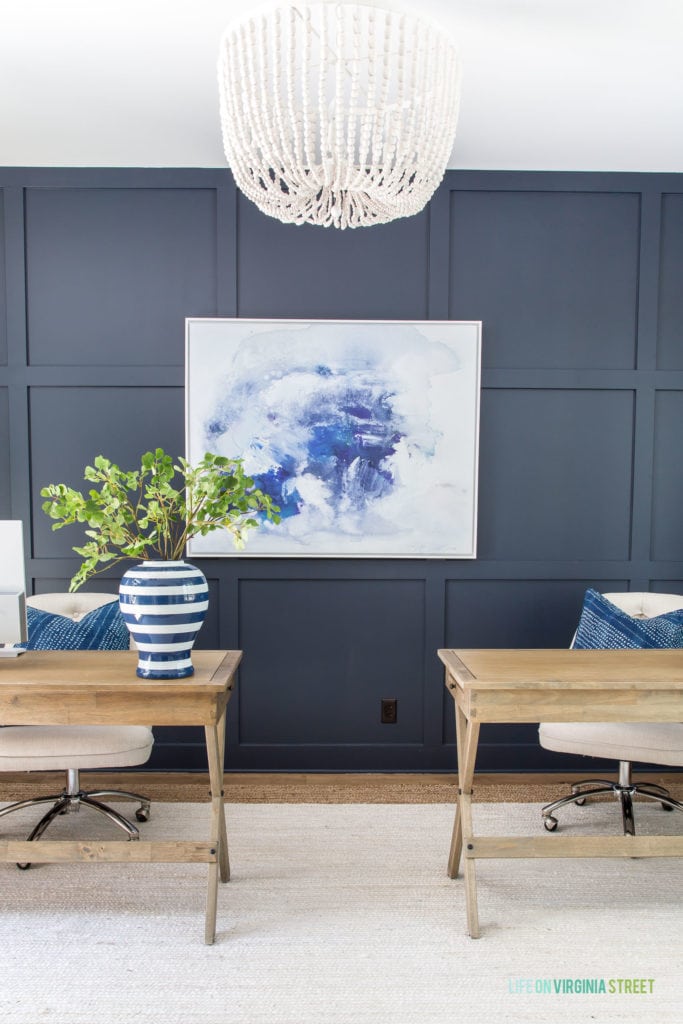 I've had this vase for ages (a lucky HomeGoods find) but I found a very similar one here. I filled it with these faux ginkgo stems (also here) and love the look for summer! You can find the abstract artwork here.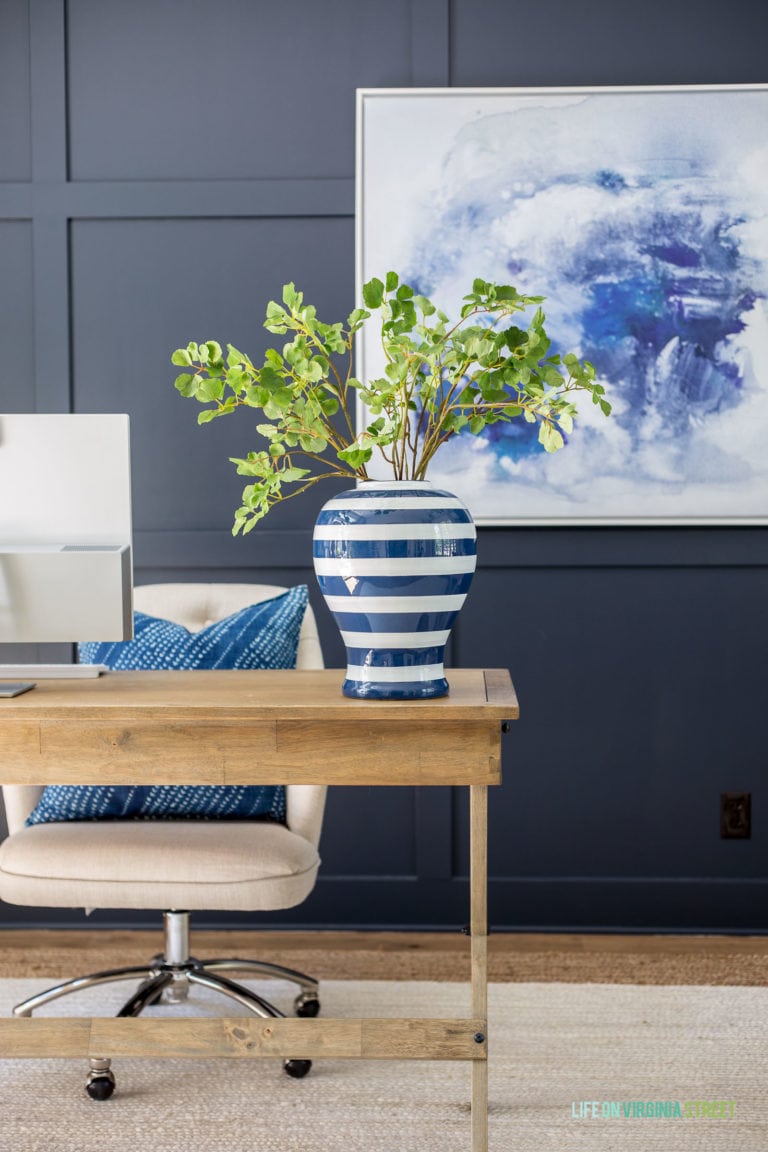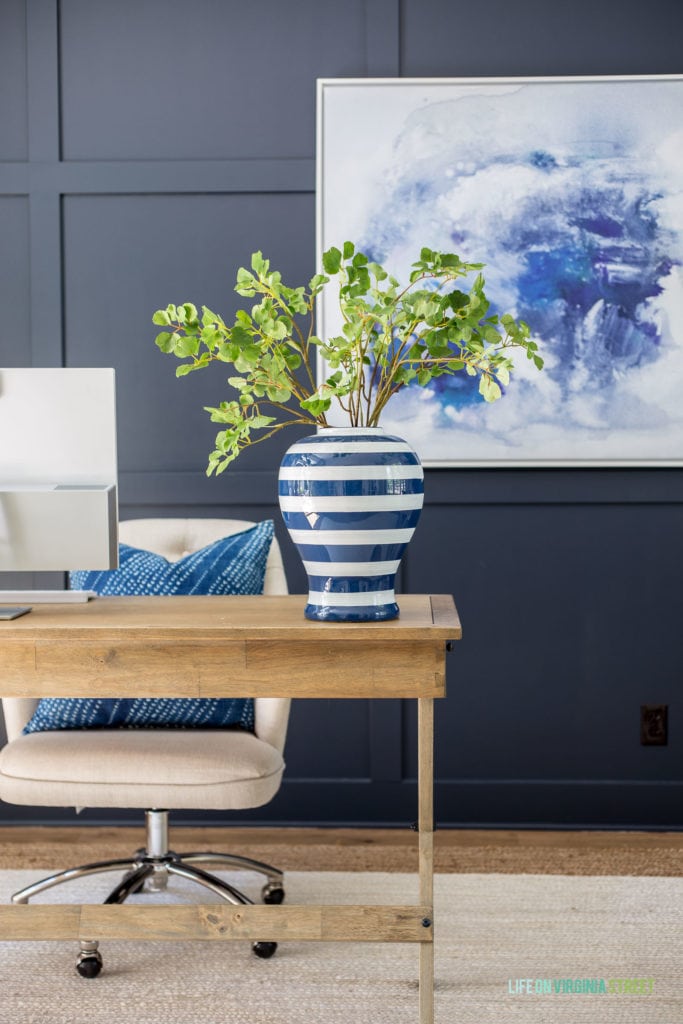 I don't think I've actually shown the room since we added this rug and swapped out our office chairs. We've needed a rug in here for ages to protect the floors and I loved the look (and price tag for a 9×12) that came with this one! I also moved the faux cypress tree in here (it was in our living room in the winter) – mostly because it was too heavy for me to carry to the basement on my own!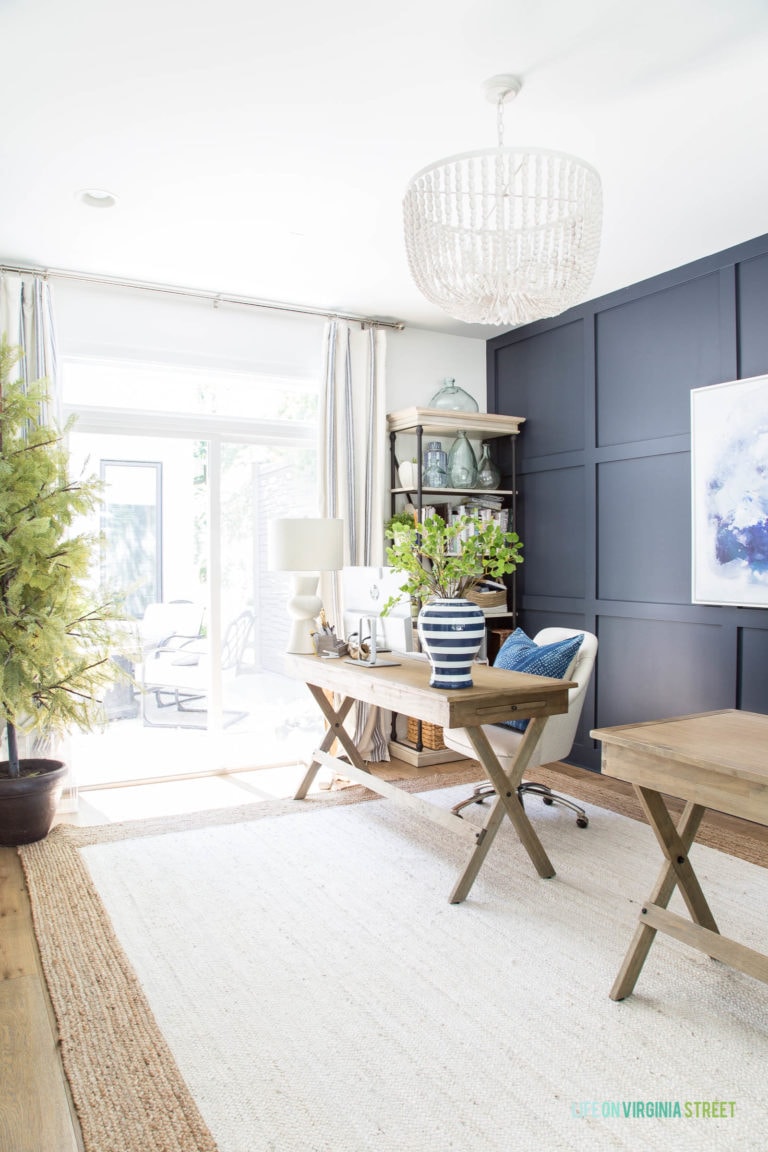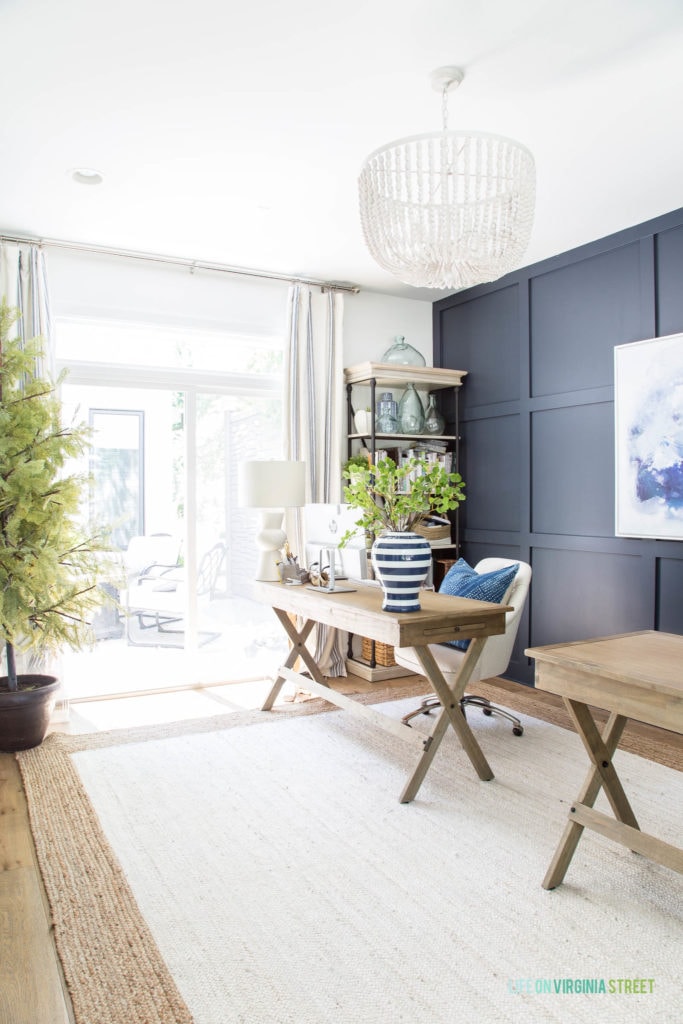 OFFICE SOURCES: Wood Campaign Desk | Linen Chairs | Blue Dyed Pillows | Jute Rug | Striped Curtains | Bookcase | White Wood Bead Chandelier | Similar Lamps | Faux Ginkgo Stems | Similar Vase | Abstract Art | Faux Cypress Tree – locally from Amethyst Home
I recently made some fresh updates to our courtyard as well. It's the space you see just outside my office (and our entryway hallway) that you can see in the photo above.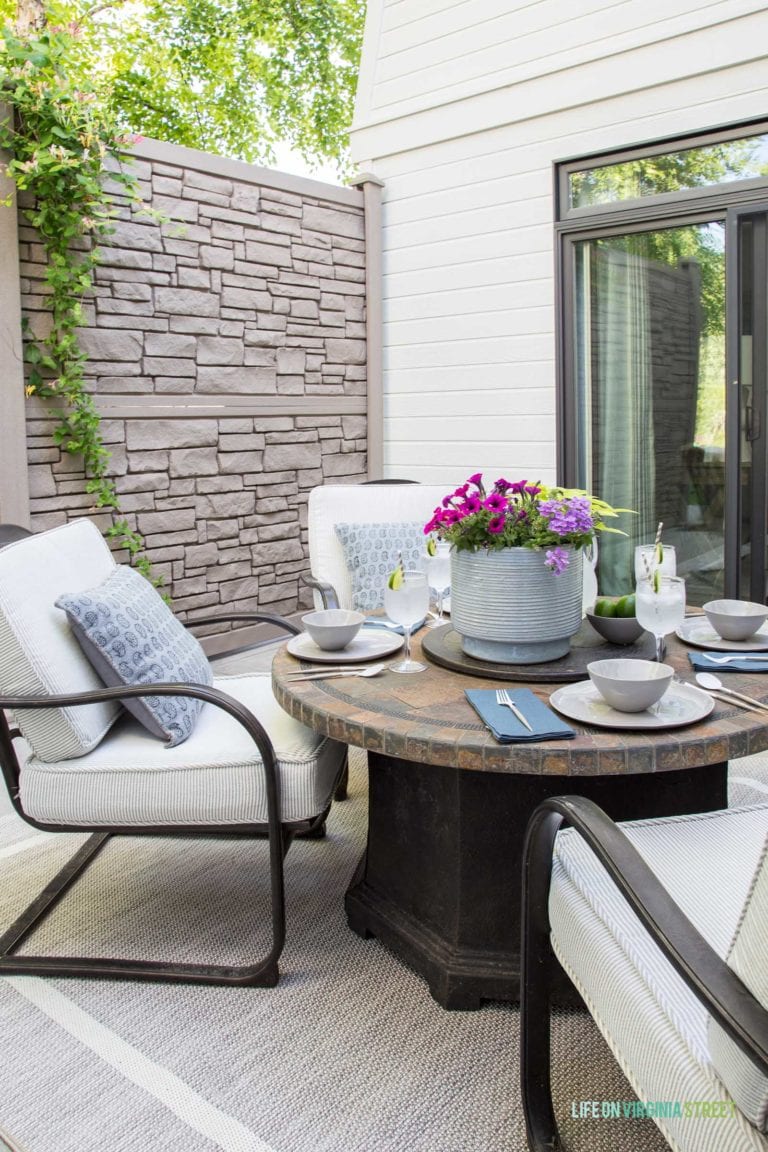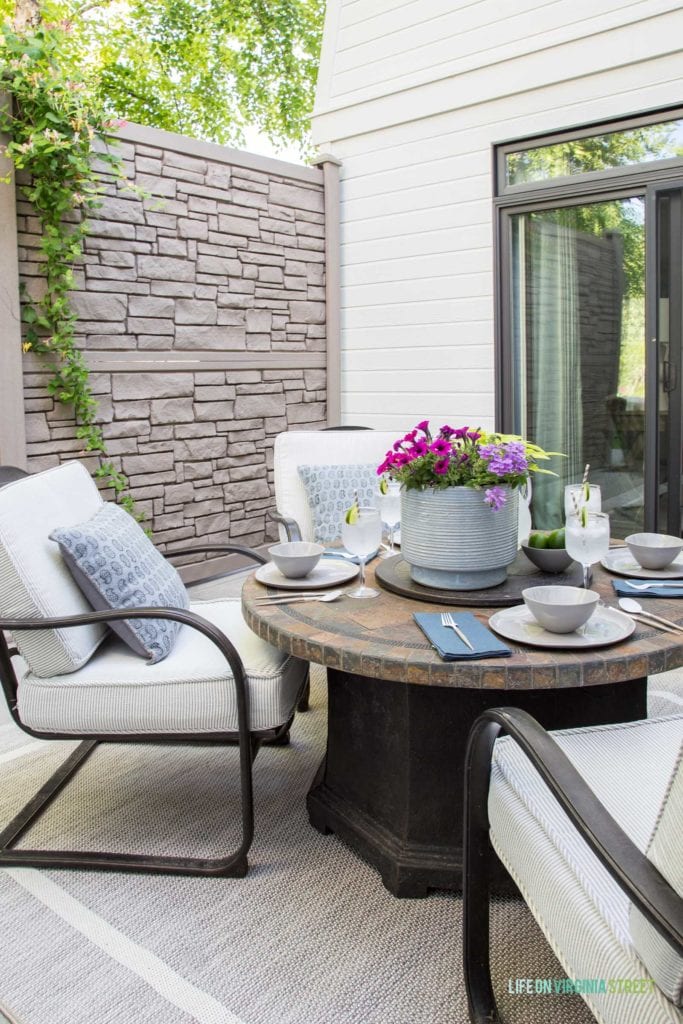 It's the first year I've added a bold flower pot to our firepit table and I love the color it adds!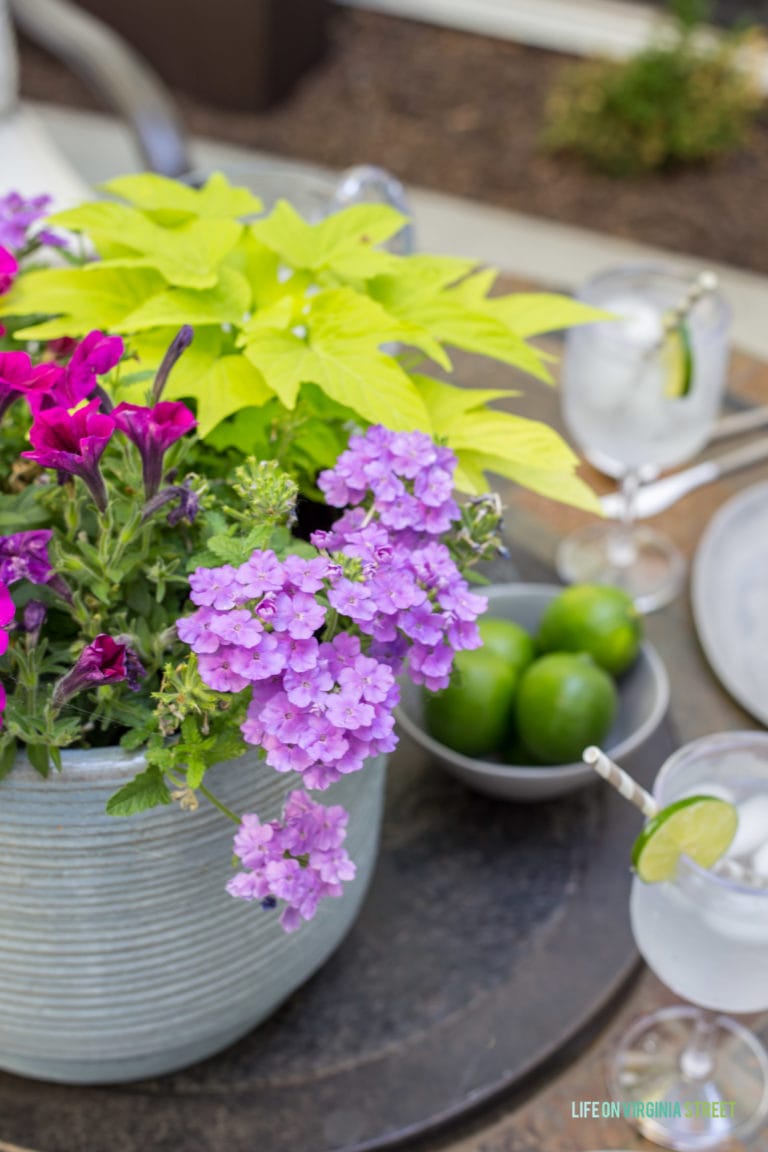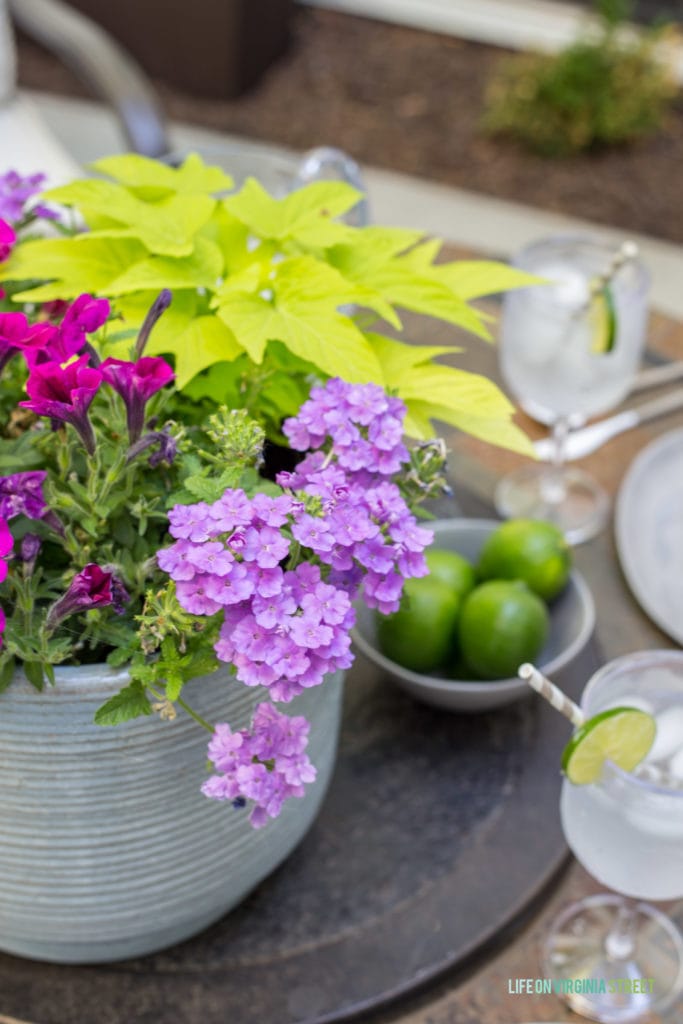 All the decor was from At Home this season and the firepit, chair frames and large black planters were all from Costco about five or six years ago.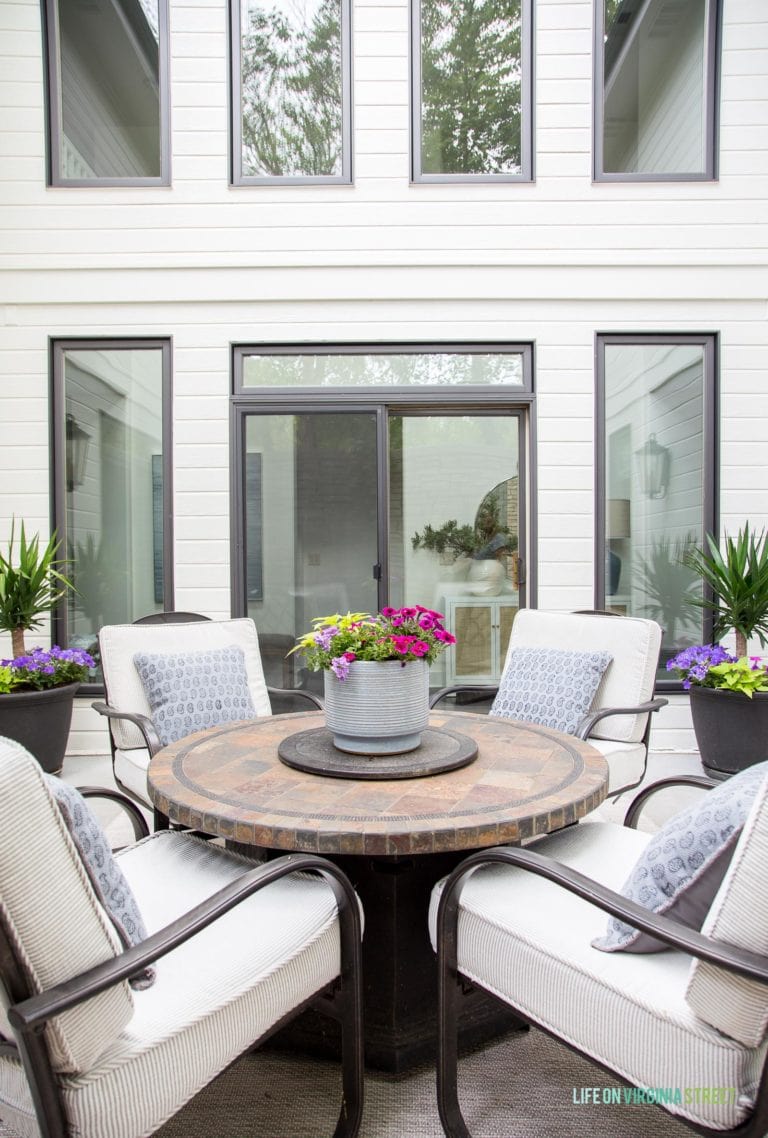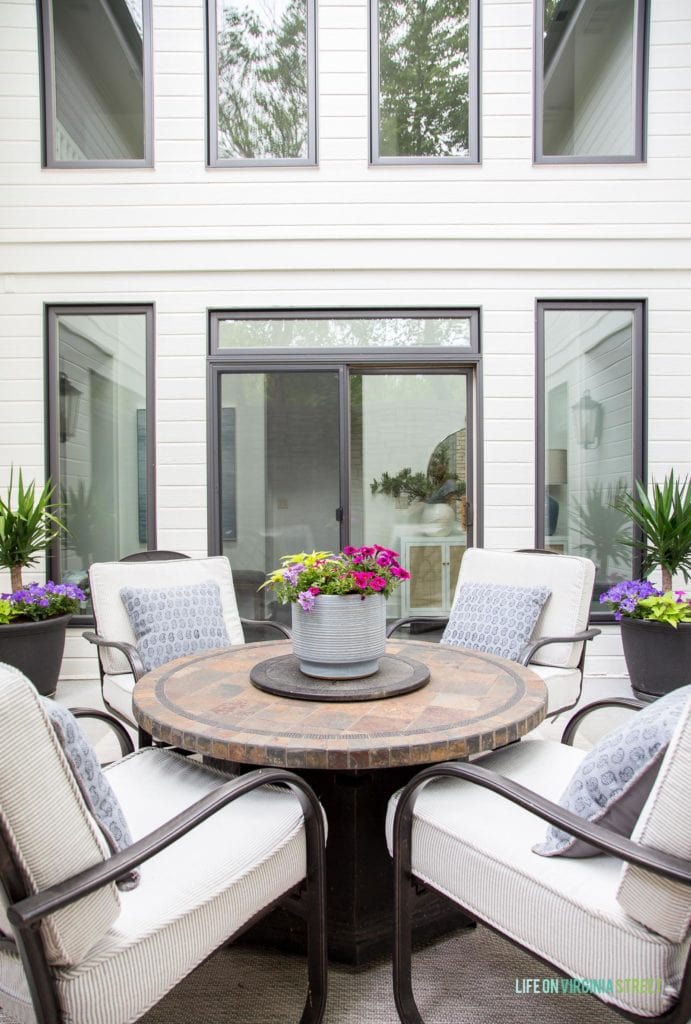 COURTYARD SOURCES: Furniture – old from Costco | Cushions, pillows, accessories – At Home
Moving upstairs, we finally got our new sconces installed last week when Kurtis was home on vacation! It's hard for it to not look better than when all the wires were hanging out of the wall 😉 You can see all my sconce contenders here. Now that the walls are white, I haven't decided if I'll keep my 'It Is Well' canvas here or move it elsewhere. Regardless, it's one of my favorite pieces ever!
Our master bedroom is one of the most recently updated spaces in our home! You can read about the full makeover here.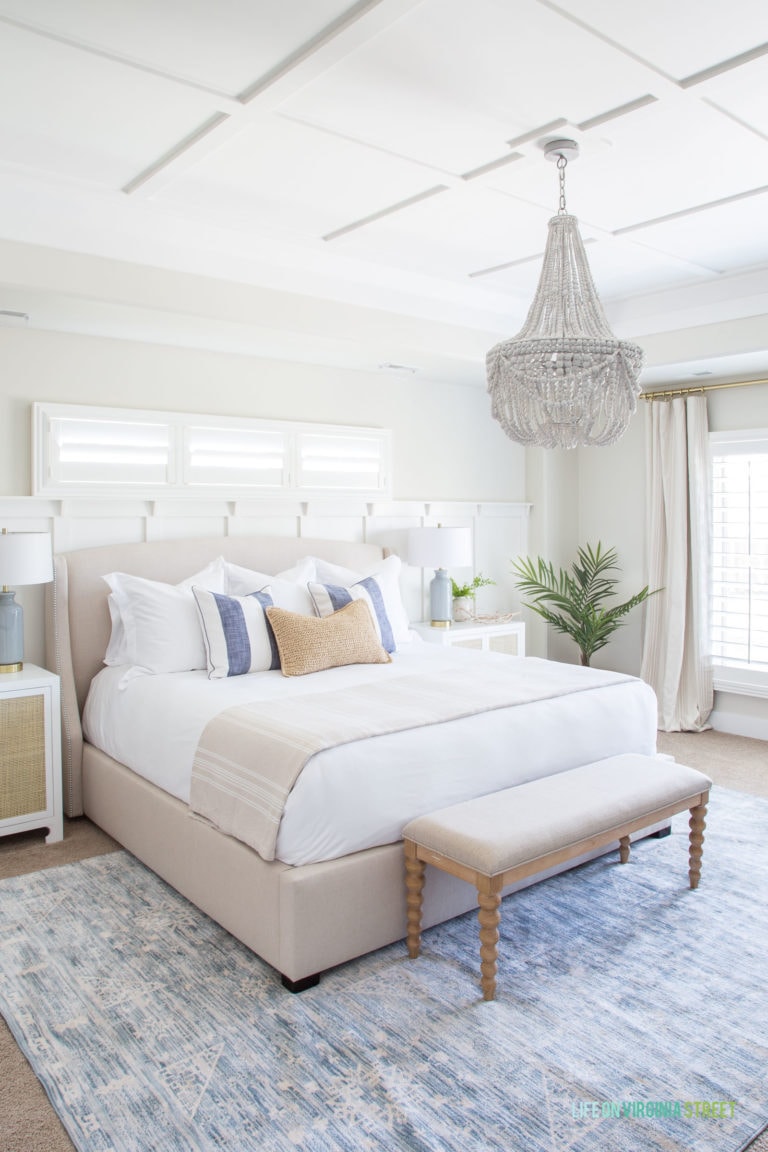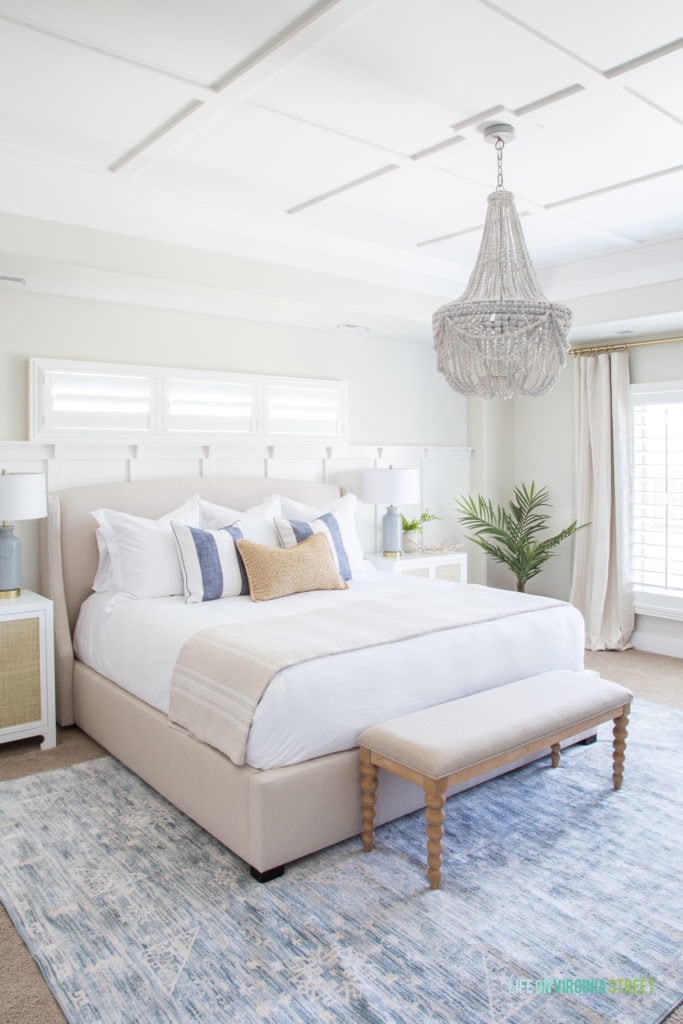 It has so many beachy elements that I love! The nightstands are one of my favorite purchases in a long time. They're so unique and beautiful! And PSA: the USB lamp that you guys all loved seems to have been re-stocked online in most areas, but I'm guessing they won't last long again since the price is so good! And this potted faux maidenhair fern is one of my favorite faux greenery pieces!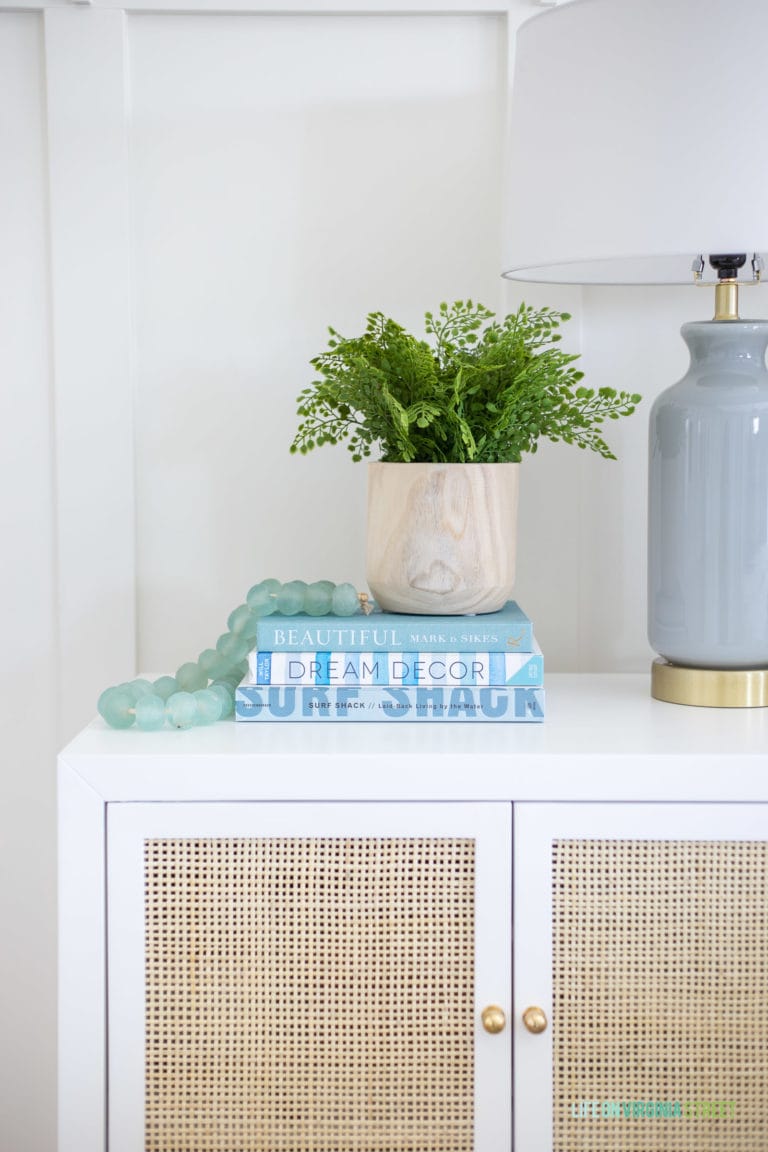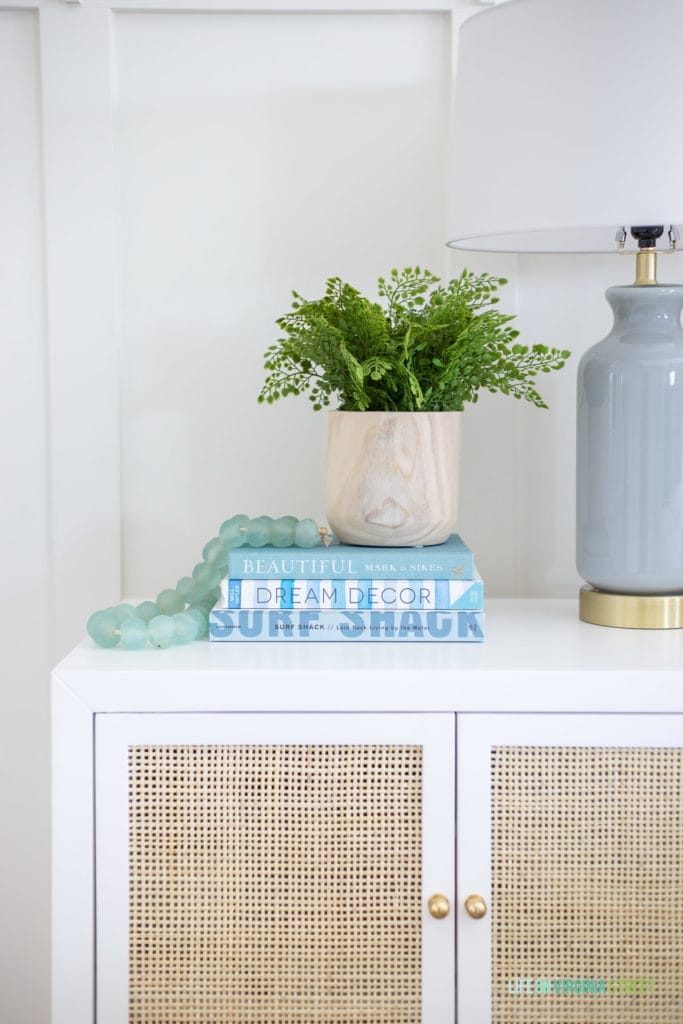 The oversized gallery wall (using these frames) is one of my favorite features in our updated space!