This post is sponsored by FrogTape® and contains affiliate links for your shopping convenience. As always, all thoughts and opinions are my own. Click here to read my full disclosure policy. You can vote for your favorite design here.
Two weeks ago, I shared the before photos and my design plans for our master bedroom makeover as part of the FrogTape® Paintover Challenge. Last week, I shared a progress report along with my tips on how to paint trim. Now, today, I'm sharing the big reveal of our updated natural and organic master bedroom! And don't forget to vote at the end of this post! There's $10,000 for charity at stake (more on that at the end of the reveal).
As a quick refresher, I was assigned the "Natural & Organic" trend. I layered in warm neutrals along with elements that are reminiscent of nature. Essentially my typical decorating style with a bit of a beachy flair! When we first moved in, our bedroom looked like this: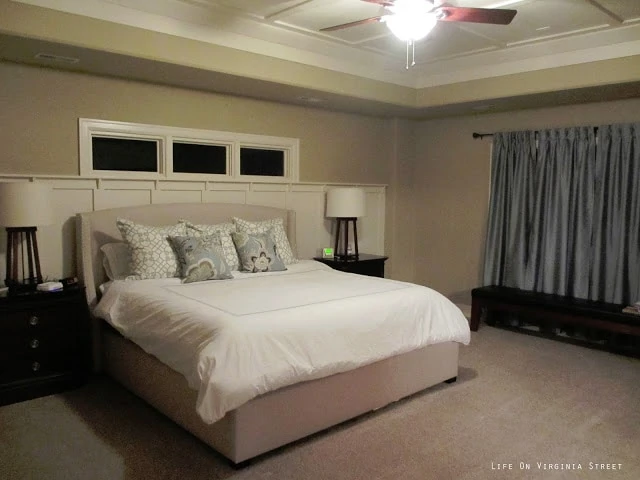 And here's how the space looks now!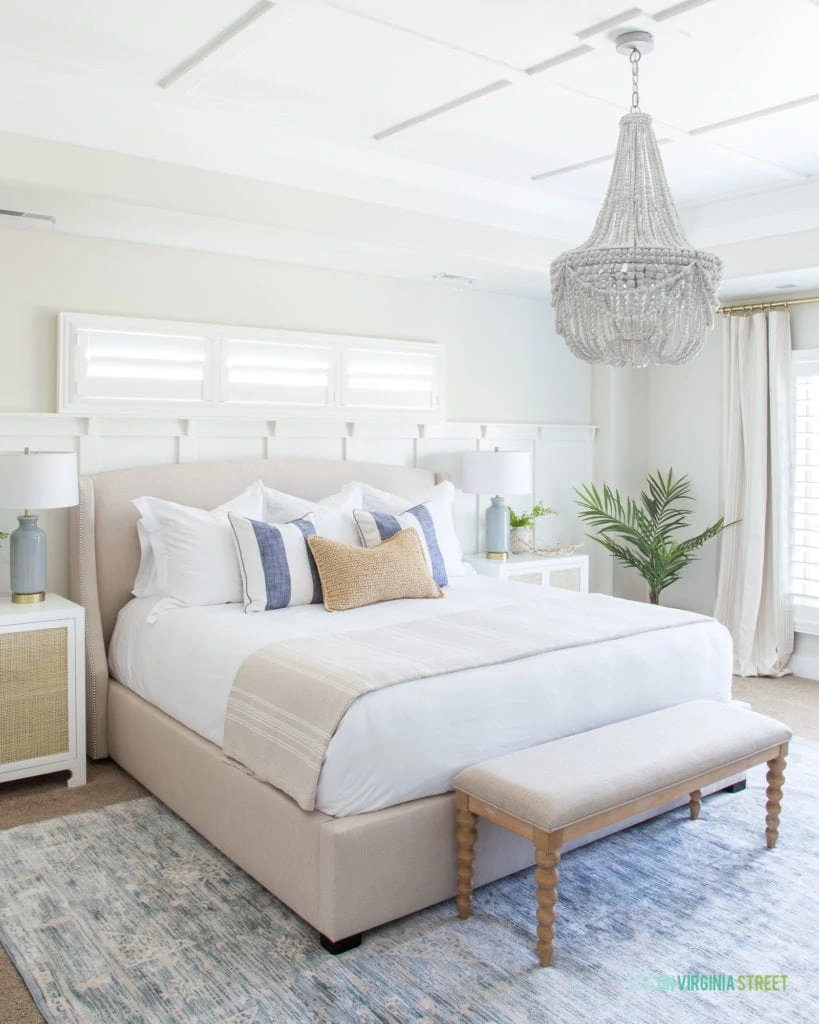 The biggest component of this makeover was all the painting. At first glance, the paint change isn't all that dramatic, but for me the change is huge! I painted the ceiling in Benjamin Moore Simply White (eggshell), the walls in Valspar September Fog (eggshell), and all the trim in Benjamin Moore Simply White (semi-gloss). It was nearly three week's worth of painting! But, the fresh paint is a game-changer! I think it's safe to say my paint lines are significantly more sharp now thanks to all the FrogTape® Multi-Surface and Delicate Surface tape I used!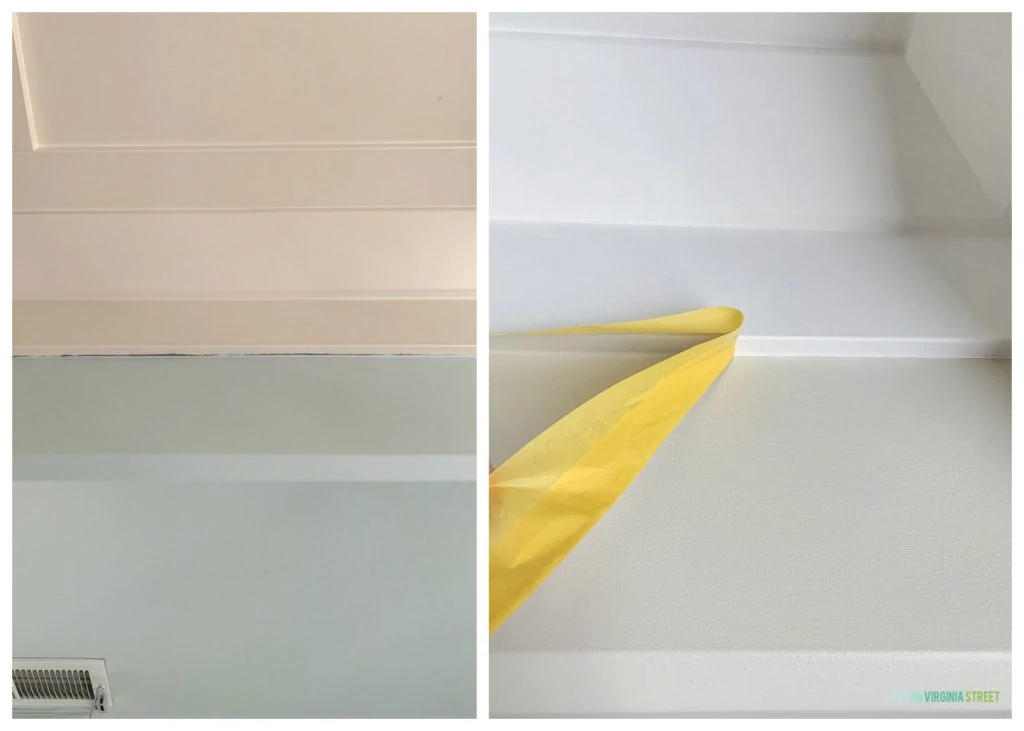 Our new wood bead chandelier is stunning and completely changes the vibe in the room. It has such a softer feel than the prior orb chandelier!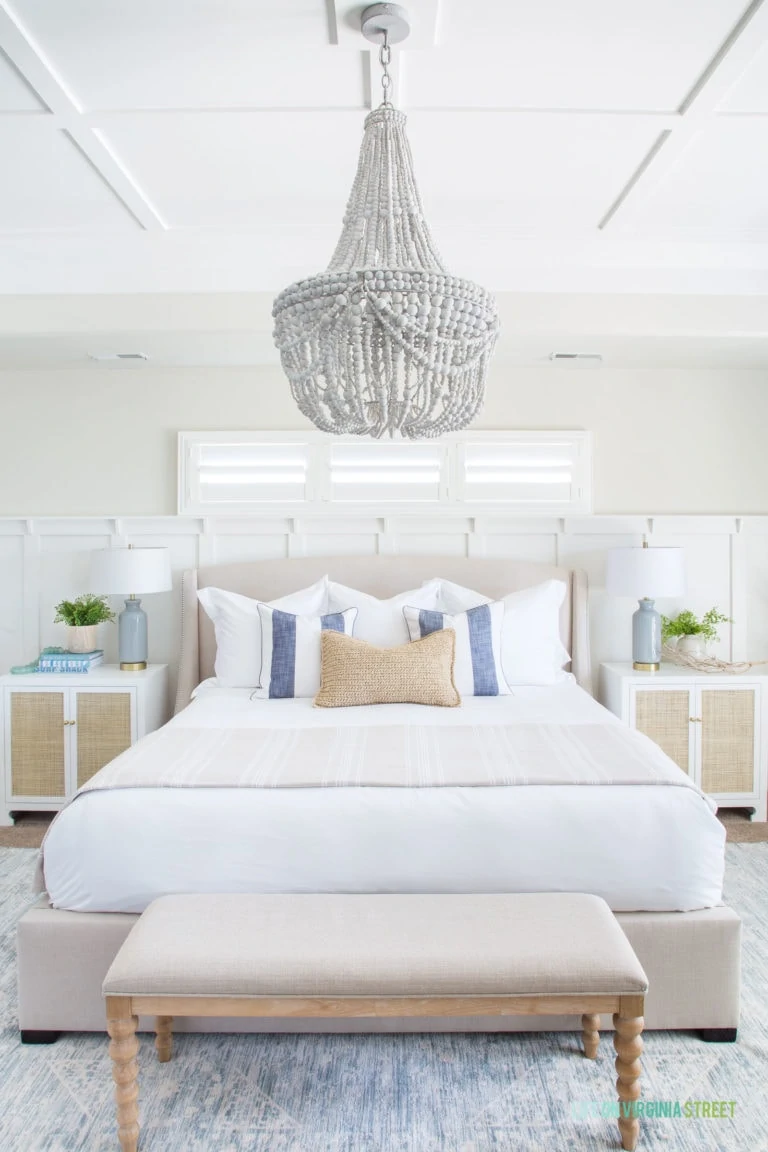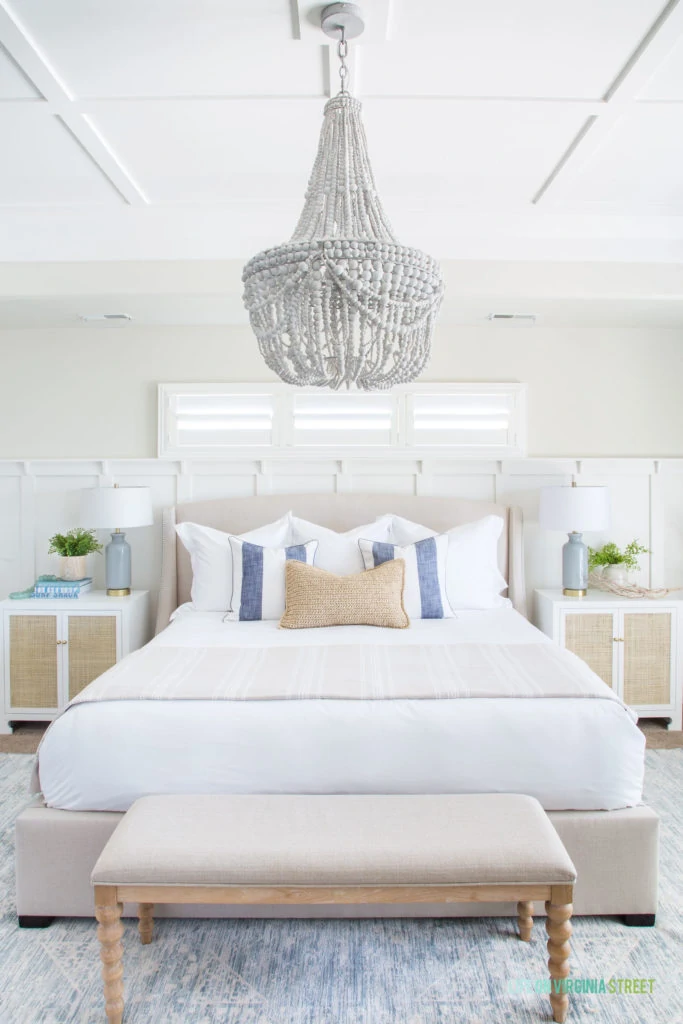 One of my favorite features in the entire space is this large gallery wall. I used these frames filled with photos of some of our favorite places in the world! I love that we can wake up each morning and see scenes from some of our best memories!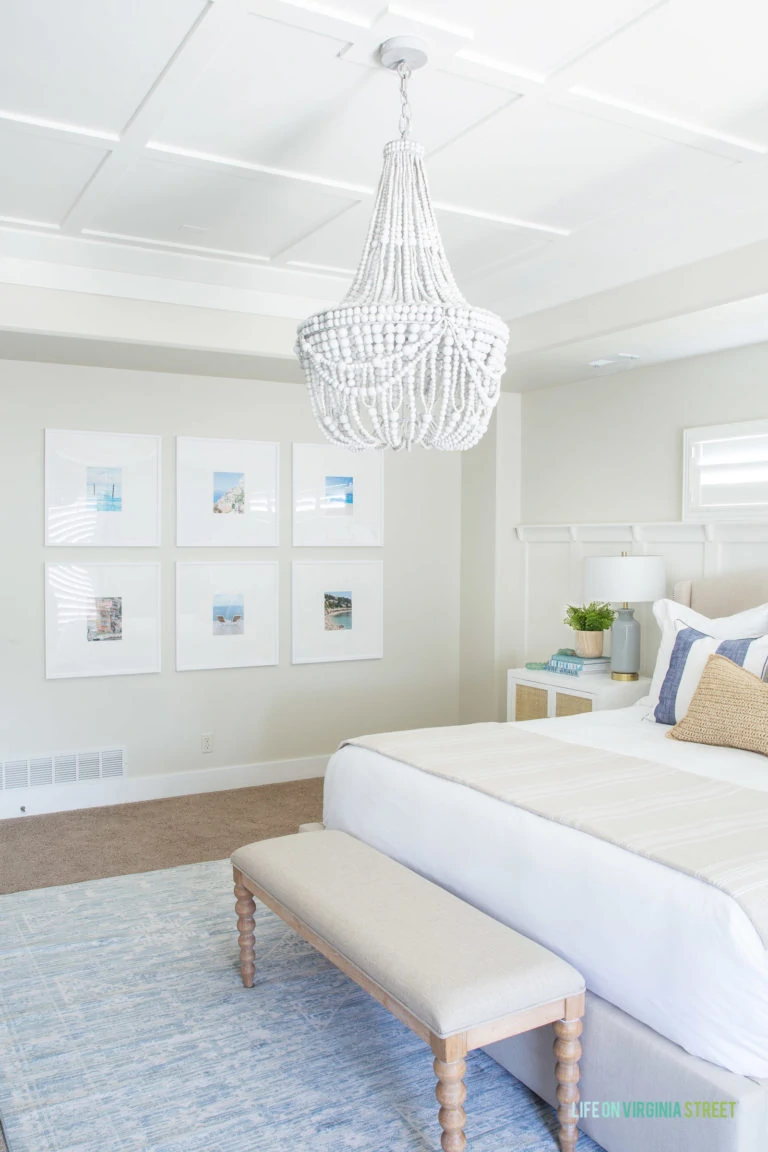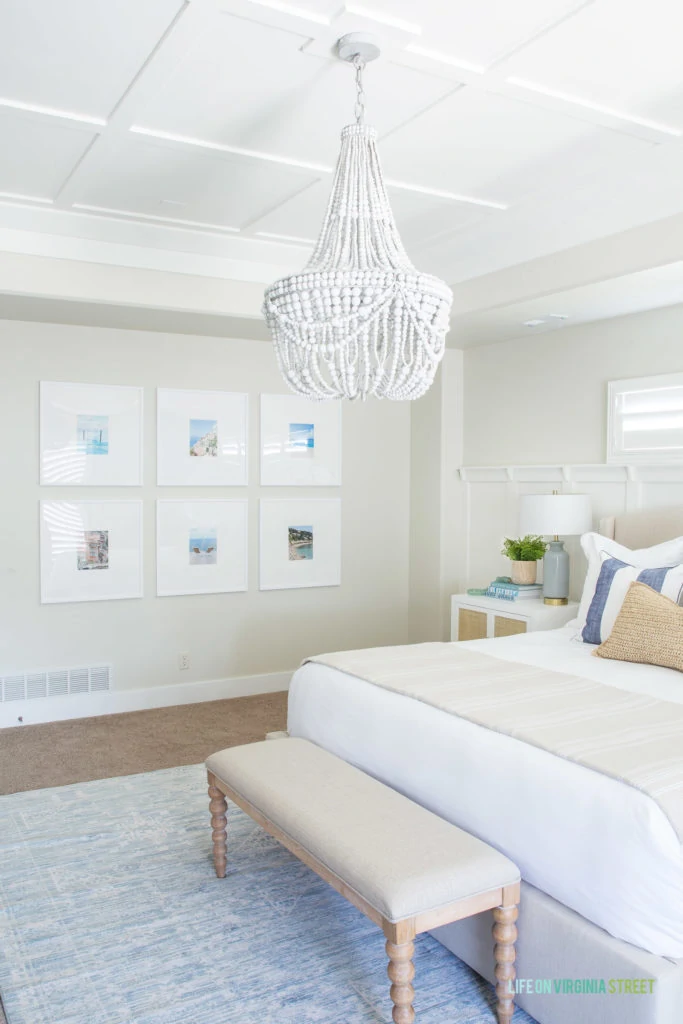 I ended up using these USB lamps in the space. They were a great budget-friendly option that looked similar to the ones on my initial design board!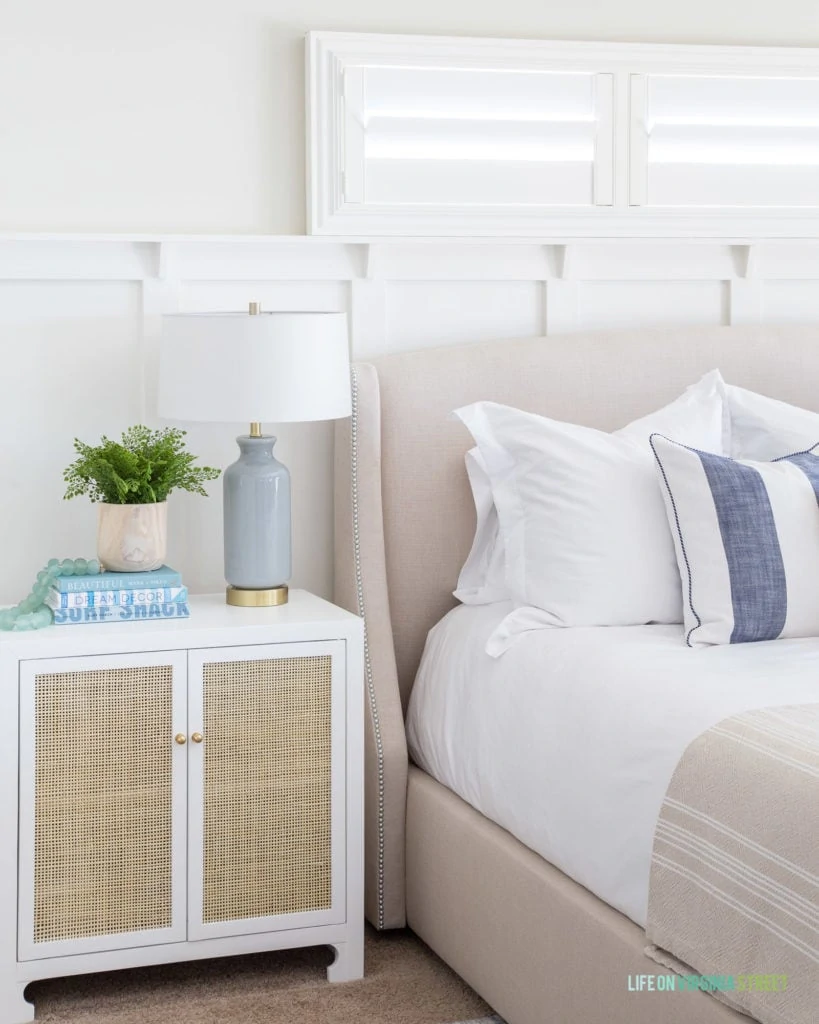 On the nightstands, I layered in different textures and earthy colors to stay in line with the overall theme. I recently started a seaglass collection and it's fun to have additional memories from favorite beaches within reach!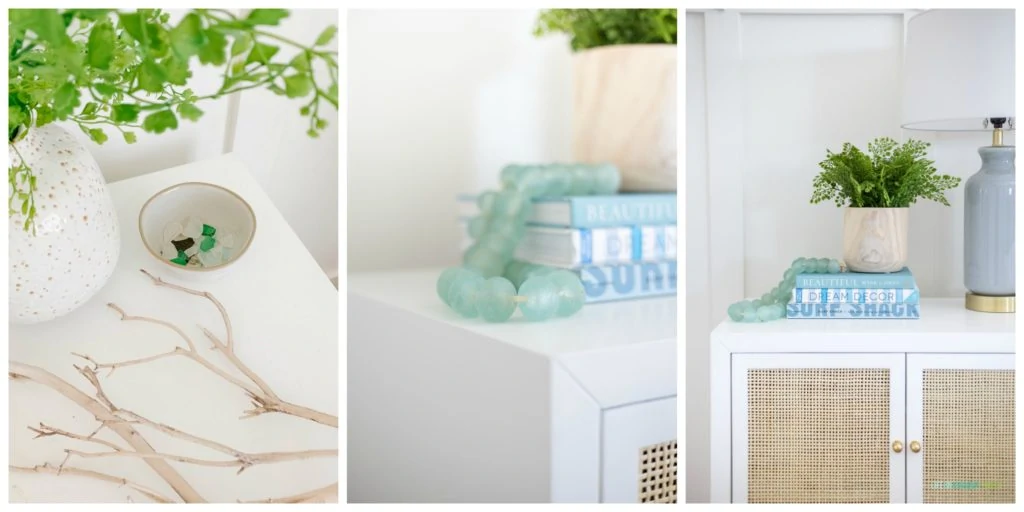 I layered the bedding with a natural woven pillow mixed with a striped version, both of which we've used in other rooms but I love them just as much here! The color palette is so serene and perfect for a bedroom! In the summer months, we remove the extra quilt at the end of our bed, and I usually add a lightweight blanket like this striped blanket if we need extra weight.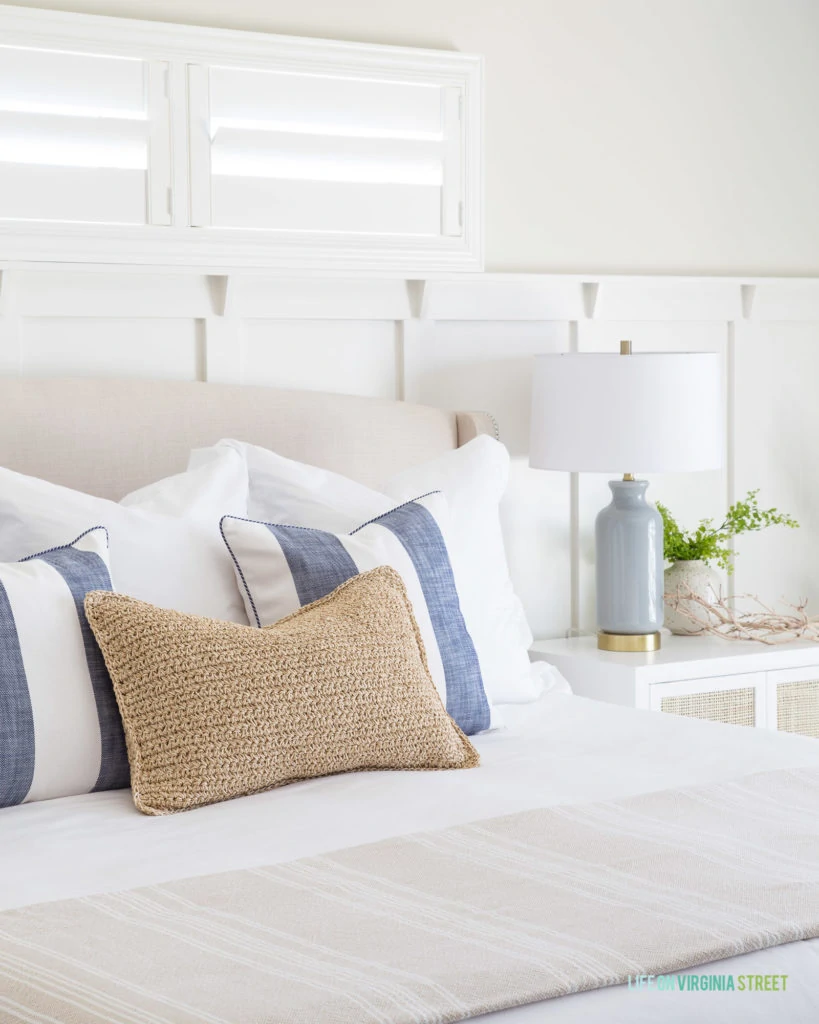 As mentioned, we still haven't found a dresser we love for the space so hopefully sometime later this year we can upgrade. For now, I layered some batik style art and a faux topiary to break up all the dark brown. You can find the larger version of the artwork here and the smaller version here. I love this new reflection in the mirror!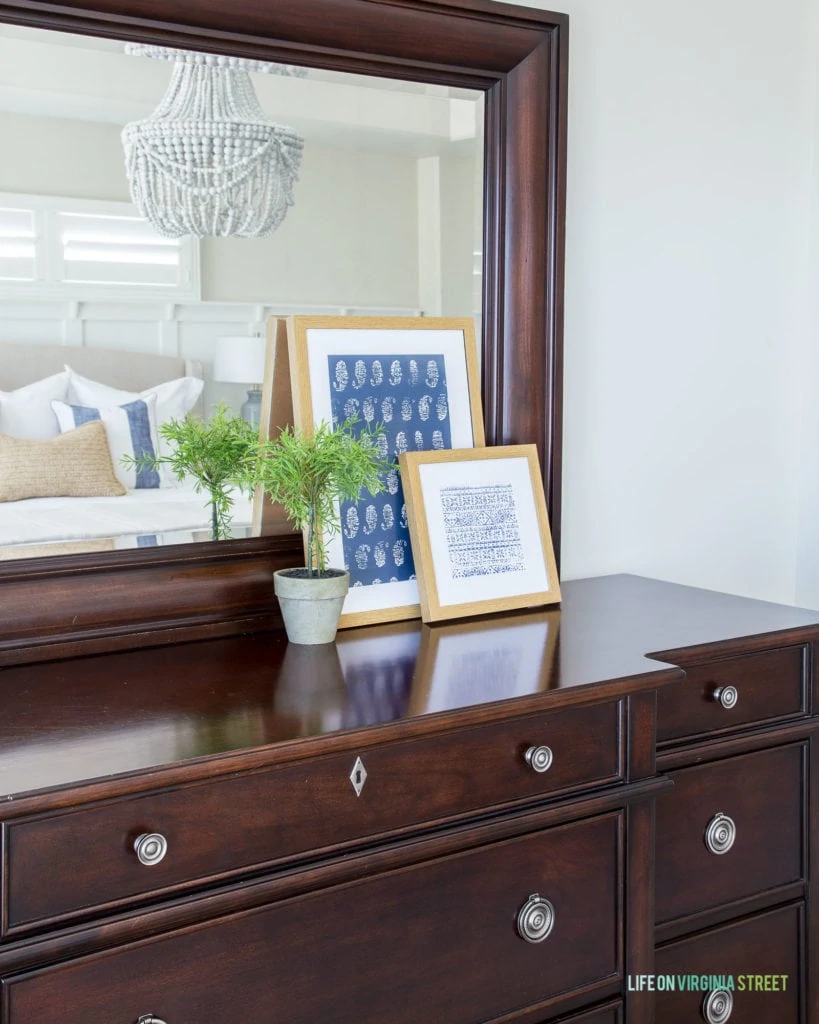 In an effort to ditch our prior unfinished drapes, I re-used these striped drapes that we already had. They are a bit long for our bedroom but I actually like the pooled effect. I opted to go with a full-length brushed brass curtain rod so that the drapes are now functional. I love how chunky the coordinating curtain rings are! Our curtain rod is the 120-170″ length, which is on major clearance right now in the brushed brass finish I chose.
The faux palm tree is a great alternative if you have crazy cats like we do that eat everything green in site!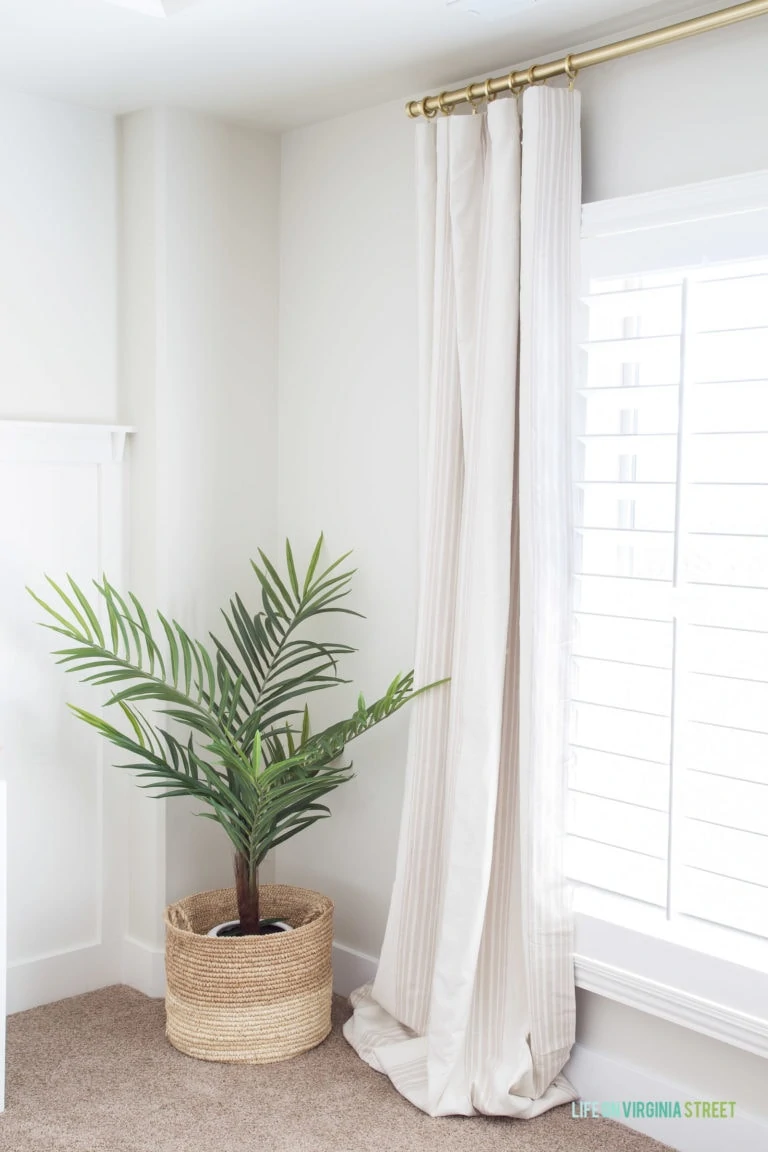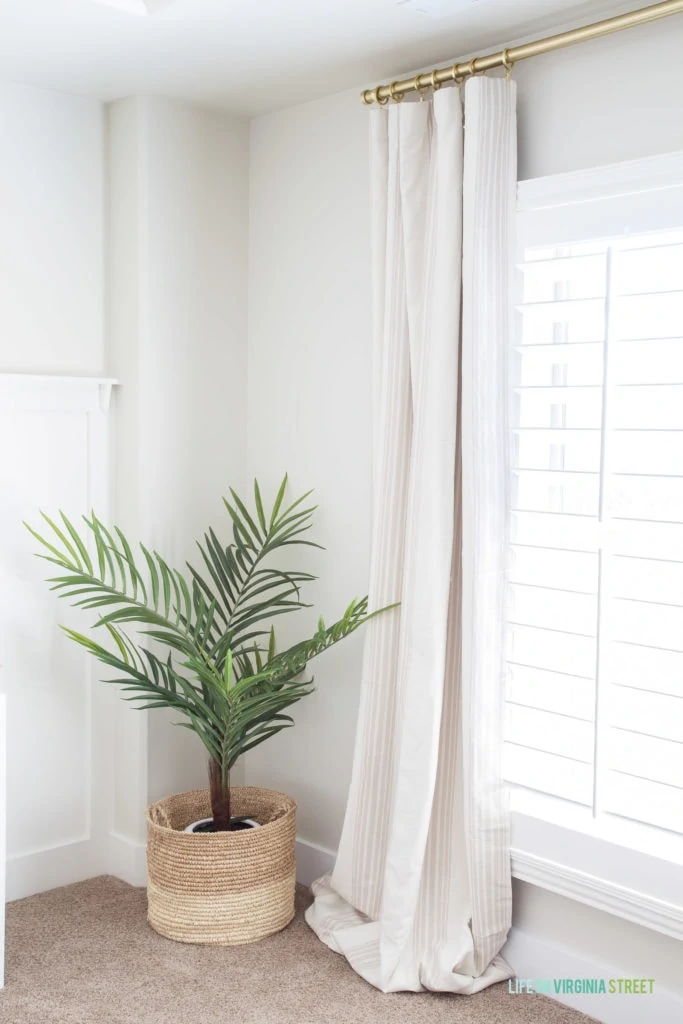 And now for a little budget breakdown to see just how I used the $1,000 allowance! Thankfully we had a few months to order everything so I was able to hold out on the big ticket items until they were on major sales! Adding in trade discounts and cash back rewards on a few items, as well, saved quite a bit. I've rounded everything up to the nearest whole dollar (including tax) for simplicity's sake.
I was able to "shop" our house for many of the items like the drapes, pillows, lamps, etc. So, my total budget came in at $992. Thankfully, we had a lot of leftover white paint from other projects, so I only had to buy the paint for the walls (and there was a rebate with it)!
I'm so excited to now have a master bedroom that reflects our personalities and styles. I also love the much more neutral foundation so we can easily change up textiles down the road. I hope you all loved this natural and organic bedroom makeover as much as we do!
HOW TO VOTE!
Now here's where you guys come in. You may recall in my first post about this project that there is a lot at stake here for charity! You have the chance to vote once daily if you love my project, and if my project wins, FrogTape® will be giving $10,000 to charity of my choice – Orphan Grain Train! Voting is now open, and I would love your vote to help earn money for this very worthwhile cause! You can VOTE HERE (remember, you can do it once daily)! Plus, each time you vote between now and June 14th, you are entered to win a $1,000 gift card!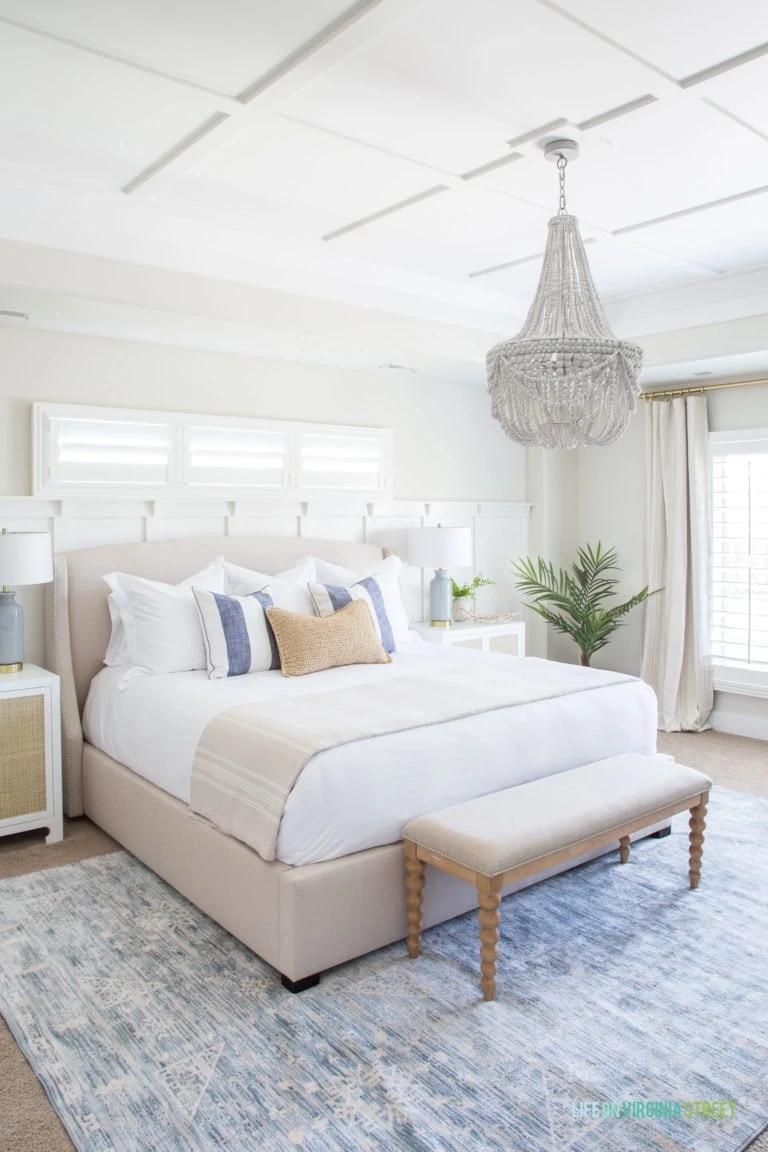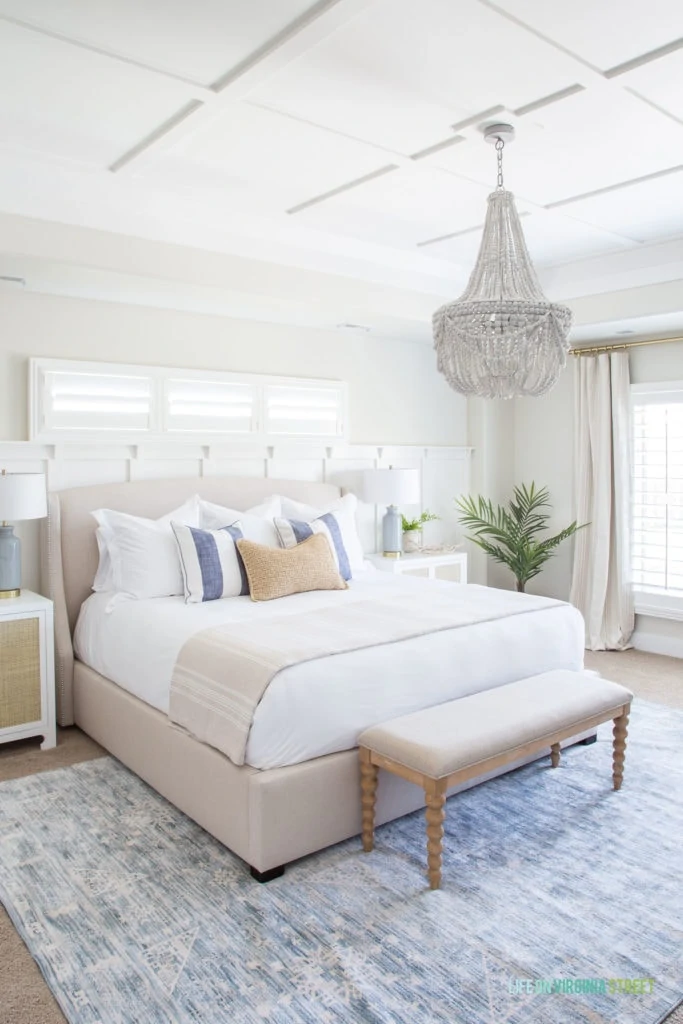 You can get the look of this entire makeover by clicking any of the images below for more information on each item.


If you would like to follow along on more of my home decor, DIY, lifestyle, travel and other posts, I'd love to have you follow me on any of the following:
Pinterest | Instagram | Facebook | Twitter 
disclosure: some affiliate links used