A Christmas Tree Collar is a great alternative to a Christmas tree skirt, especially if you have pets or small children! See how stylish these tree collars can be and find inspiration and the best options available today!
You may have noticed I have loved using a Christmas tree collar with our trees over the years. Today I'm sharing more than 20 Christmas tree collar ideas as well as my top picks of those available for sale today! I realize I'm sharing them a bit early in the season, but I feel like these are easier to have in place before you set up your tree. I learned the hard way this year 😉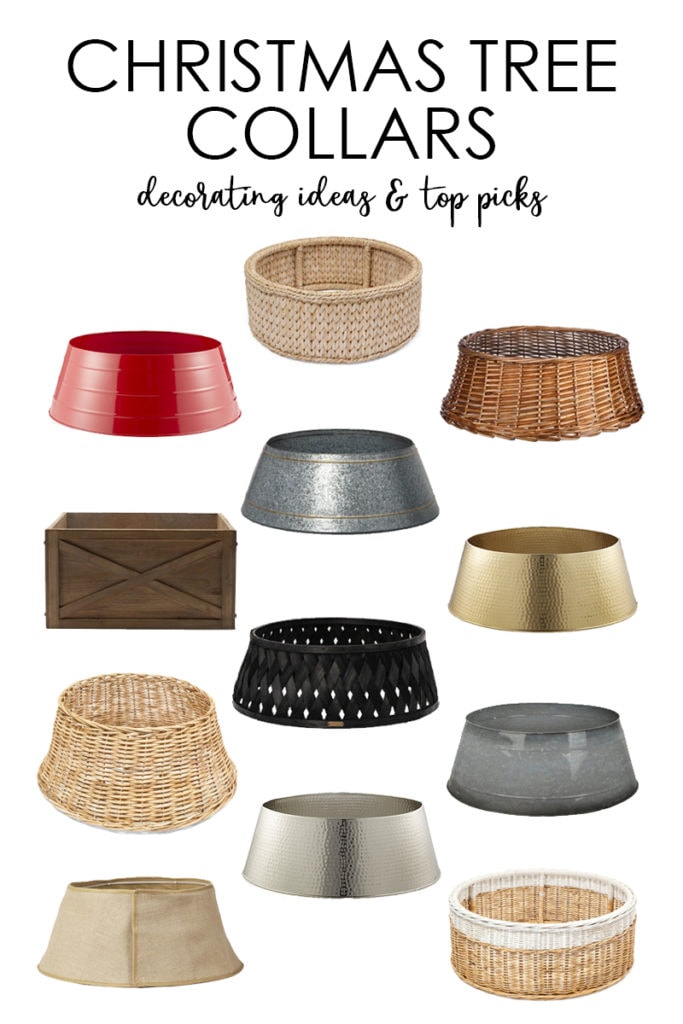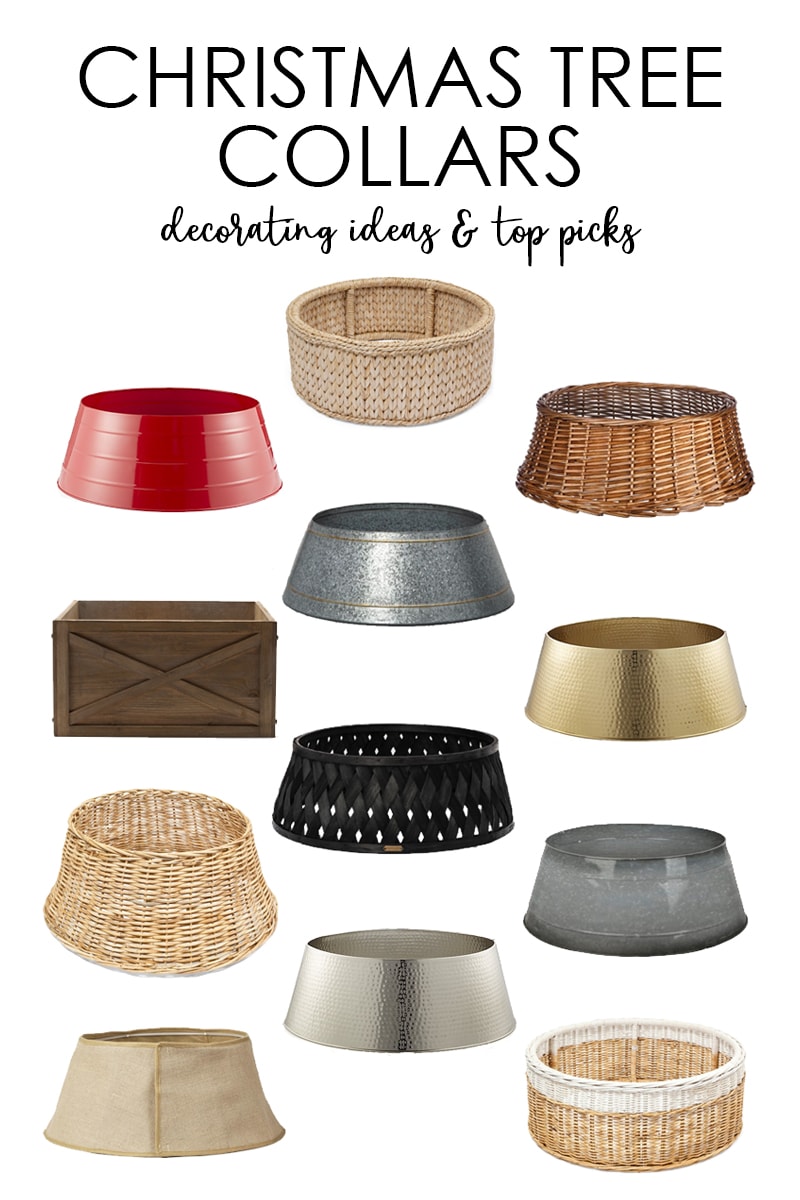 All of the above tree collars are linked further below in the post.
This post contains affiliate links for your shopping convenience. Click here to read my full disclosure policy.
What is A Tree Collar?
If you're not familiar with what a tree collar is, they basically take the place of a Christmas tree skirt and have a much more polished and streamlined look. For us in particular, it works out well because it helps keeps our cats out from under the tree. This also helps prevent them from attacking the Christmas tree skirt on a daily basis. I also love the look visually. It's such a fun alternative to a Christmas tree skirt and can completely change the look of your Christmas tree!
Christmas Tree Collar Ideas
Before we get to my top Christmas tree collar picks, let's take a look at a few examples of them in a room so you can see how cute they are! Last Christmas, I used this woven Christmas tree collar under the tree in our dining room. It has since sold out, but I found several similar woven tree collar options below.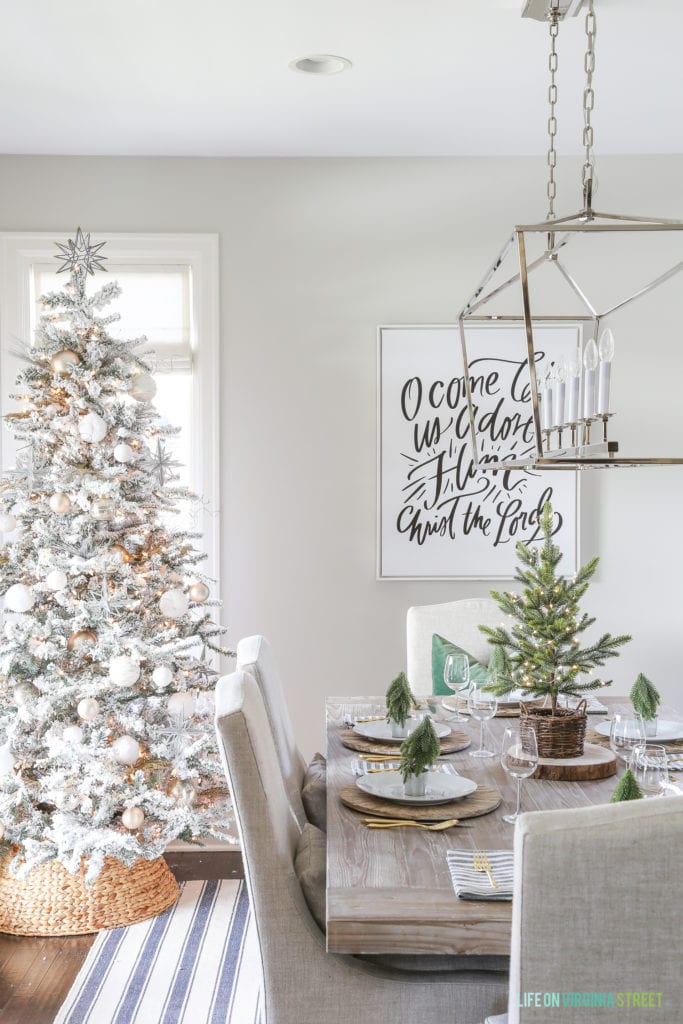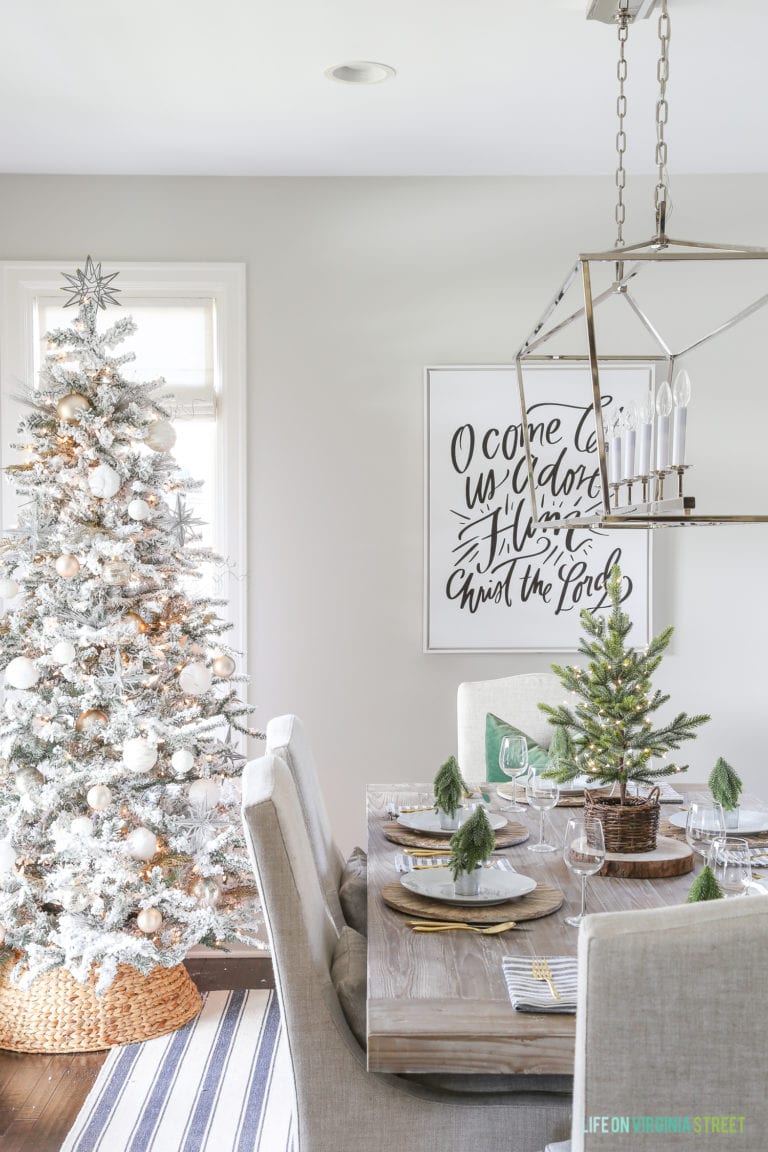 Flocked Christmas Tree | Woven Christmas Tree Collar (similar here) | Canvas Art | Chandelier (knock-off here) | Dining Table | Dining Chairs | Chargers | Potted Tree (similar) | Rug | Velvet Pillow Cover
In our living room last year, I used this beaded tree collar and it was equally as beautiful! This is the best photo I have of it, but I loved that beads added a touch of sparkle under the tree.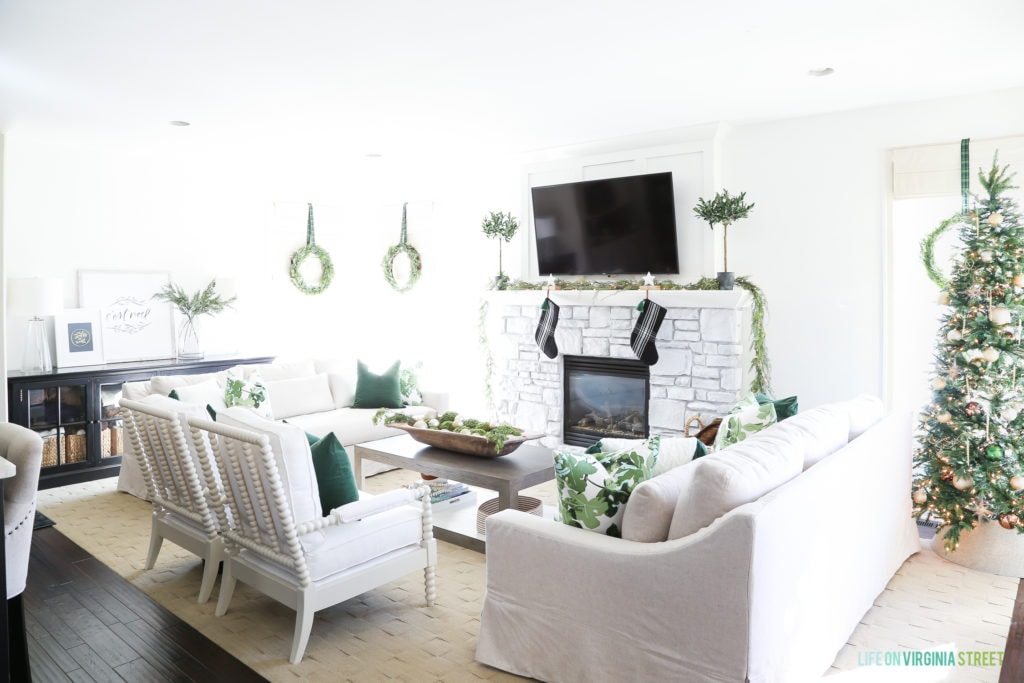 Sofas | Spindle Chairs | Coffee Table | Dough Bowl | Lamps | Beaded Christmas Tree Collar | Green Velvet Pillows | Fig Leaf Pillows
Favorite Tree Collars for Your Christmas Tree
Before you order a Christmas tree stand collar, you'll want to ensure that you order one that is large enough to accommodate the base of your Christmas tree stand. In most situations, you shouldn't have any issues (unless perhaps you have an unusually tall tree). But I want to point that out so you don't order one that won't fit your tree! Since it's a collar, if you place your Christmas tree stand on the floor (without the tree attached), you should be able to slip the collar over and then assemble the tree. So, the base of the tree shouldn't be wider than the base of your collar.
Following are holiday tree collar ideas that are currently in stock at various retailers! Simply click any of the images below (you may have to double-tap on mobile) and you'll be taken to the product details. Many in the graphic above have sold out, so I've linked to some still available below and will continue to add to the list.

Are you a fan of tree collars paired with a Christmas tree? If so, hopefully you found one you love!
If you would like to follow along on more of my home decor, DIY, lifestyle, travel and other posts, I'd love to have you follow me on any of the following:
Pinterest | Instagram | Facebook | Twitter
disclosure: some affiliate links used