Good morning! I hope you all had a nice weekend. Here's a bit of what we've been up to the past week!
This post contains affiliate links for your shopping convenience. You can read my full disclosure policy here.
Home Projects & Updates
The builder at our new house removed the wrong tile that had been installed, repaired the drywall and floor boards, and has started to install the new tile. We're using a very simple white subway tile (one of the few options to choose from) and I prefer it so much more than the large 12×24 tiles that feel more like floor tile. They hadn't finished installing down around the tub or cutting around the niche, but here's a peek at how it looks. The grout will be very light, so not as much contrast as you're seeing here. I'm guessing they'll wrap up most of the tile this week!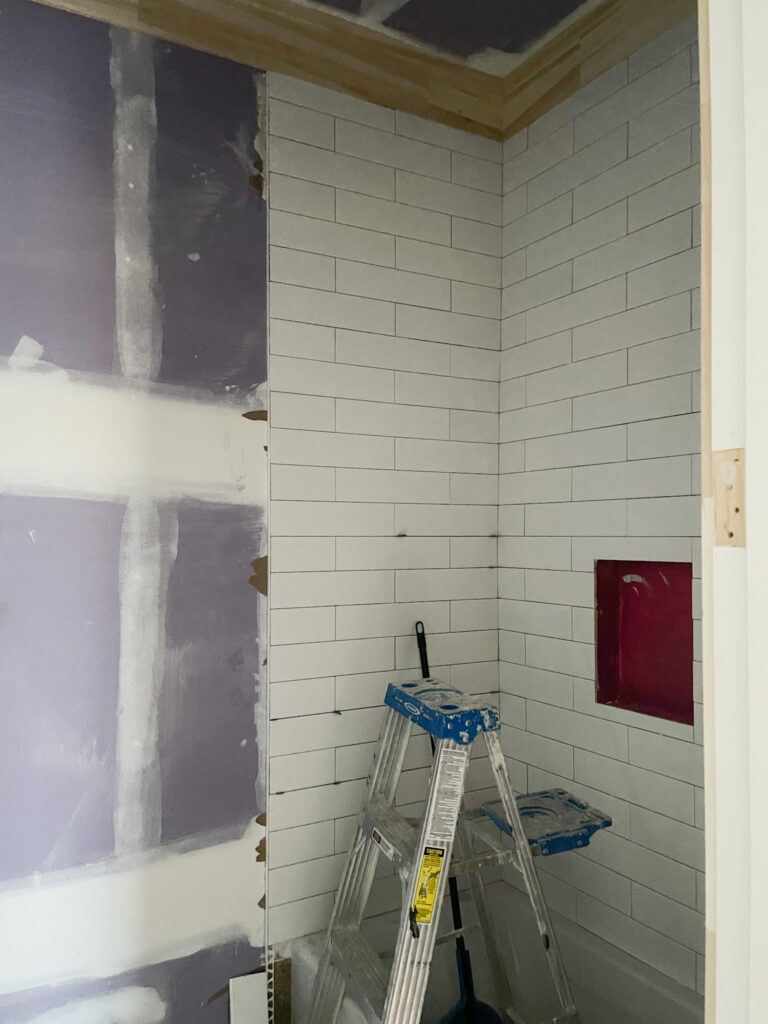 On the exterior, there were a few places they needed to wrap up the board and batten. The area around the front door still needed to be completed so that was added this week. They needed to caulk and fill still, but then they should be able to paint this area fairly quickly!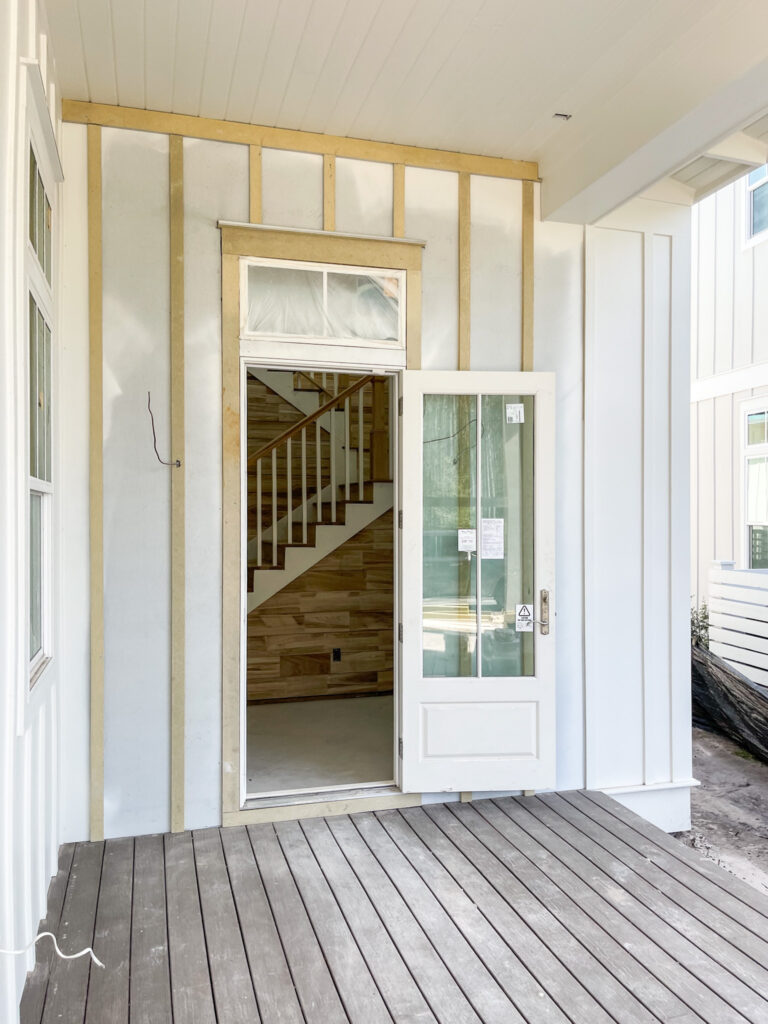 They tend to work Saturdays too, so sometimes when we pop over on a Sunday, they've done even more work since our Friday check-in. Our dumpster has been moved, and they've started to frame out the driveway and path to the front door! They also built up the frame for the step to our side door underneath the carport. So, I'm guessing we'll have a driveway this week or next! That will definitely help with our visits and tracking a heck of a lot less sand into the house!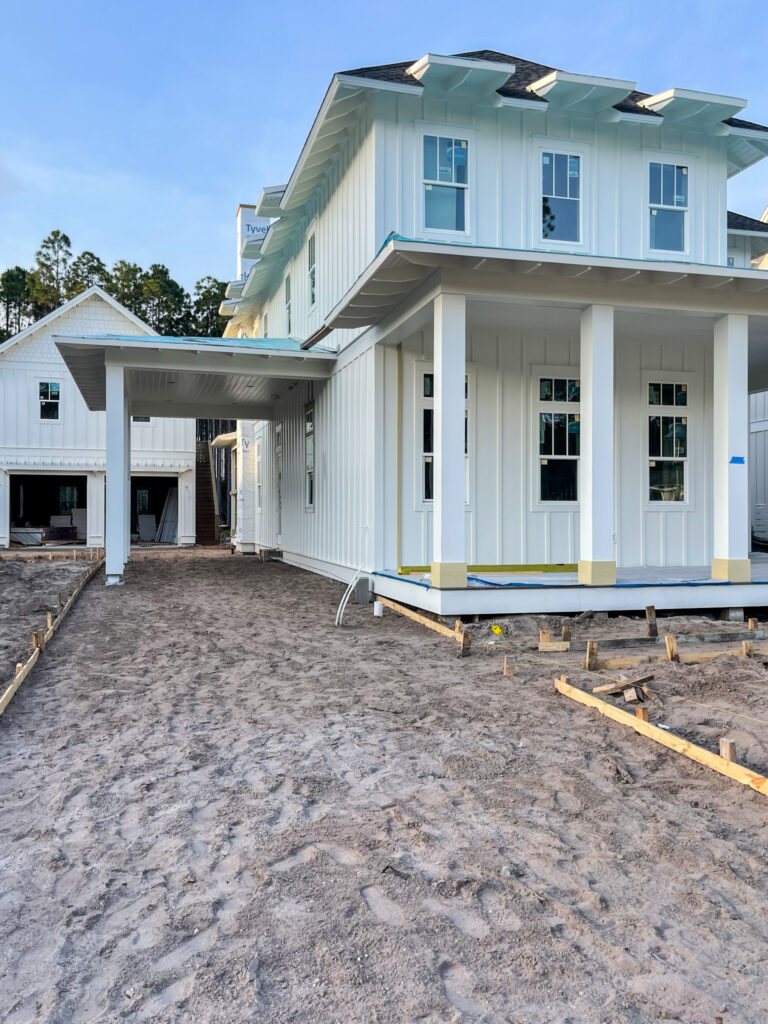 Over the past month or so, I've been ordering wallpaper and fabric samples. If I could, I would literally use every single one of these somewhere! I get asked all the time about the rug you can see on the floor, so I'll link it here for inquiring minds! Ours is the blue color and we've been super happy with it. It's wool so it shed a bit early on, but clean-up is a dream with it.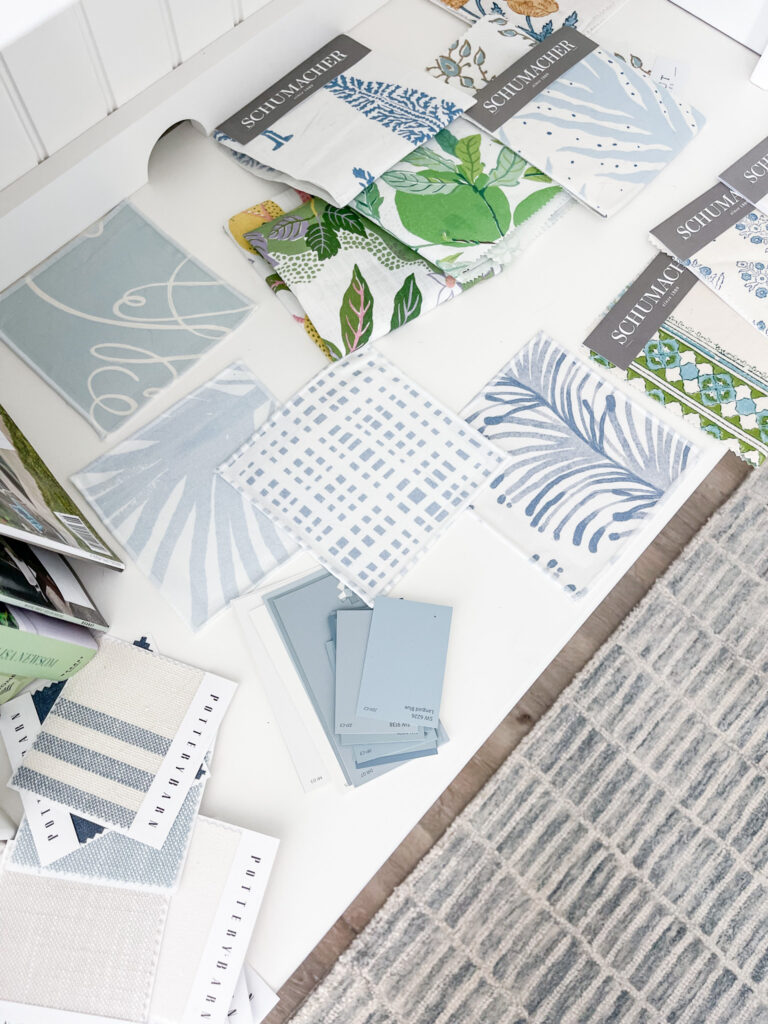 These colors and prints just make me so happy! I'm happy to provide sources if there are any you see that you have questions on. Many of the wallpapers can be found in this post on colorful coastal wallpaper.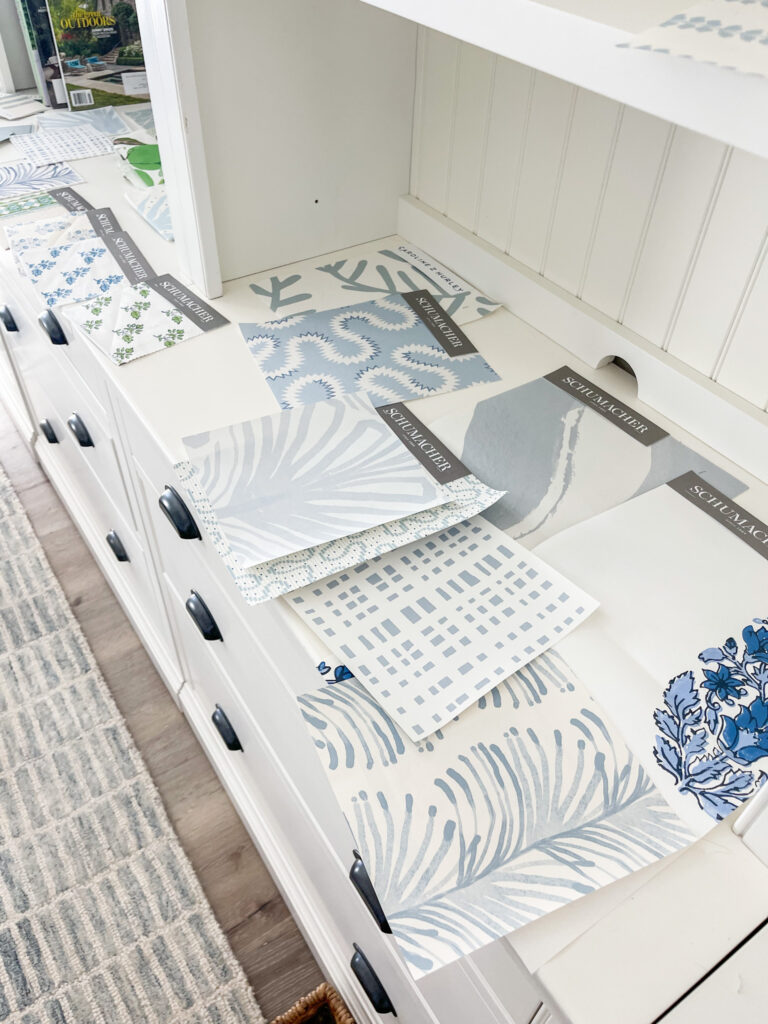 It's fun to be at the design stage of this whole project, where things don't feel quite as abstract any longer. We're definitely getting excited about the completion and big move over the next few months!
Top Sellers Of The Week
Following are the top sellers from last week across all of my channels. Links to each item are below the graphic.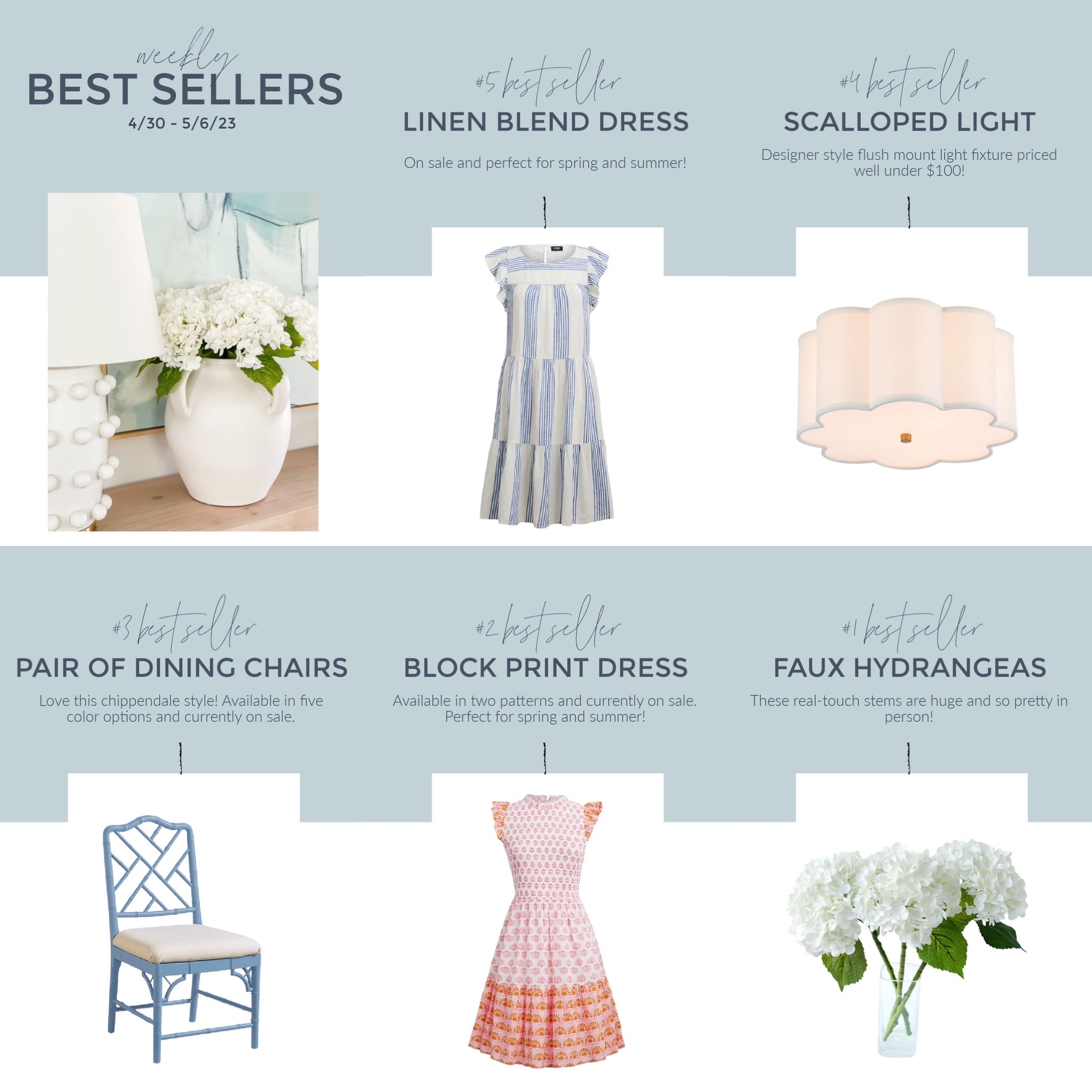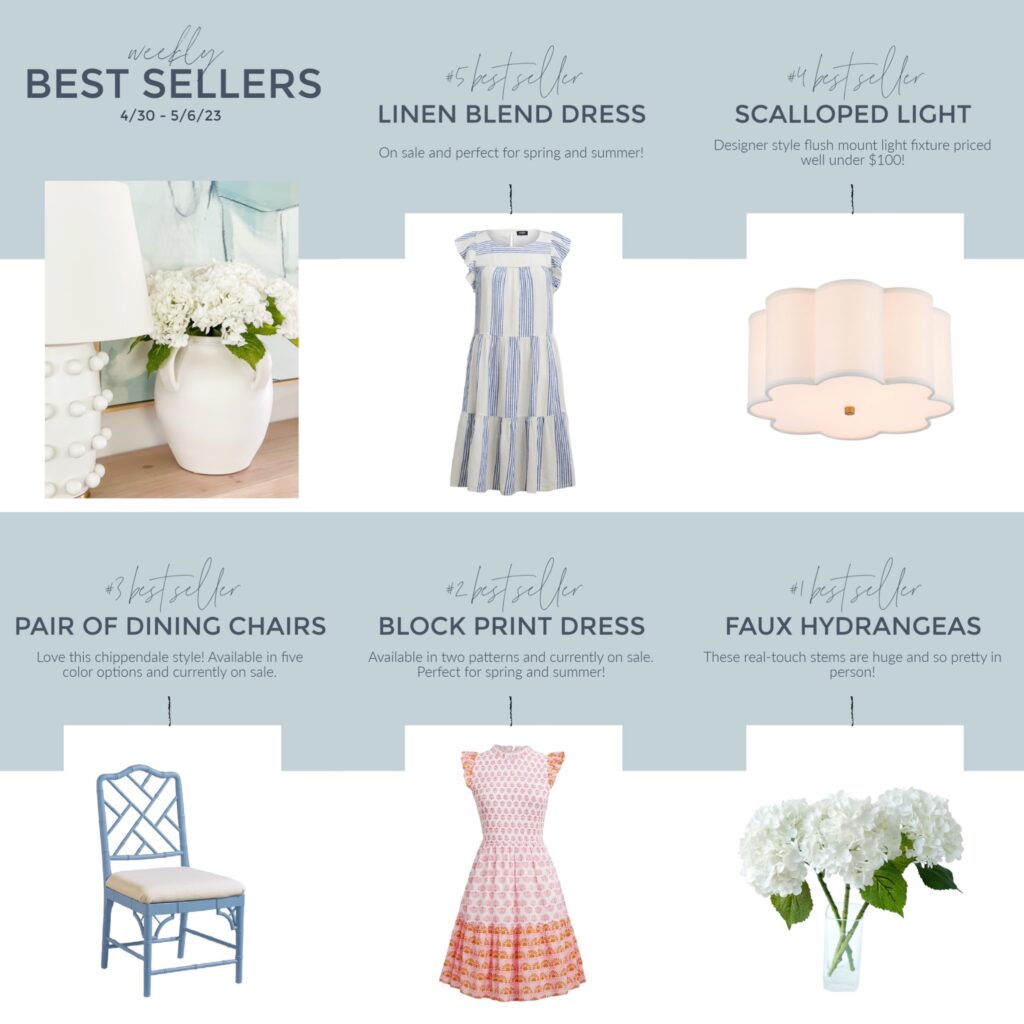 BEST SELLERS (each number is clickable): #5 | #4 | #3 | #2 | #1
In Case You Missed It
Following are the posts I shared over the past week, in case you missed some days!
Following are the most read blog posts of last week (excluding any of the new posts already mentioned above). Many times this includes old posts that are popular on Google or Pinterest.
Around Town & For Fun
Last week was a bit of a blur, with everything going on with Bailey.
My friend Kelly Nan and her family were in town all week, and I was so excited to get to spend some time with them! Wednesday I met all of them for lunch in Rosemary Beach at Cowgirl Kitchen. It was the first time I got to meet Kelley's mom and her sweet daughter Eliza! They were both exactly like I envisioned them and were so wonderful.
How cute is our little town hall?! If you want to see more of Rosemary Beach, you can watch this short video I made a few weeks back when my parents were in town. We love the European vibes!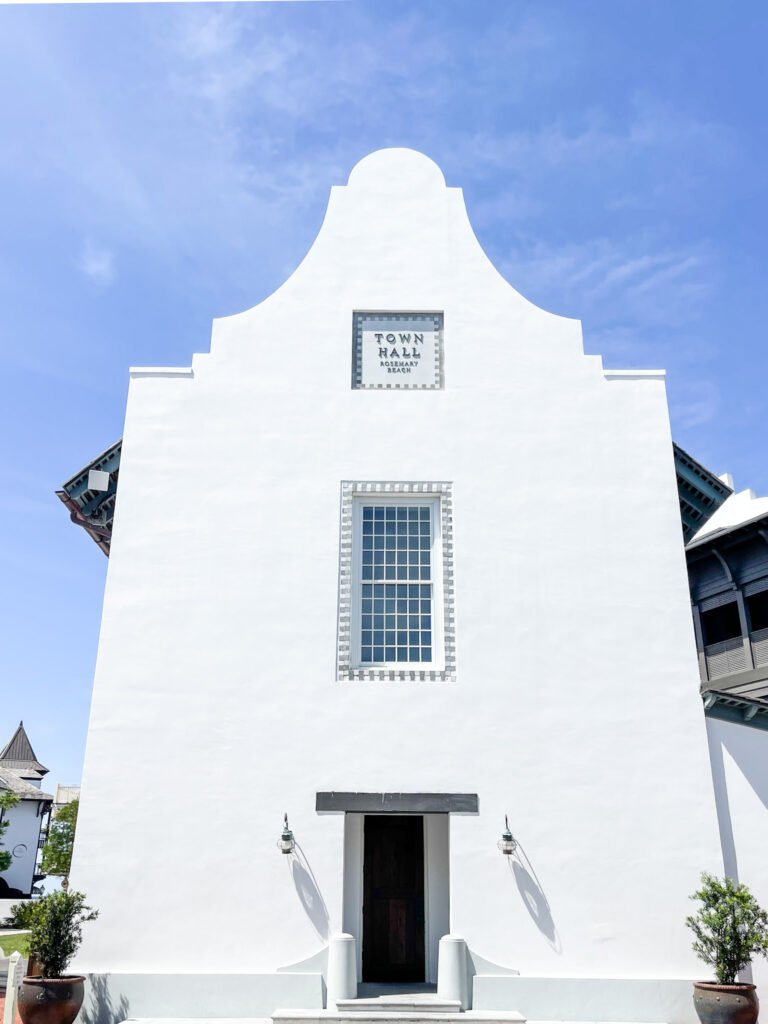 Kelley's mom said this house in Rosemary Beach looked like a "Life On Virginia Street" house and I agreed. Loved the color combo!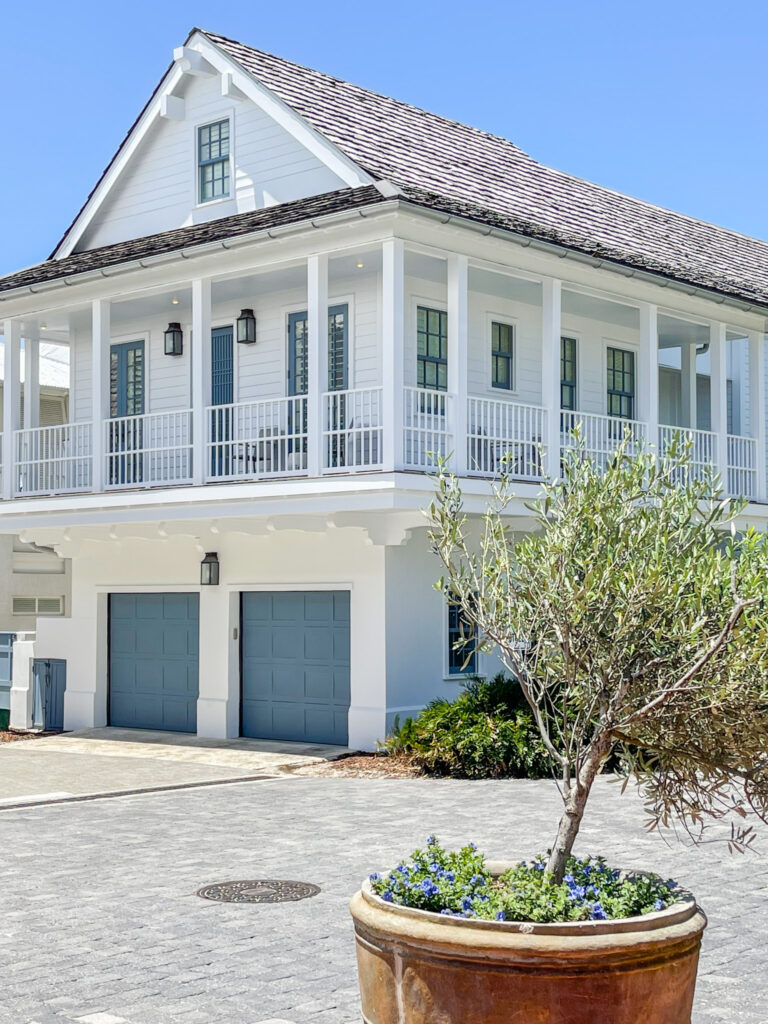 Thursday night, Kelley's mom stayed back with Eliza, and we went to dinner with our husbands. Dave and I had met five or so years ago (we couldn't believe it had been that long) when our other friend Kris and I visited them for a long weekend. We had another amazing dinner at Old Florida Fish House. Side note: I'm so in love with this ruffle linen top. If it goes on sale again, I'll be ordering more colors. It fits true to size with a slightly loose, but still polished, fit (I'm in the size 12).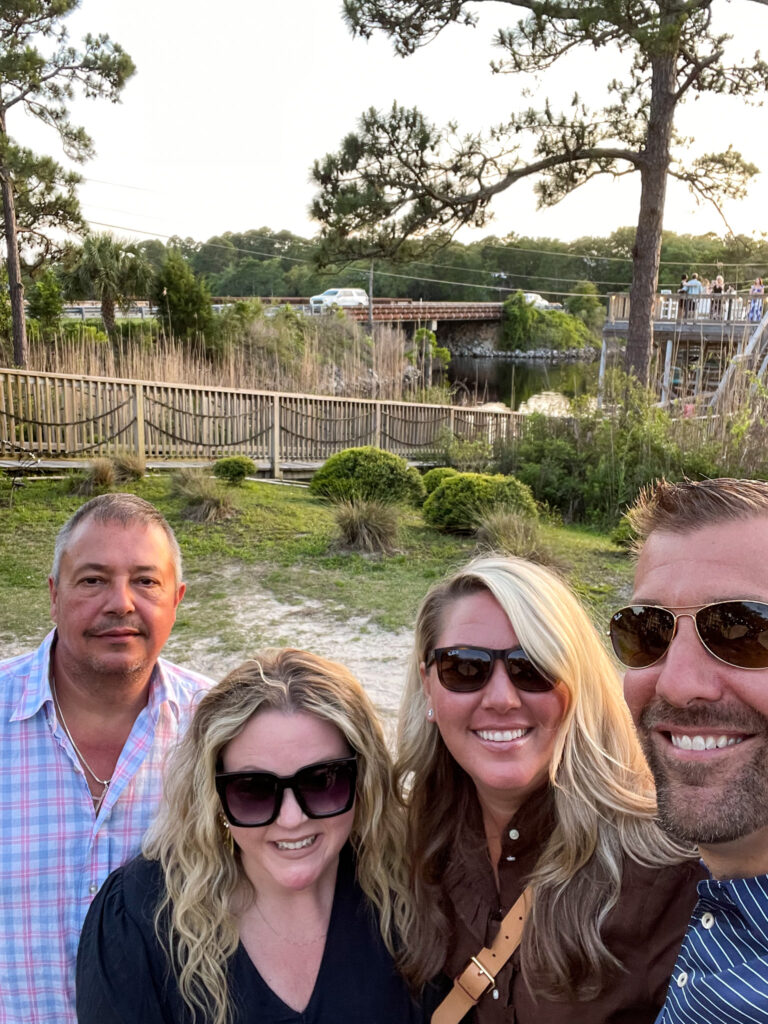 We then grabbed a drink in Rosemary Beach to end the night. It was so great to spend time with them and catch up with Kelley in person! It had been a year and a half since I last saw her in person. That last time was actually in Rosemary Beach for Kris' 50th birthday celebration! That was before we even decided to move down here!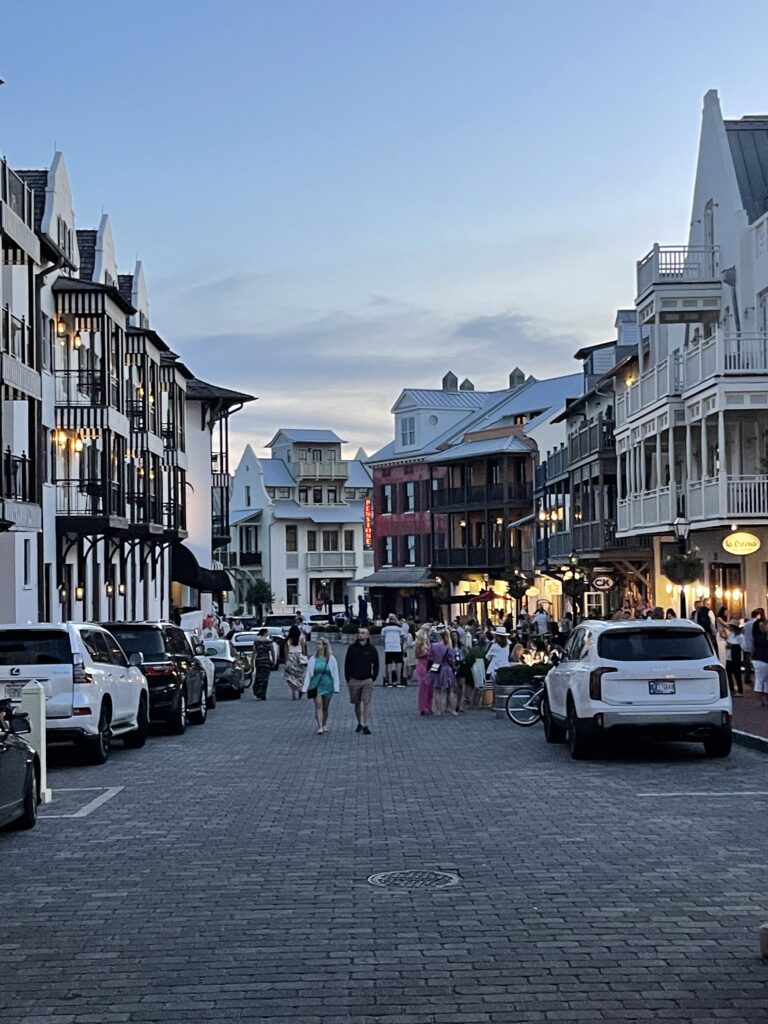 Friday we hit the free neighborhood golf course with our friends, Chris and Rachel. When we first moved here, we told ourselves we'd golf all the time since it's a free amenity. This was the first time we actually took advantage of it and I'm so glad we did! It's a little par three executive course, so we only did ten holes and were done in about an hour and a half. My kind of golf! Realizing how convenient the whole process was, we've committed to doing it more frequently.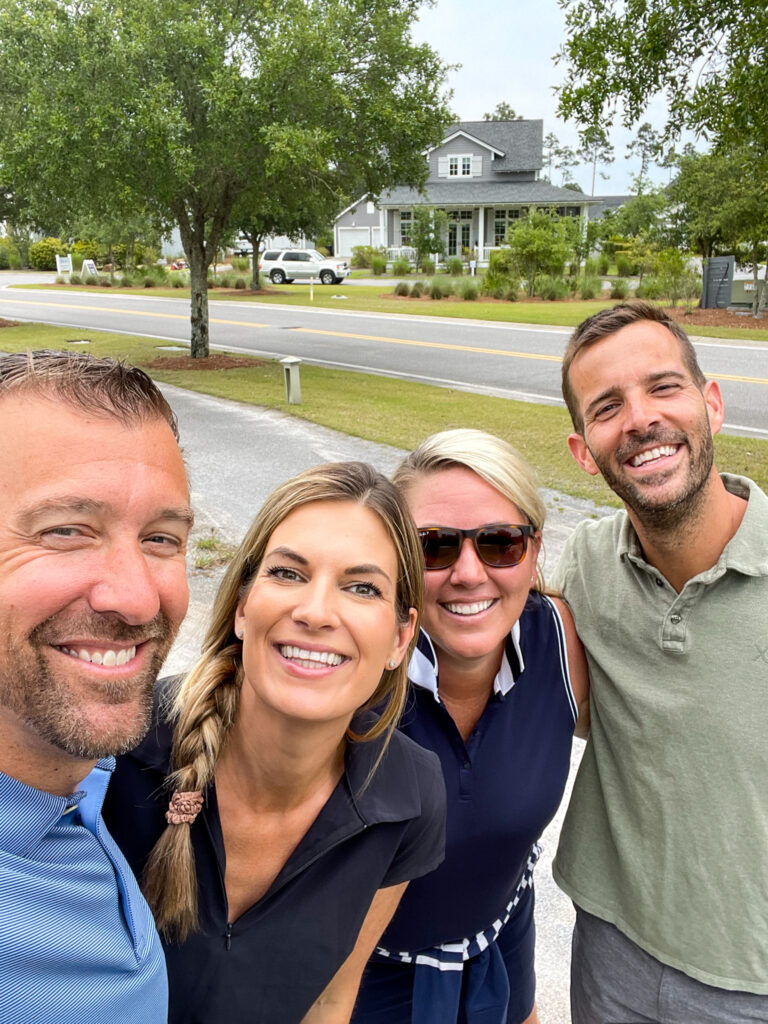 Thank you for all of your sweet words and well wishes for Bailey. She's still having a few residual effects after being in the hospital last weekend, but is still very much her same sweet personality. At the vet's request, we did what's called a glucose curve on her over the weekend. Essentially just tracking her food intake and testing her blood sugar every two hours for a 12 hour window. Unfortunately her numbers were extremely elevated, so I'm sending all the data to the vet this morning. We're hoping we can make further progress this week with her, with some insulin adjustments!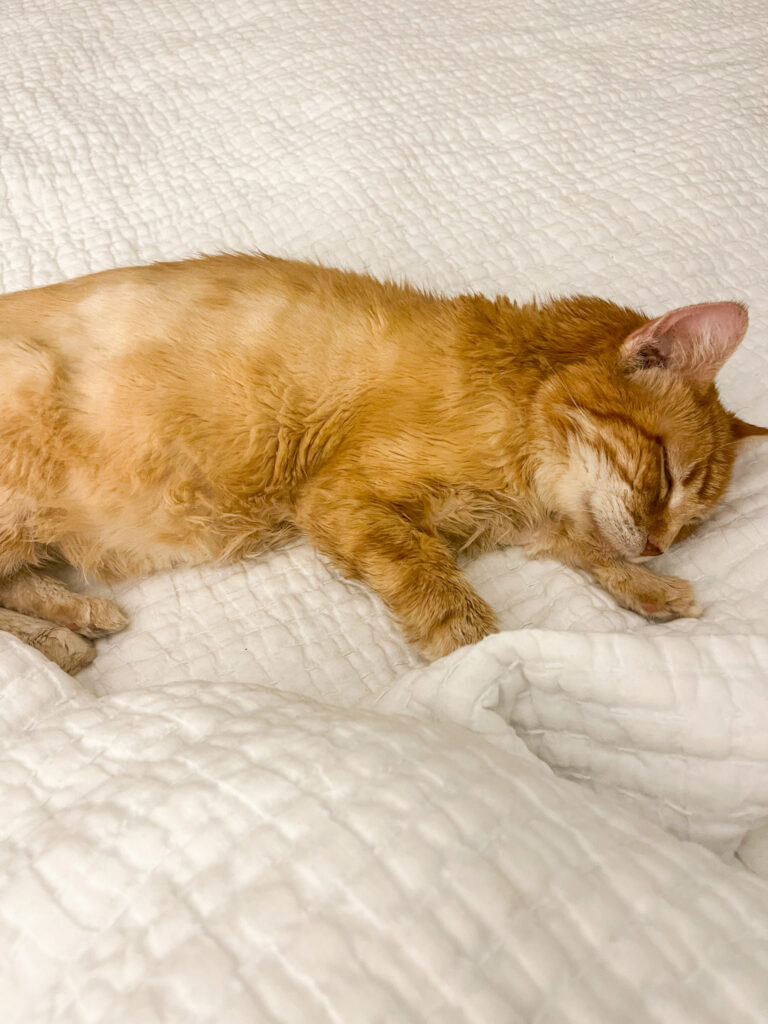 While we were pretty much stuck at home all day Saturday (with the testing intervals for Bailey), we were able to squeeze in some time at the driving range and then a quick lunch. The weather has been absolutely gorgeous, and it was so nice to get outside! Prior to Friday, Kurtis hadn't used his clubs since last October when our brother-in-law was here right after our move, so I was able to show him a trick or two since my lessons 😉 In the background below, you can see the side of a hotel they're working on building at Camp Creek. It will be a small boutique hotel (one of the few near 30A) and will have some new restaurants on the lower level, as well!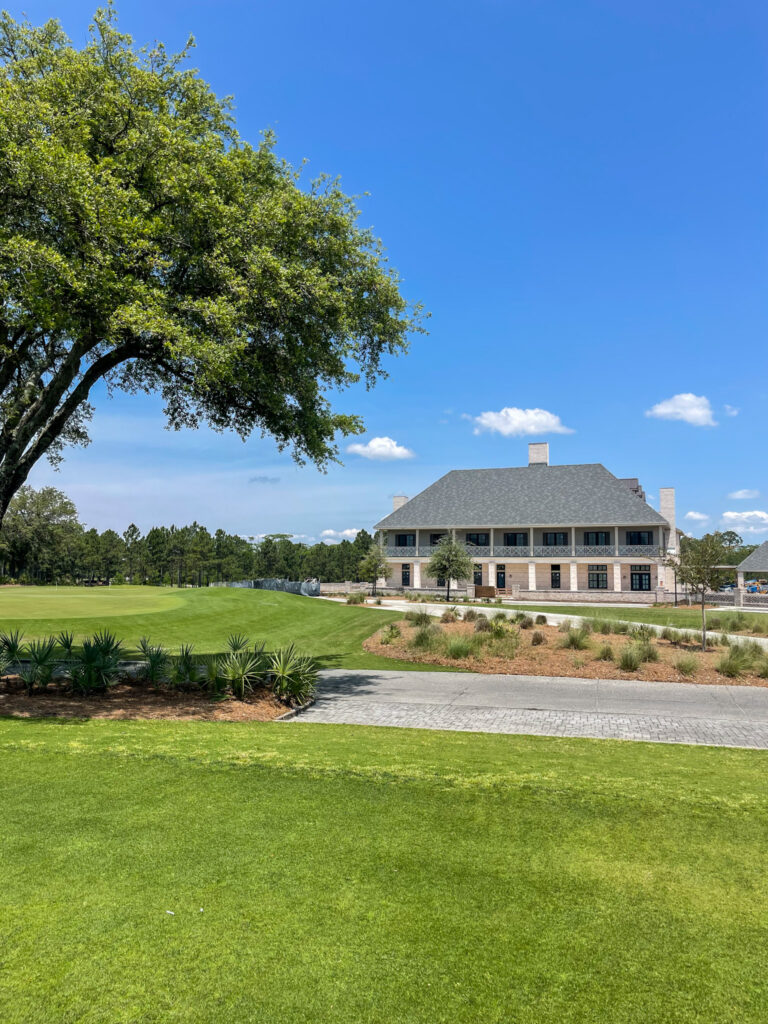 Sunday, Kurtis and I went to church in Panama City Beach again and then had lunch afterwards. That afternoon, our friends invited us to meet them for some sun time. Their boys convinced me to try the new waterslide. I was convinced I could make it down and out without my hair getting wet. Turns out, I basically sunk to the bottom coming out of the chute. Needless to say, my hair was very wet – ha!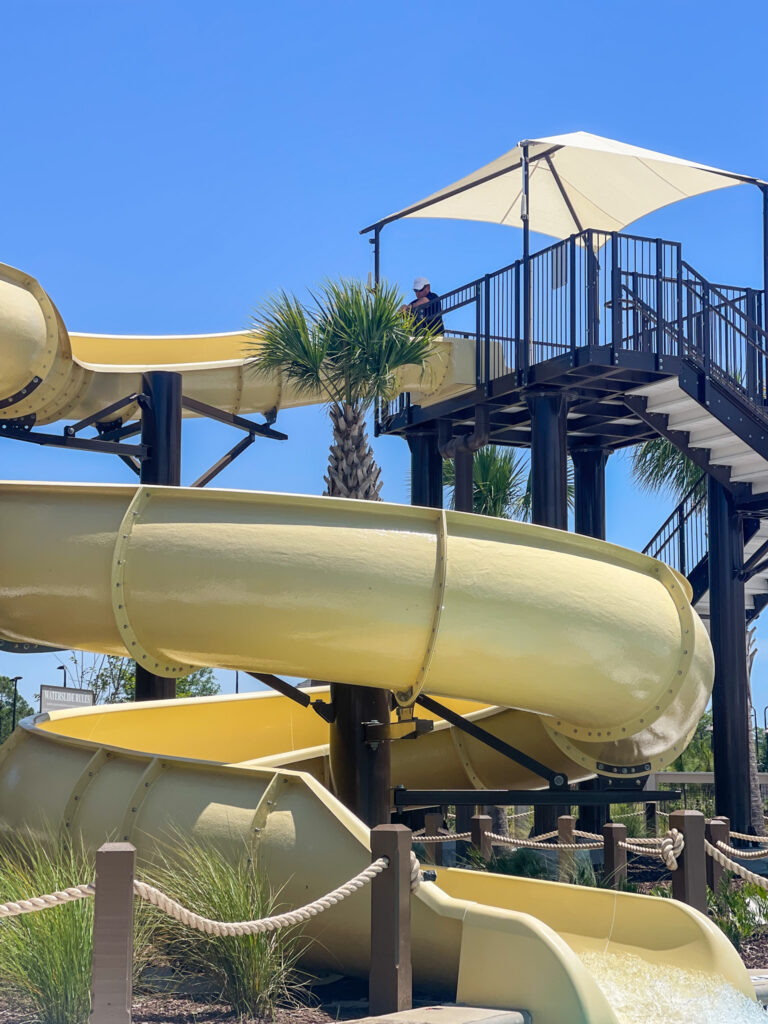 I have a family member in need of some unexpected surgery next week, so I will be traveling this weekend and gone most of next week to be with them. I mention that only to say I don't know what my posting schedule will look like next week. I'm guessing there will be quite a bit of down time and waiting at the hospital. But if not, I'll be back to posting once I am able.
I hope you all have a great week!
Recent Buys & Sales
Following are some sales from the weekend that have carried over and are still going strong!
If you would like to follow along on more of my home decor, DIY, lifestyle, travel and other posts, I'd love to have you follow me on any of the below channels: