Discussing a wide variety of colorful coastal wallpaper ideas, including how to use them in your home, where to shop, and some of my favorite prints!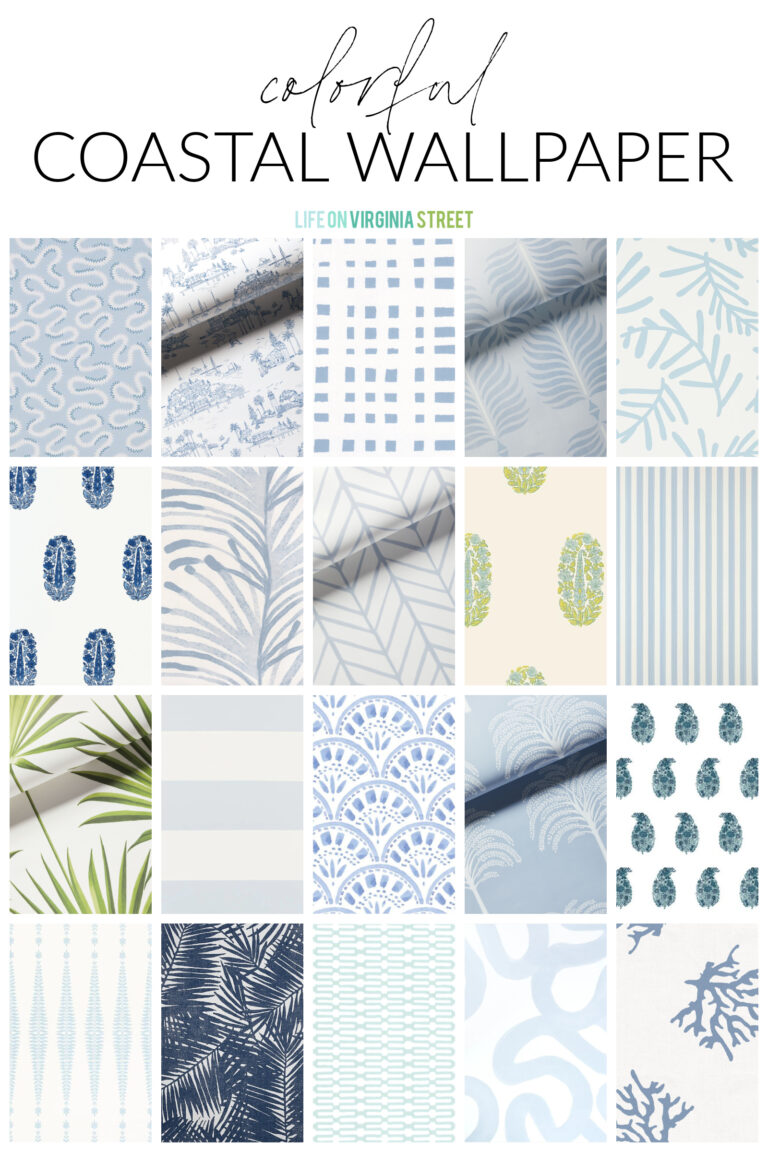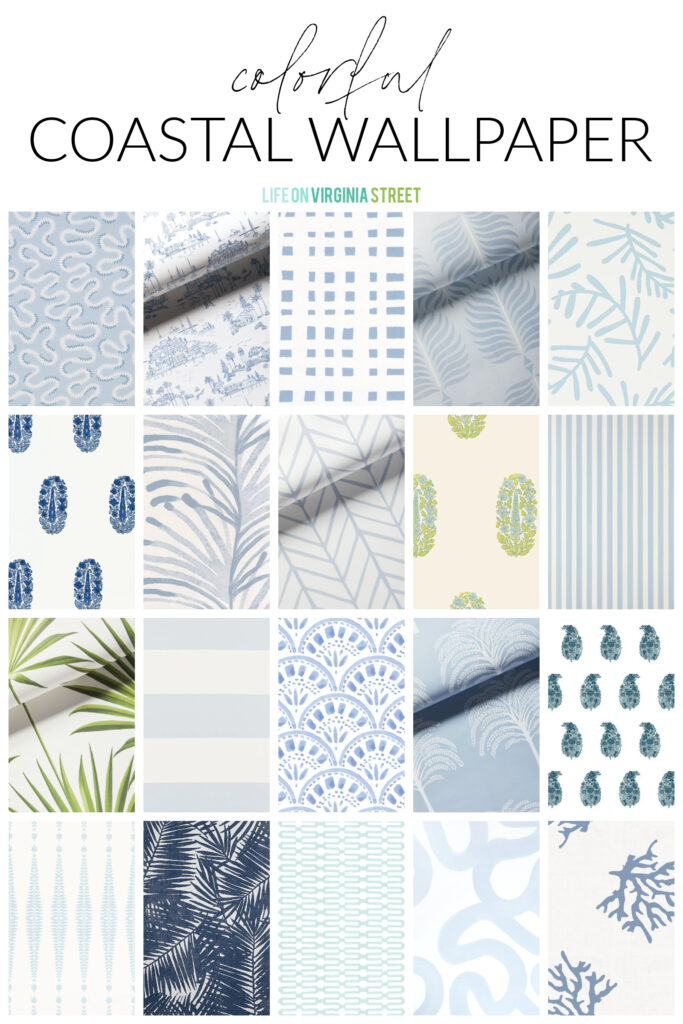 I've mentioned this a few times now, but we plan to use some colorful coastal wallpaper in several spaces in our new build! I've actually wanted to use wallpaper for well over a decade now. In fact, I even wrote a post about it clear back in 2008 about it. But, Kurtis was pretty firm on the fact he didn't want wallpaper. I think at the time, there were so many horror stories going around about the removal process. But, I have a number of friends who have wallpapered (and removed wallpaper) in a number of spaces, and if you prep properly, the removal process doesn't need to be so awful. All that to say, I think I finally have Kurtis on board to try it in a few spaces.
This post contains affiliate links for your shopping convenience. You can read my full disclosure policy here.
Why Wallpaper?
Coastal wallpaper is a great way to bring the beauty of the ocean into your home. With so many different colors and patterns available, you can create a stunning and unique look that reflects your personality and style. One trend that has gained popularity in recent years is colorful coastal wallpaper. Today I'm sharing why this trend is so popular and how you can incorporate it into your home decor. I'll also be sharing some of my favorite finds so far!
Coastal wallpaper has been a popular choice for many years, and for good reason. It's a great way to create a relaxing and calming atmosphere in your home, as well as adding a touch of coastal charm. However, in recent years, there has been a shift towards more colorful coastal wallpaper designs. This trend is all about creating a bold and vibrant look that reflects the energy and excitement of the ocean.
One reason why colorful coastal wallpaper is so popular is that it can add a pop of color to any room. Whether you're looking to create a feature wall or cover an entire room, wallpaper can help to brighten up your space and create a fun and lively atmosphere. It's also a great way to incorporate some of your favorite colors into your home decor, whether you love the bright blues and greens of the ocean, or you prefer warmer shades like orange and yellow found in coral and other sea life. Some popular designs include abstract patterns, floral prints, and geometric shapes, all of which can add a unique and interesting element to your space.
When it comes to incorporating colorful coastal wallpaper into your home decor, there are a few different approaches you can take. One option is to choose a bold and vibrant wallpaper design and use it to create a feature wall. This can be a great way to add a focal point to your room and create a statement piece that really stands out. Alternatively, you can choose a more subtle wallpaper design and use it to create a cohesive look throughout your entire room.
Another way to incorporate colorful coastal wallpaper into your home decor is to use it in unexpected places. For example, you could use it to line the inside of a bookshelf or cabinet, or you could frame it alone or in a series to act as art! This can be a great way to add a touch of personality and style to your home, without going overboard.
Let's jump into a few examples.
Colorful Coastal Wallpaper Ideas
Designers like Kara Miller, Bria Hammel, Grapevine Interiors and many others have really inspired some of the spaces I'm dreaming up in our new home. They do such an incredible job of mixing patterns, in both fabrics and wallpapers, and I'm officially ready to give it a try. Today I'm sharing some of the recent colorful coastal wallpaper finds I've come across. I'm calling them coastal, but I think many of these could work with other decorating styles. I just plan to make them feel even more coastal with the other colors and design elements in the space.
Tap any of the images below to learn more about each of the colorful coastal wallpapers shown. I've selected shades of blue and green, but when you click through, most of these are offered in a variety of color options!

Before committing to any one pattern, I'd recommend ordering a handful of samples to see them in person! I ordered quite a few, and it was amazing how my favorites quickly changed once I saw everything in person.
Where To Buy Coastal Wallpaper
Following are a few favorite shops I found that carry a beautiful selection of colorful coastal wallpaper. Tap each of their names to be taken directly to their wallpaper offerings
Any other places you love to shop for wallpaper?
Additional Colorful Coastal Decor Posts You May Enjoy
Following are even more colorful and/or coastal decorating posts you may enjoy. Tap any of the titles below to be taken directly to the article.
If you would like to follow along on more of my home decor, DIY, lifestyle, travel and other posts, I'd love to have you follow me on any of the below channels: