Sharing a collection of tiny bathroom sinks and vanities that work well when space is tight!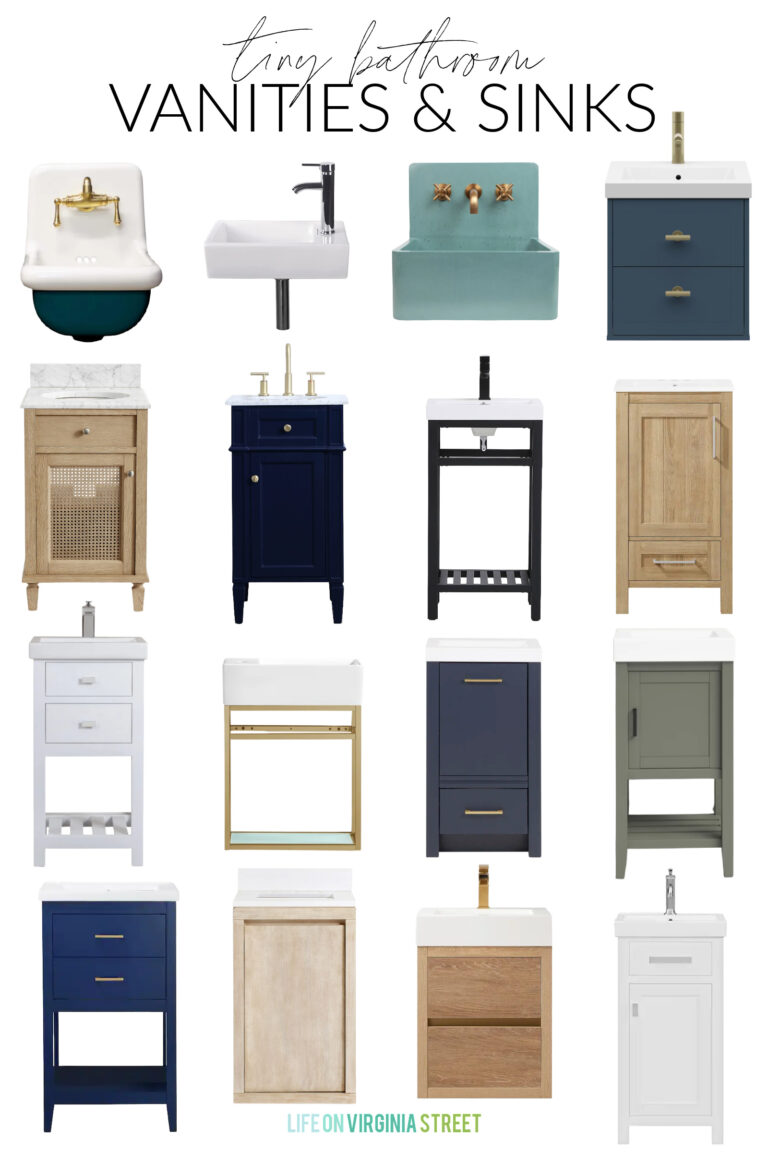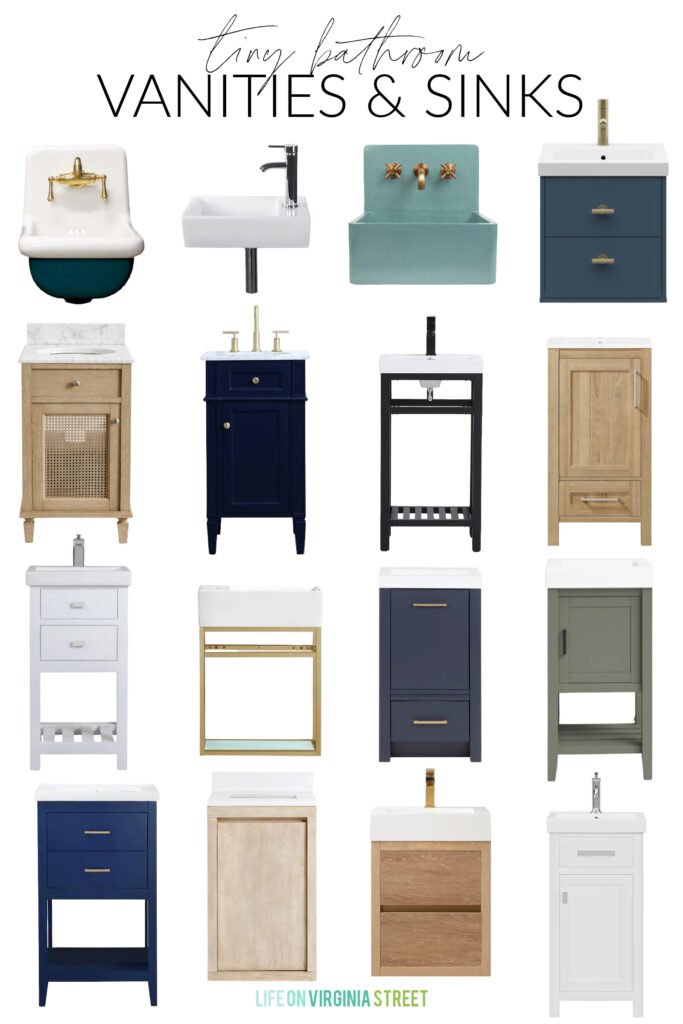 When we were building our pool house, I shared a collection of small bathroom vanities, with widths only ranging from 24-30″. As we've worked on our new build, we've had to search for an even smaller option to accommodate our powder bath. Today I'm sharing tiny bathroom sinks and vanities that are not only narrow, but also not deep since we have a very limited space to work with!
This post contains affiliate links for your shopping convenience. Click here to read my full disclosure policy.
The Powder Bath Dilemma in Our New Build
Originally when we started building our new house, I was under the impression there would be a pedestal sink in our powder bathroom. Not ideal for storage, but from a style perspective, it was something I could work with. It's one of the things you expect when you're essentially building a spec home, versus a true custom home.
The powder bathroom is a tiny space carved out underneath the stairs, and as we've seen a similar home progress, it's even smaller than we realized. So much so, the builder has now decided all that fits is a wall-mounted sink. The bathroom below is still in the construction phase obviously, but I knew that sink wasn't going to work for us. After multiple conversations with them, they agreed the exposed PVC pipe isn't ideal and they'd switched to one that matched the faucet. I still wasn't convinced I'd love that option for us.
If nothing else, I'd at least love a little storage space for extra toilet paper, etc. So, I measured the sink that was in this other house, and it came in  at 23.25″ wide, but only 13.5″ deep. Super shallow. But I was still determined to find an alternative that would work. Worst case scenario, I could always find a way to add a skirt to the sink.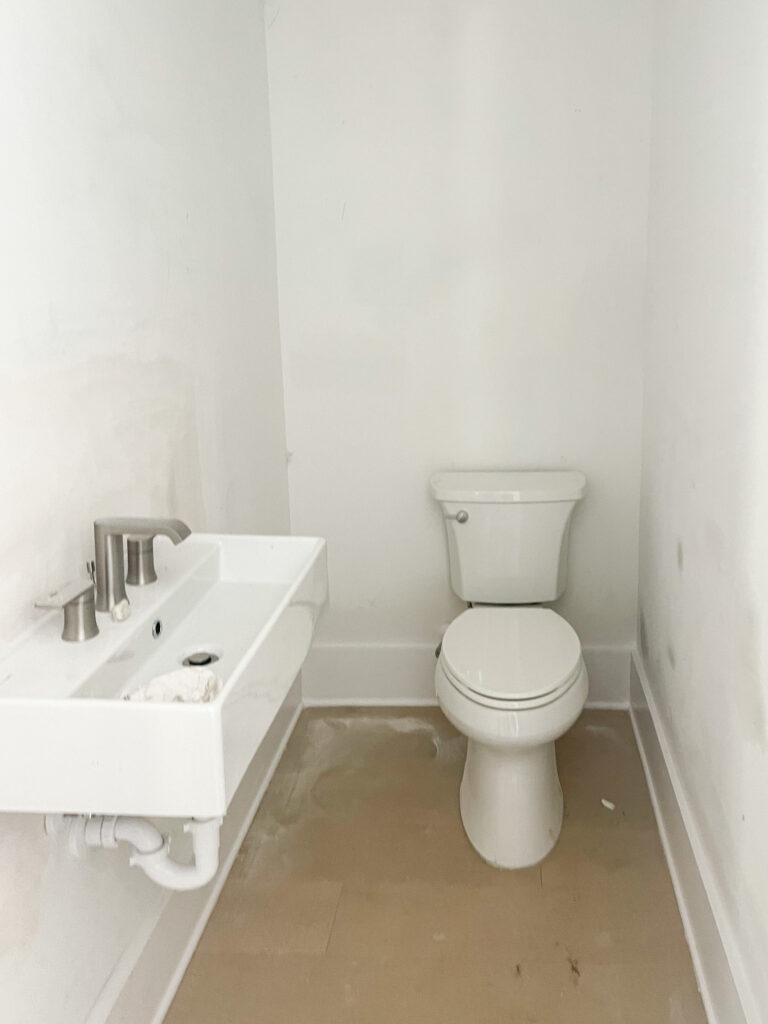 I talked to the builders again, and they said if I found something the same measurement (or smaller), I could buy it, have it shipped here, and then they'd install it once they were ready for it. The biggest challenge was finding something that shallow (if it's any deeper, the door won't open properly). But I know others may have struggles finding sinks or vanities that aren't quite as wide. So, today I thought I'd share stylish tiny bathroom sinks and vanities that work well for a variety of styles and budgets!
Tiny Bathroom Sinks & Vanities
In this powder bathroom, I envision a fun wallpaper covering the walls and the sloped ceiling (it's hard to see in the photo above but the ceiling slopes with the stairs above it). So, while the vanity or sink certainly doesn't have to be the star (and hopefully I can distract people with a pretty print on the walls), I still want it to be chic!
A few sinks and vanities I found that are worth noting:
Following are even more tiny bathroom sinks and vanities if you also are working with a bathroom that is short on space! Tap any of the images below to be taken directly to the small sink or vanity shown.

Since most of the ones at the 13″-ish depth are much less wide that we can accommodate, I may go re-measure this weekend to see if a 15″ depth would work if we gain some inches on the width. Stay tuned!
Do you know of any other great tiny bathroom sink or vanity options? I would love to hear!
Additional Bathroom Inspiration and Ideas
Looking for even more ideas for an upcoming bathroom renovation? Be sure to check out the following posts. Click any of the post names below to be taken directly to the article
If you would like to follow along on more of my home decor, DIY, lifestyle, travel and other posts, I'd love to have you follow me on any of the following:
Pinterest | Instagram | Facebook | LTK
disclosure: some affiliate links used