Good morning! How was everyone's weekend? Hopefully things are slowly warming up where you all are! Here's a bit of what we've been up to around here!
This post contains affiliate links for your shopping convenience. You can read my full disclosure policy here.
Home Projects & Updates
There was a lot of behind-the-scenes activity over at the new build. We were able to walk through with the elections and see where they were placing outlets, switches, etc. It actually went pretty quickly because we really didn't see too many things that needed to be changed. I did however cancel all of the wall-mounted TV boxes in every single bedroom. This house had them in literally every room and I hate seeing those outlet and junction boxes eye-level if I don't plan to use them! The nice thing is, they can still add all the necessary boxes at standard outlet height by the floor, so it's easy to add the wall-mounted ones down the road if anyone ever wanted to. But two televisions is more than enough for us (especially with another one going outside and one in the carriage house).
They also added the support half-wall for the kitchen peninsula. It's nearly 15′ long, and with that, you can see below they also zigzag the electrical above the peninsula so we can get the island pendant light spacing perfect when the time comes!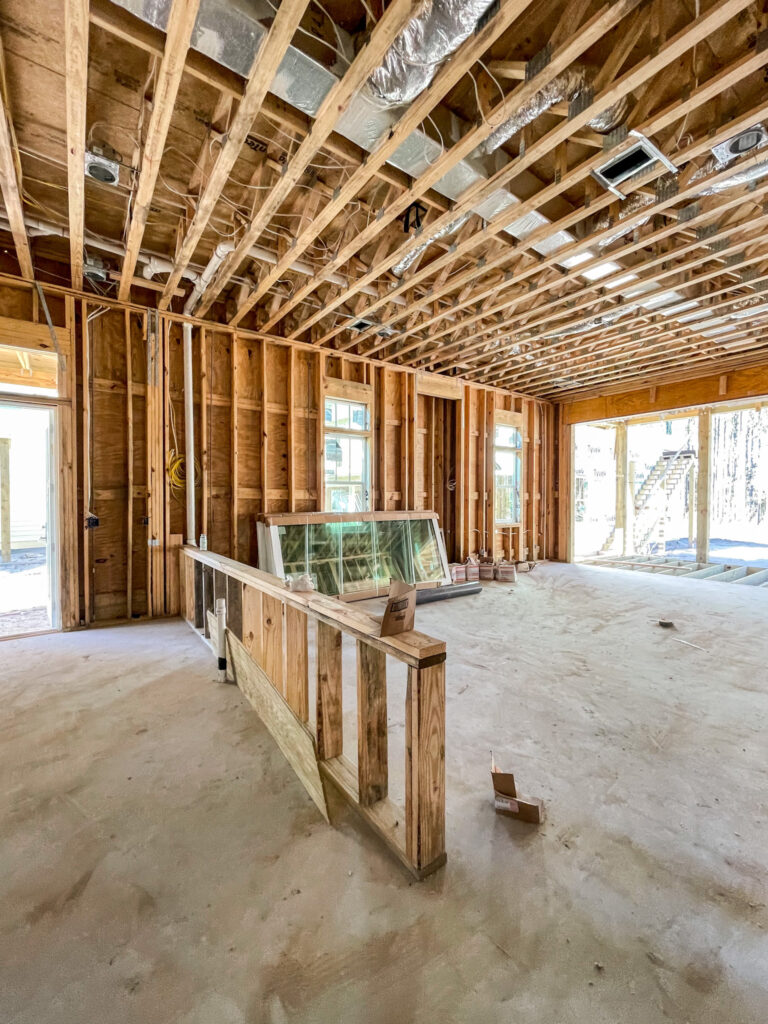 The house next door to us is supposed to close soon, so their fence is going up and they're in the final stages of landscaping, etc. With the addition of the (partially completed) fence, it gives us a much better idea of our lot lines, etc. So much more helpful when there are items nearby to envision scale! They also place the two stakes in the ground for the back two corners of our cabana.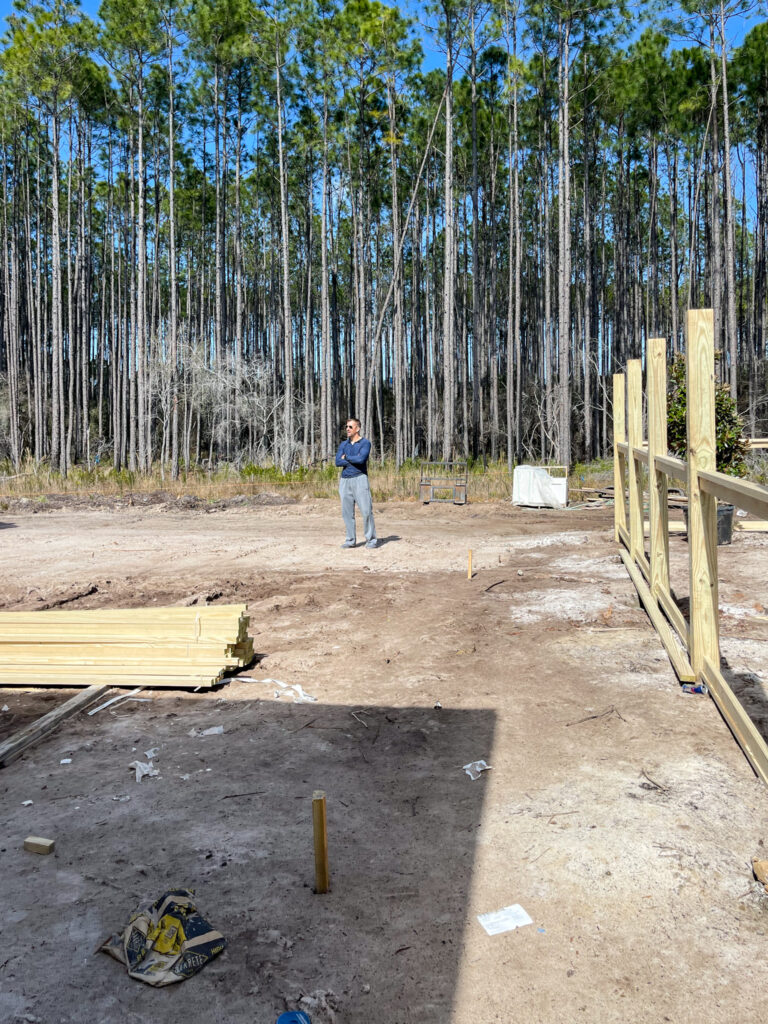 I thought I'd share this next backyard to share what you can expect from ours. I've mentioned before the lots are a lot smaller here. Kurtis is actually very excited that there is very little grass to mow. Below is an image from a neighbor's yard (still under construction too) that will be very similar to ours. You'll quickly see it's pretty tight. But they make great use of the space, and I believe our lot is actually 10′ wider than theirs, so we'll have more space between everything.
We will not be doing the elevated spa like they have below (ours will be flush with the pool water line). The stairs on the left lead up to the carriage house (there's also an outdoor shower underneath them), and this future homeowner chose to do their outdoor kitchen in their cabana. Our kitchen will be up on the screened in porch behind me so our cabana will have a slatted wall along the back side behind the fireplace. It's hard to tell in the picture but the far end of the pool has plenty of room and depth for chaise lounge chairs, umbrellas etc. It was fun to see a backyard similar to ours getting so close to completion! I'm planning a lot of really colorful planters filled with flowers (and maybe some citrus)!!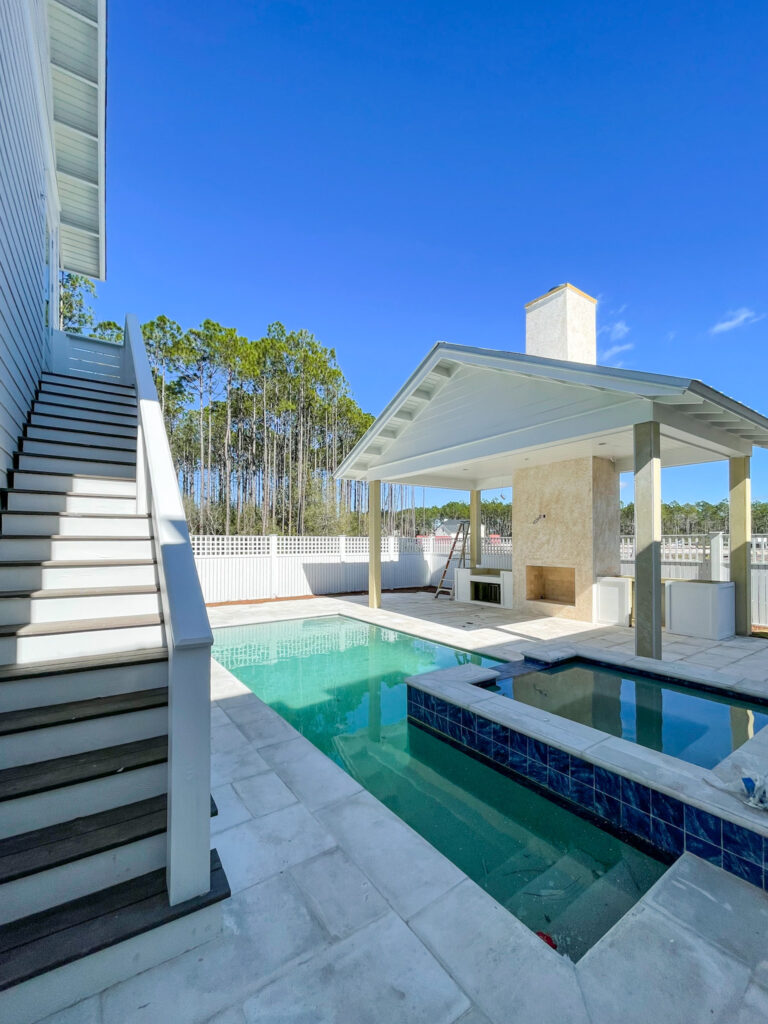 We spent several hours Friday through Sunday over at Hola Beaches. The weekend was pretty much our deadline for getting off-season projects completed and we got done just in time! The next few months are booked almost solid (you can check availability and the old pictures here), so while it was a lot of work these last few weeks, we're glad to be done for a bit now! Kurtis had to partially regrout one of the shower floors, so that always ends up being an extended project to allow for drying times.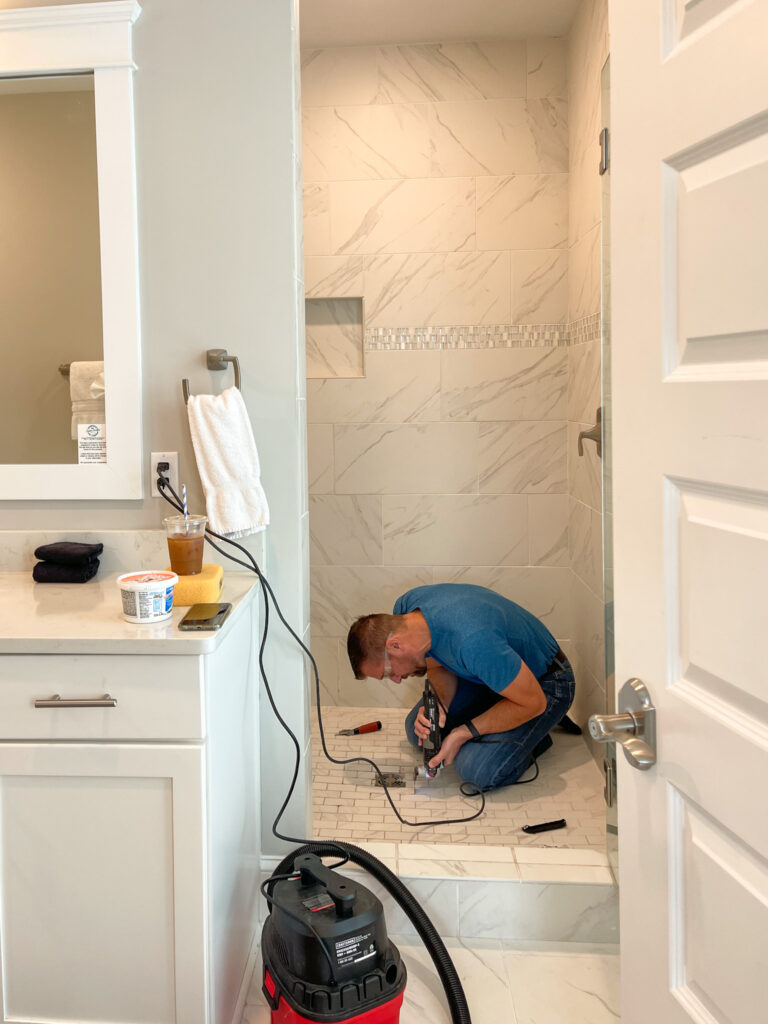 The cleaners come today to do a deep clean. We then have updated photos scheduled this week for the vacation rental sites, and I'm hoping to get over there this week as well with my "real" camera.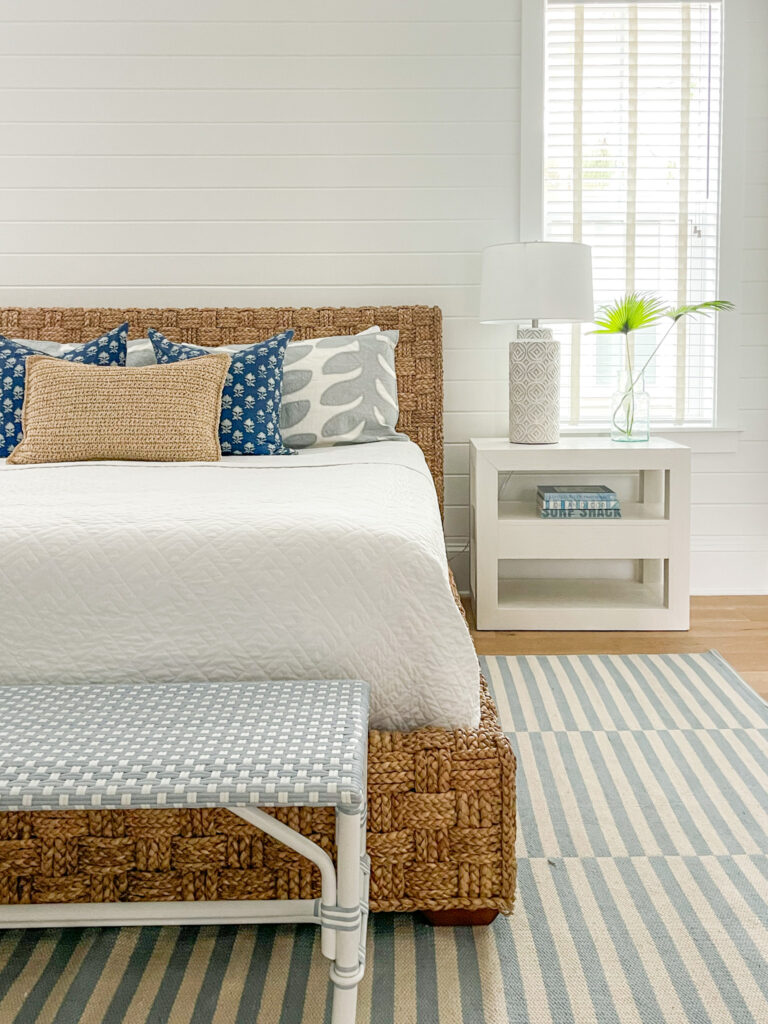 BEDROOM SOURCES: Woven Bed | Nightstand | Striped Rug | Indoor/Outdoor Bench (no longer available – Serena & Lily) | Pillows (no longer available – Pottery Barn) | Lamp (HomeGoods) | Faux Fan Palms | "Coastal Blues" | "Dream Decor" | "Surf Shack"
Top Sellers Of The Week
Following are the top sellers from last week across all of my channels. Links to each item are below the graphic.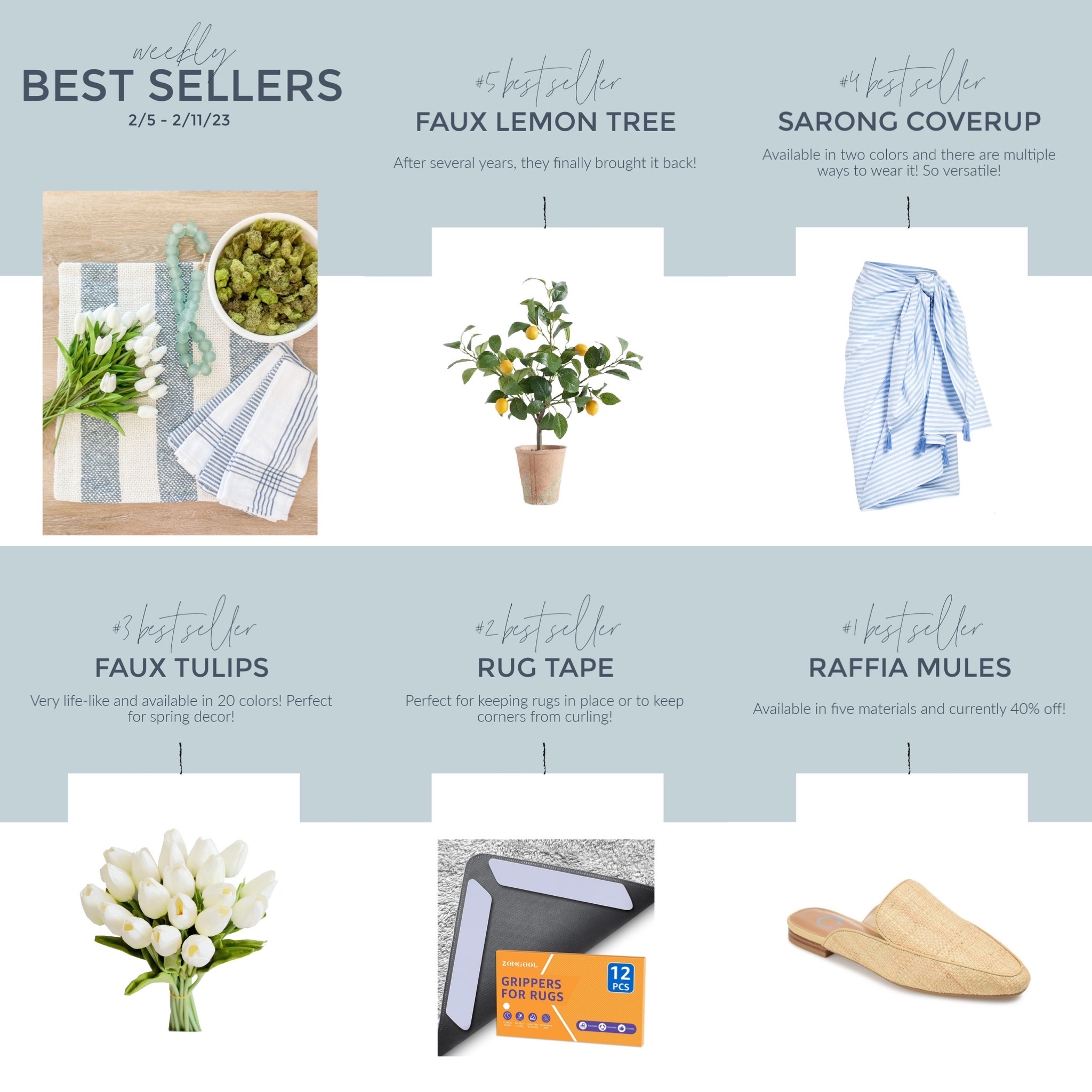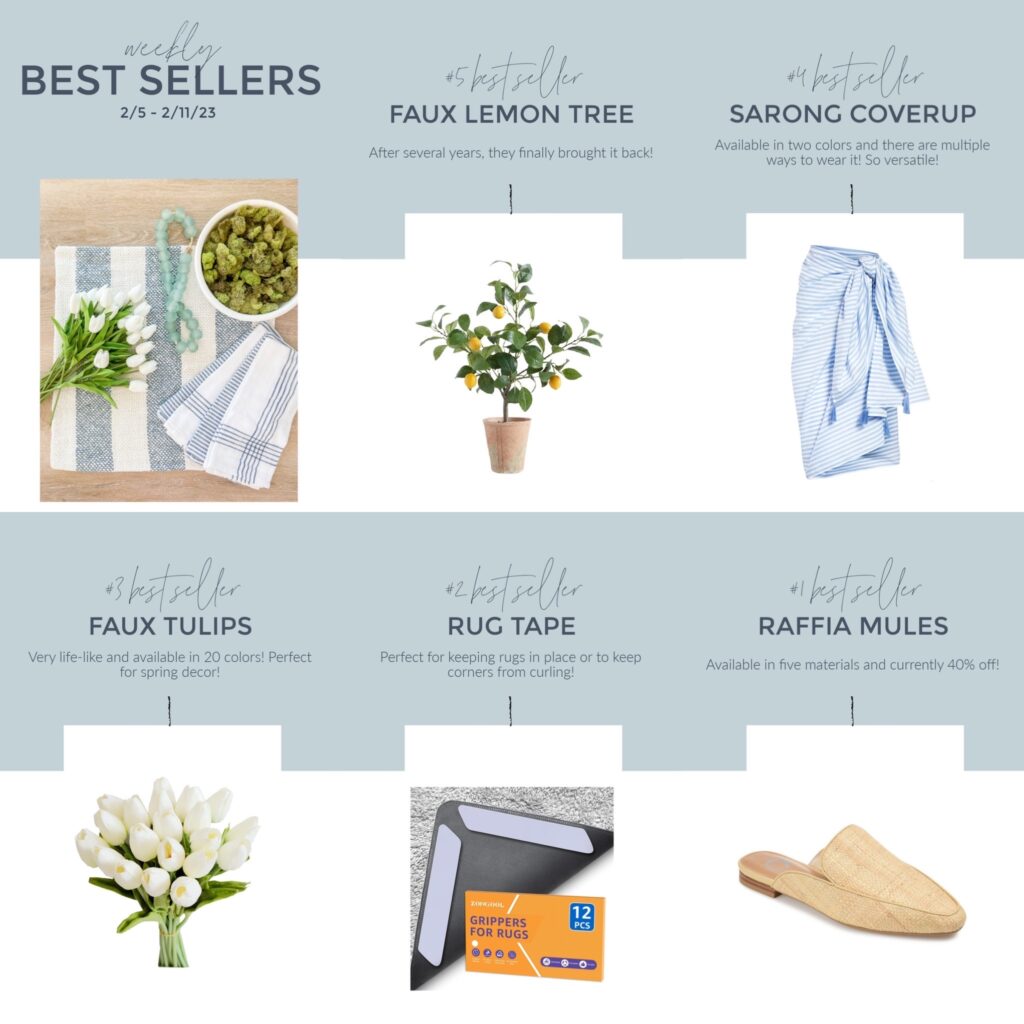 BEST SELLERS (each number is clickable): #5 | #4 | #3 | #2 | #1
In Case You Missed It
Following are the posts I shared over the past week, in case you missed some days!
Following are the most read blog posts of last week (excluding any of the new posts already mentioned above). Many times this includes old posts that are popular on Google or Pinterest.
Around Town & For Fun
Kurtis and I are trying to wrap up a 30A travel guide, full of our favorite restaurants, shops, etc. With that comes a lot of "research" on our part. I use the term loosely because it basically just means us trying as many restaurants as we can 😉 The weather was beautiful early in the week, so we hit up Surfing Deer, a spot we've been wanting to try ever since we started coming to the area. I took the photo below through the window at our table, but it all had such a great vibe. The food was excellent and we were both dying over the banana pudding cheesecake. Definitely ranks in one of my top three desserts of all time!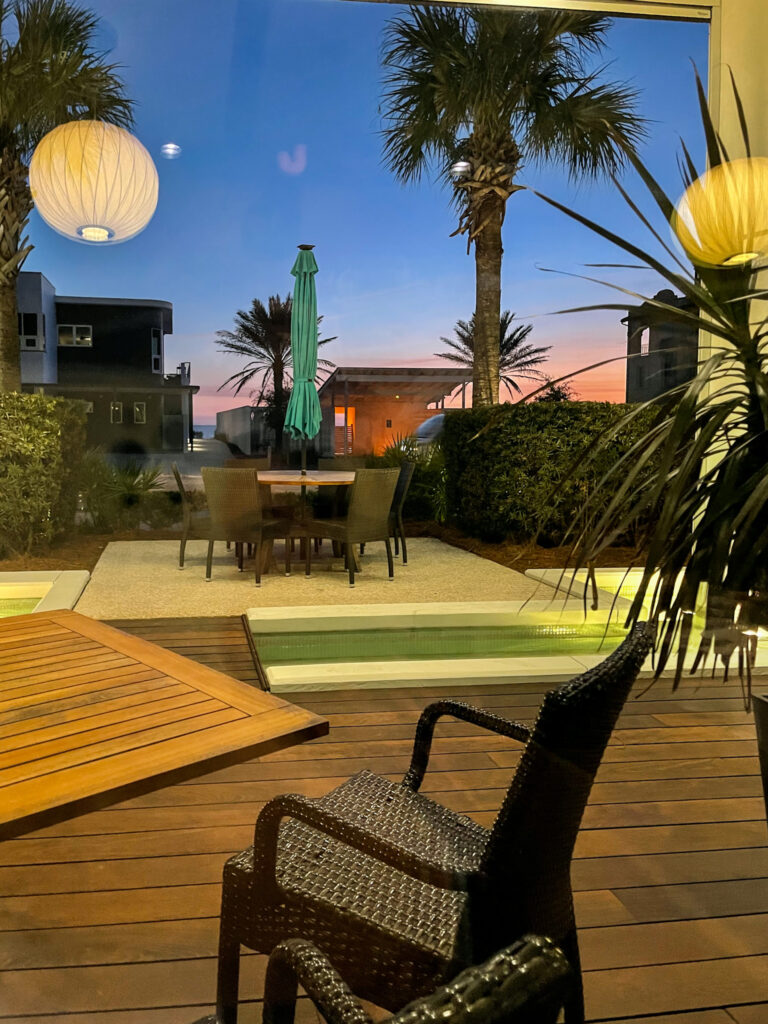 The hummus platter at Citizen is also another item not to miss! It's served with pita bread and crostinis. Even if you never visit 30A, I thought their board was worth sharing for some ideas!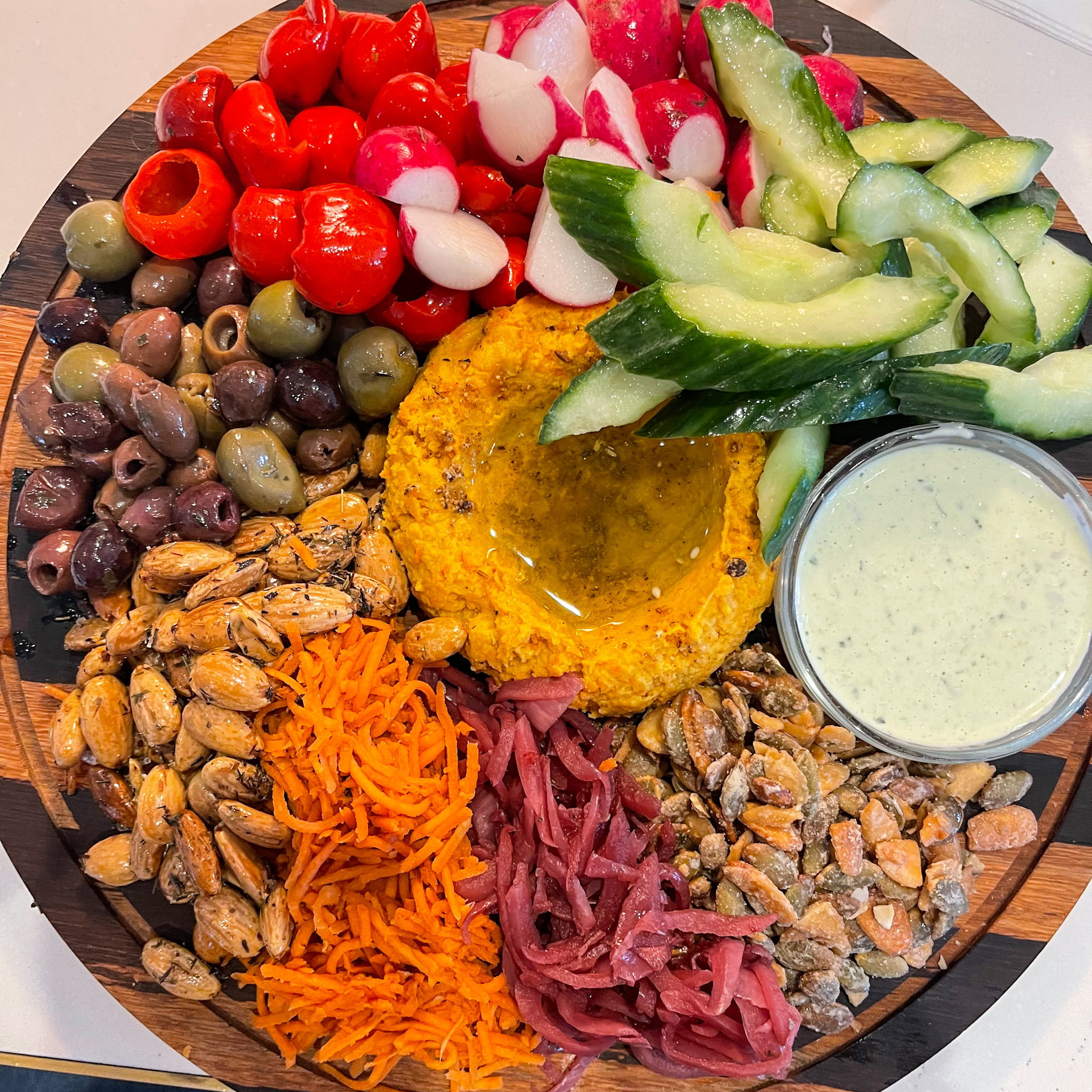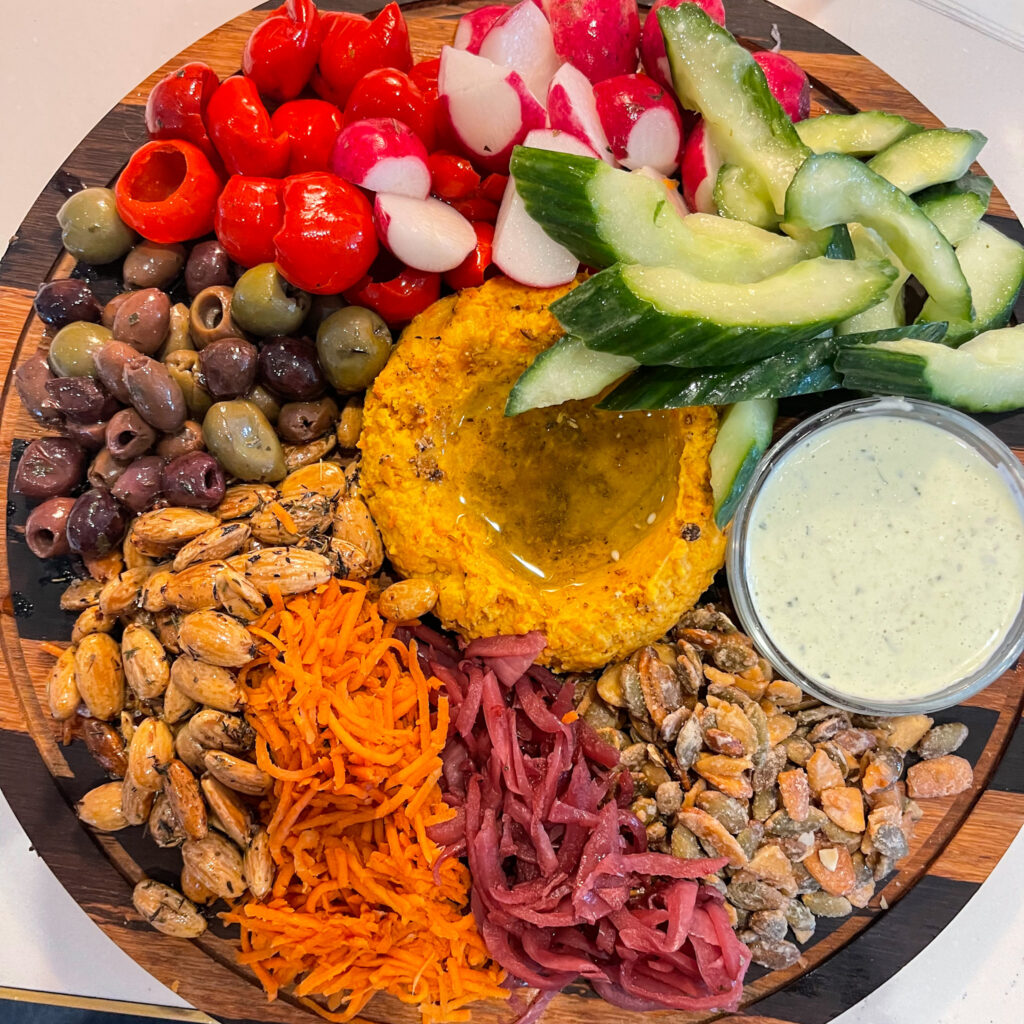 Friday was a rain out all day. So, we went with our friends Jake and Marissa to their favorite dive bar in Panama City Beach called Dusty's Oyster Bar. It was such a fun vibe and the entire building, walls to ceiling, was covered in dollar bills. We had wings and oysters and beer and it was all so good!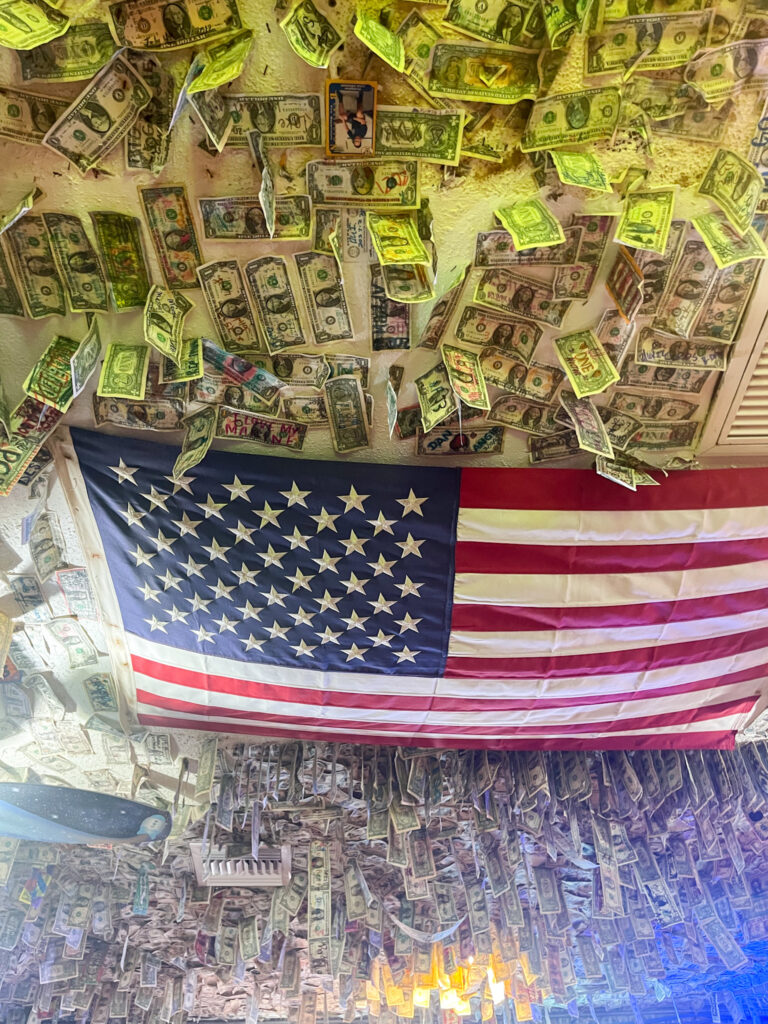 It was our friend Rachel's birthday on Saturday, so we went with a group to Amigo's to celebrate. Always another local favorite! This ceiling happens to be covered in hundreds of hanging light bulbs. I remember when we took our goddaughters there, two year old Elle said "look at all the stars!" Ha!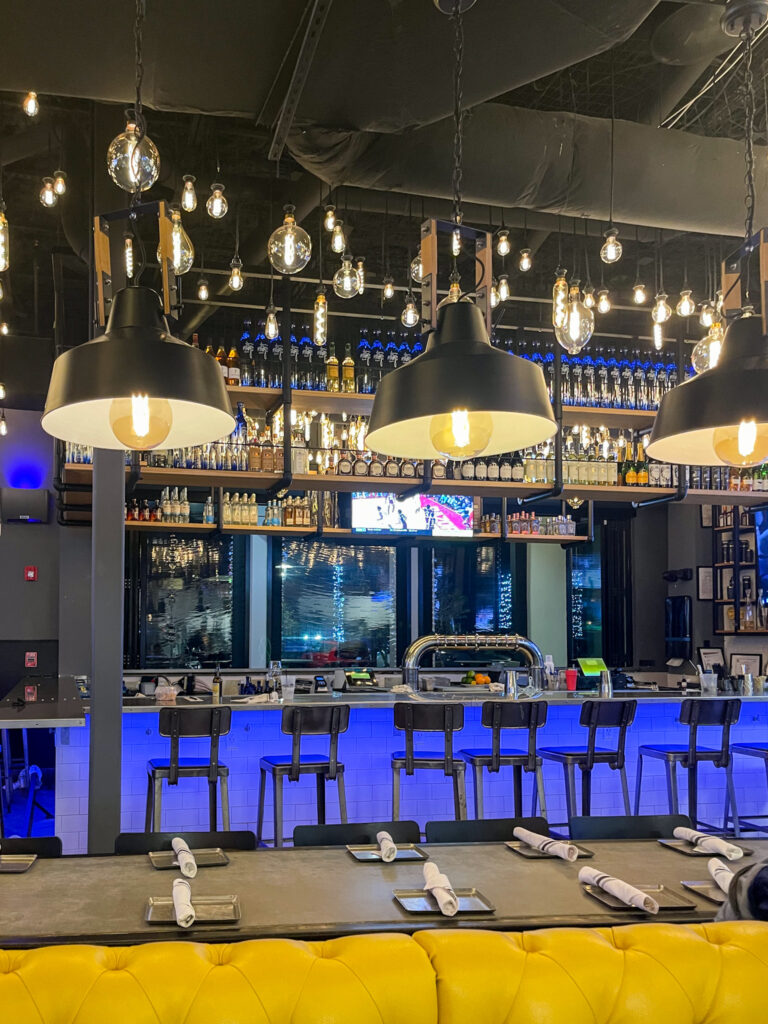 Sunday after spending several hours at Hola Beaches, we grabbed a quick lunch at The Big Chill (formerly The Hub). It's steps away from Hola Beaches and has four or five restaurants and a common eating area which always makes it so convenient! We saw several people already claiming their seats for the SuperBowl events that night! It was so great to sit outside for 20 minutes or so after several rainy and dreary days! But, after so many meals eating out, I'm thinking we need to grill at home this week!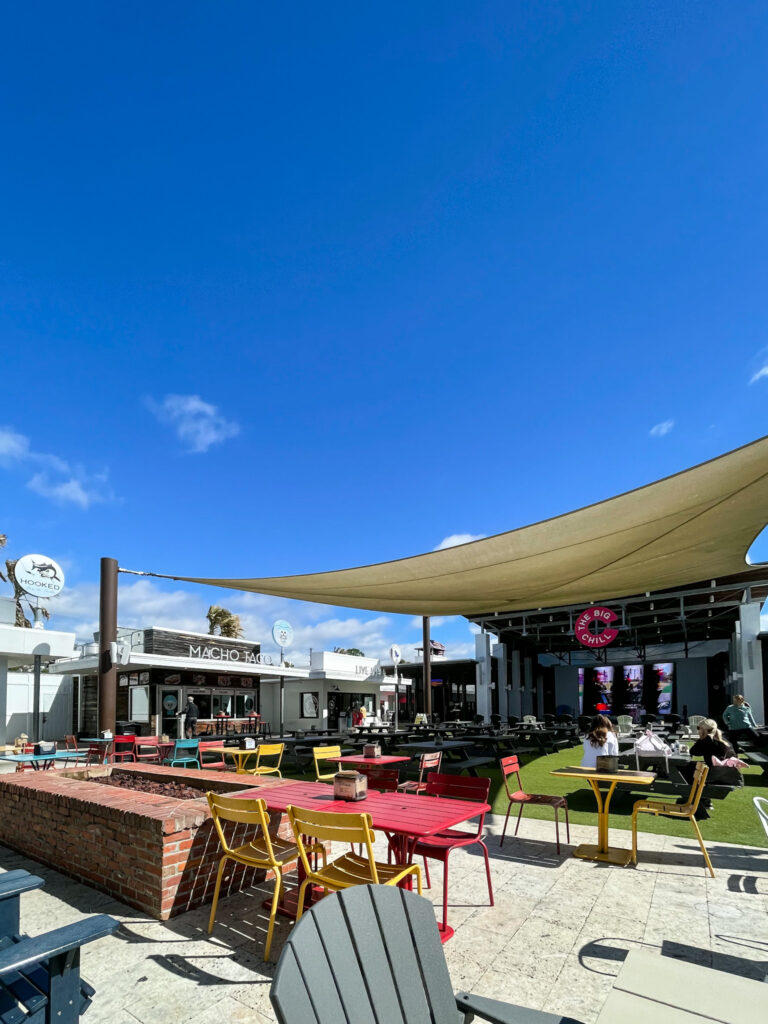 We then met our friends Chris and Rachel and their boys at the new build for our weekly tradition of walking through the houses. We then headed over to their house later in the day for a mini SuperBowl party! There was admittedly a lot more talking than football watching going on, but that's how I like it 😉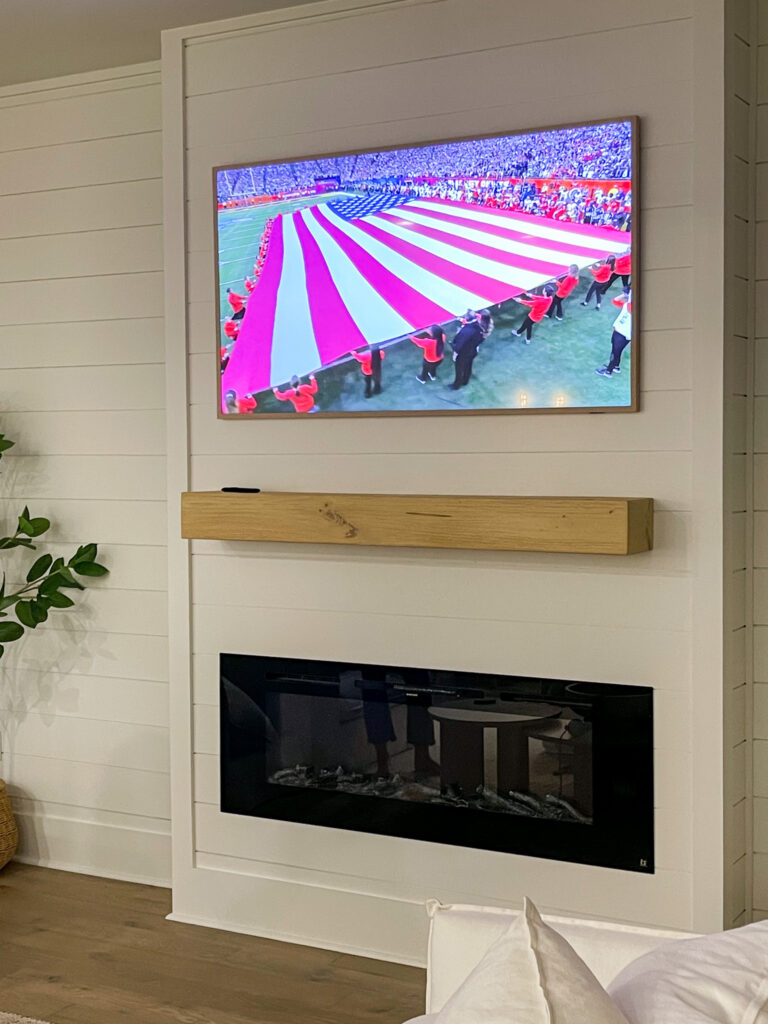 Hawkeye is full-blown obsessed with opening our bedroom door now. If I see him trying I tell him no, and then he'll just sit like this a few feet away staring at the handle. He's also learned quickly that if he makes it in, he has to run under the bed as fast as he can so we don't immediately grab him. He needs to find a new hobby – quickly!
SOURCES: Console Table | Lamps (look for less here) | Abstract Art | Baskets | Large Ceramic Bowl | Similar Moss Balls
I have an eventful week ahead with golf lessons (which last for two months), a charcuterie board class with friends, and several events around Mardi Gras (including a golf cart parade)! There are so many fun things to do in the community, especially in the off-season. We're really trying to take advantage of as much as we can!
Recent Buys & Sales
Following are some sales from the weekend that have carried over and are still going strong!
I hope you all have a great week!
If you would like to follow along on more of my home decor, DIY, lifestyle, travel and other posts, I'd love to have you follow me on any of the below channels: