Happy Monday! I hope you all had an enjoyable weekend! Here's a bit of what we were up to this past week.
This post contains affiliate links for your shopping convenience. You can read my full disclosure policy here.
Home Projects & Updates
Slowly but surely, we're starting to make some additional updates at Hola Beaches. The existing upholstered dining room chairs were starting to show their age and were overall visually heavy for the space. We pulled the worst six and added these outdoor bistro chairs we used to have in our pool house. I left an upholstered chair at each end for now until we figure out if we use these rattan chairs that we have or go with something else. We'd love to replace the table eventually because it's a natural, raw grain surface and isn't super easy to clean. And we've been wanting to swap the chandelier for something more coastal since the day we bought the house, but we have to really choose our priorities here with so much we want to change!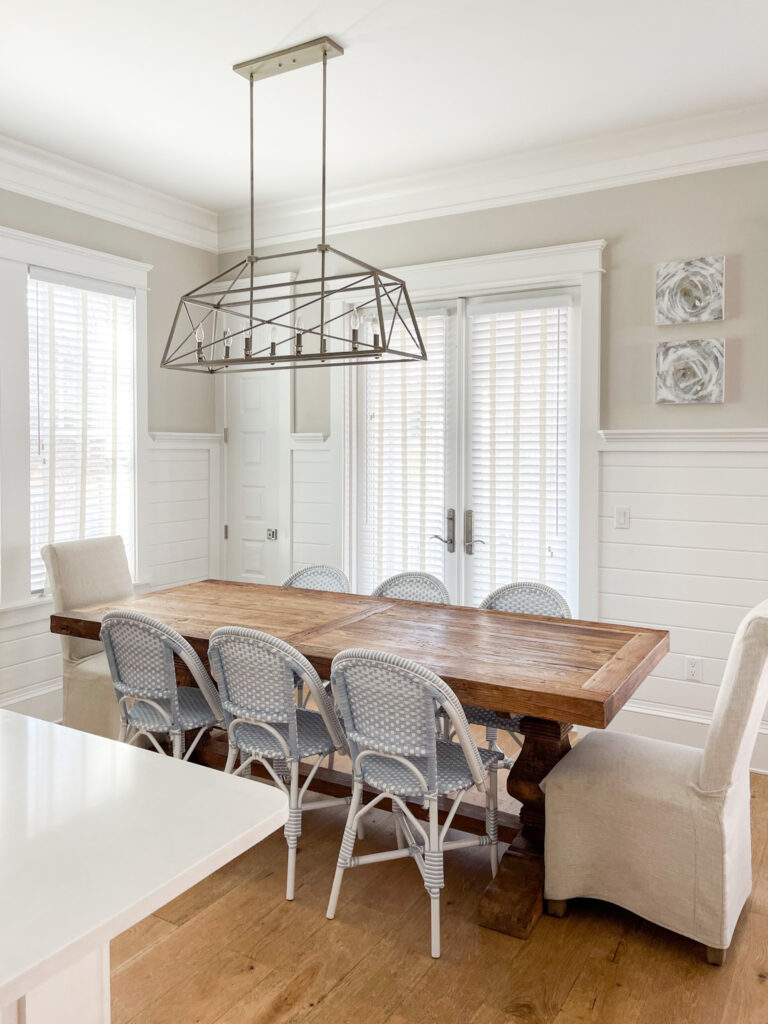 Back at our house, we finally installed this beaded chandelier that we've had since August! It's such a great look for less for this Pottery Barn chandelier. And while I'd prefer the size of the PB light fixture, the price of the smaller one is hard to argue with! Especially since we'll likely only be in this house for another year.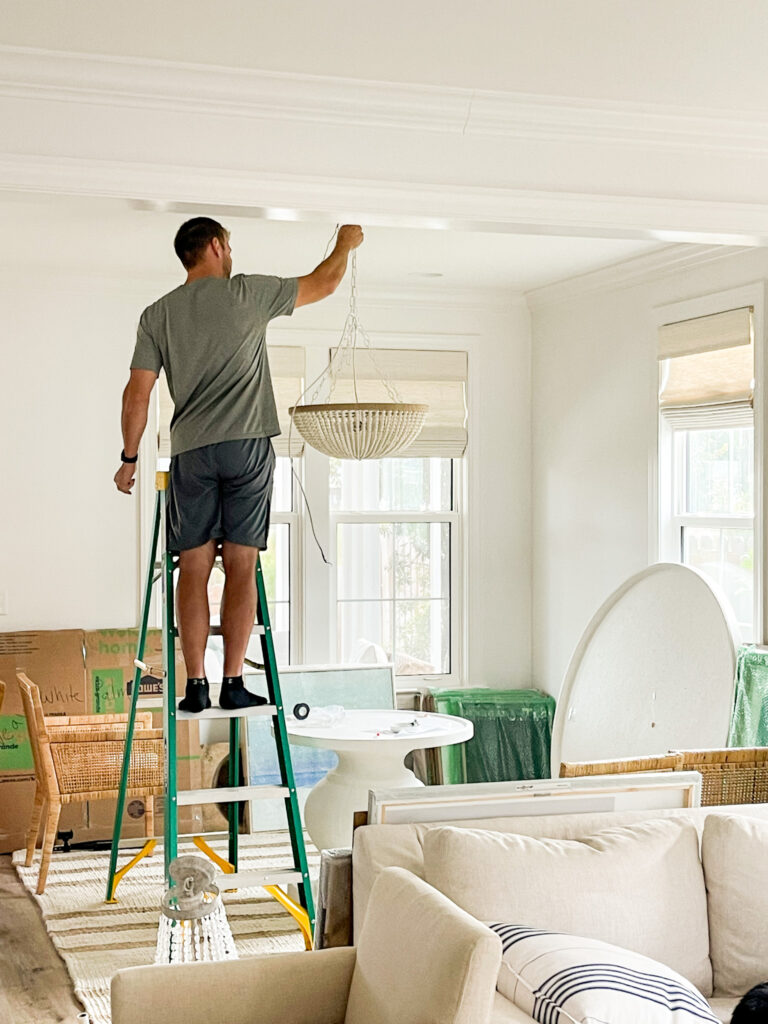 On Sunday, we ran over to our lot to check the progress on the new build! It looks like they wrapped up most of the underground plumbing. Which means our foundation will likely be poured this week! Our friends' house is about two weeks ahead of us and on Friday, their first floor was fully framed. So, I anticipate things will start to take shape pretty quickly now!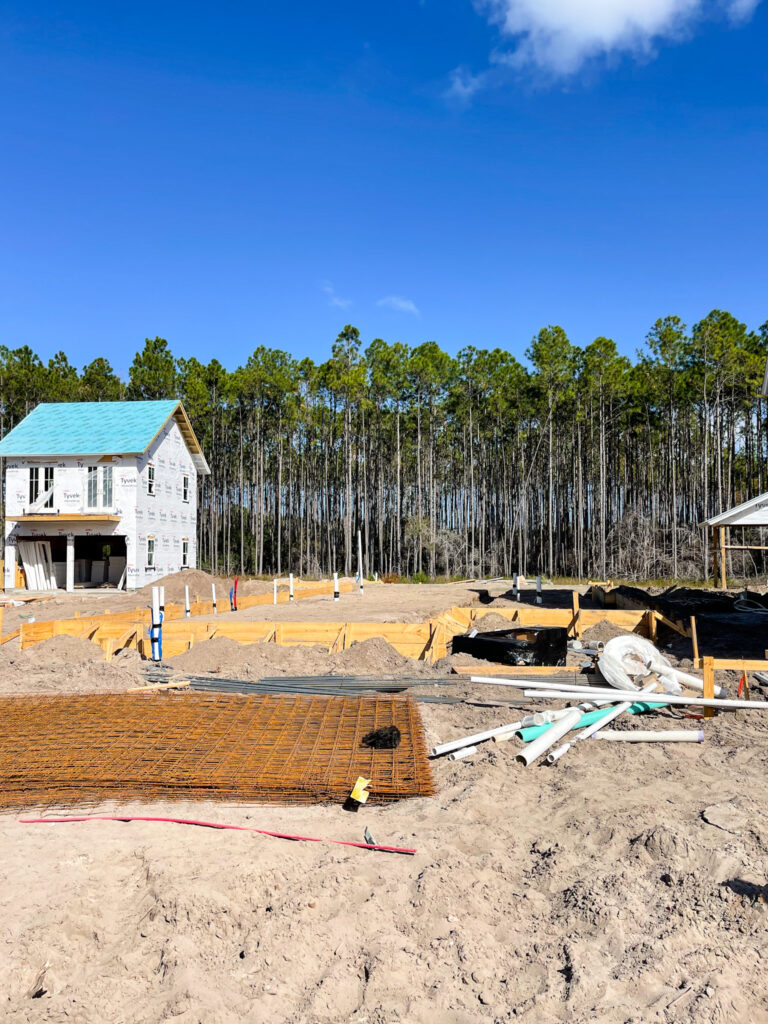 We went into the house that's the same floorplan as us because I wanted to check a few paint samples. I figured the natural lighting in theirs will most closely mimic what ours will be like! We're painting Kurtis' office (possibly wall, trim and ceiling) a blue gray color. The Samplize samples below are BM Boothbay Gray, BM Water's Edge (the color of the interior of our Omaha front door), and BM Santorini Blue (the color of our pool house island). I thought I'd start with those since I was most familiar with how they look in real life. They definitely all read darker in a home that doesn't have as many windows as ours did in Omaha! But this little trial was super helpful. And if you haven't tried Samplize, I've been loving them. They ship you large samples (made with real paint from most paint brands) and you can apply them directly to your wall if you choose. I like to keep mine a little more mobile 😉 If you buy 6+ samples before 11/15, you can get 15% off with code 15OFF so I stocked up on some favorites!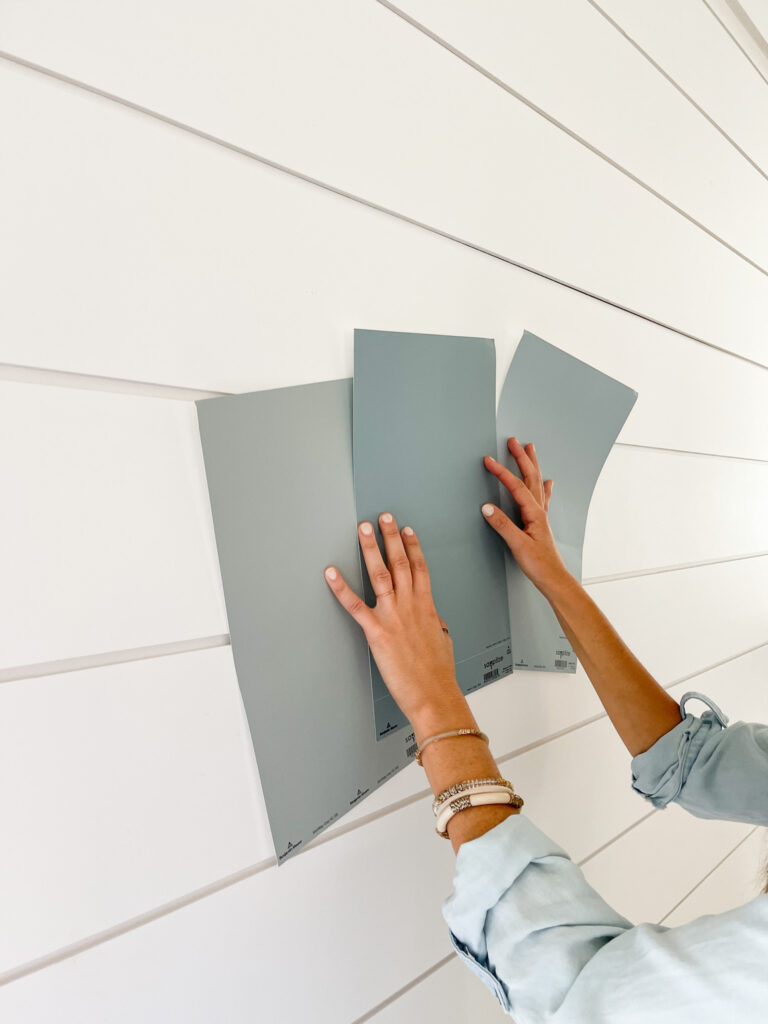 This space will be at the top of the stairs and is essentially a bonus room between the bedrooms. I love how the ceiling height makes everything feel much larger than it is. I think this will be the perfect spot to have our den!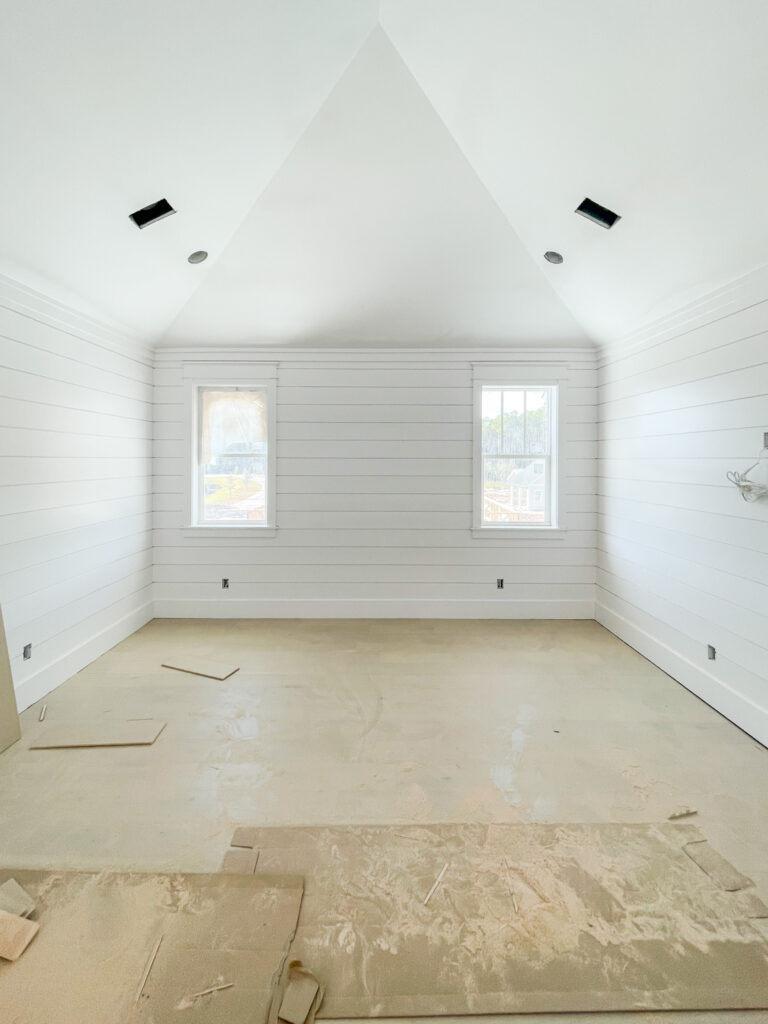 It has been a lot of fun (and super helpful) to have a nearly identical home be built at the same time as ours, but several months ahead of our schedule. It also definitely makes the process feel so much more real!
Top Sellers Of The Week
Following are the top sellers of the past week across all of my channels. Links to each item are below the graphic.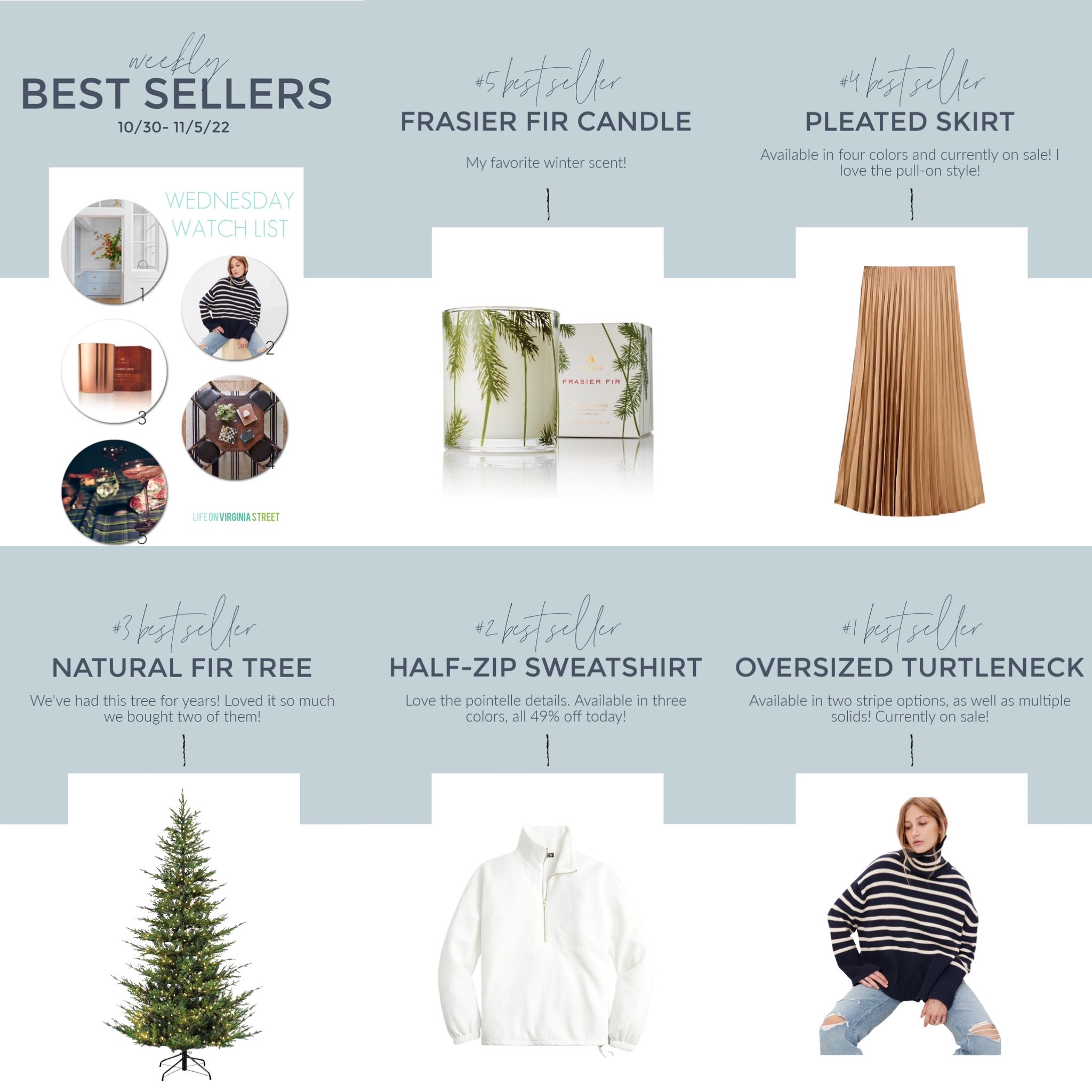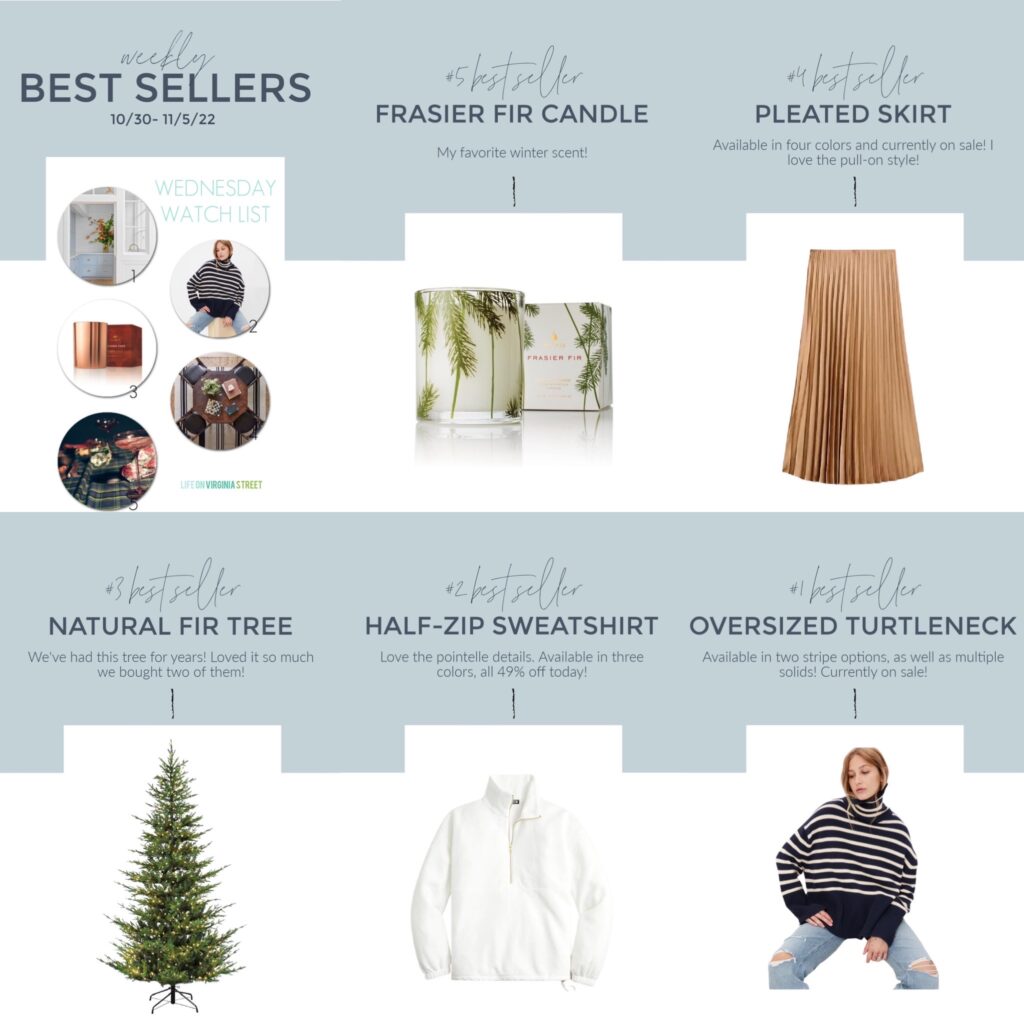 BEST SELLERS (each number is clickable): #5 | #4 | #3 | #2 | #1
In Case You Missed It
Following are the posts I shared over the past week, in case you missed some days!
Following are the most read blog posts of last week (excluding any of the new posts already mentioned above). Many times this includes old posts that are popular on Google or Pinterest.
Around Town & For Fun
First and foremost, thank you for all the well wishes for Bailey after her scare the week prior! She seems to be doing very well and is back to her old self. She loves this little spot on the "catio". I just have to monitor her time out there to ensure she doesn't sunburn her little shaved arms!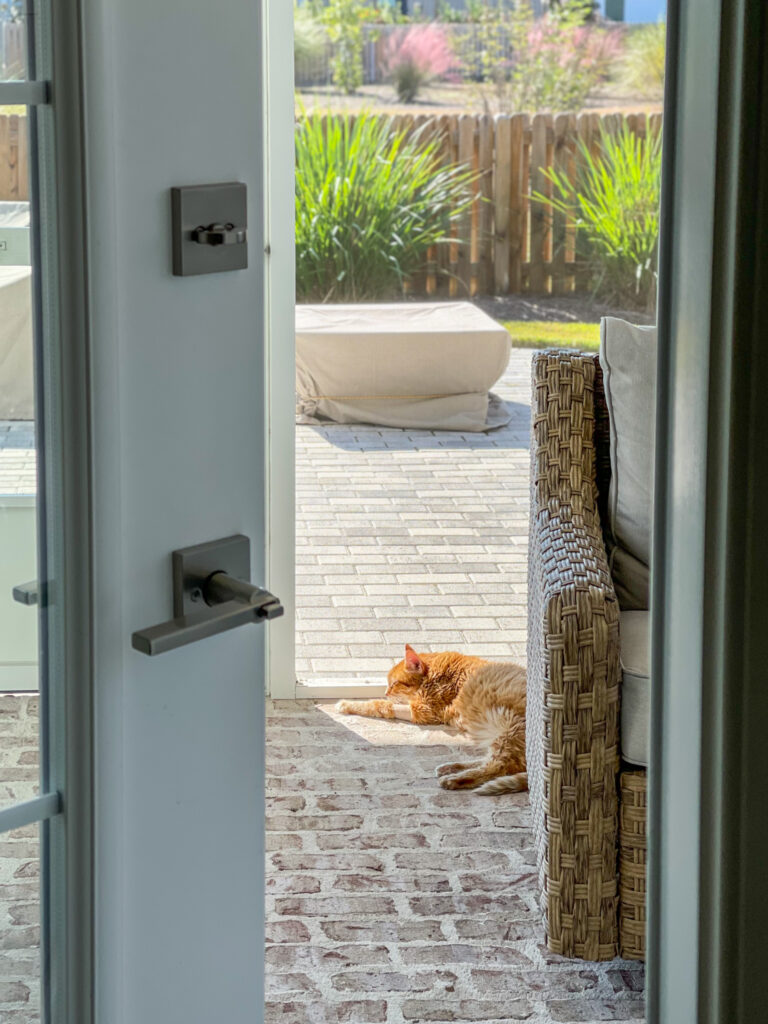 So, funny story about our first Halloween in Florida. We felt super prepared with tons of candy and were ready to go, since we've heard our neighborhood is a popular one with so many locals here. Our HOA sent out an email about trick-or-treating being from 6-8 and we found it helpful to know the limited hours. We were shocked by 6:30 nobody had come to our door. What the email failed to mention is that you're supposed to sit outside to give the candy out. Once we peeked out, we saw tables, decorated stations, and all sorts of street parties. Ha! At that point we were too late to the game, so I walked all our candy over to my friend Marissa's house and told her she could just dump it in kid's bags. Now we know for next year 😉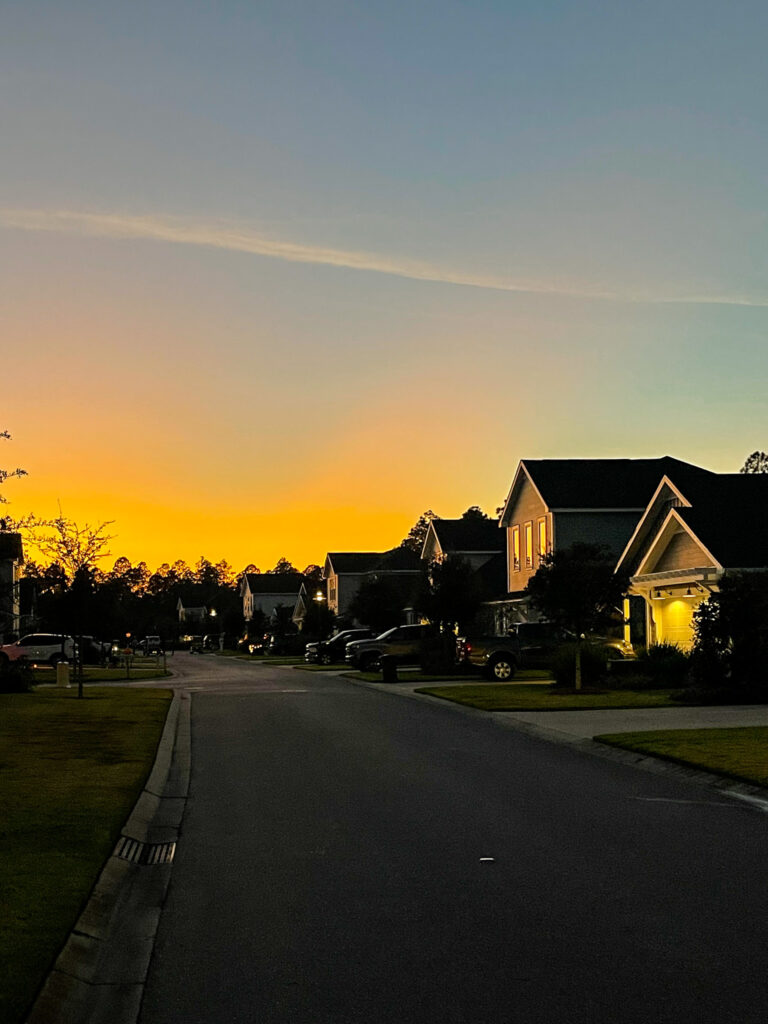 We headed to the beach one afternoon and it still is shocking to us just how beautiful it is here! I need to get the drone back out early one morning and get some more aerial photos!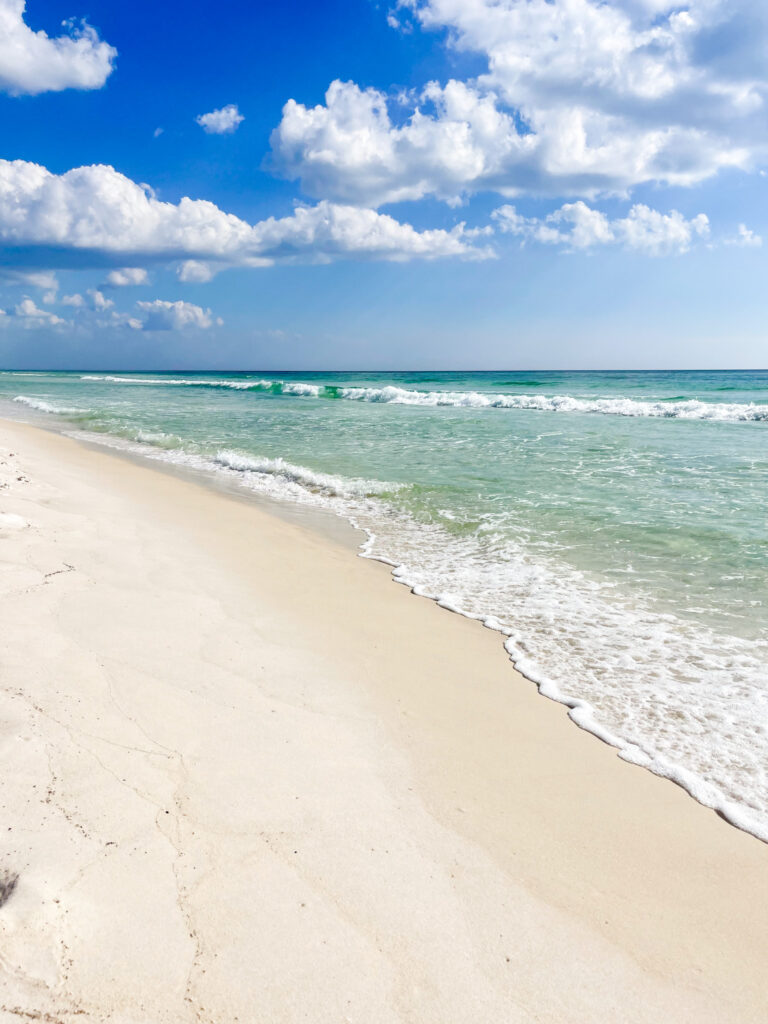 We each took a walk down the beach and I collected some seashells to show our goddaughter Zoe. They're coming to visit us in less than a month so I wanted to get her excited about some of the activities she can do here!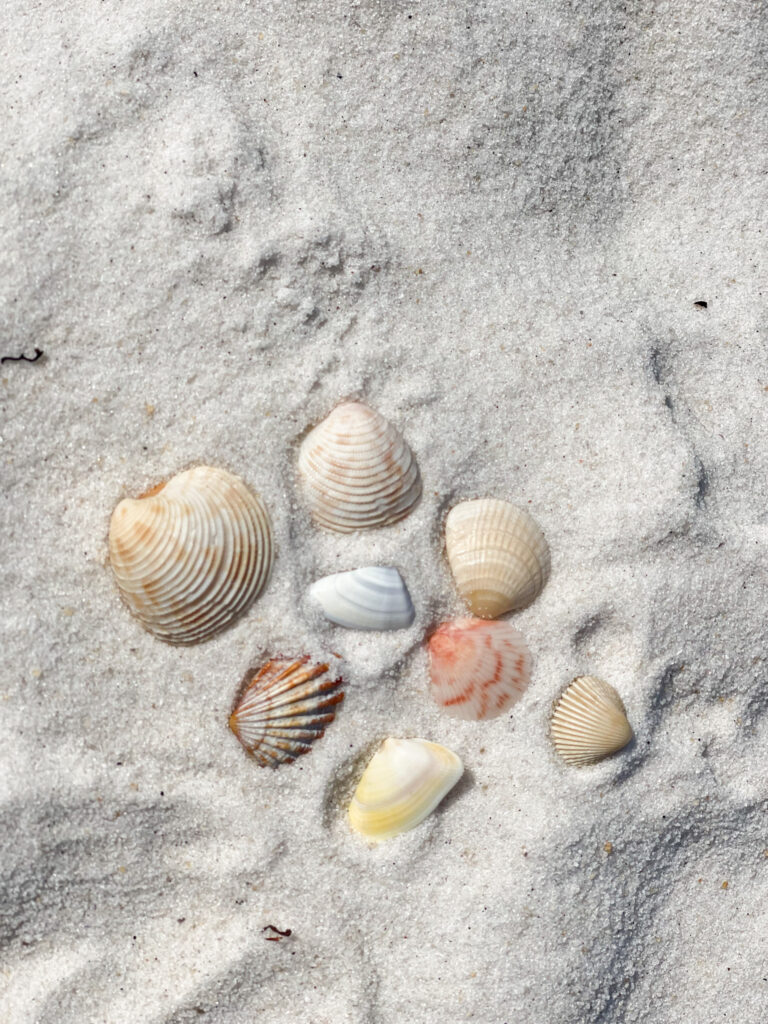 The sunsets here are almost always spectacular and always so different! I always have to remind myself to look the opposite direction of the sun, as well, because the sky is always so pastel and perfect! I loved it this night with the yellow blooms in the dunes. So dang pretty!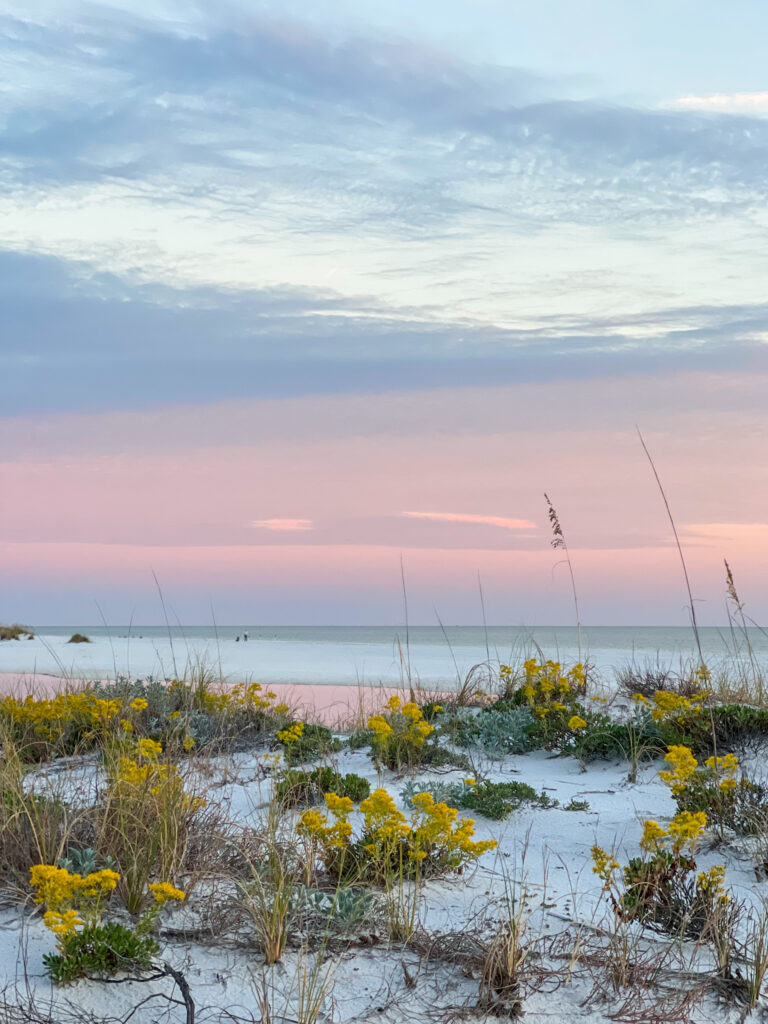 Late Friday afternoon, we took the golf cart from Hola Beaches and drove to the beach. I always forget just how much I enjoy "golf cart life"! SO fun!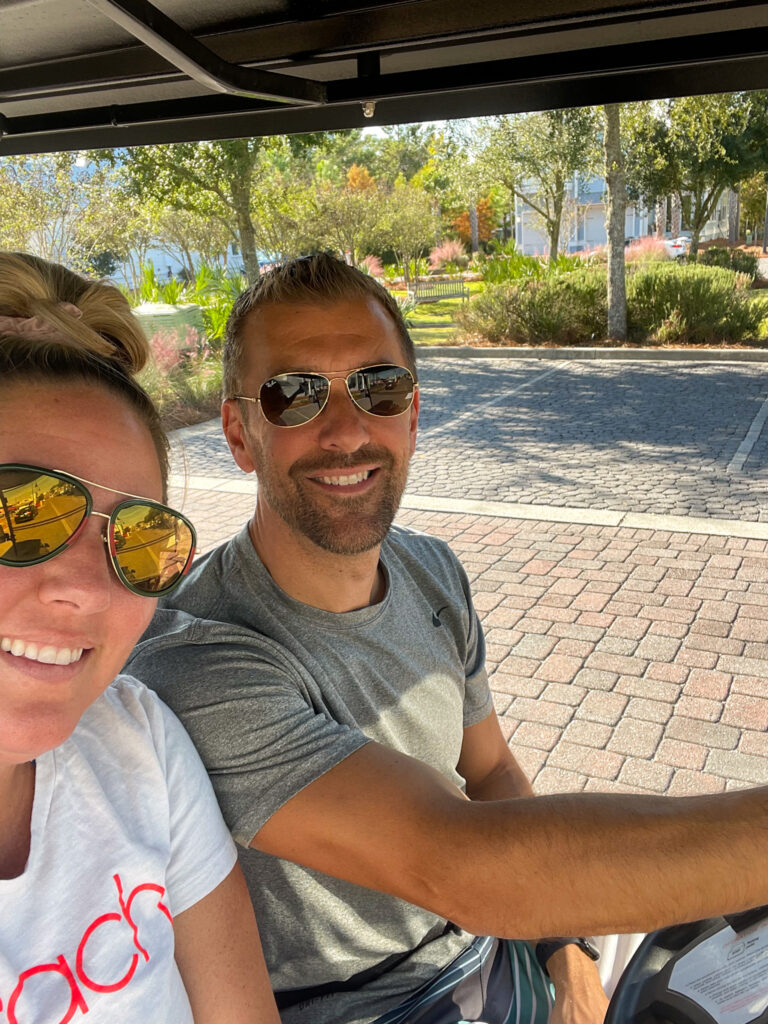 That night we attended our first beach "bonfire". We didn't realize the fire was smaller than those in most people's backyard 😉 But we had a lot of fun and enjoyed our first s'mores on the beach at sunset!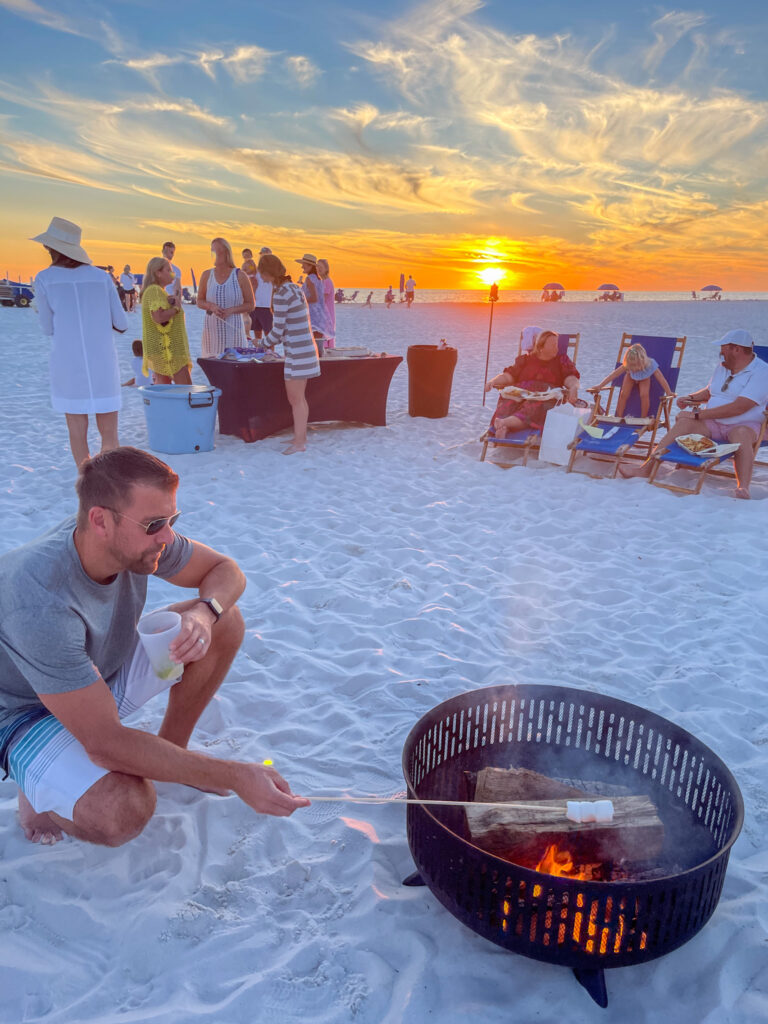 Our new bikes were delivered on Saturday afternoon, so we decided to take them out for a spin to breakfast Sunday morning! There are so many trails all along 30A (and even in our neighborhood).  I love that there are so many bald cypress trees here like we had back in Omaha. It's definitely showing signs of fall in areas!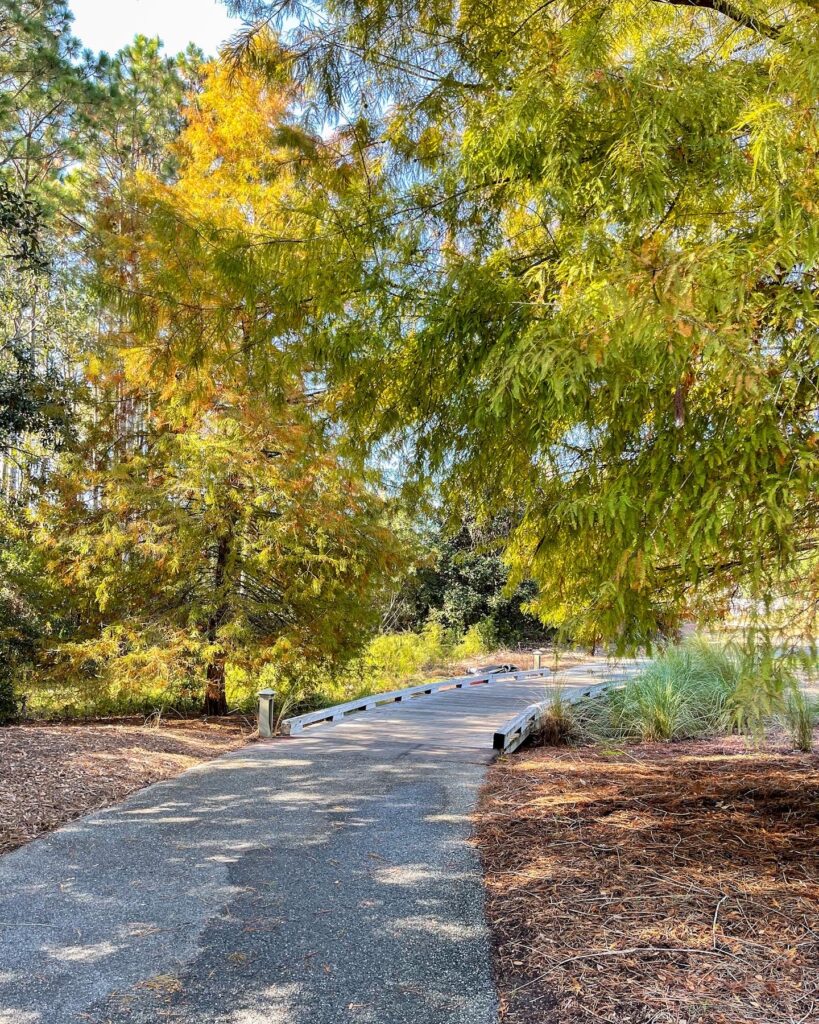 We drove the 3.8 miles each way down to Alys Beach for breakfast at Raw & Juicy. Kurtis had never been before and we both really enjoyed it! They have the absolute cutest outdoor spaces (the one below is just one of many). We then drove our bikes around Alys Beach, out to our lot, and then around our neighborhood a bit. Before we realized it, we had racked up almost 10 miles! I was super impressed with myself 😉 Most of you know I don't enjoy working out, so when it can be done in the format of breakfast and house stalking, you can count me in!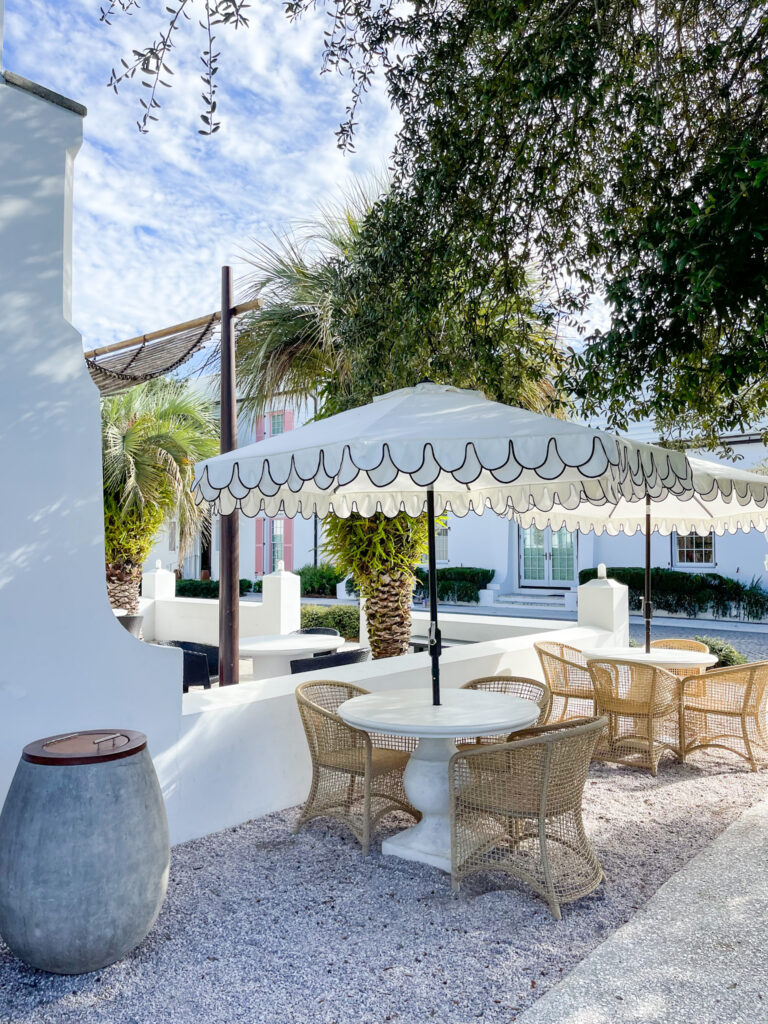 We wrapped up a few tasks around home, checked out our lot with Rachel, and then Kurtis and I headed to Panama City Beach. It's only about 15 miles from our house, but honestly always feels so much further! You'll find touristy places like Margaritaville, Señor Frogs, etc. But there's also some fun local places. Unlike 30A, there are a bunch of restaurants right on the beach. We headed to Sharky's to give it a try and really enjoyed it. There were some locals in a volleyball league so it provided some good entertainment!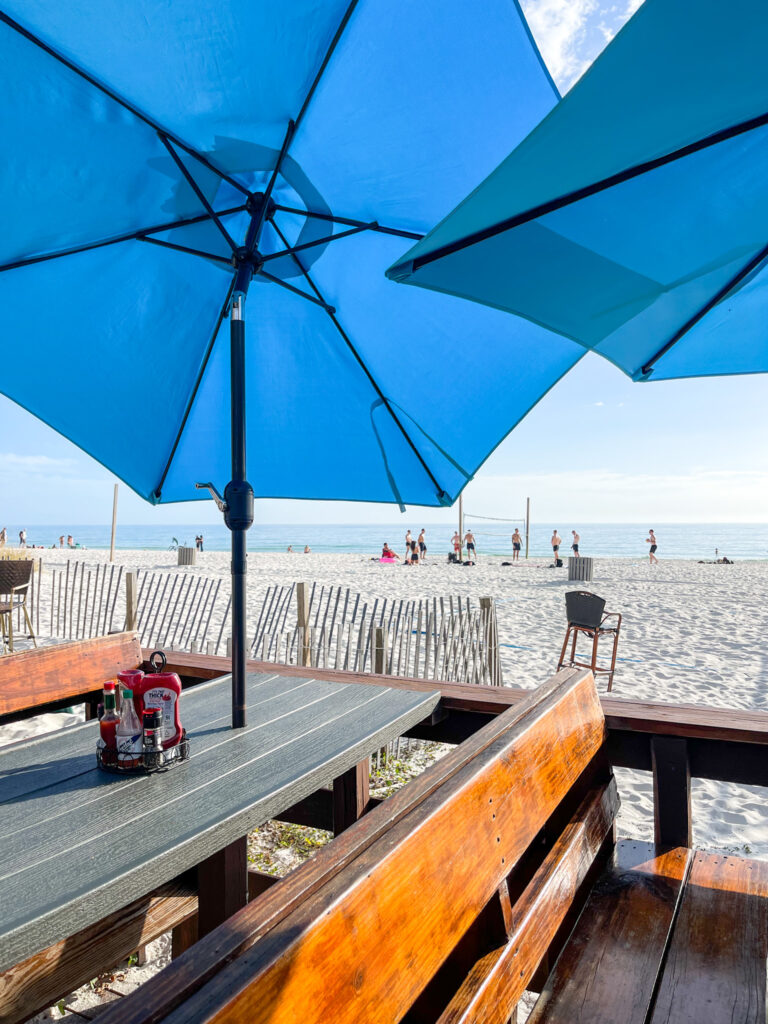 We have two more days of weather in the mid-80's before we'll start seeing more normal temps in the 70's (and even low 60's by early next week). We're trying to take advantage of all the beautiful patio weather while we can!
There's a lot of big sales coming up before Black Friday this year. Walmart is actually starting their Deal For Days Black Friday deals starting at noon Eastern today (for Walmart+ members) and then 7 PM Eastern for everyone else (online only – deals don't start in-store until 11/9). There are some pretty crazy doorbuster style deals, particularly as it relates to electronics, toys, small household appliances, and more! I've saved a bunch of my favorites here if you want to check it out (ignore the prices that load on the list – they're clearly not right. If you click the items though you'll see the correct prices). I like that Walmart shares the sale price ahead of time so you can decide if you want to come back once the sale starts. Super helpful! All deals can be found here. A few highlights:
Serena & Lily has also started their Black Friday sale, with 25% off all full-priced items with code GRATITUDE. I have a bunch of our favorites shown in this post. For what it's worth, I also noticed they recently did a base price reduction on many popular items, so paired with this additional discount, it's much better pricing than I've seen from them in a while! For example, this pendant light (ours is size Large) in our pool house went as high as $598 for the base price. It's now $448 for the base, plus the additional 25% off!
Lastly, another sale worth mentioning, Annie Selke, who makes my favorite Dash & Albert rugs, has a hidden VIP sale for 25% off in-stock items sitewide with code EARLYBIRD25. It only lasts today though!
Tomorrow marks the first full month of us living in Florida! I'm hoping to get a mini home tour published this week to show you around now that we're mostly unpacked. It's finally starting to feel real that we live here, and aren't just on vacation!
Recent Buys & Sales
Following are some sales from the weekend that have carried over and are still going strong!
I hope you all have a great week!
If you would like to follow along on more of my home decor, DIY, lifestyle, travel and other posts, I'd love to have you follow me on any of the below channels: