Good morning! I hope you all had a nice weekend! Can you believe Thanksgiving is already next week?! Here's a little of what we've been up to around here this past week.
This post contains affiliate links for your shopping convenience. Click here to read my full disclosure policy.
Home Projects & Updates
I spent much of the weekend wrapping up our Christmas decor. I was able to photograph our bedroom last night and love how it turned out! Why have I never put a tree in our room before?!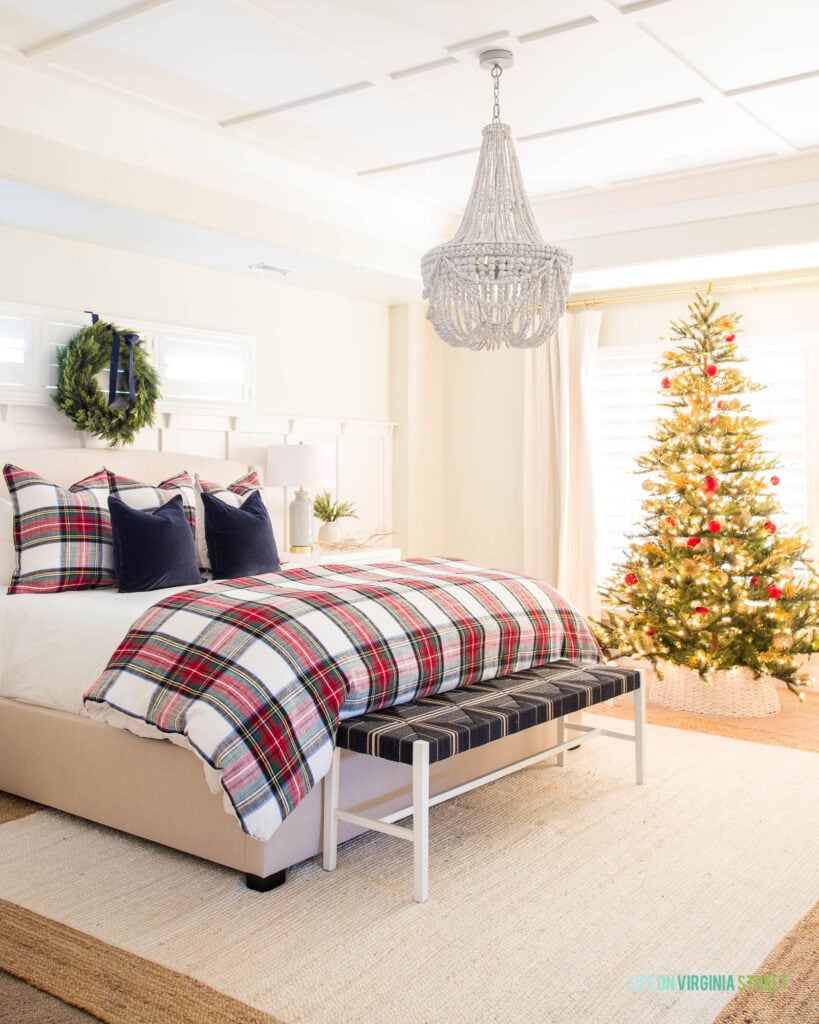 CHRISTMAS BEDROOM SOURCES: Similar Upholstered Bed | Bead Chandelier | Striped Curtains | Woven Bench | Jute Rug | Plaid Bedding | Velvet Pillows | Christmas Tree | White Rope Tree Collar | Wreaths – old from Studio McGee
We have lots of plaid, wreaths, greenery and navy blue ribbon. I'm loving how it turned out!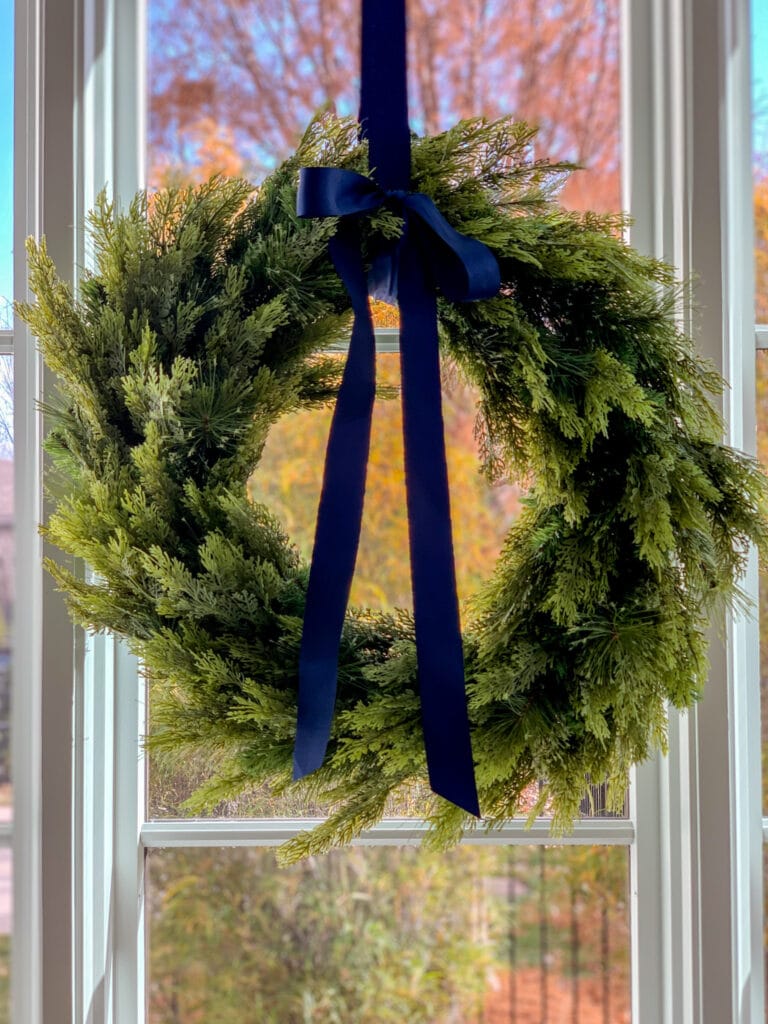 I also swapped out some vacation photos in our mud room (in these frames) with this cute "Have Yourself A Merry Little Christmas" and "Let Your Heart Be Light" art. Although the frames are expensive initially, I love that I can then update the art or photos seasonally very affordably only needing 8×10's. And it still makes a big impact since the overall size of each is about 2'x2′. I got the Evergreen color and love it so much!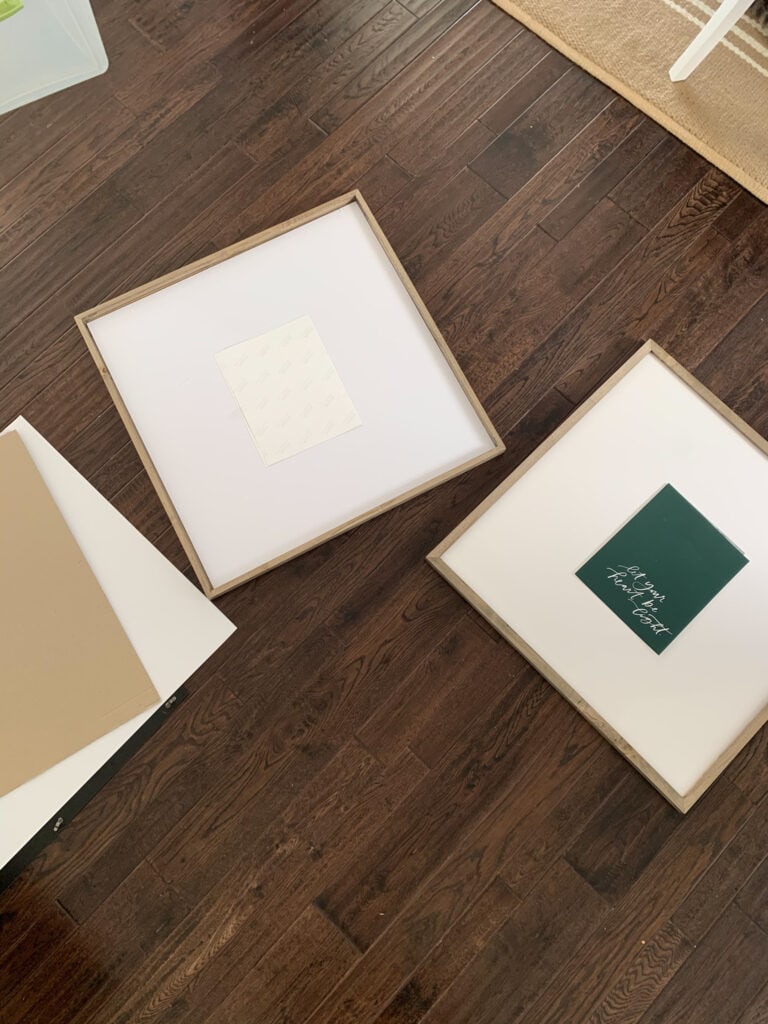 Quick little decorating hack. I love filling my huge wood dough bowl with ornaments for the holidays. But it takes so many! This year I raided some of the packages we had just received, and first filled the bowl with this packing material. It drastically cut down on how many ornaments I needed!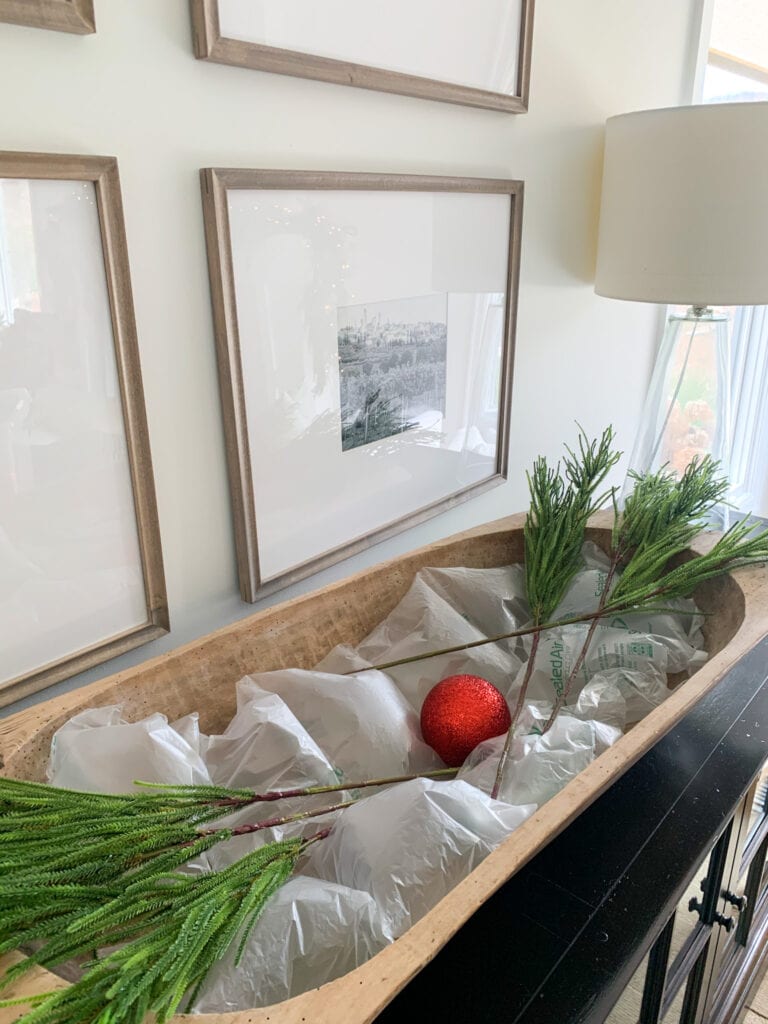 And you'd never be able to tell once it's all done!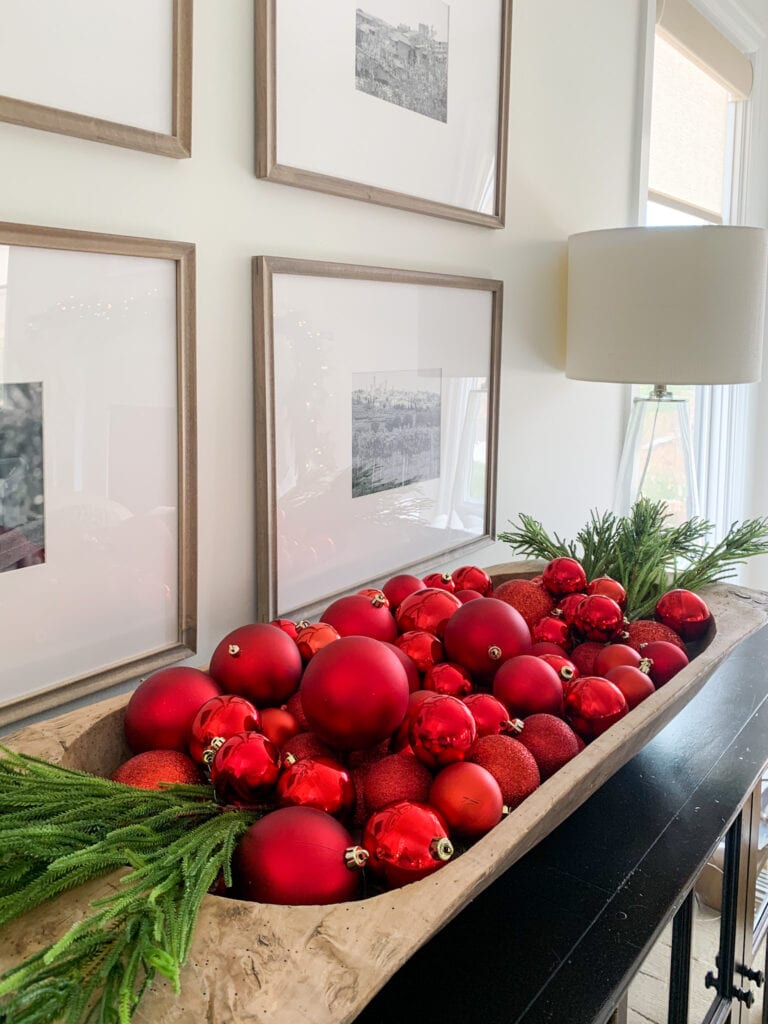 SOURCES: Dough Bowl | Gallery Frames (look for less here) | Lamps | Faux Greenery | Similar Ornaments | Similar Black Cabinet
I got our living room tree decorated and went with a snowball-ish theme. After it sat like this two days, I realized I didn't like the contrast with the natural tree and the white. So, it already looks a little different!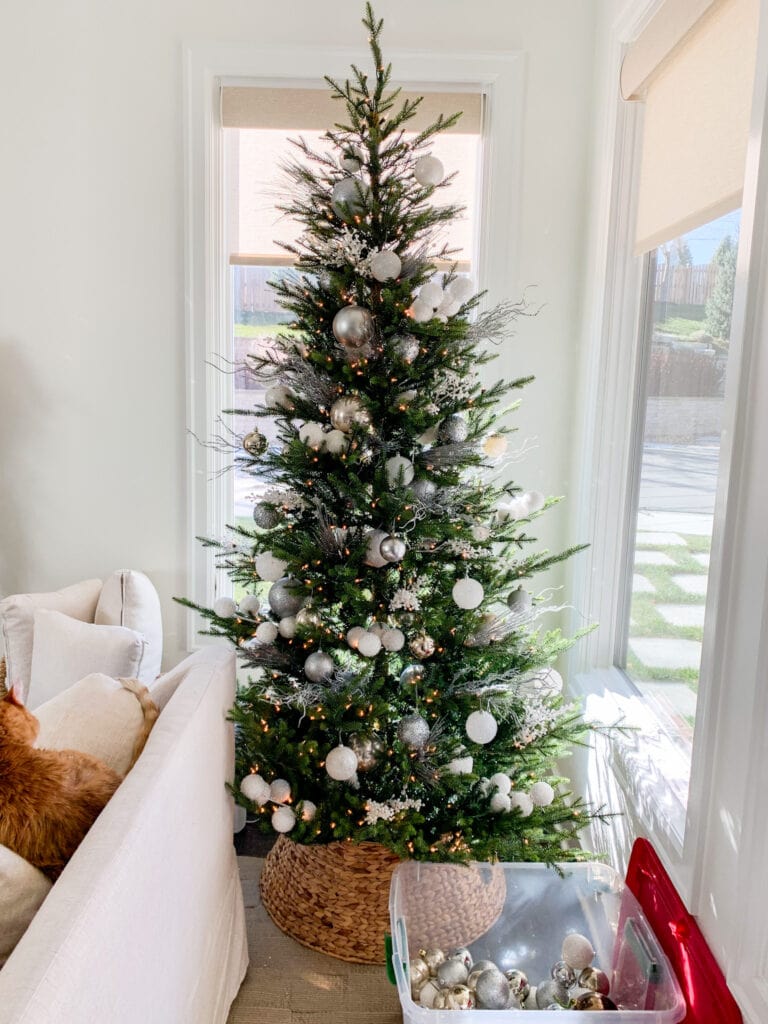 SOURCES: Christmas Tree | Similar Tree Collar | Ornaments & Picks – old from Hobby Lobby
After spending all weekend working on my Christmas home tour, and then photographing our bedroom, I'm quickly reminded how much harder Christmas tours are to put together! I basically have to re-learn how to photograph with Christmas lights every single year and there's a very limited window each day to do it. Long story short, my tour should be ready by Thursday or Friday this week! I'm looking forward to sharing it with you!
Top Sellers Of The Week
Following are the top sellers of the week across all of my channels. Links to each item are below the graphic.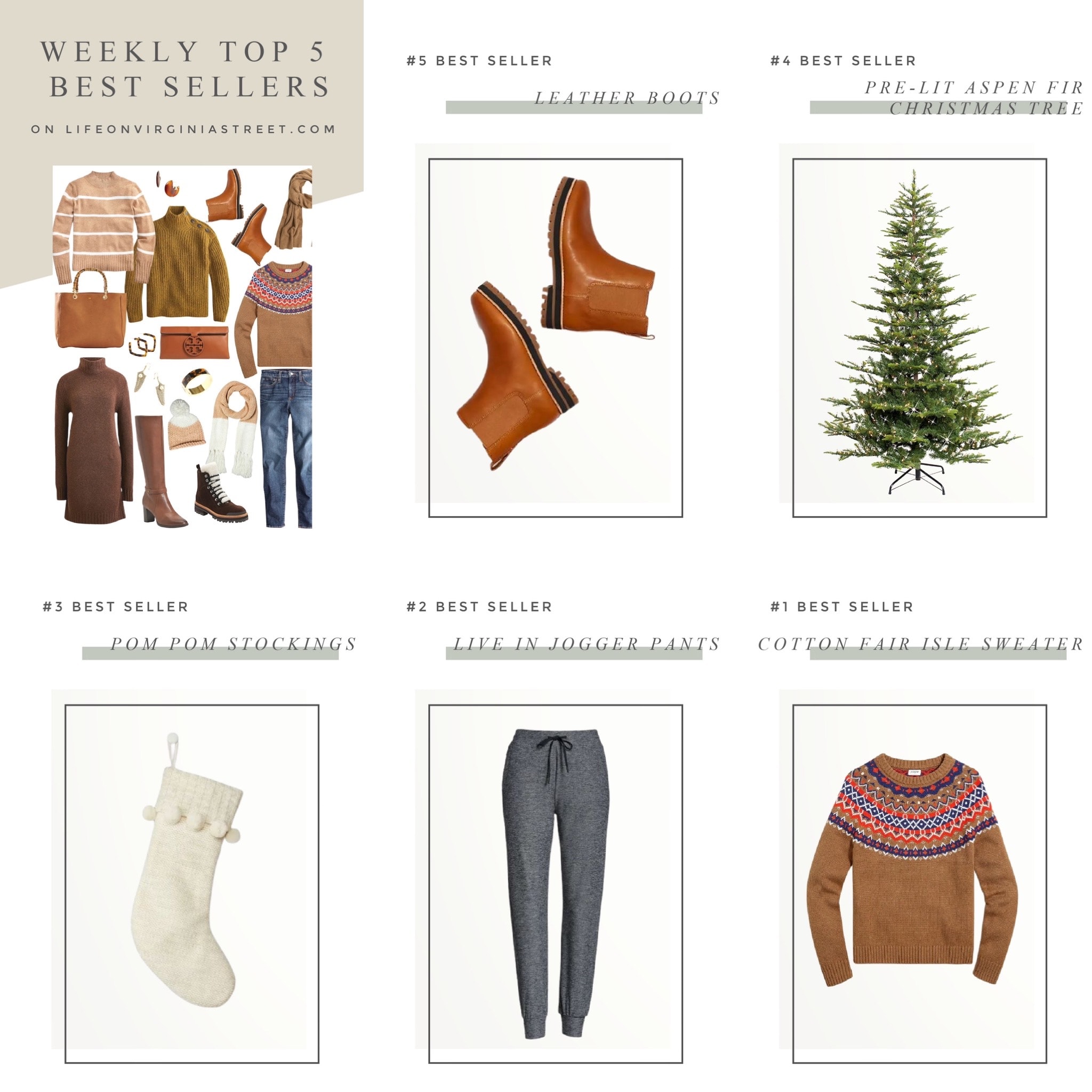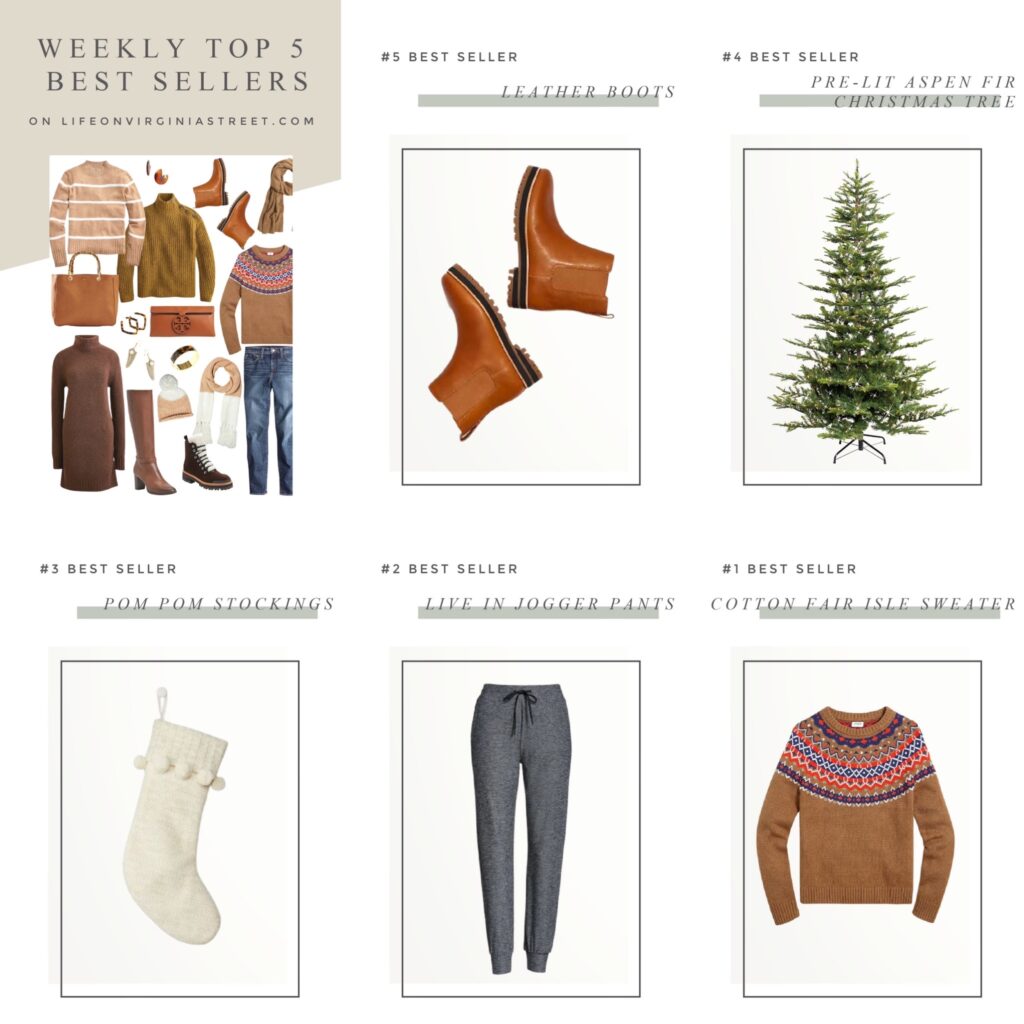 BEST SELLERS (each number is clickable): #5 | #4 | #3 | #2 | #1
Around Town & For Fun
Bailey has been joining me a lot at night when I'm working in the office. I'd like to think it's to keep me company, but I think it's mostly just for the body heat. It's not exactly easy typing when she insists on sitting right in front of the keyboard, but I make it work 😉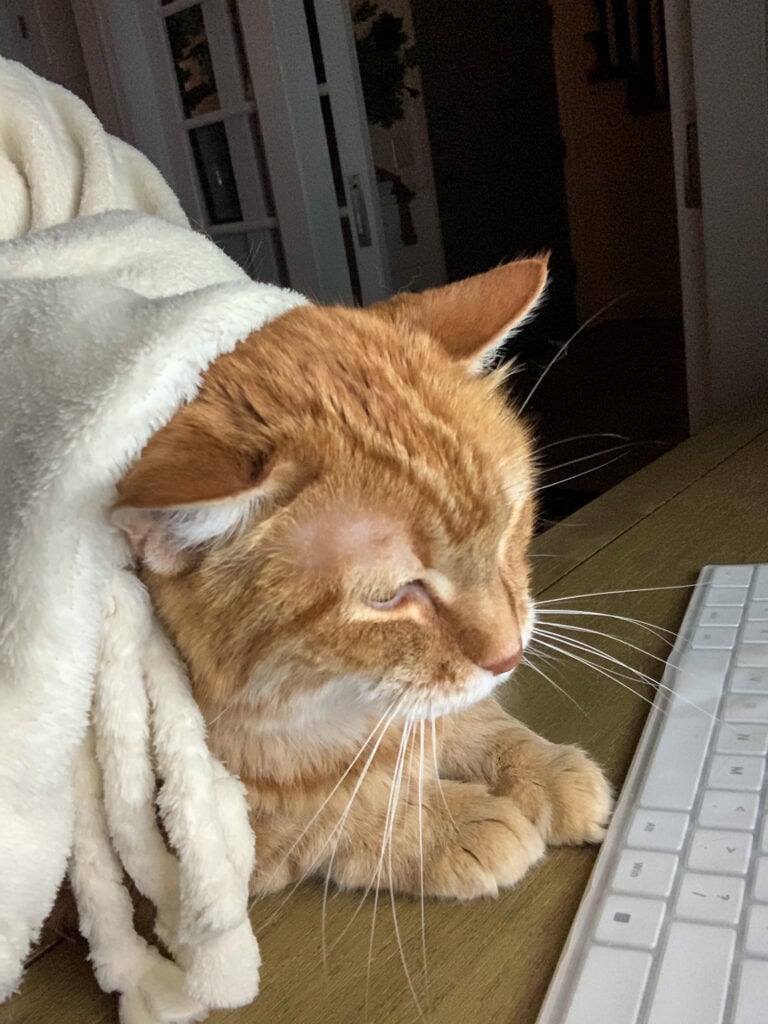 We watched a few Christmas movies this past week or two. We also watched The Social Dilemma on Netflix. Since much of my life is spent on social media, I knew some of this, but holy cow! It was terrifying, but a must-watch. Definitely making a point to be more conscious about screen time. The girls love their cuddle time when we're on the couch, regardless of what we watch!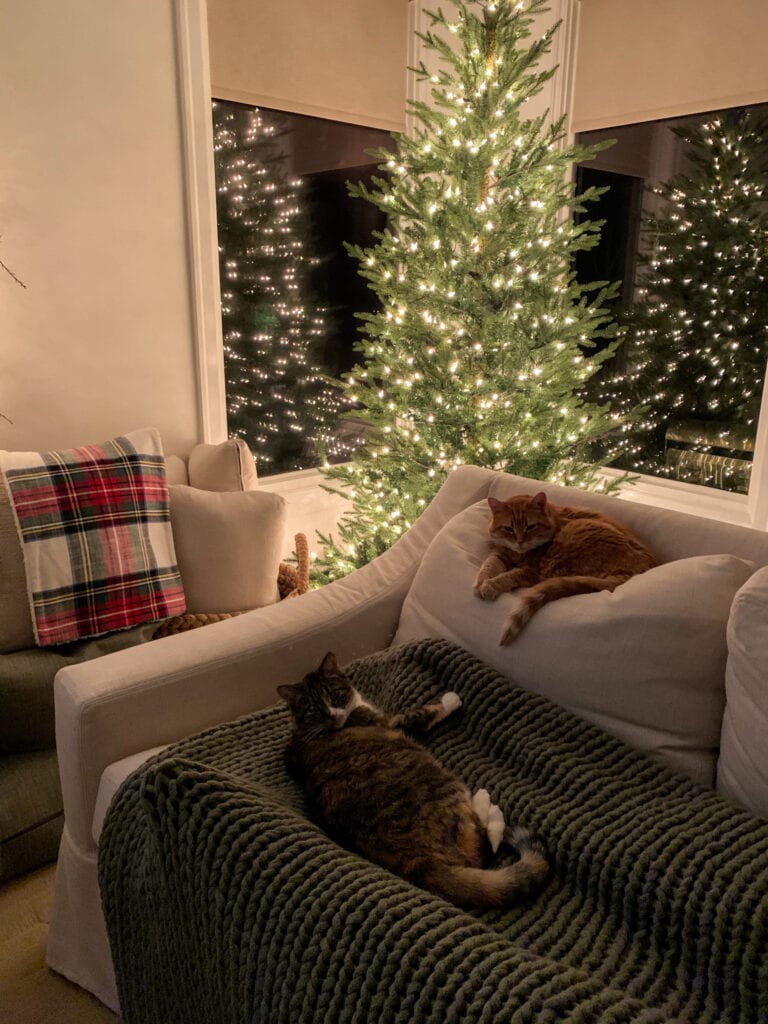 Hawkeye followed me around most of the weekend "helping" me decorate. He is beyond obsessed with this cozy pom blanket.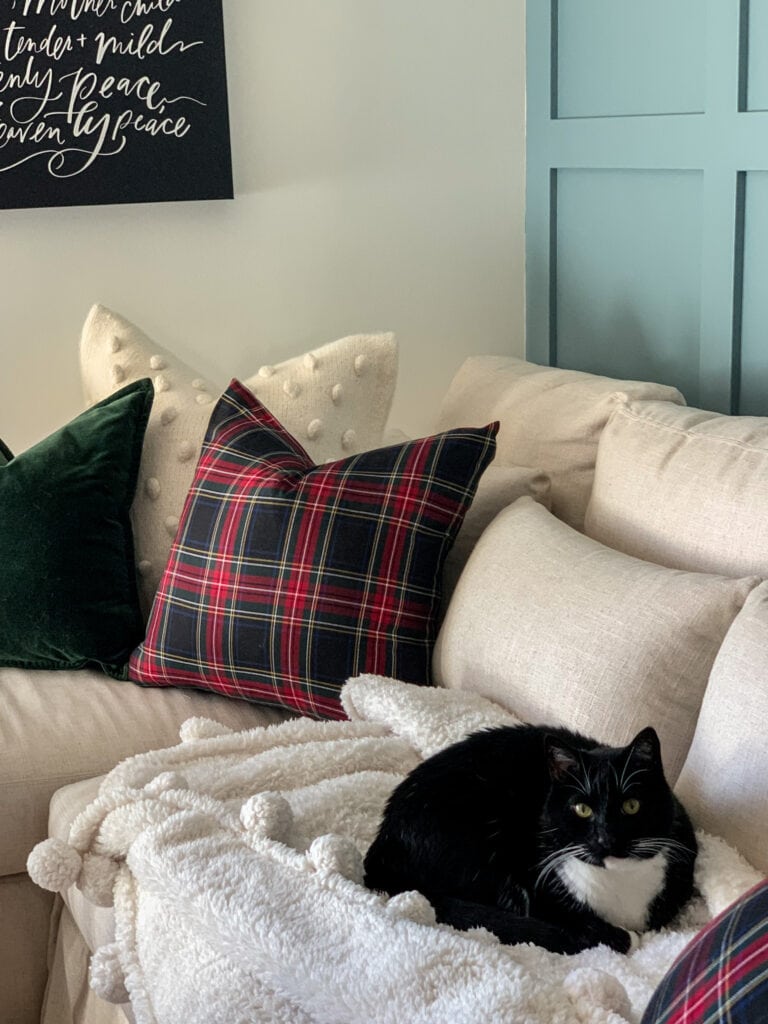 DEN SOURCES: Linen Sectional | "Silent Night" Canvas | Velvet Pillow | Pom Pillow (look for less here) | Plaid Pillow | Cozy Pom Throw
I washed all our bedding and duvet cover yesterday. Bailey took it as the opportunity to immediately jump in the pile for her new bed.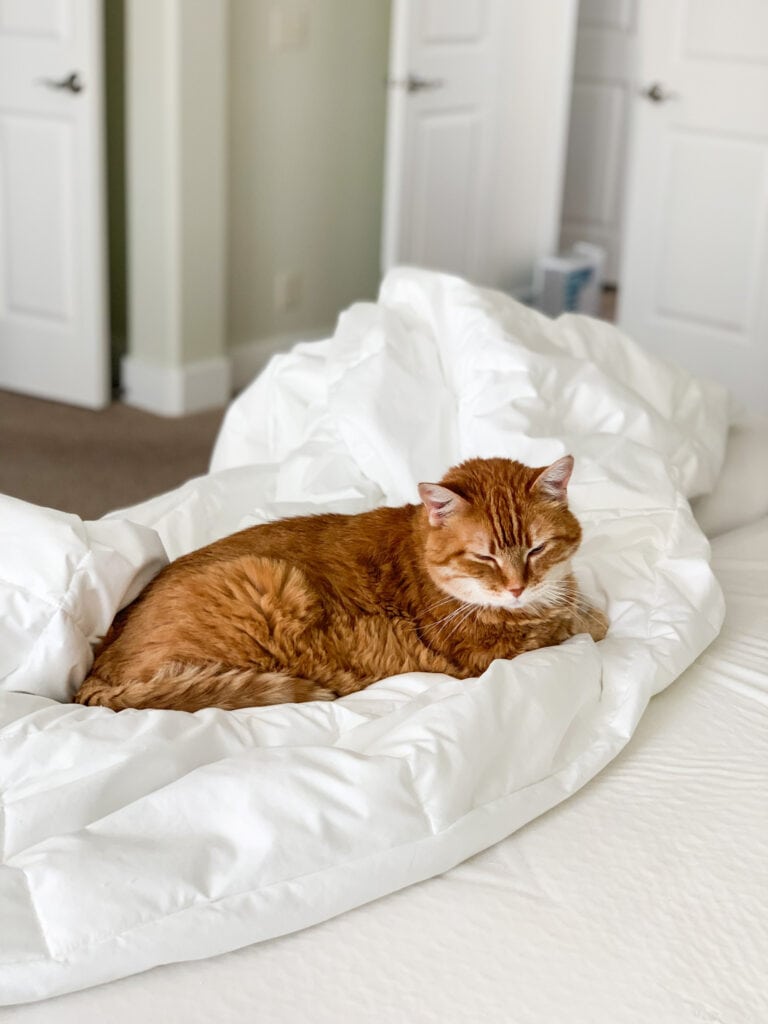 We don't love the idea of eating inside restaurants right now, but we're still trying to support local business as much as possible. We had a meeting at our bank Friday afternoon, so we decided to grab a quick early dinner at Roja. The advantage of going to dinner at 3:45 is that restaurants are basically empty.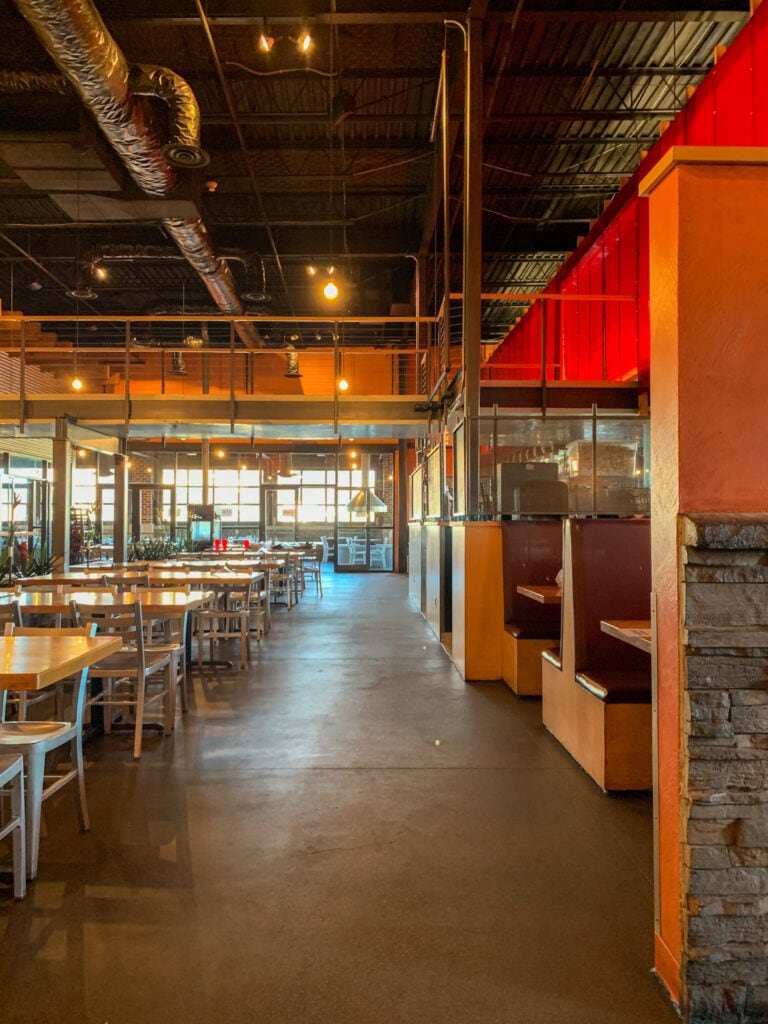 I was excited to see this list with heated patios in Omaha that will be open for winter! Just scroll past the form (unless you're a local restaurant) and last time I checked there was was an alphabetical list with 32 local restaurants already included!  We were so much more comfortable eating out when we could sit on a patio in the warmer months so I love seeing this!
I've been trying a lot of new recipes to change things up since we're eating home for basically three meals a day now. These egg bites were super easy. It's just one egg per muffin slot. I then chopped onion, spinach, and tomato and added some to each egg. I also chopped some ham to add to Kurtis' side. I then baked them for about 30 minutes at 375 degrees. It's nice because you can throw them in the fridge to use through out the week! In hindsight, it would have been easier to mix everything together first and then pour in the tins, but this worked too when I just stirred them all with a fork.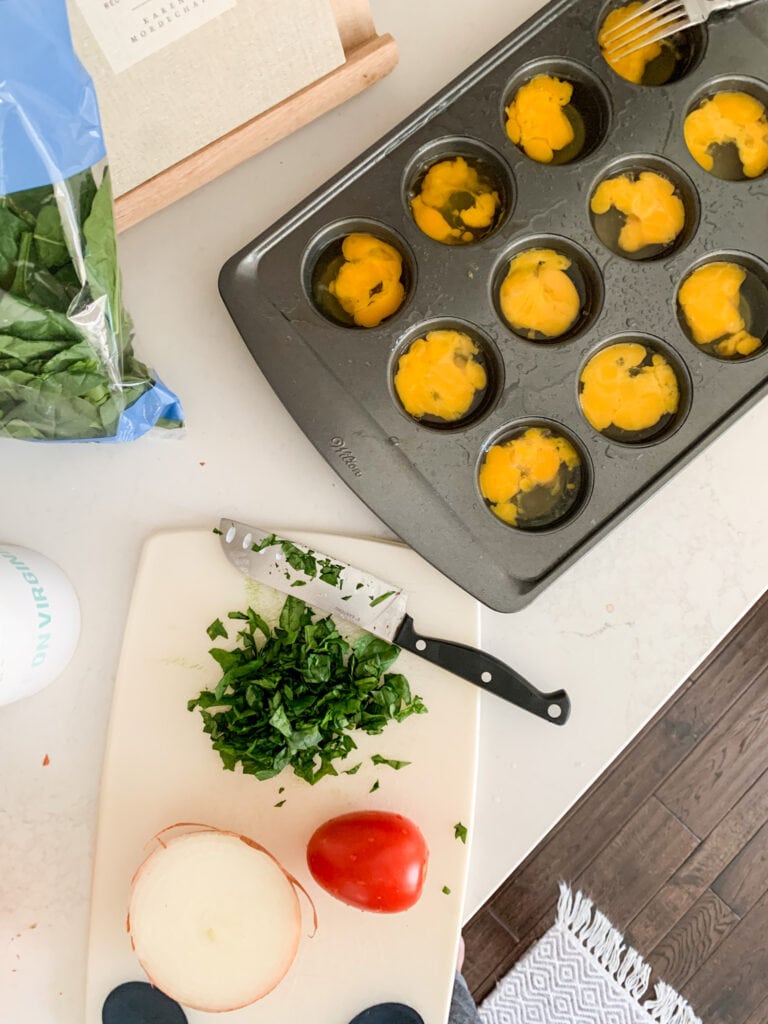 We did a taco bar this weekend at our friend's house. It's nice having a tight circle of people we can still hang out with occasionally. We hadn't seen them since Halloween and it was fun to all get together again! We'll probably go back into hiding now for another two weeks in case we still do Thanksgiving with Kurtis' family! But let's be honest, that's our MO even without a pandemic 😉
Recent Buys & Sales
Following are some of the sales that have carried over from the weekend or new ones that have started today! You can see some of my top picks from the weekend here.
I hope you all have a great week!
If you would like to follow along on more of my home decor, DIY, lifestyle, travel and other posts, I'd love to have you follow me on any of the following:
Pinterest | Instagram | Facebook | Twitter
disclosure: some affiliate links used