A collection of the best interior white paint colors and tips on picking which one is right for your home! See real-life examples of each color in an actual home. Includes neutral whites, warm whites, and cool white so there's sure to be the perfect white for everyone!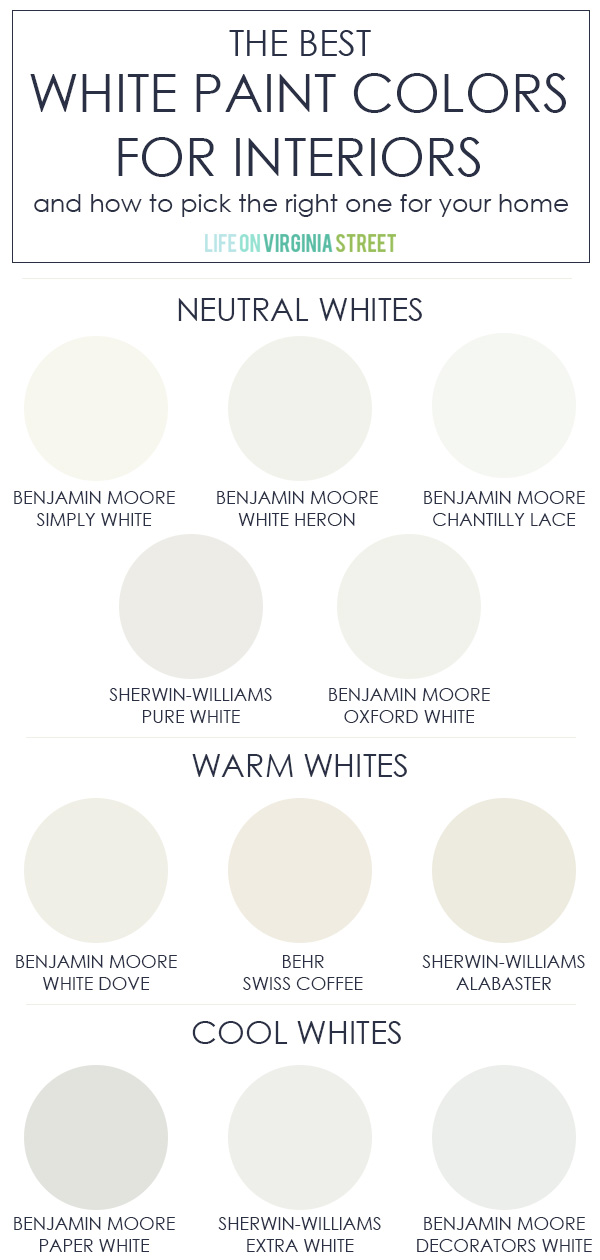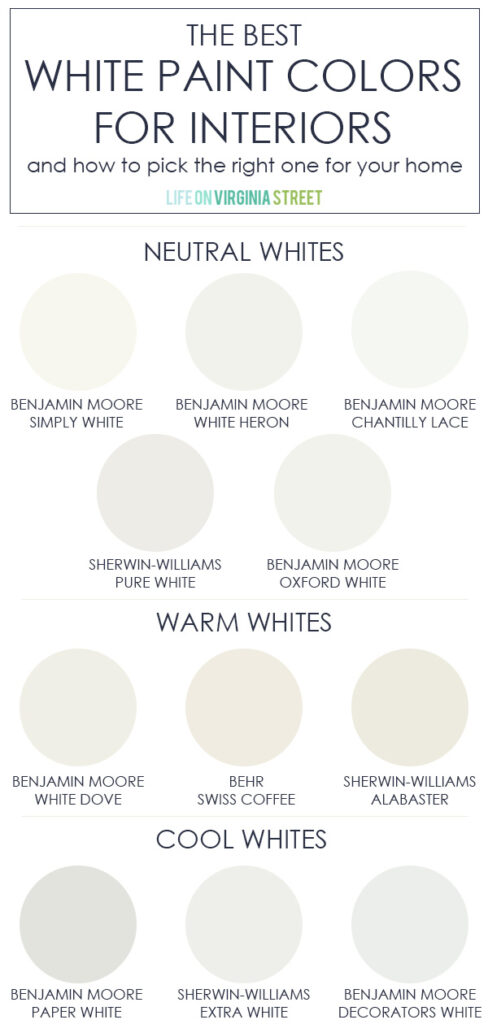 Surprisingly, white interior paint can be one of the hardest paint colors to pick! However, over the past several years, I've spent hours upon hours of research finding the perfect shade of white paint that works on the interior of our home as well as the exterior! Unfortunately, there isn't a one-size-fits-all white paint that is perfect for every home. Factors such as natural light, surrounding elements, artificial light and so much more can change how a white paint looks from one home to the next. It's one of the reasons I'll never give a blanket "favorite" or universal white paint out. I truly believe it's specific to each home. But, today I'm going to share what I consider to be the best white paint colors for interiors along with some simple tips to help you narrow down the timeless shade that's perfect for you! Along the way, I've included examples in real-life homes as I've found them.
This post was originally published February 19, 2019 but has been updated with current information and images. This post also contains affiliate links for your shopping convenience. Click here to read my full disclosure policy.
A Few Helpful Tips About White Paint
If you're looking for exterior paint options, you may want to check out my post on the best exterior white paint colors. Since lighting varies so much between interiors and exteriors, you'll likely want to consider two different options depending on the space.
One word of advice before we jump into the colors. I am a strong believer in NOT trying to color match whites across brands. They will tell you they can do it, but I've had two very bad experiences where the colors were very off from the original to the color-matched version. It can work well with darker colors, but with white, I would try and find a color that belongs to the paint line you're wishing to use.
If you're wanting to try large, pre-painted samples, I'd definitely look into Samplize for picking the perfect white paint color for your home! Their large peel and stick samples are made with real paint (not dyed to mimic the color) so it can definitely help narrow down your top picks.
I've broken the paint colors down into neutral whites, warm whites, and cool whites, and I'll explain along the way why you may want to select one over the other. Natural light can play such a critical role in picking the right paint color so I'll share what to look for! You'll also note that most of my selections are from Benjamin Moore and Sherwin Williams. This is simply because there is the most "research" on these options, and you're much more likely to find real-life rooms online with these colors to help guide you. It doesn't mean there aren't other great paint options out there!
I'm also sharing some tips for selecting the perfect white paint color for your home further down in the post!
The Best Neutral White Paint Colors for Interiors
Neutral whites are ones that tend to work in the widest variety of homes. Regardless of lighting situations, they tend to look "white" and are the best choice to make bold colors and art in your space pop off the walls!
Benjamin Moore Simply White
Benjamin Moore Simply White is likely the least neutral of the ones I'm sharing today (it's on the warm side of neutral). But, it is the paint color we have used throughout much of our home. It has warm undertones that help keep things from looking too stark. We also have this color on our kitchen cabinets and trim and it is by far my favorite white paint color in our house! I've found that in homes or rooms that don't get a lot of natural light, this color can look a bit yellow though.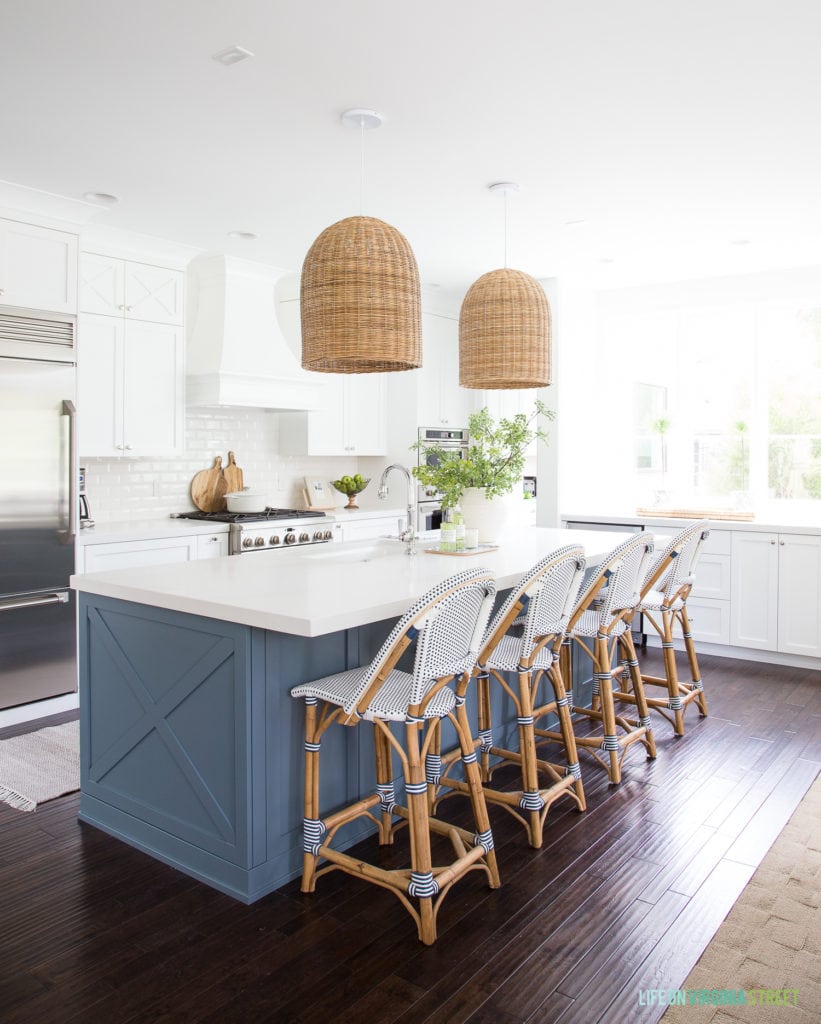 KITCHEN SOURCES: Basket Pendant Lights | Bistro Counter Stools | Similar Vase | Faux Greenery | Kitchen Faucet
To show the color on walls, we used Benjamin Moore Simply White on the walls in our den, paired with Benjamin Moore Hale Navy.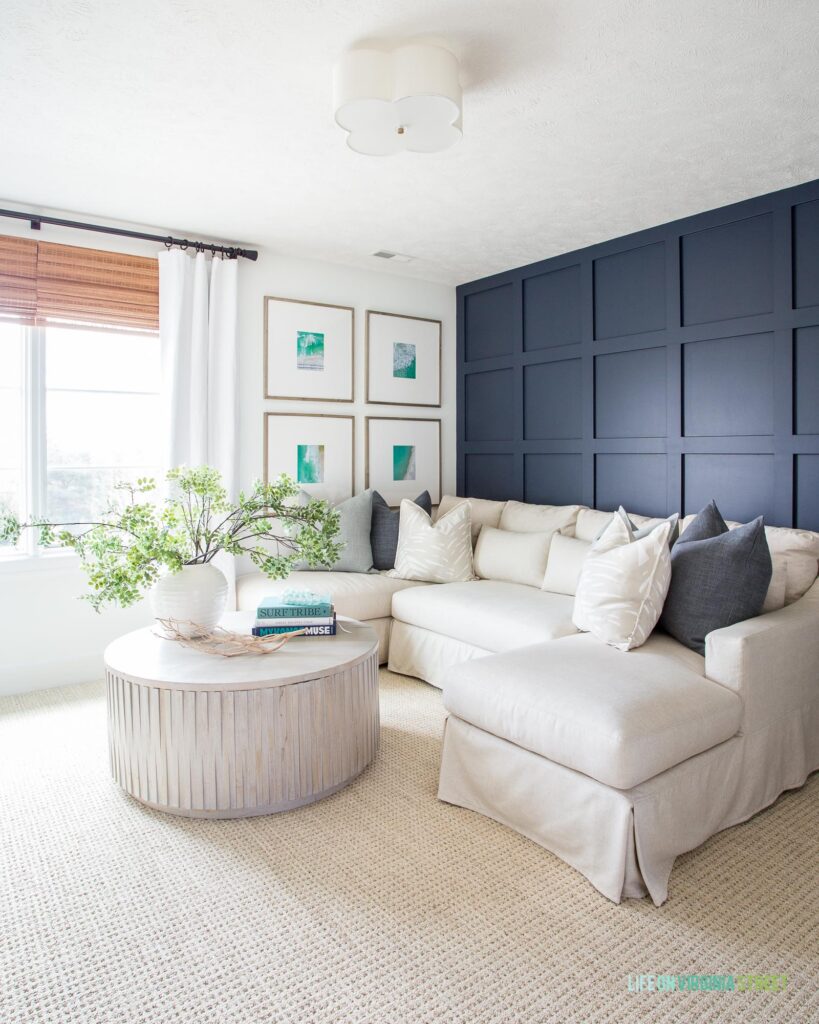 SPRING DEN SOURCES: DEN SOURCES: Sectional(read my review here) | Coffee Table | Scallop Light Fixture | Gallery Wall Frames(look for less here) | Art: Personal Vacation Photos (coming soon for download!) | Linen Blackout Drapes | Cast Iron Curtain Rod | Woven Cordless Shades(color is Tuscan) | Chambray Linen Pillow Cover | Midnight Linen Pillow Cover | Palm Pillow Cover | Faux Greenery | Vase | 'Surf Tribe' Book | 'Great Escapes Italy' Book | 'Mykonos' Book | Recycled Glass Beads | Tripod Lamp | Carpet (color is Beach) | Paint Colors: Benjamin Moore Hale Navy and Simply White
We also used Benjamin Moore Simply White on all of the shiplap and trim in our pool house. I find that it's helpful to see a paint color on a number of types of surfaces and locations throughout a home to get a true feel for the color! Here it is paired with our Benjamin Moore Santorini Blue island.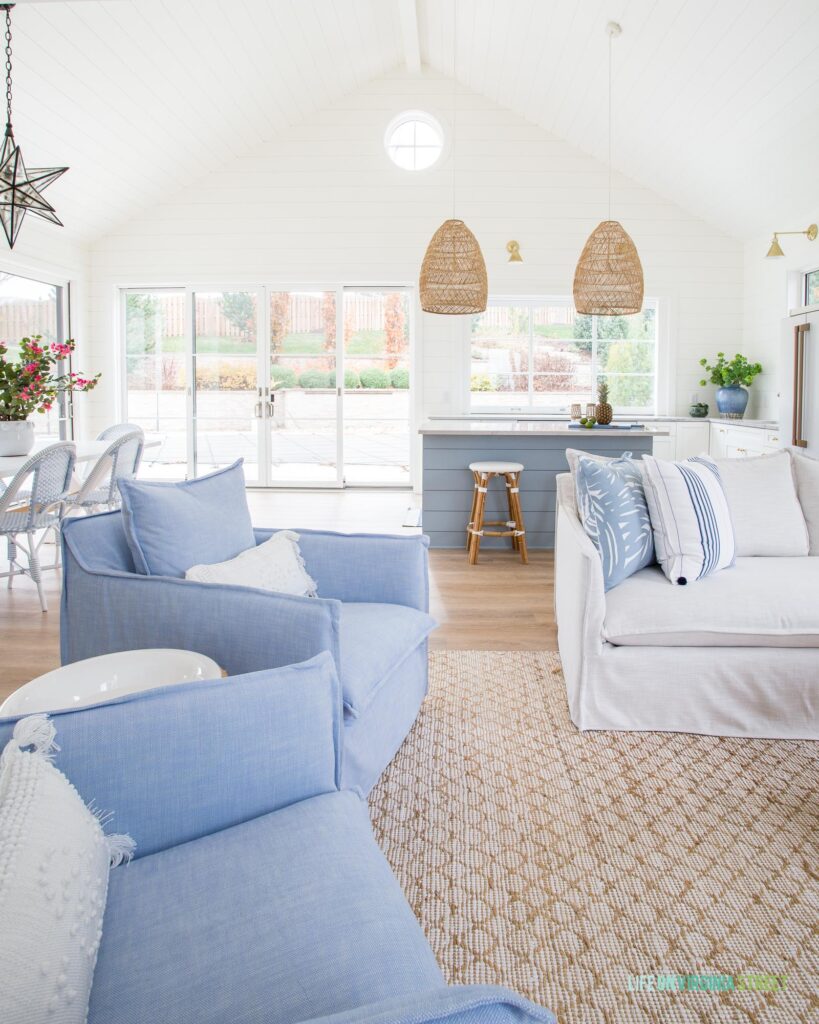 POOL HOUSE LIVING ROOM SOURCES: Outdoor Sofa (Perennials Basketweave – Chalk) | Outdoor Swivel Chairs (Perennials Basketweave – Coastal Blue) | Round Storage Side Table | Rug | Indoor/Outdoor Palm Pillow Cover | Indoor/Outdoor Striped Pillow Cover | Indoor/Outdoor Fringe Lumbar Pillow Cover | POOL HOUSE KITCHEN & BAR SOURCES: Basket Pendant Lights | Aged Brass Star Sconces | Striped Runner Rug | Backless Counter Stools | Cabinet Ball Knobs | Drawer Bin Pulls | LVP Floors | Faux Viburnum Stems | Blue Vase | POOL HOUSE DINING ROOM SOURCES: Dining Table | Outdoor Dining Chairs | Star Pendant Light | Faux Bougainvillea | White Circle Dot Pot
Benjamin Moore White Heron
Benjamin Moore White Heron is a beautiful off-white color without strong undertones. This is a versatile color for most homes!
Benjamin Moore Chantilly Lace
Benjamin Moore Chantilly Lace is a crisp, clean white that works well on trim, cabinetry and walls.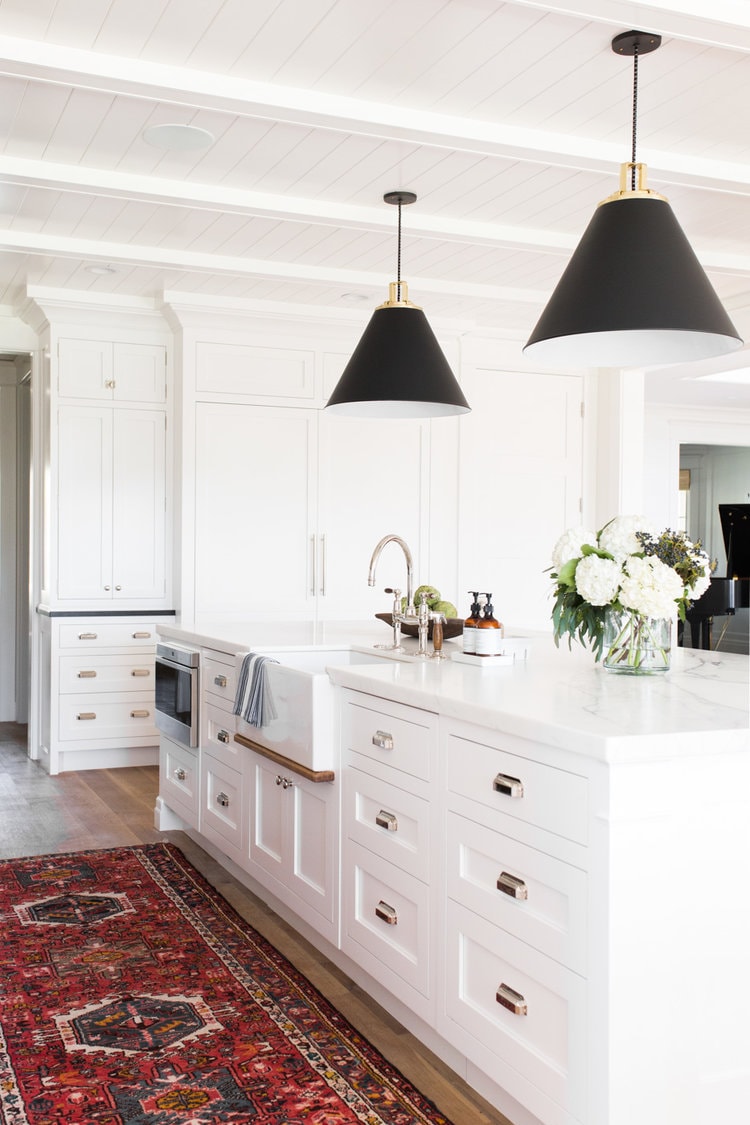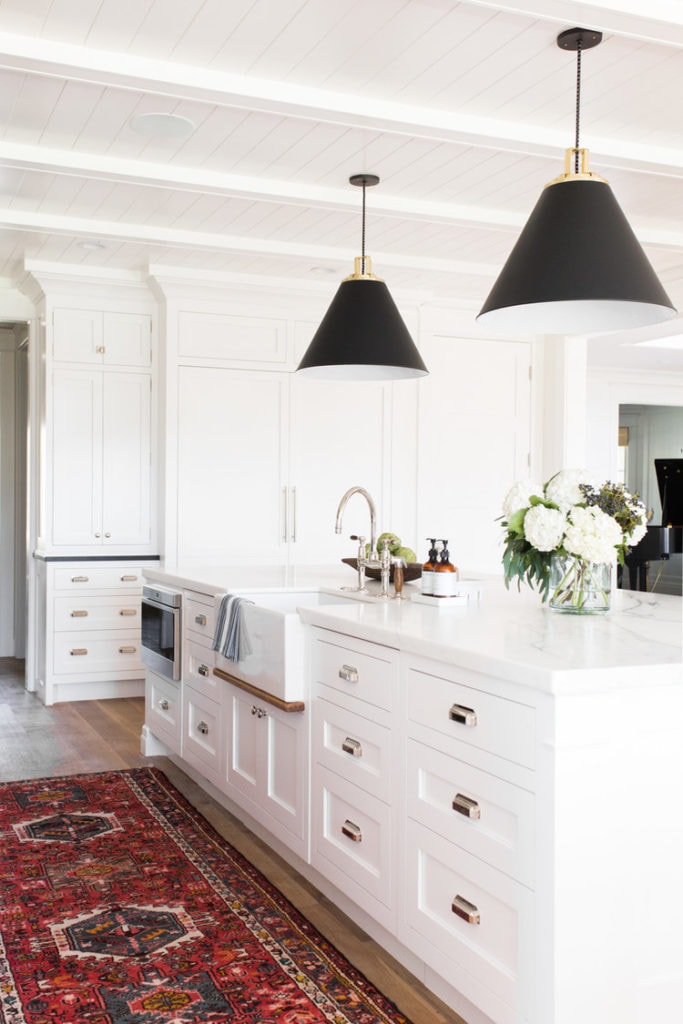 Sherwin-Williams Pure White
This is a very pure white without being too stark. It is the white used on all the shiplap and trim at Hola Beaches, and I love that it doesn't bring out any weird undertones! It's paired with Sherwin Williams Agreeable Gray (another favorite!) above the shiplap.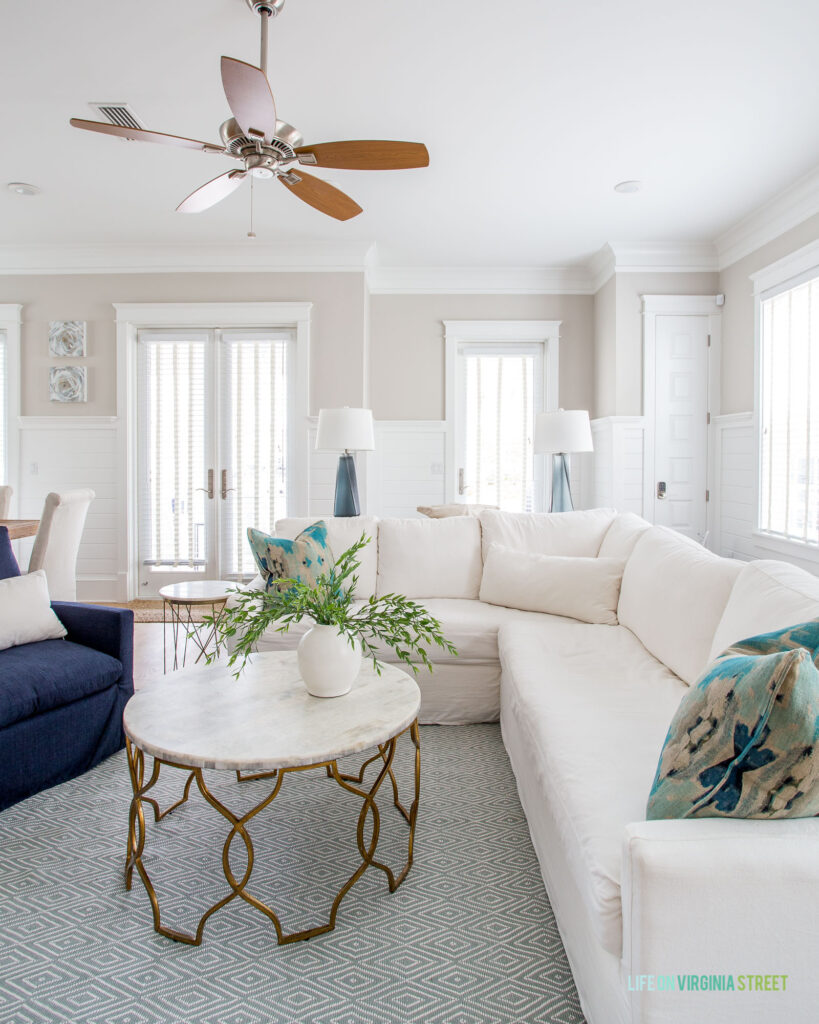 HOLA BEACHES LIVING ROOM SOURCES: Similar Sectional | Navy Blue Swivel Chairs | Coffee Table | Rug | Faux Greenery | Vase | Linen Pillows | Similar Lamps
Benjamin Moore Oxford White
A classic white paint color that is similar in saturation level to Simply White, but reads slightly less warm. A good option if you're seeing to much yellow with Simply White!
The Best Warm White Paint Colors for Interiors
I've used a handful of warm white paint colors in various rooms and/or seen them in person. These colors are best if you're trim isn't bright white and for north-facing rooms to help balance the cool light coming in the windows.
Benjamin Moore White Dove
We actually chose White Dove for our home's exterior because of it's warm properties. It's also a top choice for trim if you don't want a stark look. White Dove is a shaded white, so it doesn't look quite as crisp as some of the other options if you're wanting a bright white. But it's a great welcoming warm white for walls if you want something a bit cozier!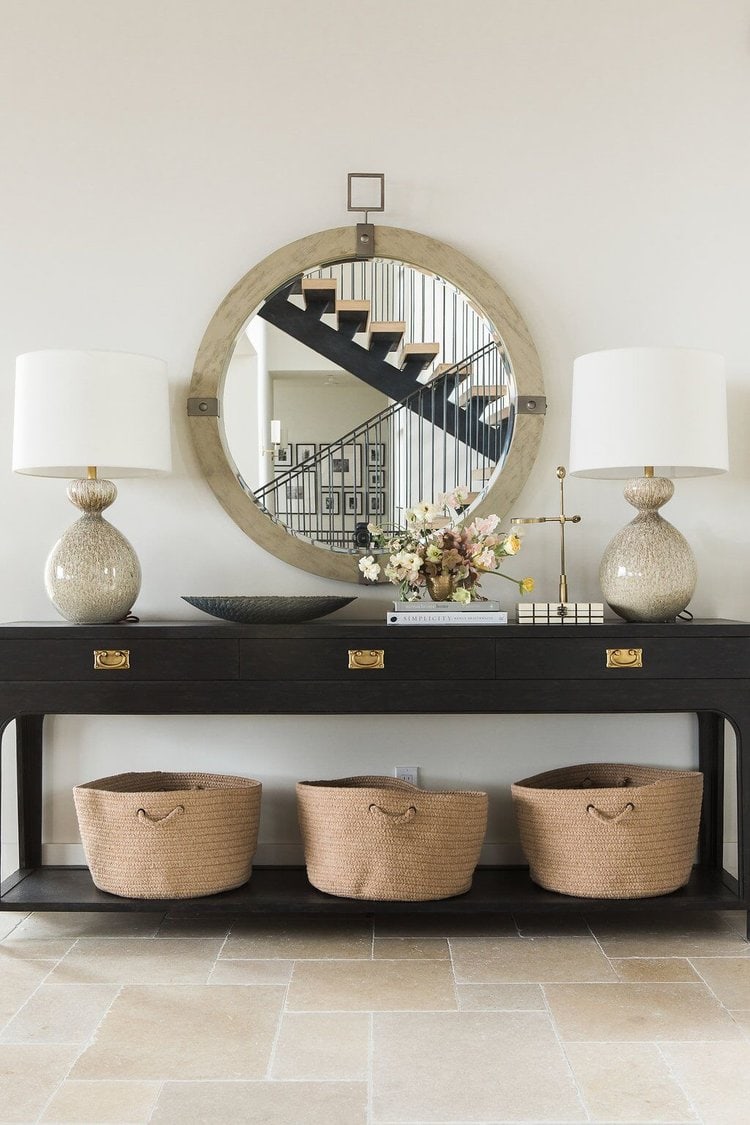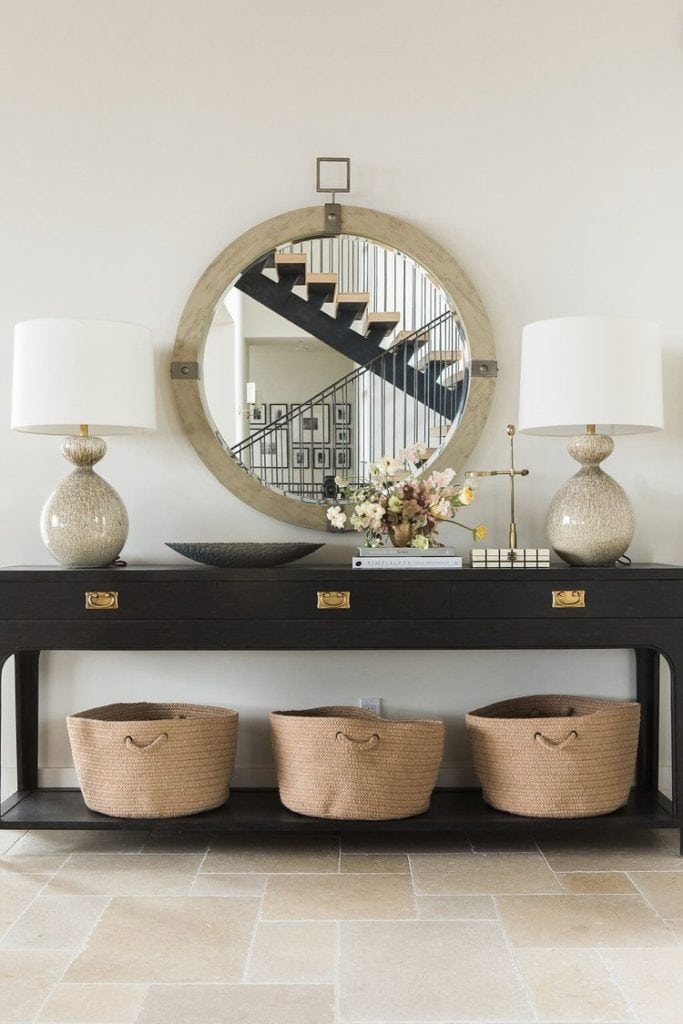 Behr Swiss Coffee
We have Behr Swiss Coffee on some of the trim in the upstairs of our home. It's a great, warm option if you don't want a stark white. The room below faces north, so Behr Swiss Coffee was a perfect choice for the board and batten and the trim work! Here we have it paired with Benjamin Moore Classic Gray.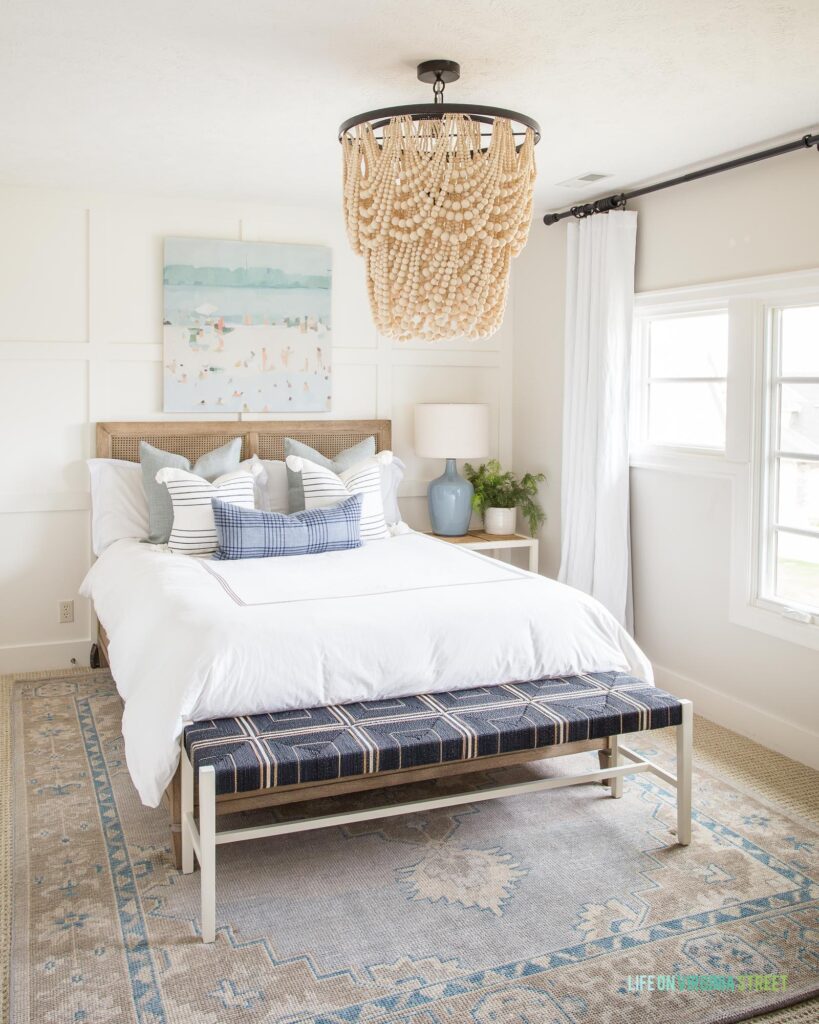 SPRING GUEST BEDROOM SOURCES: Cane Bed | Nightstand | Sea Glass Sandbar Art (also available here) | Bench | Bead Chandelier | Hand-Knotted Rug | Linen Drapes | Hotel Style Duvet Cover | Linen Pillows | Striped Tassel Pillows | Plaid Lumbar Pillow
Sherwin Williams Alabaster
Our BFFs  painted their walls Alabaster in a prior home, after they were wanting a white to pair with their trim. The bulk of their windows face north and the color is stunning in person! If you find Alabaster isn't for you, another great option Sherwin Williams Shoji White.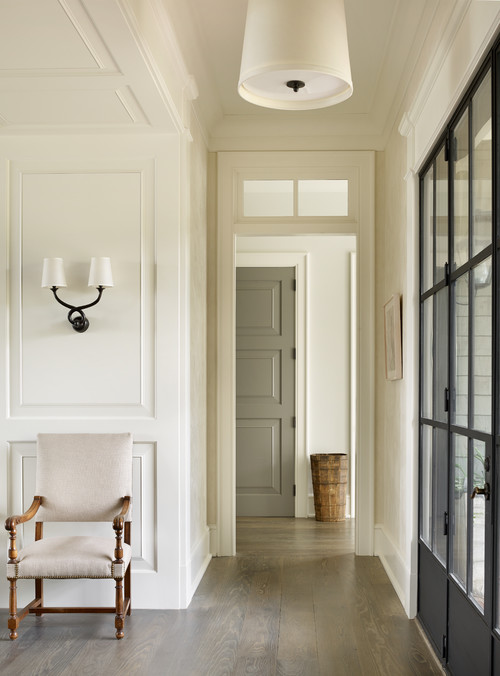 Here is another example of Sherwin Williams Alabaster in a serene bedroom.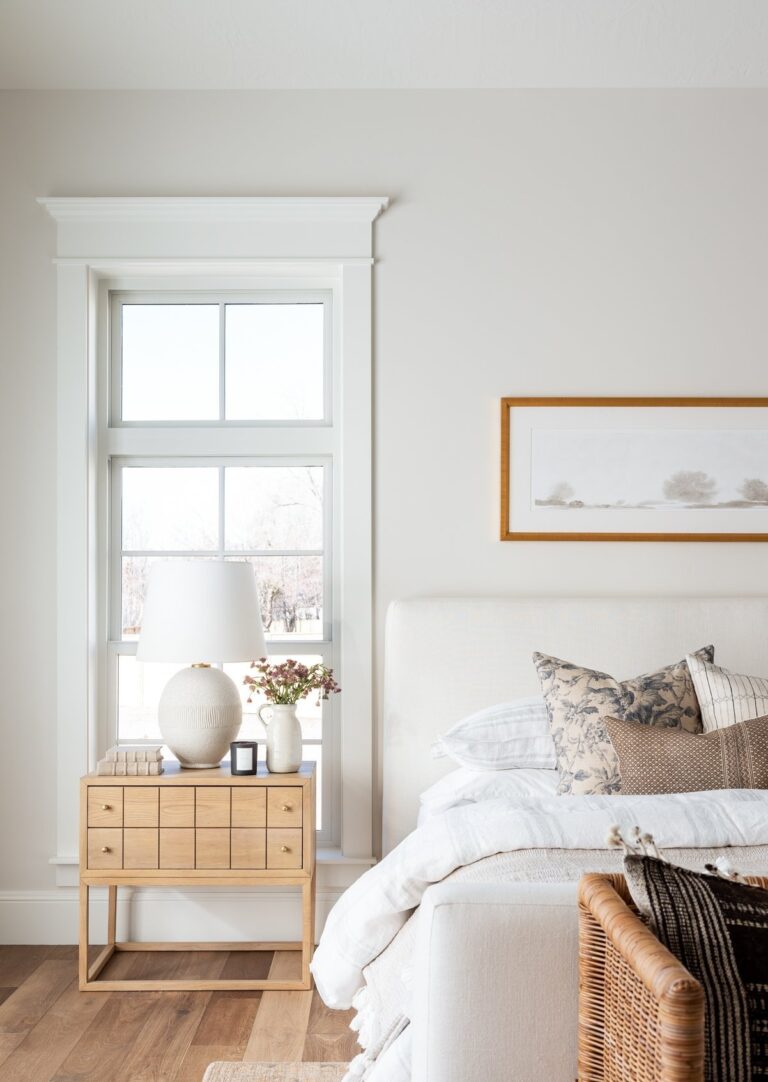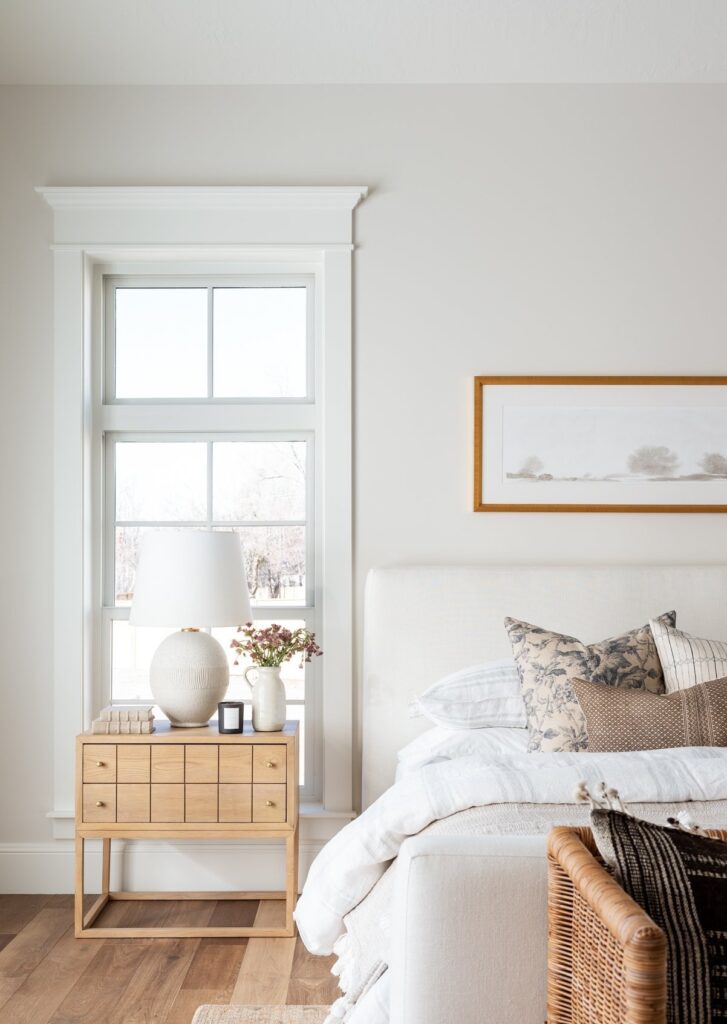 The Best Cool White Paint Colors for Interiors
If you have a room that gets a lot of sun exposure or faces south, you may want to try a cool white paint color to help cancel out some of the warm tones.
Benjamin Moore Paper White
This white has the most gray undertones of the whites I selected. It is a beautiful cool white that would also work well on walls, as it also has a bit of saturation to it!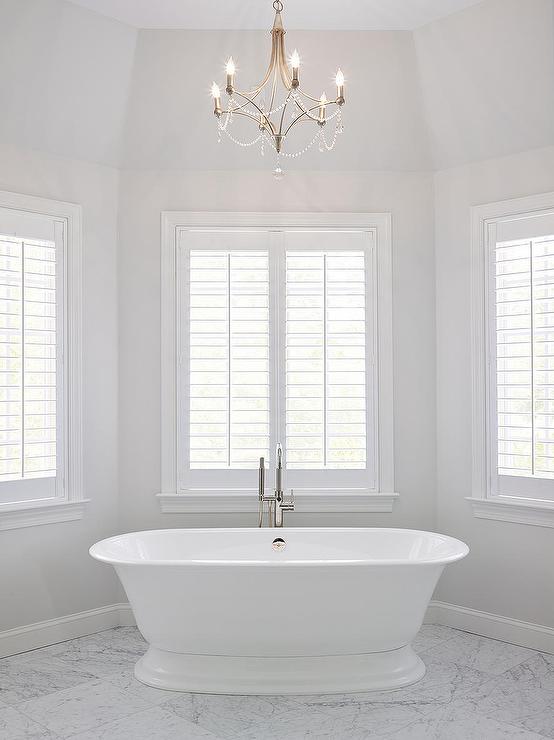 Sherwin-Williams Extra White
This is a bright white that works well on trim if you're looking for a sharp, crisp white! Additionally, if you're looking for the bright white gallery wall look, this may be the white for you!
Benjamin Moore Decorators White
This has few odd undertones that come out in most lights, however, it does contain a touch of cool gray and can read a bit cool. If you're looking for a sleek white paint color, this may be a good option for you!
Tips for Selecting the Perfect White Paint Color for Interiors
Be sure to pay close attention to the suggestions above in terms of lighting. That should immediately help you narrow down what to look for. Once you have a few in mind, it can be helpful to buy several poster boards or use some old pieces of cardboard and cover them with a few samples of your top paint contenders. Or, as an alternative, order some samples from Samplize for large, easy to place samples that are made with real paint. Place them throughout various areas in your room to see how the natural light works with each. You'll want to try and do this at multiple times throughout the day as well as on sunny vs. cloudy days. It may sound time-consuming but you'll ultimately be so much happier with your final selection if you put in this additional work before you start painting!
You'll also want to take your furnishings into account. If you decorate more with beige and warm tones, you'll likely want a white paint color that also has warmer undertones. Conversely, if you decorate with a lot of grays and cool colors, you'll want a white that leans a bit cooler!
Do you have other white paint colors for interiors that you love? I'd love to hear!
How To Keep Your Home Paint Colors Organized
If you frequently paint your home like I do, it can sometimes difficult to keep all your colors (and paint cans) organized! I recently created this free download that I think you will all love!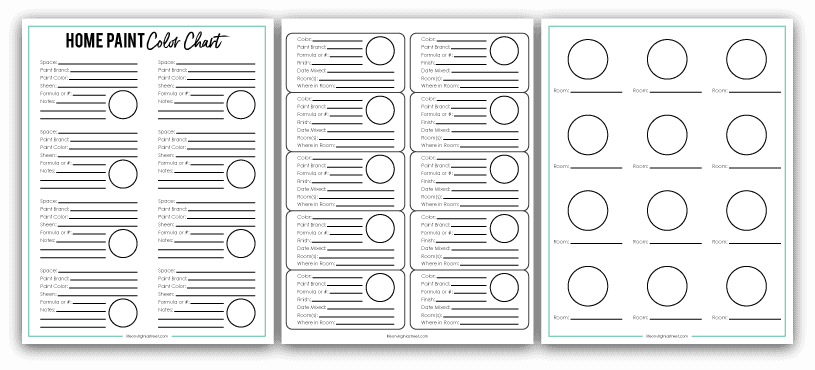 Here's how I use each of the pages:
Page 1 – I print on white cardstock to complete and keep handy around our home or near where we store our paint.
Page 2 – I print on these labels and add them to the paint cans for easy identification.
Page 3 – I shrink to fit on an index card to keep in my purse, or print as is and fold up to carry with me at all times. I simply add a drop of paint and the room name.
Simply complete the form below and I'll email the PDF files over to you to start using today!

Additional Paint Color Inspiration
If you're looking for even more paint color inspiration, be sure to check out these other posts by clicking on their titles below: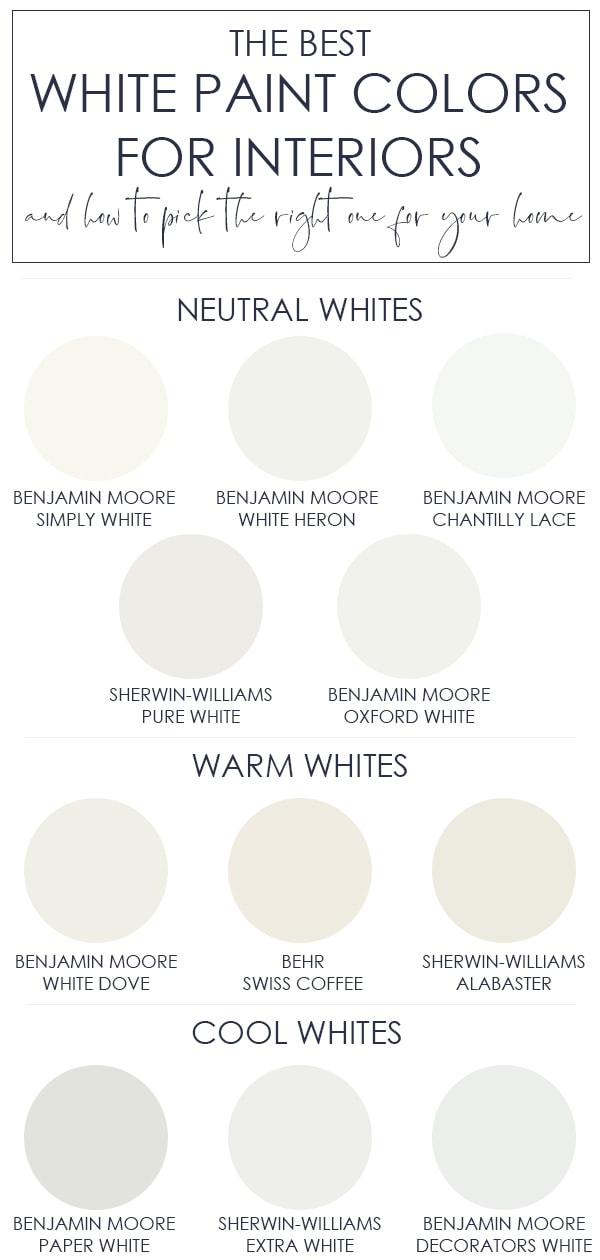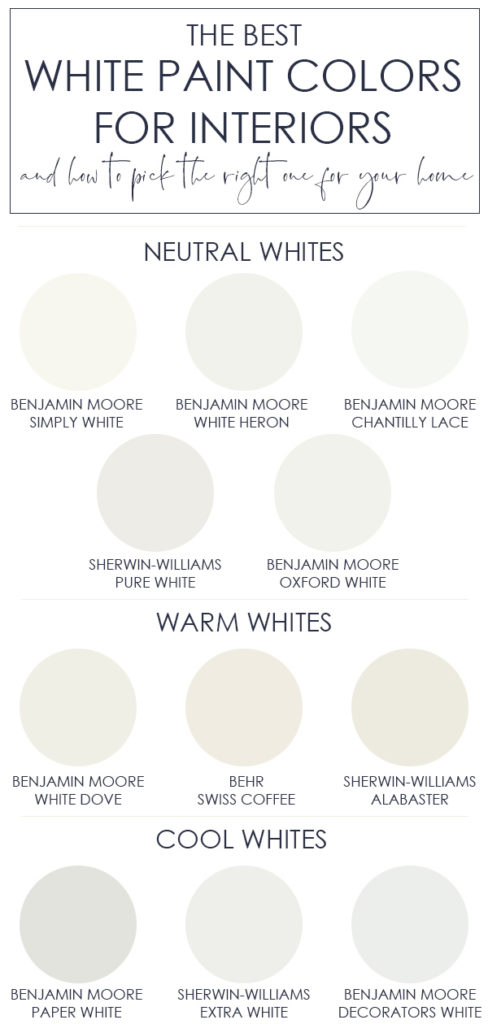 If you would like to follow along on more of my home decor, DIY, lifestyle, travel and other posts, I'd love to have you follow me on any of the following:
Pinterest | Instagram | Facebook | LTK
disclosure: some affiliate links used