I love the Christmas and holiday season, but once January rolls around, I typically take my Christmas decor down pretty quickly! I've learned over the years, that I'm much more eager to complete the job 100% when I have the right storage for all my pieces. It also makes finding items the following year that much easier! Today I'm sharing my some Christmas decor storage and organization ideas!
This post is sponsored by Walmart and contains affiliate links for your shopping convenience. As always, all thoughts, opinions, and product selections are my own. Read my full disclosure policy here.
It has taken me a few years to build my collection of storage pieces, because honestly, the cost can add up in a hurry! But, I've found by adding a handful of storage items every few years makes it much more bearable. I think I've also come to realize the value that having the right Christmas decor storage pieces can add, and how much it streamlines my decorating and storage processes! I'm sharing these a bit early, but if there's something you're interested in, it helps to order now so it arrives by the time you're ready to start dismantling! Walmart has an excellent selection of holiday storage pieces right now that ship quickly and will help you get organized in no time! I'm also sharing an exciting Walmart restock at the end of this post that you may be interested in seeing!
CHRISTMAS DECOR STORAGE & ORGANIZATION IDEAS
Being a home decor blogger, I fully realize that I likely have a lot more Christmas decor than most people. But, that has also made me get creative with storage and trying new organizational pieces over the years! Today I'm sharing some Christmas decor storage and organization ideas I hope you find helpful! I'll also dig a little bit into some of the varieties of what's out there, and what tends to work best in which situation further down in this post.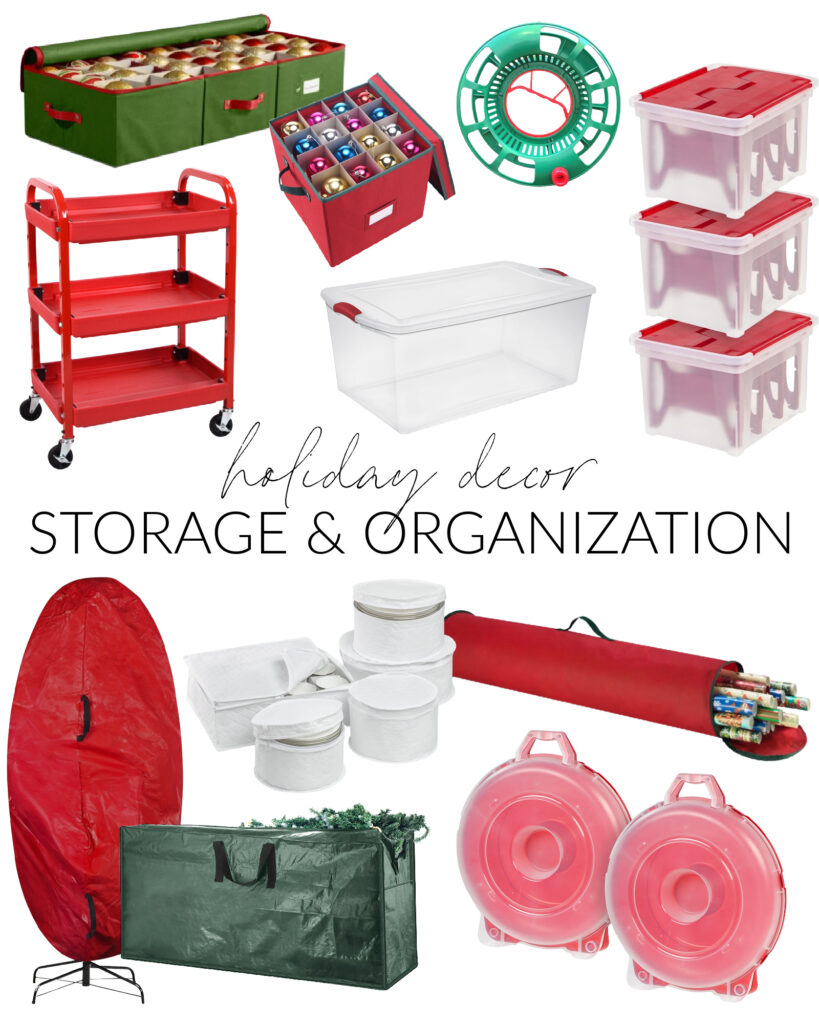 SOURCES: Underbed Ornament Storage Box | Ornament Container | Large Christmas Light Reel | Christmas Light Storage Totes | Rolling Utility Cart | Clear Storage Tote | Standing Christmas Tree Cover | Christmas Tree Storage Soft Tote Bag | Holiday Dish Storage Sets | Wrapping Paper Storage | Wreath Storage Tote
Christmas Ornament Storage
Because of the cats, I tend to only buy plastic ornaments. And for that reason, I have a handful of clear storage totes and just throw all my ornaments inside. I'll sort them by color, but that's about it! I find you get a lot more bang for your buck, since you don't have to deal with actual organizers inside that take up more space. But, if you use beautiful glass ornaments or fragile ones that need to be better protected, try an Ornament Container to keep your ornaments nicely organized! These are great for shelf storage, but if you don't have a storage room, an Underbed Ornament Storage Box may be a great option for you, as well!
Christmas Wreath Storage 
I prefer to store my holiday wreaths in a hard case Wreath Storage Tote. I have a few similar containers and find them to be easily stackable while also keep the wreaths safe inside! But, there are also now more affordable and durable wreath bags on the market that would also do the job! These may be a great alternative for exterior wreaths or ones that are less fragile.
Christmas Light Storage 
If you've ever stored your Christmas lights loose in a box, you know what a nightmare it can be the next time you go to take them out. It's insane how easily they can tangle and become and absolute disaster! To keep the stress levels at bay, try these Christmas Light Storage Totes or Large Christmas Light Reel to keep your Christmas lights nice and tidy!
Christmas Tree Storage
I have two types of Christmas tree storage I used. For my flocked Christmas tree, I prefer to use a standing tree cover. You essentially leave the tree assembled but zip a cover around it. I find that most flocked trees are much too delicate to throw in a tote, and you'll have flock everywhere. For my traditional faux Christmas trees, I now use a Christmas tree bag. It makes for much easier storage and I love that I can throw it over my shoulder and carry the full tree by myself up from the basement! If you're not super comfortable with carrying the tree either of the other ways, this rolling Christmas tree storage option may be a great alternative!
Wrapping Paper Storage
I currently have two solid standing storage pieces for my wrapping paper that I got about a decade ago. And truthfully, I hate them. Ha! They're only tall enough for about half of my paper rolls, and they make storage a bit difficult because they need to stand on the floor. I'll likely be moving to a soft version soon that I can store on shelves or wherever! And, if you're looking for a creative storage solution for all of your holiday ribbon, bags, and wrapping supplies, a movable utility cart makes a great option! Bonus – it can also double as a cute bar cart! This tote would also be a great option!
Holiday Dish Storage
If you're one that has holiday dishes, but don't store them in your kitchen year-round, try these Holiday Dish Storage Sets. They'll protect your dishes when not in use and help keep the dust out. You can now even find items for specialty glasses and other holiday dish storage including Christmas mug storage, flute/stemware storage, and holiday charger/plate storage!
Miscellaneous Christmas Decor Storage Item
For random items like stockings, garland, greenery stems, nativity sets, etc. I prefer a clear storage tote. And although I wouldn't naturally gravitate towards red or green color scheme, it can actually be super helpful to go that route so you can quickly identify what is in each tote. I still like the clear bodies, but if I can find red or green handles (like these) they are my preference for storing Christmas decor!
Click any of the images below to learn more about each of the Christmas decor storage items shown. Walmart has a really incredible selection of Christmas decor organization and storage pieces right now!

A RE-STOCK YOU'VE BEEN WAITING FOR
Lastly, and totally off topic, but our courtyard patio furniture is back in stock in the full set! It was one of my top sellers this year, and if you've had your eye on it, you know it doesn't stay in stock long! We love ours so much! And man – I'm already looking forward to warmer weather again after seeing this picture 😉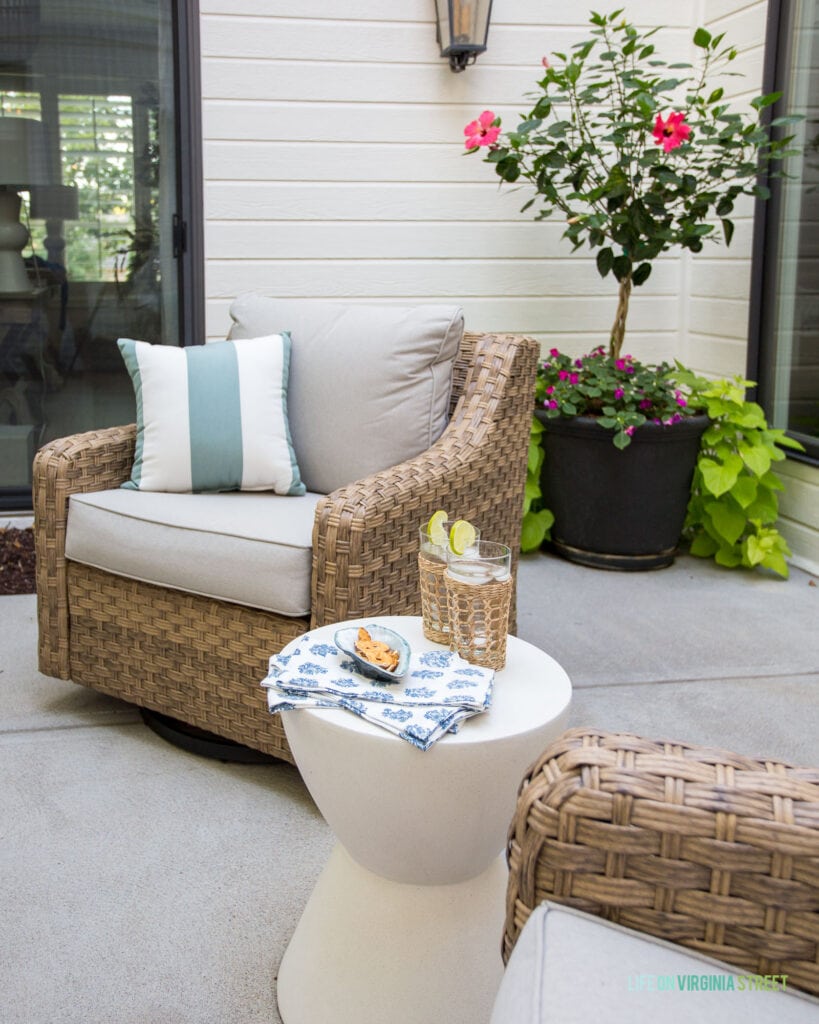 SOURCES: Outdoor Swivel Glider Chairs | Concrete Side Table | Outdoor Wall Lantern | Similar Outdoor Striped Pillows
I hope you found these Christmas decor storage & organization ideas helpful!
If you would like to follow along on more of my home decor, DIY, lifestyle, travel and other posts, I'd love to have you follow me on any of the following: