Good morning! I hope you all had a great weekend! Here's a little bit of what we've been up to this past week or so!
This post contains affiliate links for your shopping convenience. Click here to read my full disclosure policy.
Home Projects & Updates
Late Friday afternoon we were able to pick up a cabinet sample for the BM Santorini Blue color painted on sample wood. I think it's going to be beautiful for the pool house mini kitchen!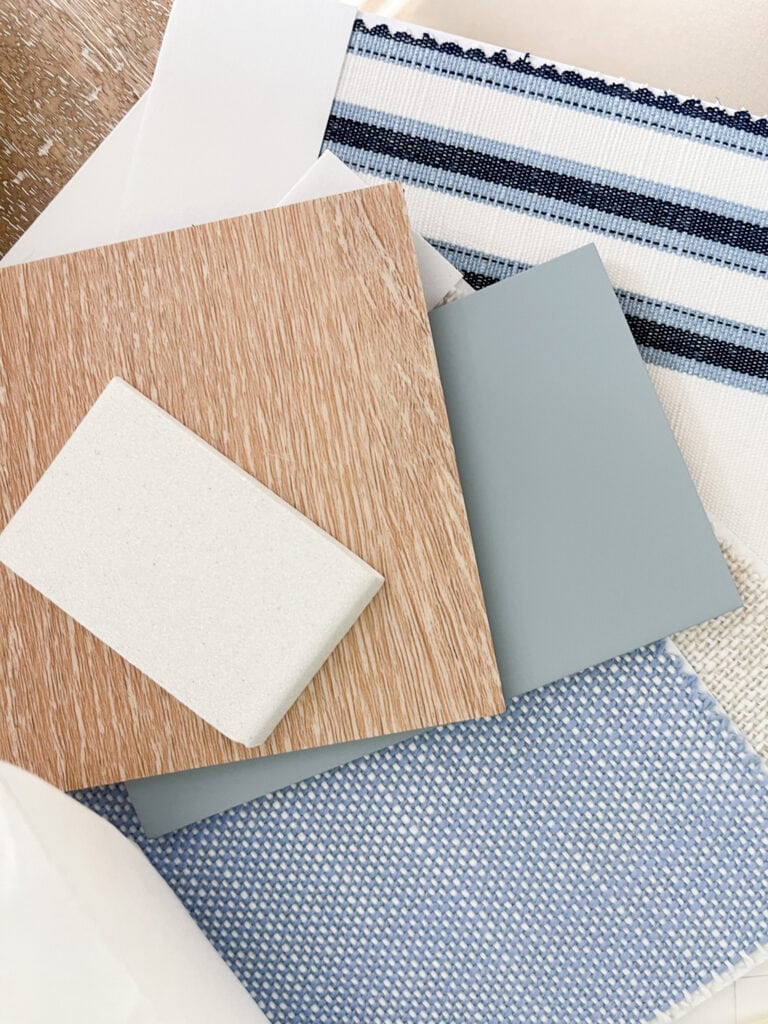 After that, we headed to Unique Stone Concepts, a local slab yard, to look at potential countertops. It was the first time Kurtis had been able to go with me. We were able to talk to some pros and got great advice on what would and wouldn't work with a partially exposed exterior countertop. We think we may go with White Macaubus quartzite. It was the look we both liked, and the guys think it's as good as option as any (outside of a dark granite) for outdoors. With our crazy freeze, thaw, and heat in Omaha, there weren't tons that got them excited about being outdoors. We'd go with a polished option (that was recommended in lieu of the honed shown below because of our hail storms).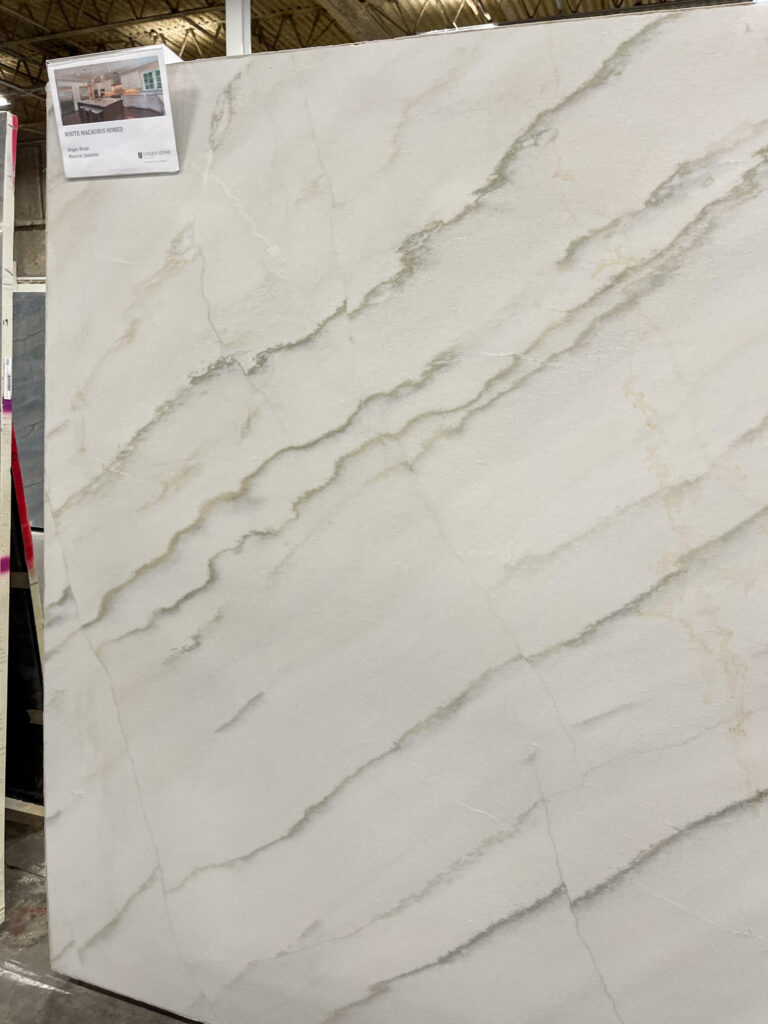 The foundation forms were pulled mid-last week. There's still a lot of re-grading to be done, but we got sprinklers back late last week, which was perfect timing for all the heat! They had hoped to start framing yesterday, but it got bumped temporarily to tomorrow. It's all going to get really exciting once the framing starts! I'll be sure to keep you updated on my Instagram Stories!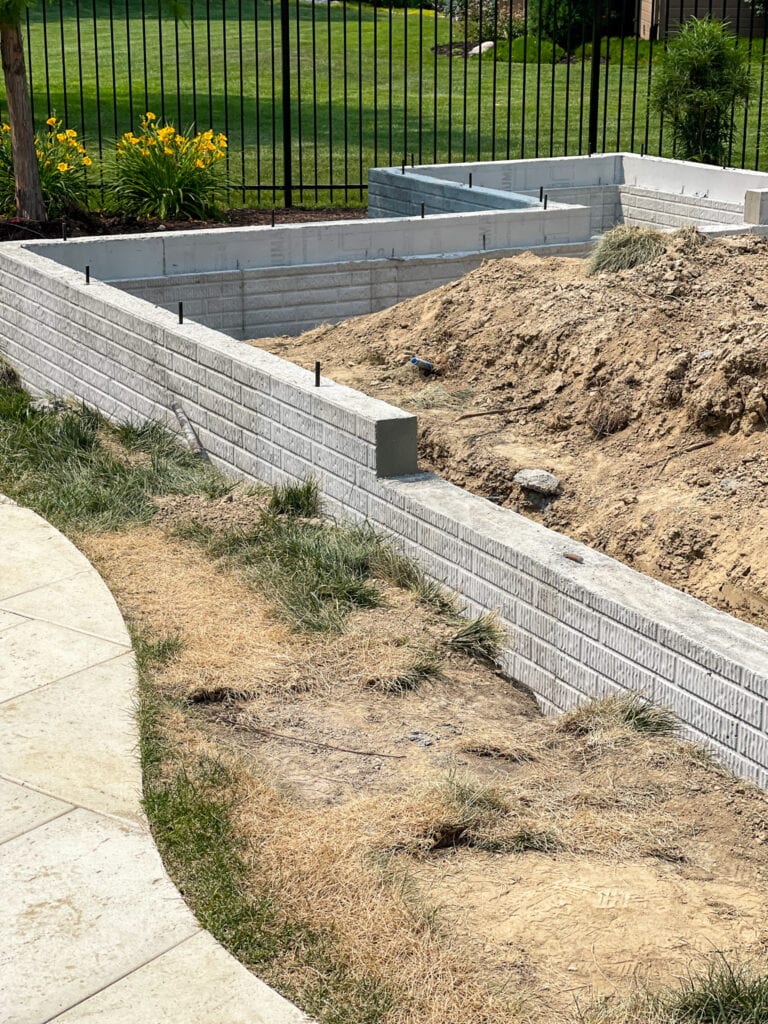 Despite the high heat and lack of water for nearly a week, my plants started exploding! It may have required me to spend an hour each night hand-watering most of them, but it was worth every minute! Once this plant food kicks in, I'm telling ya, things start going wild!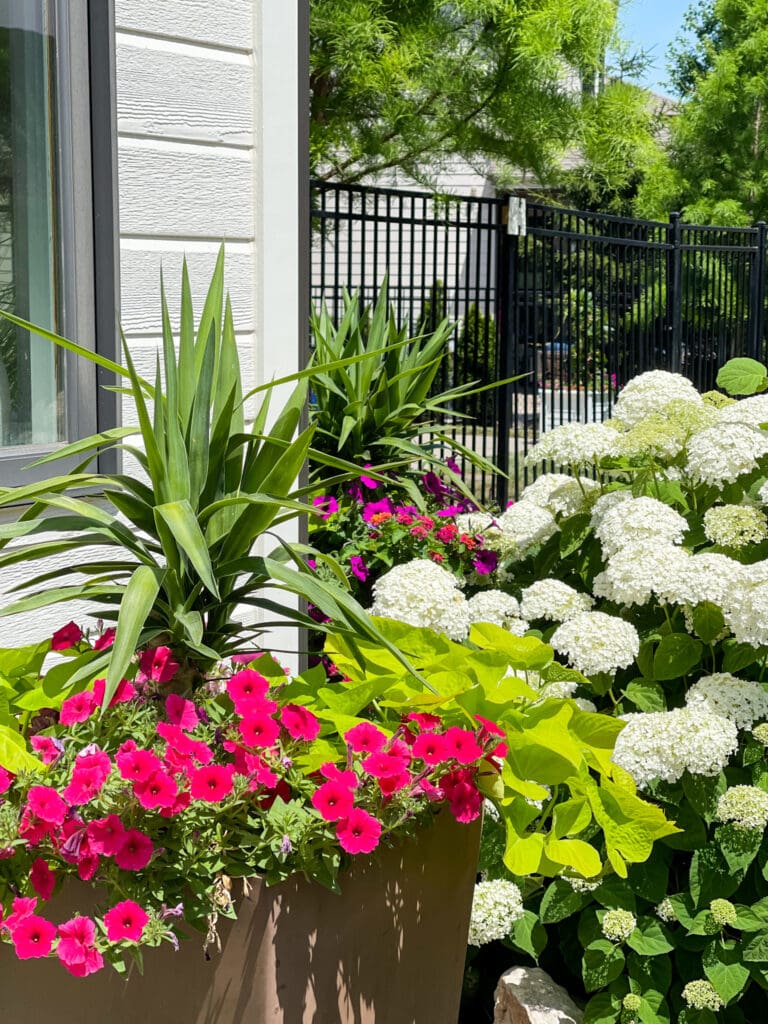 This is one of those "dead" petunia planters I got at Lowe's in the spring! It has filled in incredibly well! Nothing a little water, food, and TLC can't cure.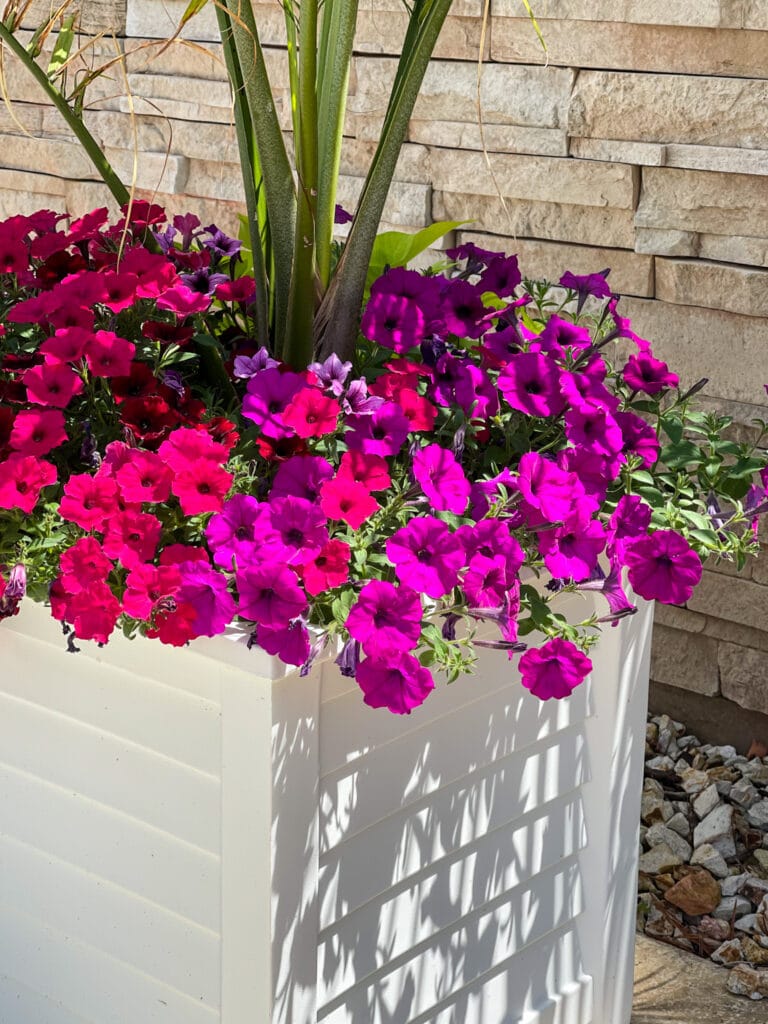 I ordered these "mini hydrangeas" which really look a lot like my faux viburnum stems. But, I ordered two stems here for less than the cost of one of my Pottery Barn stems! They're definitely intended for shorter vases, but I love the pop of color they add in the summer months!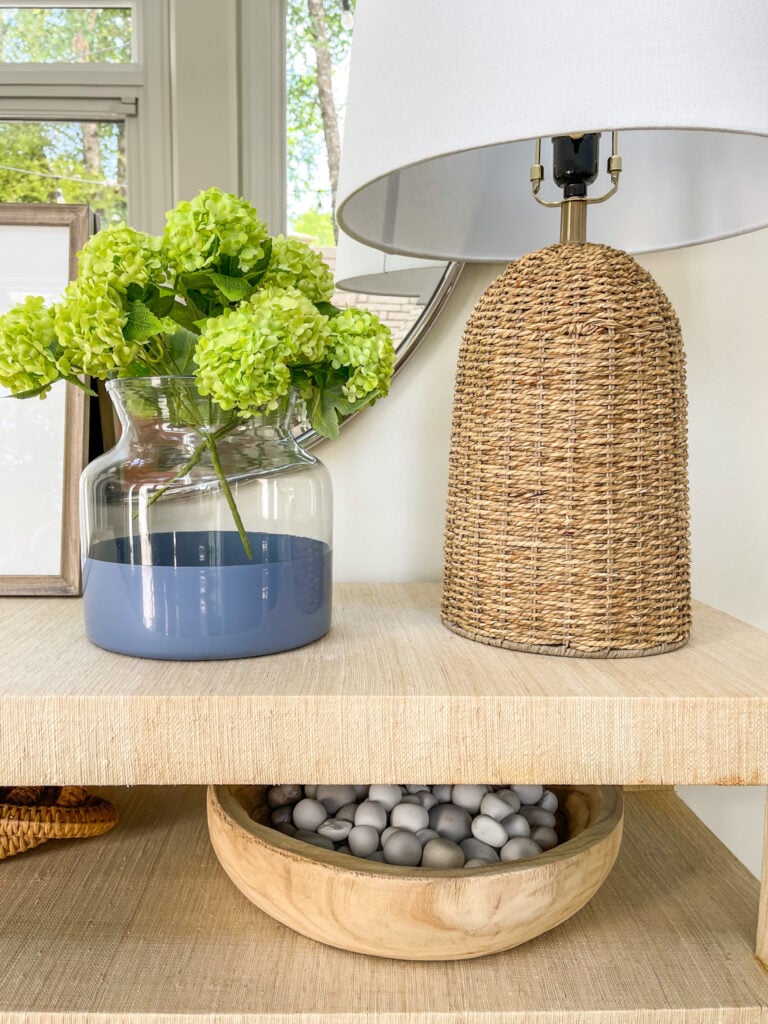 SOURCES: Raffia Console Table | Paint Dipped Vase | Mini Hydrangeas | Seagrass Lamp | Similar Wood Bowl | Wicker Chain Decor | Similar Mirror
You can see a glimpse of the Pottery Barn faux viburnum below. They're still a favorite but hard to find in stock (these are similar) and are definitely for much larger vases! But, I also wanted to show this highly-rated ombré knife set I ordered. It's on major sale and I don't know why, but they just make me so happy when I see them!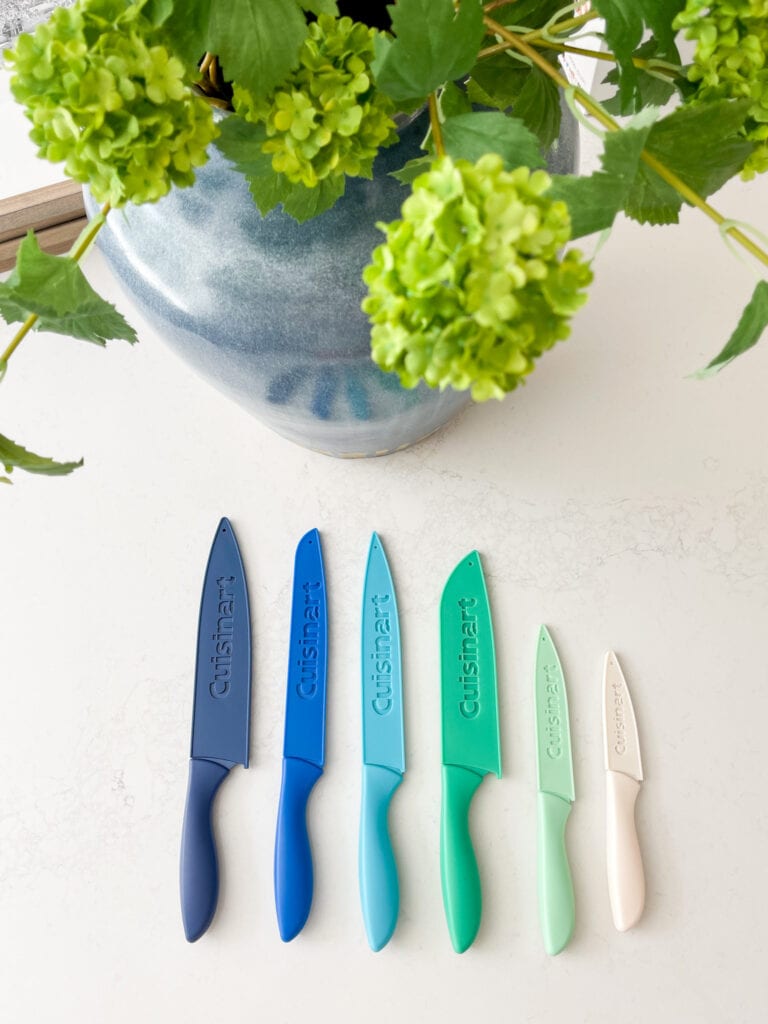 SOURCES: Ombré Knife Set | Vase | Faux Viburnum
Lindsay Letters launched a new Water Collection last week and it is stunning! She asked if I wanted to select a piece for my home and it was so hard to narrow it down to just one item. But the Coconut Beach canvas is stunning and I can't wait to hang it. I'm planning to replace the warped/busted HomeGoods piece I've had hanging in our entryway for years now. I think this art will tie in all of our colors there so well!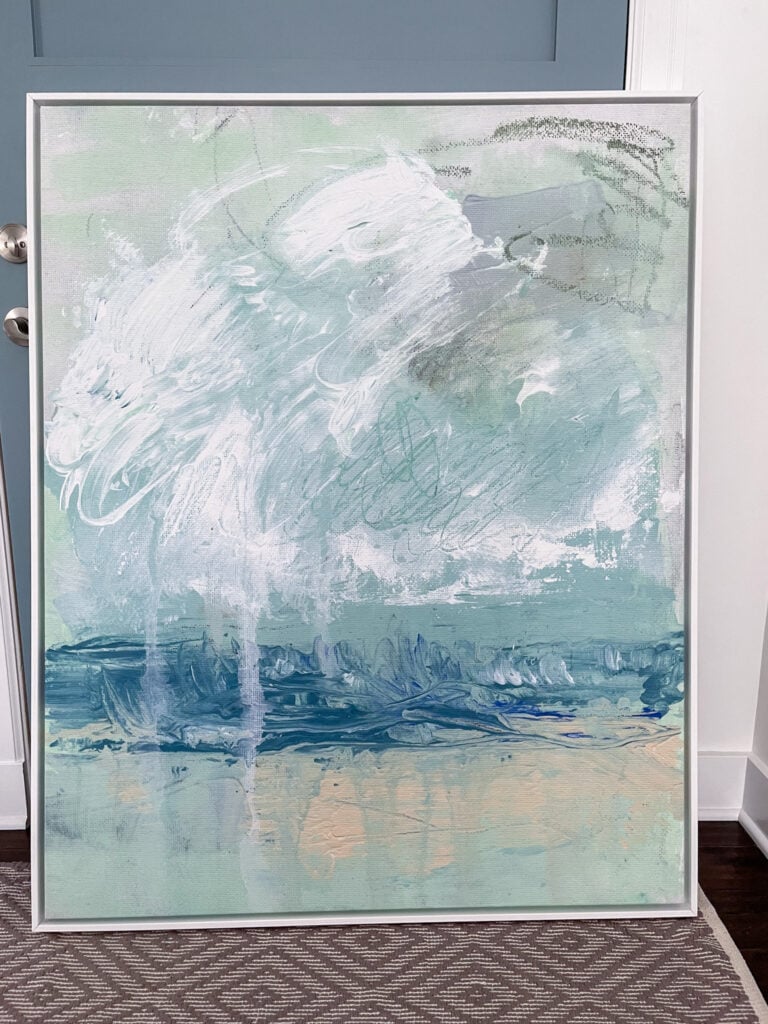 Top Sellers Of The Week
Following are the top sellers of the past week across all of my channels. Links to each item are below the graphic.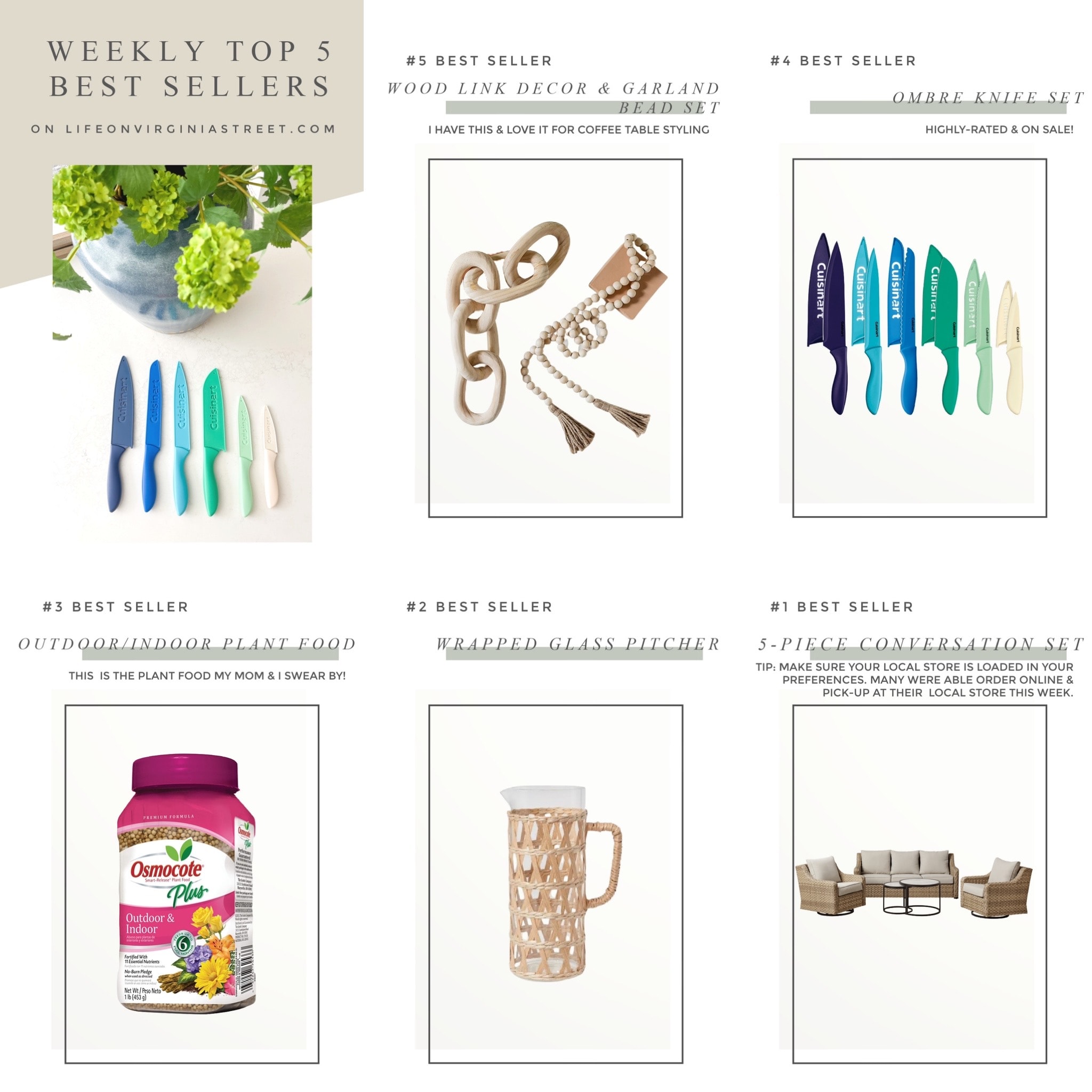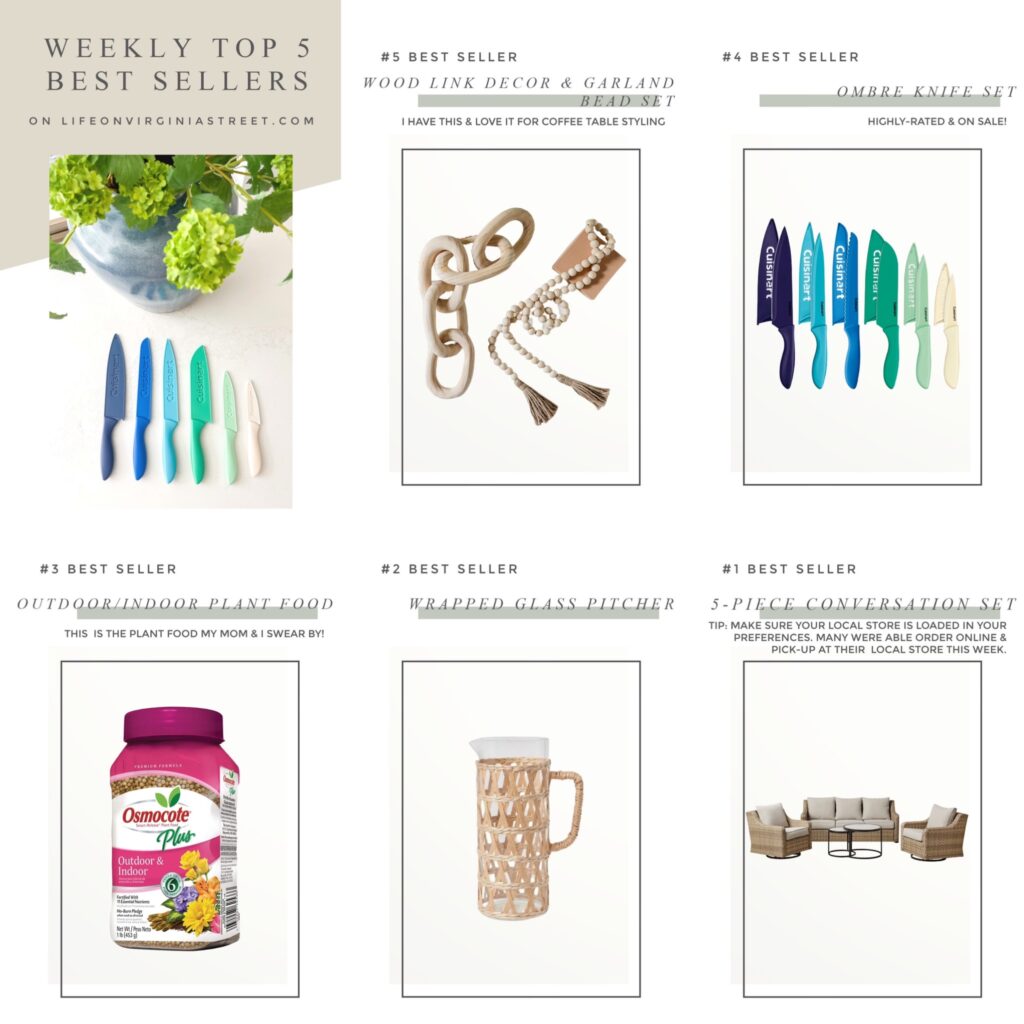 BEST SELLERS (each number is clickable): #5 | #4 | #3 | #2 | #1
In Case You Missed It
I've had a few requests for this new section in my Weekend Recap. I know I post pretty frequently and it's sometimes easy for a post to get lost in the mix. So, going forward, I'll now be adding quick links to each of my blog posts from the prior week. Here's what I posted last week. Click any of the titles below to be taken to the full post:
I'm also going to include the most popular posts by traffic for the week. Many times this includes old posts that are popular on Google or Pinterest! It's fun to see what is trending each week! Last week actually didn't change from the week prior, so it looks like there are a lot of painting projects going on around the country 😉
Around Town & For Fun
Bailey's doing better after her trip to the ER last week. Our vet made a call to an internal medicine specialist and I'll be meeting with her again on Friday. I think we have a game plan for trying to help get her diabetes regulated. How cute were the two girls while we were watching The Crown last week?!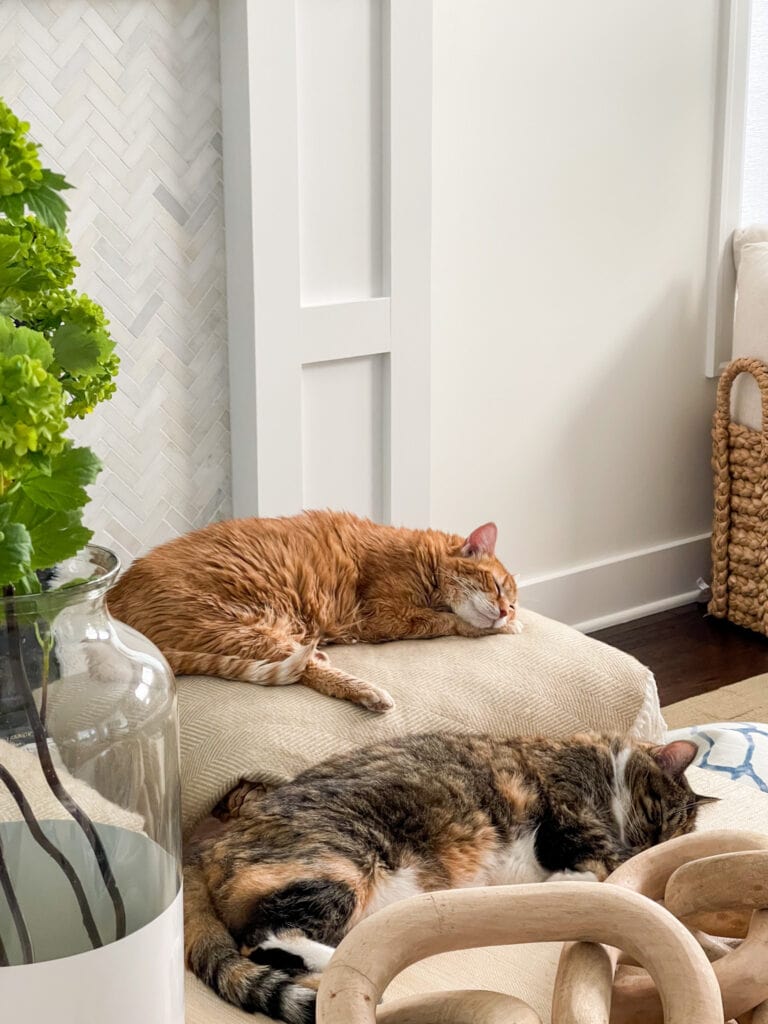 Thursday night we had a small group outing to dinner and then to watch our friend/neighbor Zach Miller perform at Barnato. If you're a Bears fan, yes, it's that Zach 😉  It turned into a huge neighborhood reunion and was one of the most fun nights we've had in a long time! And Zach did an amazing job! We know every single word to his first single, How Ya Like Us Now, and it was so fun to watch him perform it live. Give it a listen if you love country or just want a fun summer jam!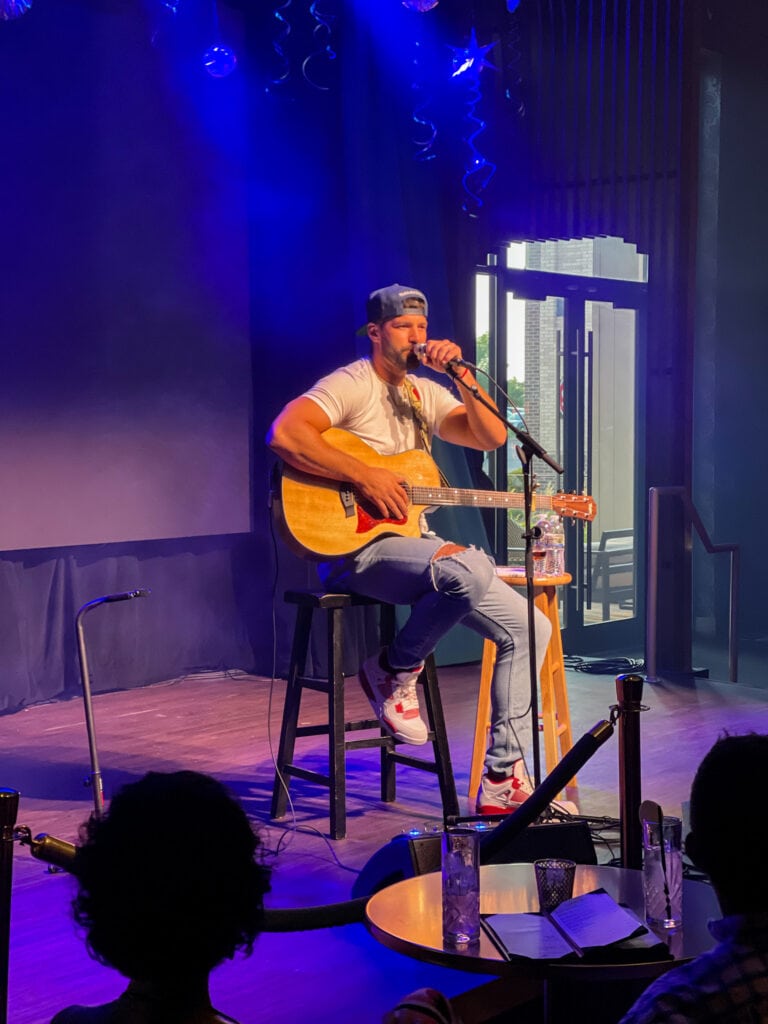 Zach's biggest music fan posed for a photo 😉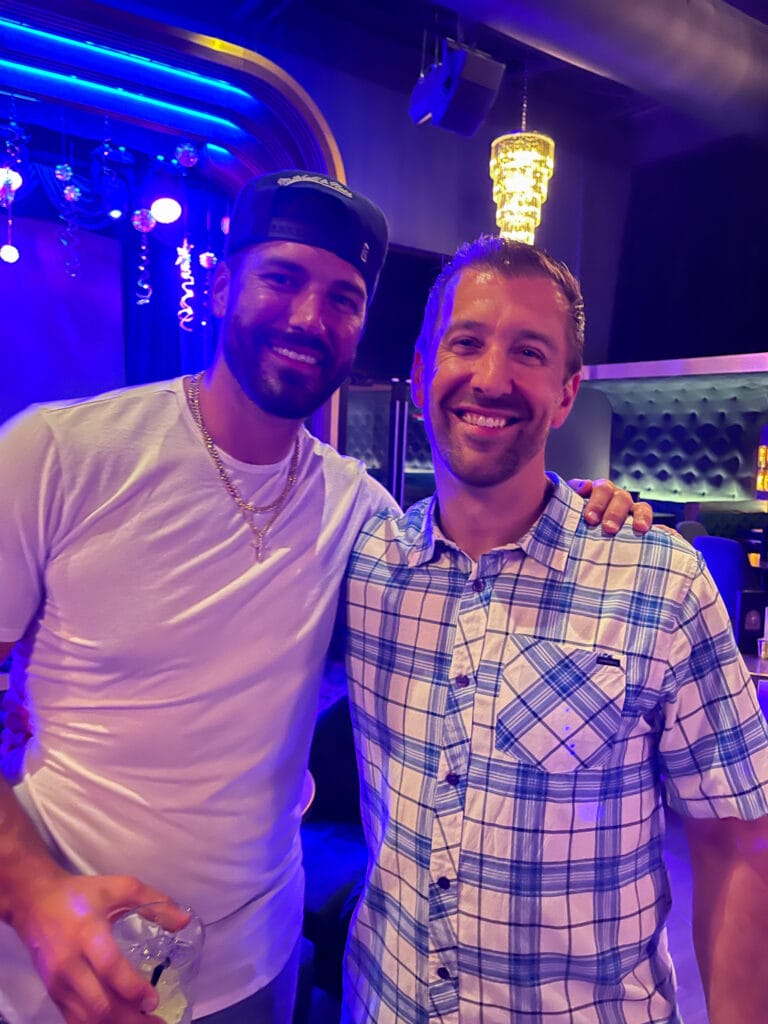 Kurtis and I had a little Saturday date night at Dante. Their food is always so incredible, and I swear nobody in America can make an Aperol Spritz as well as they do! After a long day of him working at one of our rental properties and me around the house, it was fun to get out!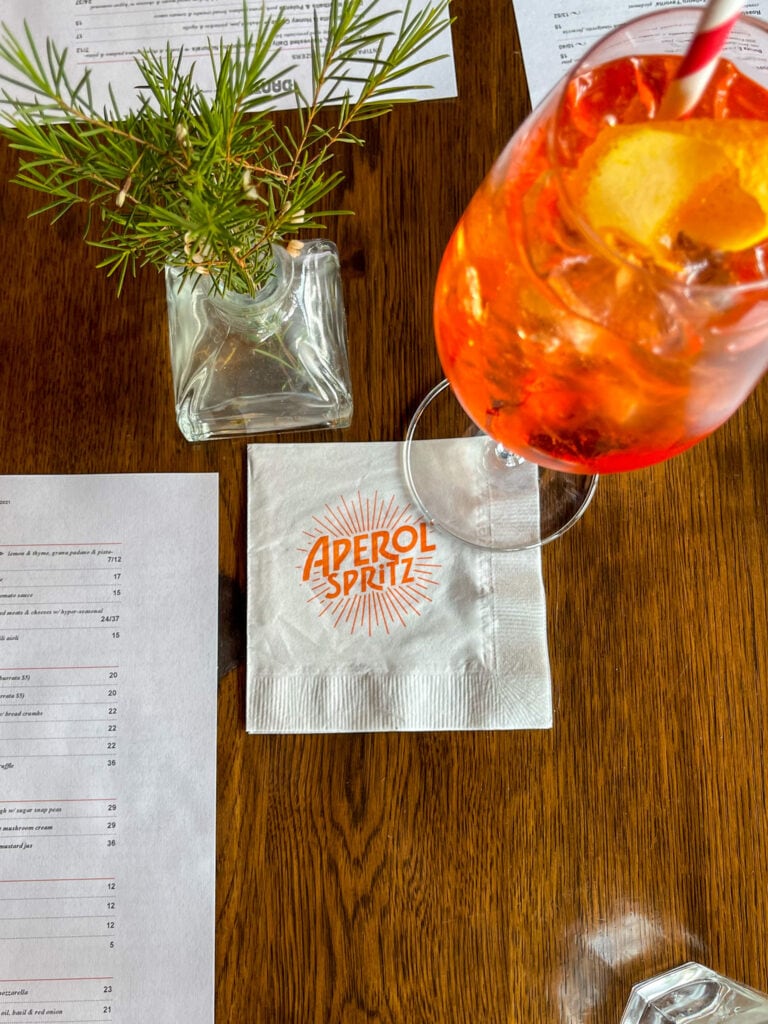 Sunday we went to Kurtis' sister's house for lunch with my in-laws for Father's Day! It was a great meal with lots of laughs. I don't think I've mentioned it yet, but his sister and brother-in-law are going to be two of our newest tenants! I mentioned in this post that they recently took advantage of this crazy market and sold their house during the first showing. So, they'll be renting from us until they figure out their next move! With that, they'll be about a five minute drive from us and we couldn't be more excited! Not to mention, we know they'll be epic tenants.
If you loved this chair I shared in this post, I found a pair that look very similar (I think it's the same brand). It's in more of the gray-wash look, but the price is for a pair and so much more affordable than the very similar Serena & Lily version! You can get them here.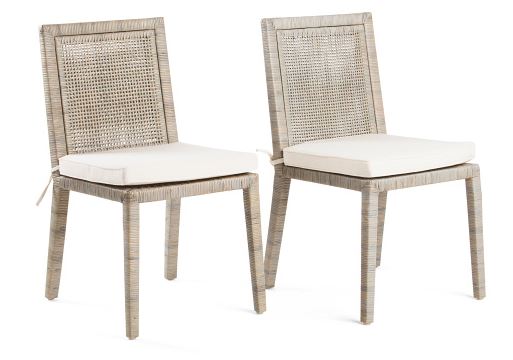 Before I sign off, be sure to check out yesterday's post if you're looking for any last-minute Prime Day deals! Here's a few of my top picks, most of which we own and love!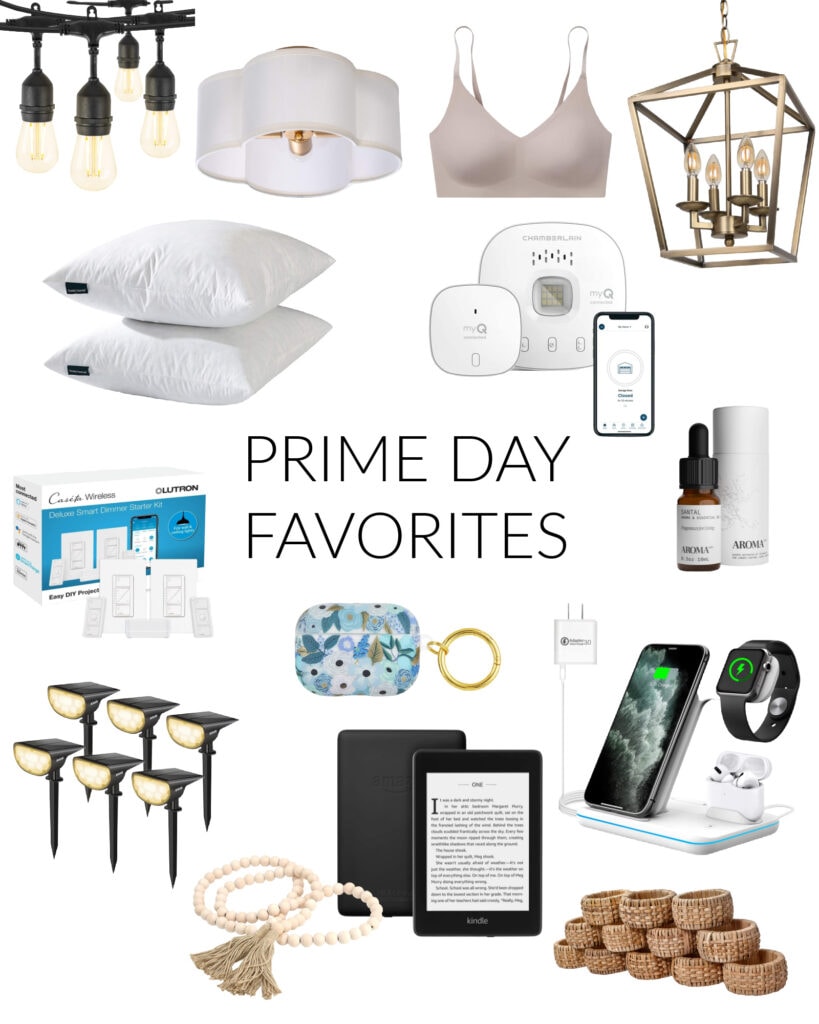 SOURCES: Shatterproof Outdoor String Lights | Scallop Flush Mount Light Fixture | True & Co. Comfy Bras | Gold Lantern Pendant Light | Throw Pillow Inserts | MyQ Smart Garage Door Opener Hub | Lutron Smart Light System | Santal Diffuser Oil | Solar Landscaping Lights | Rifle Paper Co. AirPods Case | 3-in-1 Charging Station | Wood Bead Garland | Kindle Paperwhite | Rattan Napkin Rings
Recent Buys & Sales
Following are the sales from the weekend that are still going strong.
I hope you all have a great week!
If you would like to follow along on more of my home decor, DIY, lifestyle, travel and other posts, I'd love to have you follow me on any of the following:
Pinterest | Instagram | Facebook | Twitter
disclosure: some affiliate links use