Sharing the 10 best tips for selling your home quickly and for top dollar! These insider tips from a top realtor are excellent for prepping your home to list or even to use as an annual maintenance checklist!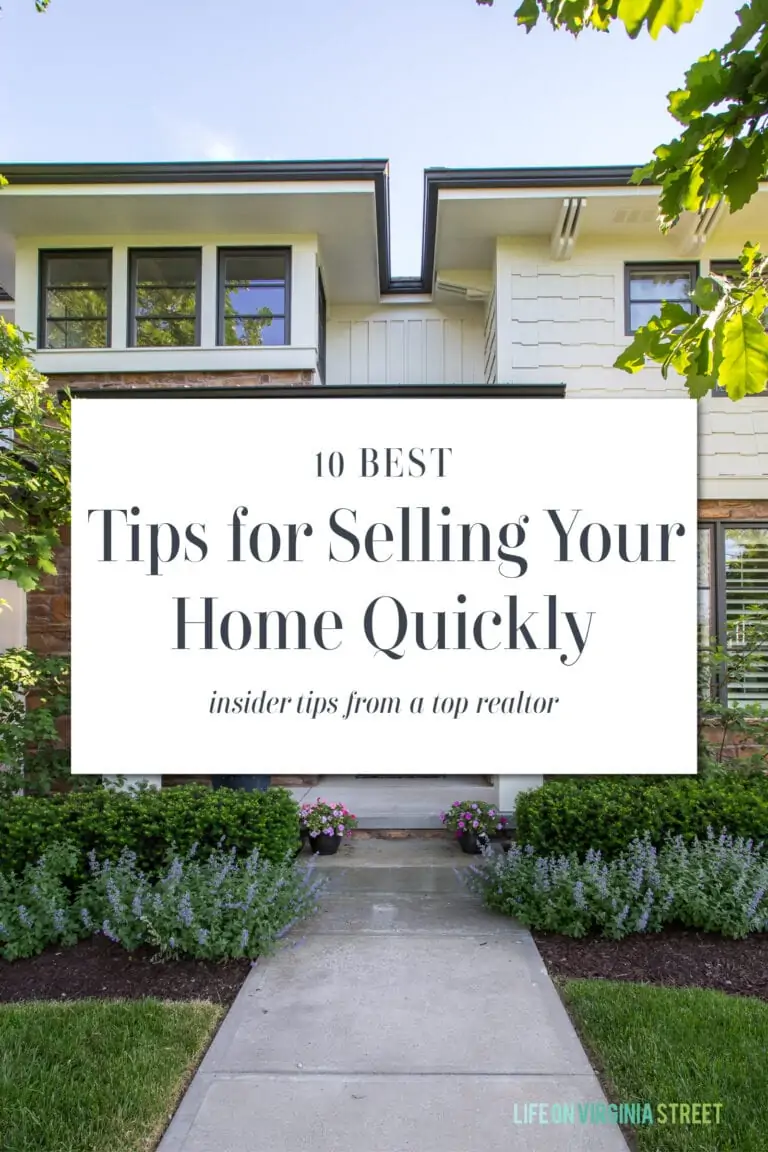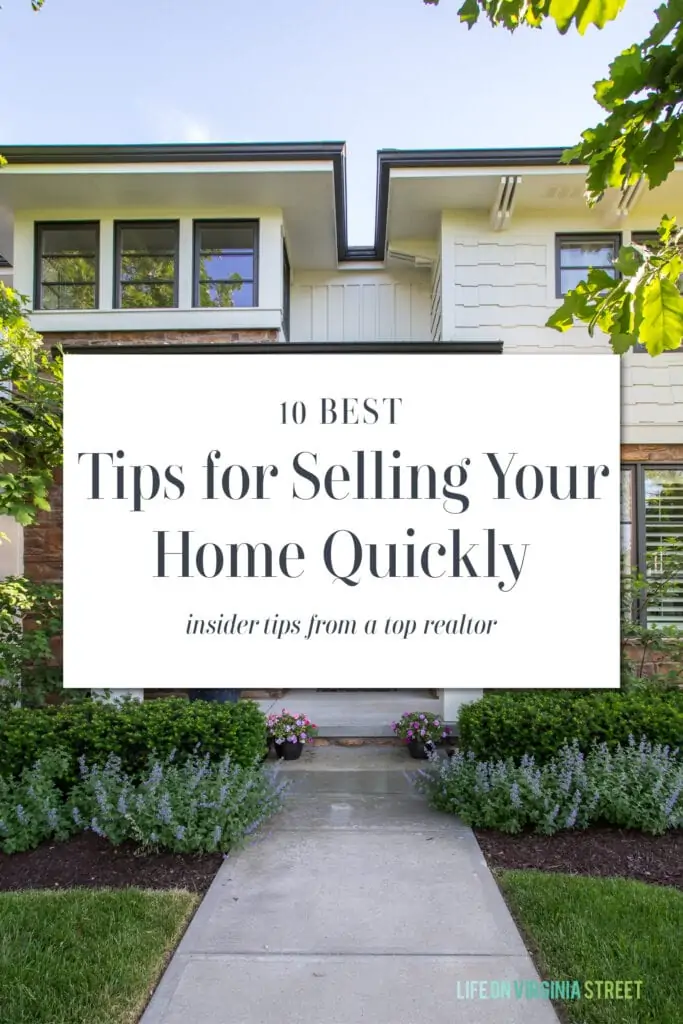 The truth is, in today's market, most homes are selling quickly as is. But, why not maximize your home's potential for getting top dollar? Today I've asked a special guest to share some pro tips I thought you may find helpful! I want to welcome our favorite realtor, Megan Owens, to share her best tips for selling your home quickly and for top dollar, regardless of the home selling market! And, if you're not looking to sell in the near future, these tips are also helpful for regular maintenance on your home. Then if you ever do sell, you're ahead of the game!
Megan is a pro on all things real estate and Omaha related. She and I talk monthly if not more frequently and I trust her implicitly! Not only that, she sold my sister-in-law's and brother-in-law's house in one showing when it was only a pocket listing and hadn't even hit the MLS yet! She's amazing and highly recommended if you need a realtor in the Omaha area (to sell or buy)! You can visit her website here.
Let's jump into it! Here are Megan's best tips for selling your home for top dollar, regardless of the current real estate market. I've added some commentary or links to relevant blog posts along the way that you may find helpful (all in italics so you know it's me)!
This post contains affiliate links for your shopping convenience. Click here to read my full disclosure policy.
ORGANIZE PERSONAL ITEMS
1. De-Clutter
Clearing out items before listing your house is a great way to prepare for moving. Clear clutter to make countertops, cabinets, pantries, closets, storage areas and garages appear larger. Box up and store items not needed during the home sale. Short of space? Rent a storage unit. A good tip to get started it use laundry baskets to organize trash, donations, and relocations, which is putting items in their proper or more hidden places.
2. Organize
Start room by room and drawer by drawer. Organize closets by clothing type and color. Button and face shirts in the same direction. Line up shoes. Turn coffee cup handles the same way. Stack plates and food containers according to size. These may be extra details, but they add up and buyers notice! Also, buyers tend to be nosy and open up closets and cabinetry. Ensure these areas are organized and they have the ability to assess their capacity and function.
3. Depersonalize
Remove personal effects like family photos, heirlooms and memorabilia. A few small or tasteful personal photos are typically okay to stay, but I recommend storing large personal canvases and gallery walls. For themed space with memorabilia, such as from a favorite sports team, it may be best to take down all of those items until your new home.
4. Consolidate Furniture
Look at each room and determine what may be bulky or unnecessary for a buyer. Only leave enough pieces so buyers can identify the purpose of the room. Make sure you also set the stage for the room's actual purpose. Now is a great time to determine what is best fit as a bedroom or home office, etc. One tip I also see is that TVs can be a nuisance if there is one in every room. Set them aside into storage and free up the valuable wall or counter space.
GIVE YOUR HOUSE SOME LOVE
5. Add Curb Appeal
A well manicured landscape is often the first impression. Keep the grass mowed and edged. Plant seasonal flowers and trim hedges, trees and bushes. Place a pot of colorful flowers near the front entrance and backyard patios/decks. Look at your house from the curb. Does the front door need painting or replacement? Is the house number visible? Are the windows clean? If you're looking for even more curb appeal tips, be sure to check out my post on 6 Simple Ways to Boost Curb Appeal.
6. Call the Handyman
Some purchases come with a home inspection, depending on the market we are in. Save on the stress by getting ahead of known issues. Repair any broken items, both inside and out. Make sure all doors and drawers open and close easily, and without squeaking. Fix any leaks or drips. Are you always annoyed by that one drawer that always sticks? The prospective buyer will most certainly feel the same way. If there are any lingering issues, call me and we can get it checked out. If it is from an old problem that you have fixed, we can paint over it to deter unnecessary worry. However, it is important to note: don't make any attempts to cover-up serious problems. The inspection will definitely uncover the issue and it will make it more stressful for us to get ahead in negotiations.
7. Start Cleaning
A deep clean before showings start, during the showing process, and post-occupancy are musts when selling your home. Focus on one room at a time and clean top to bottom. Clean all surfaces and mirrors, including mantles and fan blades. Wipe baseboards and cobwebs. Replace worn bedspreads, shower curtains, and rugs. This can get expensive, but little touches like this will help the buyer feel more at home and not that the house is too lived-in. Scrub and possibly stain grout (grout pens also work wonders!). The biggest areas will be the tub/shower surround and around the sinks. You should also re-caulk where needed. Remove the rings from toilet bowls and from around the tub.
8. Paint Where Needed
It's incredible what a fresh coat of paint can do. Apply fresh paint on the walls, doors, and trim. For the most part, keep paint color neutral (of course there are always exceptions) and make sure you're using the right sheen. If the home was built before 1974, there is a lead-based paint disclosure we will have to fill out. If the buyer is going through a government-backed loan, there cannot be chipping paint present, interior or exterior. If you're looking for some paint color ideas, you may find the following blog posts helpful (click any title below to be taken to the article):
9. Examine The Details
Replace burned out bulbs, clean the furnace and water heater, and replace filters. While these might be on a home maintenance plan anyway, it's important to keep these items in check.
Also, think about the other senses. Sight and smell. Let as much light as you can inside by keeping curtains and shades drawn open. For a great smelling home, avoid strong fragrances to cover up pet or food odors. While baking cookies is the standard advice; paired with a clean home, a great smelling feature is to instead boil a pot filled with water, a citrus peel, and essential oils.
10. During Showings
After all of the work to prep your home, it's important to maintain as prospective buyers come through. Keep empty hampers in each bedroom and the family room. When a showing is scheduled, place clothing or every-day items that might be clutter, and place them in the hampers and take them with you.
I believe strongly in proper preparation when selling your home. The little things, paired with the right agent, will net you top dollar for your home.
A huge thank you to Megan for sharing her expertise with us today! You can also follow her on Instagram, where she shares more tips, ideas, and home decor inspiration. I hope you found her tips helpful!
If you would like to follow along on more of my home decor, DIY, lifestyle, travel and other posts, I'd love to have you follow me on any of the following:
Pinterest | Instagram | Facebook | Twitter 
disclosure: some affiliate links used