I hope you all had a great weekend! Ours was a hot one, and I soaked up every second of it! I'm a day late with the Weekend Recap, due to an emergency with Bailey Sunday night (all is now okay, but I'll get to that in this post). Here's a bit more of what we've been up to.
This post contains affiliate links for your shopping convenience. Click here to read my full disclosure policy.
Home Projects & Updates
Last I left off on the pool house project, we were supposed to get foundation forms on Friday. But, a big storm rolled in and basically cancelled all the work for the day.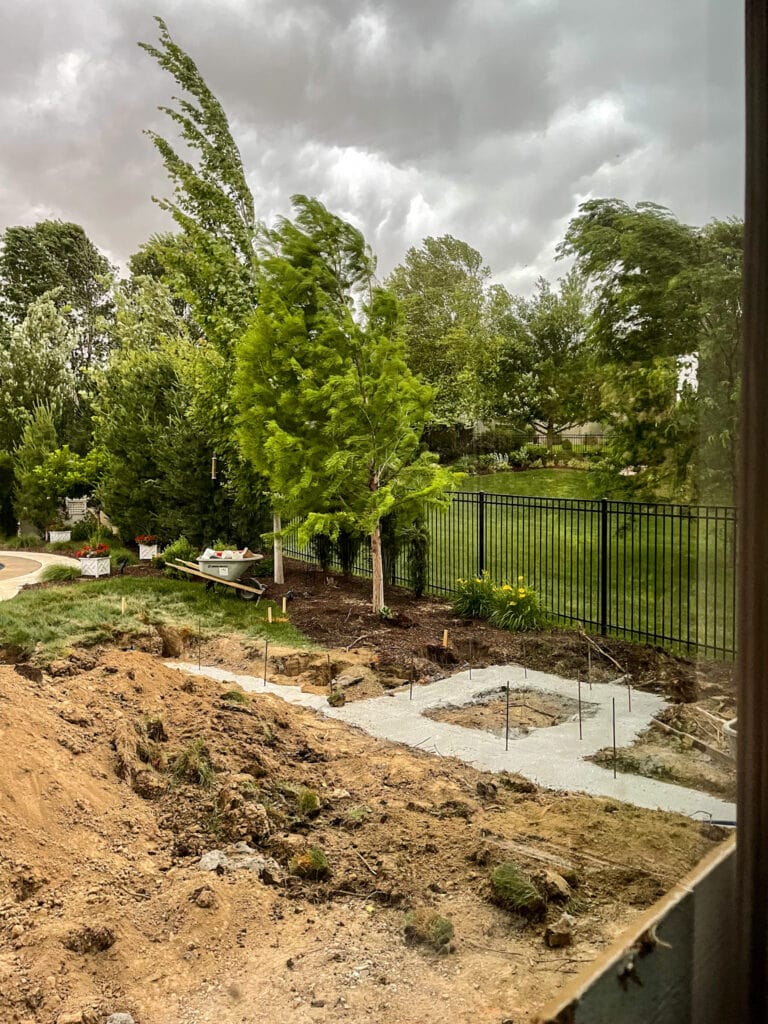 Kurtis, my brother-in-law and a friend went golfing Saturday morning, and when they dropped him off, they came to check out the project. We all died of laughter when my brother-in-law jumped on the ground to help determine some of the site lines 😉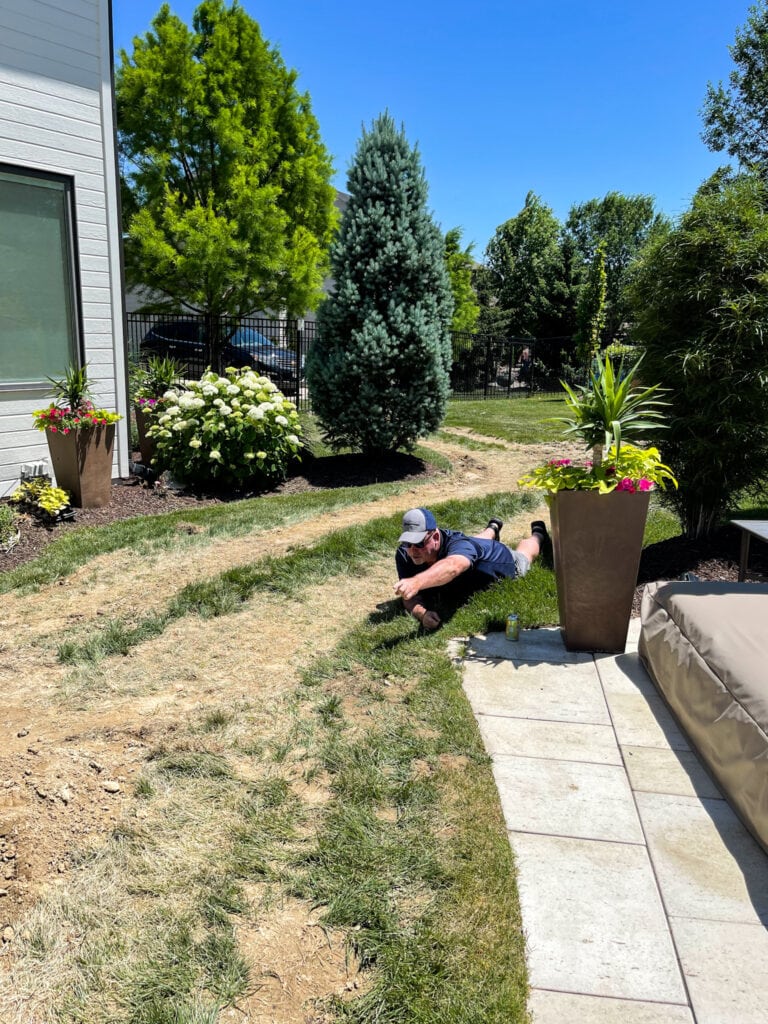 But, they got the forms in over the weekend and had the foundation walls poured before I even got home from the dentist yesterday morning!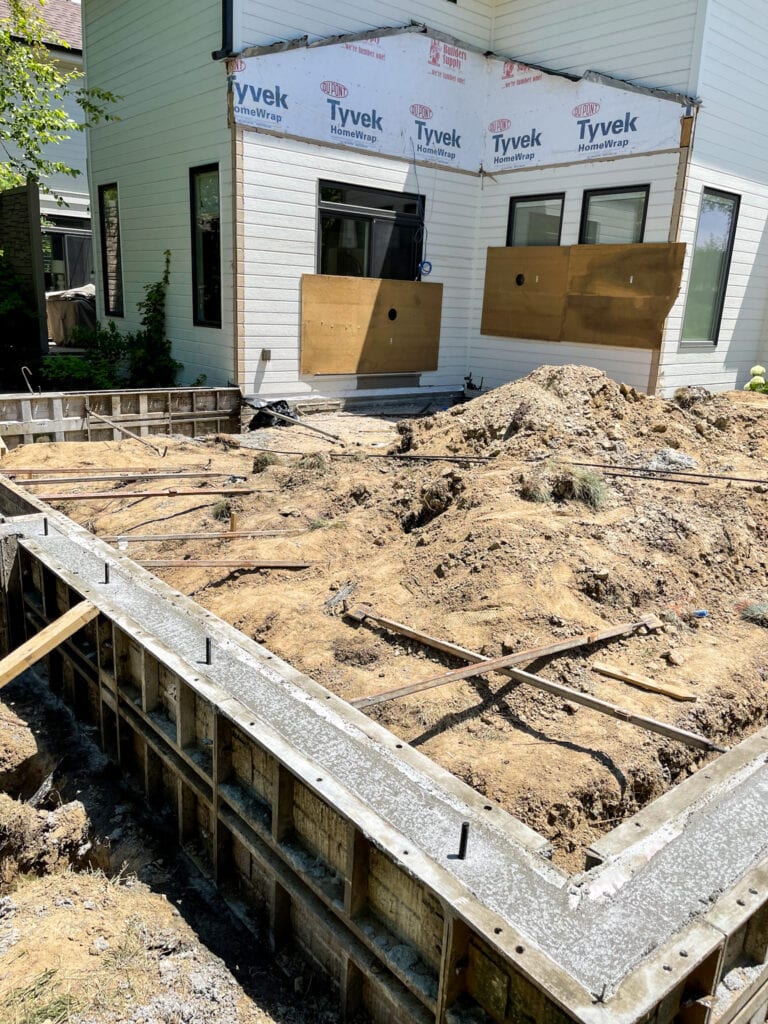 Some of my earlier blooming hydrangeas are starting to come out! We've been without irrigation in our backyard since Thursday last week, so it hasn't been super fun hand watering my plants. But it's worth it when I start seeing the blooms coming out!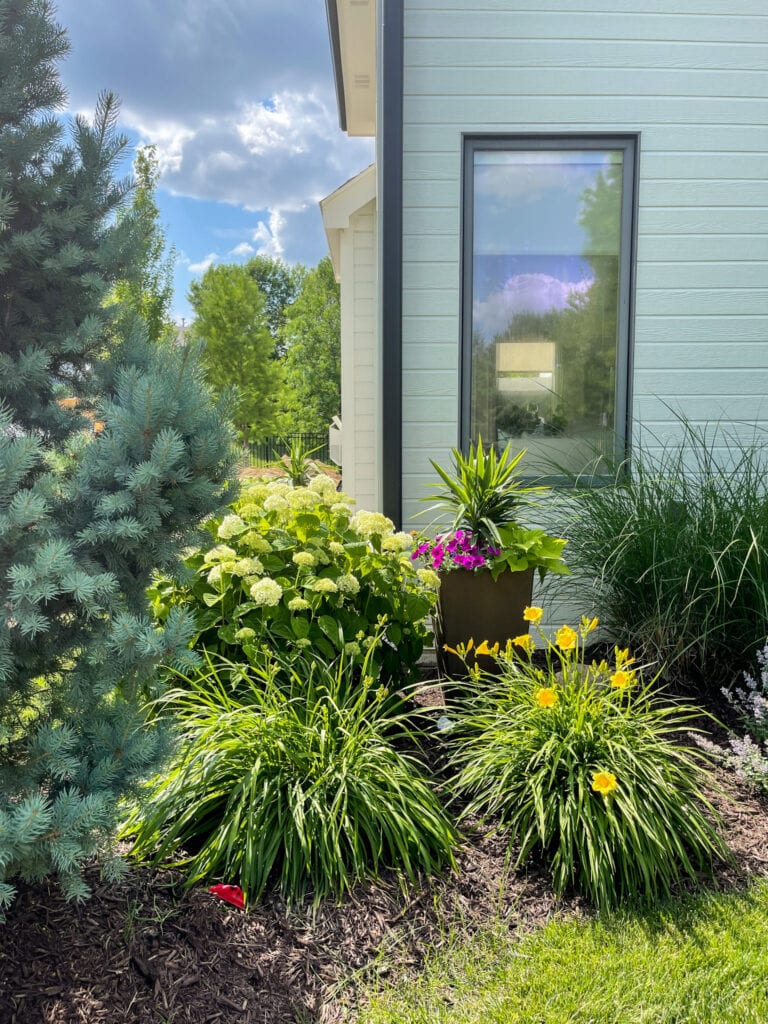 My knock-out roses out front borderline look fake with just how intense the color is and how many blooms there are! It only lasts for a week or two a few times each summer, but it's so beautiful to see them blooming!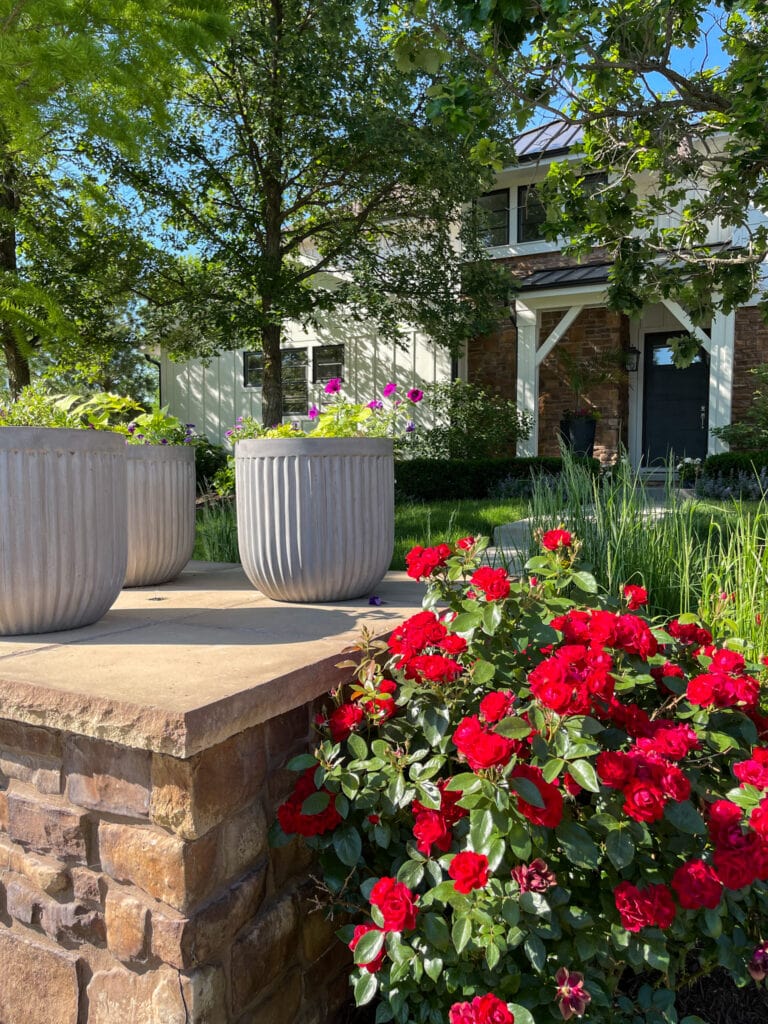 When we were in Utah about a month ago, I mentioned how much we enjoyed sitting on my parents' patio and watching all their birds. So much so, I cam home and bought a few bird feeders for us! I have this tube feeder for all the finch and song birds. You can find our white chippendale planters here.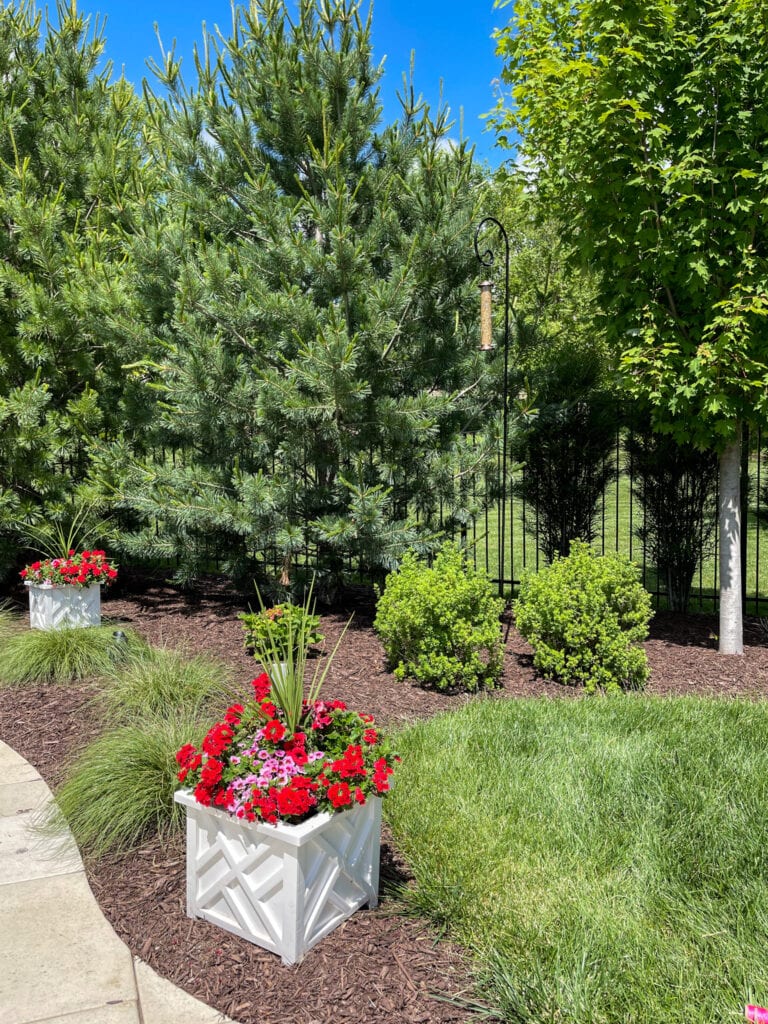 And then I shortened one of the rods for this cardinal feeder! Neither have really picked up tons of momentum, but we're noticing more and more birds finding them, and the feed is finally starting to go down at a noticeable rate!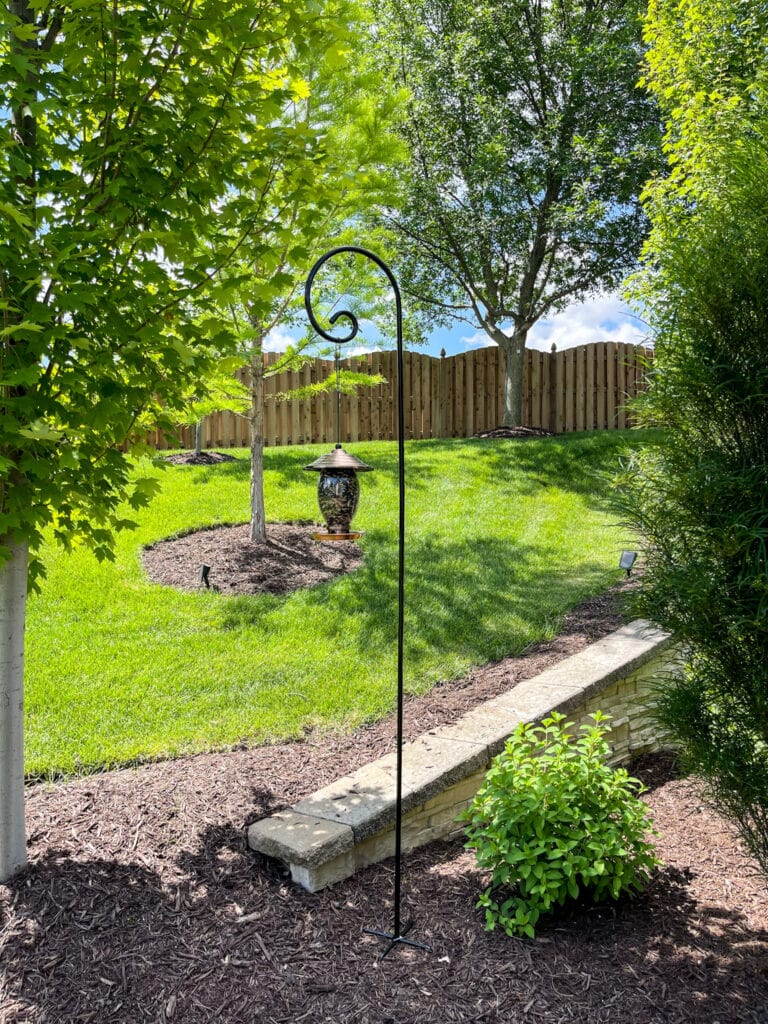 Here's a master list of what we used:
I'd also love to hear if anyone in Nebraska has been successful at feeding hummingbirds? They're so fun to watch in Utah, but I know they aren't as common here. We have so many squirrels in our yard that I don't want to get too carried away on the feeders. But we would love to get hummingbirds, too, if possible!
Top Sellers Of The Week
Following are the top sellers of the past week across all of my channels. Links to each item are below the graphic.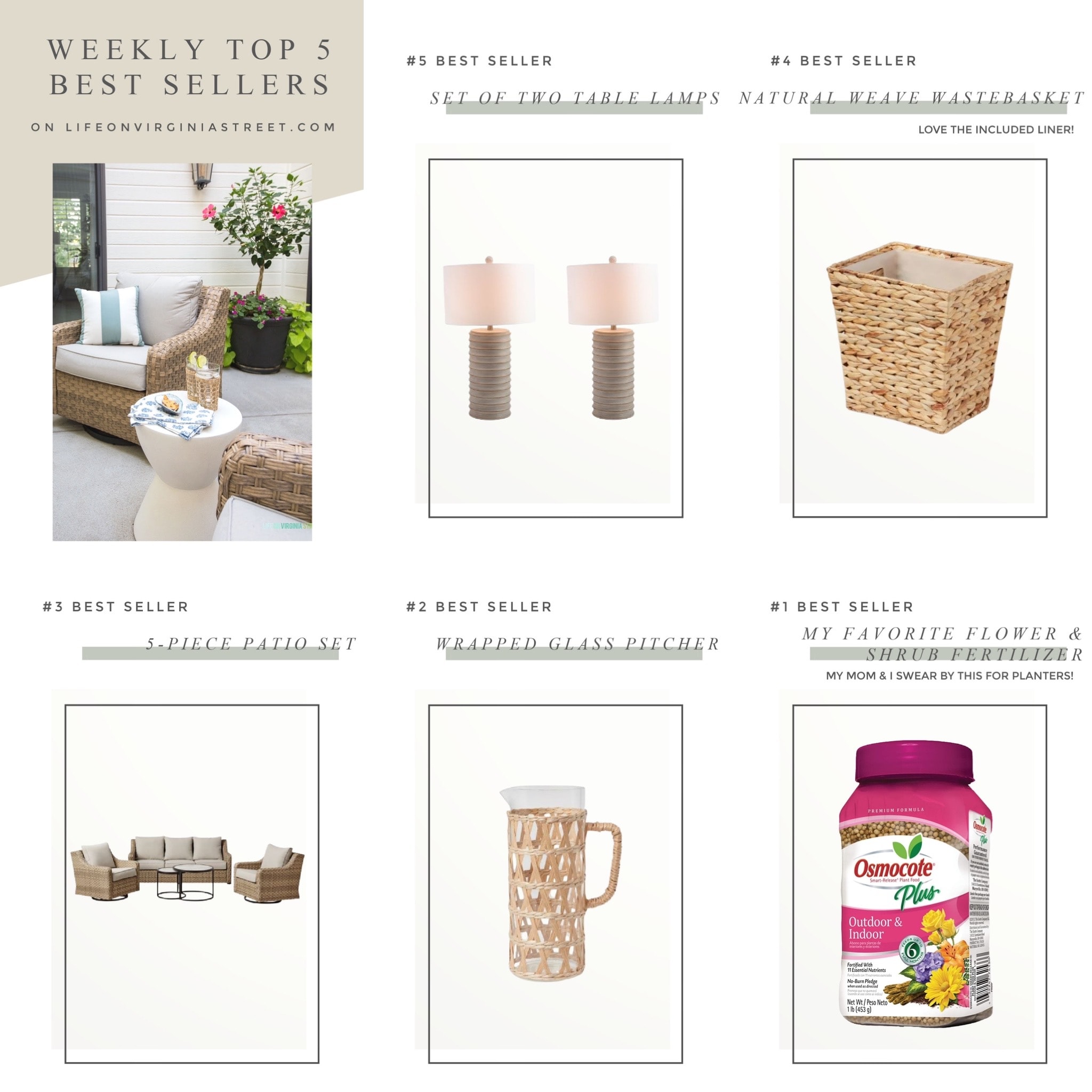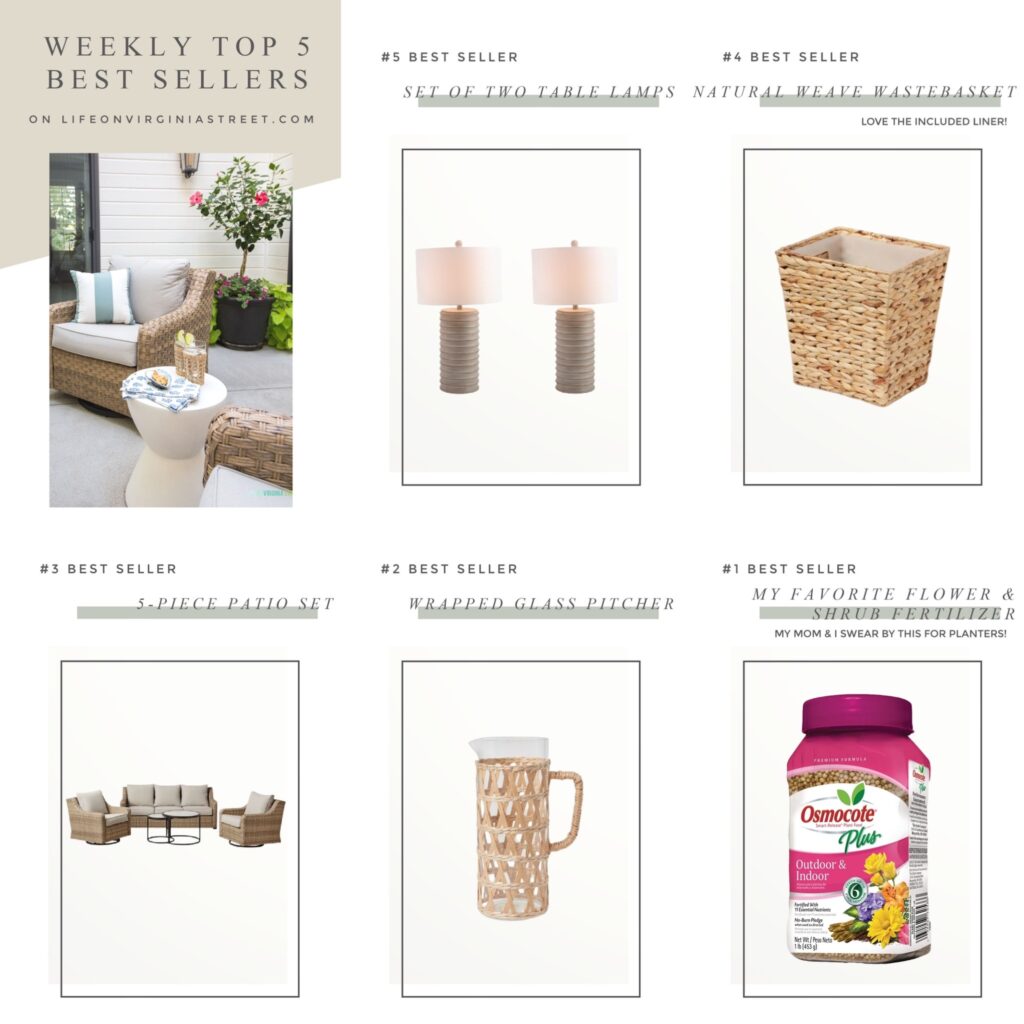 BEST SELLERS (each number is clickable): #5 | #4 | #3 | #2 | #1
In Case You Missed It
I've had a few requests for this new section in my Weekend Recap. I know I post pretty frequently and it's sometimes easy for a post to get lost in the mix. So, going forward, I'll now be adding quick links to each of my blog posts from the prior week. Here's what I posted last week. Click any of the titles below to be taken to the full post:
I'm also going to include the most popular posts by traffic for the week. Many times this includes old posts that are popular on Google or Pinterest! It's fun to see what is trending each week!
Around Town & For Fun
Last week, a friend invited me to a working lunch in Fremont, NE. It's about 30 minutes northwest of where we live and is such a cute town! And as you can tell, my friend is super talented in the hosting arena. She's owns an event planning company (AZ + Co.) and we had so much fun catching up and talking shop!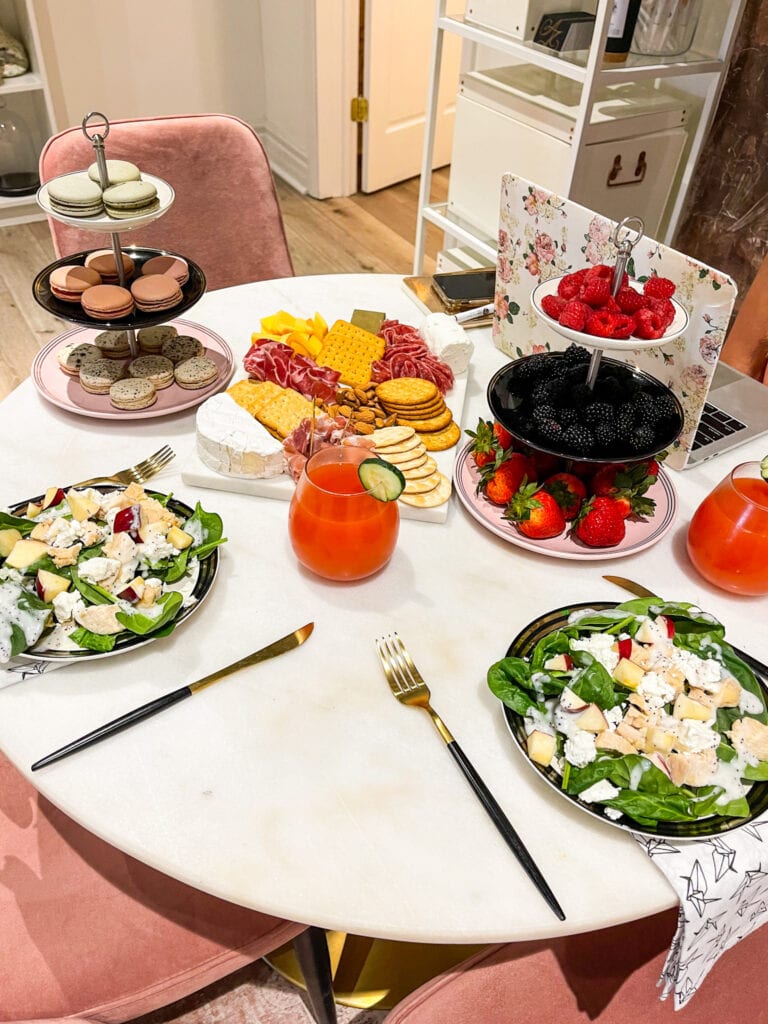 So, the reason for my delayed post. We ended up having to taking Bailey to the emergency vet Sunday night. She's all good now but I'll give you all some of the details. She has been the one cat of ours that has literally never had an issue in her 14.5 years. She'd see the vet annually for her checkup and shots, and then every few years for a teeth cleaning. That's it!
As many of you know, she was diagnosed with diabetes in January. It's been an ongoing struggle with multiple vet trips to try and get her regulated. She's now up to 5 units of Lantus (insulin) twice a day. Unfortunately, she's also developed neuropathy in the past few weeks, which essentially means she is losing feeling in her back two legs, and sometimes has to drag them around.
A few weeks ago, my friend Jen suggested joining a Facebook group for diabetic cats that has a lot of great info (it's run by a handful of vets). Since then, we've changed her food to a nearly pure protein diet and have started self-testing Bailey twice a day, meaning, we check her blood glucose before we ever give her a shot. She's such a champ and doesn't put up much of a fight, despite the multiple pricks a day.
Long story semi-short, we came in from the pool on Sunday afternoon, and she was making multiple trips to the litter box in a few minute window, and I could see a little blood each time she went. She's never had a UTI before, but she had all the classic symptoms. Since it was clear she was straining, we made an appointment for the emergency vet. To be cautious, we also had an x-ray done to confirm there weren't stones (we still have bad flashbacks to almost losing Hawkeye last year) and then some blood work to check her kidney values. She was a clear UTI diagnosis, so she's now on antibiotics in addition to her insulin and Gabapentin (which helps with the nerve issues from the neuropathy). She was also dehydrated (despite her drinking an insane amount of water still each day), so they gave her some IV fluids. Poor thing can't catch a break but we're glad isn't wasn't something much more serious! We're headed back to our regular vet later this week to talk further about her diabetes treatment (since her blood glucose is still elevated despite the insulin – which is causing the UTI). Thankfully, we can tell she already feel a lot better and there's no more straining! She's getting extra spoiled now with extra time in the courtyard (her favorite!).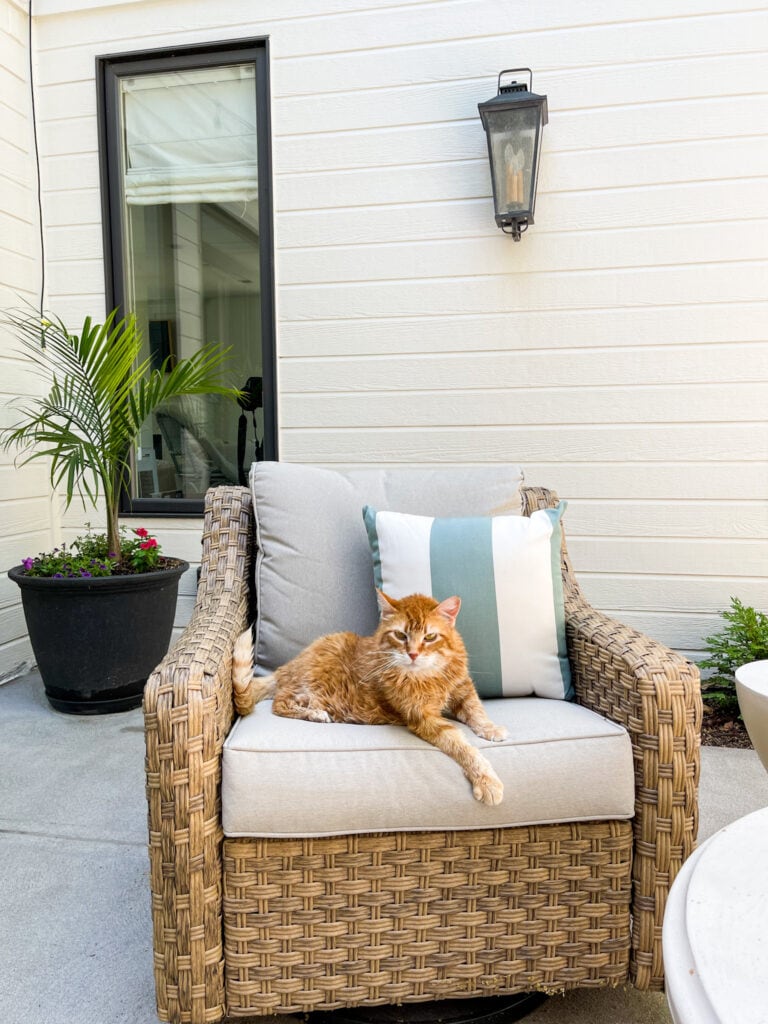 COURTYARD SOURCES: Swivel Chairs | Striped Pillows | Outdoor Lantern Light Fixtures | Outdoor Coffee Table | Outdoor Side Tables
The other two enjoyed their time outside as well. Hawkeye is just so dang curious that he mostly just gets in trouble the whole time 😉 When he knows we're about at our limit, he'll run and lay down somewhere and behave before he gets sent back inside!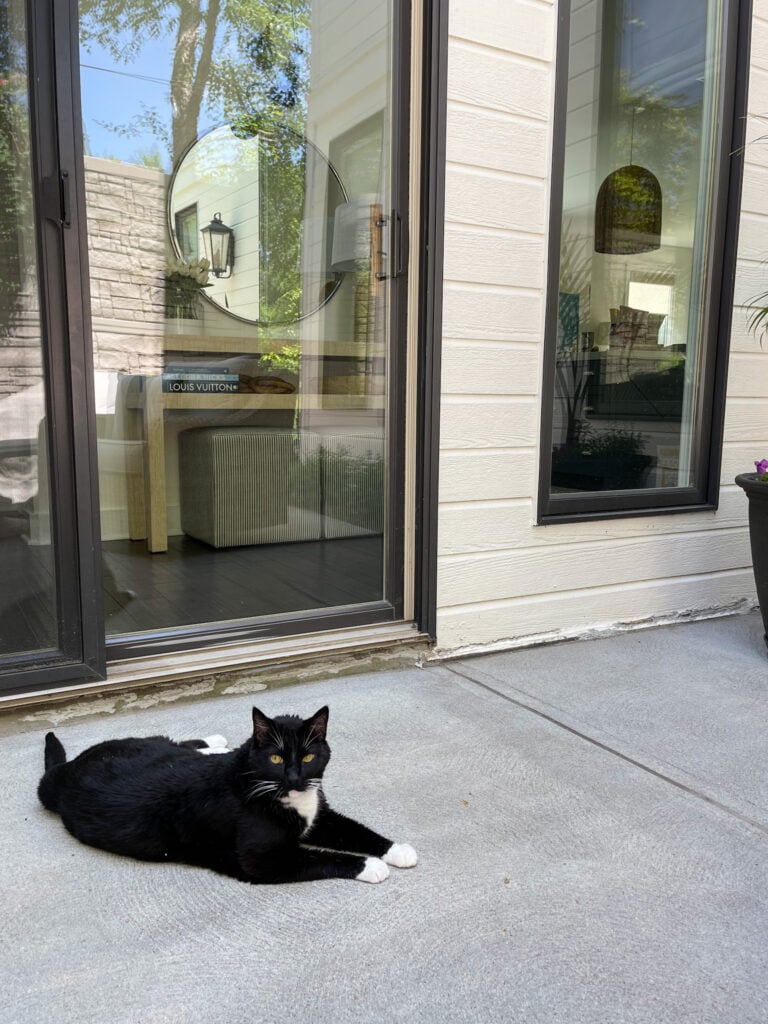 And don't let Henley fool you. She's the first one to always barge outside. And then tries to hide half the time so we can't bring her back inside! With the back patio torn up, I see us using the courtyard a lot this summer!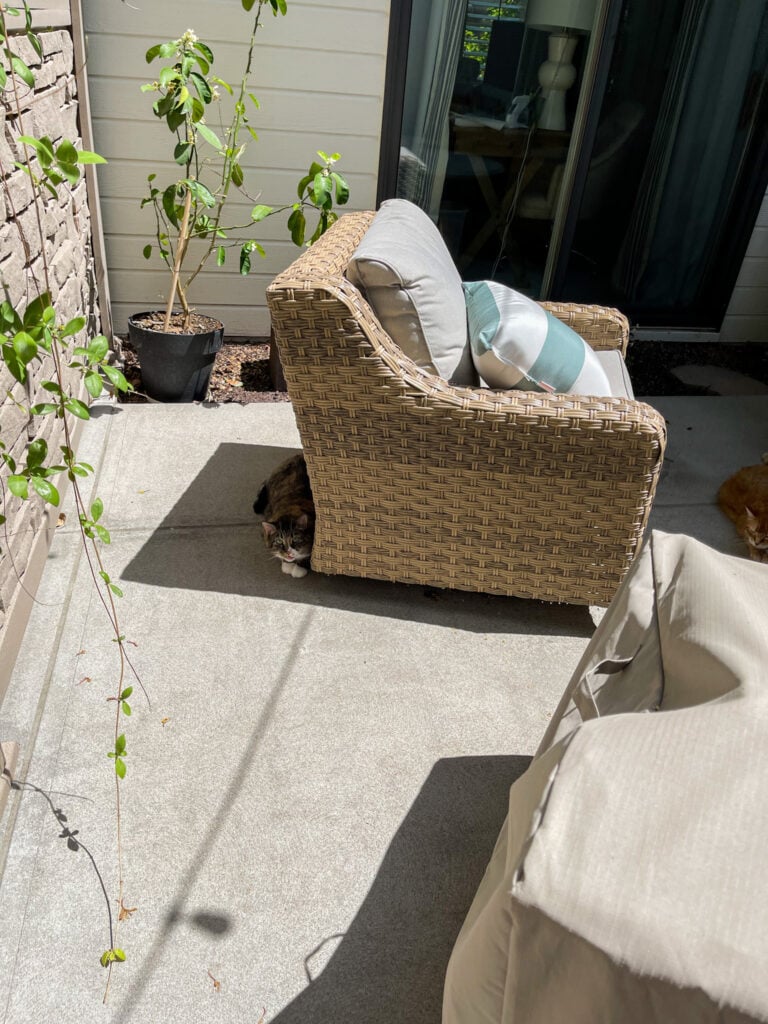 I've received a lot of questions as to whether or not all the construction is messing with our pool at all. Short answer – no! And with the high heat last week (which carries into this week) we were still able to use the pool most of the weekend! Jill and Nick even came over twice, thanks to visiting grandparents. The yard is definitely a mess and we're going to have to replace a lot of sod (which was expected and included in the bid). But so far, the water quality really has been impacted! We're just looking at a lot of piles of dirt if turned the wrong direction 😉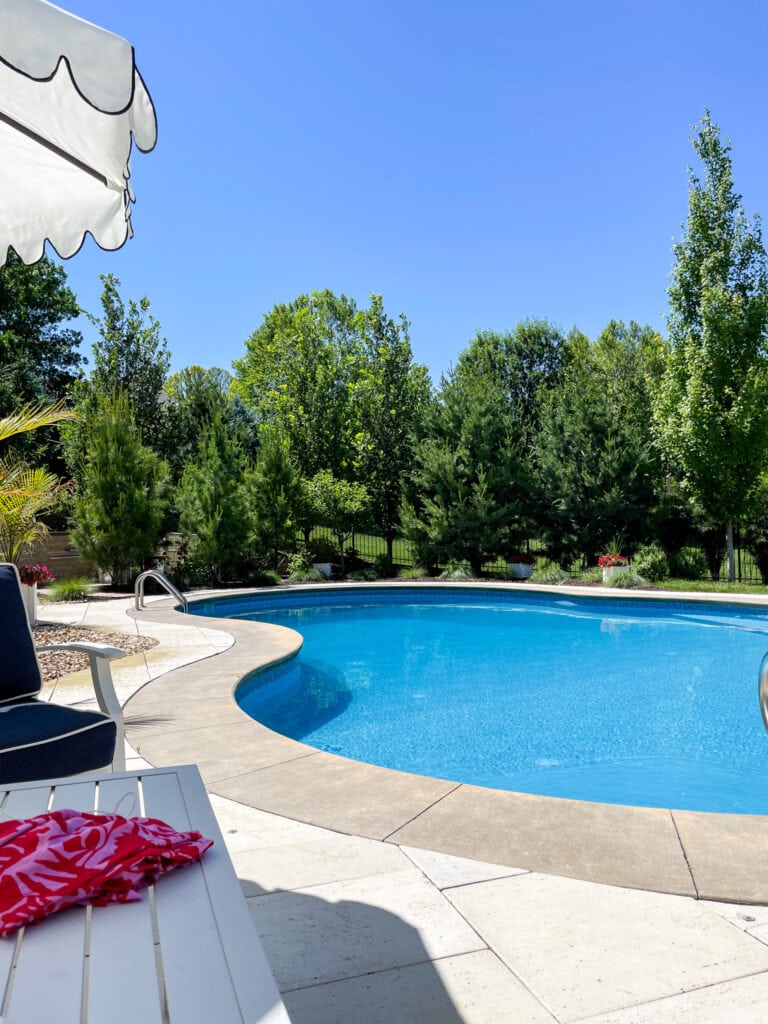 SOURCES: Patio Set | Scalloped Umbrella | Cover-Up | White Chippendale Planters
Monday and Tuesday are Prime Day next week, which means I'll probably skip a Weekend Recap next week in lieu of some Amazon favorites. And, since everyone wants to compete with Amazon, I'm guessing we'll see a lot of big sales next weekend from other retailers! You can see our top picks from last year here.
I'm also going to try super hard to put a summer home tour together for next week or the week after. I think I'm lacking motivation because of the distraction of the pool house, and also because of the pool house, I really haven't purchased anything new this season. But, I'm trying to use older items in new ways for the season, so I want to share that with all of you! In the meantime, you can check out last year's summer home tour here. I also have some fun new fashion finds coming up! Not to mention daily pool house reports over on my Instagram Stories. It's going to be a busy summer!
Recent Buys & Sales
Following are the sales from the weekend that are still going strong.
AMAZON has a number of deals sitewide in the Daily Deals section. These pillow insert pairs I've been using lately have an 8% coupon you can clip as of the time of this post going live! Remember to order 2″ larger inserts than your pillow covers for the best designer look! I also have these striped pillow covers and they were already such a great price, but now there's an extra 5% coupon you can clip on the pair! They're such a great staple! These Lantern Pendant Lights come in four finishes and are a steal when you apply the extra 10% off coupon. Such a great designer look for less! You can shop their sales here.
AMERICAN EAGLE is offering 25% off select, tees, tanks & shorts! You can shop their sale here.
ANN TAYLOR is offering an additional 40% off sale styles. You can shop their site here.
ANTHROPOLOGIE is offering an extra 25% off sale items! No code required. You can shop their site here.
BALLARD DESIGNS is offering up to 20% off indoor furniture, mirrors and wall art. You can shop their sale here.
BANANA REPUBLIC is offering 40% off your purchase plus an extra 10% off at checkout (no card required). You can shop their sale here.
BLOOMIST is offering $25 off $125+ with code SUMMER25 plus free shipping on all orders for a limited time. You can shop their site here.
BODEN is offering 15% off full-priced items at checkout (no code required) and free shipping on orders of $49+. You can shop their site here.
GAP is offering up to 50% off summer finds, an extra 40% off sale styles with code FORYOU, plus get an extra 10% off at checkout with code SUNSHINE. You can shop their sale here.
J CREW is offering an extra 30% off select sale styles with code SHOPSALE. You can shop their sales here.
J CREW FACTORY is offering up to 50% off everything sitewide! You can shop their sale here.
KIRKLAND'S is offering 20% off one regular-priced item with code SAVE20. You can shop their sale here.
LULULEMON has a number of new items in their sale section, including some new Align and Wunder leggings! You can shop their sale here.
MARK & GRAHAM is offering up to 50% off 100s of items! You can shop their site here.
MARSHALL's has a number of deals sitewide including new markdowns. You can shop their site here.
MICHAELS is offering 20% off all regular priced purchases with code 20MADEBYYOU, plus tons of deals sitewide! You can shop their site here.
NORDSTROM has a number of deals sitewide, including a bunch of new markdowns! You can shop their sale items here.
OLD NAVY is offering 25% off purchase (including clearance). No code required. You can shop their sale here.
OVERSTOCK is hosting their 4th of July Sale with 1000s of itmes marked up to 70% off! You can shop their sale here.
POTTERY BARN is offering free shipping on orders $99+ with code FREESHIP. You can shop their sale here.
SERENA & LILY is offering special pricing on all bedding and bath (ends tonight). You can shop their site here.
TARGET is offering up to 25% off select home items. You can shop their site here.
TJ MAXX is has a number of deals sitewide! I love this Pair of Table Lamps! You can shop their site here.
TORY BURCH has added a variety of new markdowns to their sale section. You can shop their site here.
TUCKERNUCK has added some new sale pieces that are all darling per usual! You can shop their site here.
I hope you all have a great week!
If you would like to follow along on more of my home decor, DIY, lifestyle, travel and other posts, I'd love to have you follow me on any of the following:
Pinterest | Instagram | Facebook | Twitter
disclosure: some affiliate links use